DIY Fall Wood Bead Garland
dress up your home this fall with an easy-to-make wood bead garland adorned with leaves, the perfect accent to your existing farmhouse style decor!
DIY FALL wood bead garland
Ah, fall is in the air and none of my home decor is safe from fall-ifying it… including our wood bead garland, now decked out with little wooden leaves. Be-leaf me, everything is cuter covered in leaves! ? After reading our easy tutorial, check out 12 other DIY Fall Leaf projects you can make this season!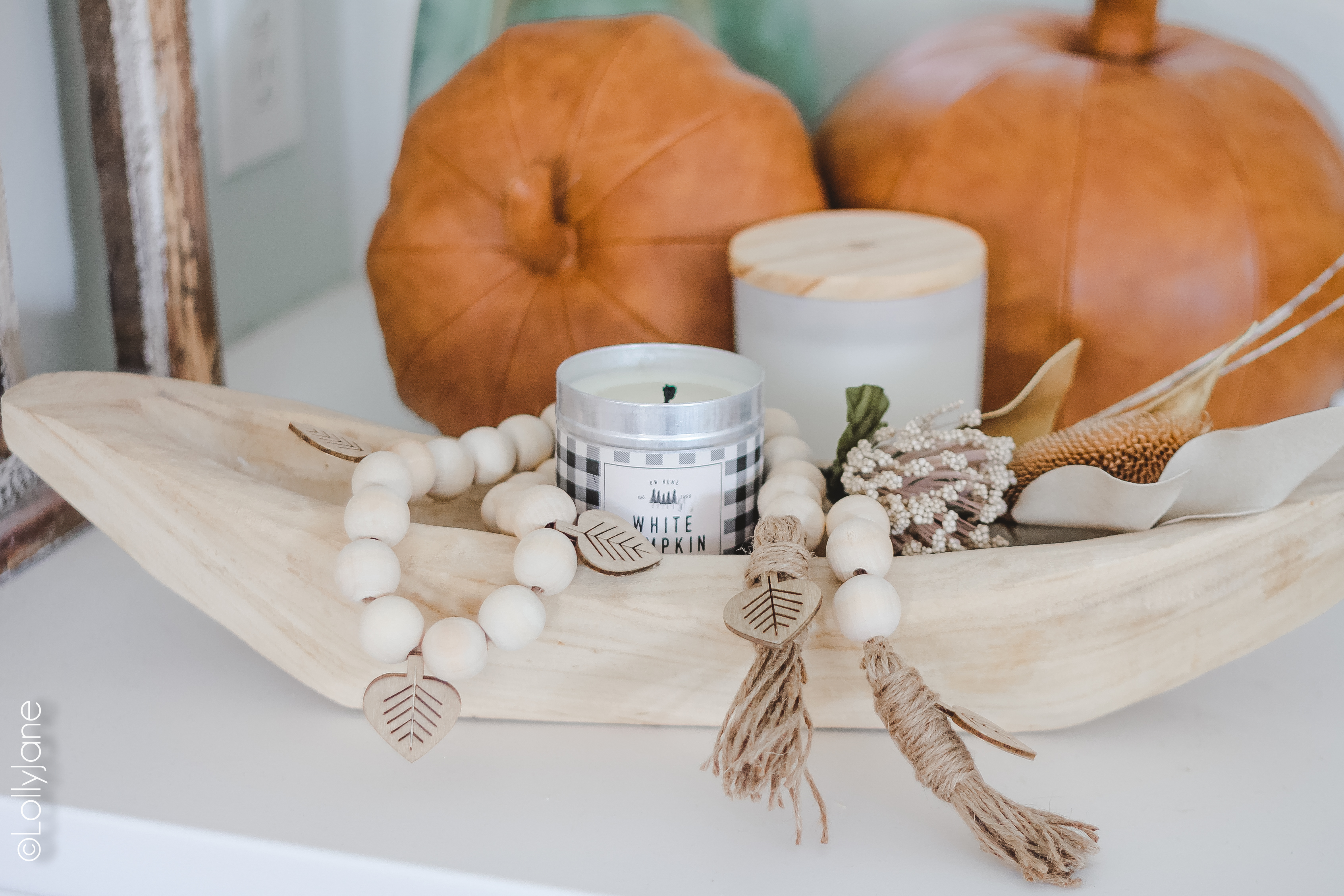 Supplies to make a fall wood bead garland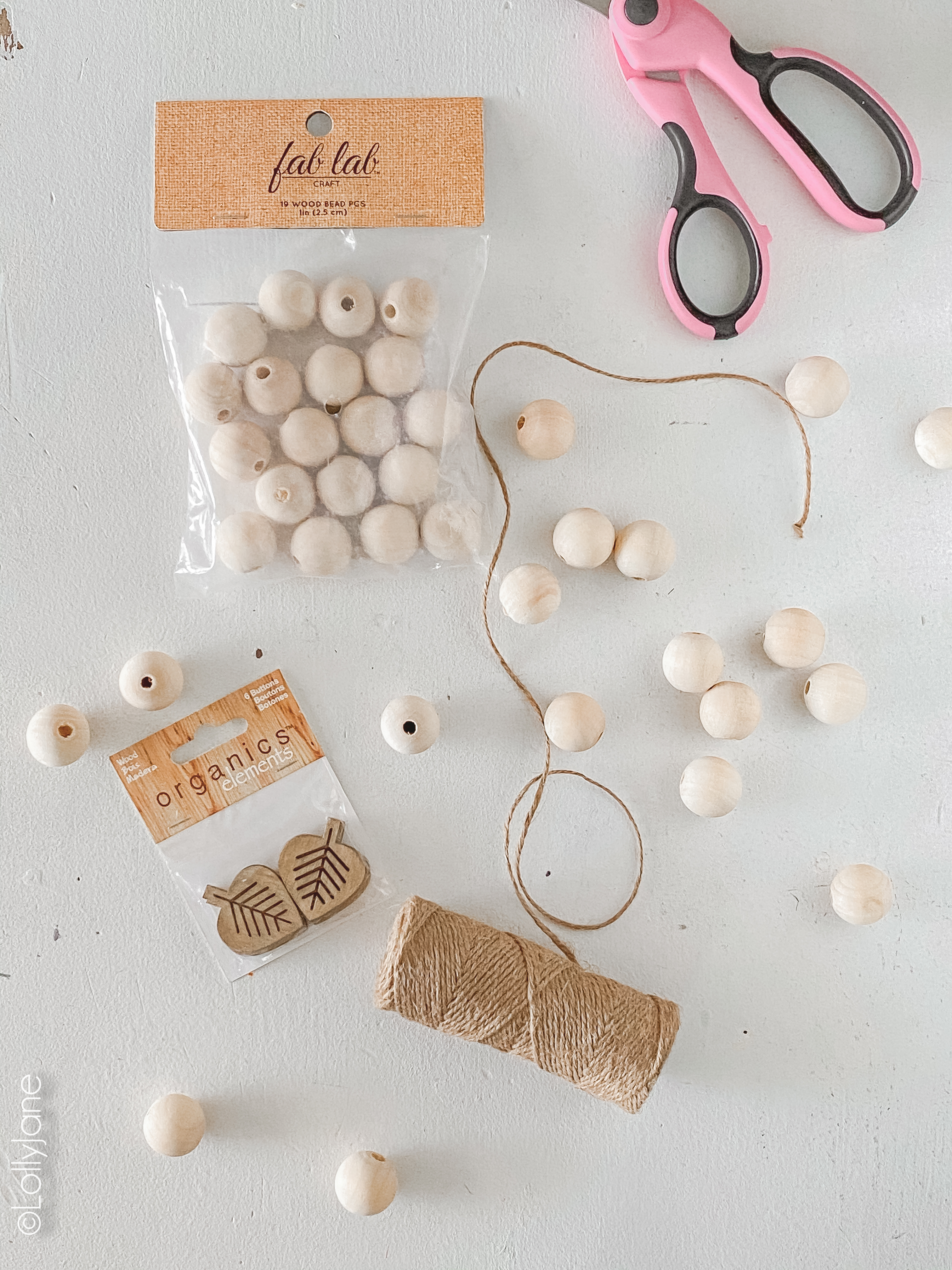 You'll only need a few items to make your own fall style wood bead garland:
If you're short on time, you can also buy a wood bead garland for $10 here then just embellish with wooden leaves. So easy and still just as cute!
HOW TO MAKE A FALL wood bead garland
Making a wood bead garland is easier than you think and can be made in minutes and bonus: it's a kid-friendly project! I let my 4-year old preschooler string the beads. (: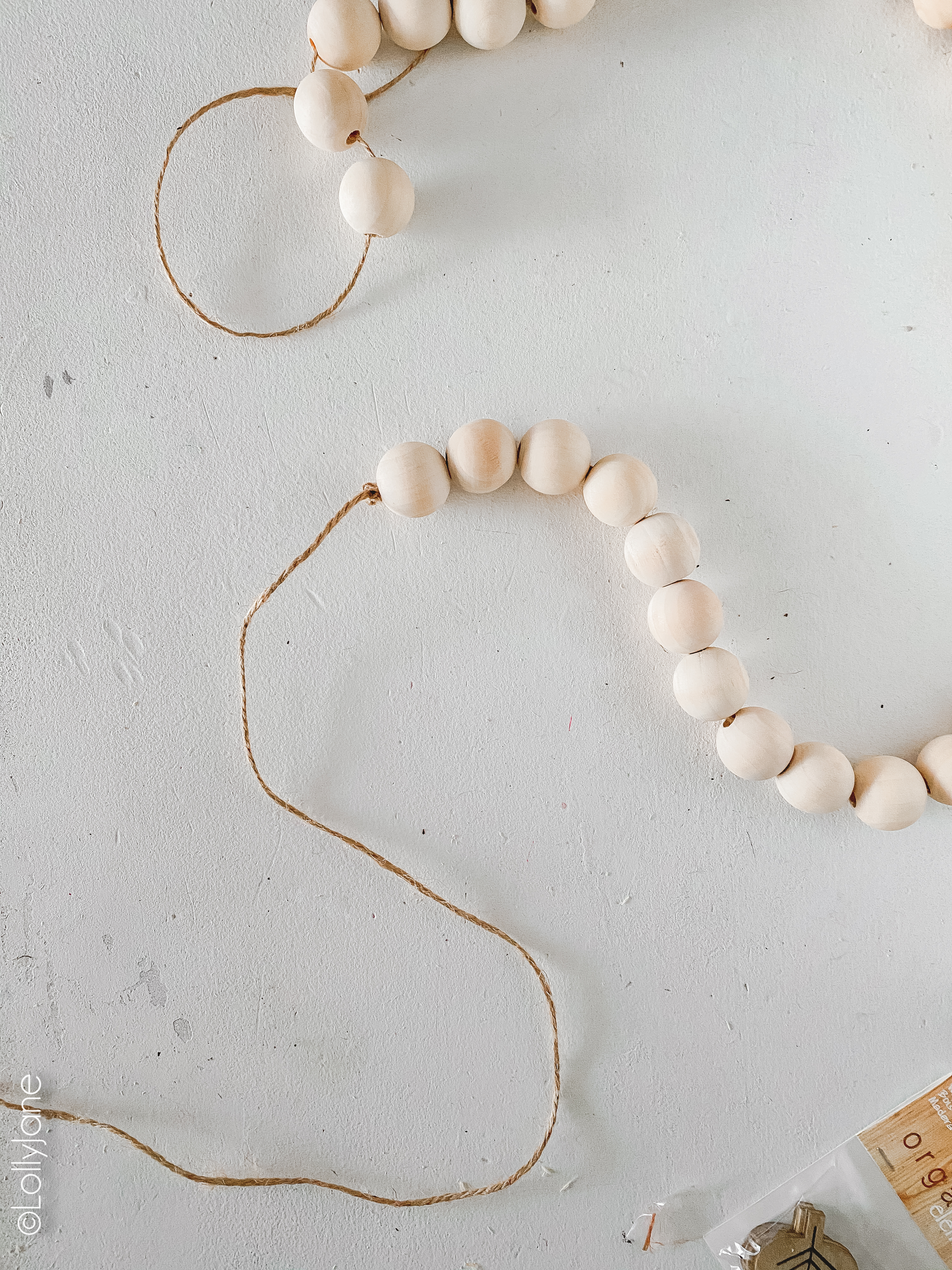 Measure out how long you want your garland (typically 35-50″) then add 6″.
Get to stringing! Slide wood beads through pre-drilled wood beads
Once done, triple knot twine so beads can't slip through. Note: garland should be loose enough to slightly separate beads and for the stem of the leaf to fit in between.
Make your twine tassels, (tutorial on how to make tassels are from an earlier post here; make sure you wrap them a little extra towards the top.)
Remember that 6″ of leftover twine at the end of your now-beaded strand? Simply tuck it through the loop of your freshly made tassel and tie in a knot to secure into place; trim any excess twine.
From there it's time to accessorize… fall style! Press the back of the wooden leaf against a sticky adhesive (stickiest dots ever and very durable!) and place between the beads sporadically and on the ends of your garland tassel. Note: I tucked the stem of my leaf under a layer of twine for looks (as picture) but the dot will keep it in place just fine.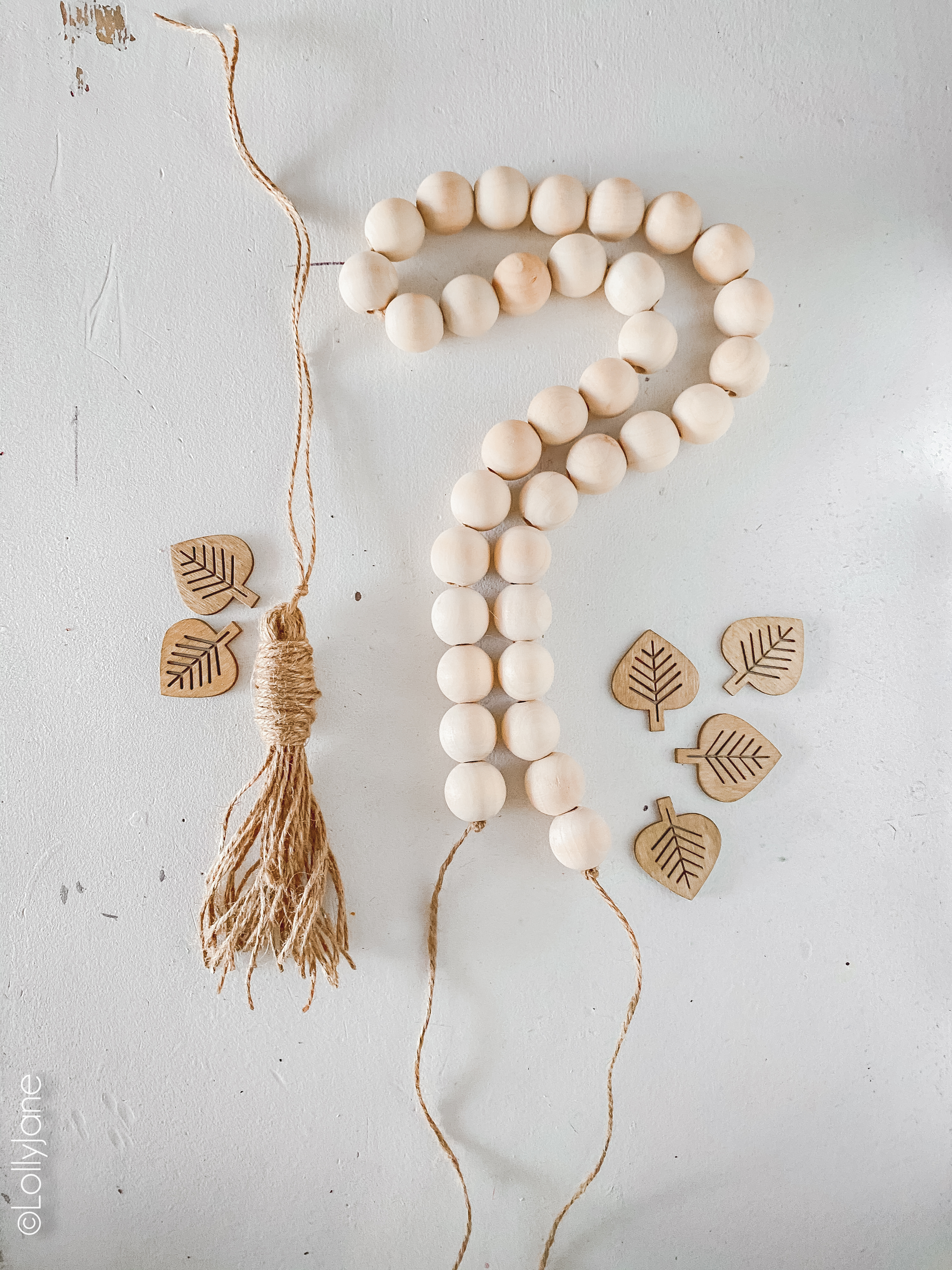 Ta-da! Instant evergreen decor to fall style!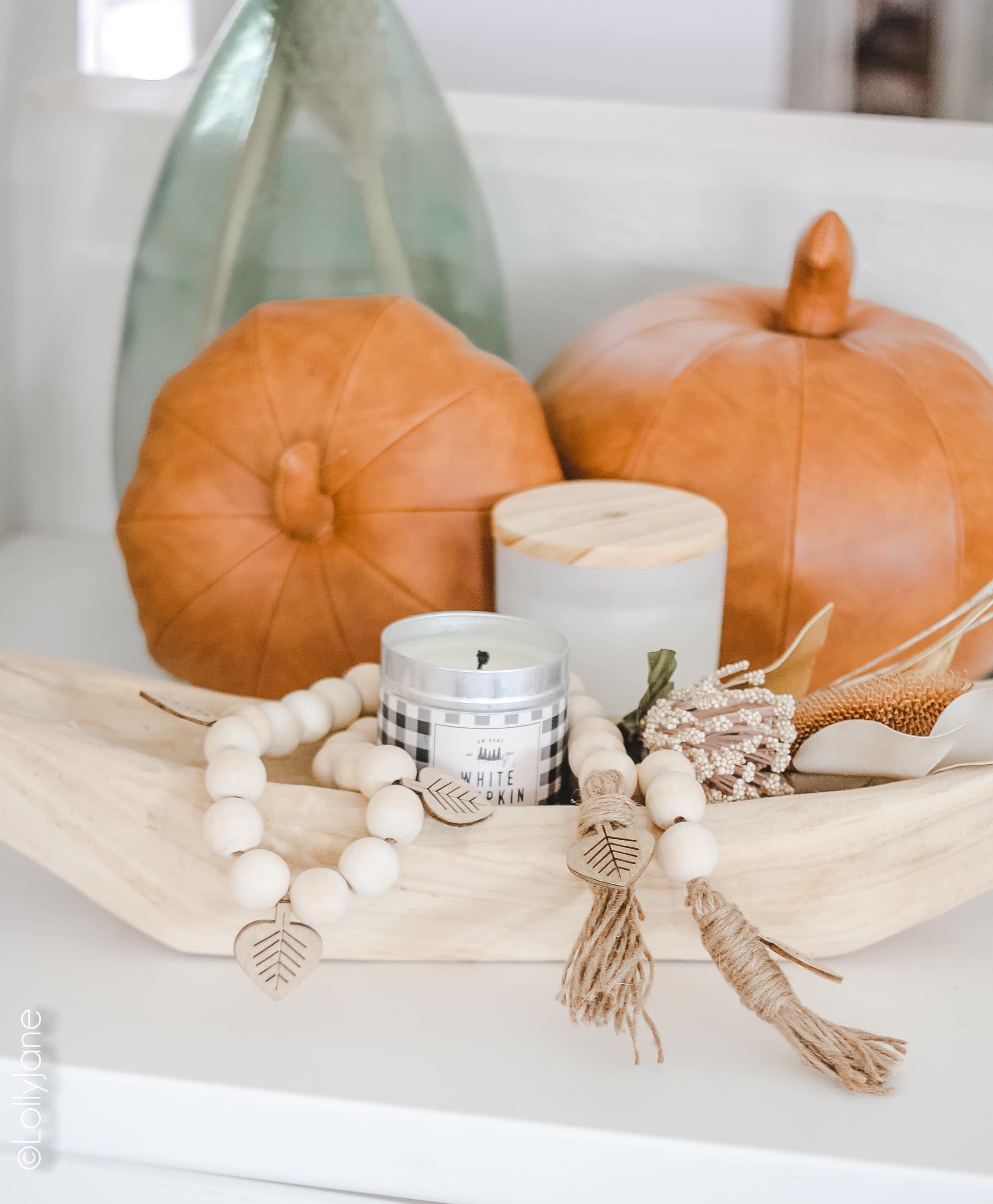 HOW TO decorate with a fall wood bead garland
If you're new to the "prayer bead" trend, aka: a wooden beaded garland, it's a fun way for your home to "wear jewelry", simple as that. Farmhouse style homes are adorned with them in every nook and cranny and we don't hate it!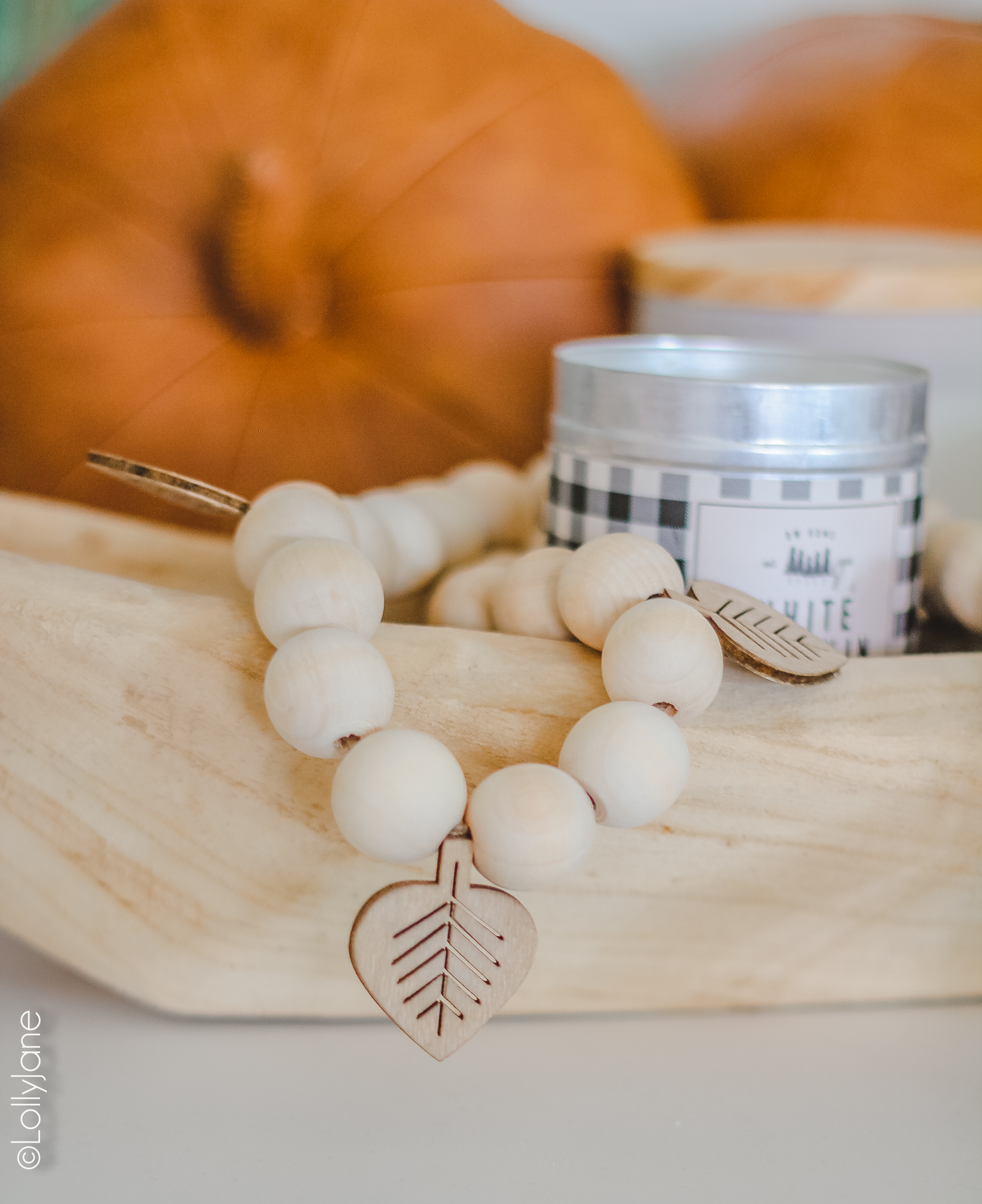 Lay your garland in a dough bowl filled with other fall pretties (pictured), over a mantel, around a lamp or vase, through faux pumpkins, or string across a shelf. However you choose to display it, it's sure to add the perfect punch of FALL! ?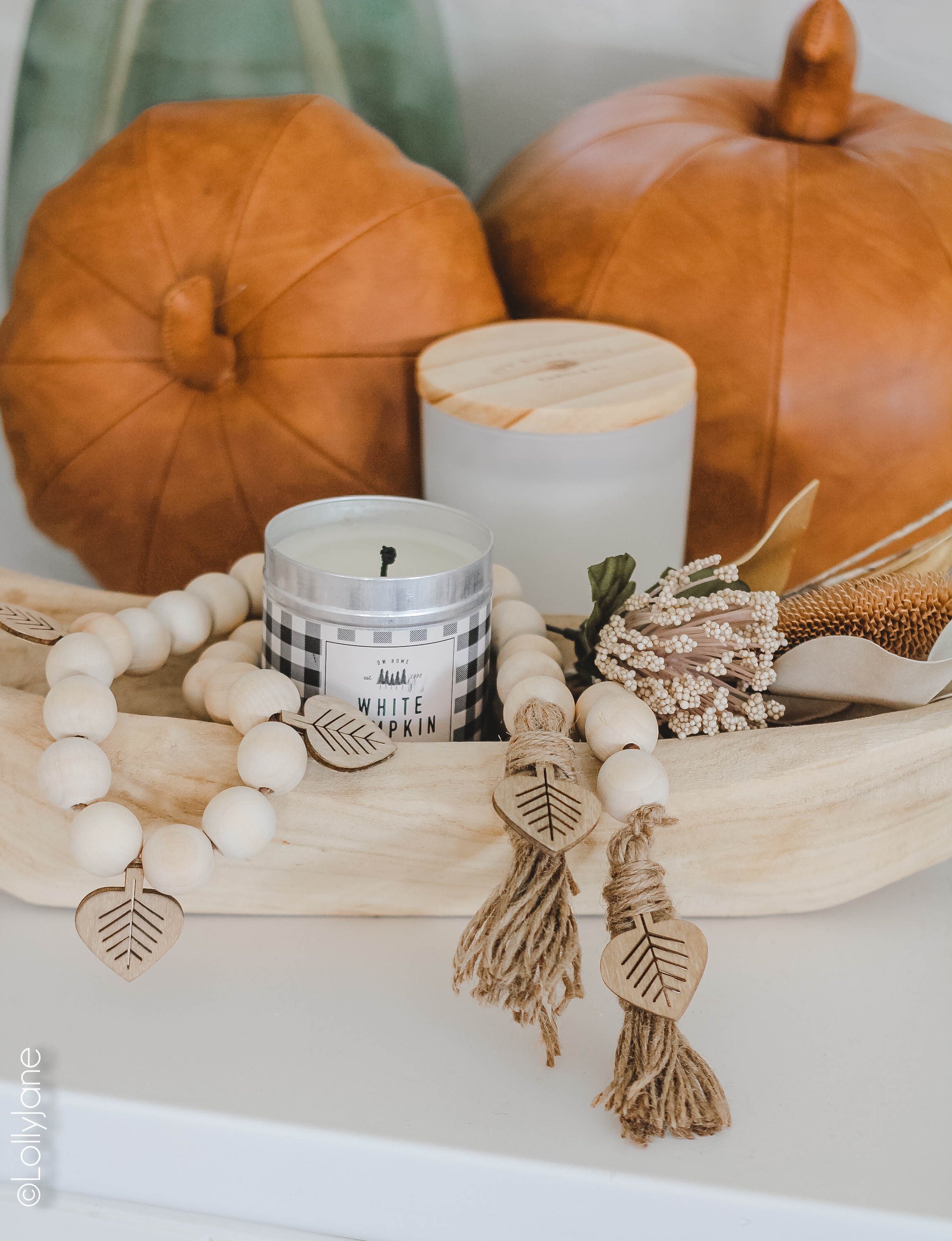 What's that, you ask? Want MORE easy fall home decor? You got it! Fresh off our craft table (also known as my dining room table, ha!) is our DIY Fall Split Wood Bead Wreath. We MAY be slightly wood bead obsessed and are 100% okay with it. 😉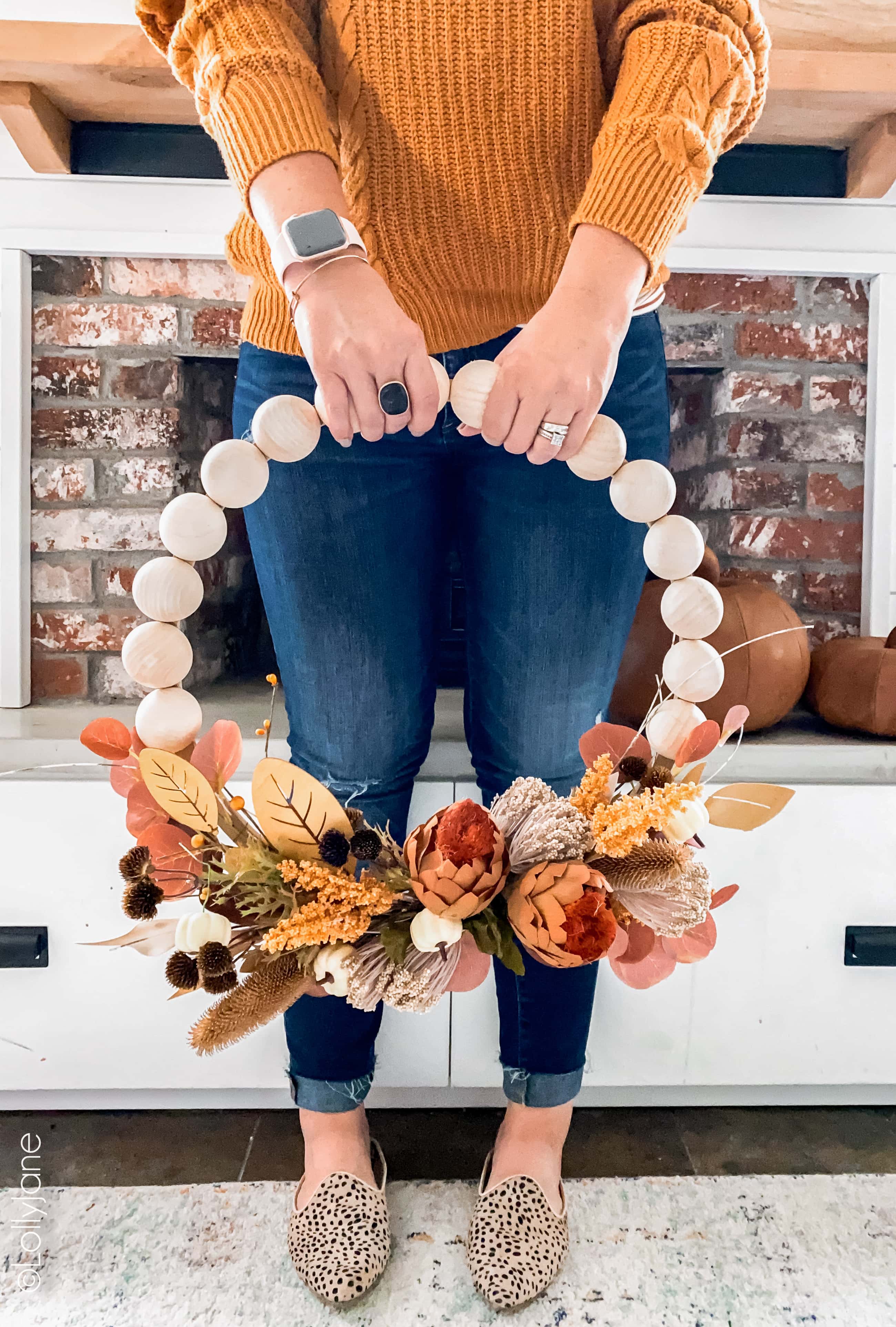 more Fall Leaf diy Project Ideas
Turns out creating a project around leaves was trickier than we thought so take a peek at 12 more fall super creative Leaf DIY Project Ideas and be sure to "leaf" (leave) these makers some love!