Halloween Hanging Pumpkins Porch Decor
Turn plastic pumpkin candy buckets into easy Halloween outdoor decorations with fishing lines and cup hooks! Light them up at night with remote control tea lights for the biggest statement on the block!
Halloween Hanging Pumpkins Porch Decor
We love inexpensive holiday decor that can be used year after year, especially when they're as cute as our Halloween Hanging Pumpkins, aka EASIEST holiday porch decor to date!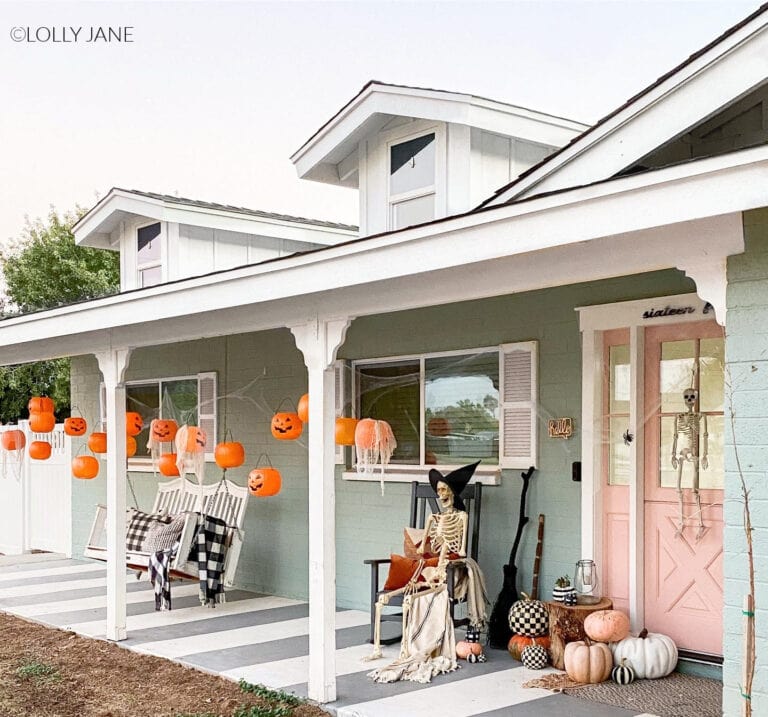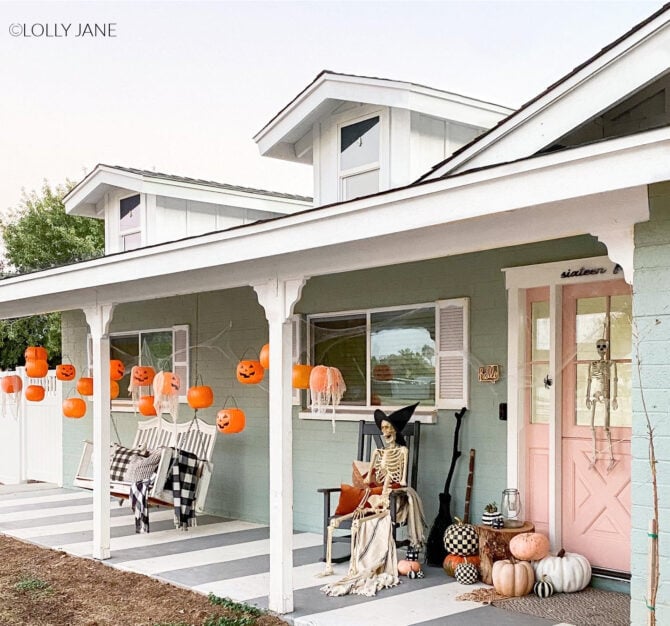 These plastic pumpkin buckets were just a buck each from Walmart and look so stunning at night, all lit up. We love that it makes for easy and cheap Halloween porch decorations! (In addition to Walmart, you can find plastic pumpkins at the dollar store, Target and even some hardware stores.)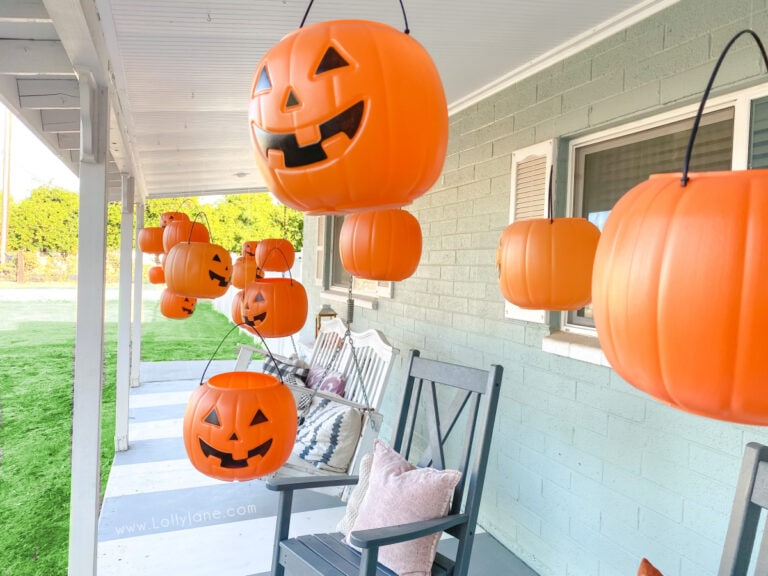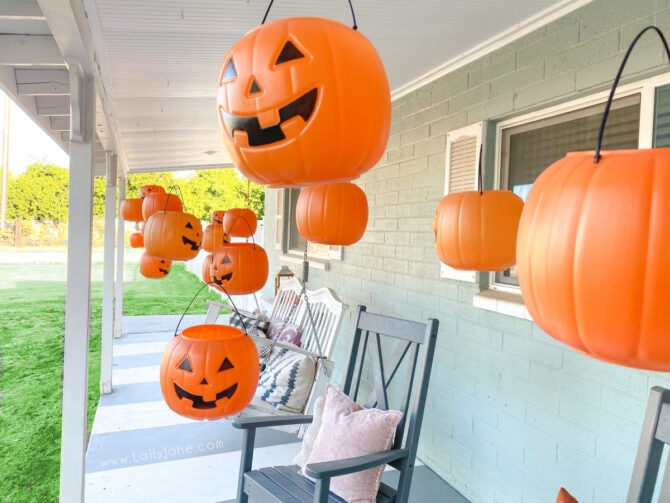 hanging plastic pumpkins
We recently jumped on the concrete trend and made the cutest concrete pumpkins.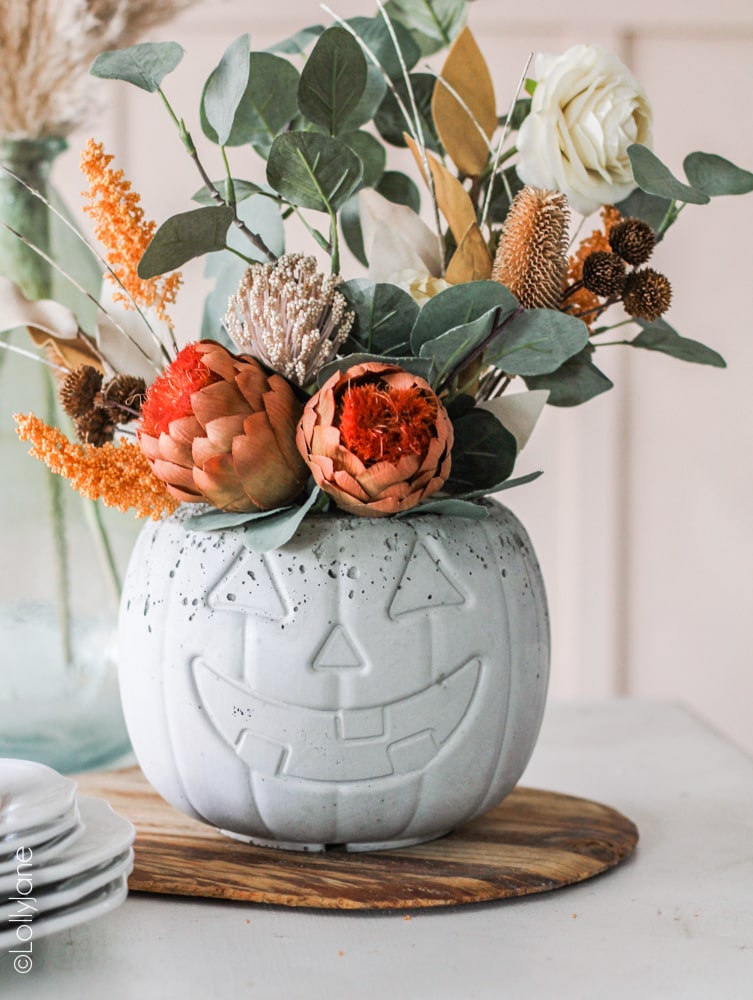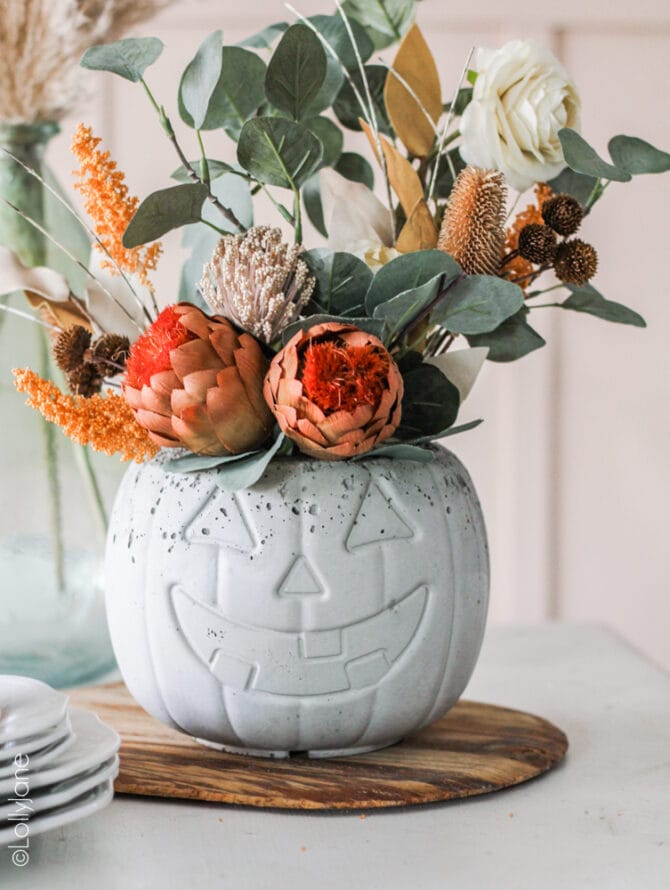 We used these same plastic pumpkins as the form but if you carefully slice it, you can tape it from the inside to reuse them. The plastic pumpkins are especially cute painted with our baking soda trick (great texture!) and you won't even tell it was once cut open! It would look similar to these cuties: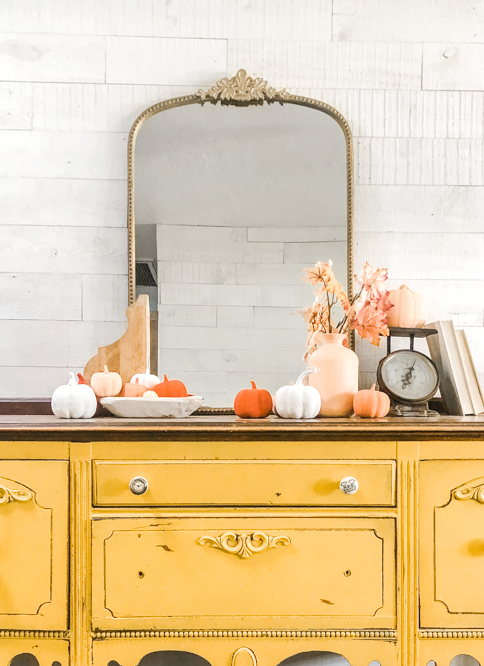 My older sister told me how her neighbor hung plastic pumpkins on her porch with fishing line and put remote control tea lights inside so they light up at night…. ADORABLE. I had to try it so I used the remainder of my pumpkin stash to make this Halloween floating jack-o-lantern porch decoration and absolutely love how it turned out: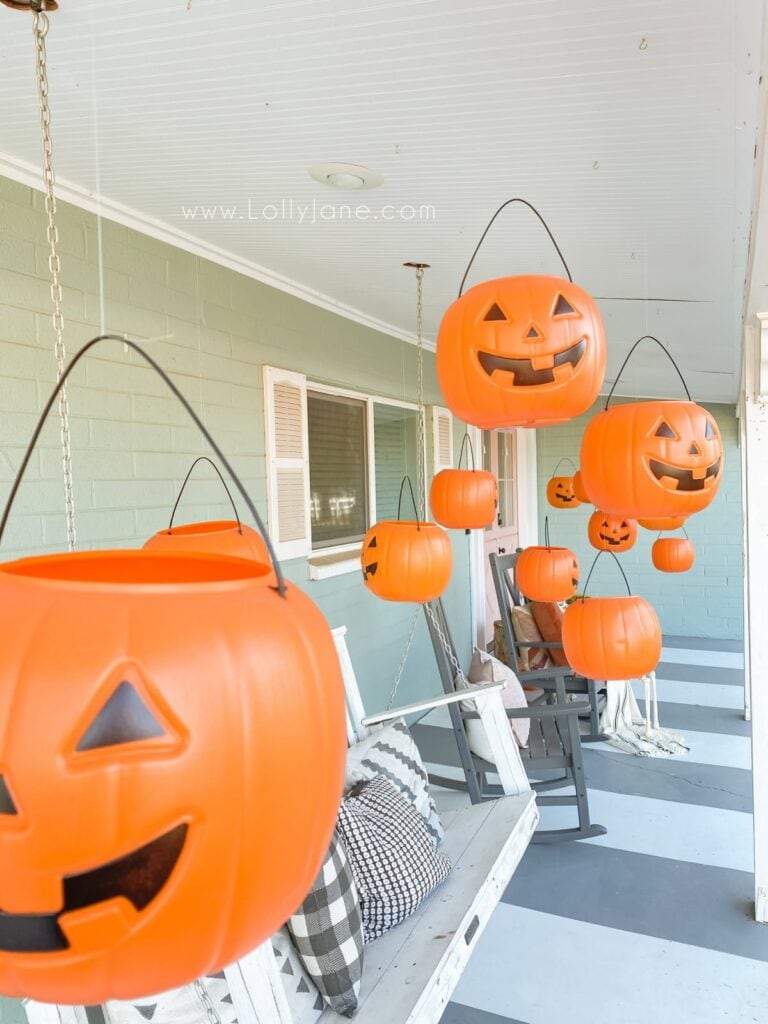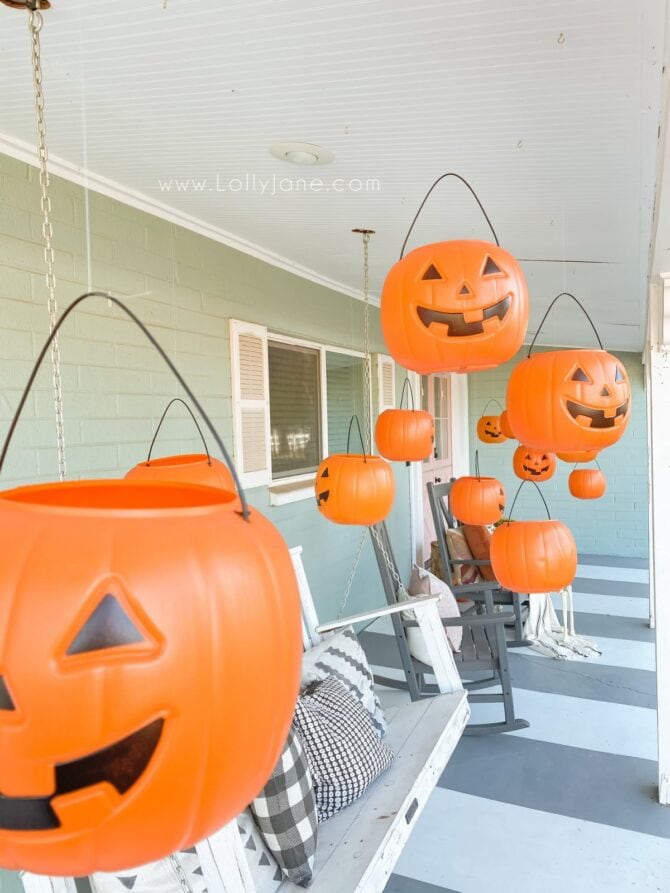 The priciest part was the addition of the tea lights but you can re-use them in other projects or omit them altogether.
Another way to light them up would be to hang the pumpkin on a set of cafe lights. Our same sis did that in her driveway and it looks darling!
SEE MOre of our halloween decor
SUPPLIES to hang pumpkins outdoors
We didn't have to purchase anything other than the pumpkins and fishing line, the rest was in the garage, whoop!
The fishing line in-store at Walmart was $1.50 and we didn't even go through one pack.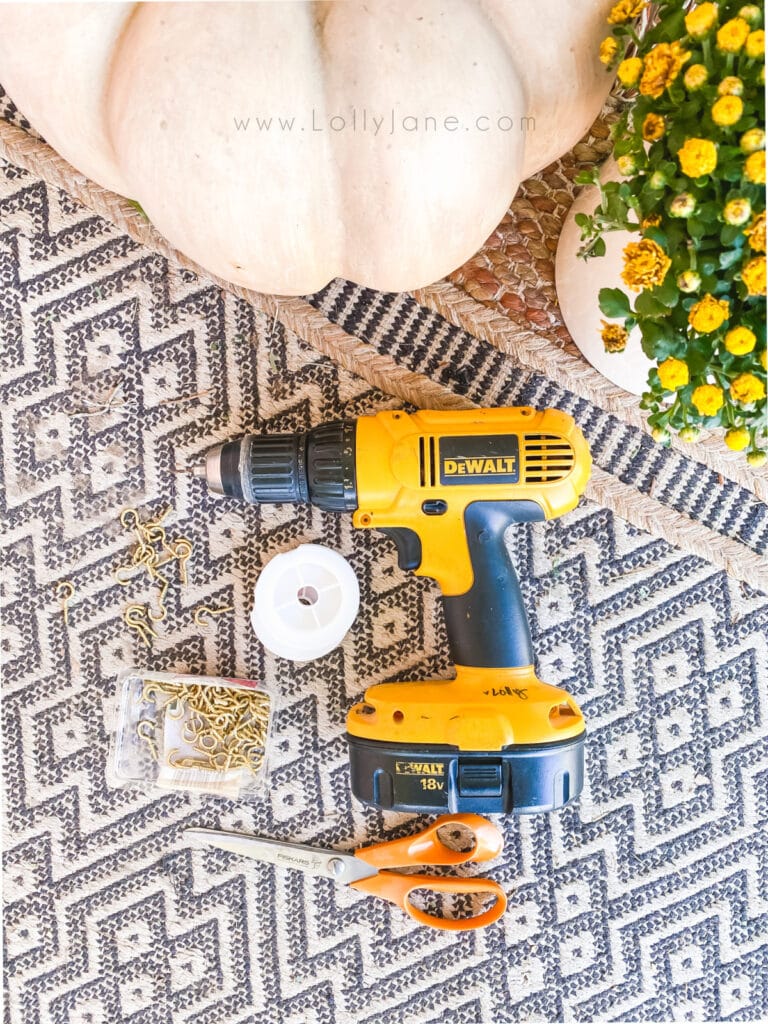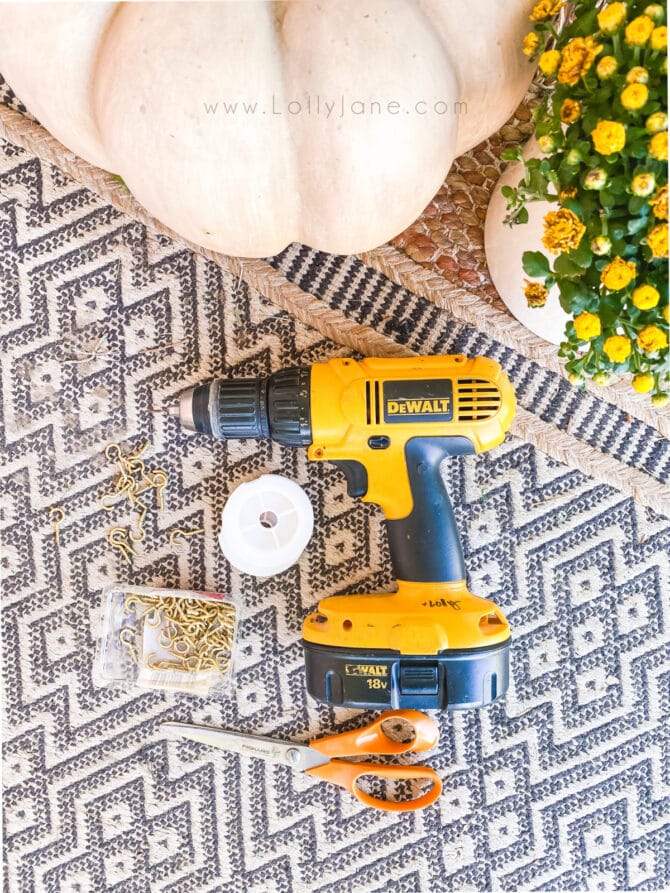 HOW TO hang candy bucket pumpkins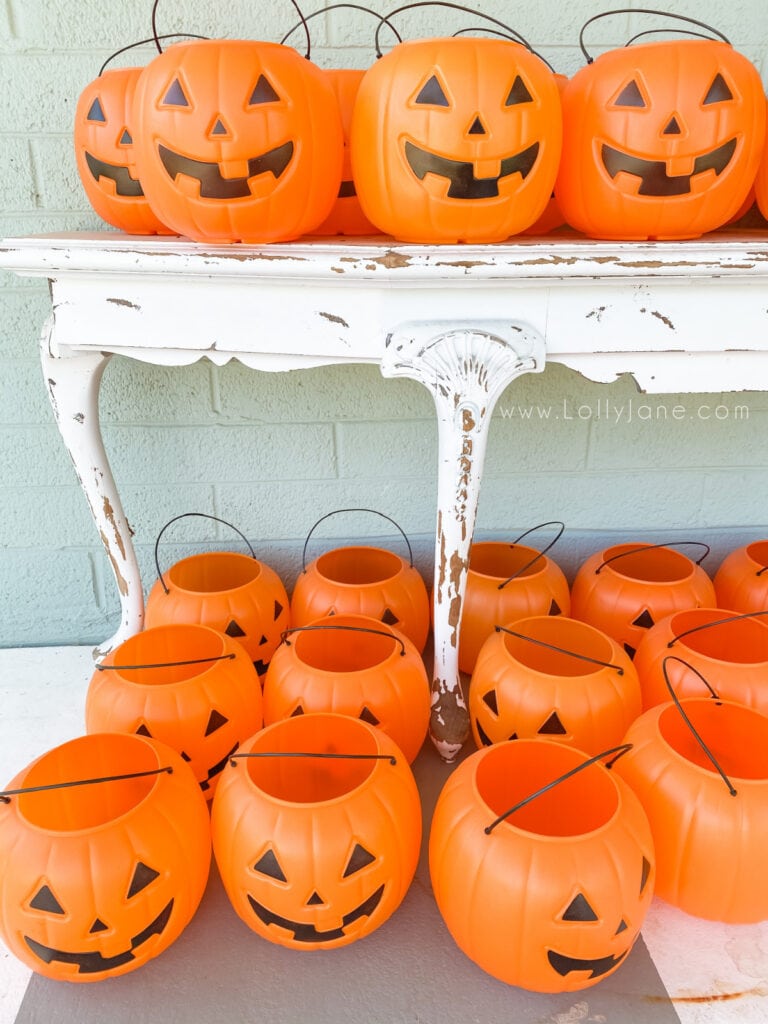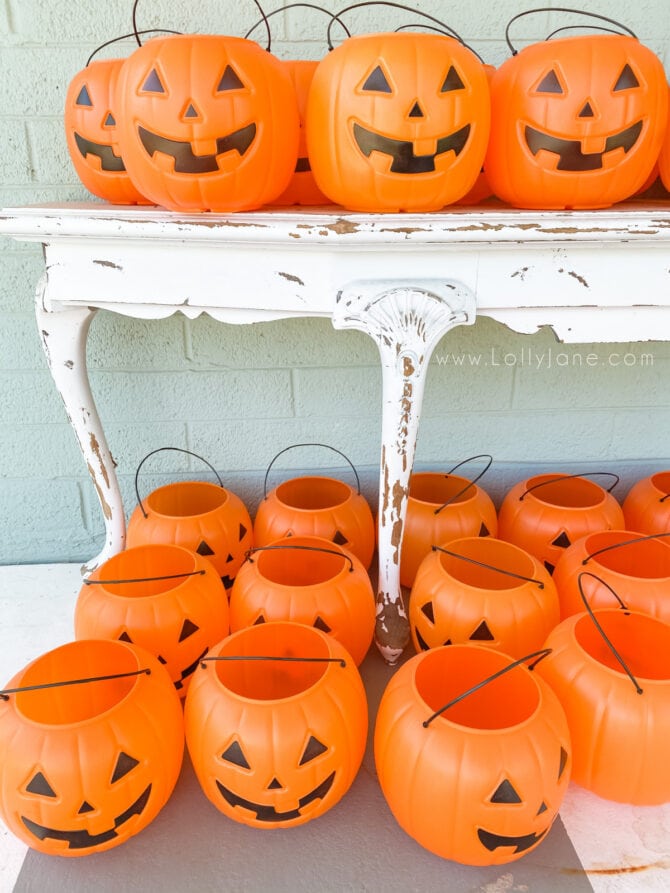 LAY OUT YOUR PUMPKIN PATTERN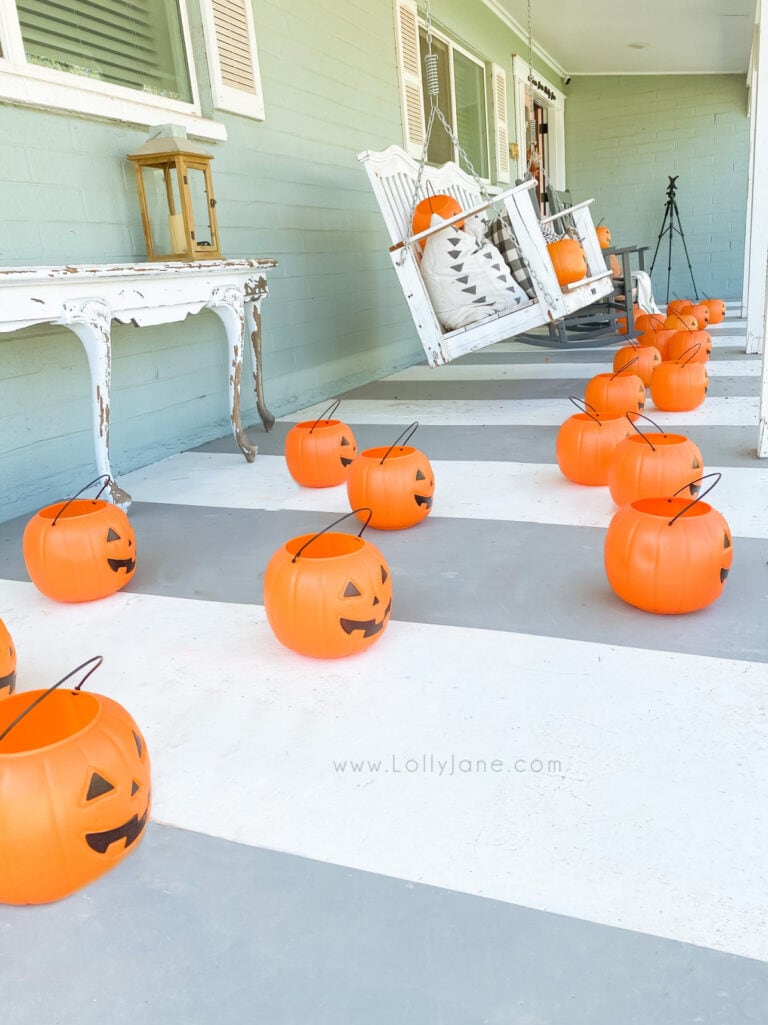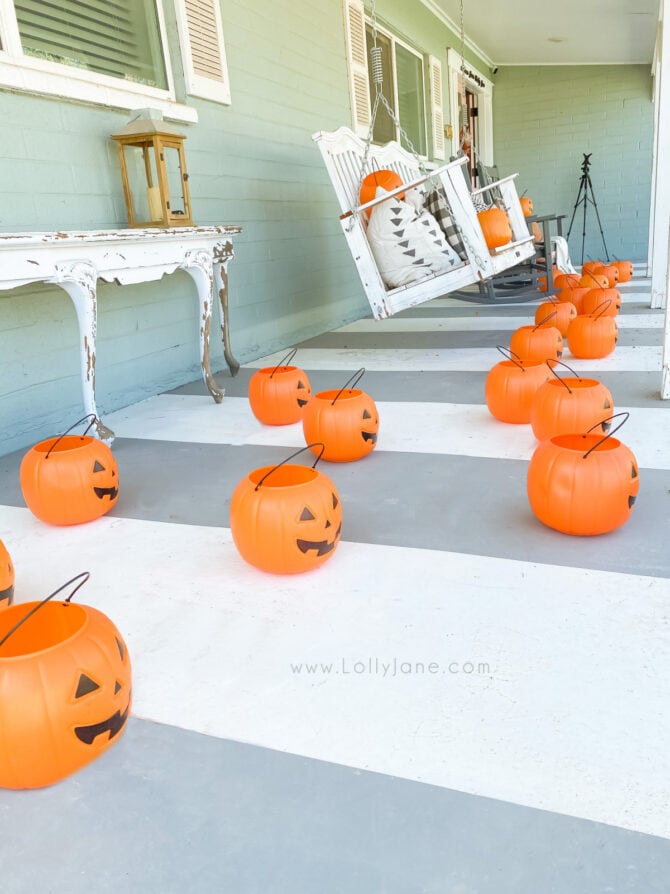 To figure out how far apart to place your pumpkins, lay them on the ground to visualize where they'll hang.
When you've laid them all out, you know approximately where to screw in your cup hook above each pumpkin.
PRE-DRILL YOUR HOLES
We recommend pre-drilling the holes for the cup hooks. The reason being is you'll be standing on a stool or ladder and it's not as easy to screw in the cup hook without the pre-drilled hole since it's an unnatural way to stand for so long.
Another reason to pre-drill is, when screwing in cup hooks, you have to use some force. It's far safer to pre-drill than to try to push up into the ceiling.
If you skip this step, simply screw in each hook above the pumpkins.
pre-cut your fishing line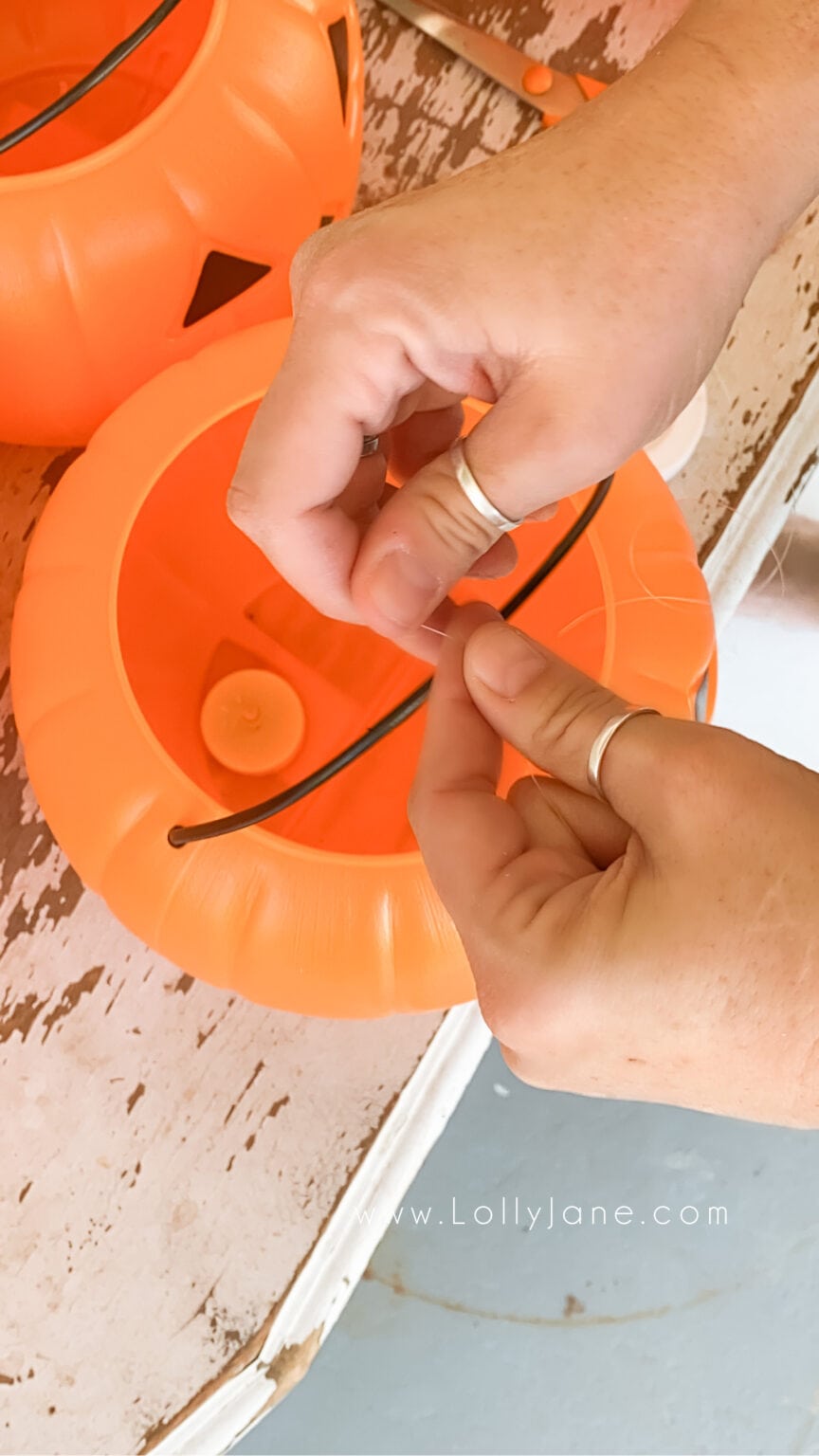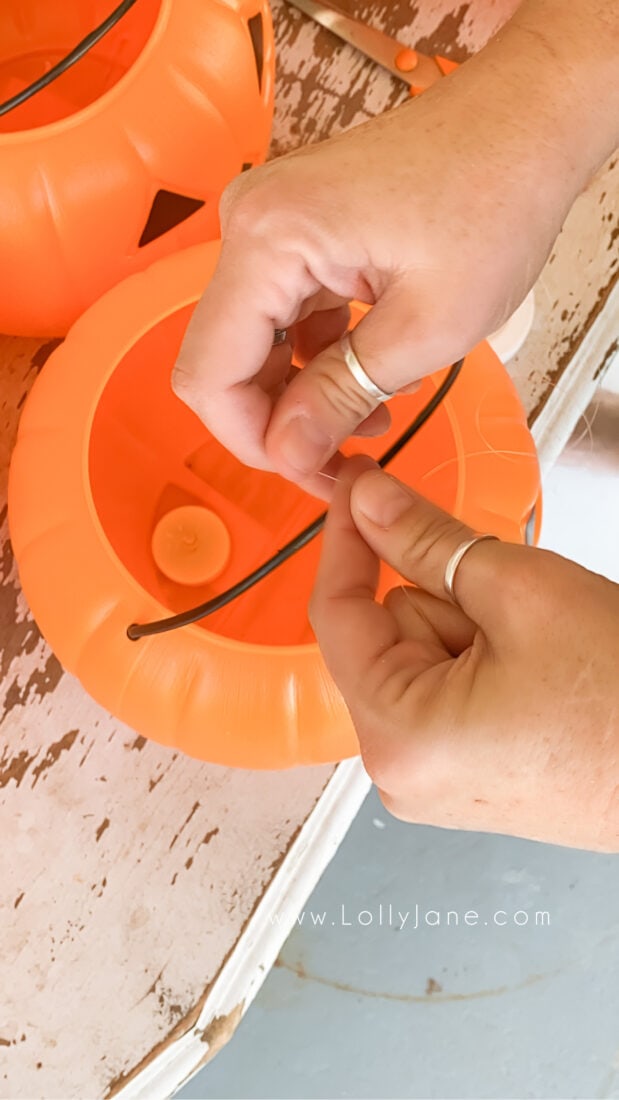 After hanging them two ways, I realized pre-cutting the fishing line saved time overall plus I wasn't having to balance the scissors and the line in the air.
Cut each line around 24″, you can always trim the excess afterward.
tie your pumpkins up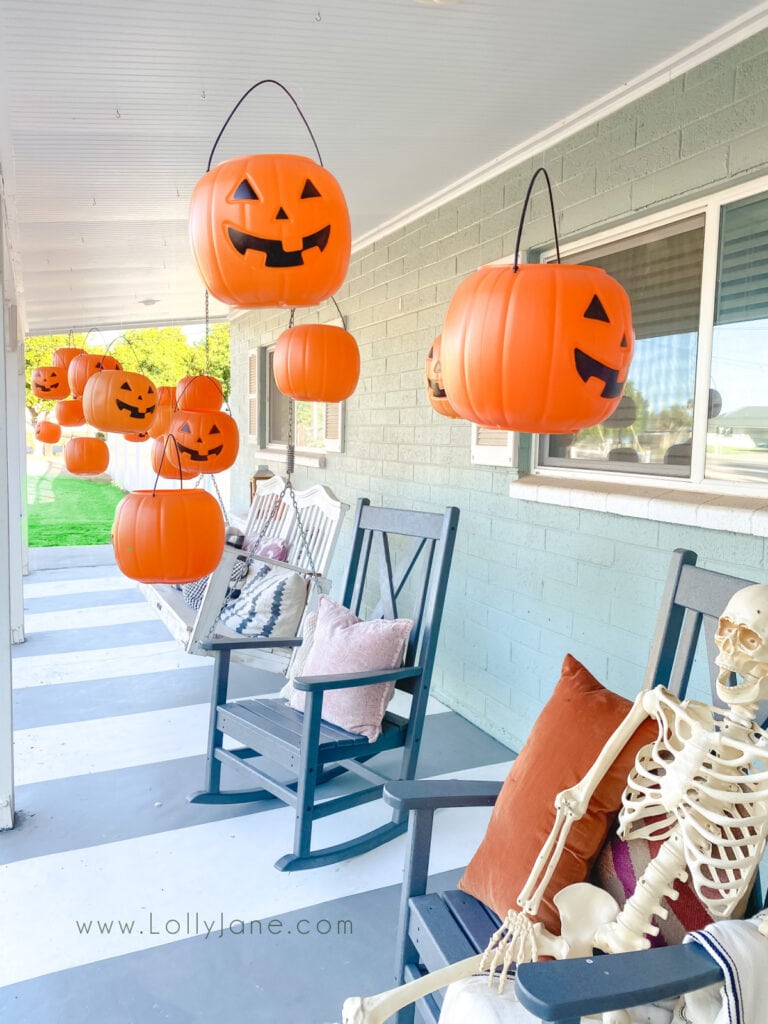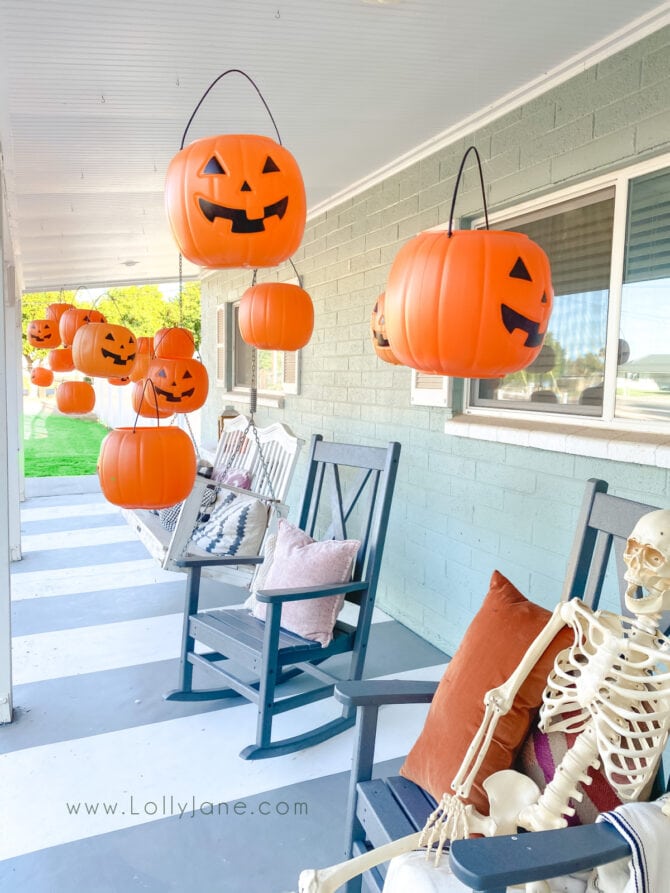 To hang the pumpkins, you're going to double wrap then double knot the line around the black handle of the pumpkin first.
Then you'll double wrap and double knot it to the cup hook that's already screwed into the ceiling.
Get creative with your fishing line lengths so the pumpkins are staggered at varying heights.
ADD TEA LIGHTS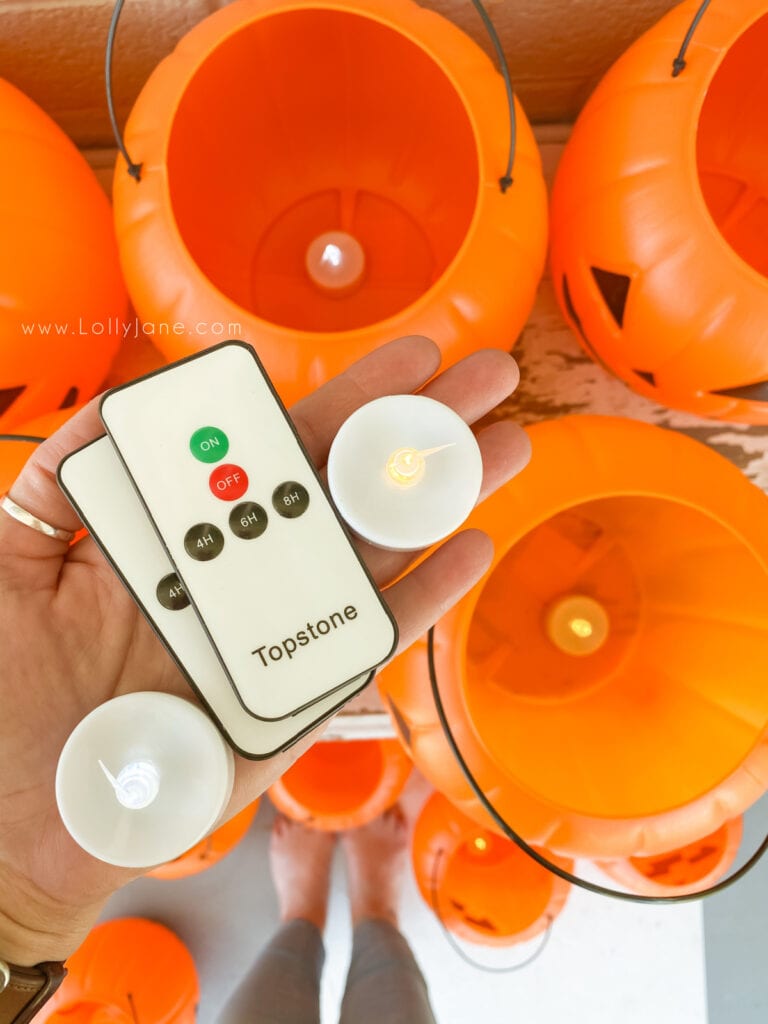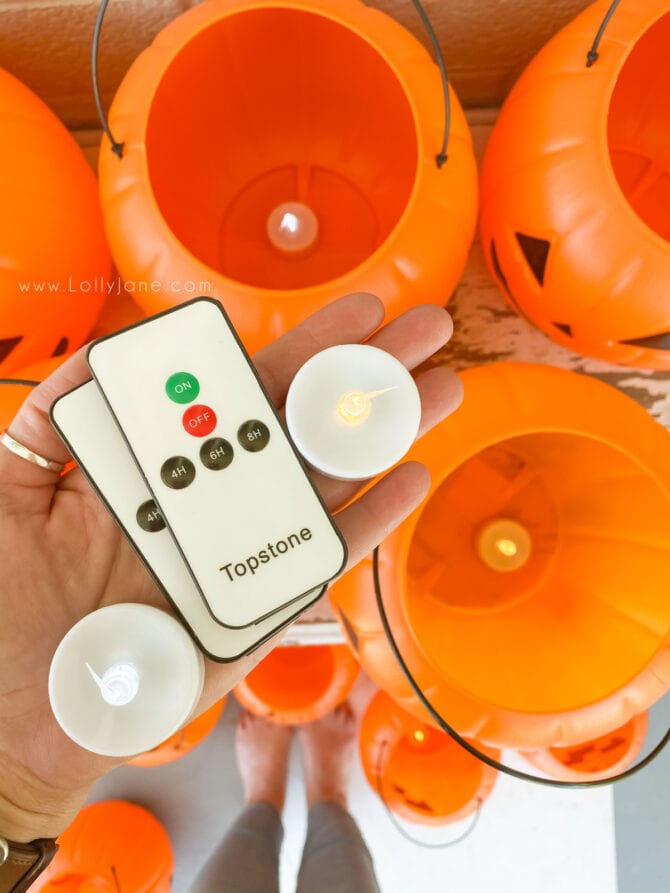 We love remote control lights! We have some on the back porch and some more in the front yard. We recently added some in our mini-kitchen makeover, too!
Just place a tea light in each pumpkin and your remote will turn them all off or on at once. Brilliant.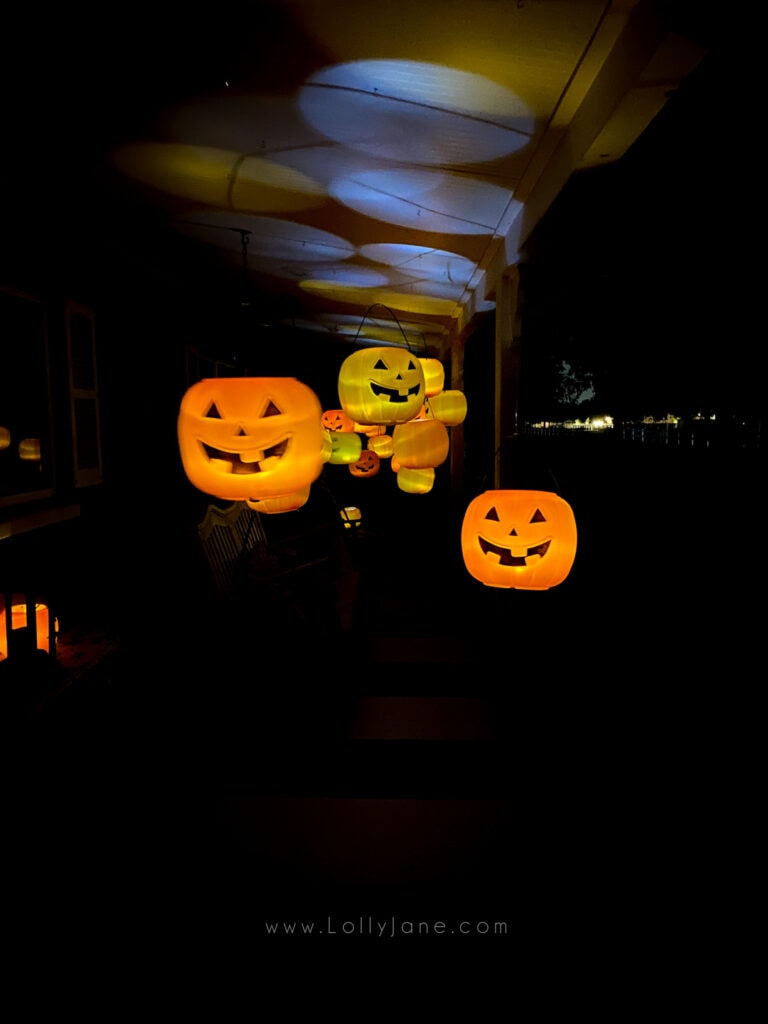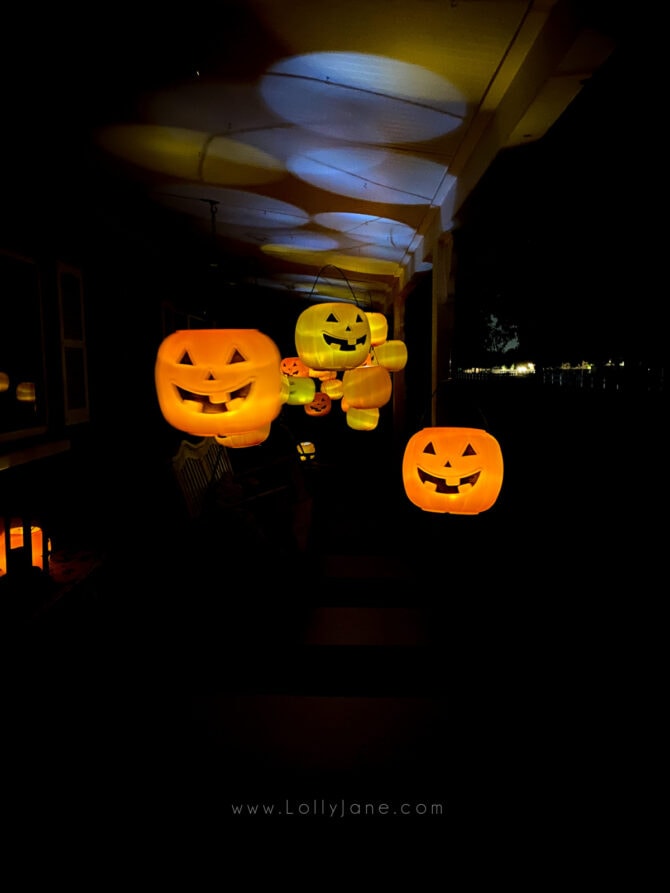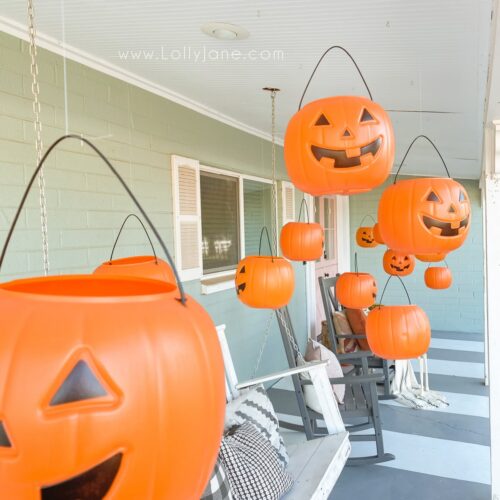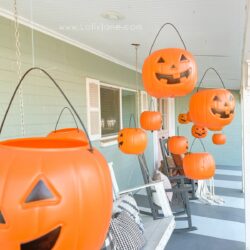 Print
Hanging Pumpkins Halloween Porch Decorations
Light up with the neighborhood with these glowing hanging pumpkins, easy to install!
Materials
24

Plastic Pumpkin Candy Buckets

1

roll

Clear Fishing Line

1

pack

5/8" Cup Hooks

1

Drill + Bit

bit should be the same size or smaller than the cup hooks

1

pair

Scissors
Instructions
Lay out your pumpkin pattern on the ground.

Pre-cut your fishing line to 24" strips.

Tie your pumpkins with the fishing line.

Add tea lights inside pumpkins.
MORE QUESTIONS FROM our community
How do you hang outdoor Halloween decorations?
This depends on what you're hanging and what material your home is made out of. You can drill or nail into wood but will need a concrete bit and concrete screws if you have a brick or block home.
Command Strips can be used on many surfaces if you don't want to damage your walls.
How do you hang Halloween decorations without damaging walls?
If you're looking for damage free hanging options, Command Strips are for you!
Where is the best place to buy plastic pumpkins?
They've been going out of stock since several pumpkin topiaries have gone viral on Tik Tok! Your best bet is to find them in-person at Walmart or Target and maybe even your local grocery store as many online stores like Amazon are gauging prices. Boo.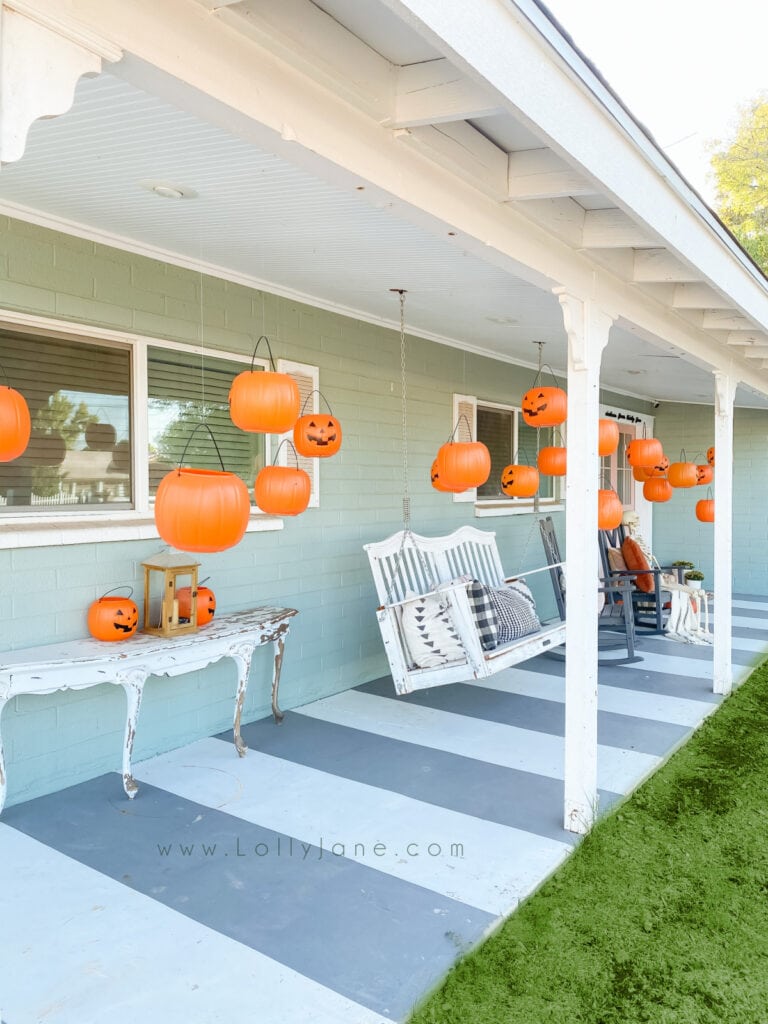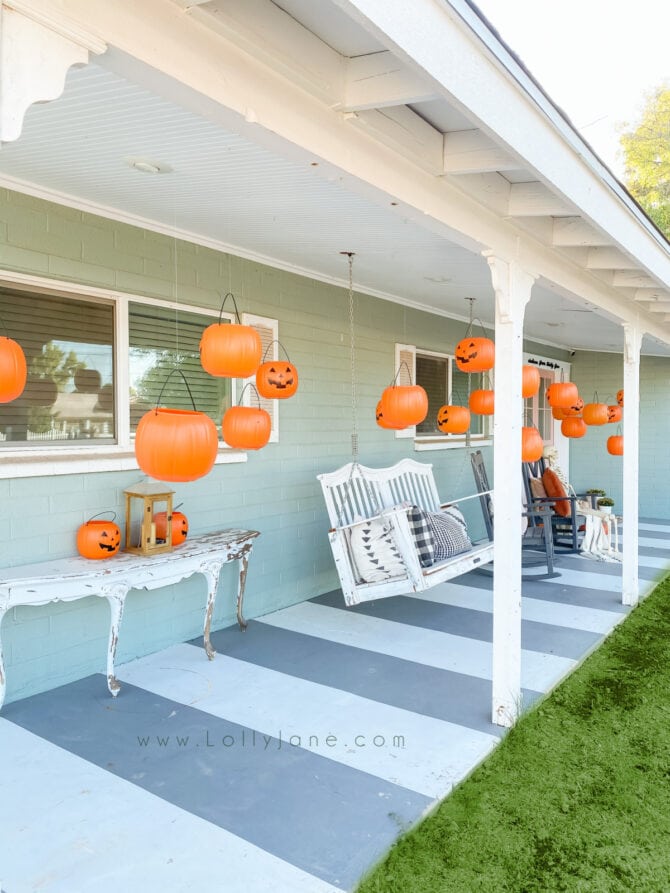 SHARE YOUR VERSION WITH US
If you use this project, come back and share your experience in the comments OR tag us on Instagram, we'd love to re-gram your project!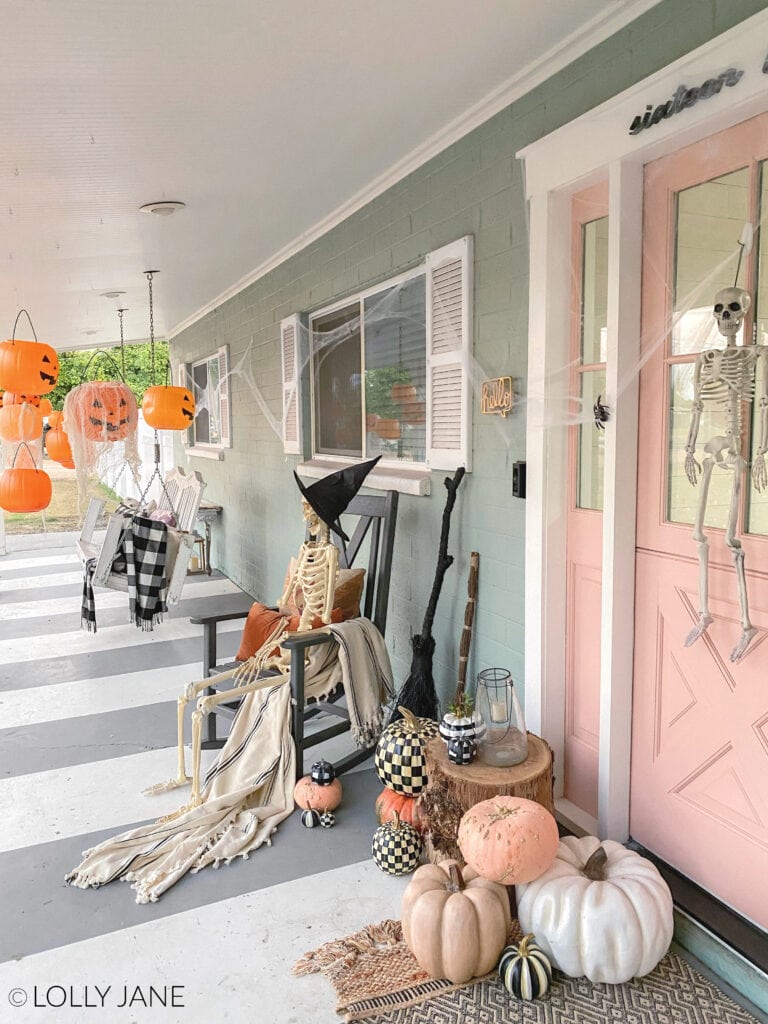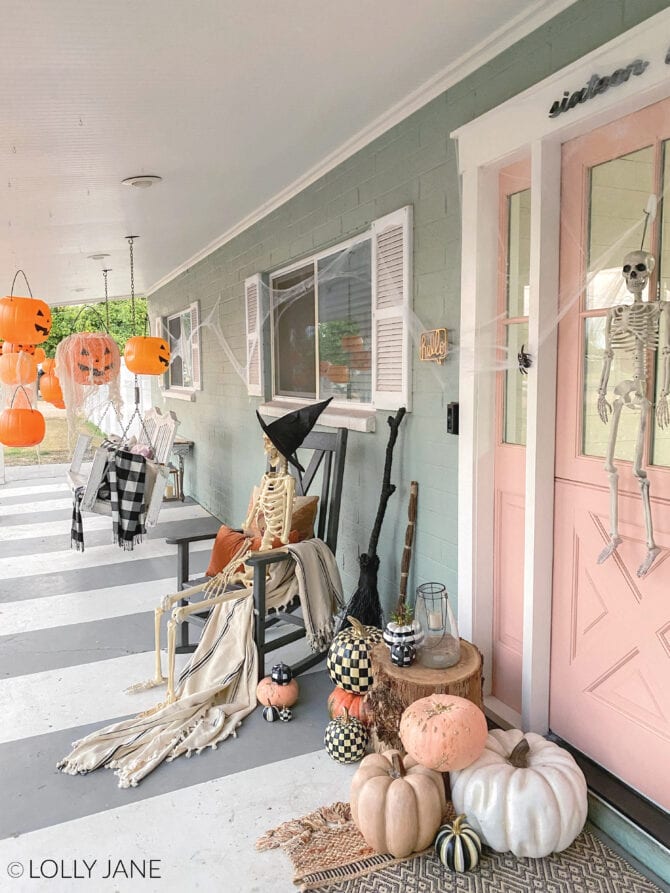 PLEASE PIN
We'd be honored if you pinned this image so your friends and family can enjoy this project too! xo