With 4 kids ages under age 12 and under…plus one of those 4 being in a wheelchair with a broken tibia, I need easy dinner ideas. This quick dinner recipe is a staple around here since my kids love noodles and cheese. This grown up version of mac and cheese with the addition of yummy sauce is a great go-to dinner when you're in a jam. We love this easy cheese rigatoni recipe and hope you do too!

Have you heard Ragu's founder, Assunta's story? She was a young, Italian immigrant who created the perfect tomato sauce from her homegrown ingredients then sold it from her front porch…and now you can buy it from any grocery store. That's pretty amazing, isn't it?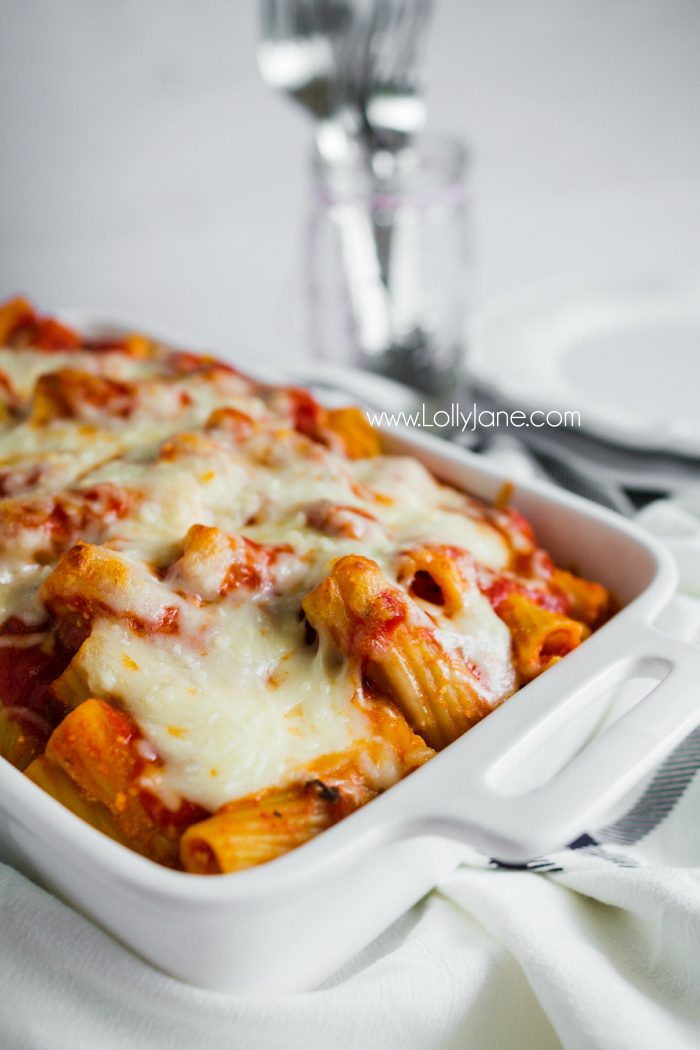 She reminds us of our sweet Nana. Born and raised in Mexico in difficult circumstances with too many tragedies. She ended up mother 7 children and lost her husband too early, before he could fully enjoy his grandfathering role. Our Nana passed away at the age of 96, after a long life full of service, love and cooking for her 7 children and 40 grandchildren every Sunday evening. We have such special memories of our strong, sweet grandmother and think of her often as we're feeding our own little cavalry of kiddos. Her favorite recipes included tomatoes, tomatoes, tomatoes. So in her honor, we're sharing this yummy, cheesy tomato sauce filled rigatoni dinner, originally shared on Ragu. May your kitchen be full of love!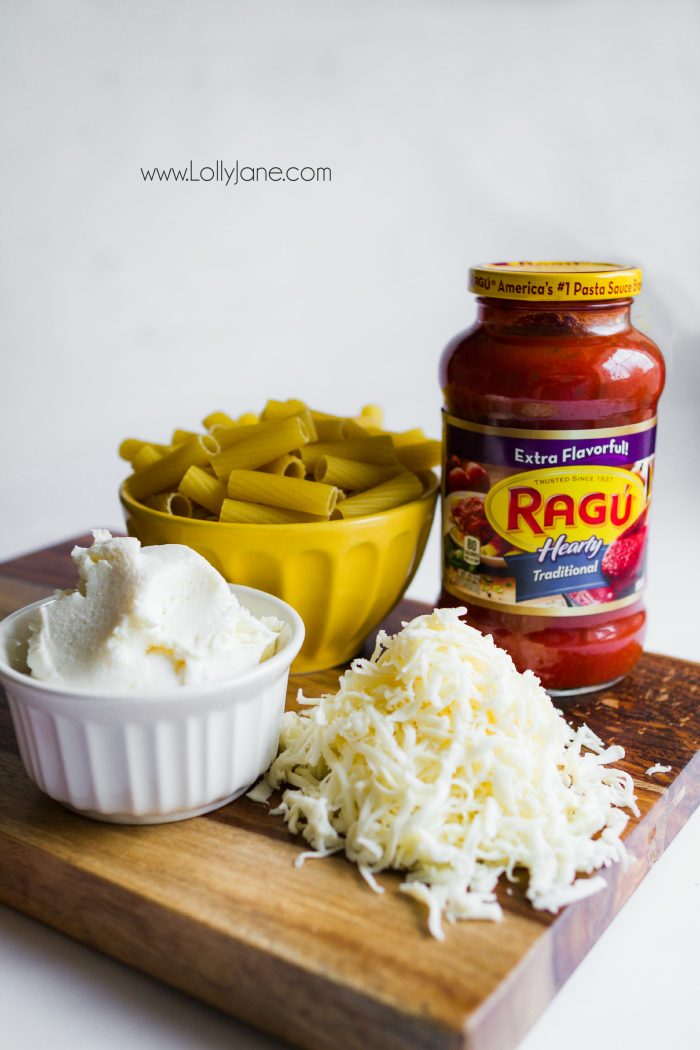 Ingredients
1 lb. rigatoni pasta or large tube pasta, cooked and drained
2 cups shredded mozzarella cheese (about 8 oz.)
1 cup ricotta cheese
1/4 cup grated Parmesan cheese
1 jar (1 lb. 8 oz.) Ragu® Sauce (or 2 if you like it extra saucy)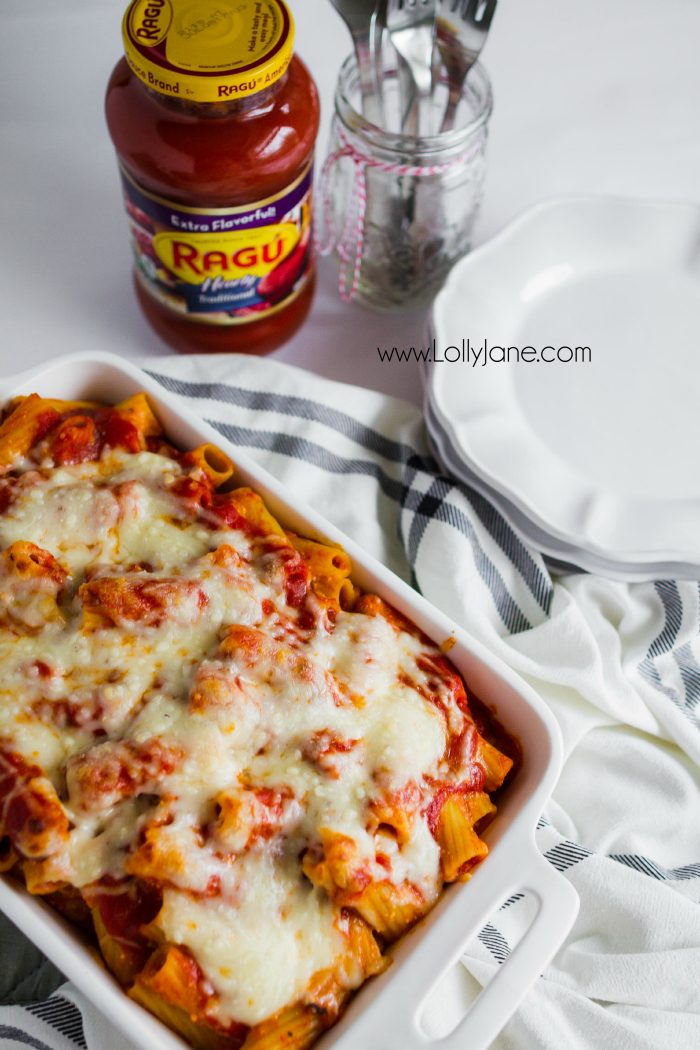 Directions
Preheat oven to 350°.
Toss hot rigatoni, 1-1/2 cups mozzarella, ricotta, parmesan and 1/2 jar sauce; turn into 13 x 9-inch baking dish.
Evenly pour on remaining sauce.
Bake covered 30 minutes or until heated through.
Top with remaining 1/2 cup mozzarella and let stand until cheese is melted.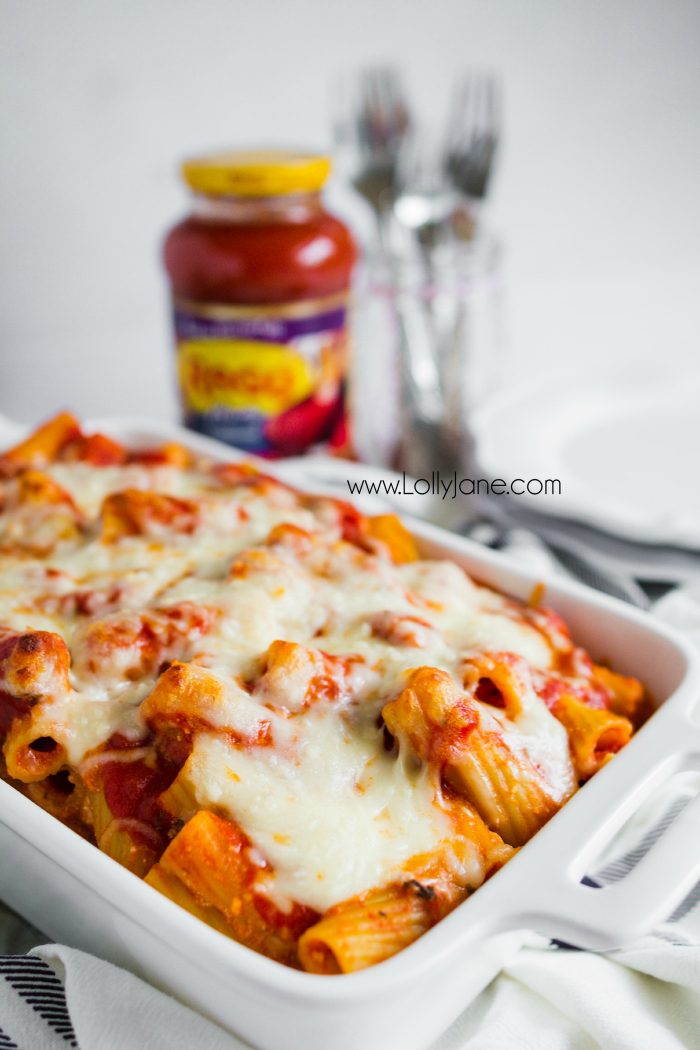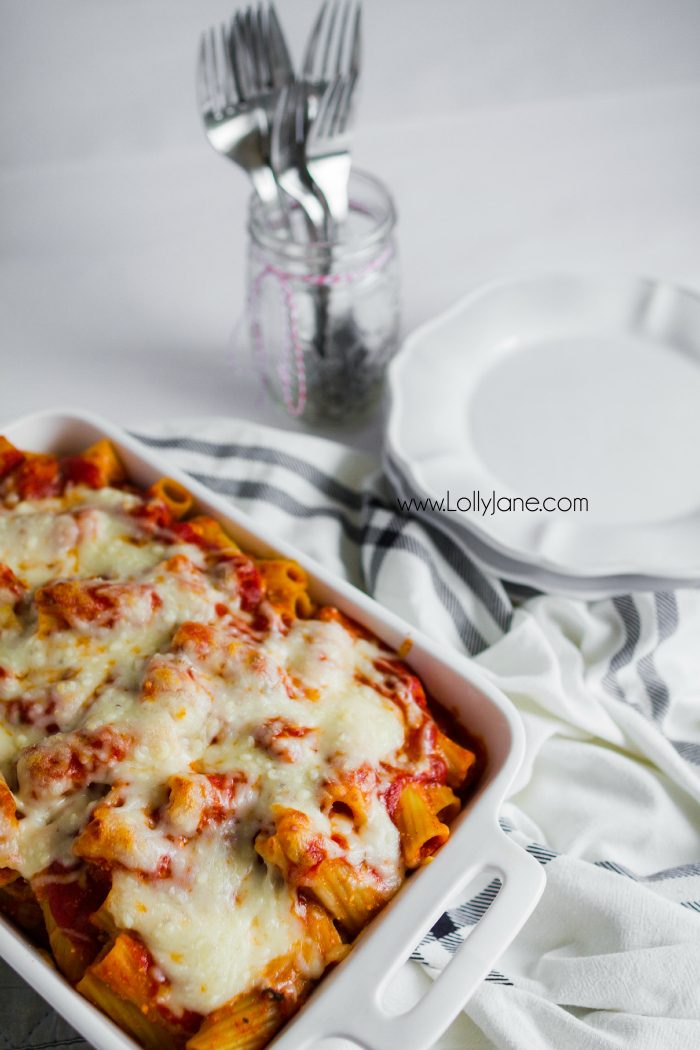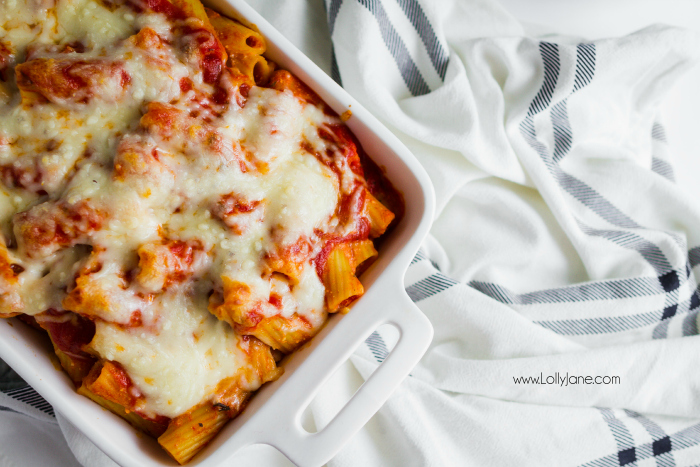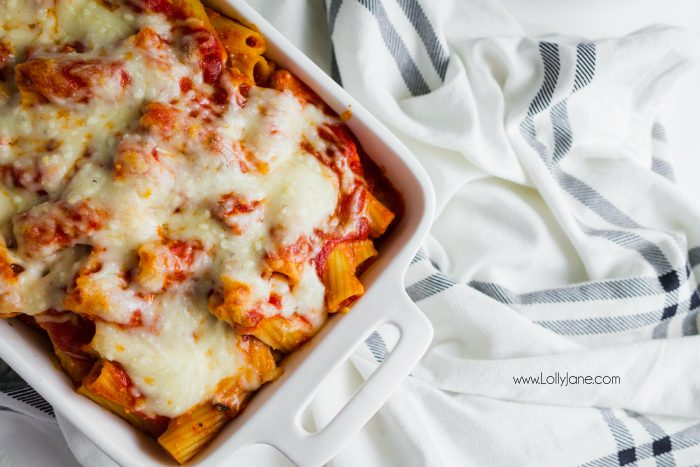 *All photography courtesy of the talented Amy from My Name is Snickerdoodle! Visit her blog for loads of yummy recipes!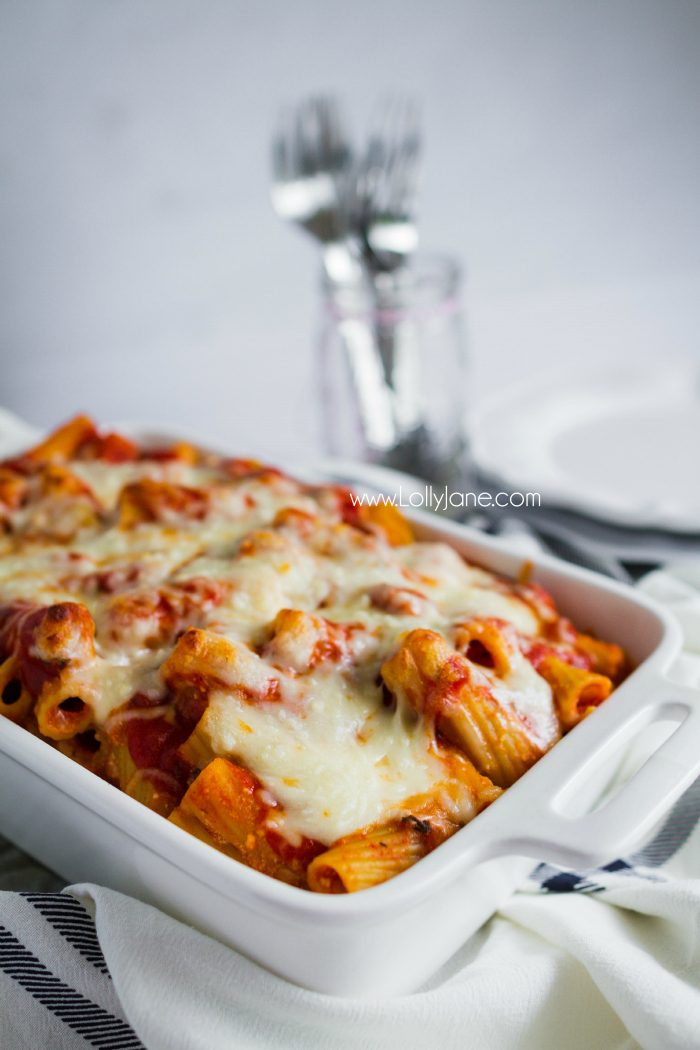 Please PIN so your friends can whip up dinner in an instant too!

If you love this dinner idea, you'll enjoy our Turkey Sweet Potato Enchilada Casserole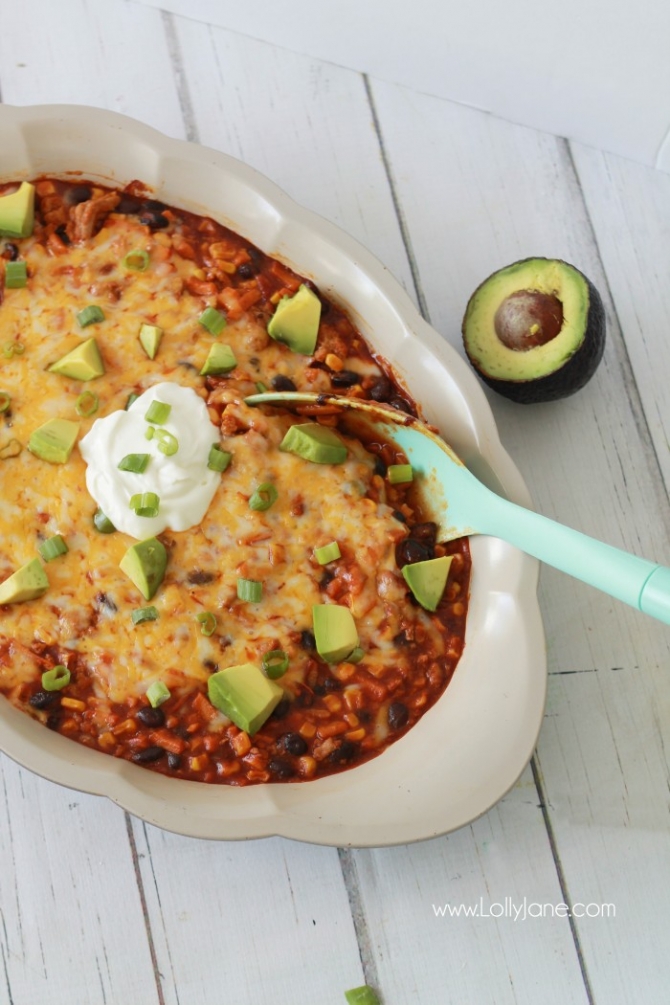 our crock pot Beef Stew,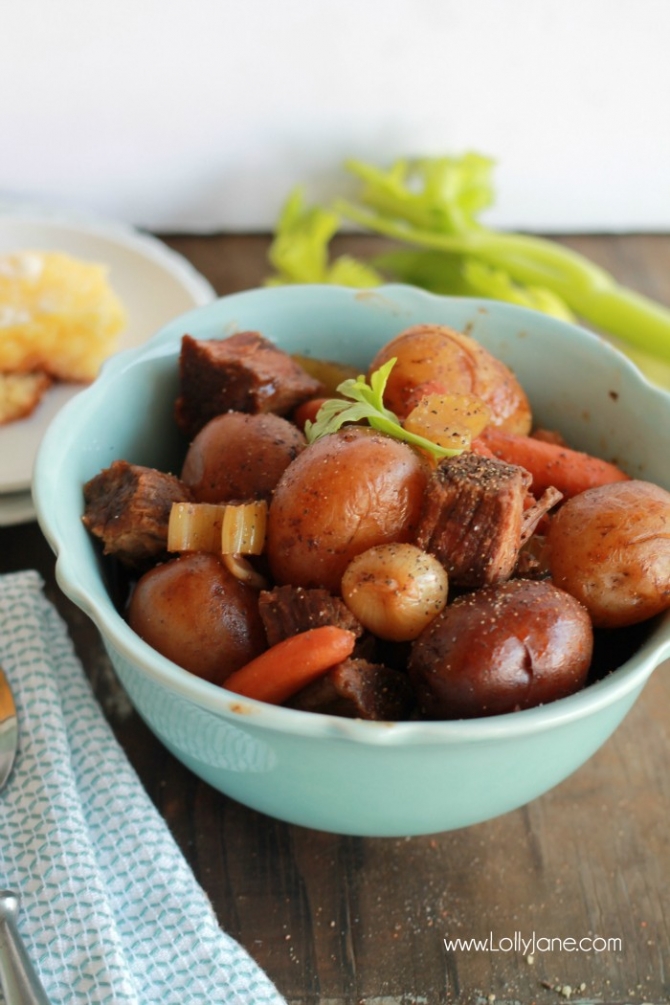 and our Chipotle Lime Chicken Skewers.