Home Decor Dupes: Fixer Upper Style Pieces for Less!
Save hundreds of dollars with these cute Walmart Dupes compared to Magnolia Home's Gorgeous but more expensive home decor. Score pretty fixer upper style pieces for less!
We started our blog several years ago to prove that your home can be beautiful on a budget. We firmly believe you should feel like you're getting a hug from your house when you walk in the door.
It sounds silly to some but making your home feel cozy is so important to us.
Having your house feel like a retreat is our main goal.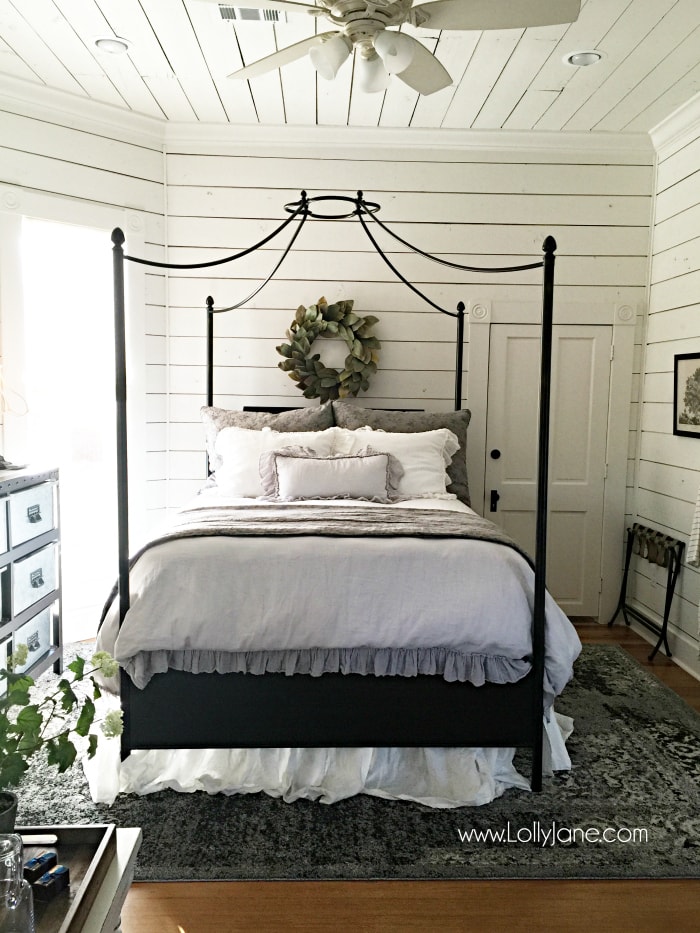 The most important of the Lord's work that you will ever do will be the work you do within the walls of your own home."—President Harold B. Lee
Although we understand he's referring to raising your family, we do we believe making a loving environment with welcoming decor can add to it. Especially if it's not taking away from your family budget. Win-win!
This is the bed I slept in when we stayed at the Magnolia Bed and Breakfast. It was so dreamy! It left me wanting to redo my entire house but who can afford that!?
Instead, we've been adding pieces here and there over time to re-create that cozy look.
Our biggest tips to save money?
Look for sales. Don't overspend. Wait a week to decide if you still like it.
Styles change and being stuck with an expensive decor is such a bummer.
magnolia home dupes
Check out these affordable Walmart farmhouse pieces. If you're in the market for any of these items, grab the less expensive version, no one will ever know 😉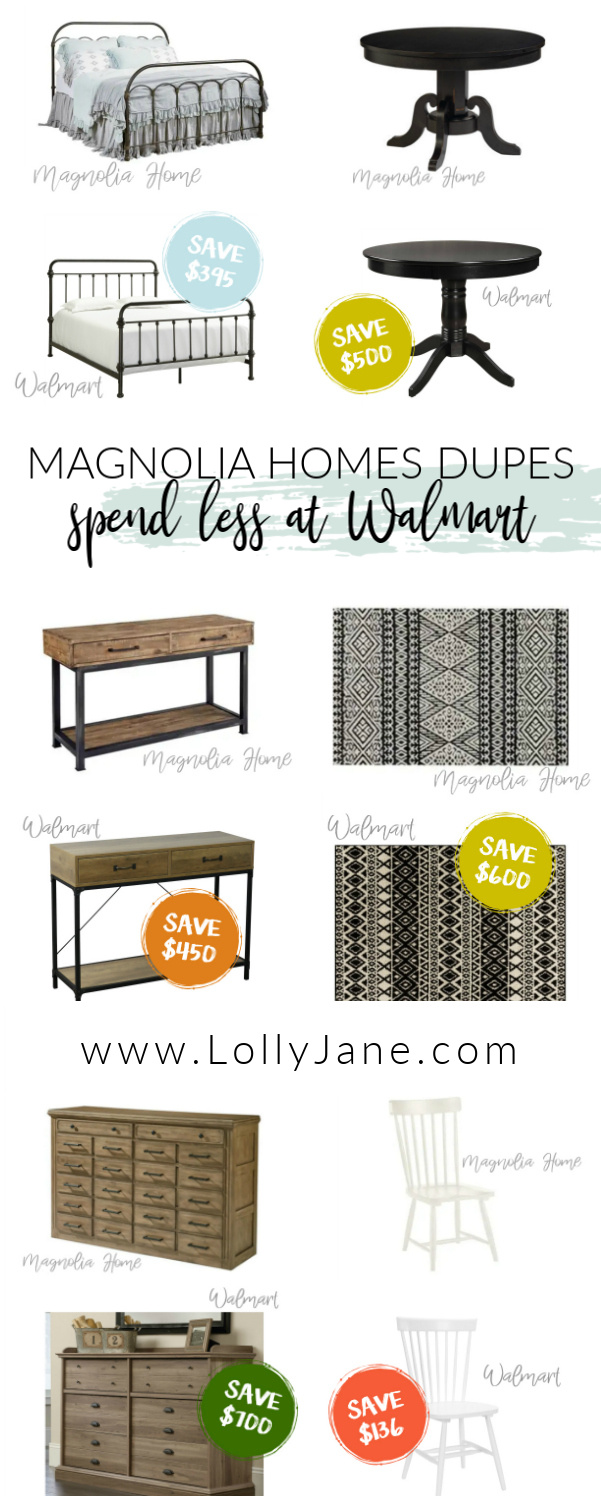 magnolia home ACCESSORY dupes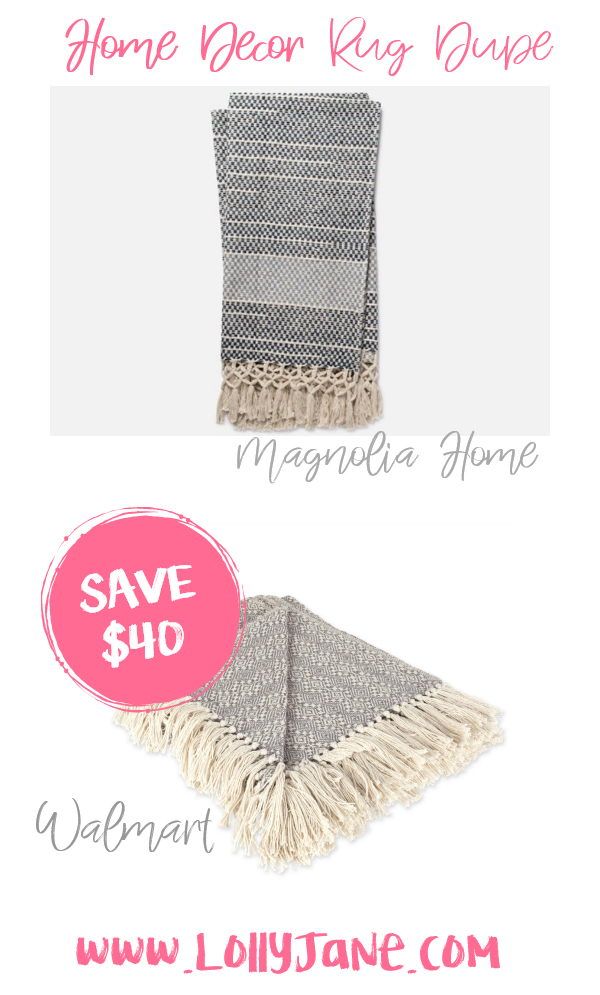 Magnolia Home Braided Fringe Navy/Light Blue Accent Throw $59 VS Gray Diamond Stitch Throw with Fringe $19.99
check out more affordable finds: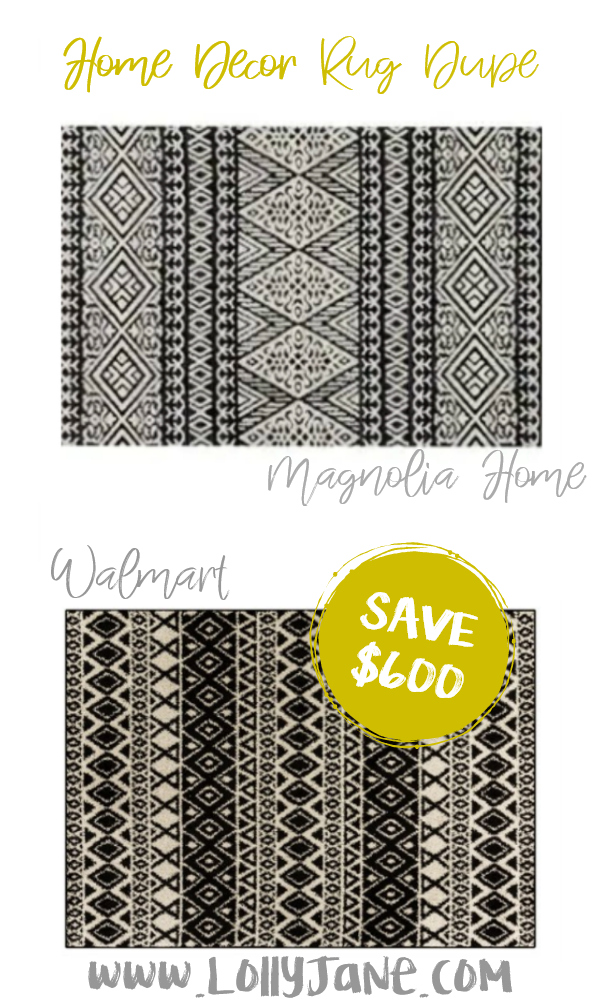 Magnolia Home Lotus Diamond Black/Silver Rug $699 VS Walmart Mainstays Hayden Pattern Shag Area Rug $99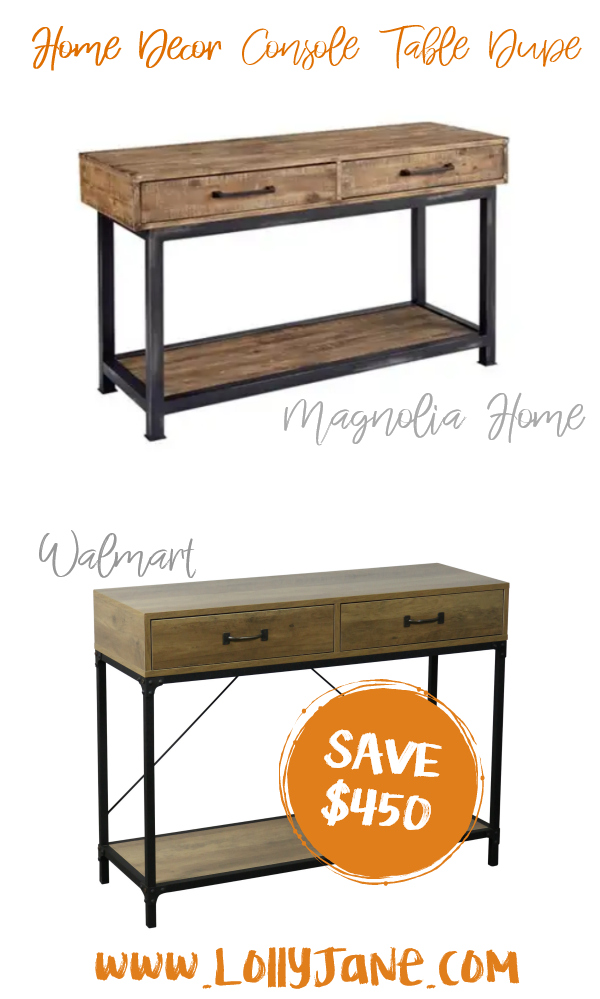 Magnolia Home Pier And Beam Console Table $549 VS Antique Console Table with 2 Drawers and 1 Shelf $99.95
magnolia home Bedroom dupes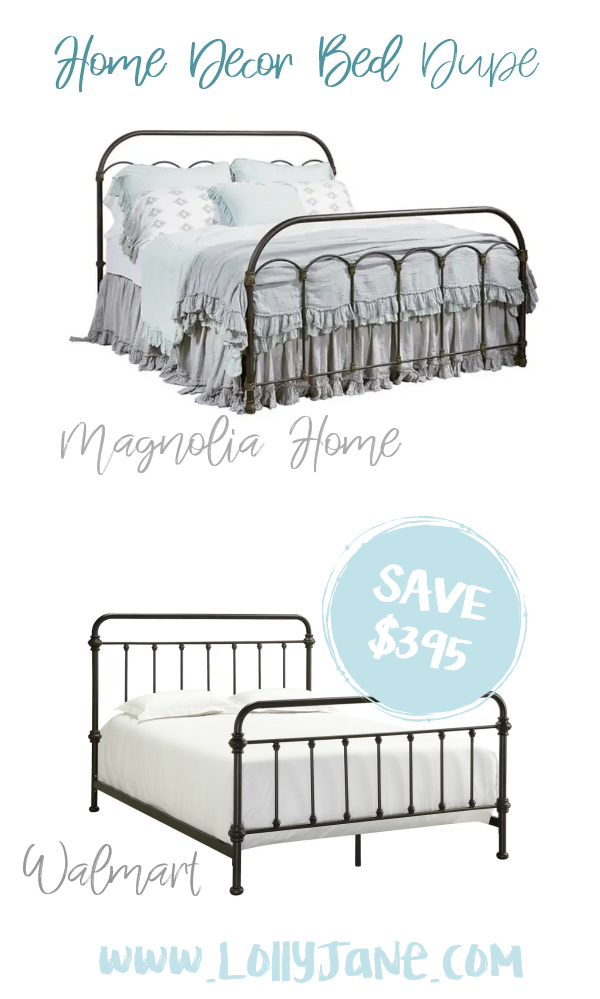 Magnolia Home Colonnade Full Metal Panel Bed $598 VS Weston Home Nottingham Metal Bed $203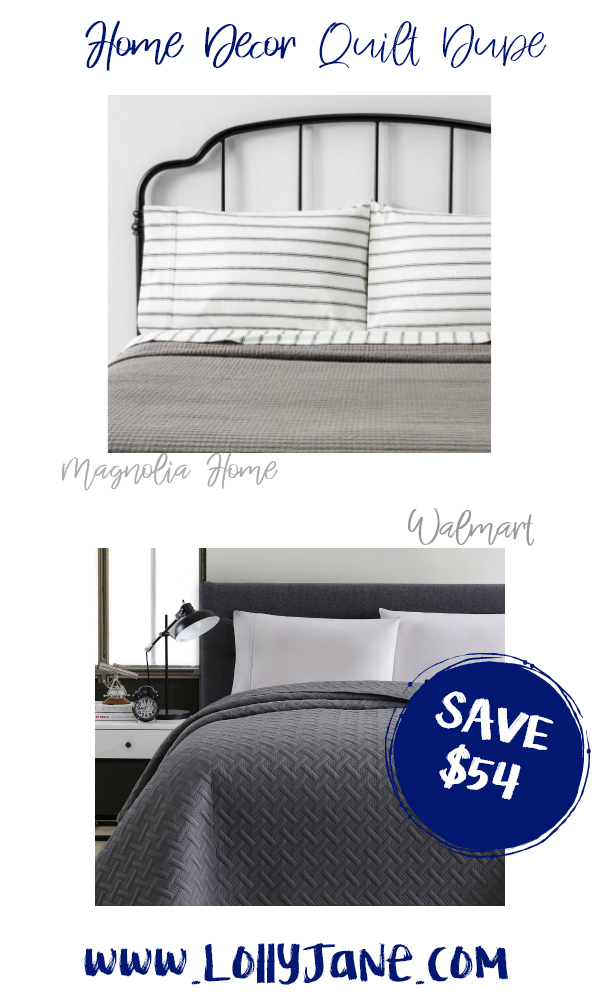 Texture Stripe Hearth & Hand Quilt $79 VS Mainstays Emma Solid Basketweave Quilt $24.99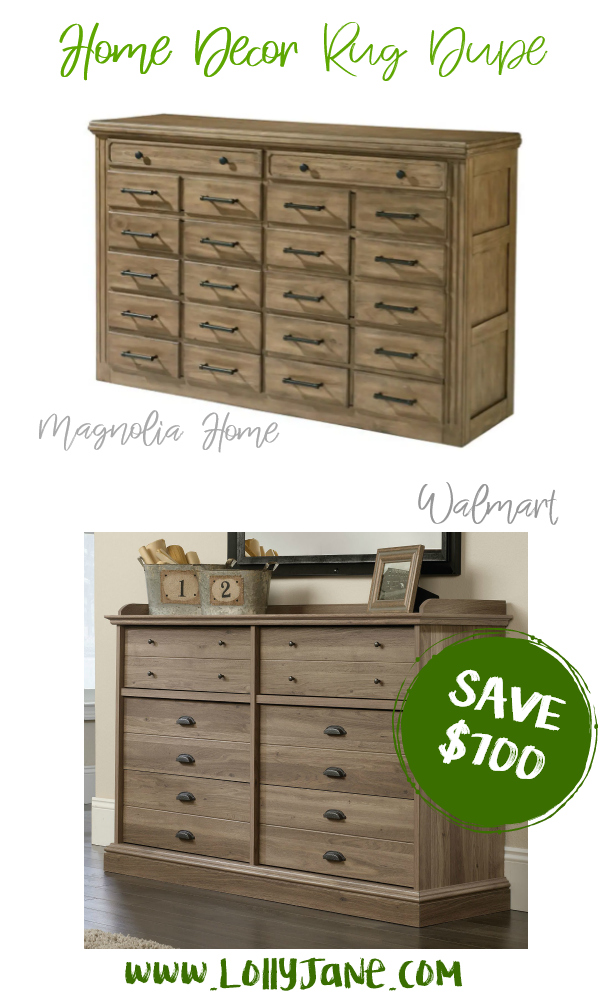 General Store Sideboard/Dresser $1049 VS Sauder Barrister Lane 6 Drawer Dresser $345.68
magnolia home kitchen dupes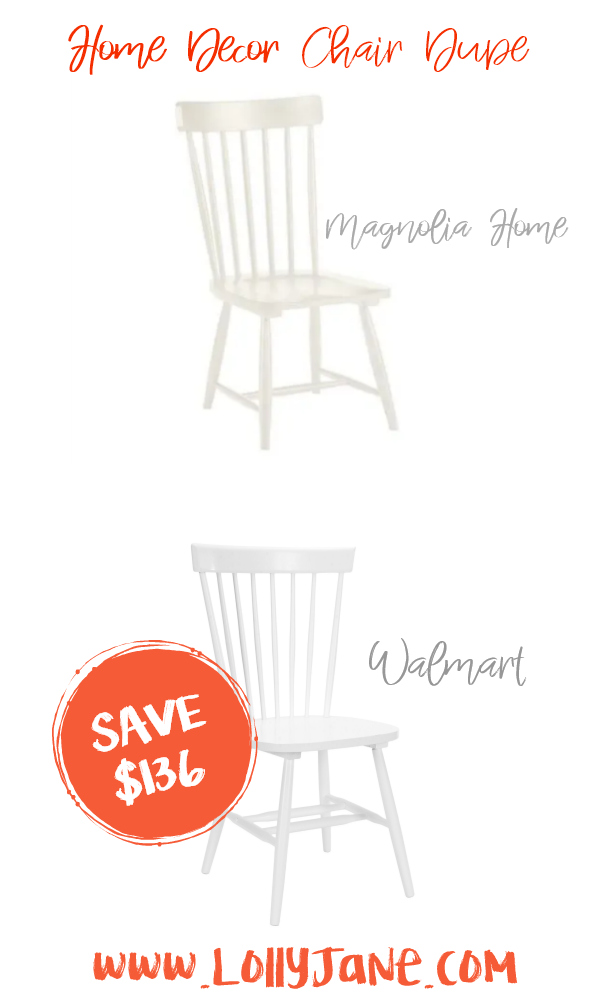 Magnolia Home Spindle Back Side Chair $199 VS Safavieh Parker Spindle Dining Chair $63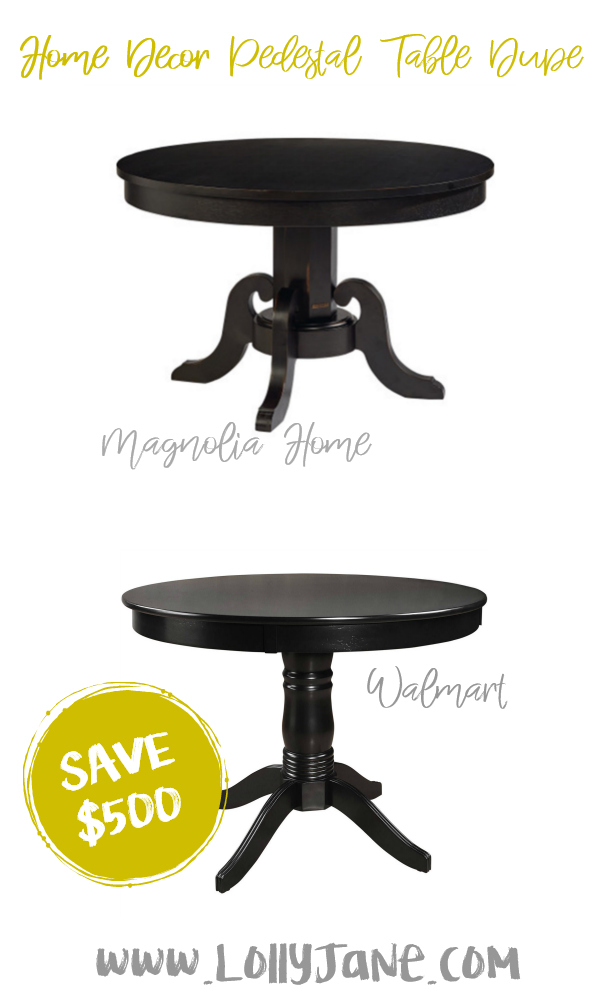 Magnolia Home Gatherings Round Pedestal Dining Table $648 VS Weston Home Lexington Pedestal Style 42″ Round Table $142
outdoor decor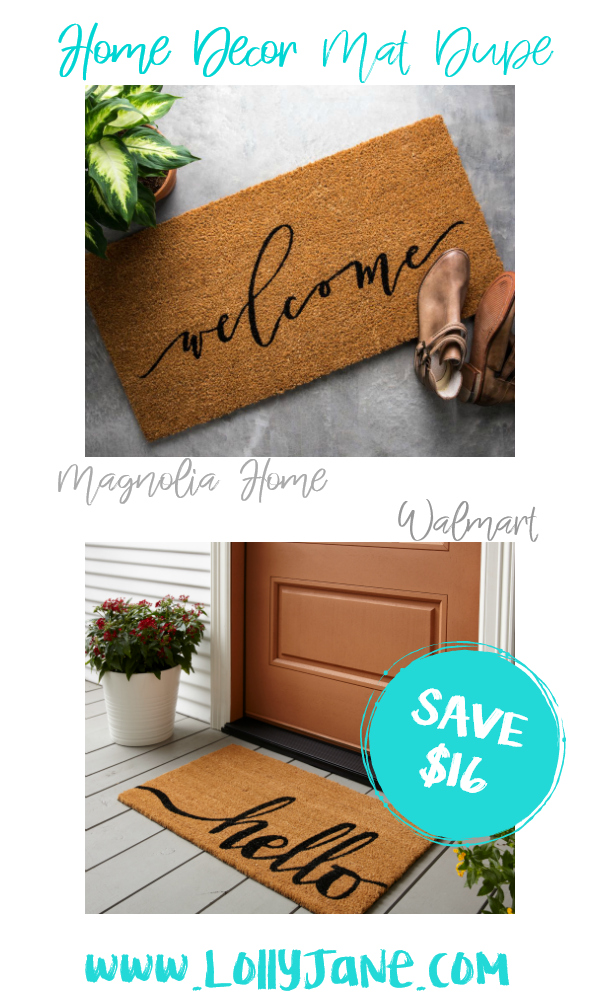 Magnolia Script Welcome Mat $28 VS Hello Coir Mat $11.44
What did we miss?
Have you scored any major finds lately? Share your thoughts below, we'd love to get the word out!
PLEASE PIN so your friends can save some money, too!