Useful Tips for Remodeling a Bathroom
Week Five of the Jeffrey Court + One Room Challenge shall be nicknamed "Install Week" as everything was installed this week… okay, almost everything! I know what you're thinking: "There is NO way you're going to get this done by the big reveal week, Lolly Jane." But, we work best under pressure and not even totaling my car (that happened today!) can stop us. Well, we do have  some help. 😉 Grouting is happening as you read this and the flooring will be done by end of week so stay tuned into our Insta stories for the latest and greatest there but also take a peek at the Jeffrey Court tile competition on their Facebook page, so exciting!
Follow the journey: Week One | Week Two | Week Three | Week Four | Week Six
WEEK FIVE PROGRESS:
Plumbing installed.
Built-in shelves framed.
Fan tile installed on walls of tub.
Penny tile installed on built-in shelving.
Faucet, shower head, and drain installed in tub.
Light switch installed.
Ring vanity lighting with blue tooth speaker installed.
Concrete counter top installed on vanity.
Floors prepped and penny tile going in later today… yay!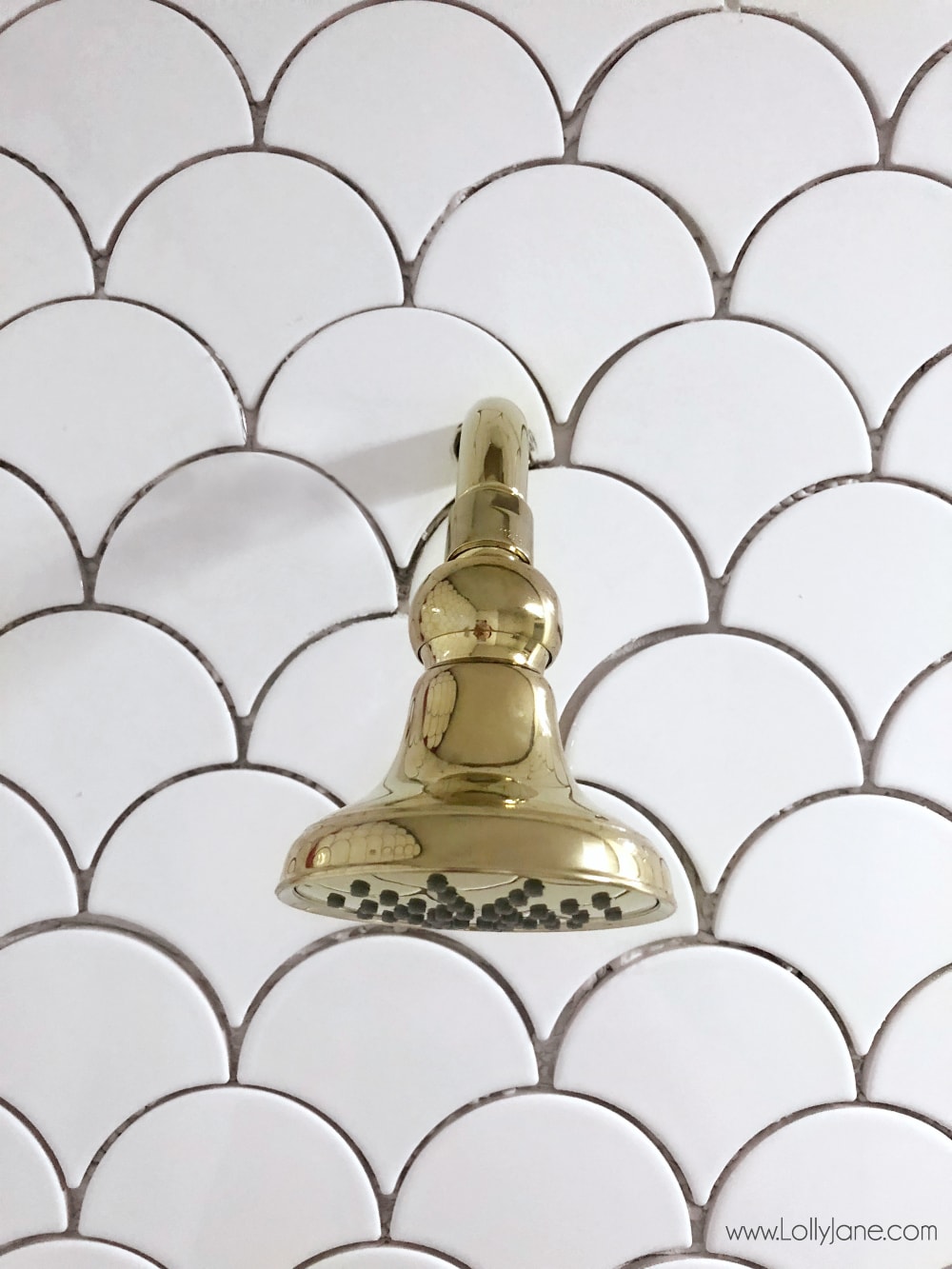 Could you just die at the gold shower head with this fan tile?! Eek! I'M IN LOVE! Okay and how about that spout? Mmmm!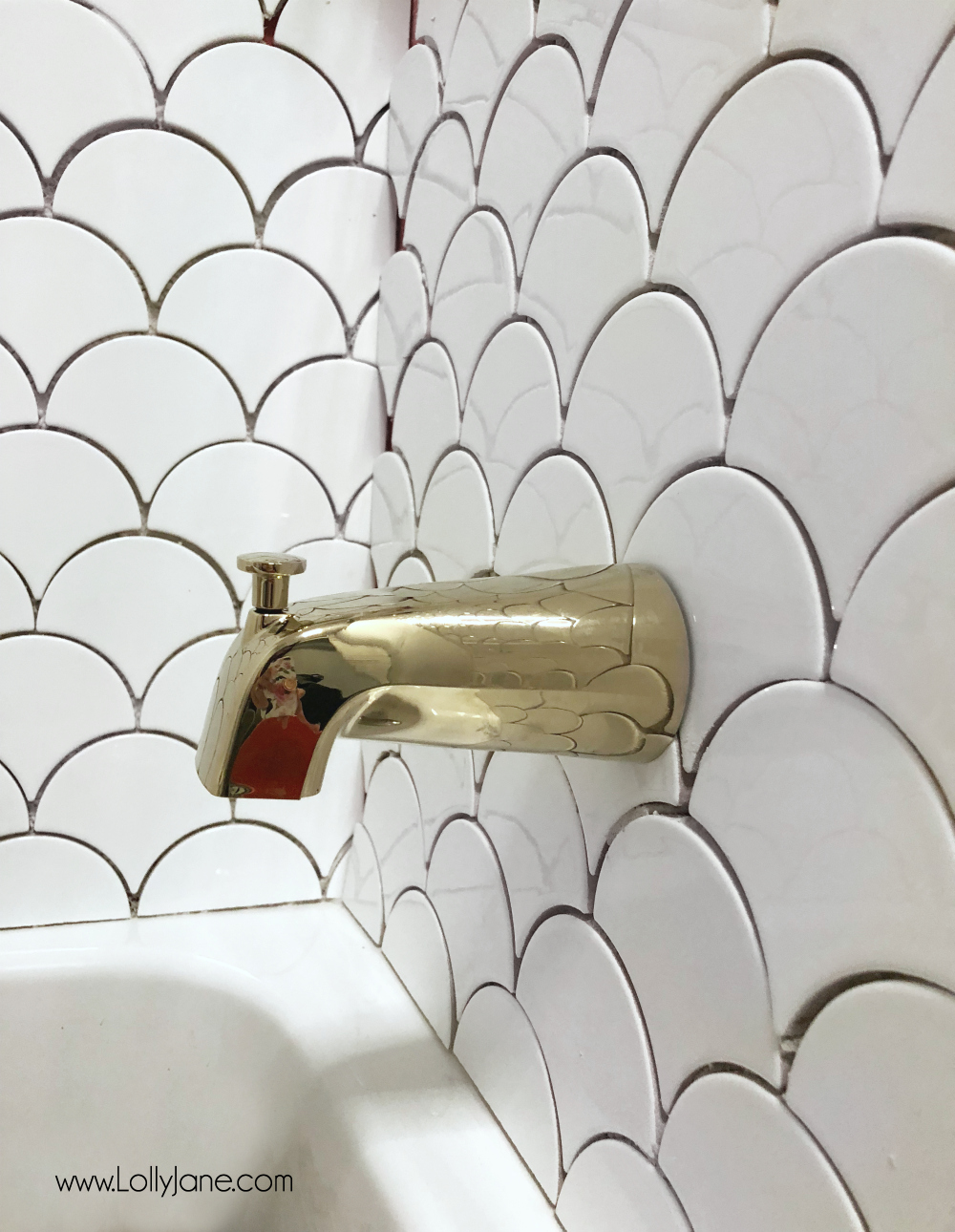 We chose a gray grout to coordinate with the gray concrete counter tops custom made by Compound Concrete here in Arizona. We love choosing local or handmade if we can! Here's a peek at the space in its entirety; you can see the dry wall is covering up all those electrical cords and brick mortar.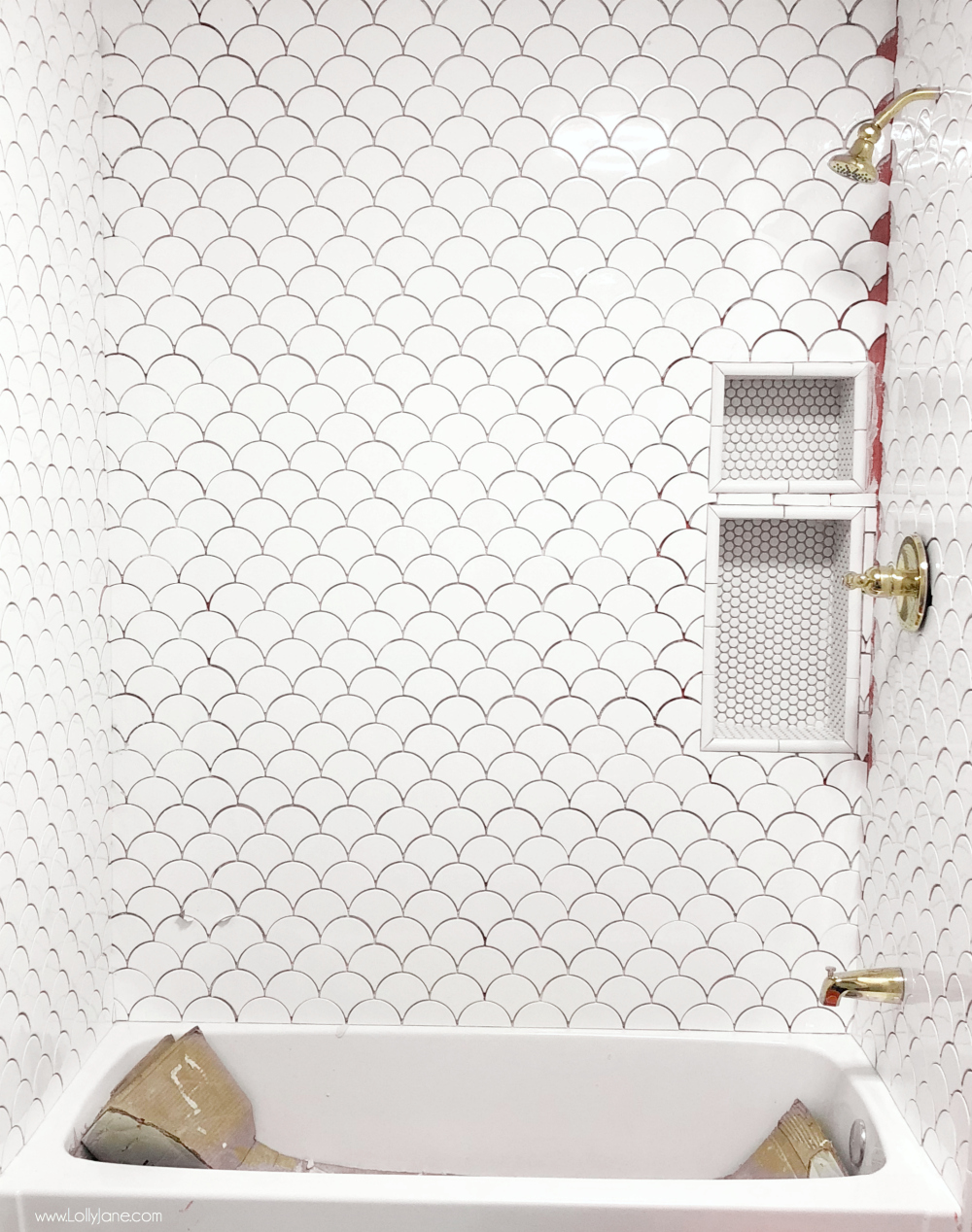 In a few days it will have this gorgeous floral peel 'n stick wallpaper on it. I can't even, you guys! (My husband always asks, "even what?!" after I say that. Haha)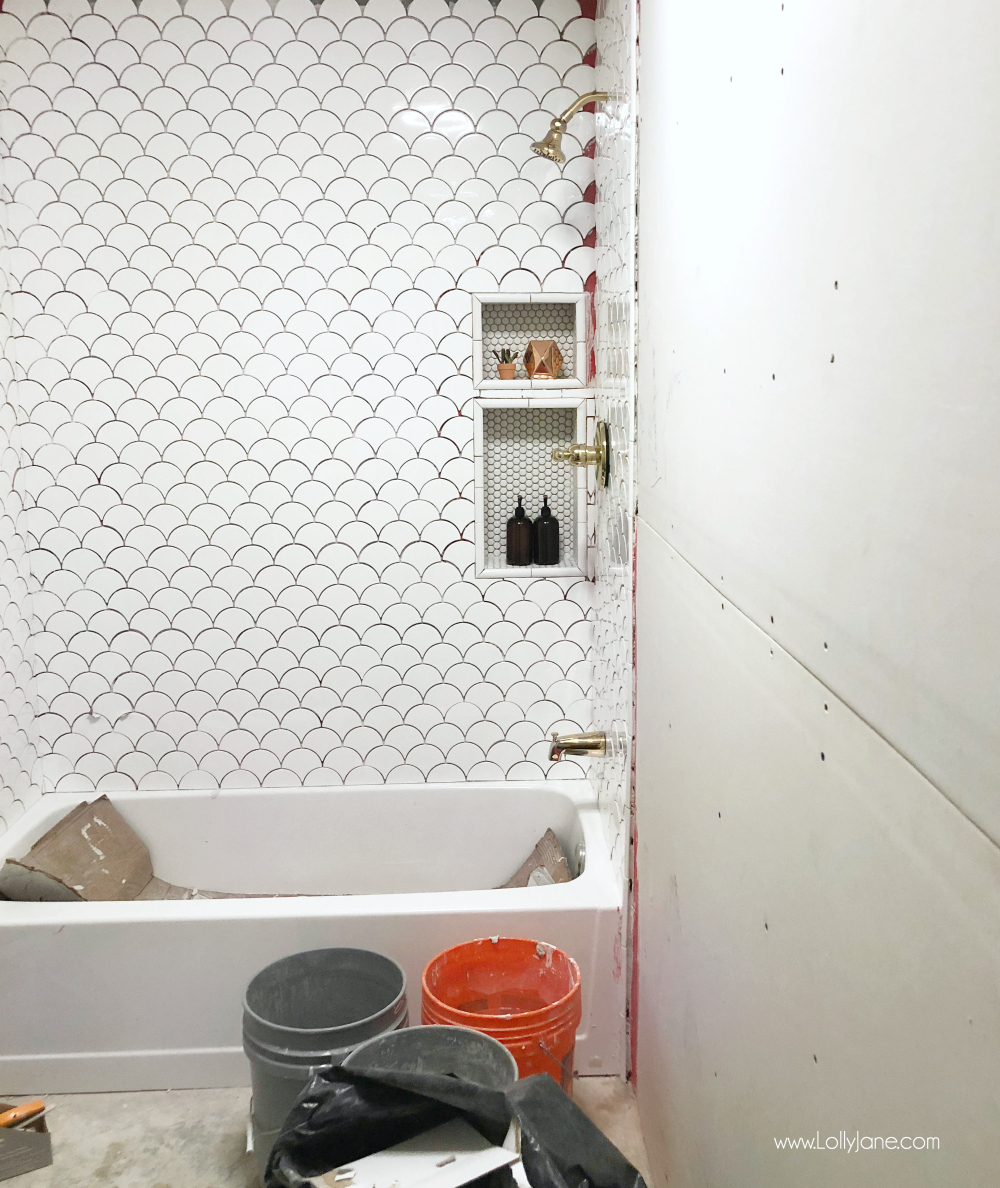 Anyway the vanity is 90% complete, just waiting for the floors to be laid, grouted, and sealed before we can install it under the wall-mounted matching gold faucet. Prepare to faint, it is such a gorgeous combo! Here's a peek at the freshly hand poured and sculpted custom sink for this vanity. That gold faucet will be wall mounted; love that option with kids bathrooms as it's easier to clean. 😉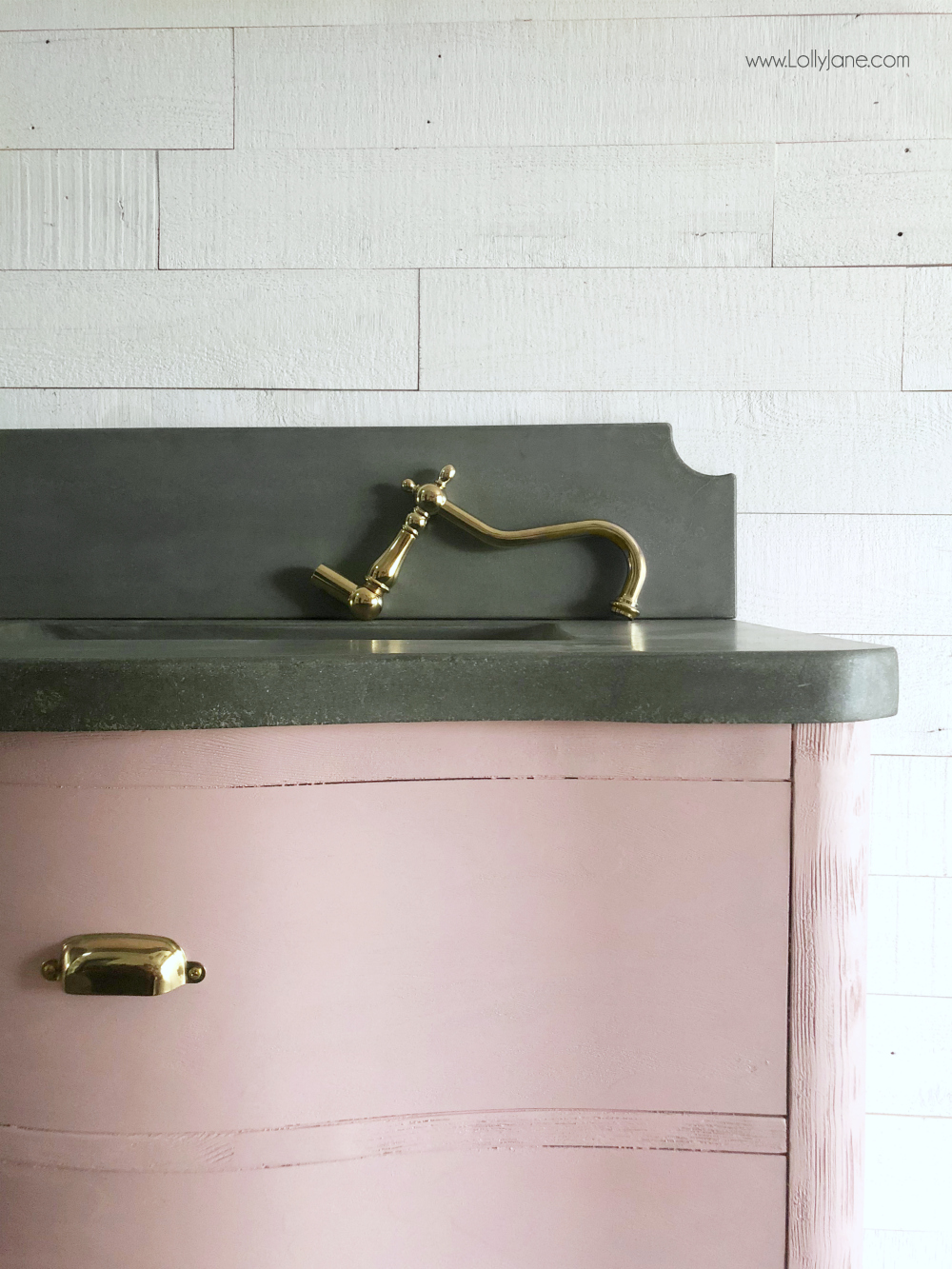 USEFUL TIPS FOR REMODELING A BATHROOM:
So you can see how slow moving this project is; here are 5 useful tips to speed up your bathroom remodel. Learn from us, friends!
90% of the reason why this has gone past its due date several times is not having a reliable contractor. If you're hiring out, VET your contractor so you know what to expect.
Utilize your space. Don't try to re-create the wheel, folks. Use every nook and cranny of your space and make it work for you. For example, I have a 1.5′ gap between the shower and wall so I'm installing some quick 2′ tall shelves in that gap and plan to store extra bath essentials and towels in baskets.
Shop local or handmade. Besides knowing the quality will be top notch, you can often barter with an artisan vs. a box store for bathroom necessities such as tile, fixtures, custom work, linens, or even decor to spruce up the space once its done.
Buy in bulk. Often times you will get better pricing (aim for wholesale!) when purchasing in bulk so use those fingers and shoot a text or group email to ask neighbors, family, or friends if they want to go halvesies with you!
Lastly, stay true to your style. A remodel can get costly so a timeless base (such a classic stones or tile) will last years and allow you to simple decorate or redecorate as many times as you wish without swapping out the purple glass tile that you loved during that one season. LOL
We love seeing all of the #oneroomchallenge hashies floating around Instagram so take a look yourself for tons of other inspiration! A GIANT THANKS to Jeffrey Court for generously sending us this gorgeous tile + Wayfair for the lovely vanity + paper!