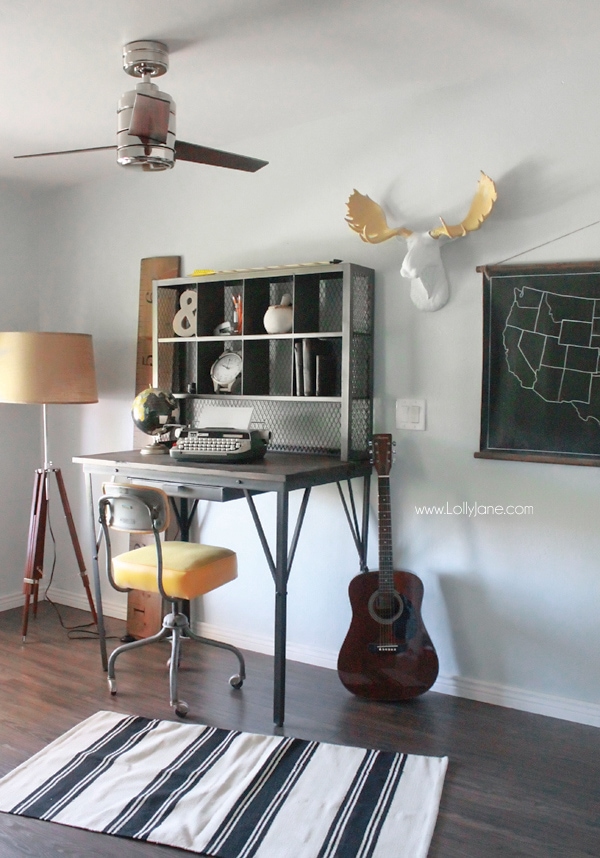 If you give a blogger a ceiling fan… she will hang it, right? Hmm, kind of. Said blogger will decide that the space-that-must-not-be-named (aka: that one room every family has in their house that the door stays shut at all times…remember ours?) will need a makeover to match said ceiling fan because it's all modern and chrome-y looking and posh… and the space it needs to go in, is not. Like, not even a little bit. Said room is actually a porch-turned-laundry-room-turned-office and still had 2 exits, an nonworking sink, a frosted window that lead to the master shower (what?!) and was complete with a porch light. Yep, a porch light (without the cover, even!) Take a look!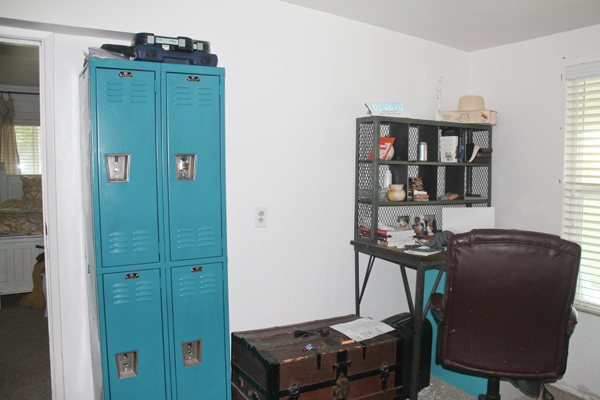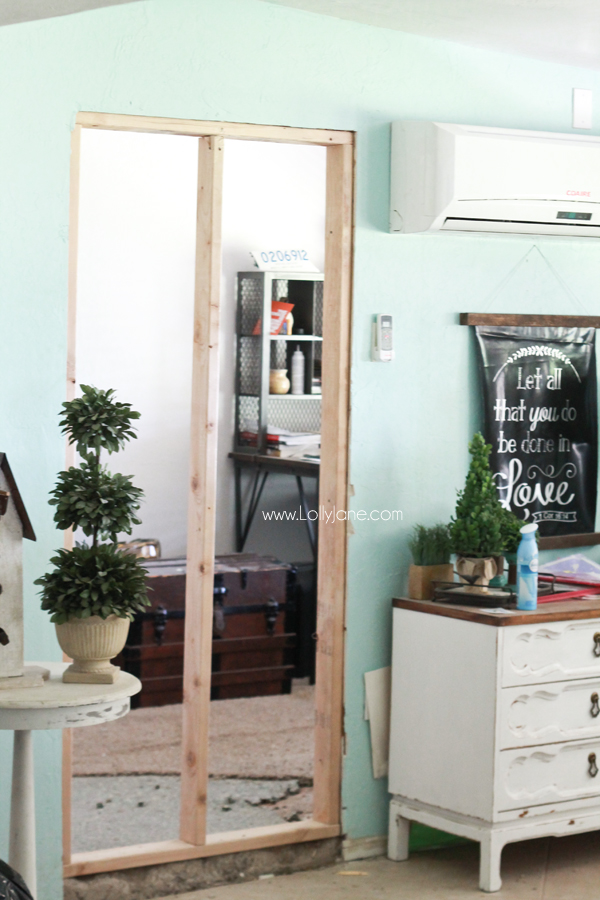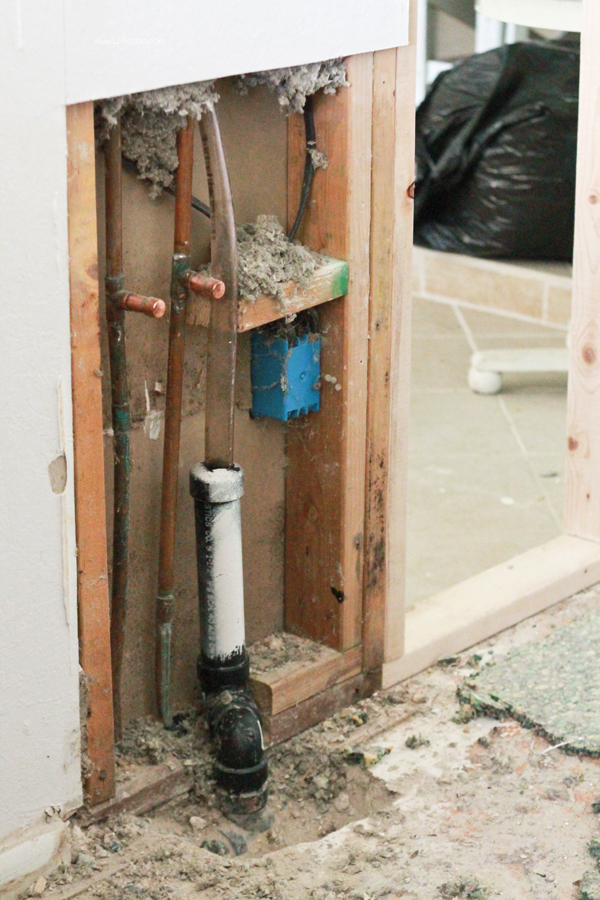 We know, it was hideous pretty bad. But alas, take a closer look at how we completely transformed the space from ceiling to floor: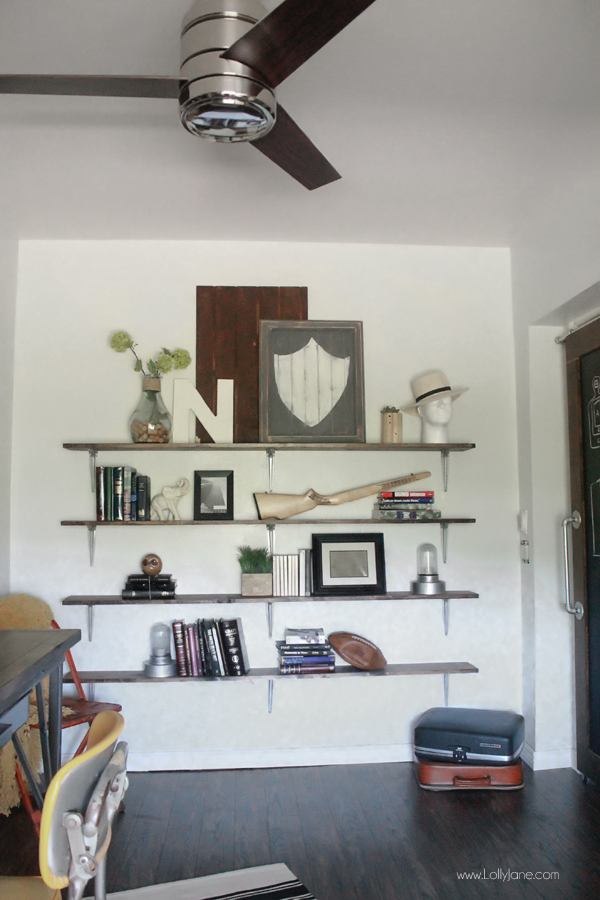 You guys! Can you even believe this is THE SAME ROOM?! If we hadn't spent 29842 hours in one weekend revamping the space by filling in the door, removing the sink, drywalling, painting, removing the carpet, laying the laminate flooring wrong (then right!) building a sliding industrial door, hanging that handsome fan and shopping at HomeGoods for accessories then we would not believe it either! 😉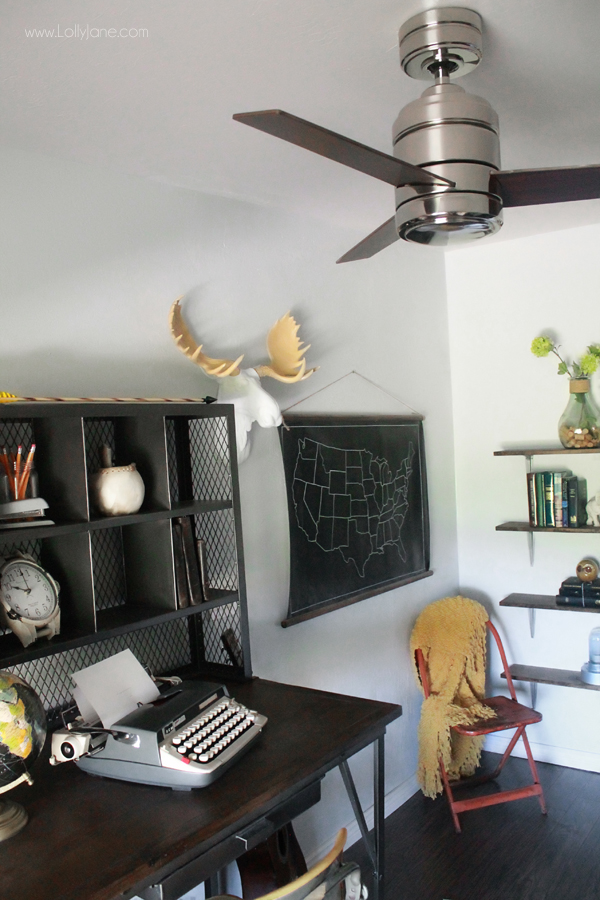 Remember when ceiling fans made were boring, blah or bland and hello, not Pinterest worthy? We'd like to officially introduce you to the Kichler Arkwright ceiling fan by Del Mar Fans & Lighting. It is none of these things but oh-so-glam…erm, we mean handsome!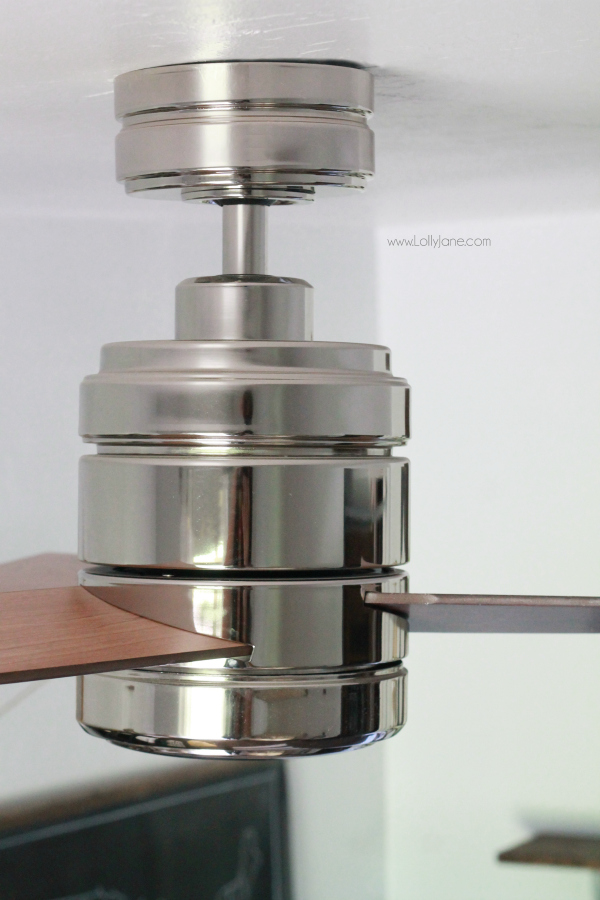 It has 6 speeds (yes, we said SIX) and comes with a handy dandy remote. Because this room doesn't have an A/C vent (keep in mind we live in ARIZONA, y'all!) this is the only source of temperature comfort and when on the top speed, it cranks out a nice cool breeze! It also comes with a light kit, we chose incandescent (not pictured) but if your room has a lot of natural light, you can choose a fan sans lighting. 😉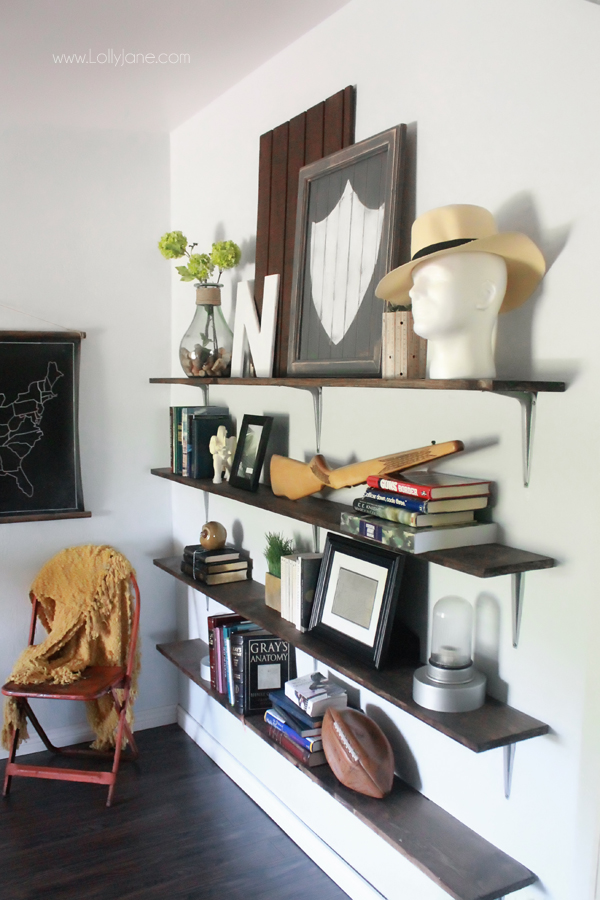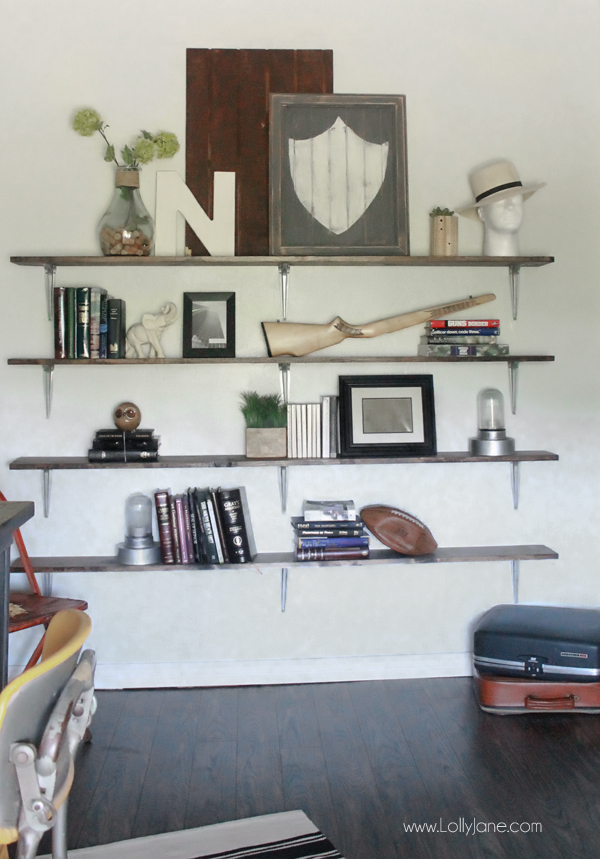 Oh, we forgot to remind you that we're in a Battle of the Bloggers: Dare to Design challenge. Basically Del Mar dared us to make ceiling fans cool again. (See what we did there? Haha!) Their goal is to prove that ceiling fans are no longer the boring, beige, builder grade fans of the past, but that they are, instead, fixtures capable of adding charm and character to a room. Hello, doesn't this fan blend in well with the rest of the decor and actually match the design? You could even say we designed the room around it… no really, say that because it's absolutely true. We did! We're crazy like that. Here was our inspiration for this space, in case you forgot. 😉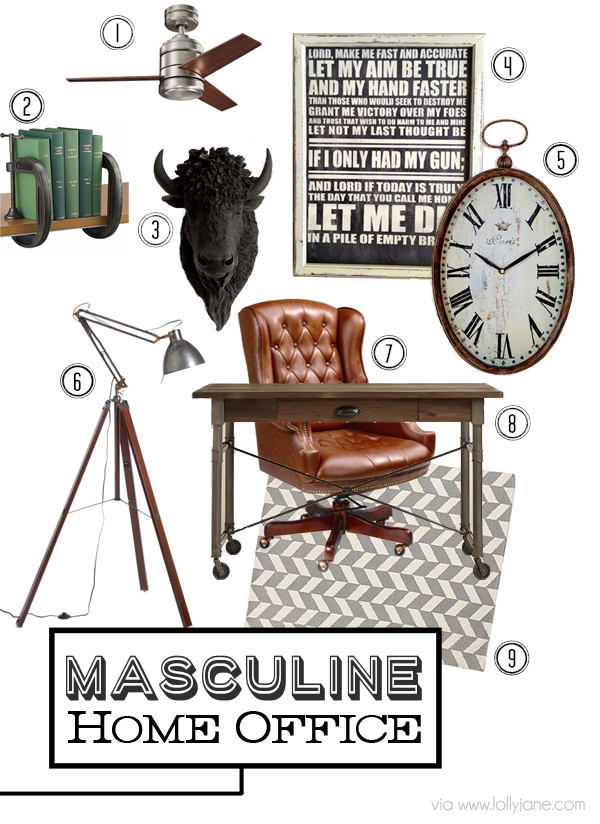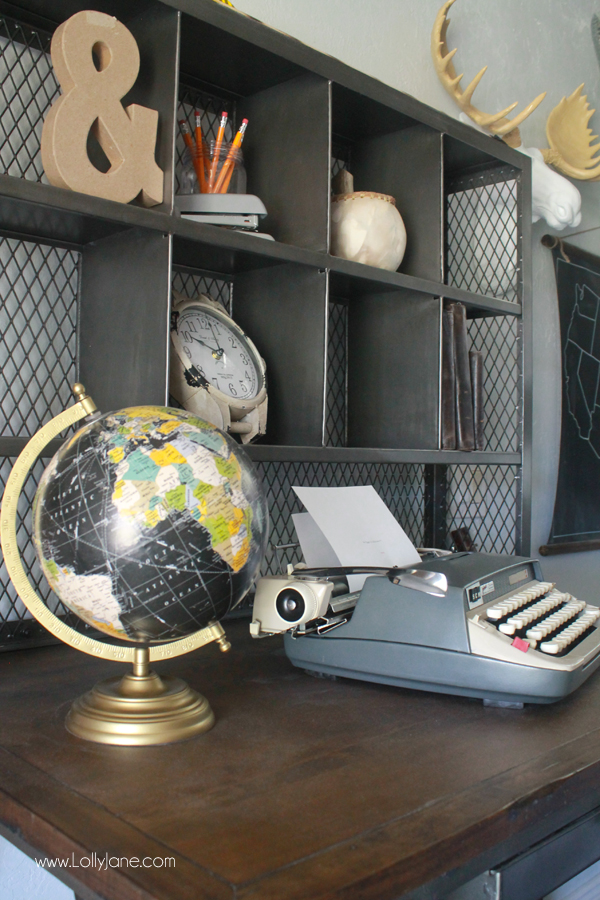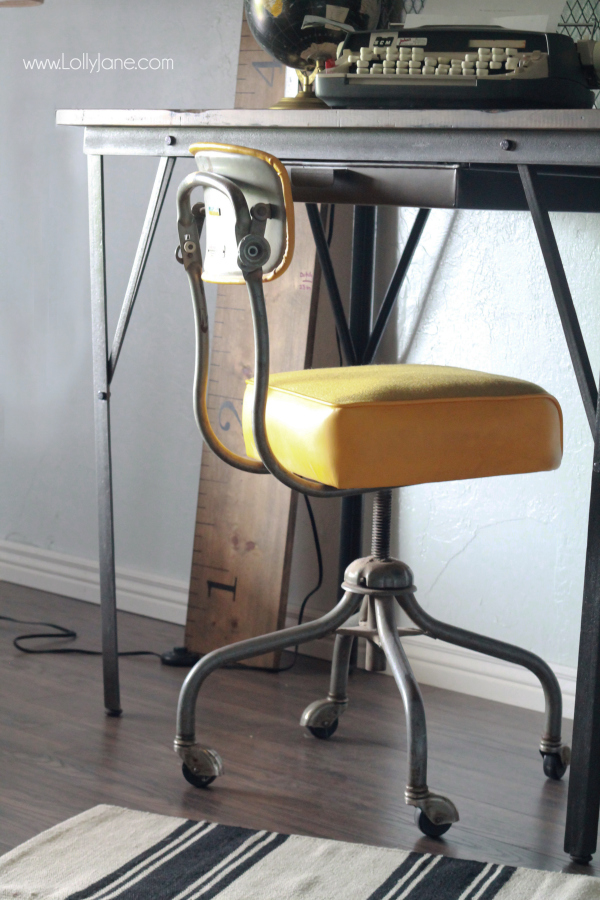 Did you see this architect-y lamp we found? Love!
But oh my heck, this door. This DOOR! It is actually the original door to the home (think early 80's) but has been given a new start in life. (We'll share the full before/after soon!)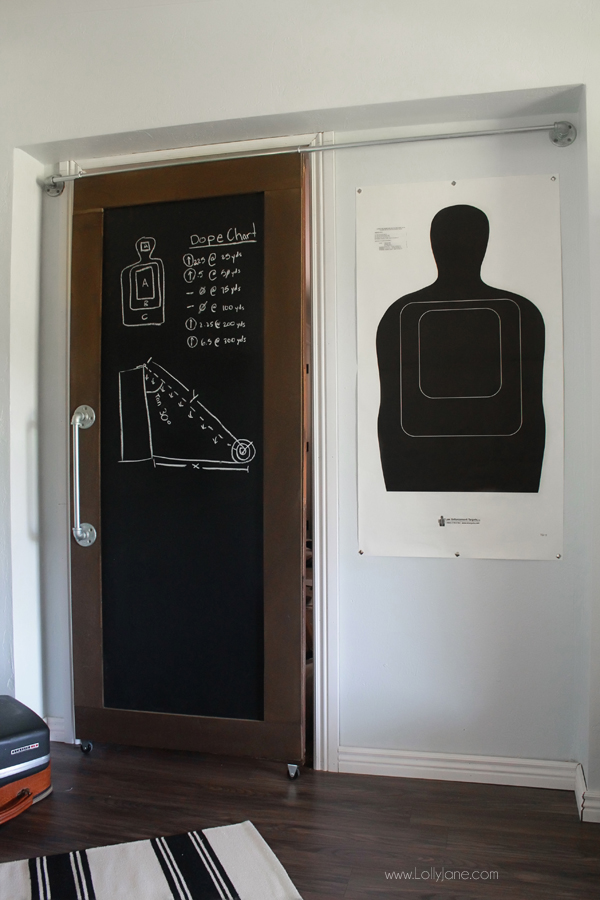 //Door DIY by our pal Mandi @ Vintage Revivals
These lockers were gifted to me by generous twin who goes through insane decor black outs where she gives her stuff away at random. Let's just say I'm glad we're next-door neighbors! LOL! They're now used to house workout equipment, ammo and guns (padlock not pictured. Safety first!) Notice the Boston Terrier hook? In memory of our sweet Boston we had growing up and have had 2 since- he's so cute!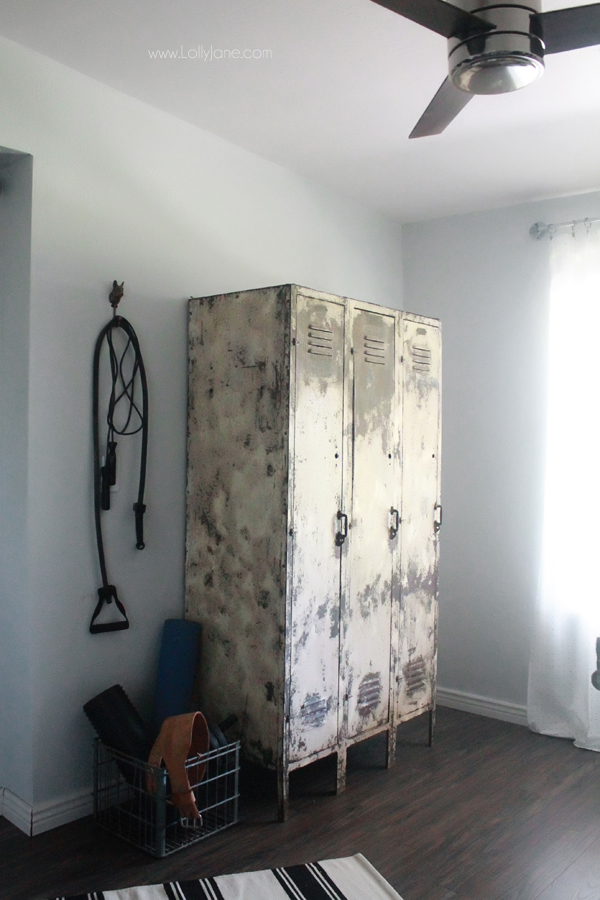 Well there's the official room tour for your viewing pleasure. We'll be back to share some DIY's of our own with the space and can hardly wait to brag on that wall color. Seriously gorg! Happy weekend and if you're in the pinning mood, we wouldn't be sad if you pinned this to a favorite board or two! 😉

PS- A big thanks to Del Mar Fans & Lighting for including us in their designer challenge, providing the gorgeous fan and encouraging us to spruce up this space!
PPS- Here's a few accessory sources for your shopping needs 😉
Paint / Fan / Moose Head / Rug/ Lamp / Globe / Map