Triple Chocolate Chunk Cookies
Triple Chocolate Chunk Cookies are my new best friend! Well, maybe my enemy because I want to eat them all! All you need to know is that this recipe definitely needs to make it into your recipe binder or pinned to your favorite board.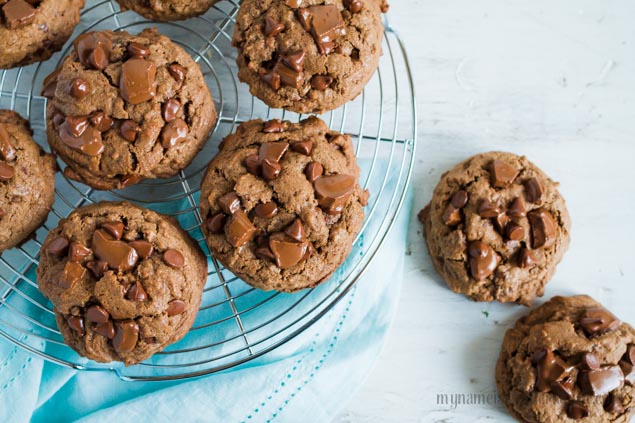 Baking cookies always makes me feel like a little kid and who doesn't like to feel younger? Some of my favorite memories are making cookies with my mom in the kitchen. She wasn't much of cook or baker so we typically used pre-made cookie dough. I didn't really know that cookies were made any other way until I got older.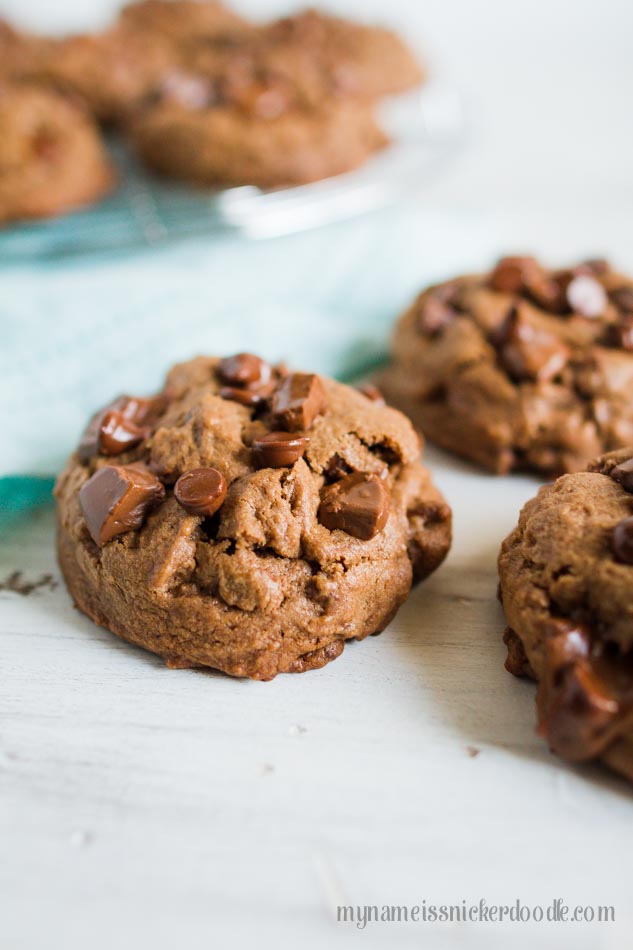 Every now and then I'll make a batch of premade cookie dough (you know, from the tube!) just for nostalgic sake. Truly, nothing beats homemade cookie dough, though. If you've tried my Big and Chewy Chocolate Chip Cookies you'll know the difference!
If you love chocolate cookies, these are pretty fantastic and for sure full of chocolate goodness! The cookie dough freezes really well. Just make sure to freeze them in balls first and not one big batch. It will make it a whole lot easier when you need to bake them later.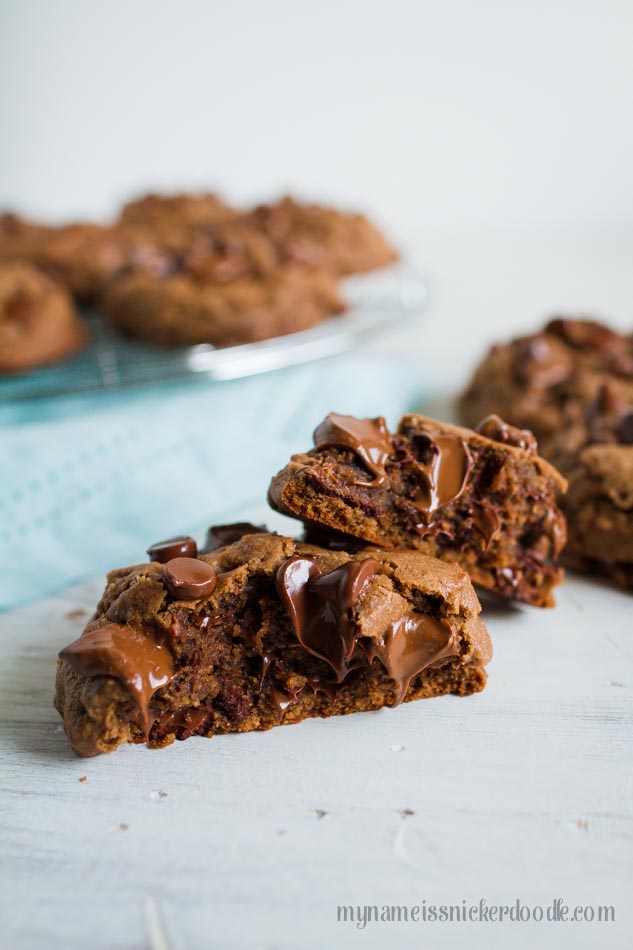 Big and Chewy Chocolate Chip Cookies
Ingredients
1 Cup Cold Butter, Cubed
1 Cup Brown Sugar
1 Cup Granulated Sugar
2 Eggs
2 tsp Pure Vanilla Extract
2 3/4 Cups All Purpose Flour
1/4 Cup Dutch Processed Cocoa
3 TBSP Cornstarch
1 tsp Baking Powder
1/2 tsp Baking Soda
1/2 tsp Salt
1 Cup Milk Chocolate Chips
1 Cup Semi-Sweet Chocolate Chunks
Directions
Preheat oven to 400 degrees.
In a large bowl cream together butter, brown sugar and granulated sugar for 3 minutes on medium speed.
Add in eggs and vanilla and mix until well blended.
Mix in flour, cocoa, cornstarch, baking powder, baking soda and salt until almost incorporated.
Add in chocolate chips and finish mixing until the flour is just incorporated.
Using a large cookie scoop* or 1/4 cup measuring cup, scoop up dough and place onto a baking sheet (six balls of dough per sheet).
Bake for 11-13 minutes or until lightly golden brown.
Add a few more chocolate chips and chunks to the top of each cookie immediately after removing from the oven.
Let them cool for 5 minutes on the baking sheet then transfer to a cooling rack.
Please PIN so your pals can enjoy this too! Mmm!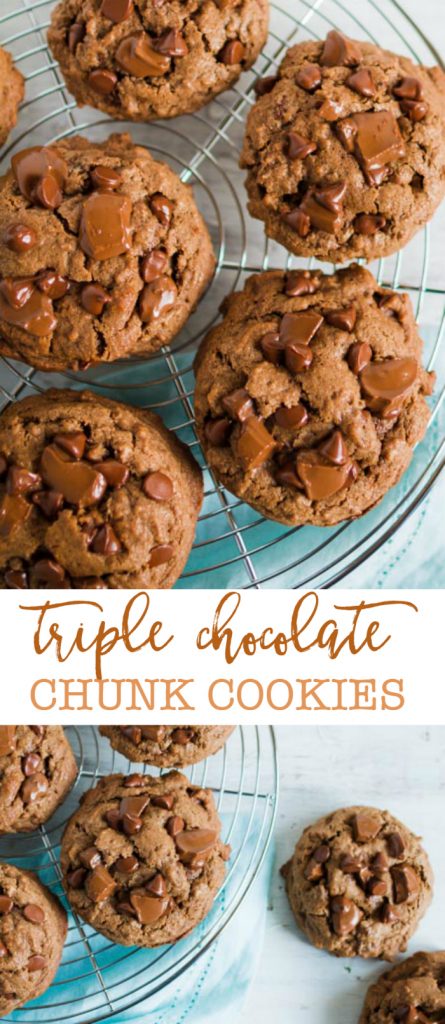 Visit more of our cookie recipes like our Rolo Cookies,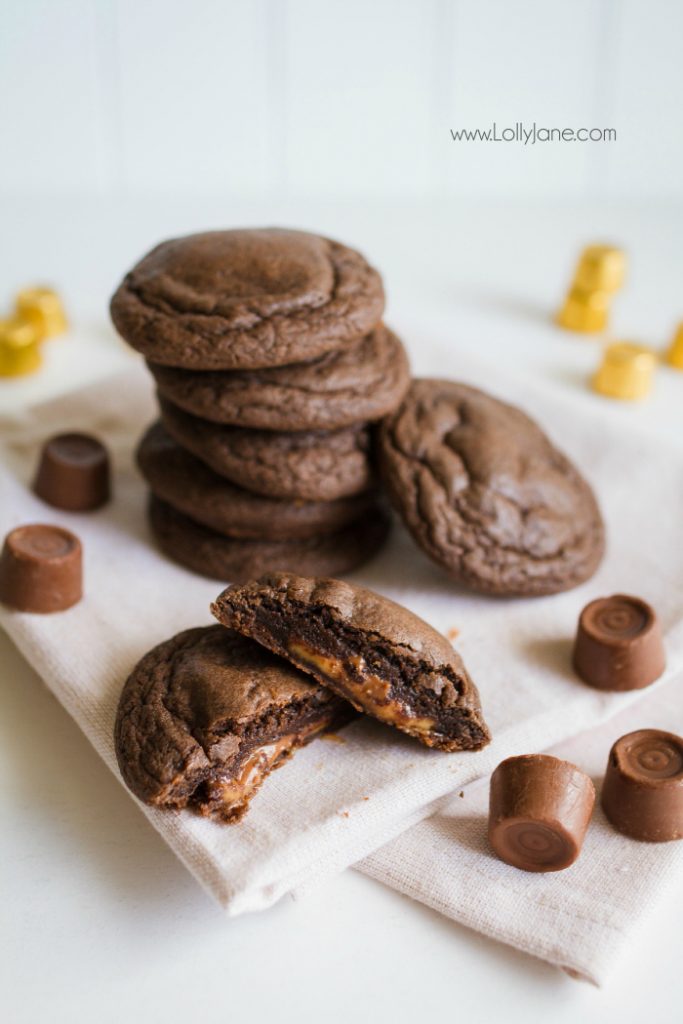 Brown Butter Chocolate Chip Cookies,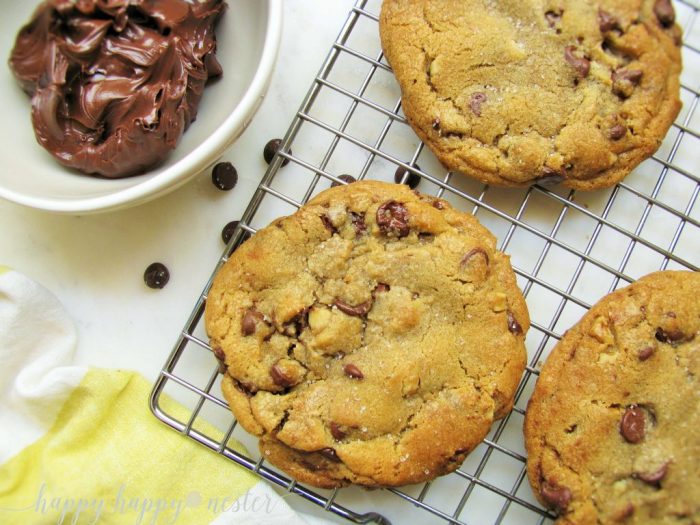 and these Double Chocolate Coconut Cookies.