Brown Butter Chocolate Chip Cookies
Hi Lolly Jane readers, it's Janine from Happy Happy Nester. This month I'm happy to be posting a wonderful recipe that I hope you and your family will enjoy. It is a new version with a nice twist to the normal chocolate chip cookie.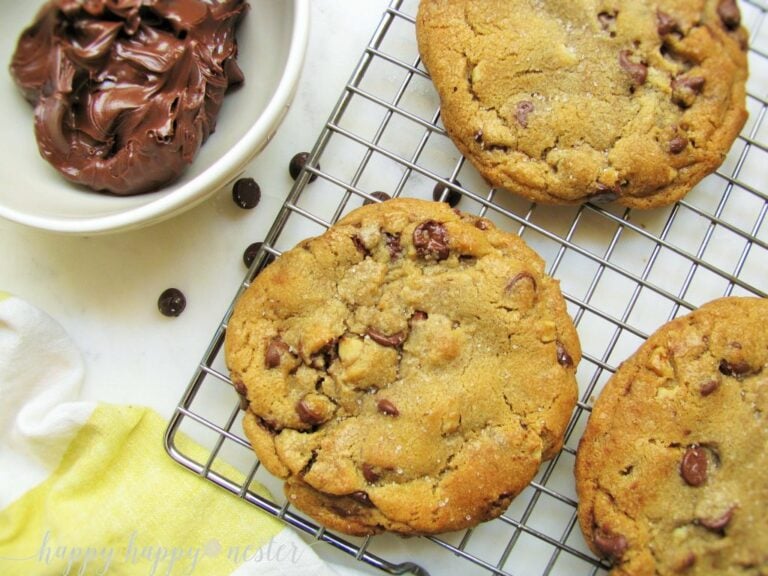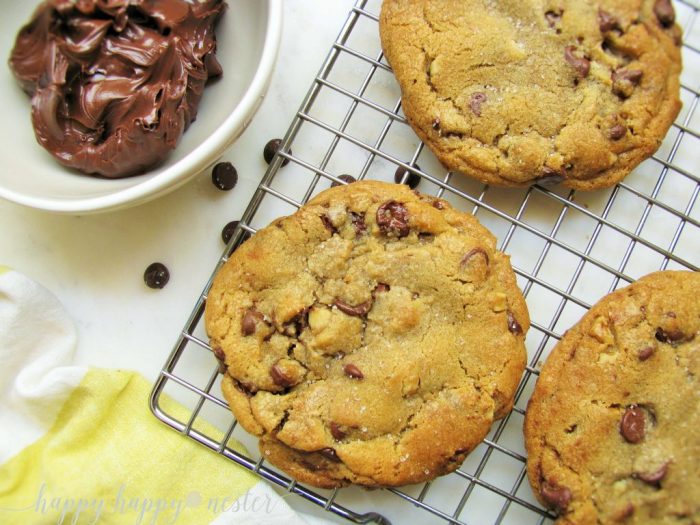 As some of you know, I live in Northern California and so we often visit the beautiful town of Napa. My husband and I always stop at the wonderful gourmet cooking shop, Dean & DeLuca. They have so many delectable desserts and we always buy their salted brown butter chocolate chip cookies. After consuming many of these delicious cookies, I now have figured out their secret! You see, this cookie has a rich layer of chocolate in the middle and I couldn't figure out how to recreate this part of it. With every bite you get this mouthful of chocolate! Recently, I had an epiphany and decided to spread a layer of chocolate in between two layers of cookie dough. Tada, it worked!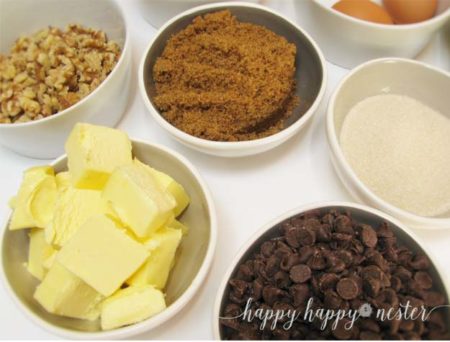 So, I'm so delighted to share this recipe with you and I hope you enjoy this yummy blend of brown butter, chocolate, and salt.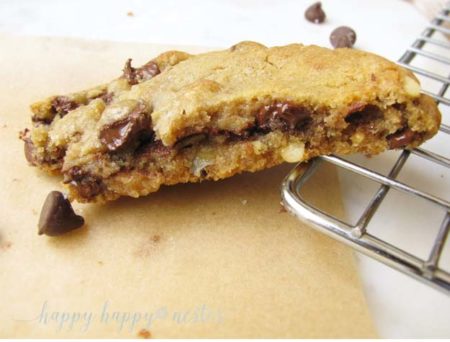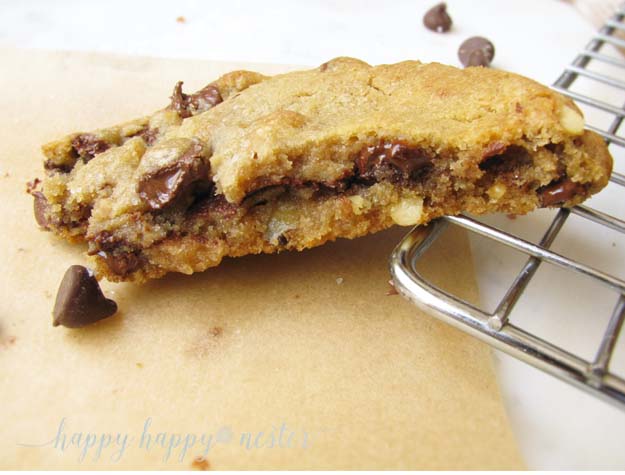 I hope you enjoy these very addicting cookies either warm or cool. They are so delicious, full of flavor and chocolate that they are guaranteed to be a crowd pleaser.
Brown Butter Chocolate Chip Cookies
Delicious Brown Butter Chocolate Chip Cookies with melted chocolate in the middle
Ingredients
1

cup

unsalted butter

softened to room temperature

1

cup

light brown sugar

packed

2

teaspoons

vanilla extract

1

teaspoon

molasses

½

cup

sugar

1

large egg

1

large egg yolk

2 ¼

cups

flour

1

teaspoon

salt

1

teaspoon

baking soda

2

cup

chocolate chips

Chopped walnuts optional

Coarse sea salt

Hersey's chocolate spread
Instructions
Place half the butter in a medium sauce pan. Melt on medium heat and stir until the butter gets bits of pieces on the bottom of the pan. Once the bits turn a medium brown color, immediately take the pan off the stove and transfer the butter into a bowl and let cool.

In the meantime, beat the remaining ½ cup butter with the brown sugar until mixture is smooth. Add the vanilla extract and molasses.

Pour in the cooled butter and the granulated sugar. Beat until smooth, about 2 minutes. Add egg and egg yolk, and beat for another minute.

Add the flour, salt, and baking soda, beating on low speed just until everything is incorporated. Fold in chocolate chips and nuts.

Place plastic wrap on top of dough and thoroughly cover it so it won't dry out. Refrigerate for 24-36 hours. Refrigerating cookie dough will give the cookie a caramel, chewy inside, as well as crispy outside.

Once out of the refrigerator, let the dough thaw for about 40 minutes or until it is somewhat soft and malleable.

Heat the oven to 350 degrees. Form 2 flat disk of about 2 inches in diameter. Next on one of the disks, place a layer of Hershey's chocolate spread on top. Then top this layer with the other dough disks. So, basically you have what looks like a cookie sandwich with a layer of chocolate in the middle. Pinch the top and bottom edges together and sprinkle the top and bottom of the cookie with the coarse sea salt. I find that the salt brings out the yummy buttery taste. To achieve this taste, you need to place the salt on the bottom of the cookie as well. Placing it on the bottom allows it to touch your tongue where your taste buds are located.

Next, place them on an ungreased cookie sheet, 1 -2 inches apart. Note that these cookies will spread when baking.

Bake the cookies for 12 to 15 minutes, until they're golden brown. Remove them from the oven, and allow them to cool a bit on the baking sheet before moving them to a cookie rack. Store in airtight container.
Notes
These cookies freeze well!
YUM! A big thanks to Janine for sharing this delicious recipe! Check out more like her Cranberry Almond Biscotti, Chocolate Chip Cookies with Vanilla Pudding and her Light & Fluffy Scones,