We are savoring the last of our summer vacation but are still creating boredom busters with our littles. We had a few embroidery hoops left over from our church youth girls camp last week and decided to stitch it up and create an embroidery hoop Tic-Tac-Toe game for them to help pass the time between playing with cousins and swimming. We snagged some white buttons for one player and colored buttons for the other, easy peasy!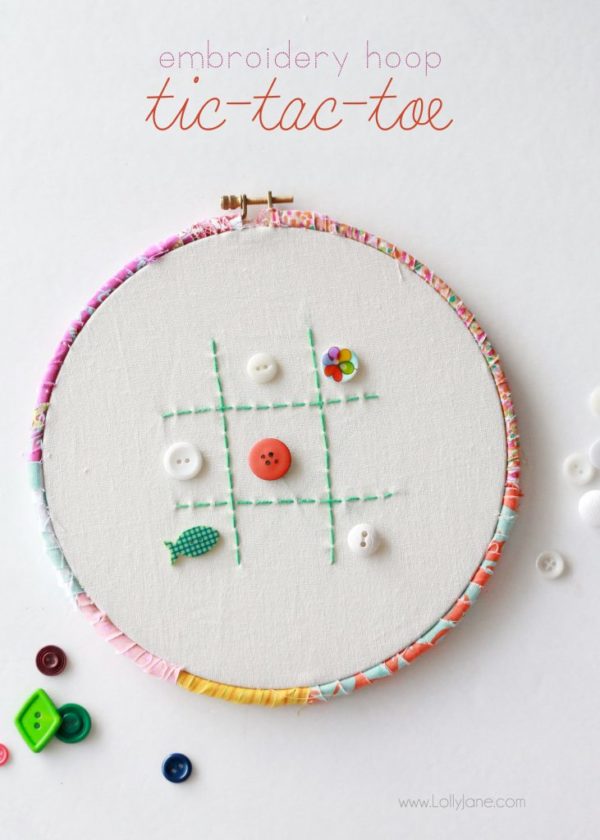 Inspired to create this tic-tac-toe board from Martha Stewart's portable game board for the beach, we put our own spin on it by stitching it rather than using fabric ink. We love hers because it's not only upcycled from a placemat, but it's double-sided with a checker board. Neat! We challenge you gals (and guys!) to whip up your own game board and use the hashtag #SavorSummer; click on it to see tons of awesome ideas on how to help you truly savor your own summer! 🙂 Also, be sure to follow along with Martha during her summertime themes Play, Explore and Reflect.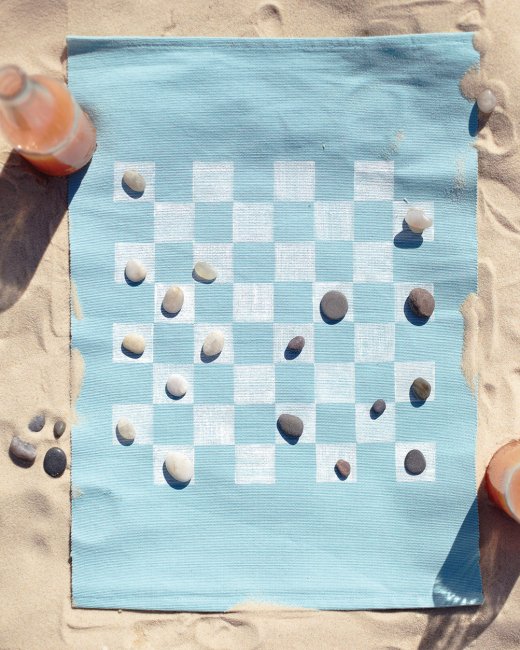 To make a tic-tac-toe game from an embroidery hoop, you will need to raise your sewing stash (ours is pretty small compared to our craft section but we still had what we needed on hand. Word.)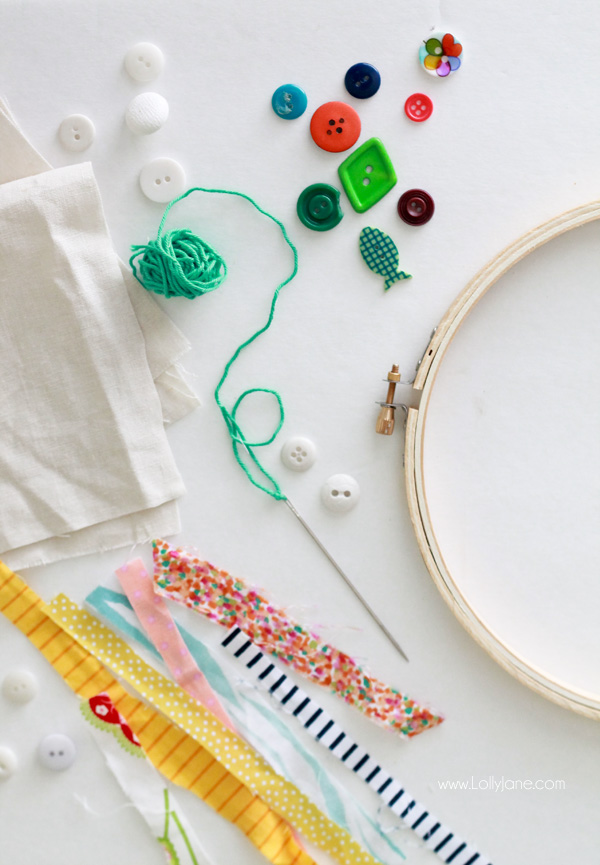 You will need:
8×8 embroidery hoop
9×9 cut piece of fabric
large needle
embroidery thread (or is it floss? lol)
4-5 1/2″ thick strips of colored fabric x 6″ long
white, colored buttons as game pieces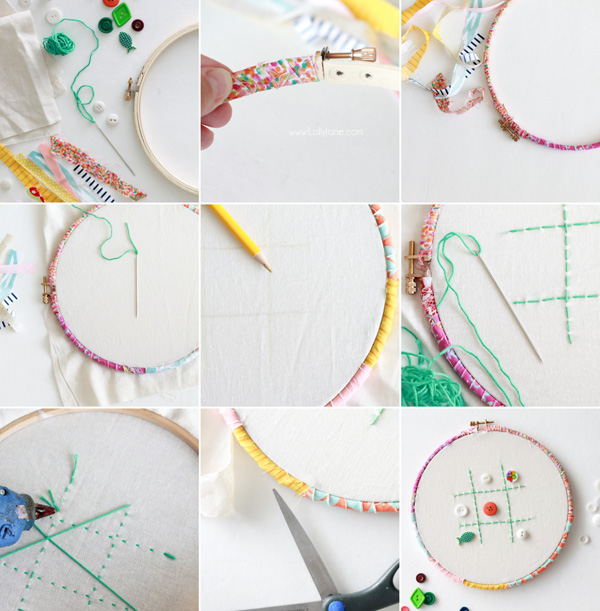 Making this was a snap!
Wrap fabric strips around the outside hoop, securing with a dab of hot glue at the end.
Put 9×9 piece of fabric over the inside hoop; put fabric wrapped hoop over and tighten screw.
Thread needle; I tie a loose knot on mine so it will pull through without tugging the fabric.
Use a light colored pencil to sketch out # design.
Follow lines of outline and stitch with embroidery thread.
Instead of tying knots on the back, I snip and hot glue the thread down instead. A) I'm lazy. B) I can't never get the knot close enough to the fabric, haha!
Trim the excess fabric from the back of the hoop.
Get your tic-tac-toe on!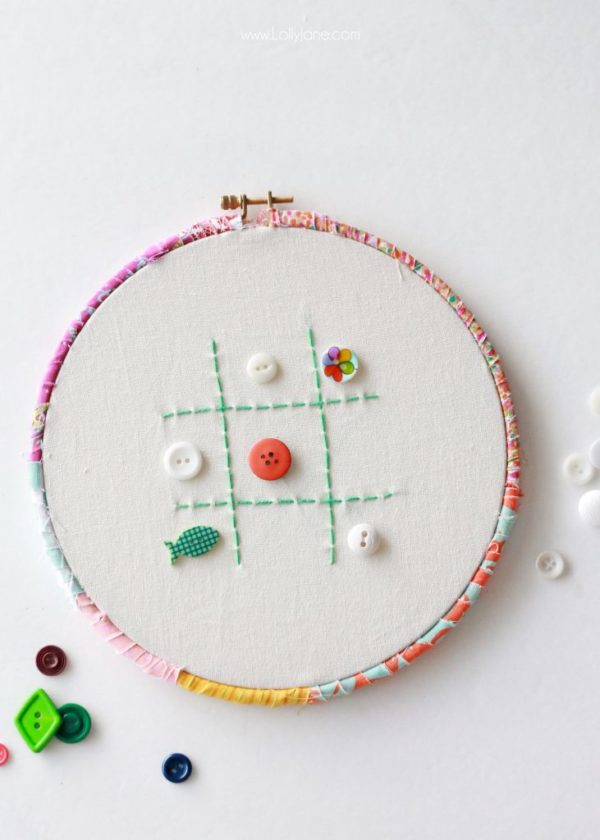 And if you're not a fan of tic-tac-toe, skip the buttons and hang to be hip with a hashtag! Haha! #jaykay 😉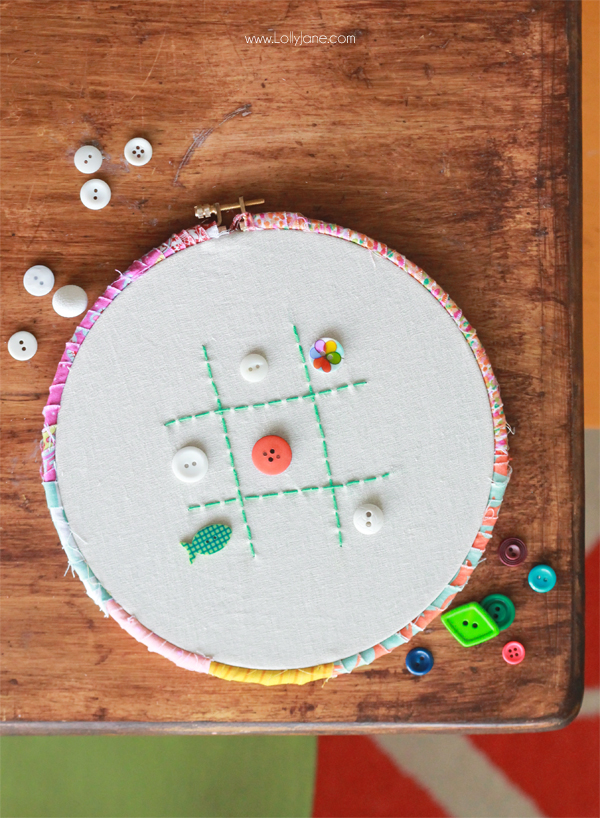 We love easy, kid-friendly crafts. We would say kids at age 9+ are a good fit for stitching their own hoops. If they're not ready, just duel them in a fun game of tic-tac-toe!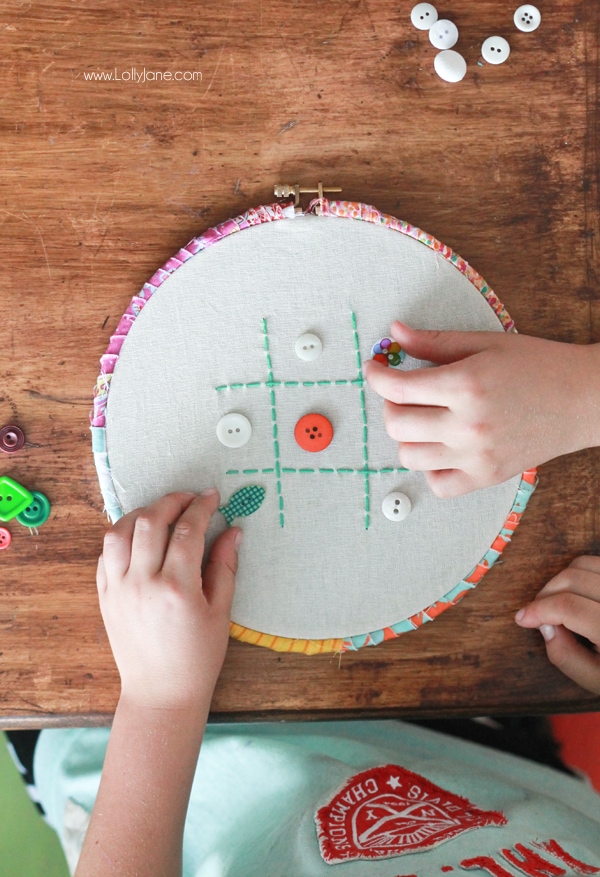 We'll be back soon to share our updated no-sew beach cover up we mentioned last week. Want to see a sneak peek of how it's going?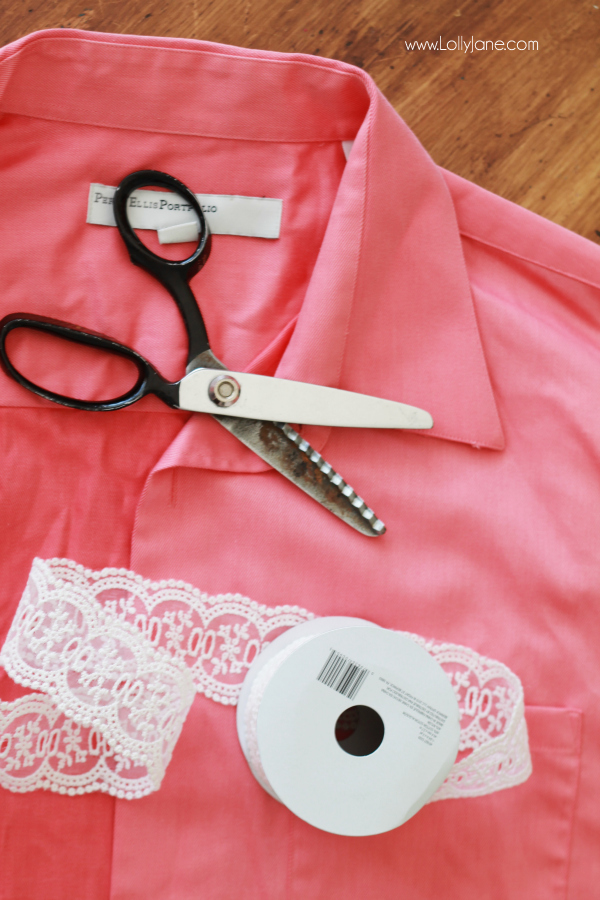 FREE EMAIL COURSE
5 Low Cost Tricks to Make Your House Look Like $1 Million
It's Lolly Jane's 5 FAVORITE Tricks to spruce up your space affordably.

Don't miss these!