Do your kids still believe in the magic of Santa? Mine do! I thought it would be fun to start a new Christmas morning tradition with them regarding the big guy in a red suit. Instead of simply wrapping the presents "from Santa" in a different holiday wrap (and having my husband fill out the tags) I got my holiday sparkle & shine on and made a personalized Santa sack for the toys "from him" to go in. How fun would it be for the kids to see the Santa sack with their name on it next to the stocking Santa also filled? Aaaah, I can hardly wait for Christmas morning! Psst! If you have loads of kids like Kelli does (just teasing! She has 4) then you can personalize the name to your last name. 😉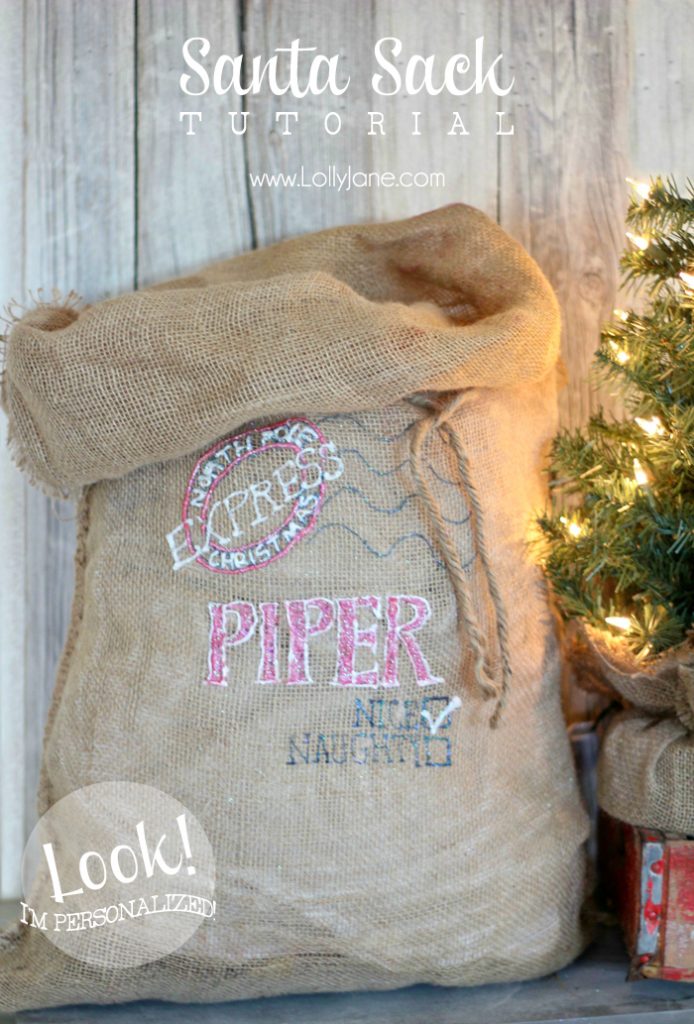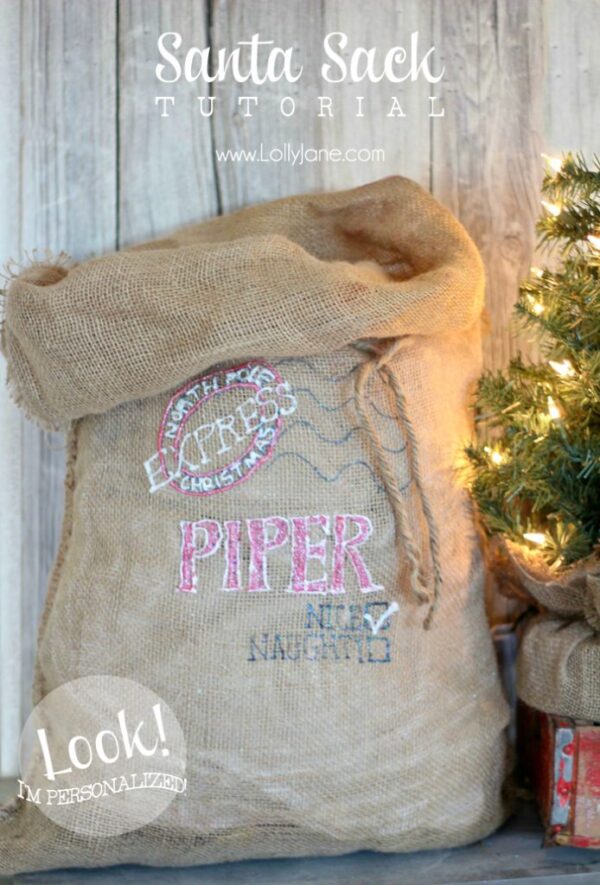 Our dad is a farmer and has a stash of these awesome burlap bags that his baby lemon trees came in. I snagged one and blinged it up with some sweet metallic dimensional fabric paints, glitter specifically for fabric. I intended to paint the words on with a fine tip brush but they the tip is thin enough I didn't need any brushes. No mess, no fuss!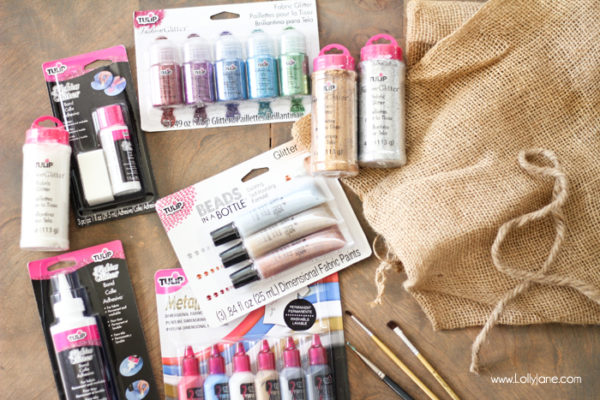 I simply freehanded right onto the burlap. There is little room for error so be tedious! Also make sure to put a piece of cardboard in the burlap sack so it doesn't leak through.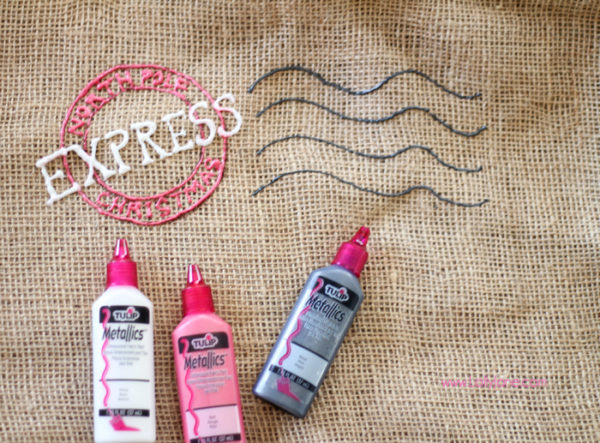 Note: I found the words "North Pole Christmas" were a bit hard to read and once dry, ended up going over them in white.
I looooove the white fashion fabric glitter! I poured a quarter size amount in my hand and simply blew on it so it has the right amount of shimmer! I later outlined Piper's name in white.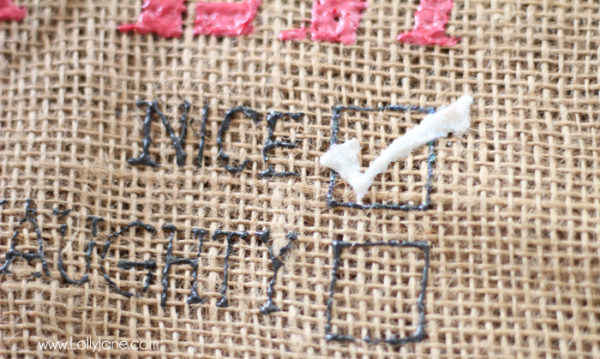 This is a tough project to photograph but it is seriously CUTE in person!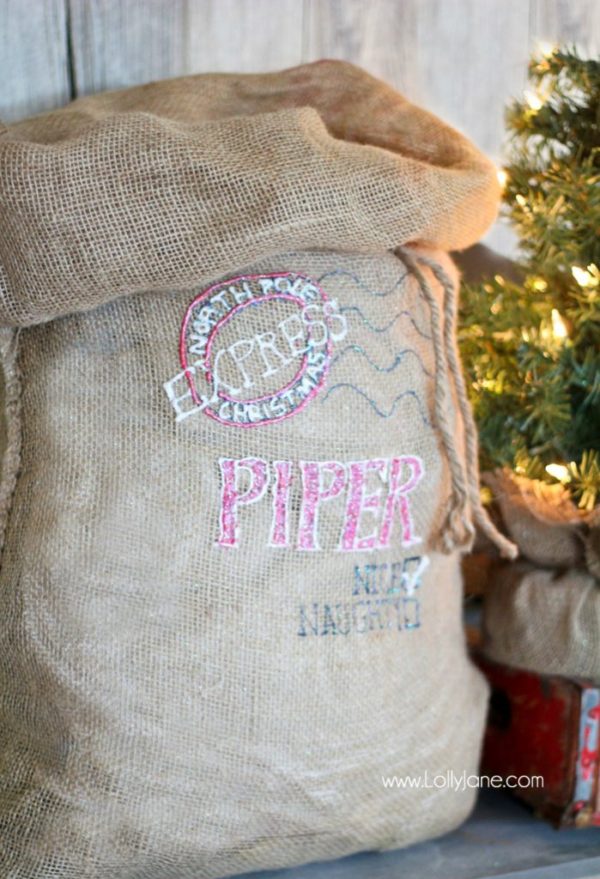 It's amazing what a bit of paint can do to spruce up this boring burlap sack! Love those metallics that dress up this glittery sack and that my kids can remember as part of their Christmas morning. These Christmas trees are so cute and you won't believe how easy they are to make!
Check out our other Christmas projects we've got going on like our Candy Santa Cocoa Stir Stick,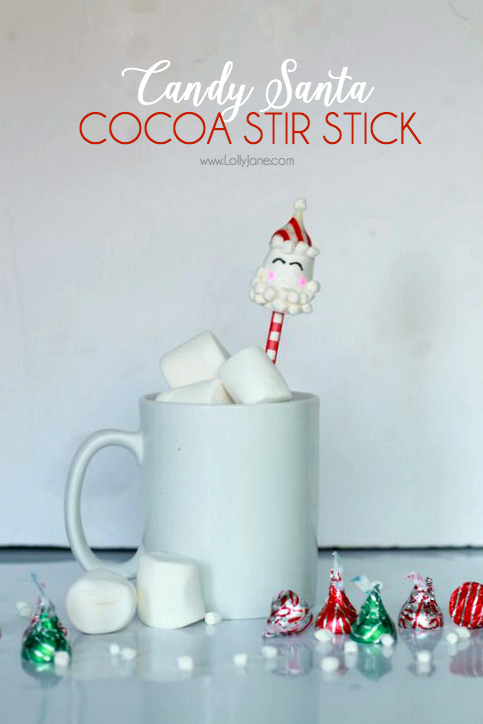 and our DIY Christmas Card Holder,

and our AMAZING Peppermint Pattie Chex Mix, mmm!