Christmas Pom Pom Hoop Wreath
wreaths are a great way to welcome the holidays AND your visitors into your home! our Christmas Pom Pom Hoop Wreath is easy to make and took less than an hour!
You know our love of hoop wreaths… we have over 10 styles! We're mixing it up with pom poms because hello cuteness! Our Christmas Pom Pom Hoop Wreath is EASY PEASY to make and took less than an hour! Check out the how-to below then be sure to see 12 other Christmas Pom Pom projects from a group of talented creatives at the end of the post. Spoiler alert: They're ALL darling!
Christmas Pom Pom Hoop Wreath
Making this Christmas Pom Pom Hoop Wreath was so easy but I could have made it a whole lot quicker if I wasn't listening (er, watching) yet another Hallmark movie while crafting. Anyone else tend to do more watching than making? Haha It was a fun way to spend my toddlers naptime and I have 0 regrets, especially since I now have a festive wreath for my entry that welcomes both the season AND my guests into my home! 🙂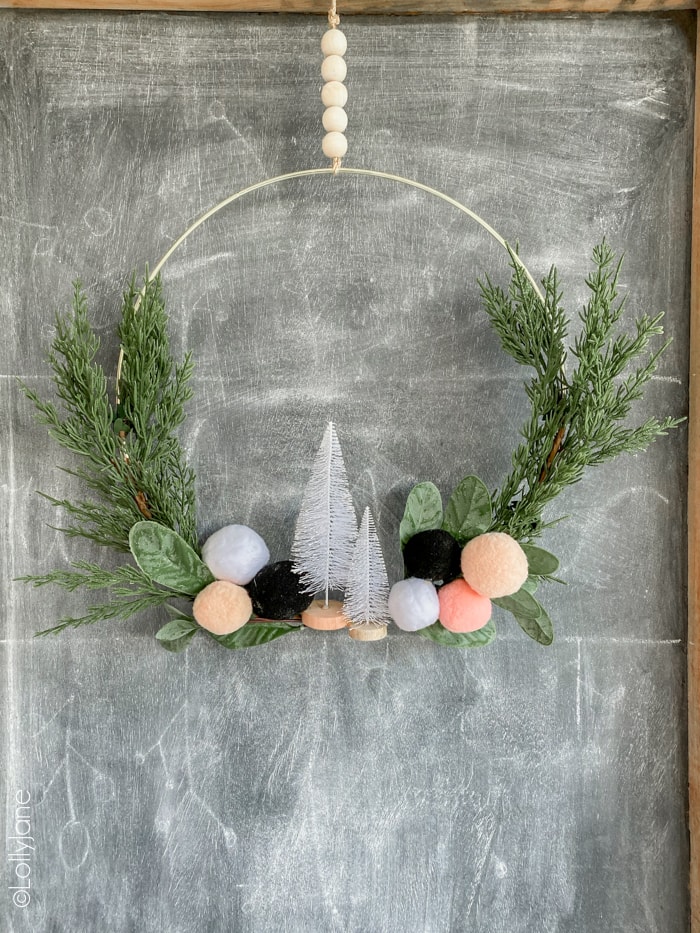 Pom Pom Hoop Wreath Supplies
I made a quick run to my local hobby store for a handful of supplies to make this cute Christmas pom pom hoop wreath and raided my craft stash for the rest.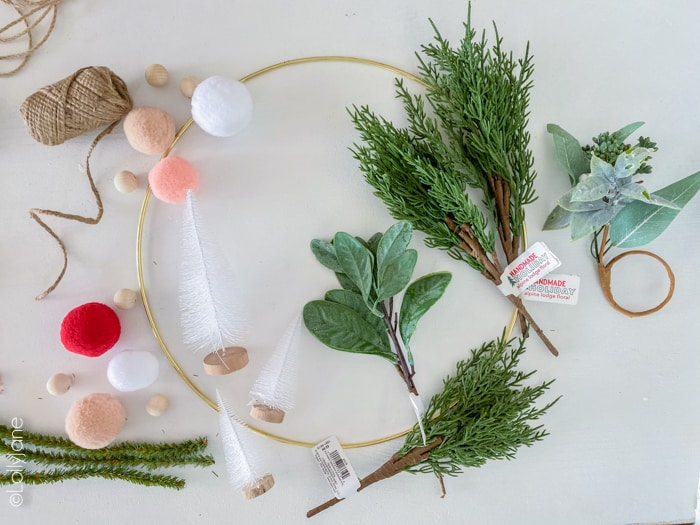 Here's what I gathered: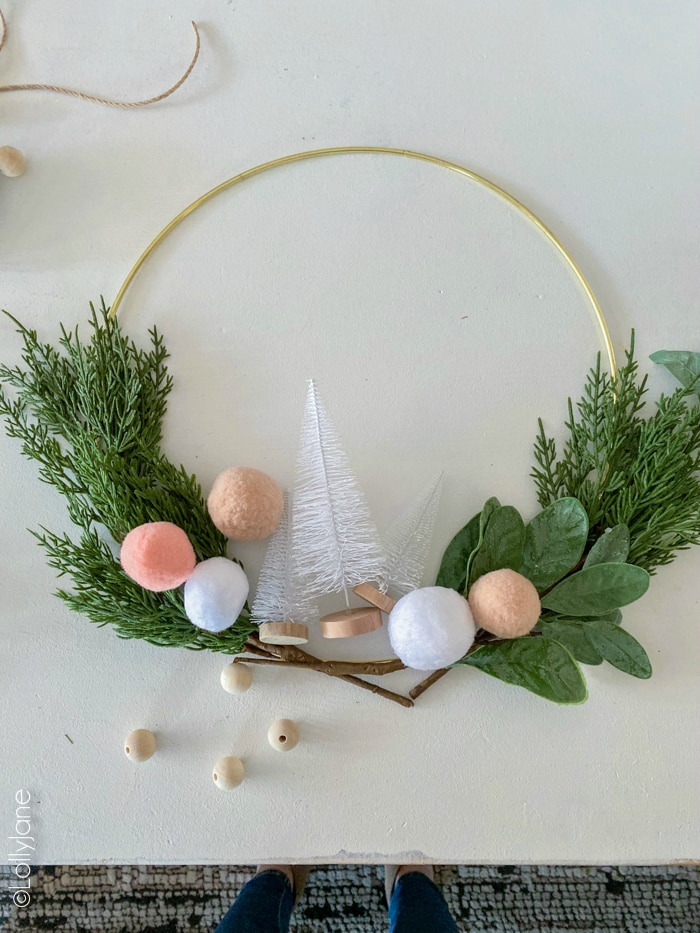 Pom Pom Hoop Wreath Directions
Putting this cutie together was so easy (well we are pretty experienced by now with so many styles of hoop wreaths under our belt!) and goes pretty quickly!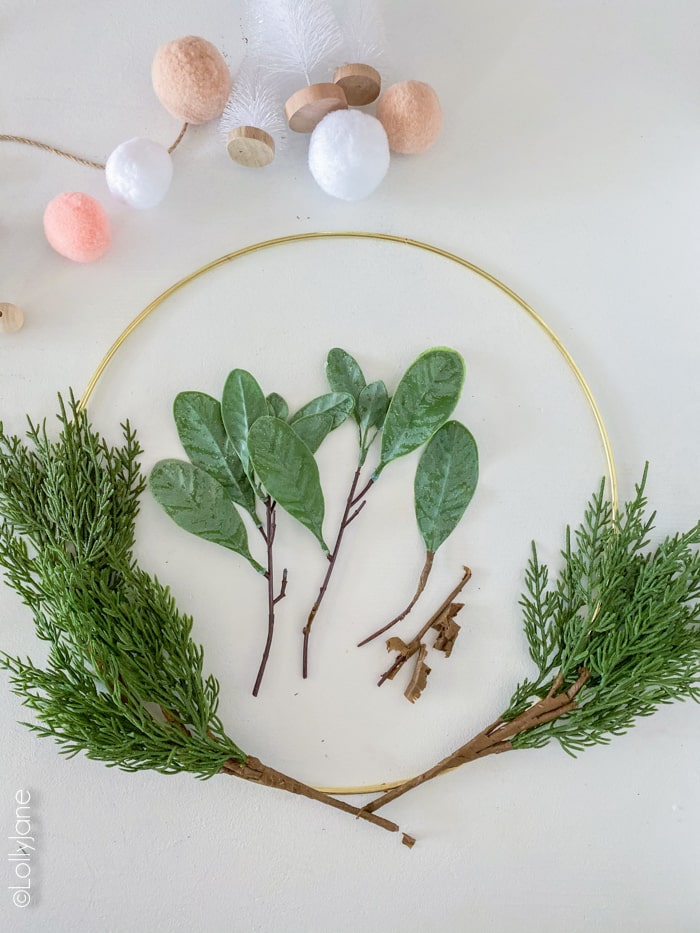 Here's how to make your own pom pom hoop wreath: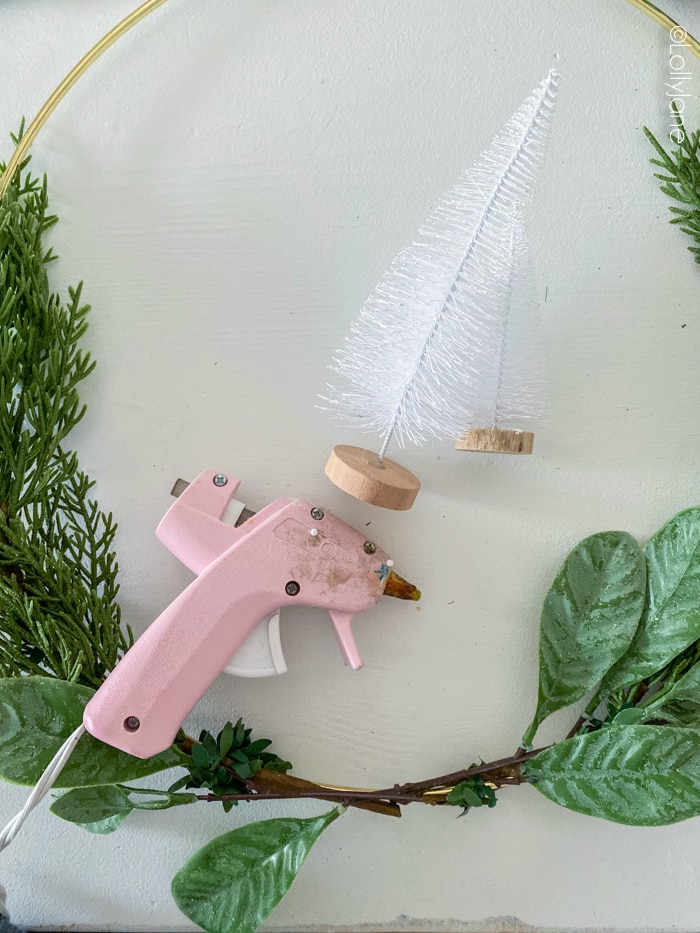 Lay pine sticks on either side of the hoop, secure with wire. Continue to layer until leaves are as pictured.
Hot glue trees into place.
Hot glue pom poms around trees.
String 4 beads through twine and tie tight onto the end to the hoop. Create a loop and tie shut (as pictured) to hang wreath from.
Display your new festive wreath!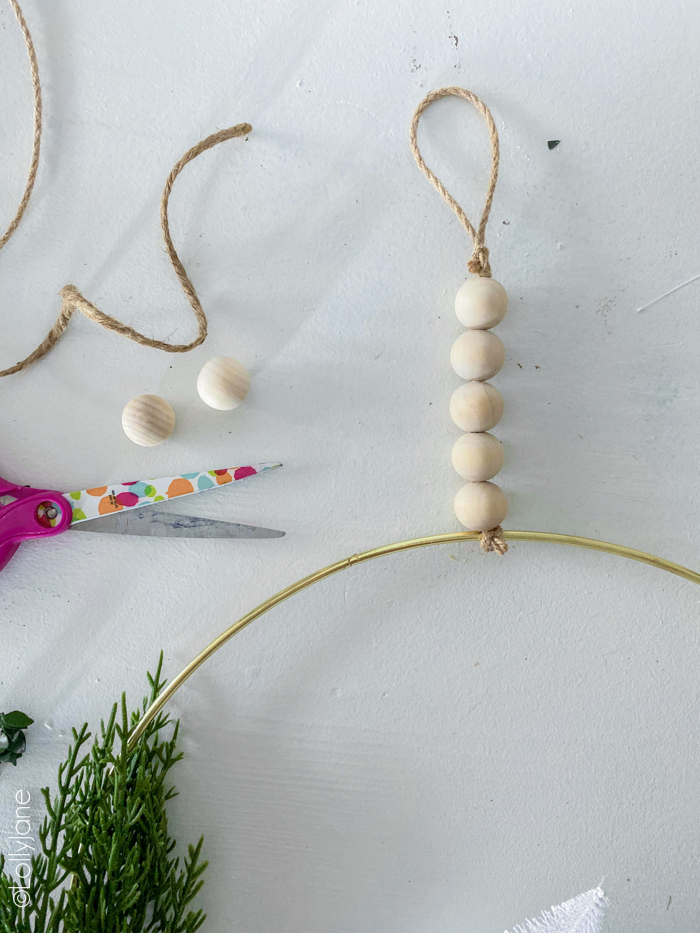 Display your pom pom hoop wreath
We love a good wreath on the front door of course but you can also display on a chalk board (as pictured) or onto a sign with script behind it. Wreaths also look pretty this time of year on the back of a chair, over a cabinet door, or on the wall nestled between holiday cards. So many fun places to put it!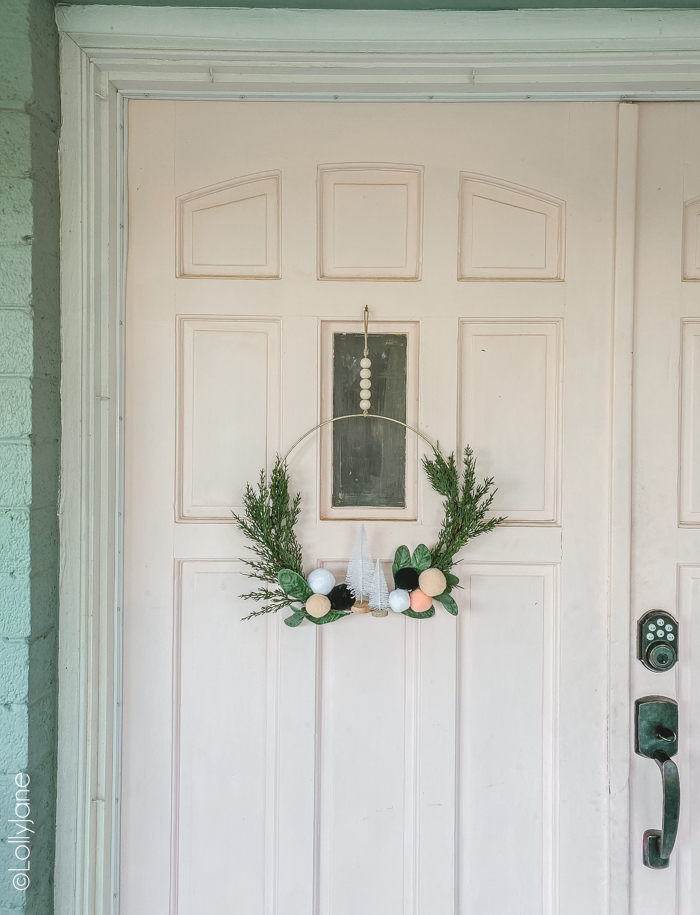 more christmas Pom Pom DIY's!
We've partnered up with some of our very talented blog buddies to bring you a collection of 12 Christmas Pom Pom Projects! From pillows to garlands to baskets and blankets, we're making all of your DIY pom pom dreams come true! Click over to see these gorgeous tutorials:

DIY Christmas Pillow // Pom Pom String Light Tea Towel // Christmas Wreath with Pom Poms // Farmhouse Wood Bead and Pom Pom Garland // Christmas Pillow 

Pom Pom Christmas Mantel // Christmas Pom Pom Hoop Wreath // Pom Pom Snowflake Pillow // Easy No Sew Pom Pom Tea Towels

Rustic Pom Pom Wreath // Pom Pom Napkin Rings // Pom Pom Christmas Hand Towels // Pom Pom Basket