How to paint a stock tank pool
Curious how to paint a stock tank pool the RIGHT way? Follow these easy steps to make your paint last as long as your pool does!
Stock tank pools are ALL the rage right now as they're easy on your wallet and easy to maintain in comparison to a real pool, plus they're just cute! Today we're teaching how to paint it the RIGHT way (just primer + paint is the incorrect way, folks!) to make the finish last as long as the stock tank does… well, almost! 😉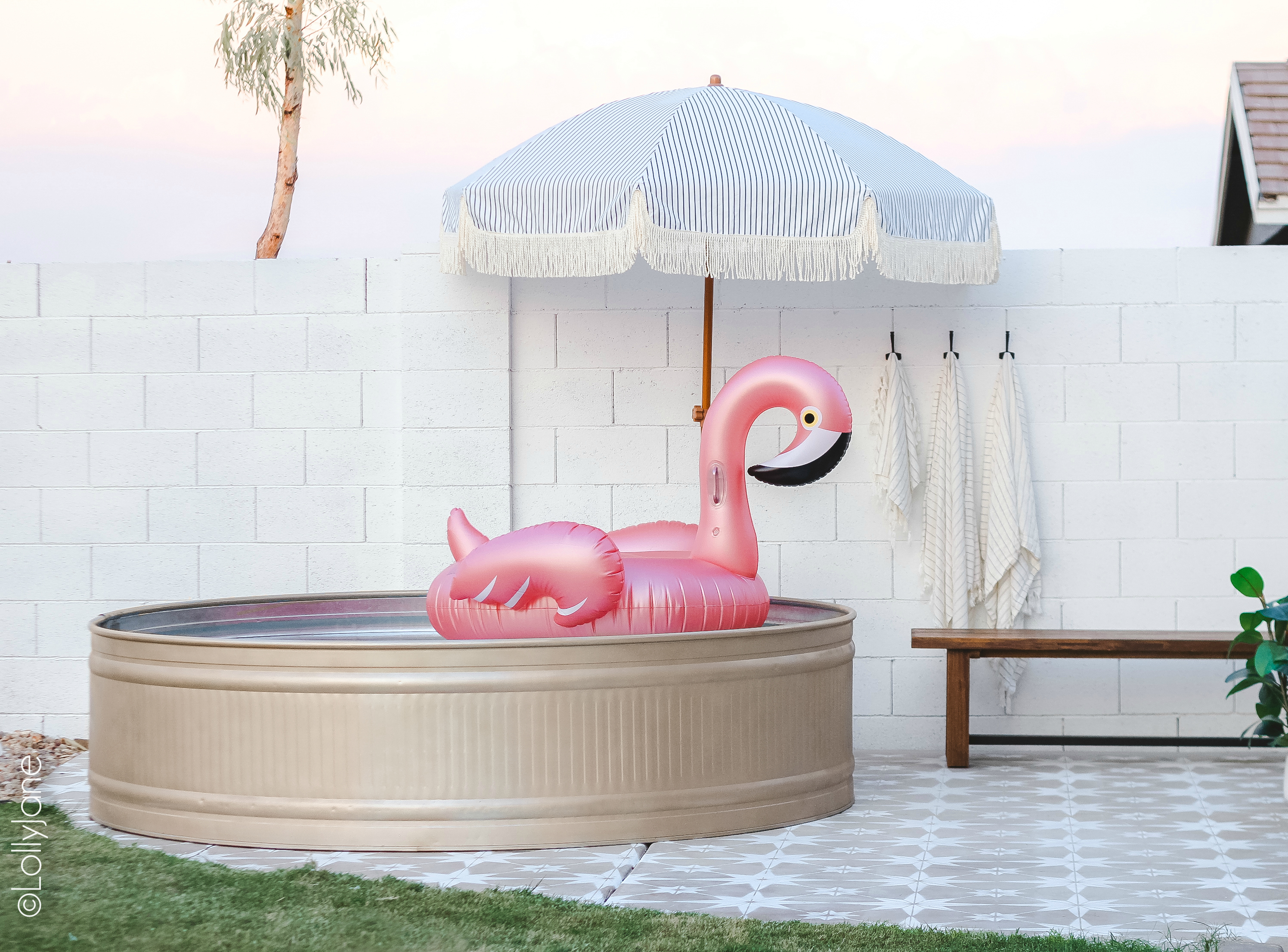 SEE 7 MORE STOCK TANK IDEAS HERE for inspo!
STOCK TANK paint SUPPLIES
Stock tanks are suuuper on trend and are getting harder to find so keep your search simple and remember they're made for livestock so check your local tractor/feed stores first. True Value, Tractor Supply, Amazon, CAL Ranch (this is where I got mine) or other online searches based on your area.
Galvanized Sock Tank, (mine is 8 foot/706 gallon)
COLORSHOT "Cheers" Spray Paint x10 cans
Paint thinner
Fine grit sandpaper
White vinegar
Spray primer (optional, depending on your paint)
HOW TO PAINT A STOCK TANK pool
From my own research, painting the inside of a stock tank is honestly a waste of time and product as it will eventually flake or peel. Paint at your own risk if you insist. As for the outside, you'll simply need to remove the protective oil coating on your stock tank to ensure the best stick for the paint.
PRO TIP: Elevate your stock tank for easier painting; I set mine on 2 tables and was able to get around the bottom easily without it sticking to a drop cloth. Now, let's get painting!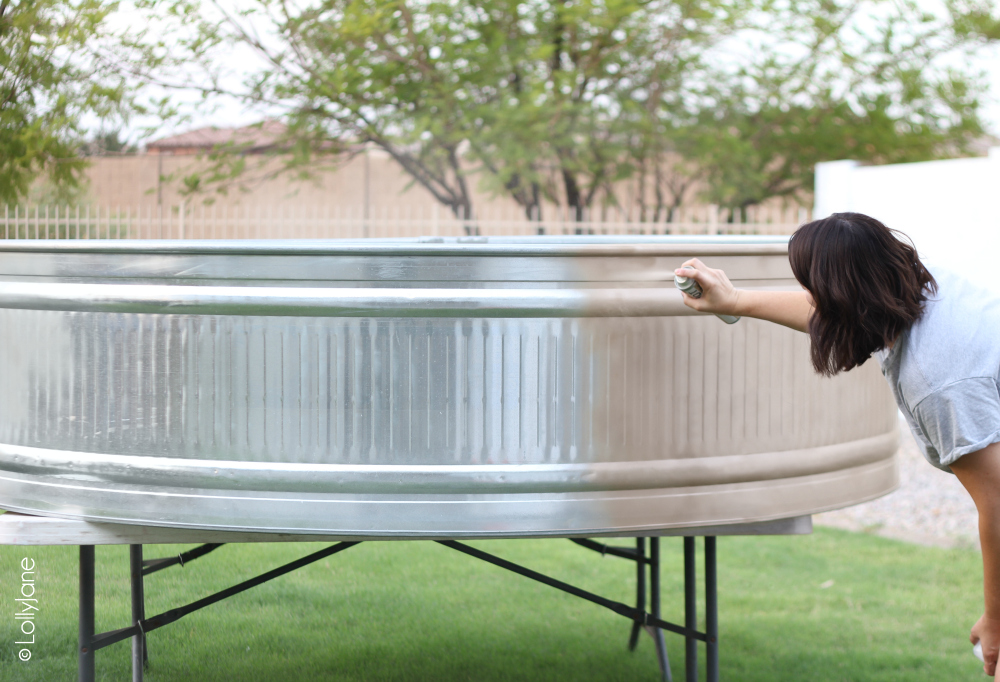 How to paint a stock tank pool the right way:
Apply paint thinner to a rag and, from top to bottom, wipe your stock tank down.
Next, scuff up the tank with a fine grit sandpaper. (This takes off that super shiny finish and gives the tank a slightly coarse feel for paint to soak into. Wipe off dust afterwards with a clean rag.
Apply white vinegar with a rag and let sit for an hour, wipe off with a clean rag. This breaks any of the original remaining shiny protective coat.
Spray primer onto tank (optional) then paint 2 coats of paint. If you paint has paint+primer in it, you won't need to prime separately. For this specific tank I completely skipped this step because the color I used is light and covers well on its own; if I was painting white (or another lighter color) I would have likely used a primer to save on the amount of coats/cans later on.
Let dry completely then spray your tank with light, even coats, (I did 2 light coats.) Look at that metallic shine!
Fill tank and enjoy!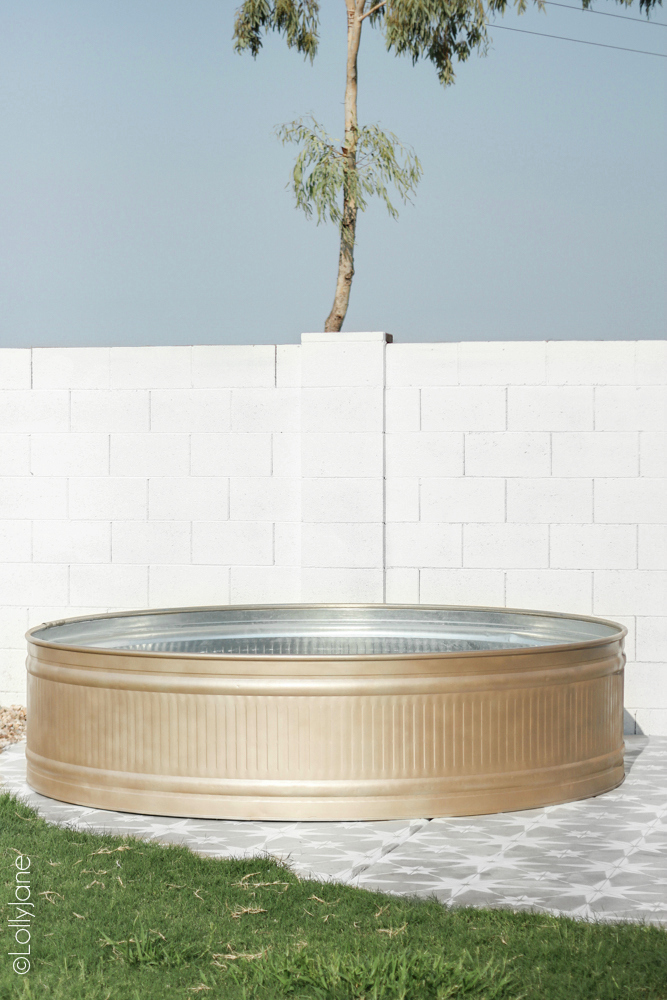 Add an umbrella, hooks, towels, floating and seating aaaand voila! The freshly painted stenciled concrete (with Marshmallow by COLORSHOT) is the cherry on top to this sapce!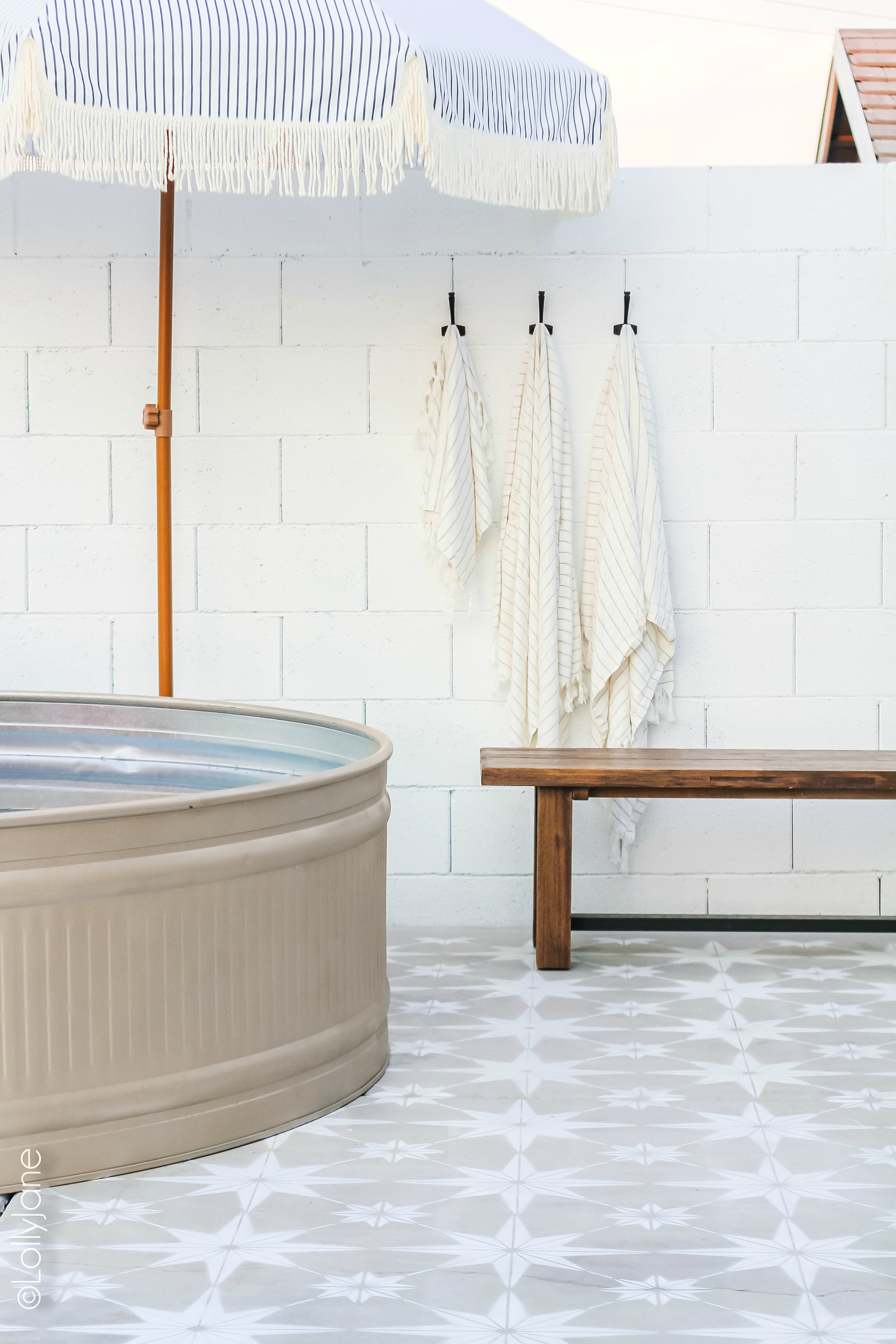 Cozy backyard refresh ready to enjoy for adults or kids! I get asked often how many people fit. My 3 kiddos have fit up to 4 cousins in here so far with them so there's lots of room, despite the small size of the tank in comparison to a standard pool. I would 4 adults or 6 kids, comfortably. My family of 5 (2 adults and 3 kids) fit nicely!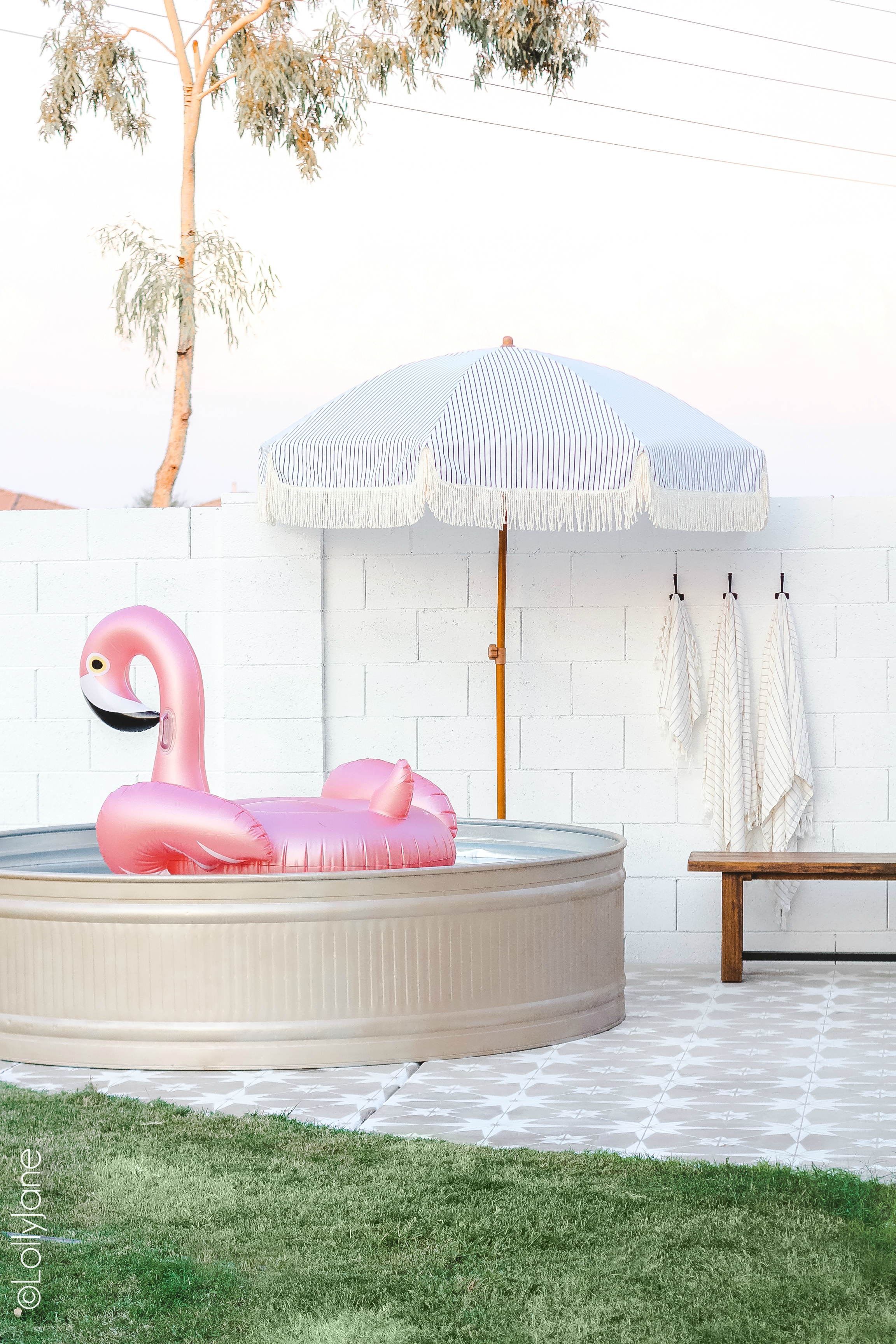 HOW TO clean A STOCK TANK pool
There are 2 ways to keep your stock tank pool clean. First, a little manual labor: a hand skimmer, brush, chlorine tablets (spa kit) with a chlorine tablet holder will keep it blue and pretty for a week or two, (depending on how heavy the use.) There is a plug on the side near the bottom of the pool that you simply pull out and let the water drain out. (Be aware of where it drains as it will flood that are!) Once empty, I hose out with soapy water then put the plug back in and refill. The other way to keep your stock tank clean is to get a filter + pump and let it do all of the work for you. I ordered mine but as of now (Aug. 2020) it hasn't arrived so I don't know the ins or outs of that yet but there are many resources on that if you google it. 🙂 I'll report back this fall!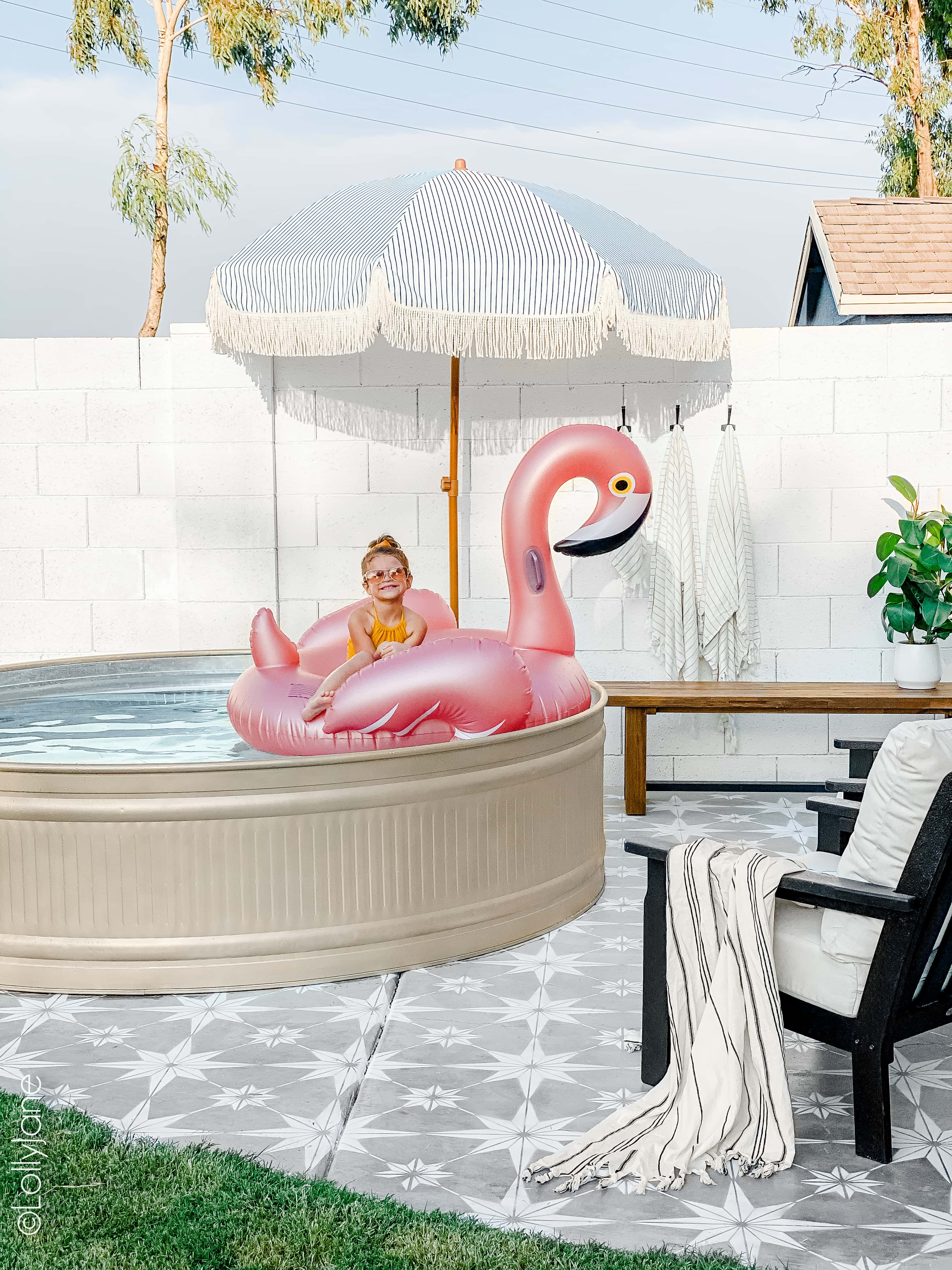 A huge thank you to COLORSHOT for sponsoring today's post. You will love their other yummy hues (with the cutest names!) available at Home Depot or Amazon. ?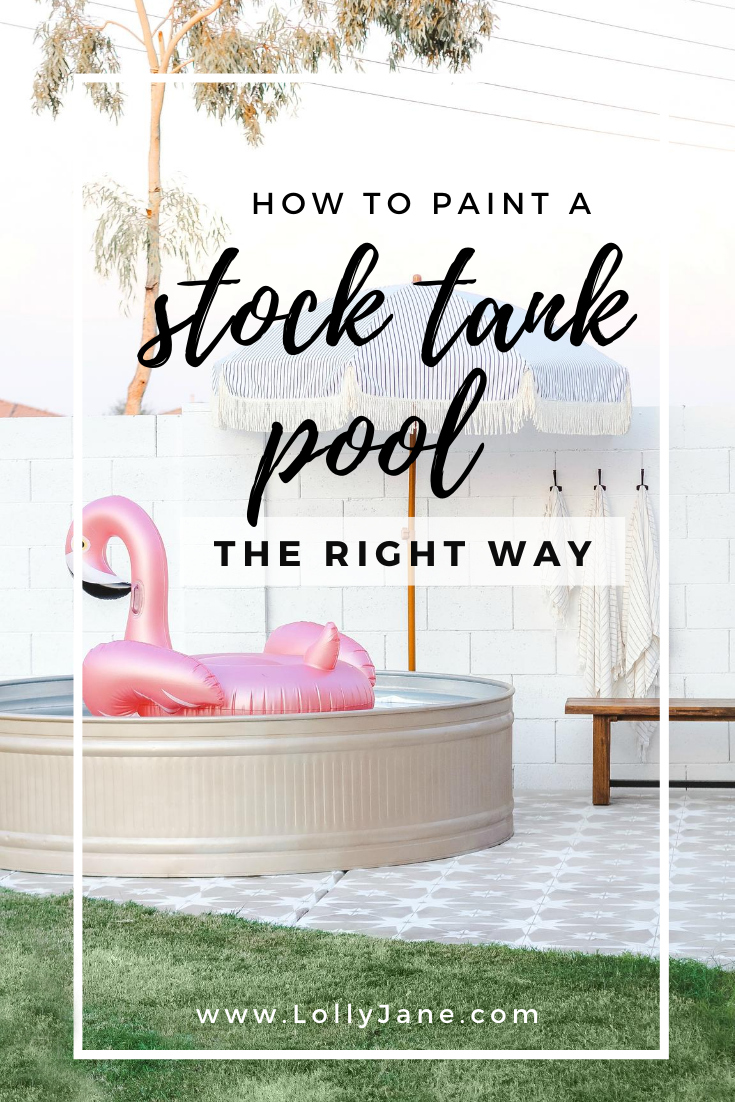 Please PIN to save for when you're ready to paint your own concrete or stock tank!

Sourcing all of the cuteness above, just click on the links below:
ACCESSORIES
PROJECT
check out 7 more stock tank ideas to keep inspiring you!