How to decorate shelves for Christmas
This is a sponsored post written by me on behalf of At Home for IZEA. All opinions are 100% mine.
If you've been following along with us for the past few months, you will remember the fun makeover of my dining room that went from a bright yellow stenciled accent wall to a faux barn wood planked wall, wallpaper style. Of course I had to change the entire wall's decor and ended up with some pretty sturdy DIY farmhouse shelves that have become my favorite spot to decorate the holidays around! Here are some tips on how to decorate shelves for Christmas for your shelves or mantel, which took me about 30 minutes is all… and an hour trip to my local At Home store for At Home Christmas Decor. (I can't help it, it is so easy to get lost browsing all of the pretty items there, haha!)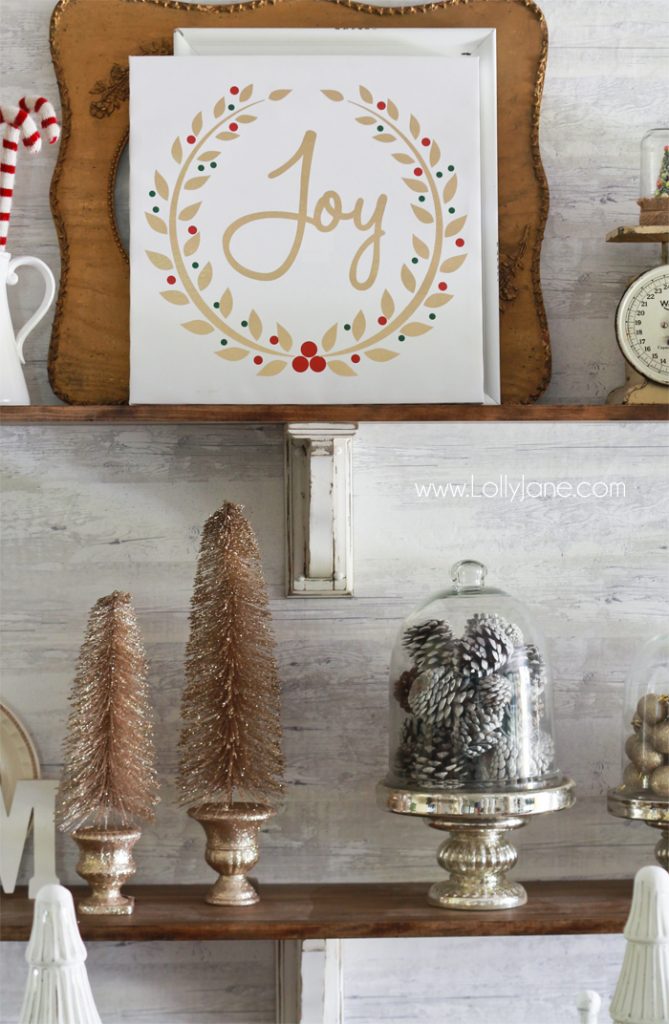 At Home is the destination for holiday merchandise at everyday low prices and they offer a complete holiday solution for every home, including a giant variety (I'm talking aisles and aisles!) of indoor and outdoor décor items for Christmas. At Home is the one-stop-shop for customers to design your whole house (every single room, not just accent pieces.) I got lost in the rug section that is bigger than my whole house, lol. At Home features all Christmas décor items (from dining to ornaments) in fifteen decorative themes and they are all so pretty. The themes are Seas & Greetings, Holiday Hoedown, Lavish and Luxe, Peppermint Jazz, Berry Platinum, Forest Fairy Tales, Crystal Chateau, Cherished Memories, Heaven and Earth, Midnight Plume, Regal Renaissance, Snowcapped Scene, Handcrafted from Around the World, Dem Darlings and Handcrafted. Instead of focusing on one theme and style, (you know how sporadic Lolly Jane's style is,) we picked and chose a little of this and a little of that from each theme and think all of the golds paired so well with my stained shelves!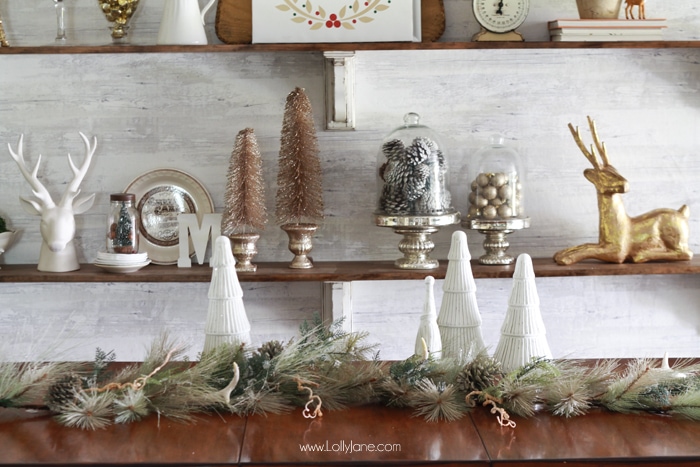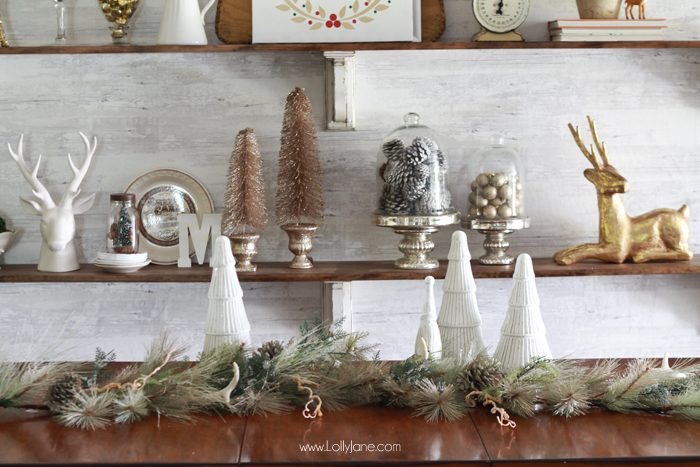 You can see how wide my shelves are and there is a LOT of space to fill. Instead of getting overwhelmed, here are some tips for to decorate these for Christmas and year round, really:
1. Narrow down a theme. Although we mixed and matched from various holiday lines, we had an overall vibe of decorating with the same 3 ideas: antlers/deer and gold and you can see how well they all pair together, despite the different textures of each piece. For example, the glittered standing deer from the Heaven & Earth line brings both themes together in one and also accents items around it.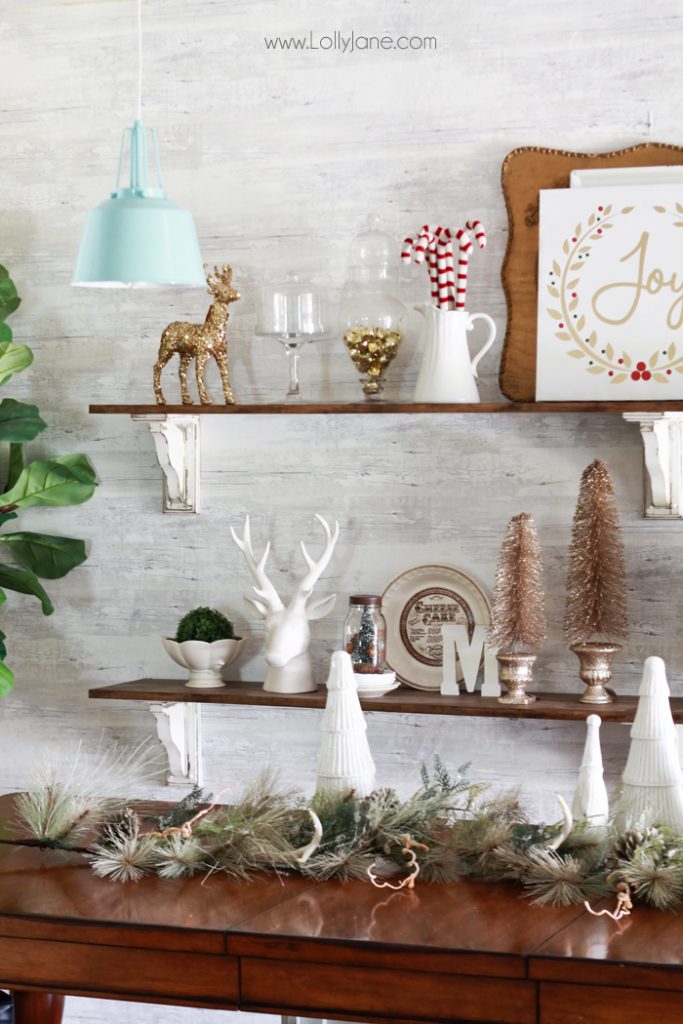 2. Start with a focal piece. After the theme is narrowed down, I always start with one focal piece that accents the theme for the rest of the items on the shelf as it sets the tone for what makes sense to accent it with. In this case, I chose a large gold "JOY" canvas that can be paired with lots of matching golds but has a little pop of red and green in it so I can mix and match that throughout the rest of the decor to pull it all together.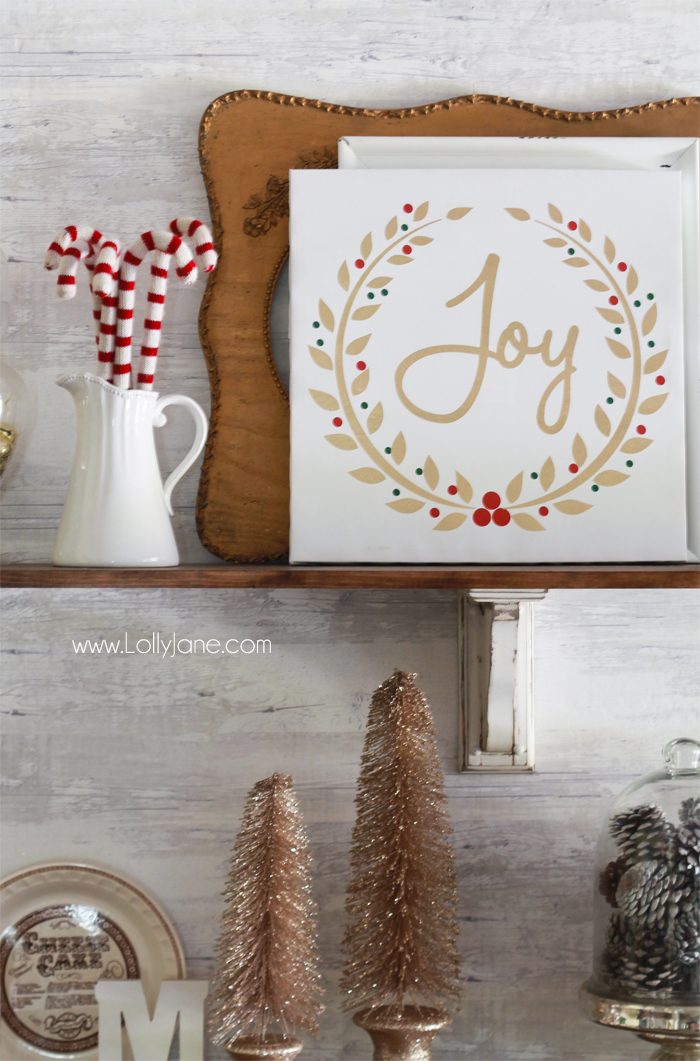 3. Accents are your friends! I love little knick knacks that bring personality to the theme. This adorable mason jar from the adds a little charm with its mini pine tree and rustic brown top… and, it lights up!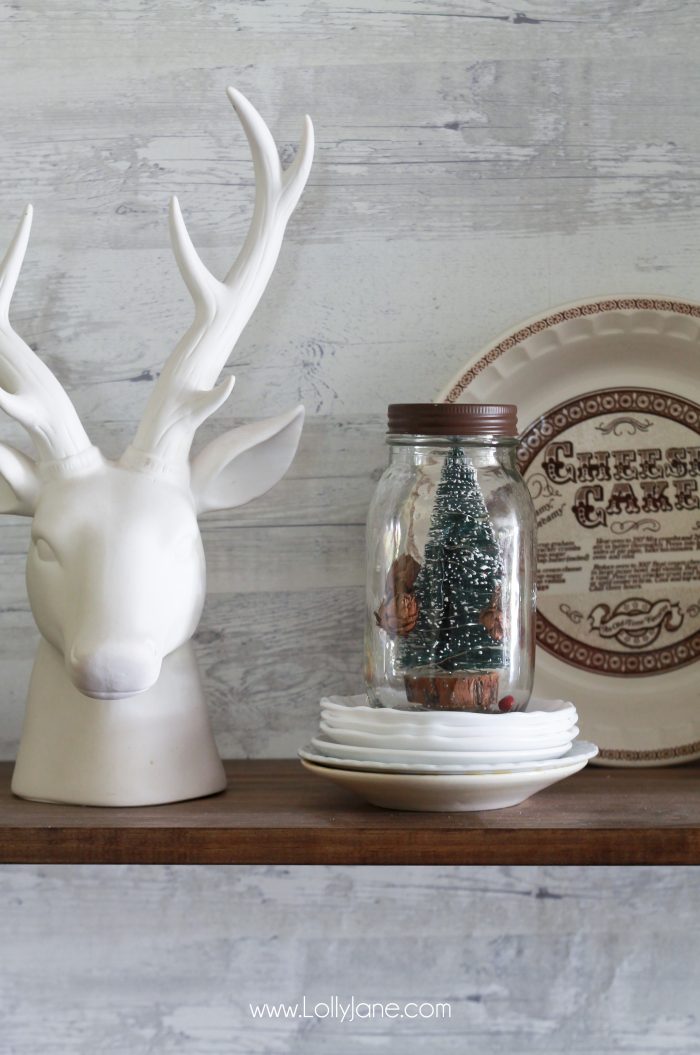 Speaking of mason jars, this little burlap jar with a festive Christmas tree inside from the Holiday Hoedown line was too cute to pass up and is the perfect size to place on top of my vintage scale, which I keep up as year-round decor.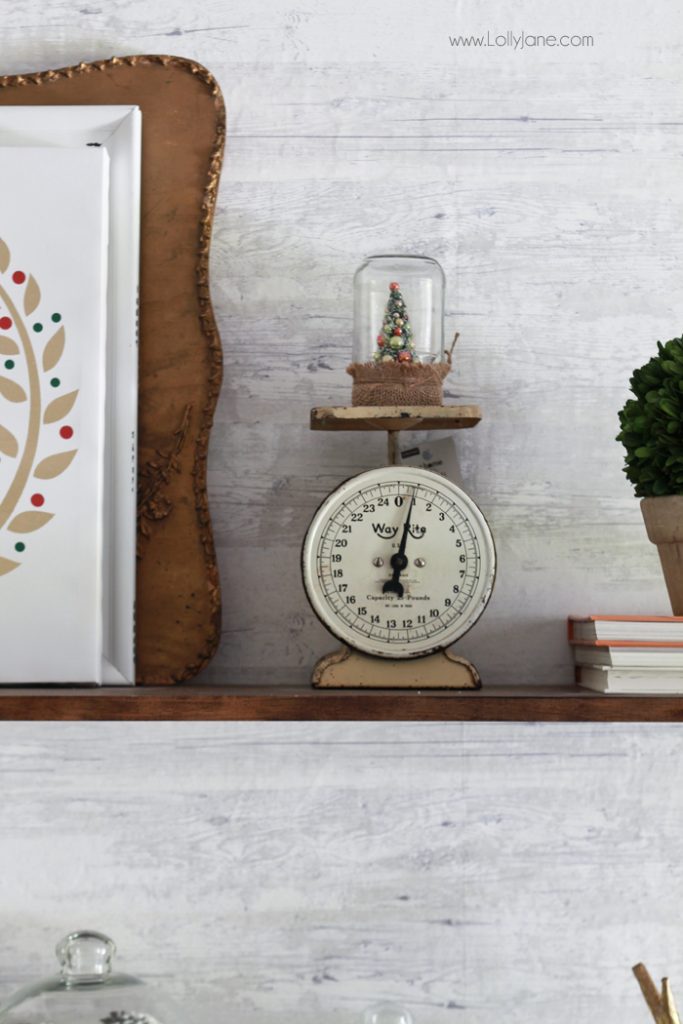 4. Fill 'er up! Apothecary jars are a great way to not only fill up space but to also fill up with like decor to accent the theme.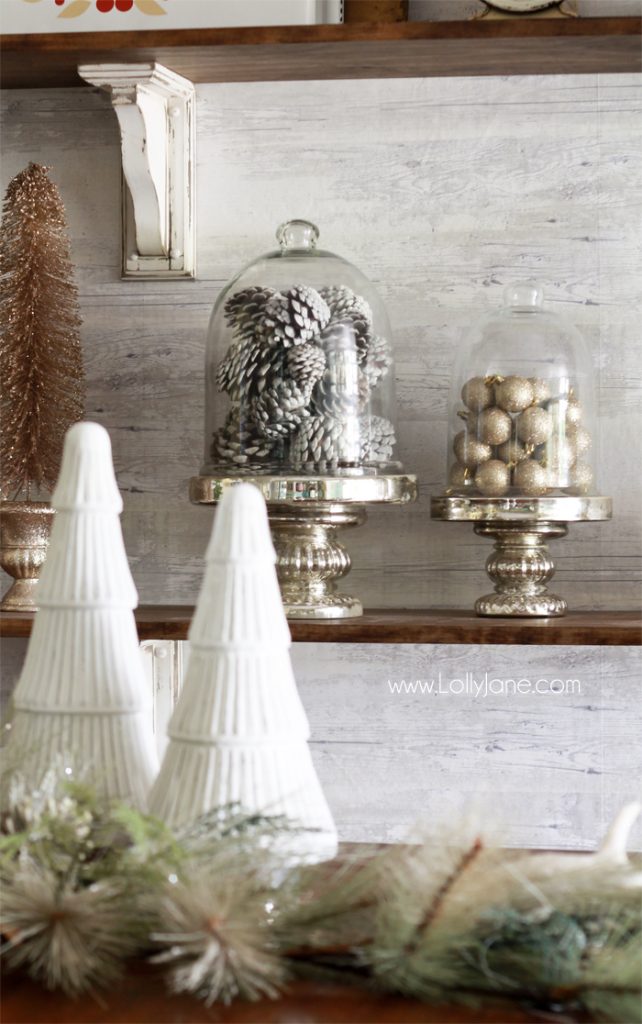 For example, we filled one jar with pine cones from the yard, another with a tube gold jingle bells we snagged in a Christmas aisle from At Home and another with glittered gold ornaments from the huge ornament section. We are loving the different shimmers that each hue of gold brings to the table!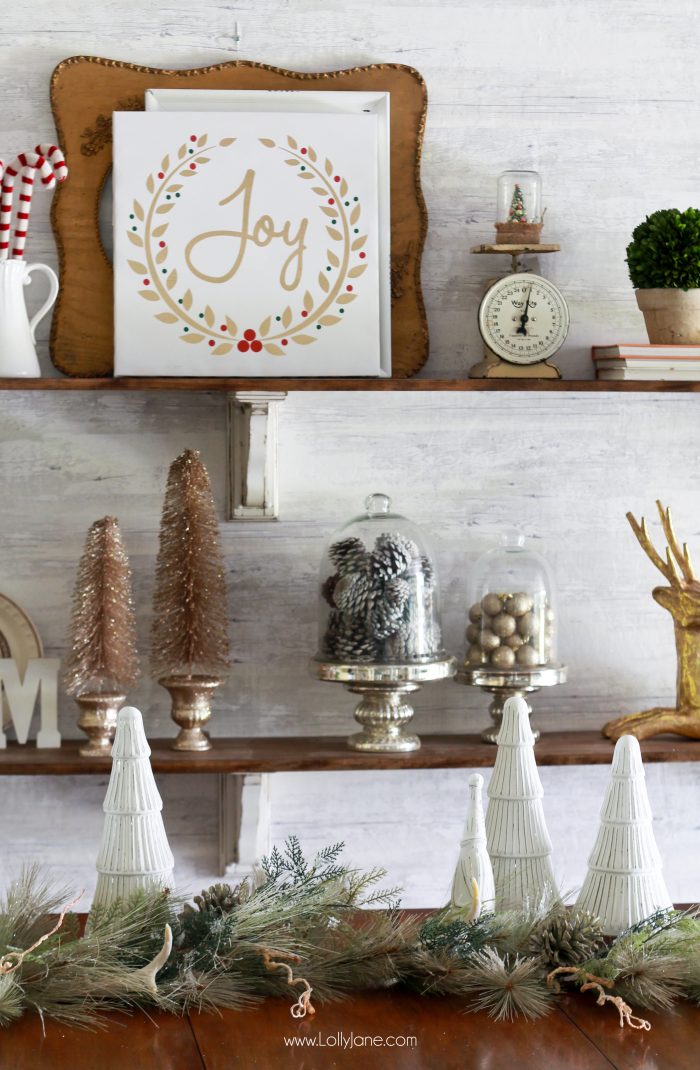 Speaking of tables, did you catch that antler garland across mine? Hello, gorgeous! It is pretty yet playful and ties the antler theme into my tablescape as well.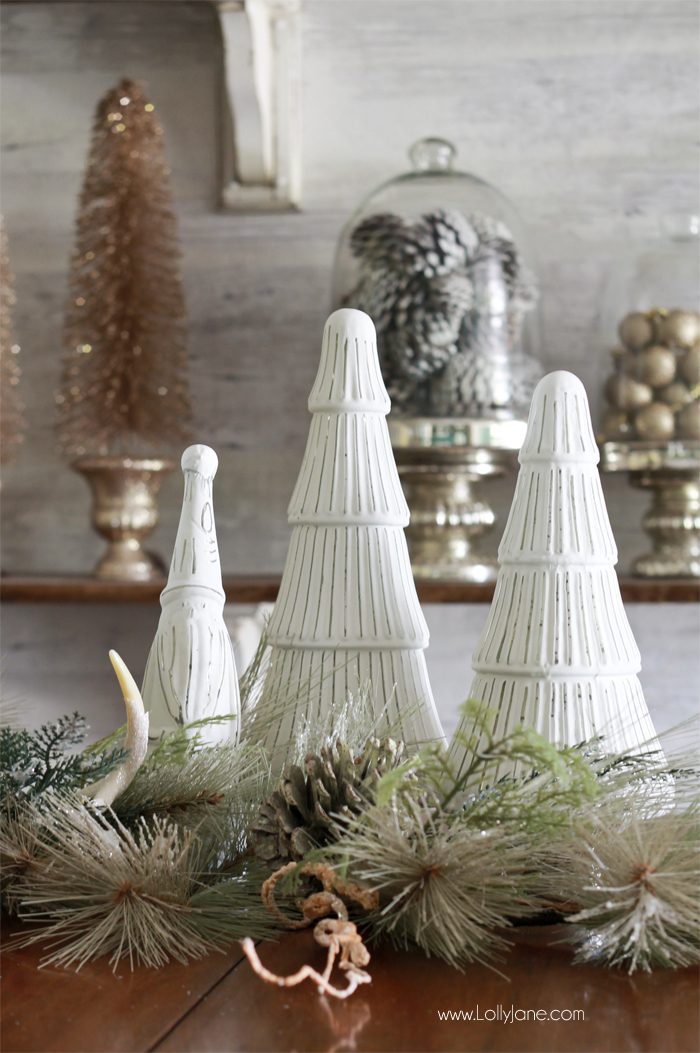 Those white glass trees and glass Santa from the Snowcapped Scene line are so pretty, aren't they? We love to decorate with trees of all shapes and sizes for Christmas and the glittered bottle brush trees from the Lavish & Luxe line below were fun in addition to the white ones. Now that we're talking about trees, At Home also offers 101 Varieties of Christmas Trees! The At Home Tree for Me lot covers an acre of fun with over 100 trees. At Home has a large in-store tree selection to come touch and feel, the widest range of trees from classic to colors, to technology trees. Each tree is curated because of a unique feature and every tree in the store (with the exception of 1) is exclusive to At Home!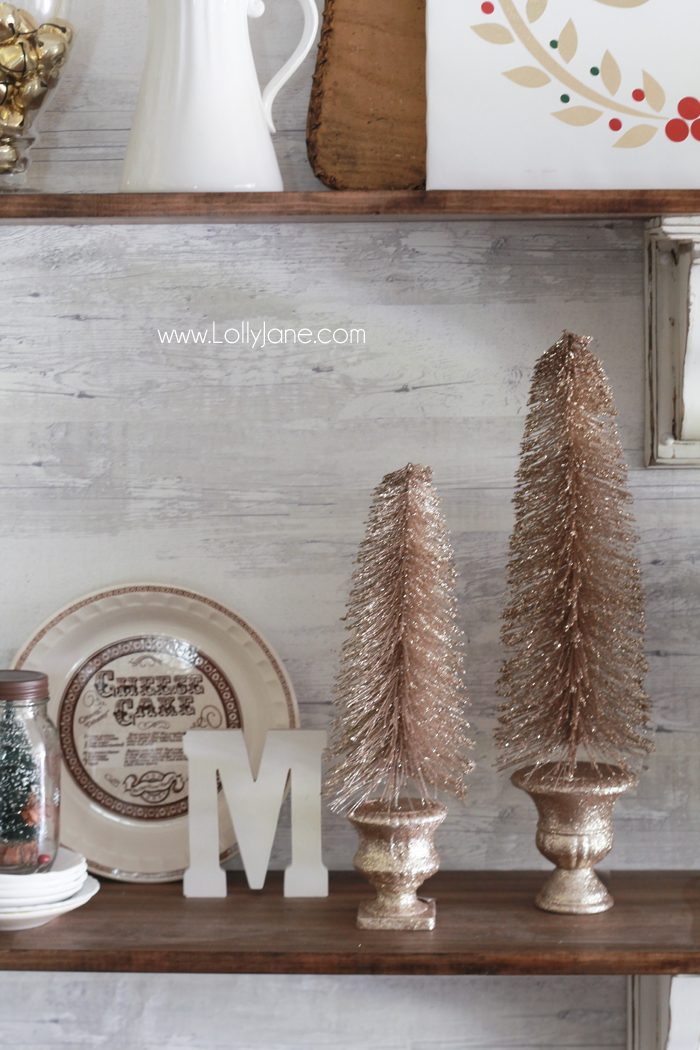 Well there you have it, 4 easy tips we use to decorate shelves for Christmas that are pretty doable for even the beginning decorator! Be sure to check out our other posts on decorating like Holiday Porch Decorating Tips,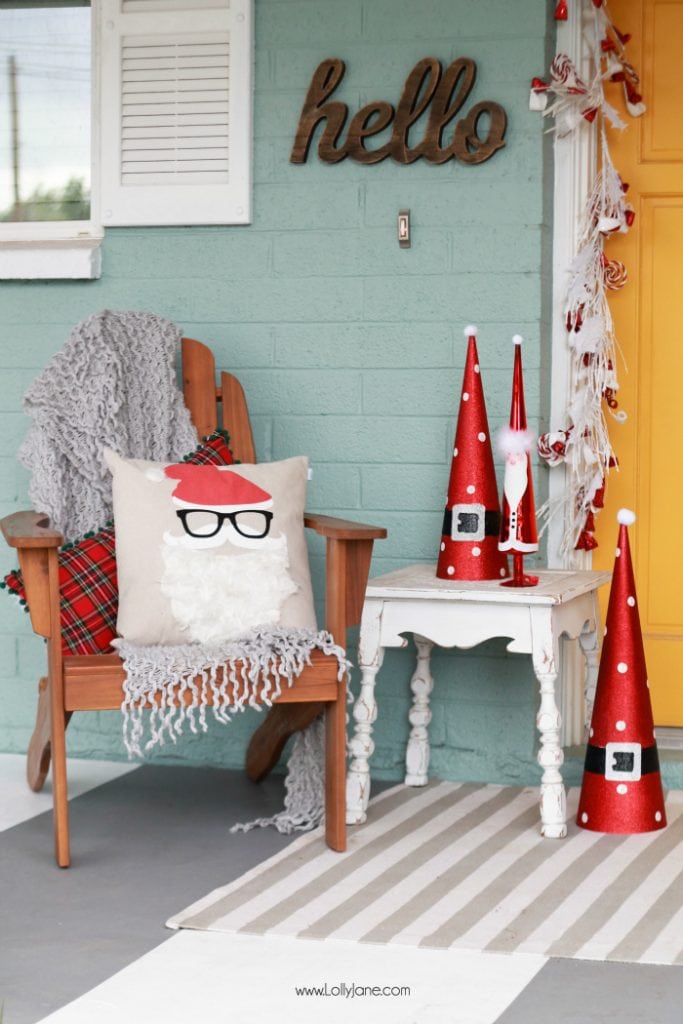 and Easy Christmas Tablescape Ideas!