Blogging: the good, the bad and the ugly.
If you follow us on Instagram or read Monday's post, you know that we just got back from the EVO Conference, where we had a great time AND learned a lot.  BIG THANKS to Cutting Edge Stencils for sponsoring these crazy twins to enjoy the trip!! LOVE THEM!!  The theme for the conference was Changing Perspectives.  Most of you, if any, aren't aware that Kelli and I drove to the conference with the title "Blogging: The Good, The Bad, The Ugly and The GOODBYE" in the back of our minds.  We were ready to QUIT blogging… until we changed our perspective.  Let's break it down, shall we?
The Good:   There are a lot of creative bloggers out there and we have met some WONDERFUL women who have become "in real life" friends that inspire us, that we can confide in and whose friendships we cherish.  There is nothing better than meeting someone who you connect with, who shares your same passion and creatively challenges you, am I right?  We are grateful for these women!  We attended EVO '12 last week and were able to see some of them there: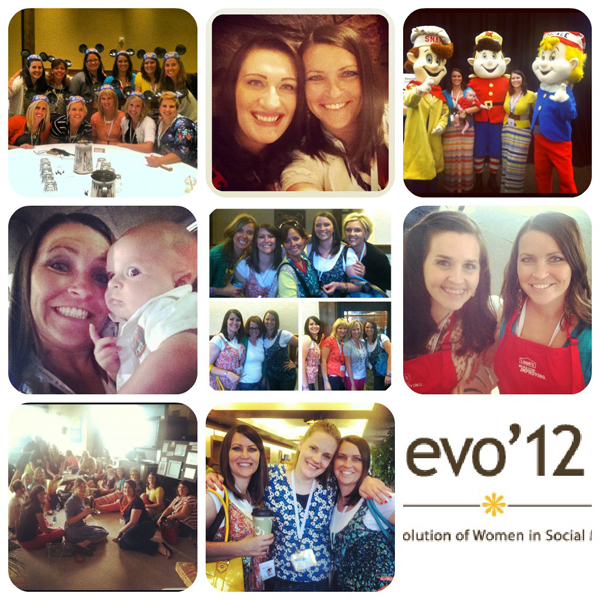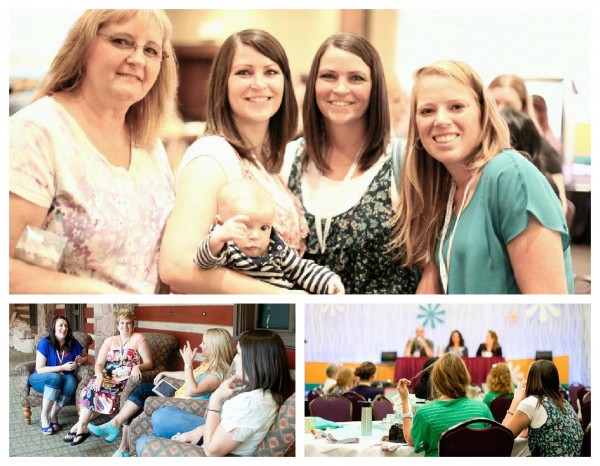 Of course the free products we receive, social opportunities and paycheck are a HUGE perk of blogging 😉
The Bad:  Blogging is time consuming.  Unfortunately there is no way around that.  Between blogging, (thinking of a project, creating it, photographing it, editing it, posting it, promoting it, linking it up) social media, (FB, Twitter, Pinterest, Instagram) and emails, (we're currently a week behind!) it sucks up T I M E.  Whether you admit it or not, each blogger gives up something they love in order to blog, (playing with children, catching up on a favorite show, a nap, housework, working out, giving service, studying scriptures, etc.)  Simply put, blogging is a sacrifice.  Even if you "only blog" during nap time or bedtime, think about how many times each day you are on your phone in between checking email, Instagramming or etcetera.  And hello, going to bed at a different time than your spouse isn't healthy.  (Yep, we are each guilty of these!)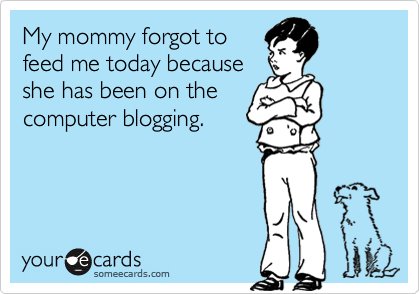 We are tired of running out of time doing the things we want to do each day but getting our blogging obligations done instead.  Even when we use our time wisely (like not getting distracted on Pinterest! Ha!) we are putting things we enjoy on the back burner- like organizing Kelli's craft room, creating projects with the littles, finishing painting Kristi's barstools, etc.  We are ready to change our "To Do" list to a "DONE" list!  And dad gummit, we want to casually browse blogs and to become loyal readers to our fav blogs again!  Miss that!
The Ugly:  Blogging feels like a competition. We know it's easy to compare yourself to so-and-so's blog, to feel left out of a series or not be included in a round-up and wonder what your project lacked to not make it in.  I love this quote we heard at EVO from Allie @ No Time For Flash Cards: "Bloggers are your community, not your competition."  This quote helped us realize the big fat line between bloggers vs. readers.  We've decided to focus our projects for our readers, not fellow bloggers.  We blog because we feel like we have creative talent and want to be able to share that with others, to inspire them to try something new and go outside of their comfort zone.  Check out Christy @ Read Write Think's version of our interchangeable frame she emailed us earlier this week: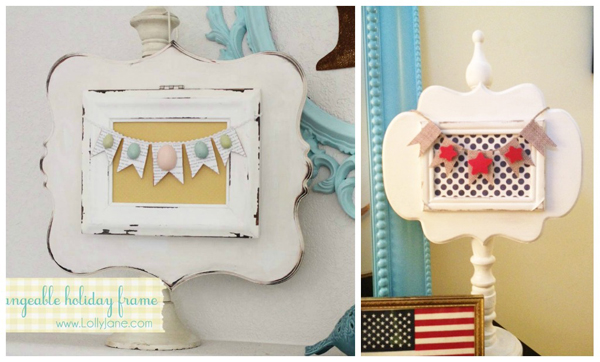 What a compliment it was to receive her version, thanking us for the inspiration to make one!  THAT is why we blog, folks!
Still ugly:  After attending a few conferences this year we were able to meet and observe some "bigger" bloggers who were, to our surprise, not that social outside of their circle.  We took a step back and thought about how we are perceived; we sincerely hope we don't come off unapproachable to our readers or fellow bloggers.  We were disappointed at how some wouldn't bother with even saying hello to us and we never, ever want to come off that way.
Even uglier:  Our homes.  Okay not all the time but sometimes there is complete mayhem behind the "picture perfect" photos.  If we've given you that impression of us, shame on us!!-we really want you to know we're just like you.  We have dishes in our sink some days, neglected floors and crumbs under our kid's chairs!  Between us we have 7 kids under the age of 9, and life can be chaotic.  Although the majority of blogging occurs when the kiddo's are asleep, it's still a mad rush to squeeze everything in between before they wake up!  Here's a little peek at Kellli's craft room that NEEDS some good organization, just so you know we're telling the truth: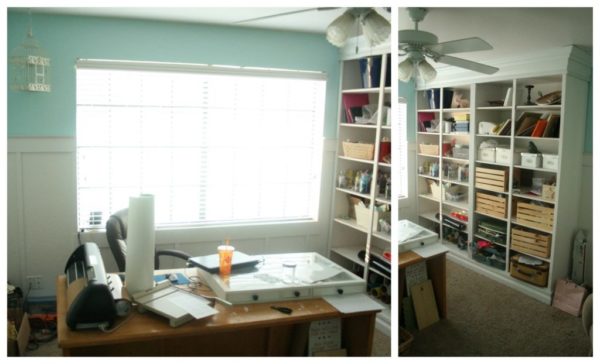 The Change:  We're going back to basics: blog to create and inspire.  To craft when we want, not when we're expected to.  We are taking our life back!  We, like The Girl Creative Project: Inspire, will be posting if and when we are inspired to do so.  Because it's hard enough to create a project for our blog, we will be cutting back on guest posting, if doing any at all.  We are limiting our sponsors/advertisers/giveaways to products that ONLY relate to our content.  We don't want to junk Lolly Jane up with cheap ads or products that don't relate to our style of blogging.  We get that there's money to be made in blogging, and that's great for those who are "in it to win it" and want to make bucko bucks.  That's not us.  Our awesome hubby's are the primary breadwinners in our households.  They go to work each week to bust their A's and we do not want to have to answer that we "blogged" or "chatted with perfect strangers who share a love of crafting like we do" when they come home and ask how our day was.  We will no longer put our children second to blogging.  As much as we love it, it is NOT more important than them and they will NOT see us tied to our phones,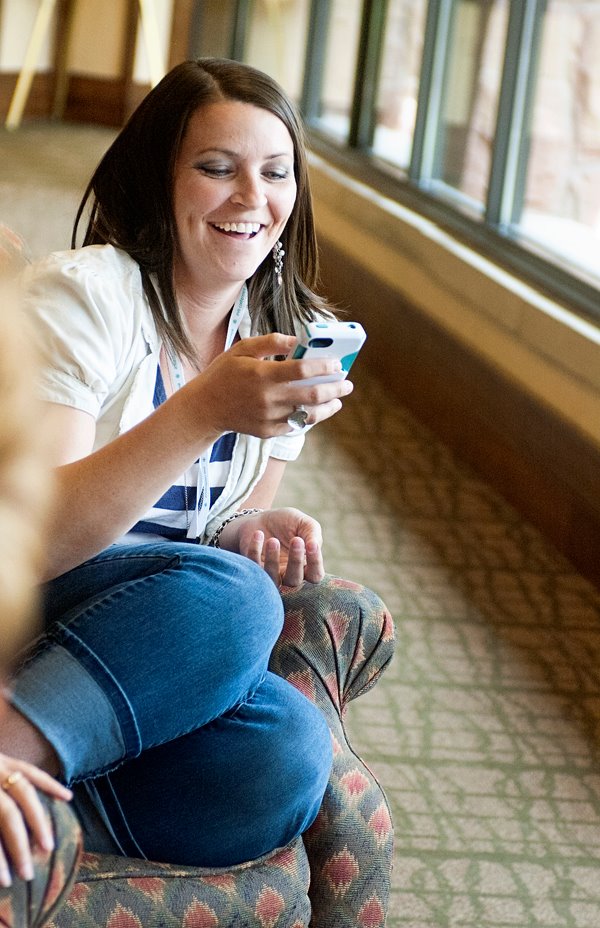 computers or immersed in our craft spaces any longer.  We are moms first while our littles are still little and will enjoy.each.moment with them.  We are SO BLESSED to stay at home with them and want to do all the fun activities we've pinned that look so fun!  🙂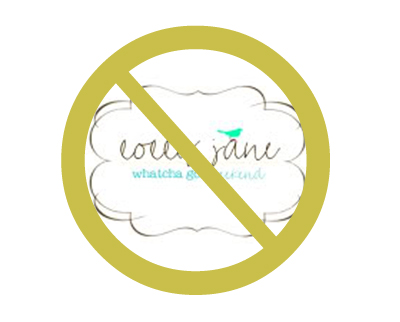 No more link parties.  A lot of you have commented and emailed WHY we're stopping our link parties.  (I'm not sure if it's a new trend to NOT have a link party but we've heard a few bloggers mention they are stopping theirs, too.)  At the EVO conference we kept hearing "blog for YOU, not for others."  Although our Whatcha Got Weekend party has increased our traffic and is so fun to see what everyone has been creating, it's exhausting to create, to choose "winners" to feature (we always hated picking them because we feel bad not everyone can get featured,) posting on an already tight schedule and to maintain them each week.  To be perfectly honest, we had our link party run throughout the weekend so we didn't have to worry about posting until Mondays but griped when it was our turn to be in charge each week. Ha!  Now you know.  Hey, YOU asked! 😉
The End ….just kidding 🙂  Feel free to browse our tutorials if you get tired of waiting for a fresh post or subscribe to our RSS Feed so you'll know exactly when we're posting.  We appreciate our readers SO MUCH.  This is a decision we have put a lot of thought into and although we may get looked down upon or get judged for not managing our time wisely (while trying to balance blogging, family, church, school life, etc) it is what is best for each of our families right now.  There will be a time when we can post each day but now isn't the time.  We've gotta admit, though, writing this post feels so liberating!!!  LOL
Love you gals!
XOXO