115 kitchen cleaning tips
I recently discovered the cutest blog and was inspired by her kitchen simplify. Like…so inspired that I loaded up my 3 year old and bought everything I needed on the spot inspired. Guess what? It's been 3 months and I've kept my fridge clean.  SHOCKING for those that know me, I know. My hubby and littles think I'm a weirdo for having zebra prints in my fridge and don't "get" the matching baskets. But hey, if it worked for me, it can work for you! And this is coming from KELLI…not KRISTI who is the clean freak of the two of us!  This all seems more realistic now, doesn't it?? So go ahead, spend the $5/basket fee and get your fridge clean!  Then check out these 115 kitchen cleaning tips!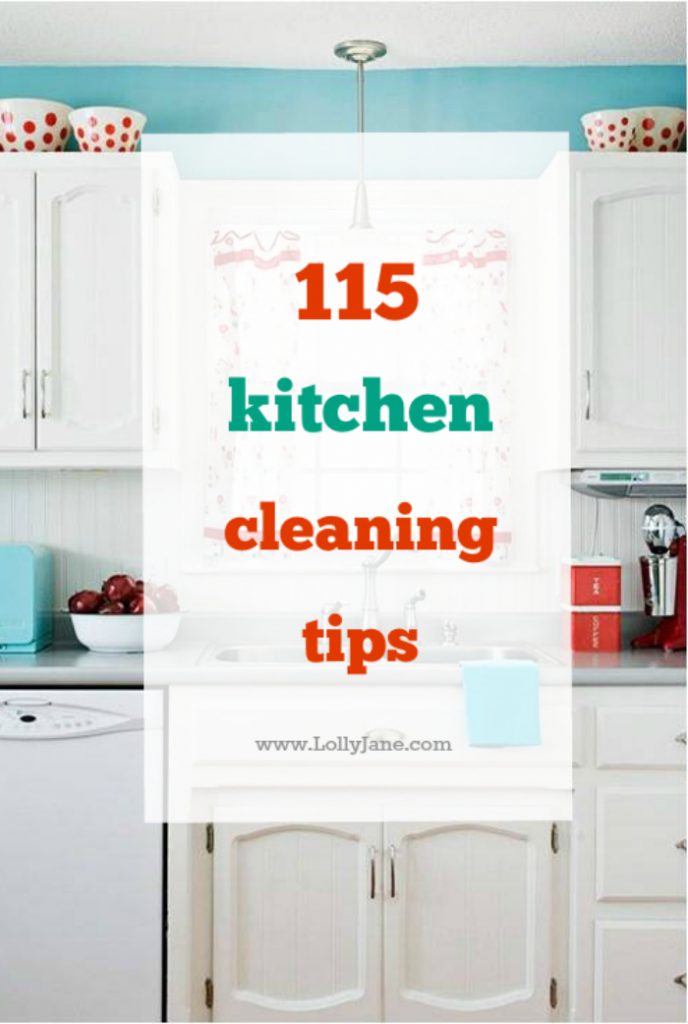 Does this look like your fridge?  Maybe you shouldn't publicly answer that…just give me the look and I'll get it.  Unorganized soul sisters, we don't share our dirty little secrets…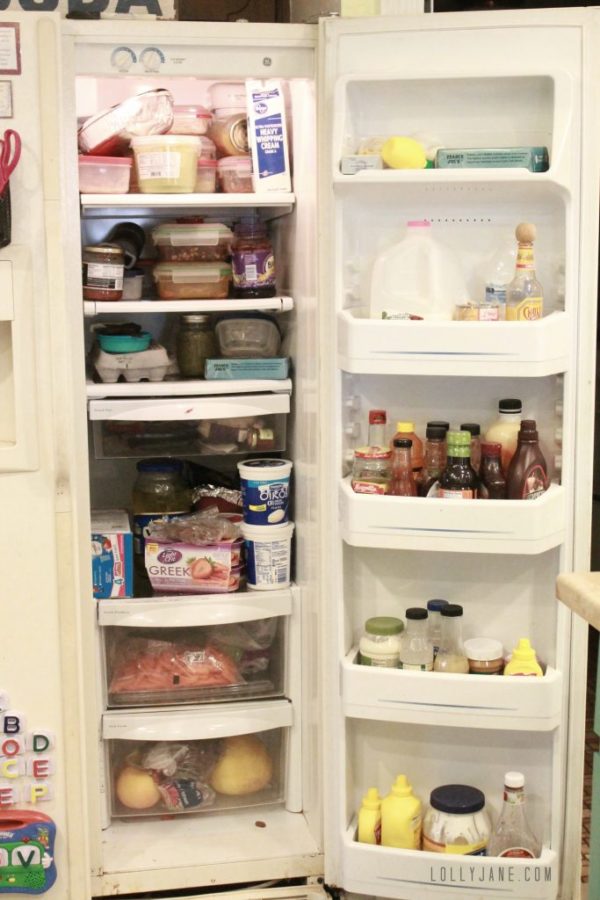 I won't judge you if you answered yes.  What?? Not all moms with 4 kids have ketchup globs stuck to the bottom of the fridge?  Go now, run to Walmart and grab 4 baskets.  They're in the kitchen organization aisle and are $4.99/each.  Best $20 spent (plus $0.86 on the way home for my Diet Coke from Circle K…what?? A girl's got have have her liquid motivation on hand, that ketchup glob ain't gonna scrub itself!), while I was there I grabbed this peel & stick contact paper. It was less than $6 for a giant roll I'll never use again.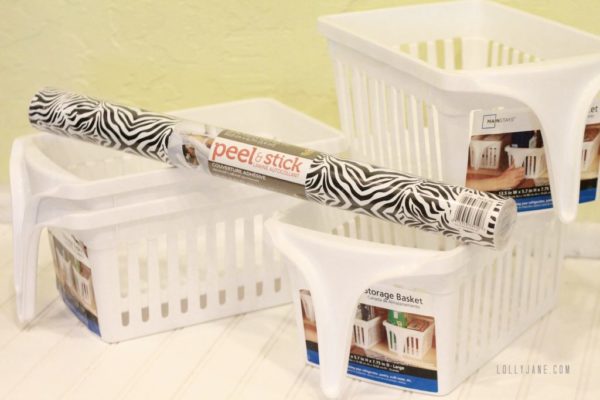 After you scrub the heck out of your fridge, line the shelves with your new contact paper.  Honestly? I'm not an animal print person. I would have preferred stripes or herringbone or even polka dots but it was this or faux marble, you get it…
I even lined the insides of the doors, the insides of the drawers that pull out and every single shelf in the fridge. Think of what you most often use and put those items in your easy to grab baskets. I filled one basket up with just the Costco size of string cheese. Healthy choice and it's on of the first things my kids hunt for when they're hungry.
I love these baskets!  About $5 from Walmart, worth the money fo' show!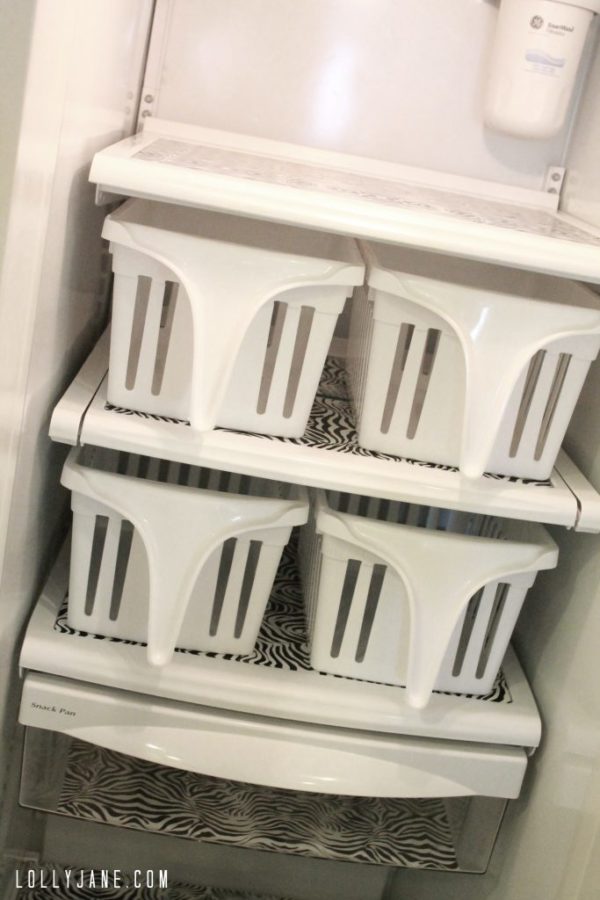 See how tempting the fruits are now?? LOL…my kids laughed at my decorated fridge but in all honesty, it's easier for them to get to the healthy snacks, fruit and veggies which is a win-win!  (Anyone else's kids go to a charter school which pushes the 7 Habits by Steve Covery?? We're always saying "Synergize, guys!" or "Be Proactive" haha!)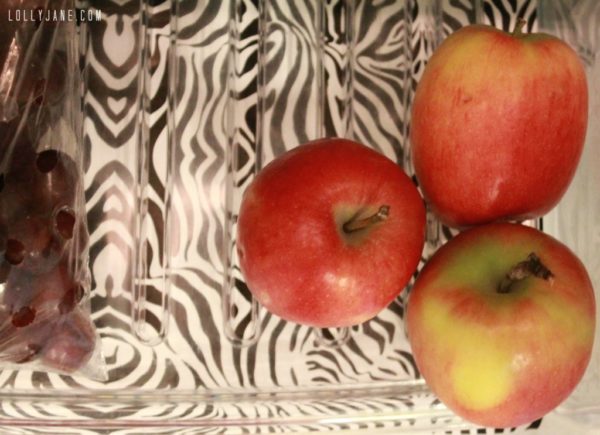 Alrighty…now that you've got the tools to organize and KEEP your fridge organized, here are 115 kitchen cleaning tips for you!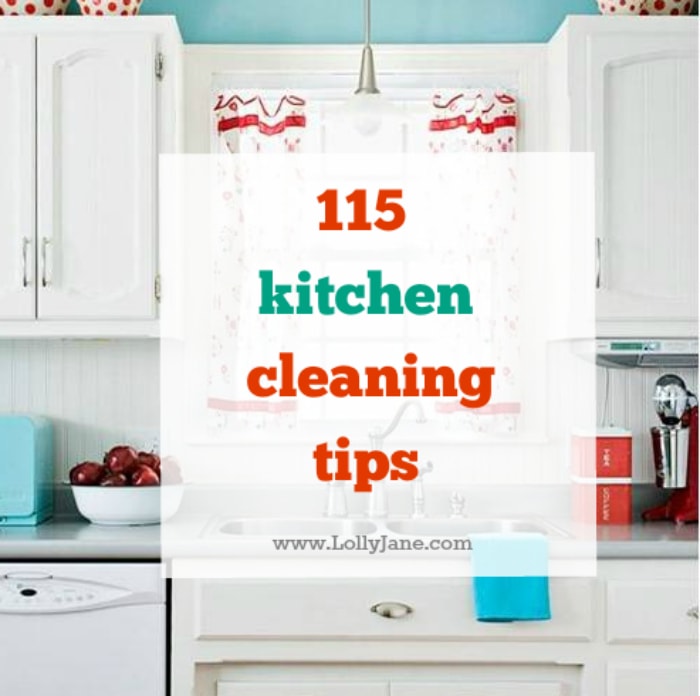 15 Kitchen Tips to keep your kitchen clean, tidy and smell free |TheKitchn
20 Best Kitchen Cleaning Tips |Craftionary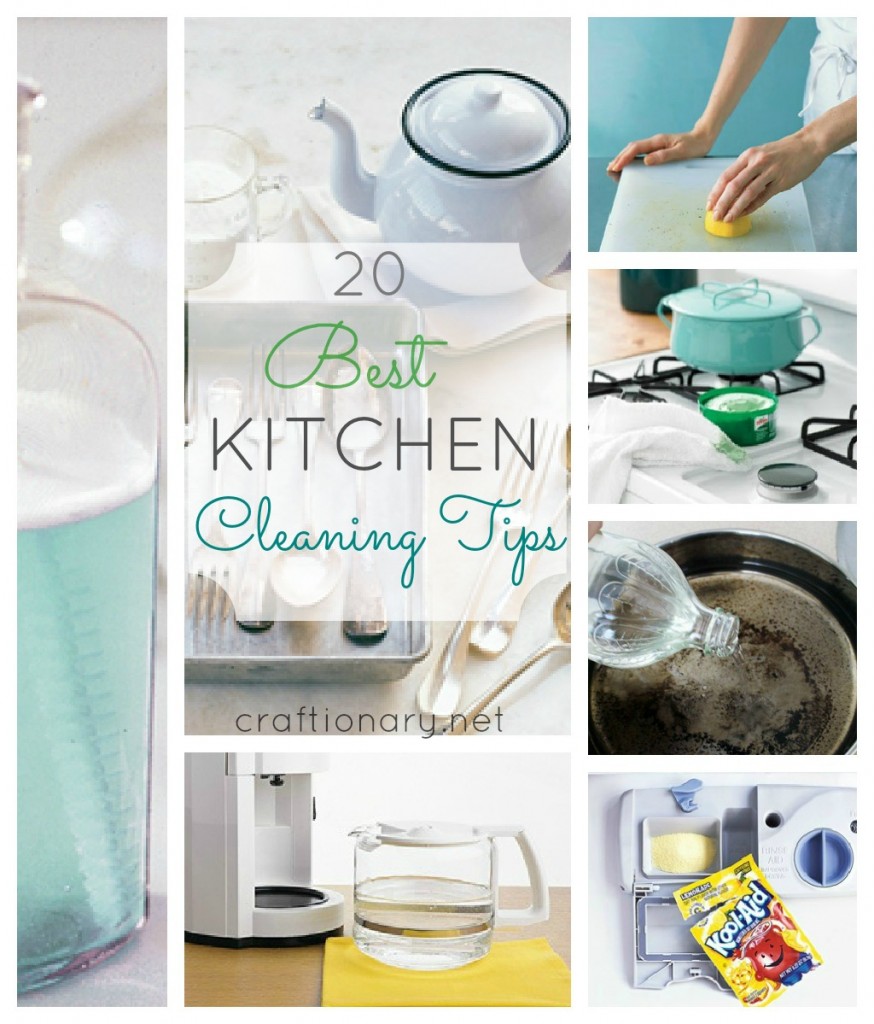 10 tips for cleaning the dirtiest spots in your kitchen |Delish
9 Quick Kitchen Cleaning Tips |Readers Digest
14 green kitchen cleaning tips |TLC Home
5 Cleaning Tips for a Germ Free Kitchen | Bon Appetit
30 Quick & Easy Cleaning Tips |Women's Day
And if these tips are all overwhelming to you like they are to me…here's a free cleaning schedule from Fresh & Organized to help keep your whole house clean. No promises…

And here is a pretty kitchen we can't find the source to, but we love it!
Kristi just shared some DARLING kitchen spaces yesterday if you're thinking of remodeling.  Check out our Cleaning Tips board as well as our Tips + Tricks board too for all things handy! And of course all of our fun roundups!! (: