How to Store Holiday Decorations
Overloaded with excess home or holiday decor? We'll show you how to store holiday decorations away from precious indoor storage with this chic outdoor shed!
How to store holiday decorations
Piles of boxes, bins, and bags for each holiday (or, if you're like us, seasonal decor too!) can easily take up precious storage space in closets, basements, garages, attics, or spare bedrooms. Want to know how to store holiday decorations? Simply create a designated spot to corral all of it outside to keep your living spaces clutter-free!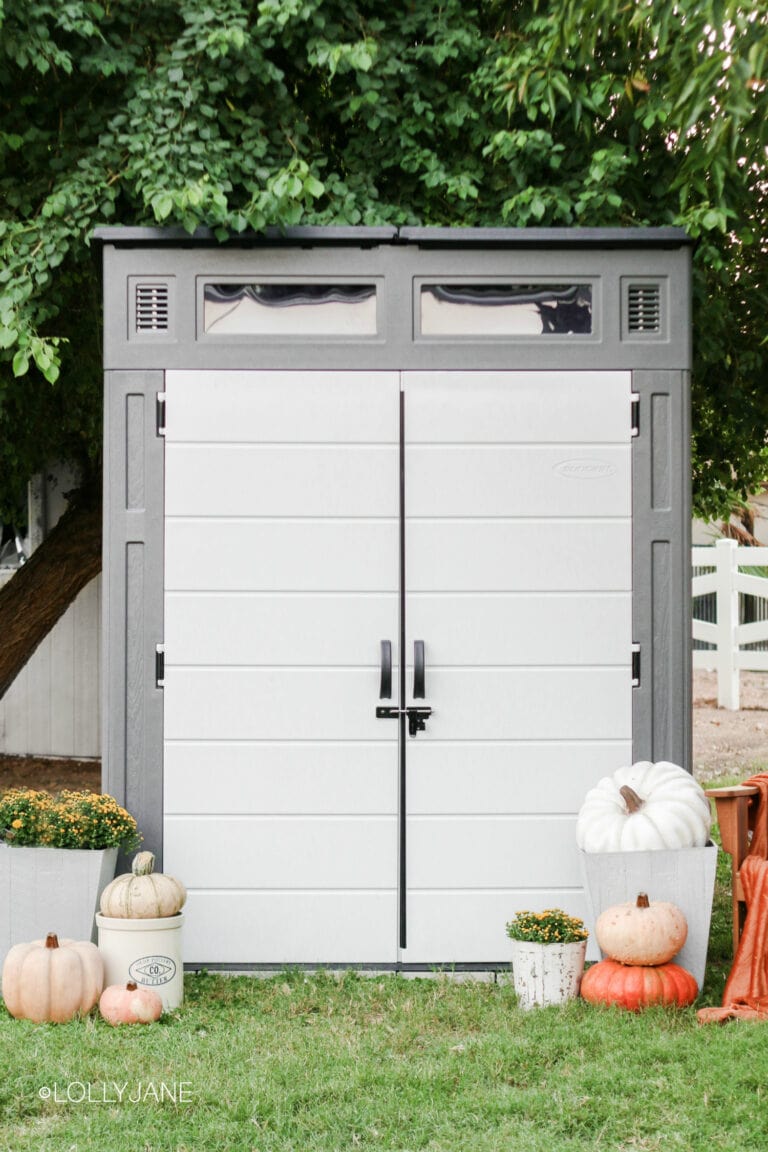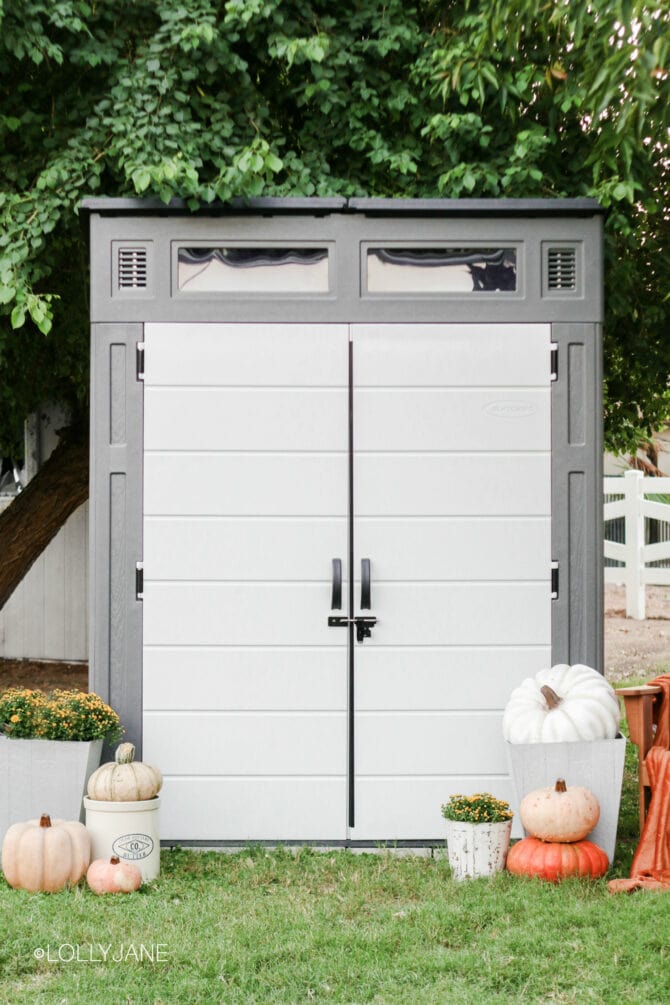 benefits of a decor shed
We've talked about freeing up your indoor space for the holidays and how an outdoor gift wrap station does just that. We have SO MUCH decor since we love to go all out for the holidays. As a result, we typically store it in our outdoor shed but it's been getting dusty since it shares a space with tools that help maintain our acreage. Enter the Suncast Modernist Shed: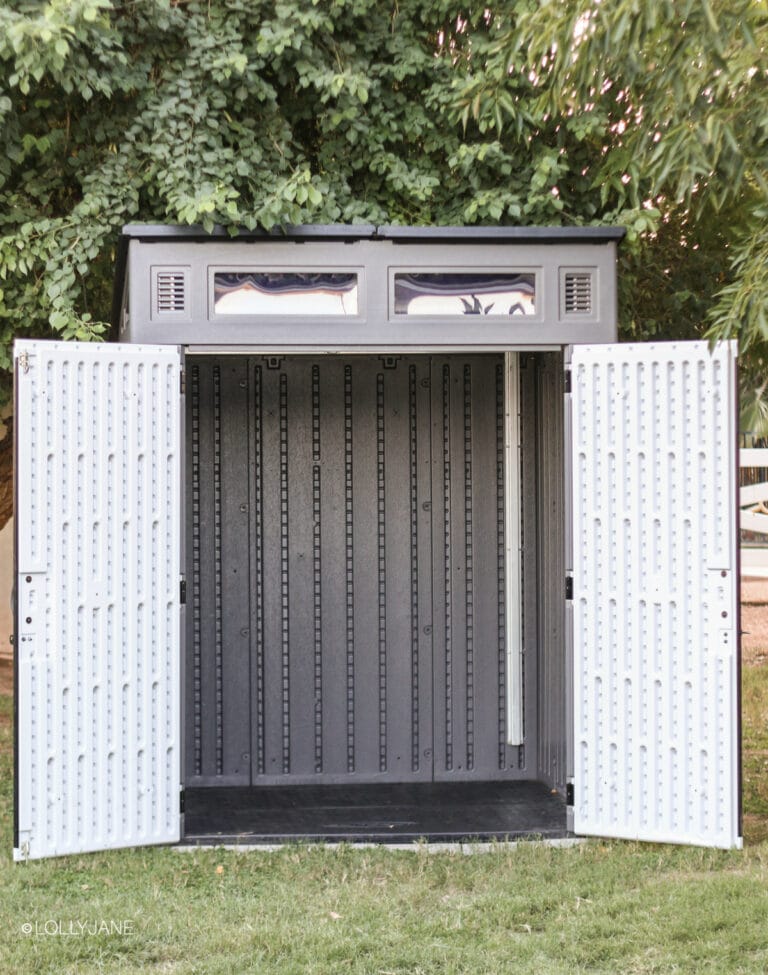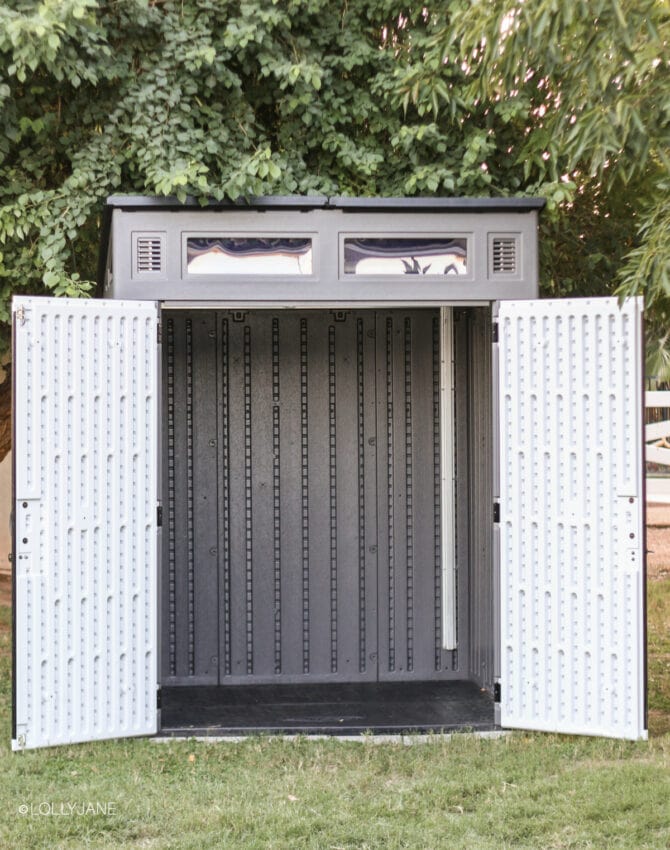 It is plenty big at 6×5 to store everyday outdoor tools of course but this chic shed is mine all mine… it's perfect to store excess decor.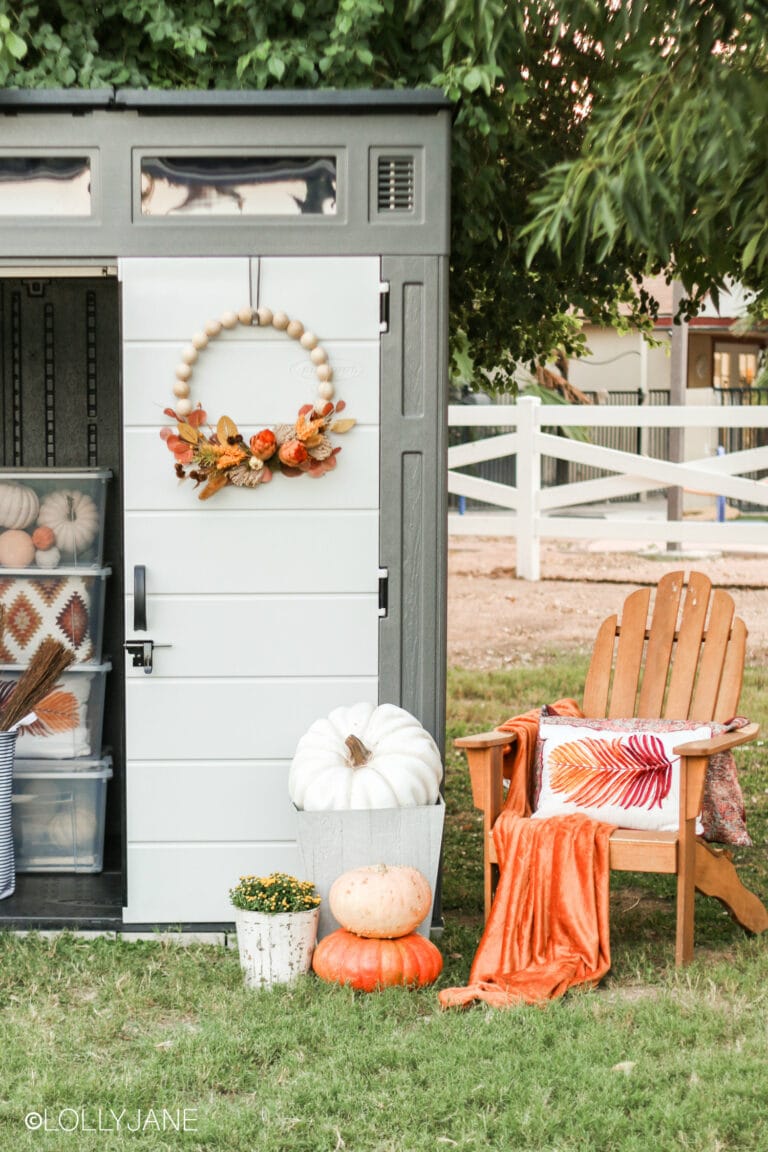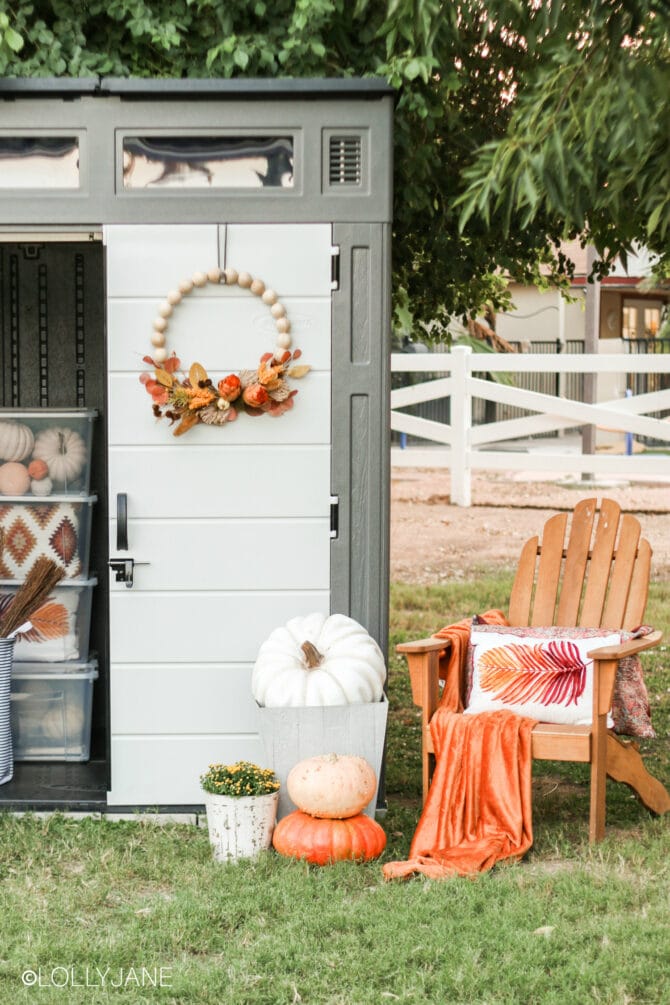 In fact, when I told my husband I was planning to get a decor-only shed to put closer to the house, he replied, "You mean I won't have to step all over it to get my mower out?" HA! He was pretty thrilled about the separation to say the least!
a shed can house more than just tools
Outdoor sheds are making a statement in more ways than just storing lawn care equipment; they're now considered an extension of your home so it should LOOK like it!
Think of your bulky holiday decorations, different sizes of seasonal signs and hard to store items like planters. Don't use valuable indoor space for those items, bring them outside!
My front porch is always decked out for the seasons but storing it all is a total pain. As a result, my two Christmas trees take up a ton of space in the shed and are constantly getting dirty from our camping and beach supplies.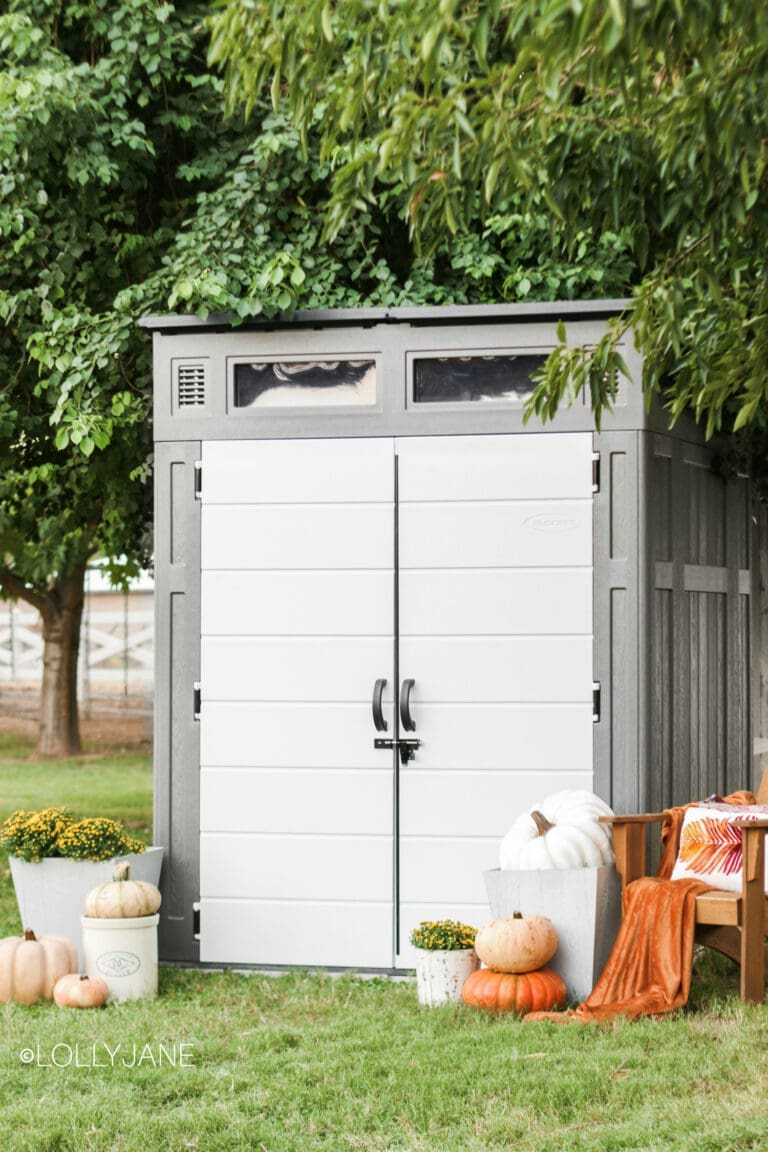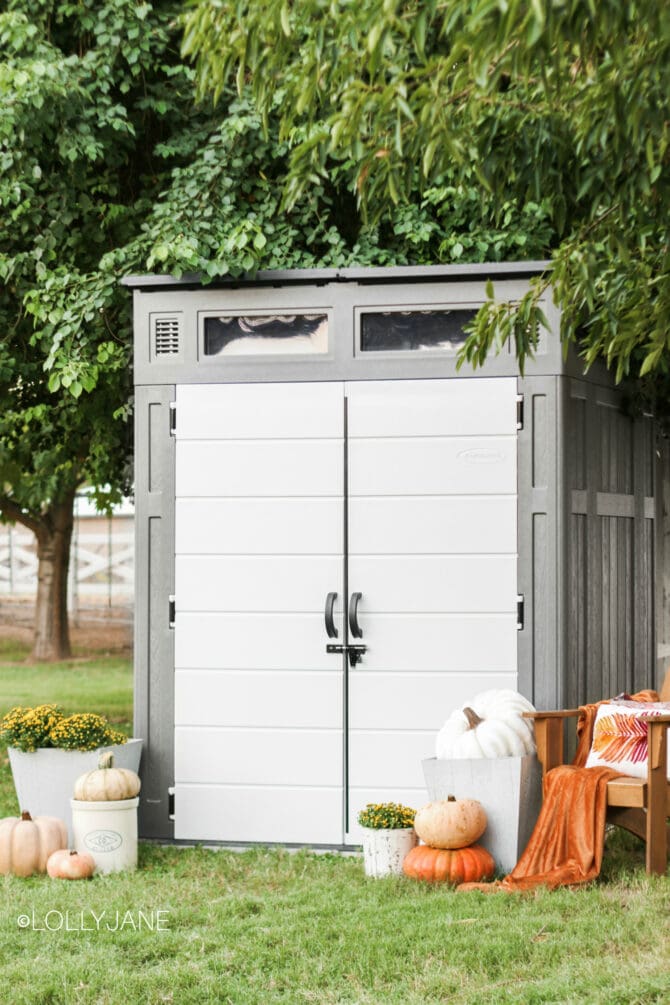 Since we transitioned my craft room to a teen room, my craft supplies have been taking up space in the laundry room as a result. I organized as much as I could in a small closet, but it's been nice to free up much-needed indoor space by storing it outdoors.
Maximizing Storage Space Utilizing an Outdoor Shed
Here are our top tips to keep your own decor shed organized!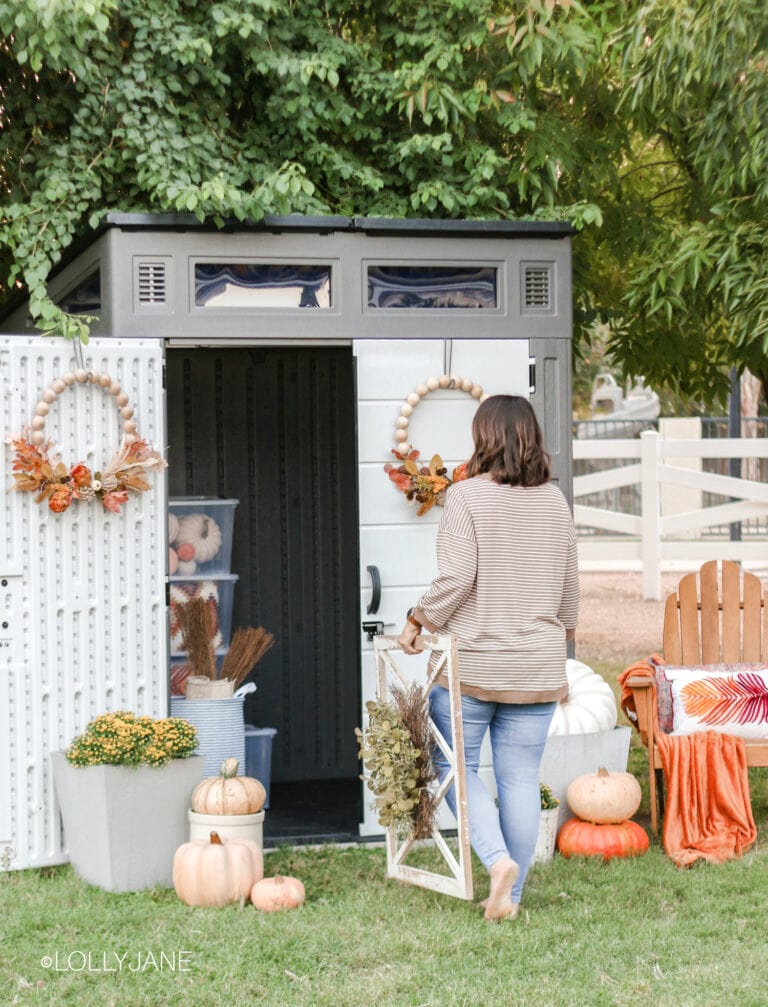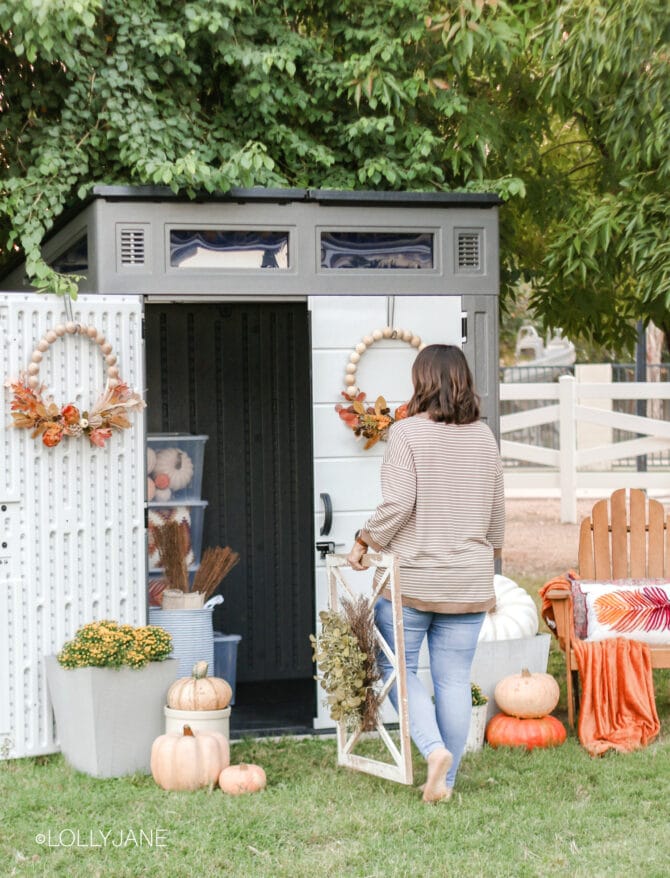 CLEAR BINS: We found these clear bins at our local hobby store. You can see what's inside immediately and don't have to dig.
OPEN BASKETS: Wire-rimmed laundry baskets are great for corralling hard to store items like witch brooms for the holidays. Wrap them up if you're worried about cobwebs or dust.
DOOR HANGERS: Out of season wreaths hung on inexpensive doors hangers are great for storing wreaths on the inside of the doors when not in use.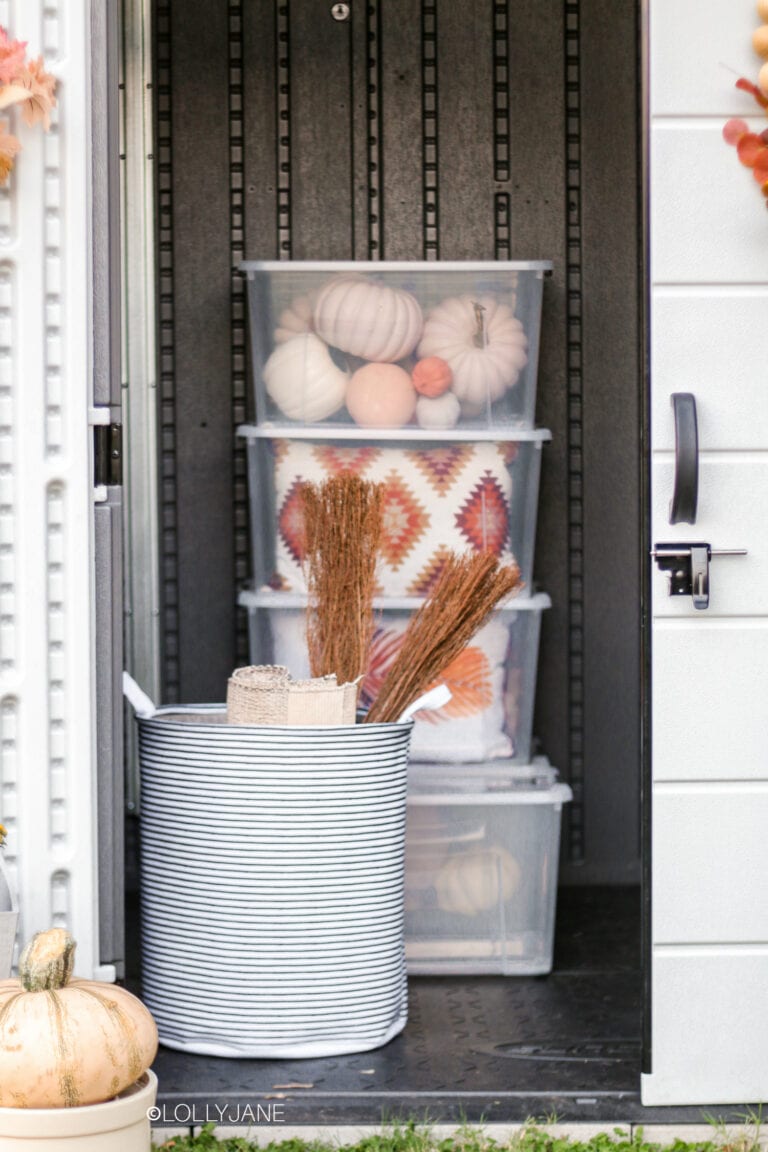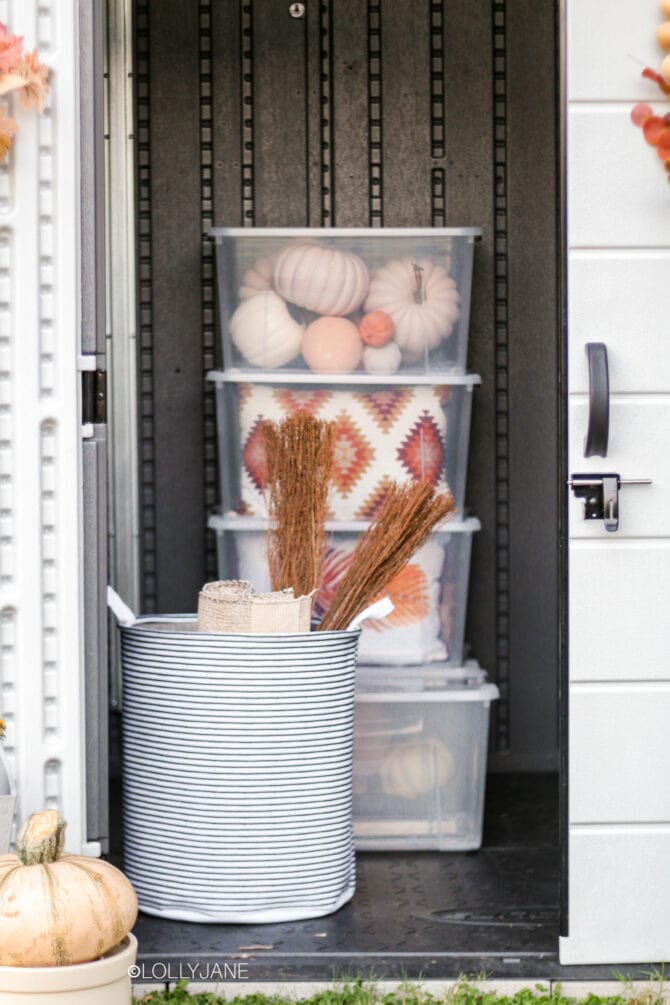 Note: We don't recommend storing delicate decor in the shed as it's not guaranteed to stay 100% weather-tight. Durable decorations like string lights, lanterns, outdoor wreaths, figurines, etc. are the best options for outdoor storage.
why you should use resin sheds
These days, sheds are not simply storage boxes. With a little creativity, they can double as a focal point in your yard or garden, adding a defining element to your outdoor space. To help blend your outdoor spaces with your indoor decor, consider also styling your shed. Moreover, it's also a great way to use up excess decor and display it instead of leaving it to get dusty!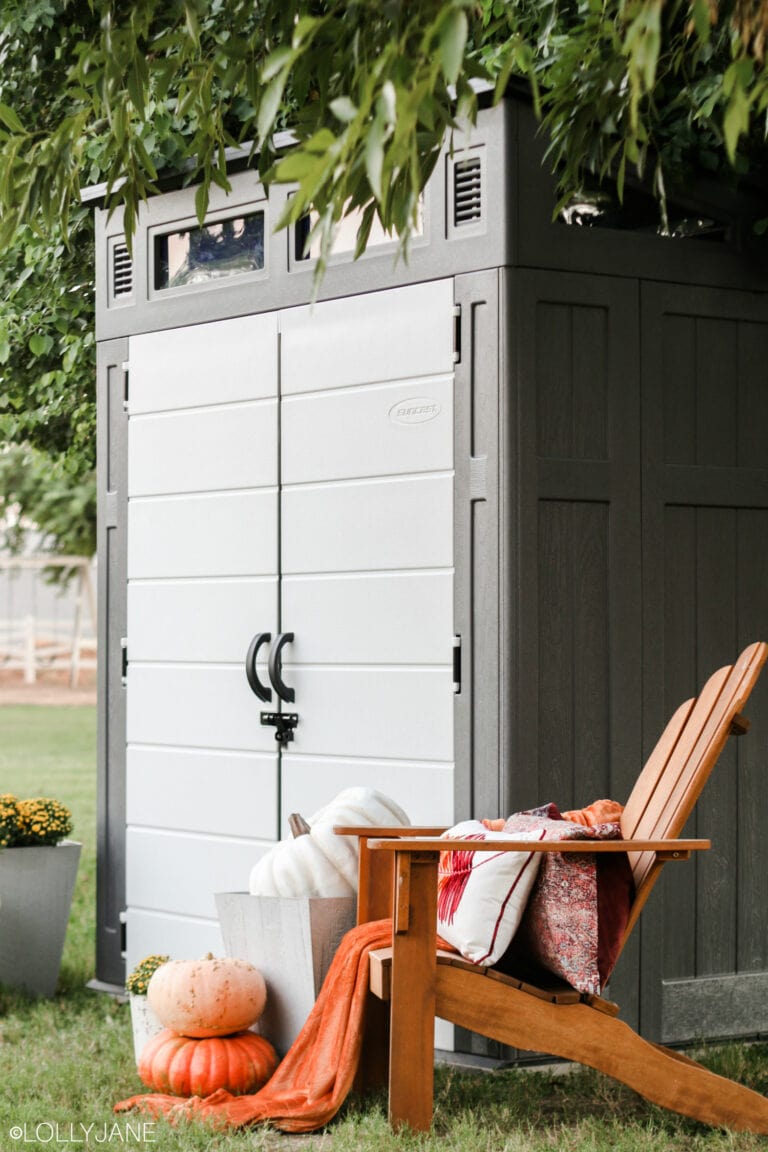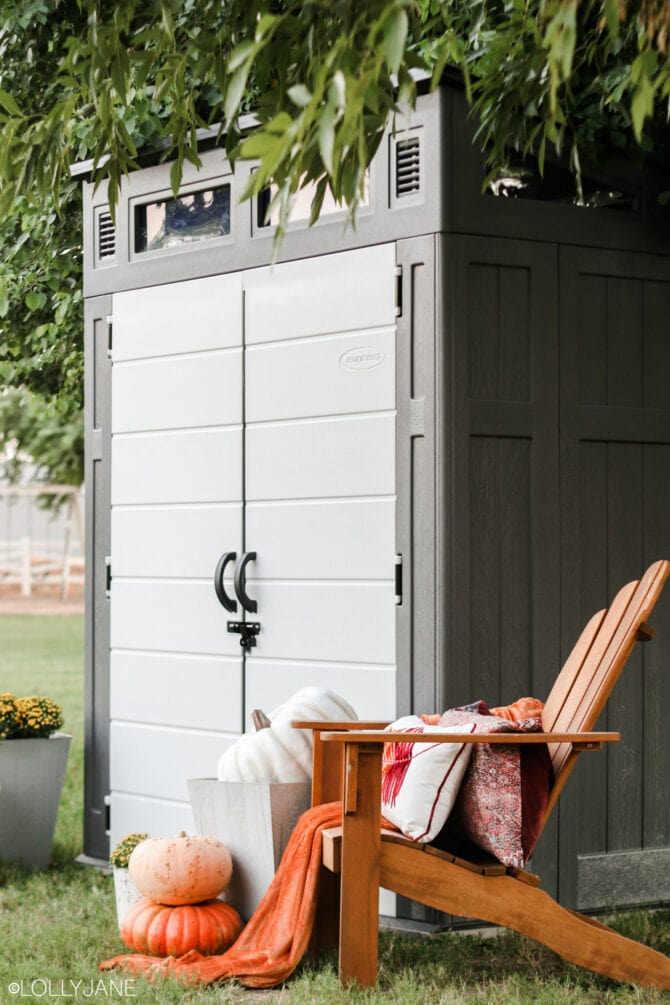 They look amazing: they're designed in a wide variety of styles to suit any homeowner's taste. Bonus: you can combine coordinating Suncast products so styles always align.
They're built to last: they can stand up to adverse weather conditions without rusting or rotting. Plus, they'll resist dents, scratches and bends.
Cleanup is easy: just grab a hose and mild soap to wash away dirt and grime.
We hope we've inspired you to bring your decorations outdoors, but most importantly, to get organized (and in a stylish manner!) xo
Featured Products
Suncast offers a variety of styles and it's hard to choose our favorites but here are two featured products:
PLEASE PIN!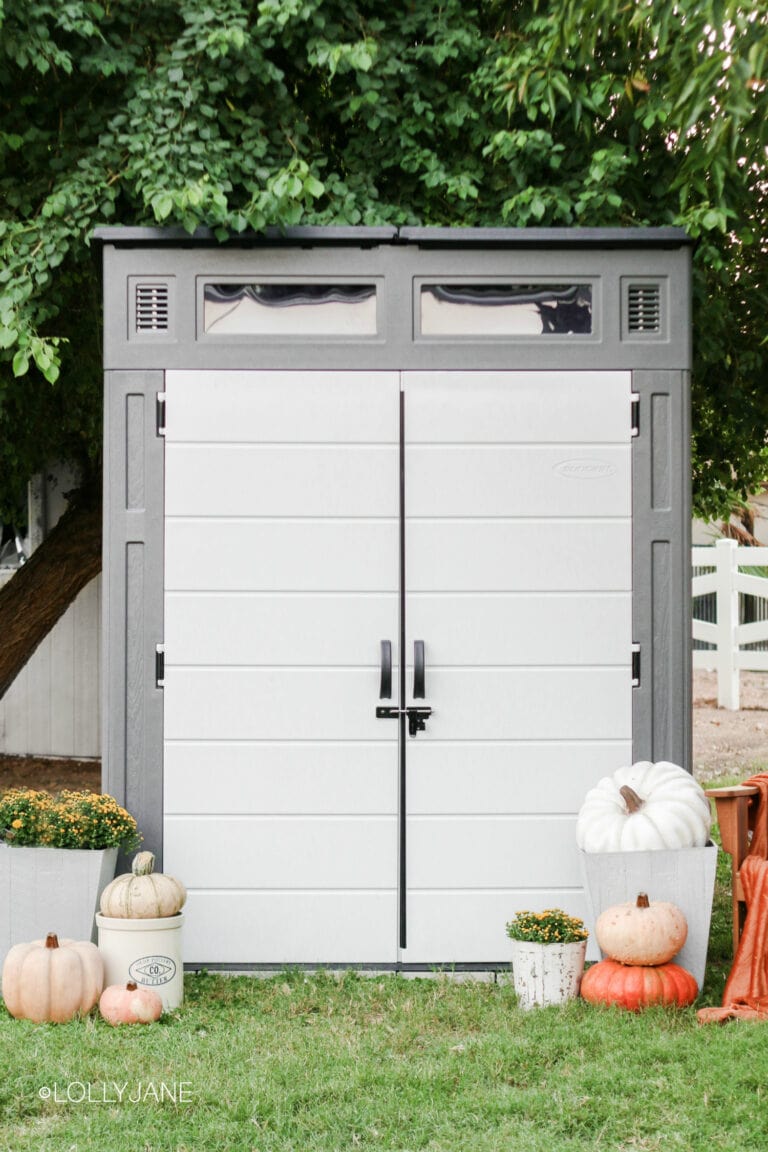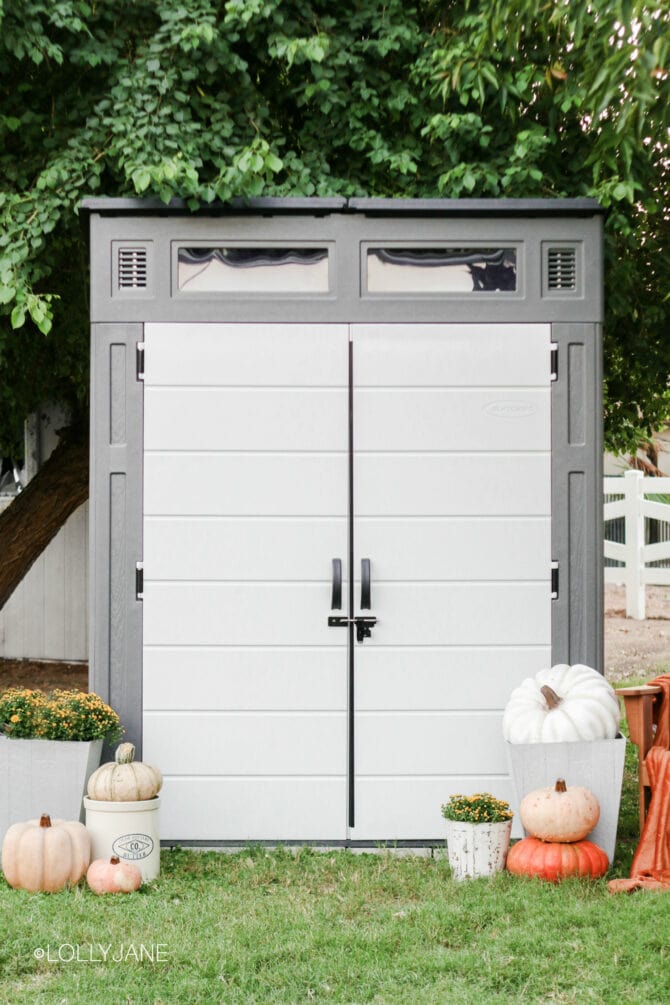 We'd be honored if you pinned this image so your friends and family can enjoy this project too!

PS: Do these stylish planters look familiar? We put together these simple holiday lantern planters using Suncast's Farmington decorative planters, they're so pretty and versatile!