easy DIY football game day decorations
We admit we are Game Day commercial watchers… not so much the actual game. Ha! But our husbands like us to load the tables with yummy game day food soooo we're happy to comply- and spruce it up all football like in the meantime! Check out 3 easy peasy tutorials the kids and you can do together and put up in no time! 🙂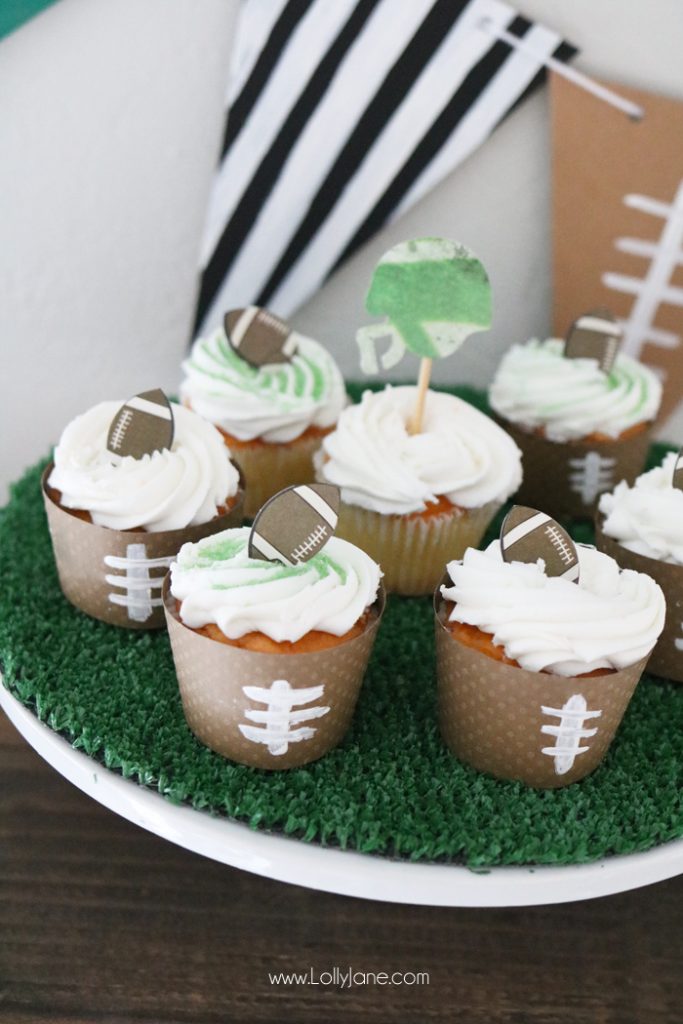 DIY Football Cupcake Wrapper:
Cut 8×8 textured paper, (polka dot to look like football skin,) into 1.25″ strips, cutting in a subtle arch as shown.
Paint on football "laces" to your preference, (my kids just did 3 to keep it easy.)
Once paint is dry, wrap around cupcake and seal with a piece of clear tape.
Top with green sprinkles or football topper!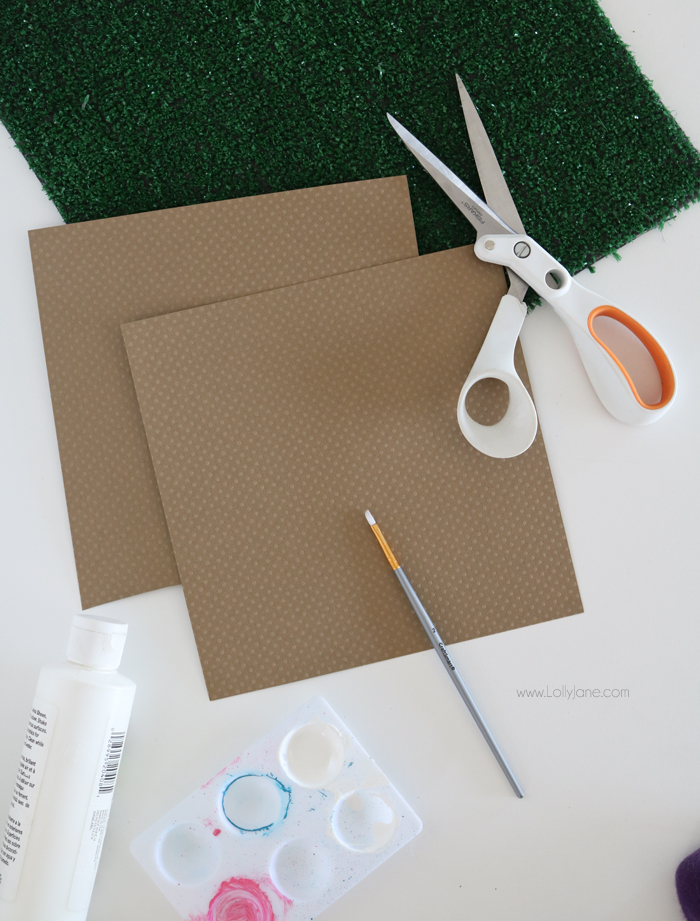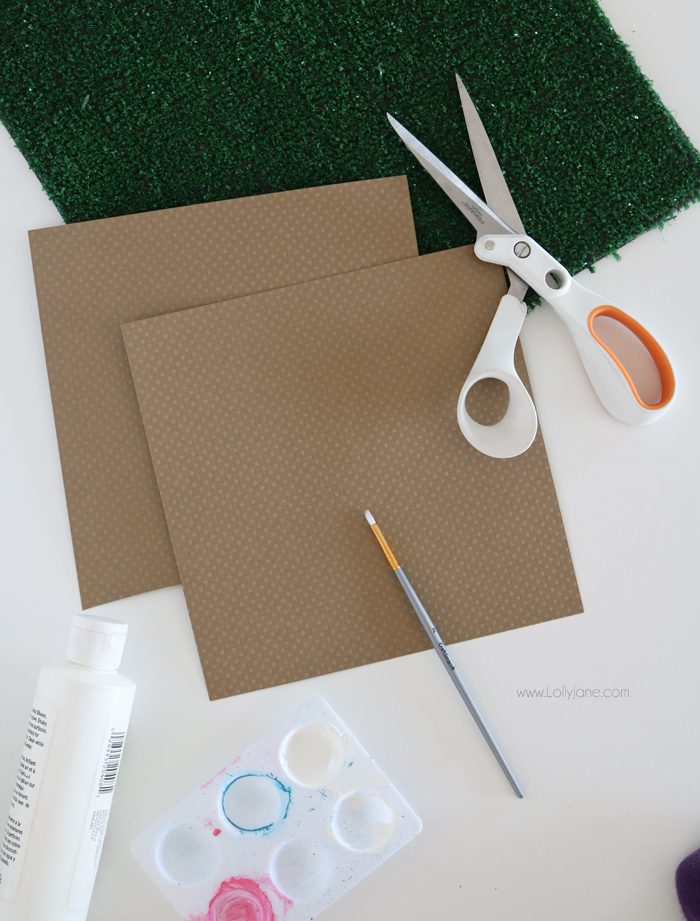 Seriously SO easy, and fun for the kids to help!

Pretty simple, right? Want to see the EASIEST craft I've ever done that only takes one minute? Read on!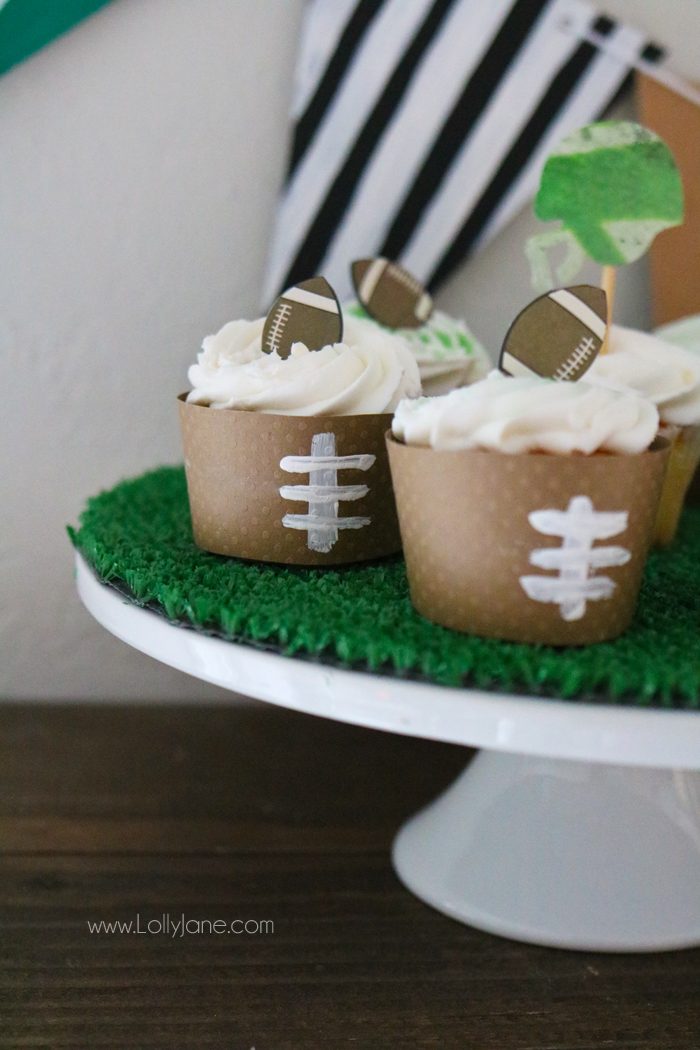 Astroturf Cake Stand:
Place cake stand upside down on astroturf mat.
Cut around edges, (have vacuum handy as little pieces get everywhere!)
Flip over and place on cake stand
Top with cupcakes or large football cake, so cute!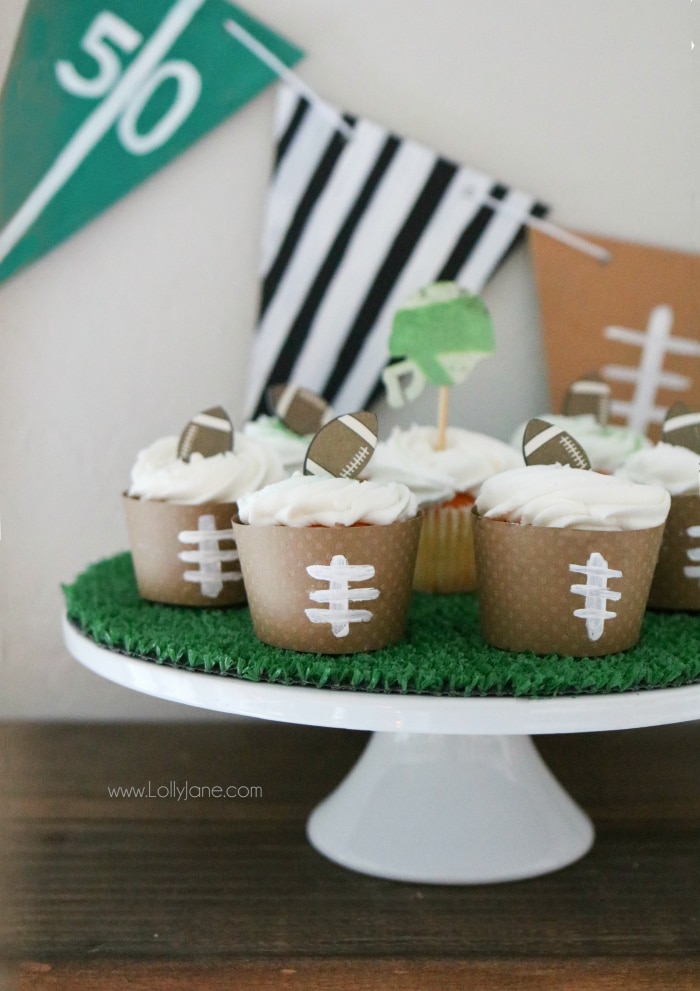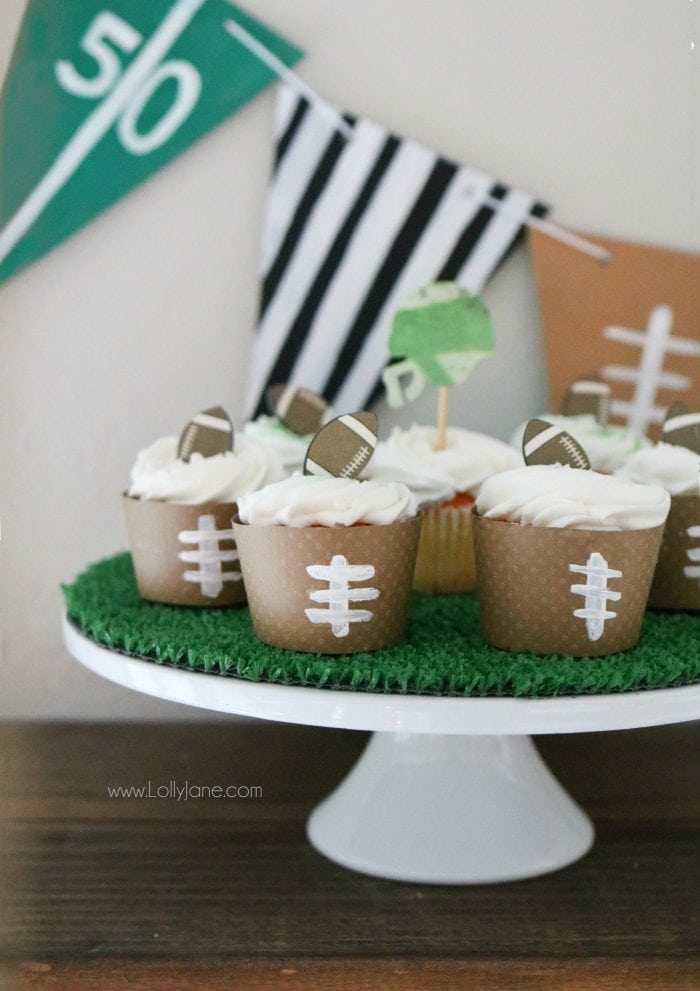 Lastly we have a, (you guessed it- EASY!) bunting that really pulls the football theme together. 🙂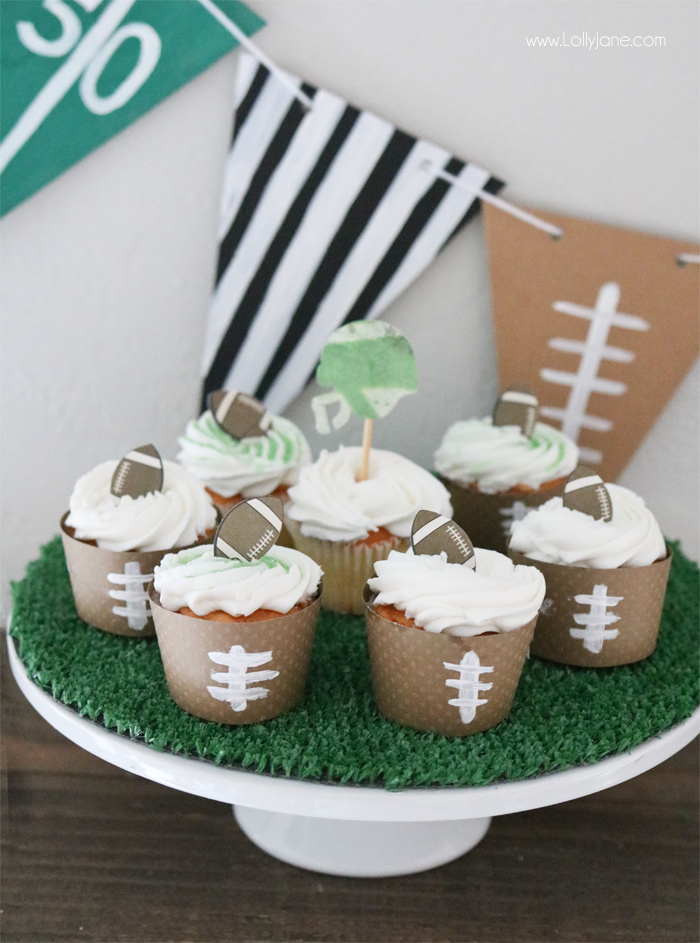 Football Bunting:
You'll need 6 chipboard pennants with prepunched holes and green, black and white washable paint.
Paint 2 green (field) and 2 black (referee.)
Paint football "laces" on the 2 raw chipboard pennants. Set aside to let dry.
Paint white vertical stripes on the black pennants and let dry.
Lastly paint a vertical line down the green pennant and freehand a 1, 0 and 5 as shown.
String yarn across and hang with a piece of tape on each side.

WHEW! Now that the decor is complete, time to clean up! SO glad I had washable finger paint for the green and that the frosting is white because my 4-year old has apparently inherited my "messy crafter" genetics. 😉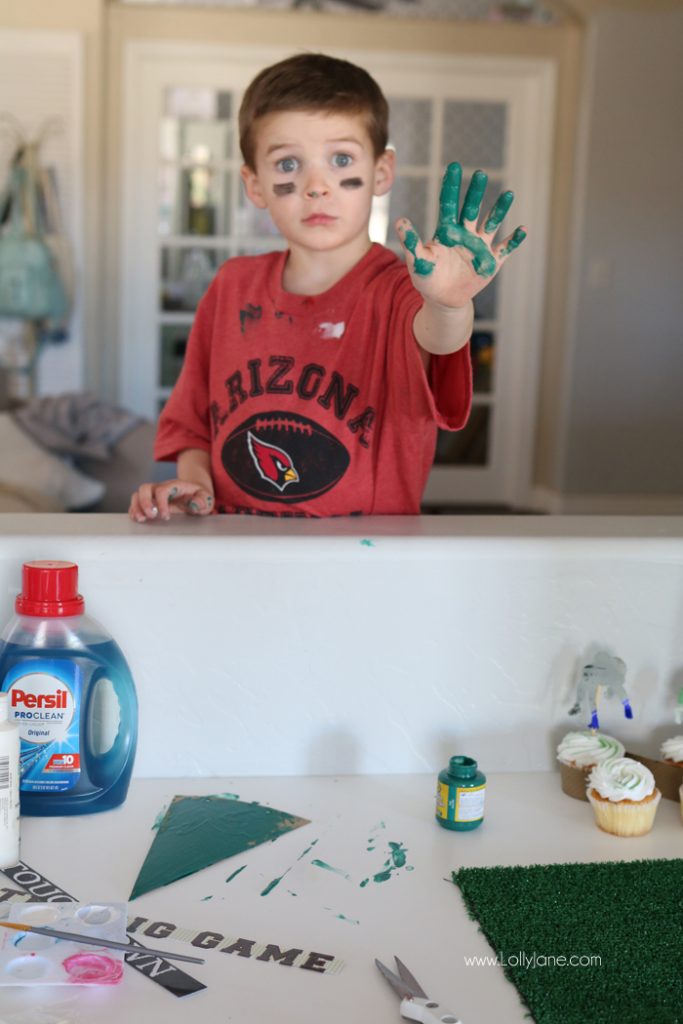 Persil ProClean to the rescue!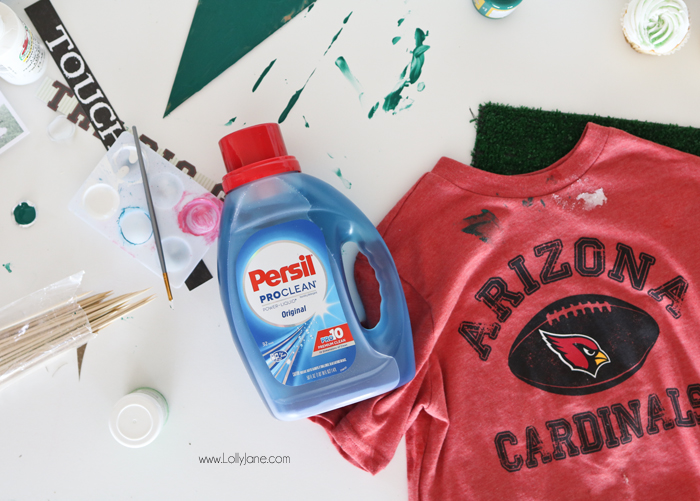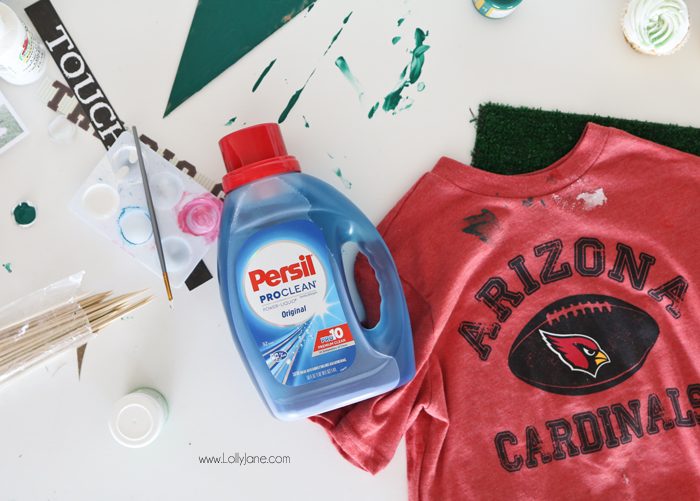 Besides tossing my clothes in the wash with a capful of Persil ProClean, I also use it on a washrag with a bit of warm water to remove tough stains like dried paint. 😉 Try the new & improved formula with 10 Dimensions of Clean, (snag a $2 coupon here!) in variety of Power-Liquid scents and Power-Caps. Oh and Persil's site has awesome Laundry Tips for how to get specific stains out like blood, ketchup, mud, grass stains, grease, oil, crayons and yes, even face paint!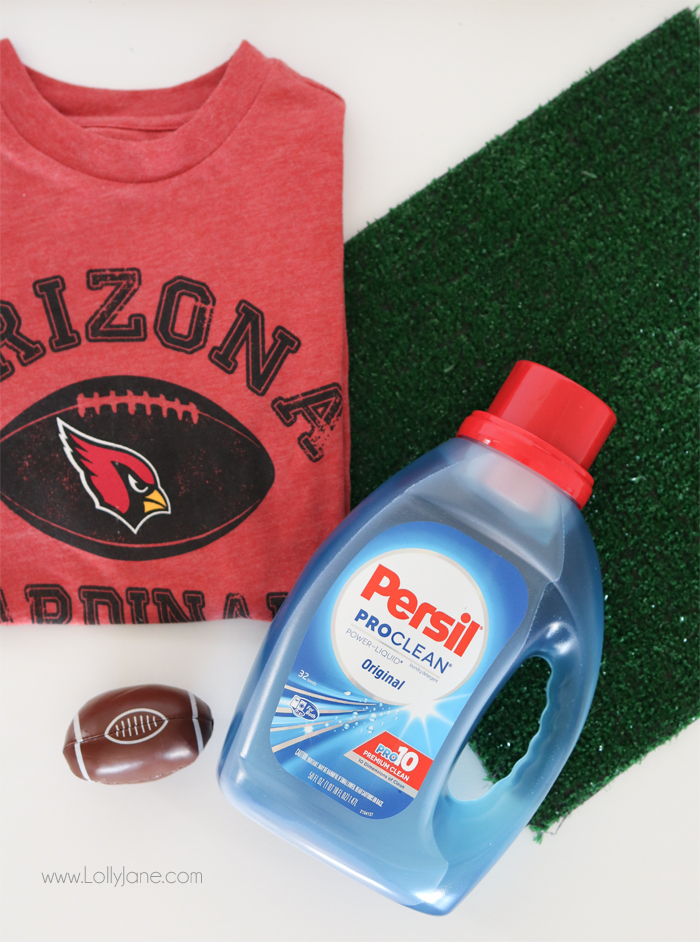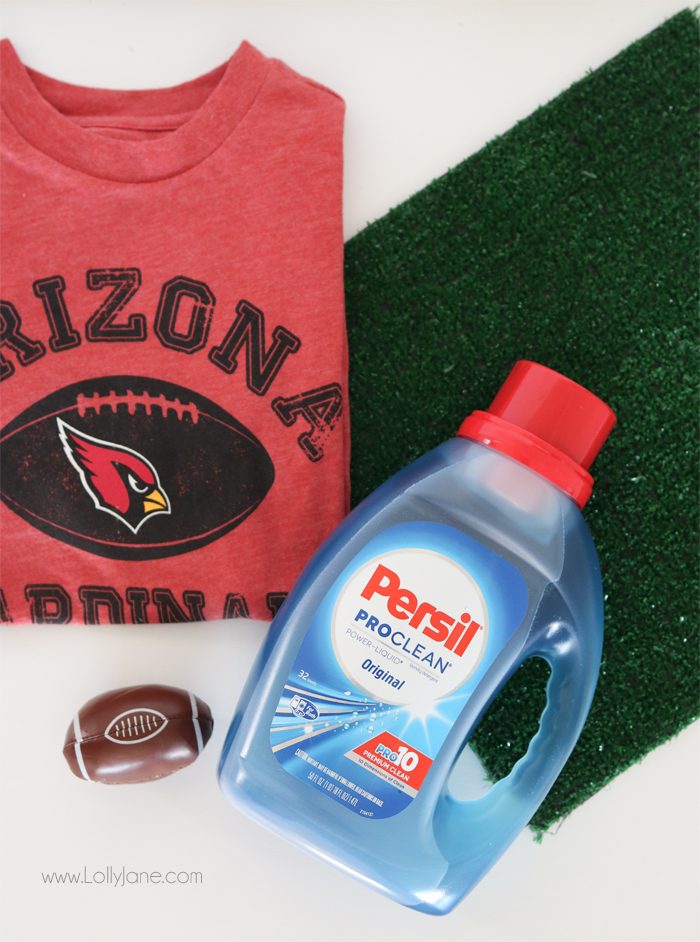 You're going to be hungry on the big game day, try our Crock Pot Pulled Barbeque, mm!
Visit more of our easy recipes too like our Football Cheese Dip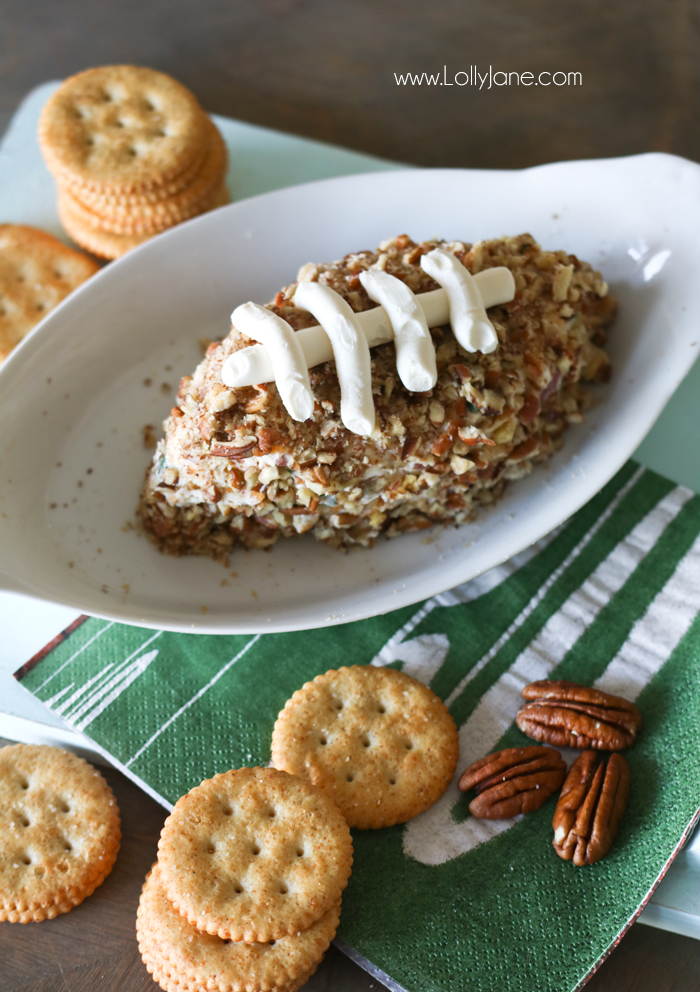 plus 21 Easy Dip Recipes, mm!