Game Day salami cheese ball
This is a sponsored post written by me on behalf of Gallo® Salame Company.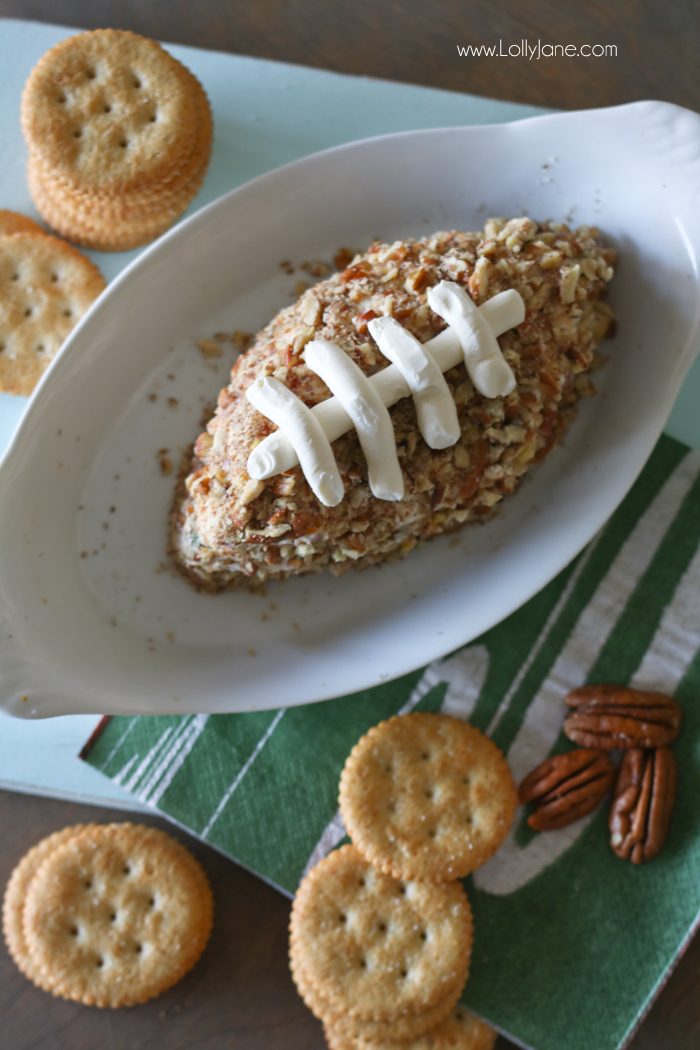 There are 2 types of Game Day fans: the one who watches each play and cheers or boos for their team and the one who watches the commercials/half time show while perusing the appetizer table. We, friends, are most definitely the latter. It's almost more fun shopping for party food than putting it together. I love to walk into Walmart, my go-to grocer, and see the displays all decked out in green and brown. It pumps me up for our own party. Since we have a handful of siblings that live close by, we all have our game time snacks assigned from memory each year: Nachos, Sliders, Cupcakes with dyed green coconut "grass" with edible football toppers, ice cold beverages, a fruit platter, (Kristi's assignment since she has a new baby this year and can just snag it from the produce area and get back to her little babe!) and of course a good dip or two… like our dang good Game Day Salami Cheese Ball.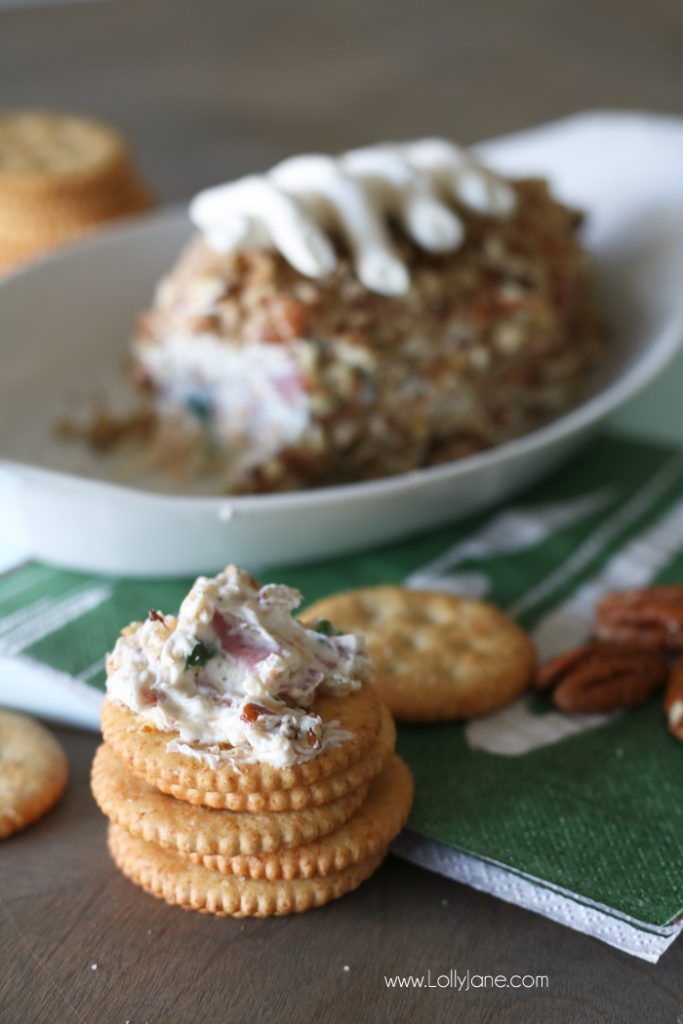 The table setup is always the same, hosted by our sweet momma: A throw away green tablecloth that looks like the game day field, football shaped plates with coordinating football napkins. I love how cheesy it is but always brings the festive spirit of the game alive!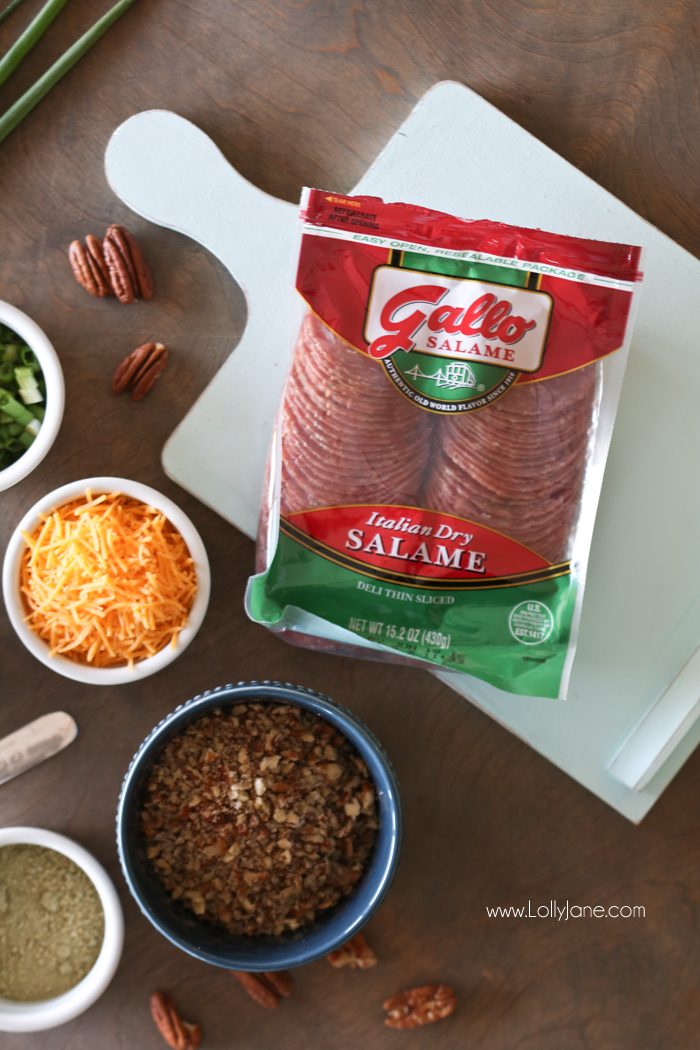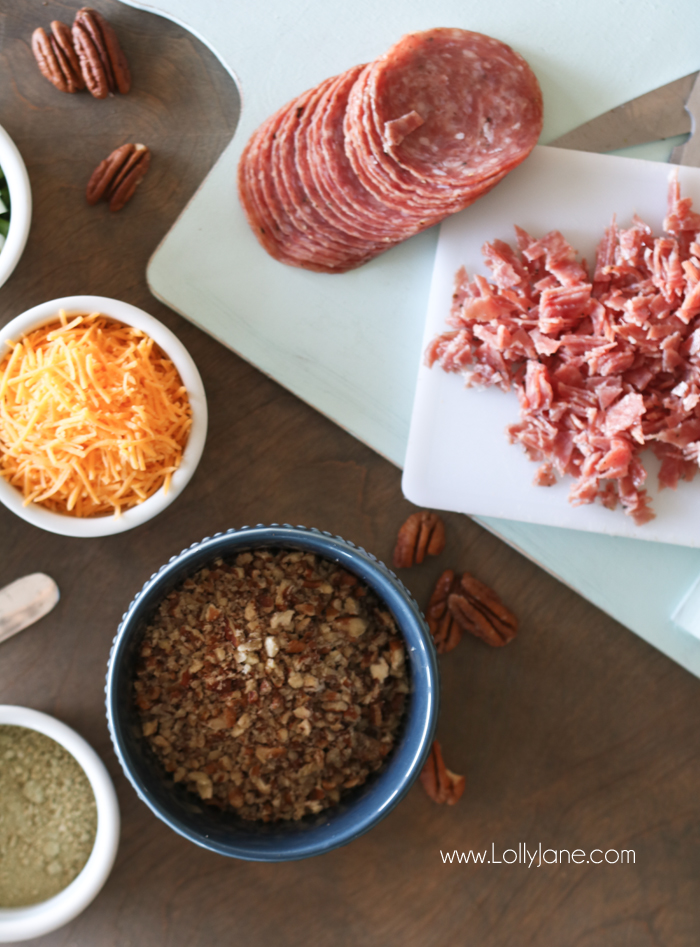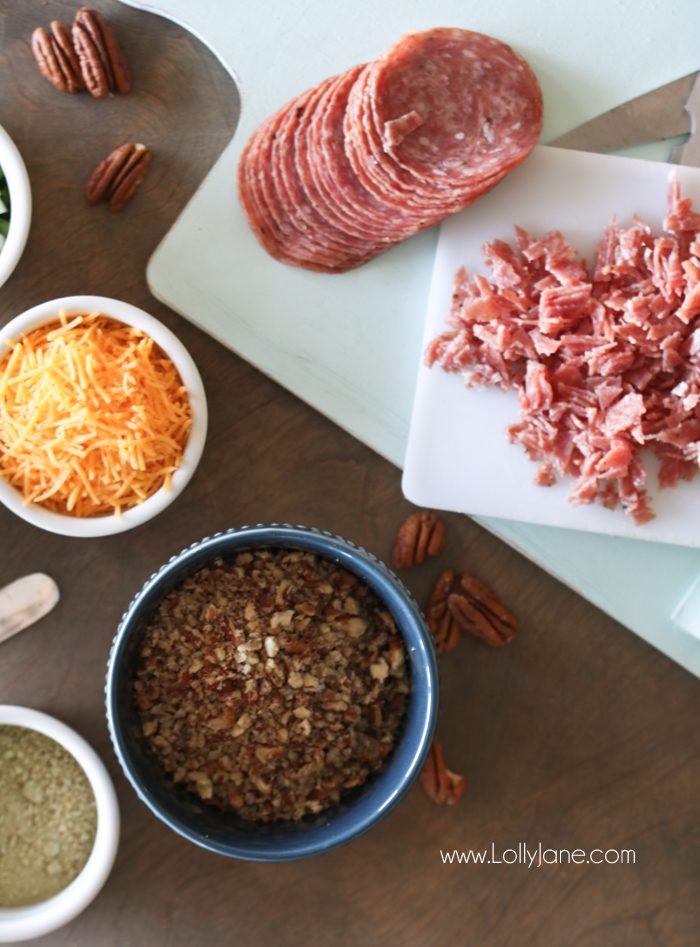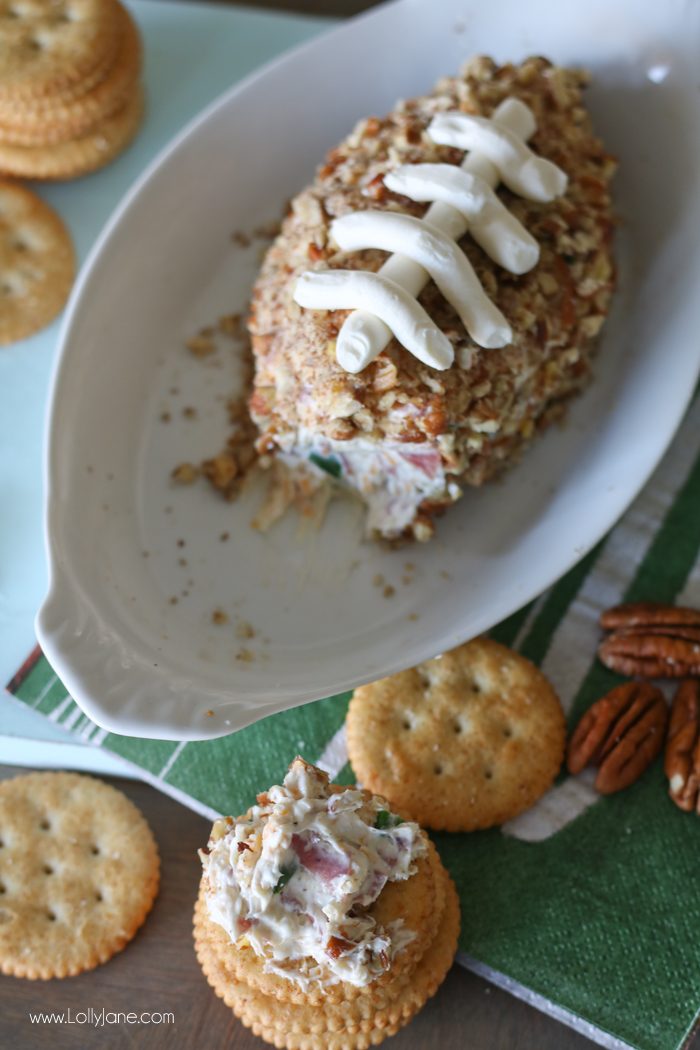 Since my husband is all about the meat, I hit up the refrigerated section and grab a package of Gallo® Salame that goes in my "famous" cheese ball recipe, (a staple for Game Day food!) You can't have a good cheese ball without cream cheese so be sure to snag a box or two of Great Value cream cheese while you're there, it is SO smooth and makes a tasty dip!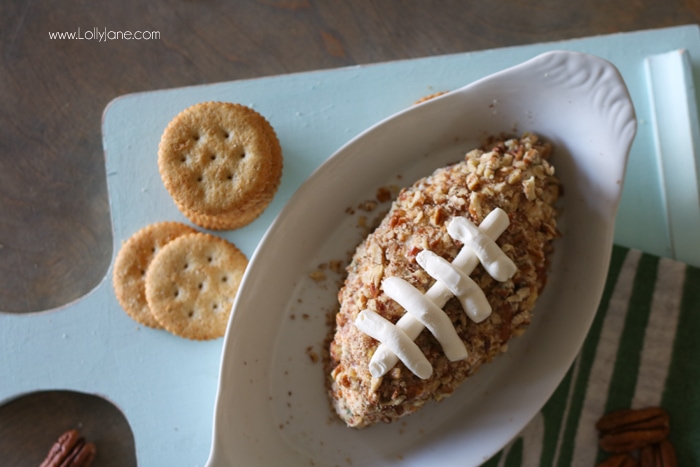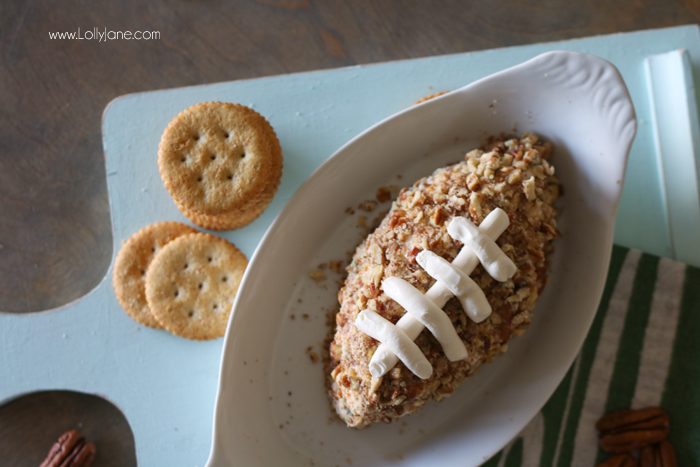 GAME DAY SALAMI CHEESE BALL
Ingredients
1 (8oz) Great Value package cream cheese, softened
3 stalks of green onions, chopped
15-20 slices Gallo® Salame, cut into small pieces
1 tbsp mayo
¼ cup shredded cheddar cheese
2 tsp green onion dip mix
¼ cup chopped pecans or nut of choice
Instructions
Combine all the ingredients until evenly mixed.
Form the cheese into a football shape and cover with chopped pecans.
For football "laces," pipe cream cheese over top of cheeseball.
Chill for 30 minutes.
Serve with butter crackers.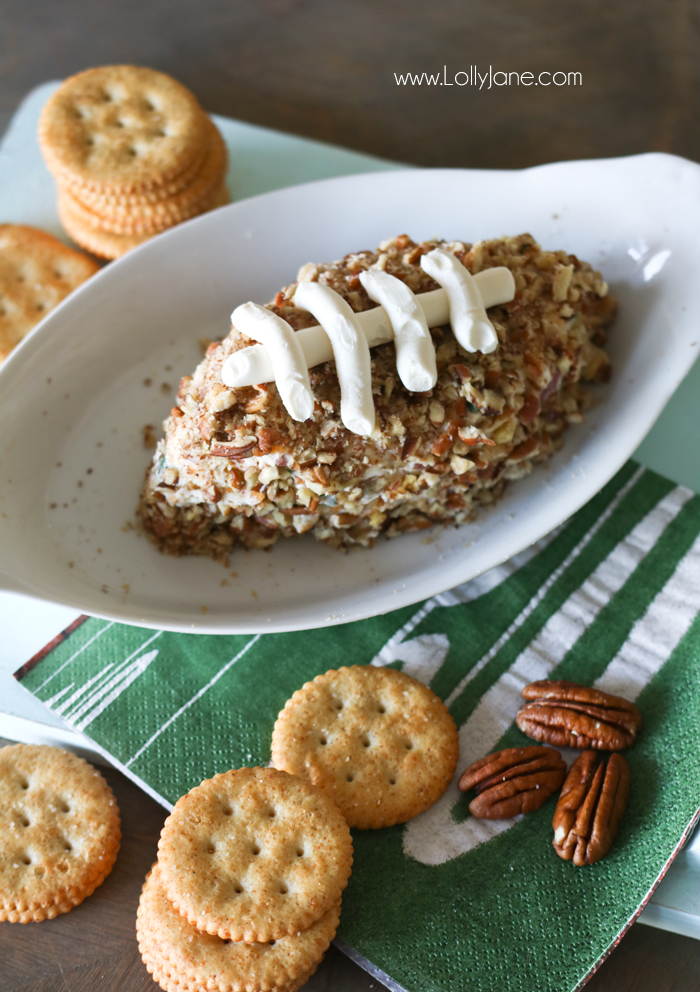 It's easy to toss together but makes quite a statement. To see more fun food ideas to serve at your party check out this awesome site, click on the trending hashtag #talkaboutdelicious or visit them on Pinterest!
Take a look at even MORE Game Day dips like our 4-Cheese Hot Artichoke Dip,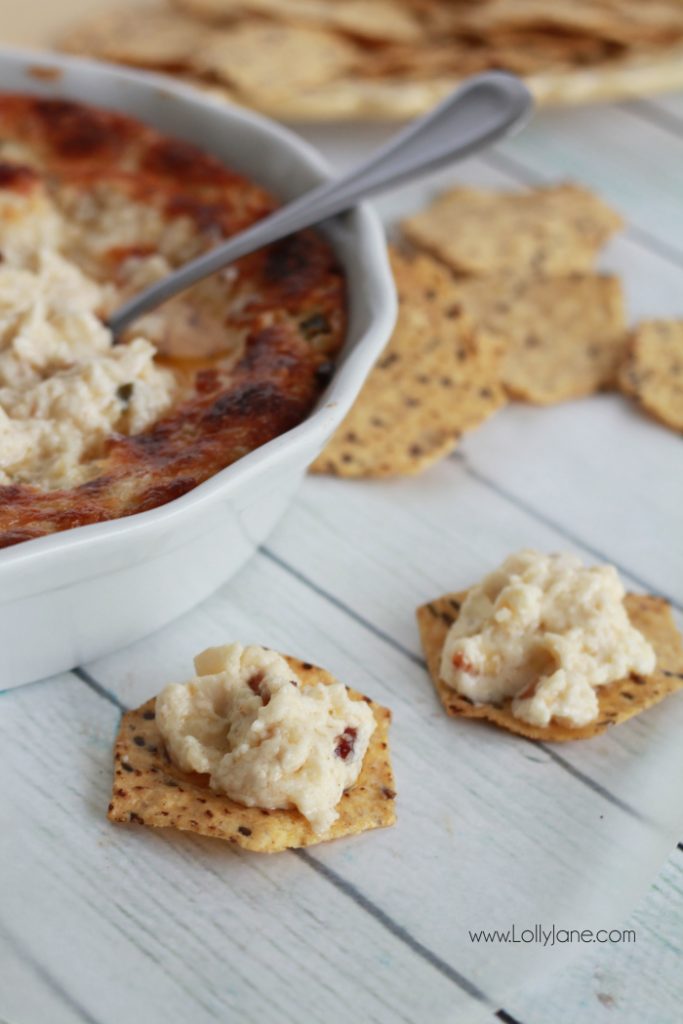 and our (everyone's favorite) White Cheese Dip!

PLUS, you can't go wrong with a good 'dog on Game Day! Snag the recipe for our Bacon Mac & Cheese Hot Dog, yum.