God Bless America | sign tutorial
We know, we know… the fourth of July is in like 2 days. Whatev. There's no minute like the last minute, right?! And on that note, this easy peasy decor was whipped up in no time at all, thankyouverymuch!
Introducing our God Bless America sign: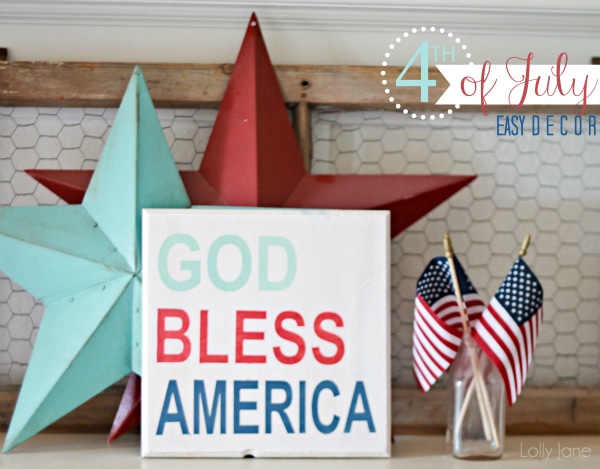 You'll just need an 18×18 piece of routered wood, a vinyl cutter and 4 hues of acrylic paint. (Note: you can buy raw wood plaques at any craft store around this same size that are already routered… be sure to use your 40% off coupon. You're welcome for the tip!) I think this sign would look SO cute with glitter over the letters but that's a whole other post (;
To create your own God Bless America sign:
Choose your paint colors. We are loving the turquoise trend paired with bright red + navy blue! Psst! We used Americana's spa blue, white, cadmium red and victorian blue.
Paint your board a thin layer of white paint.
Cut out GOD BLESS AMERICA on your vinyl cutter and backwards weed, (see our tutorial for this process.)
Paint GOD spa blue, BLESS cadmium red and AMERICA uniform blue. Let dry and display!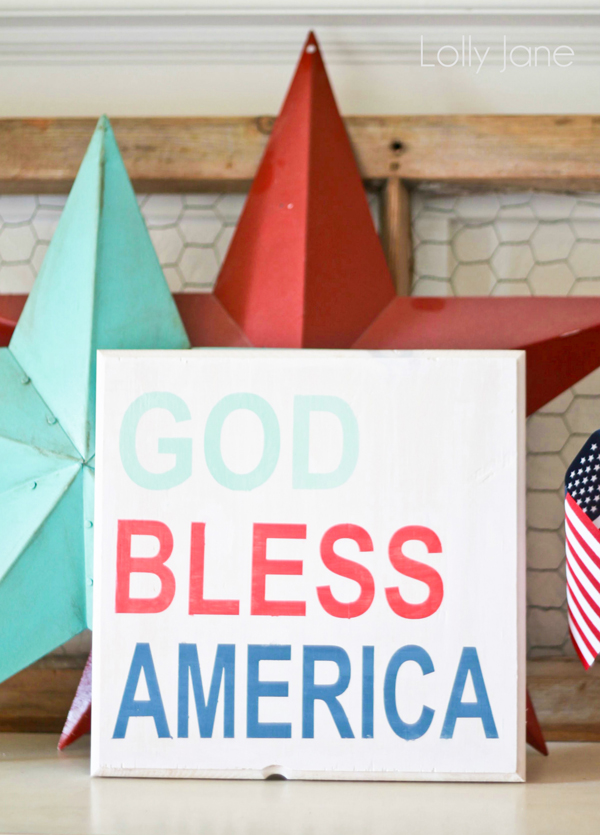 We paired ours with a cute vintage milk bottle + small American flags (3 for $1 at the Target's Dollar Spot) and tin stars painted and distressed. Simple but very patriotic! This project did not cost anything out of pocket as we have a hoard small pile of wood just waiting to be spruced up! (;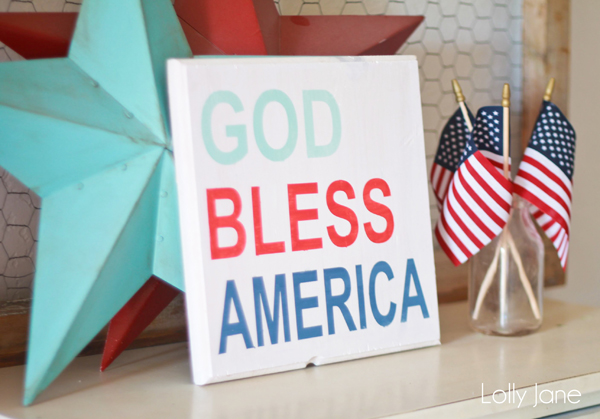 We LOVE our country and are so proud of it; we are especially grateful for the military family we come from (both grandpas served and we lost an uncle in the Vietnam War.) Besides that, Kelli's husband is a police officer who serves his city diligently and we have grown very fond of all things red white and blue!  This easy God Bless America sign is a perfect for patriotic home decor, don't you think?
We hope you all have a safe and memorable 4th of July, you guys! See all of our Independence Day decor and adventures on Instagram, FB or Pinterest! (: XOXO