My 10 year old is the most unorganized child I know. And I have over 40 nieces and nephews under age 14 so that's a pretty good range of kids to gauge. When I write down "clean room" on her chore list, she rolls her eyes and says "But Ma-uhm! I like my room messy, it's WHO I AM!" How she can get 'mom' into 2 syllables is beyond me, and how she likes her room dirty?? She doesn't get that from MY side (; Just teasing. She's a super creative little girl, very artistic and super crafty. The organizing side just gets lost in all that creativity! After I re-did her bedroom to inspire her, I forgot something very important, hooks!! She needs some for her swimsuit, nightly towel, scripture bag, etc. Small things that end up on her floor. So I whipped up these diy cupboard door hooks and think they're perfect for her coral polka dot tween room!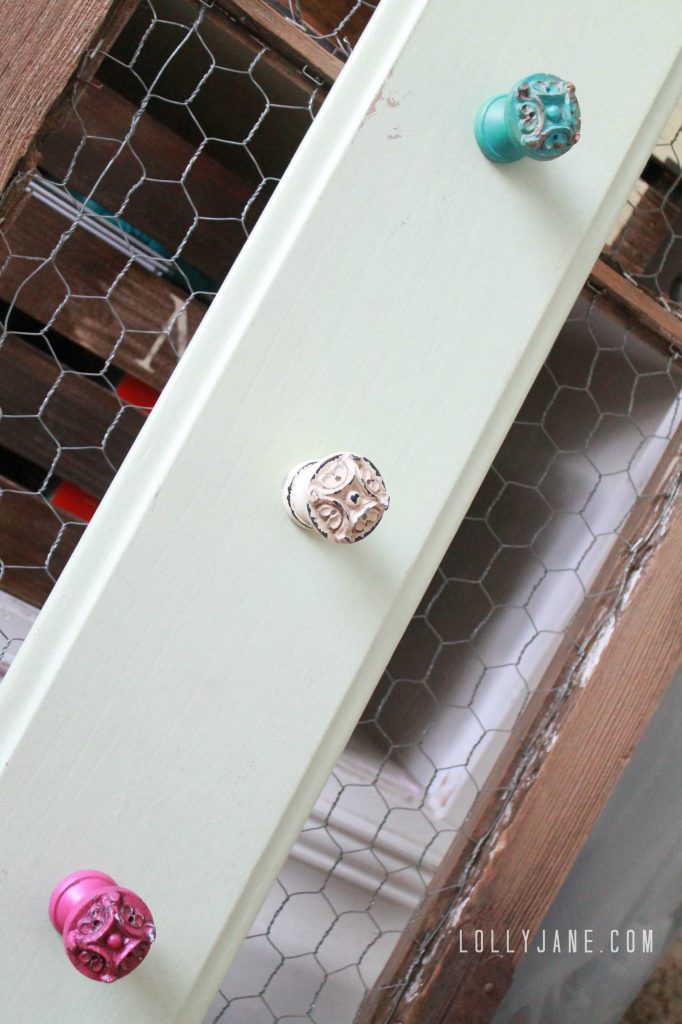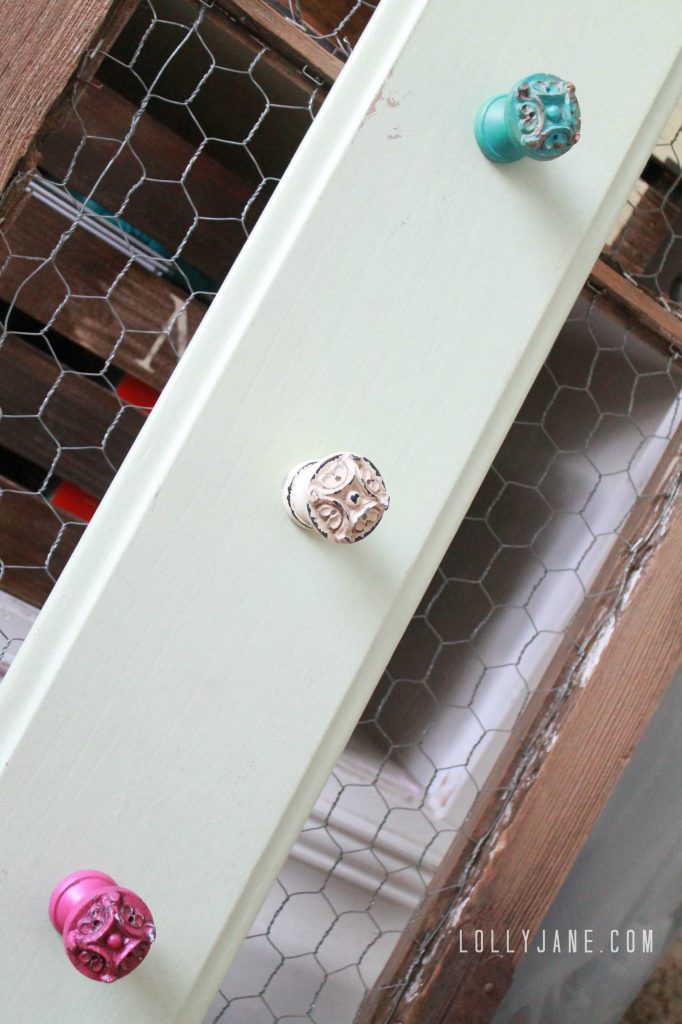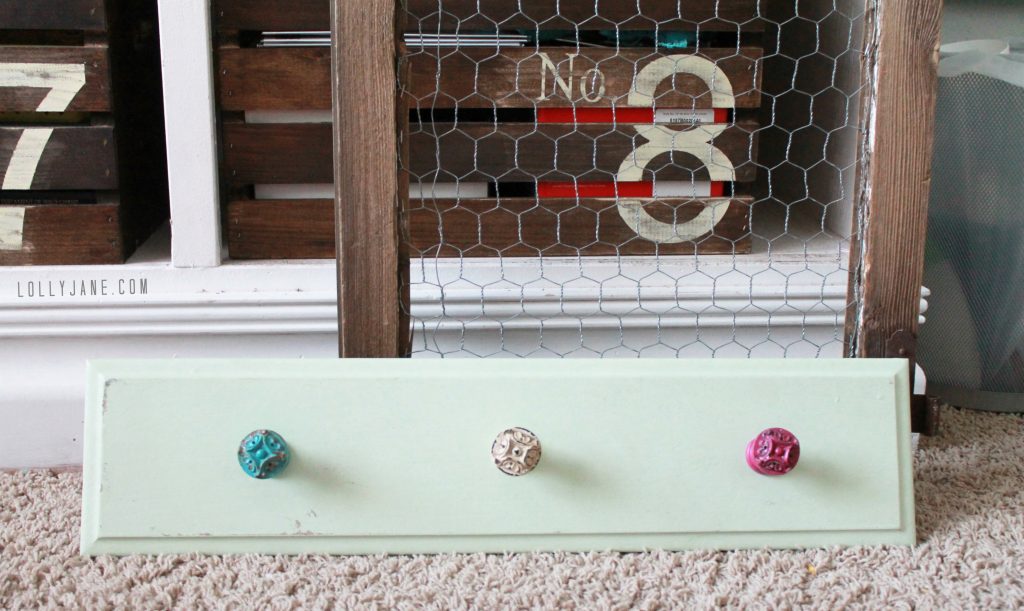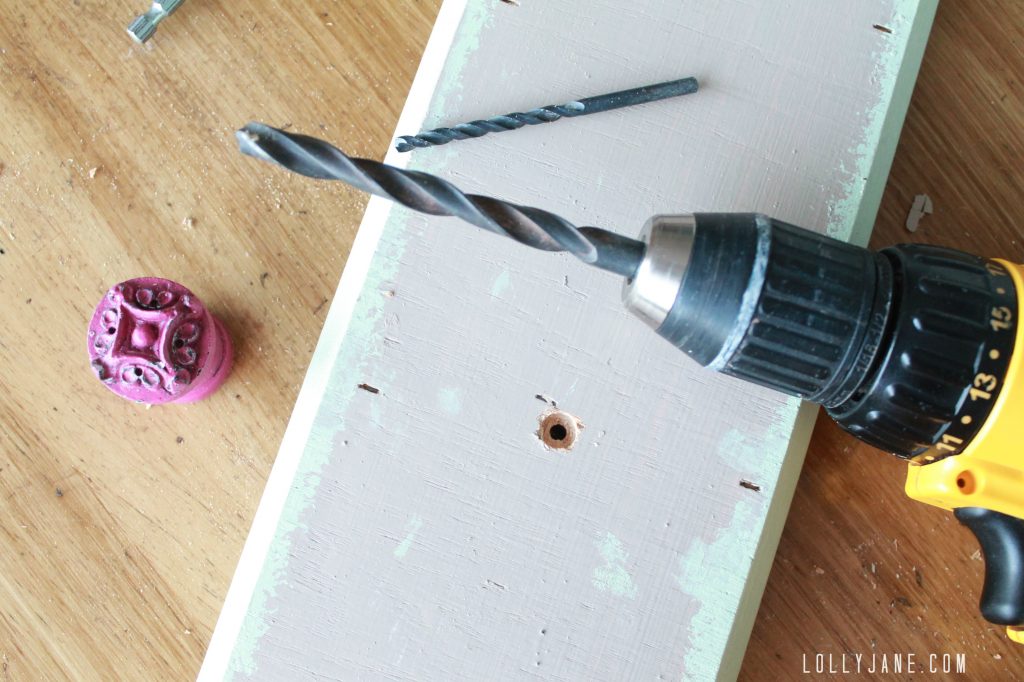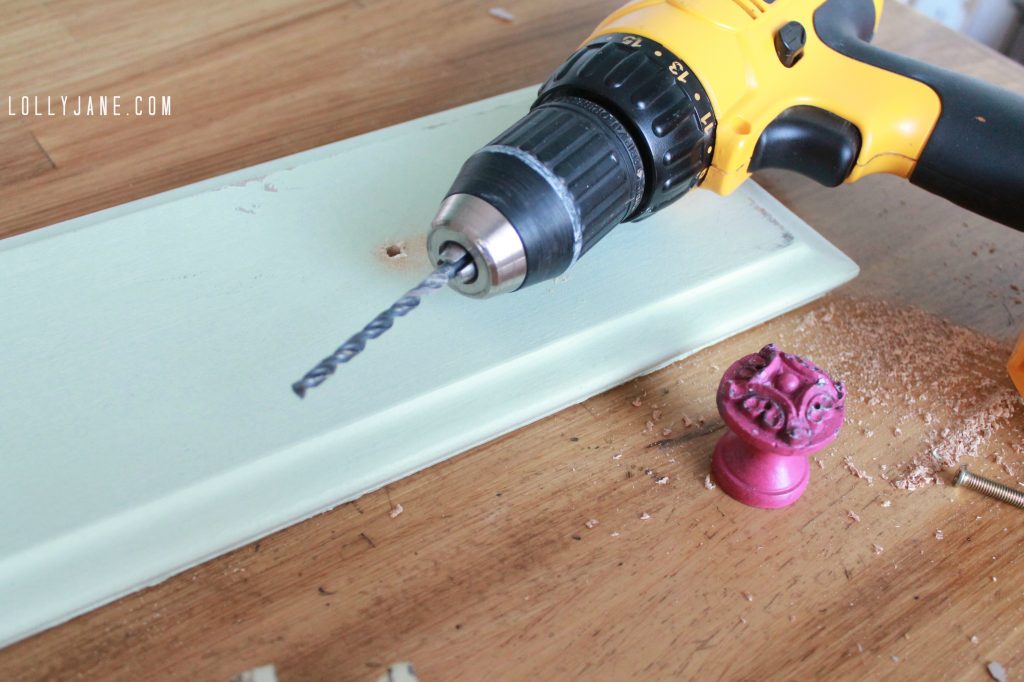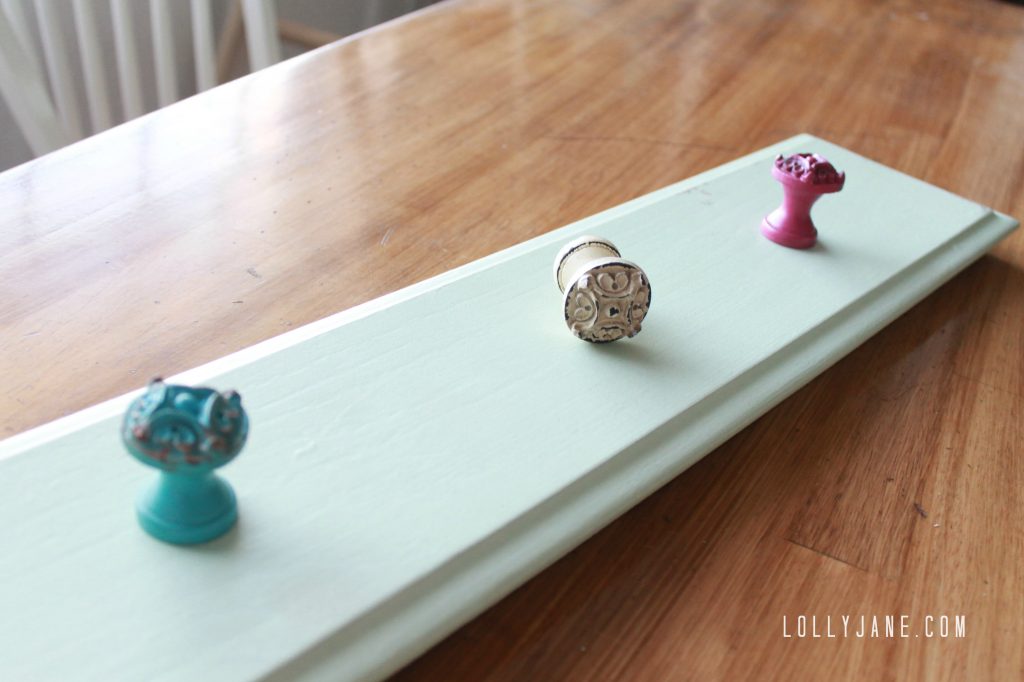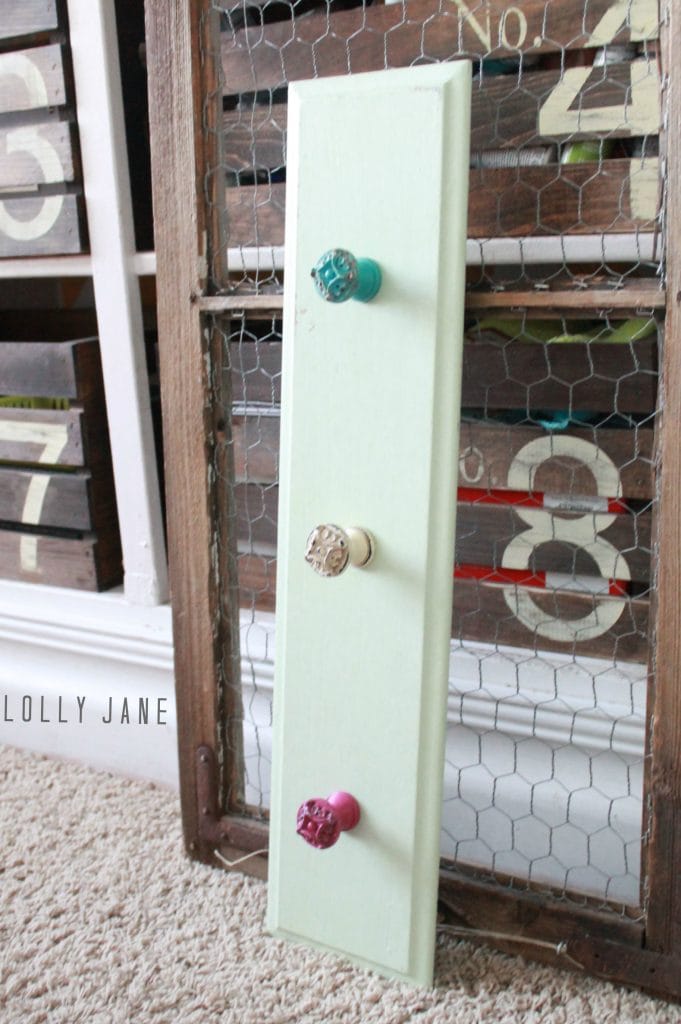 To make your own, you need very little supplies. I used a cupboard door front, 3 adorable chippy knobs and a screwdriver. That's it! I used 2 different bit sizes and 3 screws that came with the knobs. Check out these chippy knobs, swoon! Antique white, aqua and raspberry, love them combined.
All you need to do is pre-mark your board where the knobs will be screwed in.
Pre-drill with a bit the same size as your screw size.
Sometimes when you're upcycling cupboard doors, they're thicker than the standard 1″ cabinet doors. If this is the case, use a larger drill bit and follow behind the original hole, making it bigger so your screw will stick our further on the front side so your knob will be snug.
Darn easy, right??
I'm loving these hooks…I may have to run back to Rod Works and pick up some more! See the vintage crates??-those are an easy DIY project too!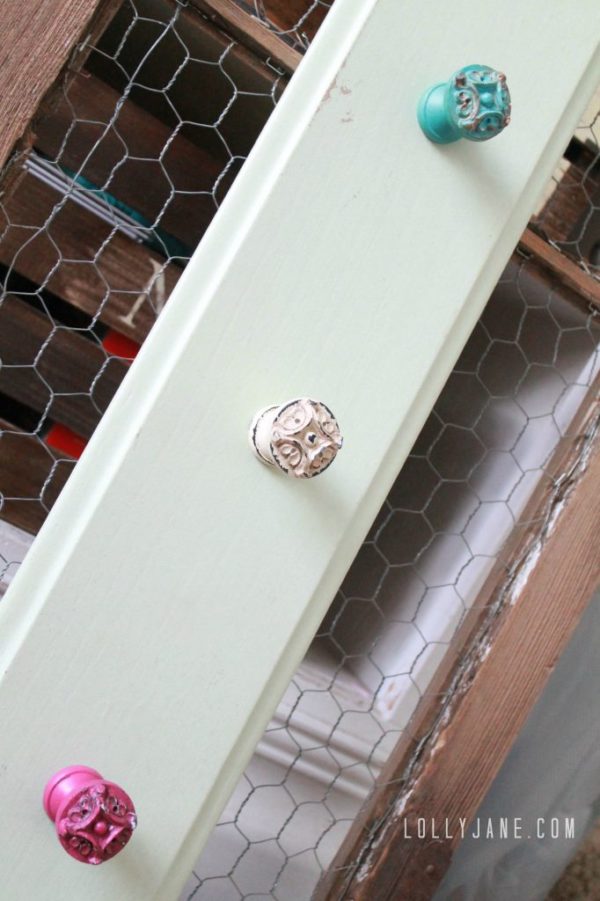 All I have left to do is attach some hardware hangers and install this in my daughter's room! It'll go right under her coral picture frame.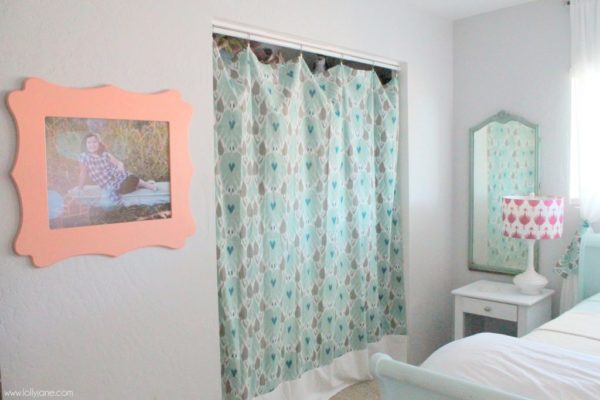 Check out her full room makeover. And check out all our other cupboard door projects too!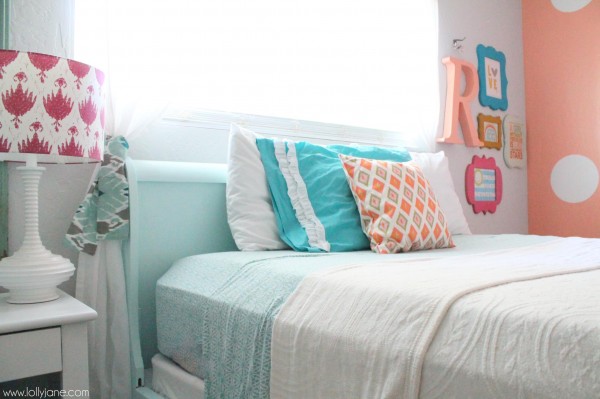 Our link party is live! We'd love to see what YOU'RE up to!