Dinosaur jar lids for kids storage
My toddler is obsessssssed with play dough and of course, it's the messiest activity known to mothers, not to mention a hassle to store. Plastic bags wear, Tupperware is bulky and the original containers they come in aren't that sturdy, (my 2 year old has been known to crack them! lol)  I have had this cute image pinned on my "to craft" board for months and was thrilled when I recently received my package of pretty Apple Barrel paint + Mod Podge Washout so I could finally create a solution to store my sons play dough, dinosaur-style: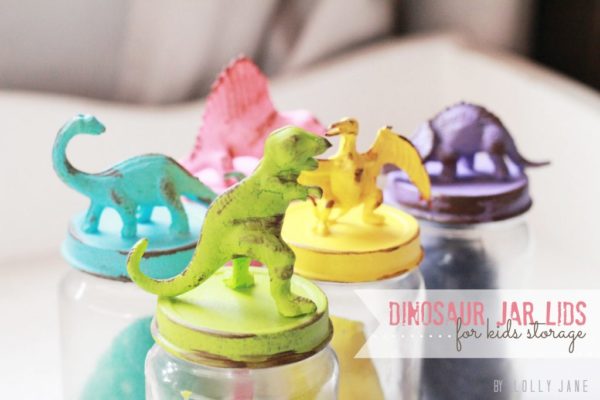 Cute, right? To create your own, you'll need just a few supplies, most of which I already had on hand.
Apple Barrel paints (love the bright, cheery hues that make his vintage football room pop with color; sold at Michaels)
Mod Podge Washout (also sold at Michaels)
pack of dinosaurs ($1 for 9 at Dollar Tree; mine also carried farm animals and jungle animals)
baby jars
a foam brush
super glue is pictured but e6000 (available at craft or hardware stores) works a bit better. I had a few pop off and reglued with the e6000 and they're as sturdy as ever now!
I have been saving my younger sons baby  food jars but the original tutorial uses mason-type jars so you can be creative and use a spaghetti sauce jar or leftover jars from your everyday use instead of buying new ones (;
The steps to make these are easy peasy:
1. Use Mod Podge Washout to first cover the dinosaurs and lids. This will allow the paint to adhere easier. 2. Once Mod Pod Washout is dry and no longer tacky, paint each lid + dinosaur the same color, using as many lids/dino's as you wish. I brushed on three light coats of paint. 3. Once completely dry, add small dabs of super glue on the dino's tootsies and hold onto lid for a minute. Although the dino's are stuck pretty firmly, use the lid itself to screw on/unscrew from jar to ensure the dino stays put. ***EDITED: After using them for several weeks, I've discovered that painting AFTER superglueing holds stronger… glue first, then paint! Also, to prevent paint crackling, brush a thin layer of decoupage prior to painting. Okay now back to the project!***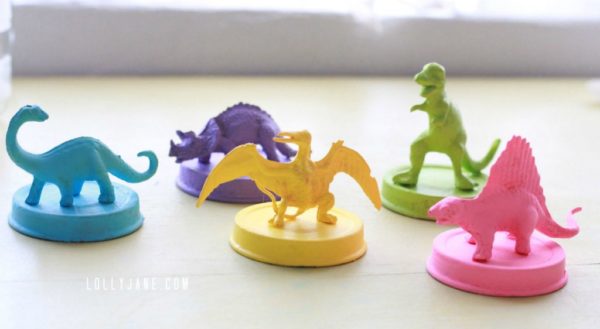 My son had so much fun helping me paint his dino's, too. This is a great kids craft to make with these supplies; my boy is mega messy so I am diggin' the Mod Pod Washout, especially; it got all over my wood table but came right off with soapy water and washed out of my kiddo's pants without soaking first, (I know better than to leave a tee on him! LOL!) Mod Pod Washout is fab for mom's like me who love to craft with their littles and great for teachers who use this stuff all.the.time! I have a huge 'ol stash of Apple Barrel all-purpose acrylic craft paints because they have such a huge selection of colors- you can see tons of our tutes we've created with this paint here. As you can see, it is just perfect for family activities and kids projects like this one… just make sure you tackle the messy paint while wet. Yes, I have learned the hard way! (;
While he was busy making a mess creating art…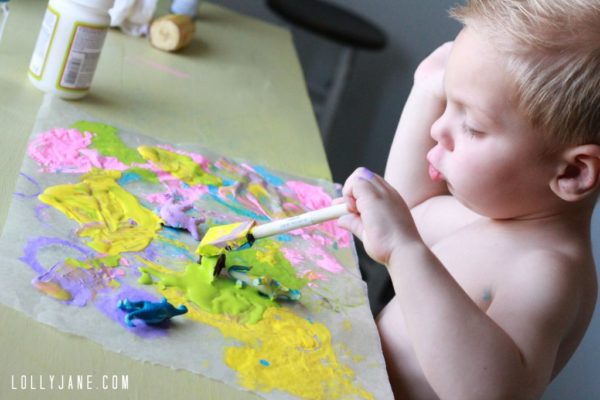 …I added a bit of brown paint along the edges of the freshly dry dinosaur jar lids to make it look distressed, Lolly Jane style (; Here are our final creations: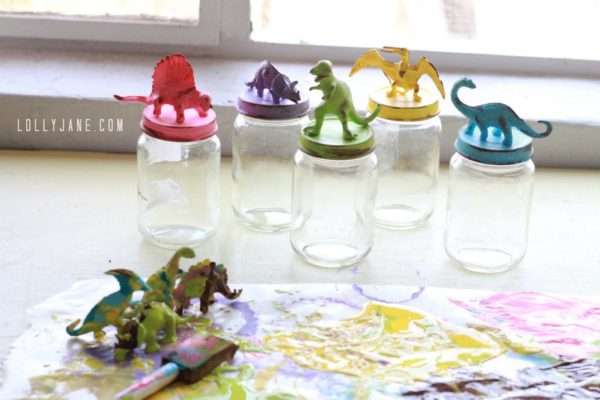 Happy kid gets to play with his dough knowing it will no longer dry out while momma is happy that it's stored oh-so-cute! (Here is my fav recipe for homemade play dough in case you're curious.)
I am loving the look of these bright jars in his bedroom!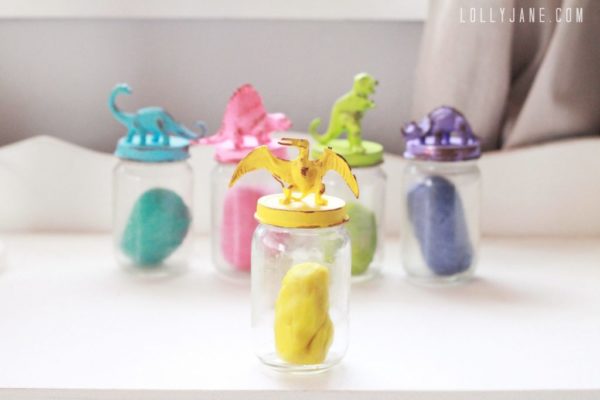 I can't wait to finish building our house and use bigger jars in the boys playroom and top them with cars or other fun trinkets. The possibilities are endless!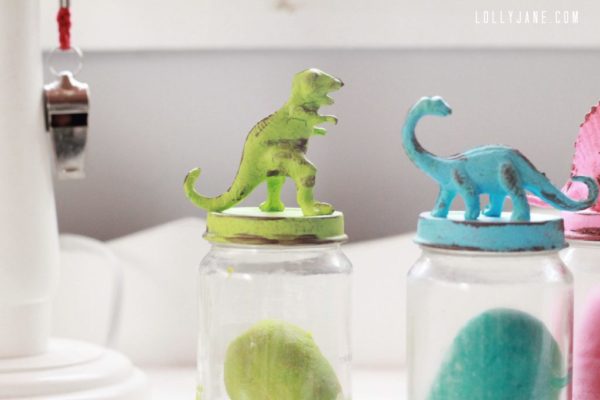 It's amazing what a bit of paint can do to transform these simple jars, huh!  Pin these so your friends can make them too!

Check out all of our kids craft treats and ideas like these cute sock snakes,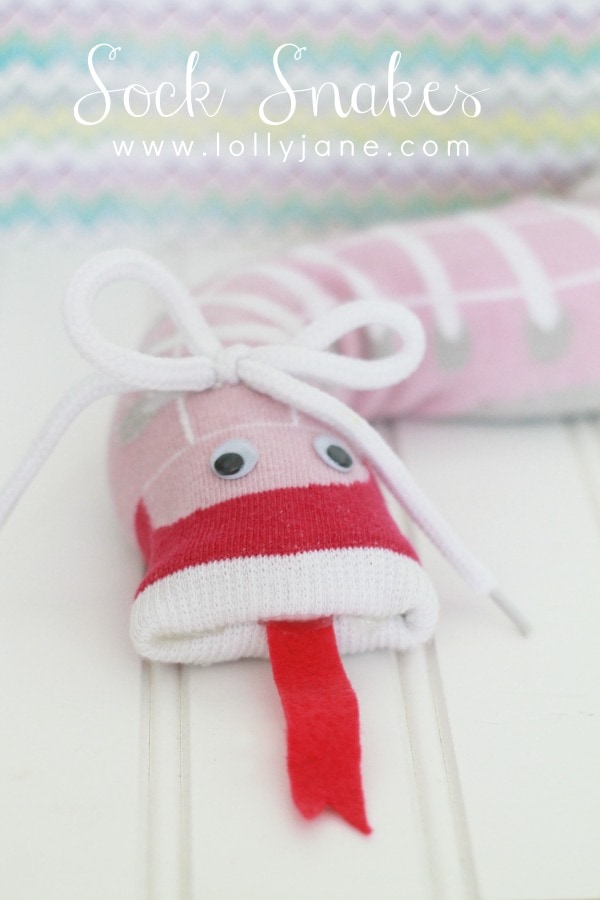 these easy tin can stilts,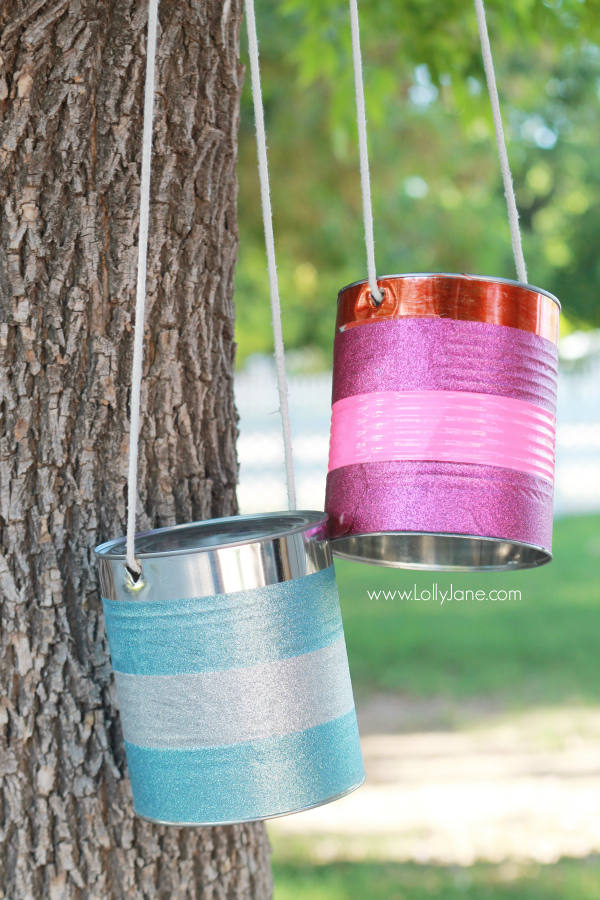 and our boredom buster Popsicle sticks with TONS of ideas!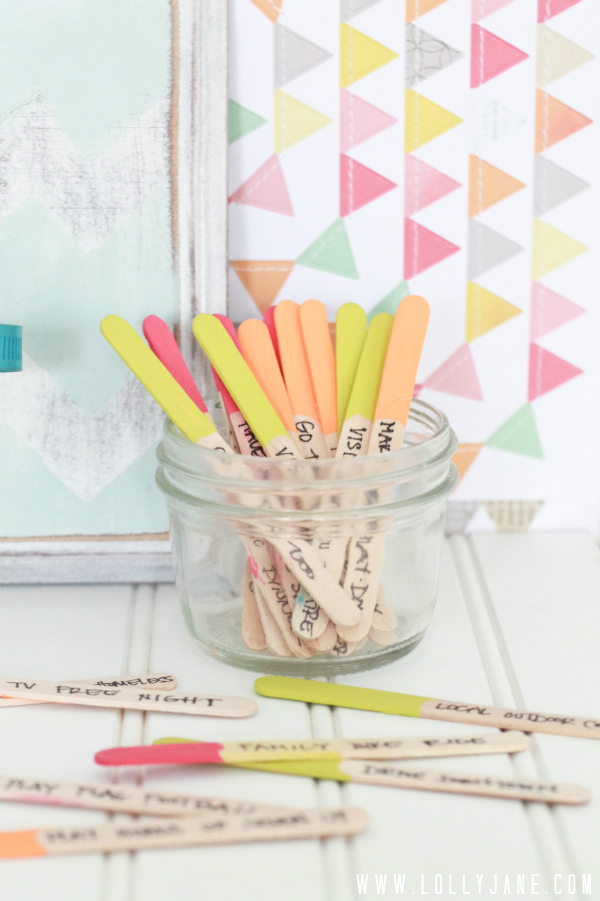 This post was written as part of a campaign with The Blueprint Social. All opinions are my very own but I really do love Apple Barrel paints and Mod Podge Washout!