Trending: Dark Exterior Paint Colors
Loving this 2020 trend of dark exterior paint colors. Bold exterior color schemes can help add curb appeal to any home. Check out these 13 dark painted exterior homes that bring a little drama to the neighborhood.
We're considering painting our house this year. When we moved in 9 years ago, it was an awful shade of muddy purple/brown with stained doors and white plastic shutters. We painted it aqua exterior with mustard yellow doors and kept the white trim and shutters.
With the new addition of our french dutch doors, we're considering another paint job.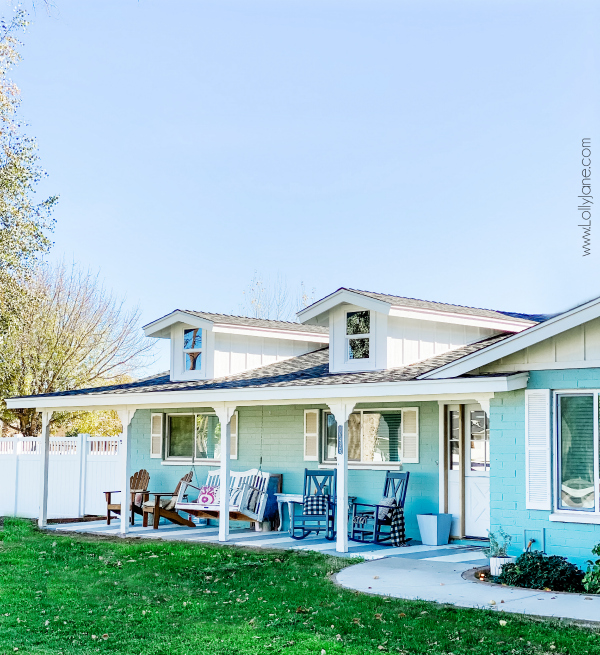 Why?
Because I don't want plain old white doors.
I want mint doors.
And mint doors would look silly with an aqua painted house. Duh 😉
My friend Melissa's been suggesting the trend of dark hues for my house. All the pretty homes in New England are painted in navy and black and gray and green and even pink! Eek!
dark painted exterior house colors
Until I decide, I gathered and pinned several inspiring painted homes and thought I'd share them with you! So tell me in the comments, which is your favorite? And which color would you paint my house if you had to choose?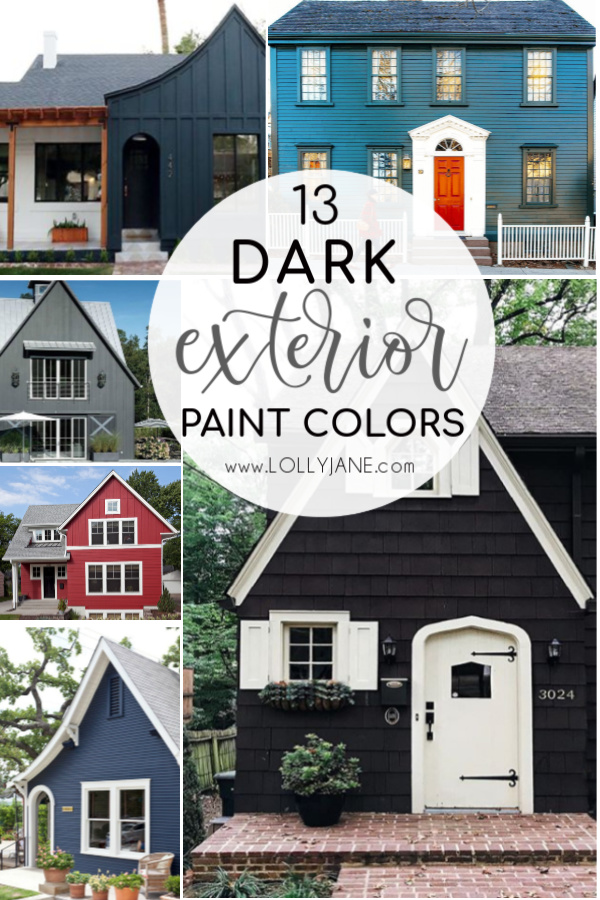 NATURE INSPIRED EXTERIOR HOUSE COLORS
Nocturnal Green from Valspar
Loving this Dark Green Exterior Home from Juniper Home. It looks so gorgeous paired with the large cedar porch. Have you seen two tone exterior paint colors before? It's not common in our area but we're loving it!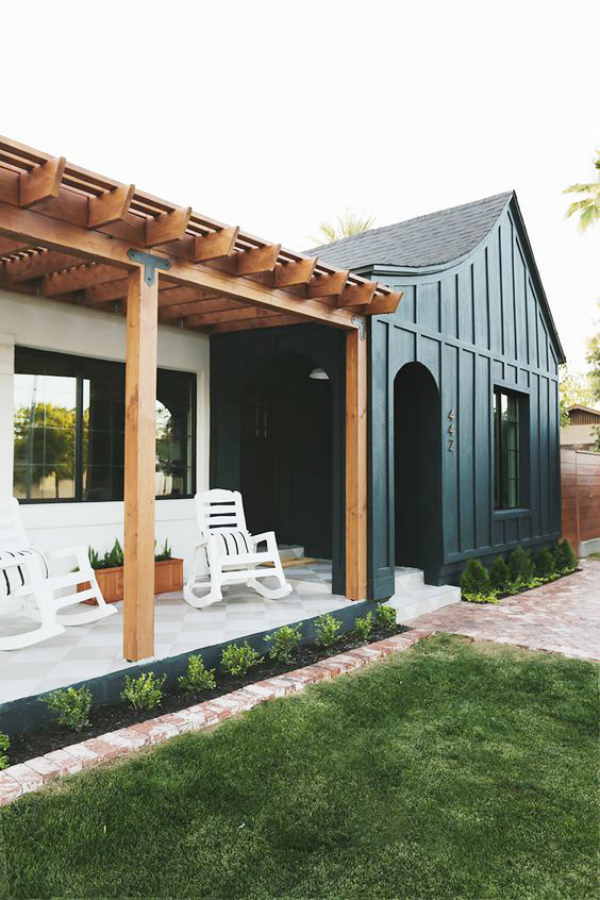 Afternoon Martini from Glidden
If your home has a lot of spots for white trim, go bold with your exterior paint! White columns, white windows and white trim really make this gorgeous olive green exterior house paint on this craftsman home stand out. (source unknown)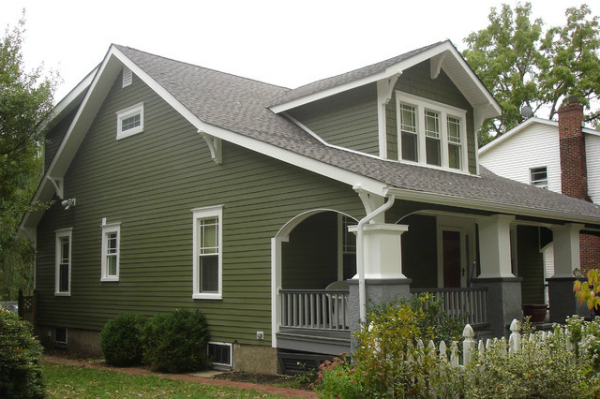 CYBERSPACE FROM SHERWIN WILLIAMS & PALLADIAN BLUE from benjamin moore
BHG featured this gorgeous dark gray and green two tone painted house. I recently added board and batten gables and dormers to our own home so I'm partial to this board and batten portico gable. It's so pretty..bold yet classic.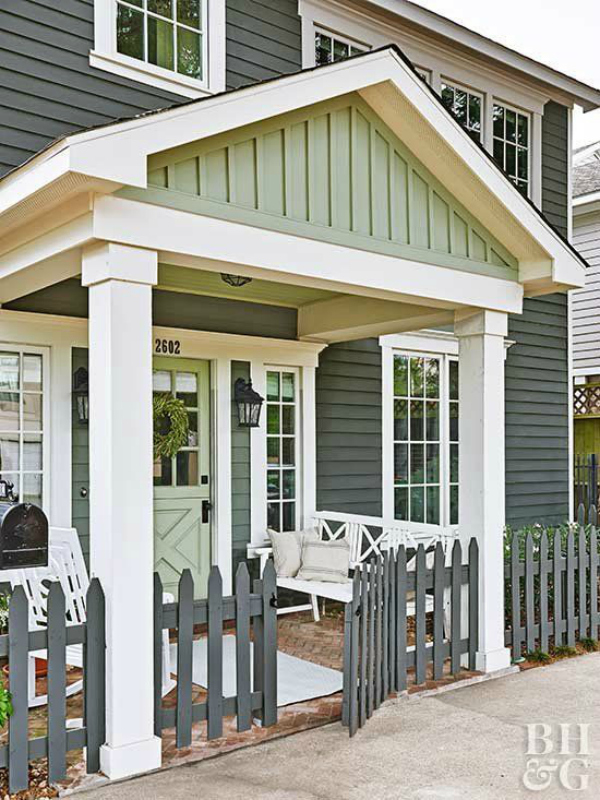 COOL ExTERIOR PAINT COLORS
Witching Hour by Benjamin Moore
Addison's Wonderland renovated a 100 year old historic home and it's insanely gorgeous. They did an incredible job on it! Head over to drool over all the details inside but we're especially loving the dark blue exterior paint on this pretty craftsman home.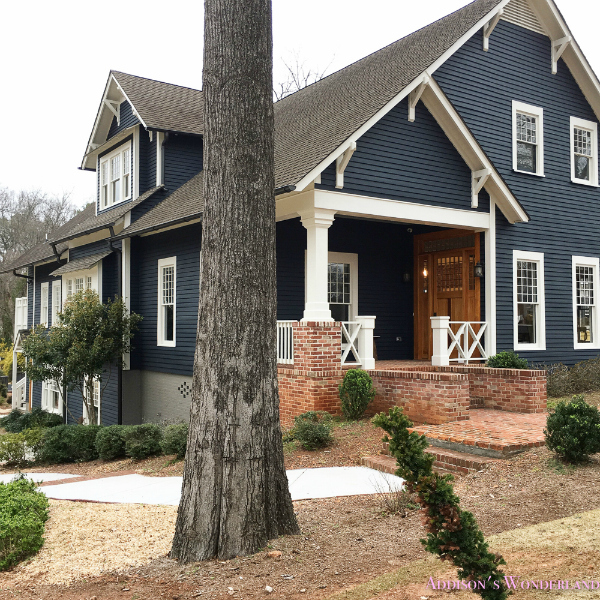 Connor's Lakefront from Sherwin Williams
Jackie Greaney finds the best picturesque spots. She shoots all over New England which is on my bucket list to visit..better yet, I'd love to live there for a year to experience all the things at least once! This gorgeous peacock blue painted house is what my dreams are made of. I believe it may be a hotel? Either way, I'd love to live or visit this dreamy dark exterior home.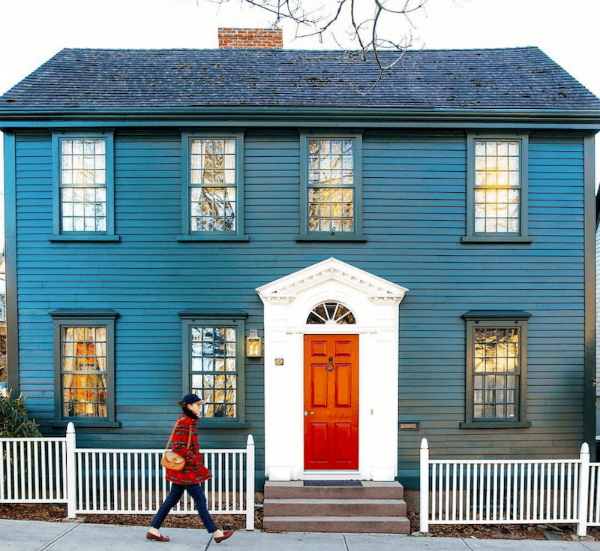 Hale Navy from Benjamin Moore
The Josephine House spotted on Remodelista is so stinkin charming! Next time we're in Austin we're definitely going to hit it up..if the food is as good as the dark blue paint with white trim and pretty gray roof, we know we'll love it!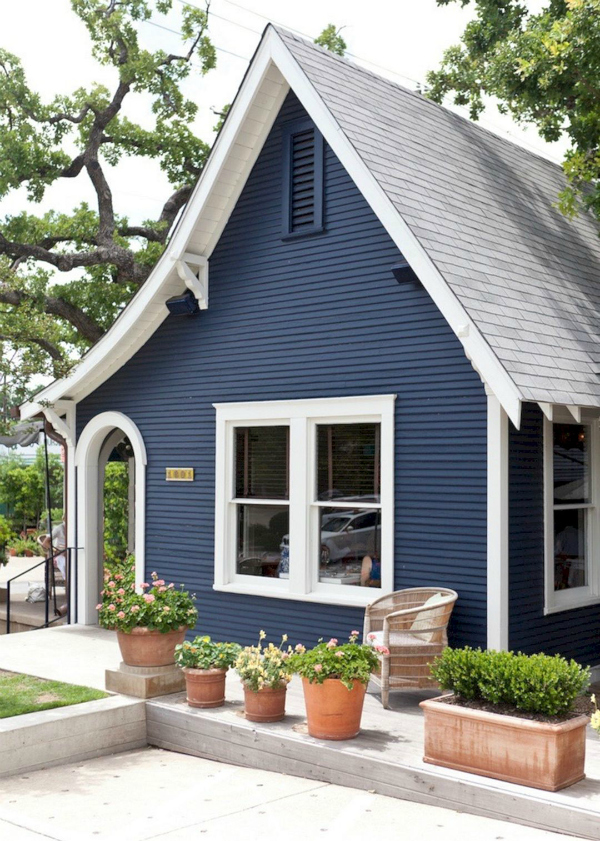 COLORFUL EXTERIOR HOUSES
purple hyacinth from benjamin moore
I've been considering painting my house pink after how much I miss my blush front doors but decided it's not a coastal style enough house and just didn't fit the bill. While I'm still deciding on the final exterior color, I'm proud of this homeowner for going bold: check out this purple painted house! WOW! It really makes a statement!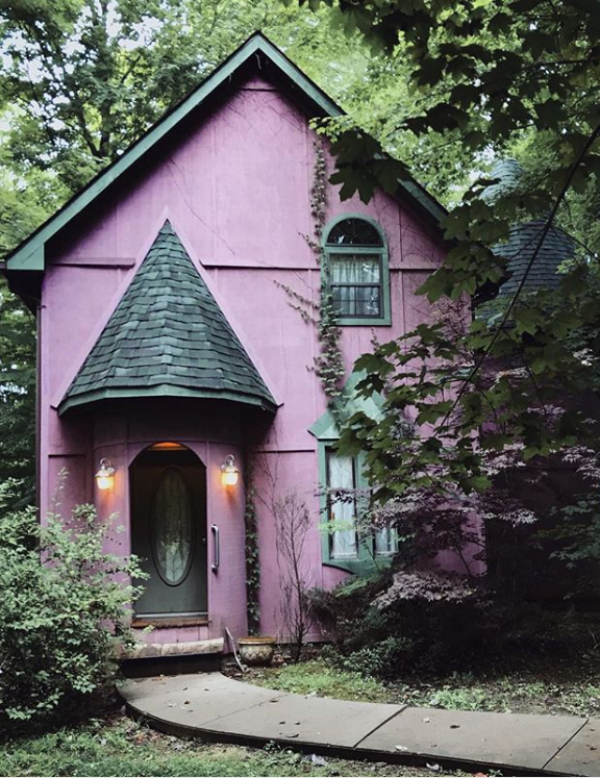 prairie rose from behr
I love this pink painted house, set in CA. Pretty pink coastal home, sure to bring you a smile!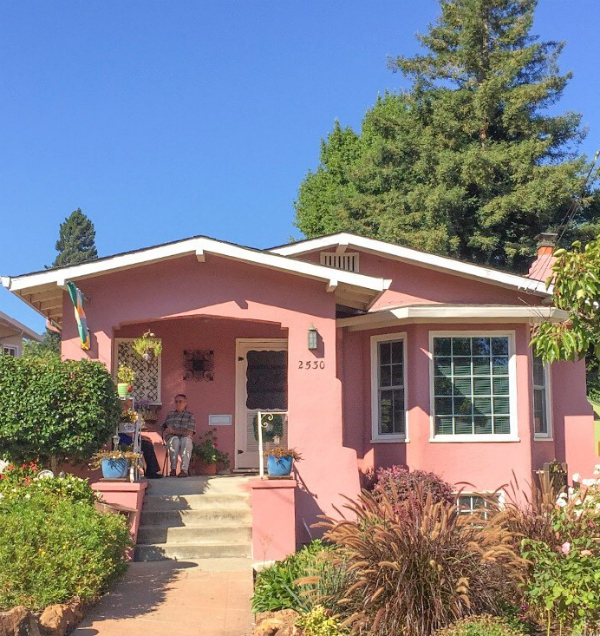 Exotic Red from Benjamin Moore
I considered painting my new aqua house with red accents but wussed out when it came down to it. I do love this red painted house, so pretty with crisp white trim!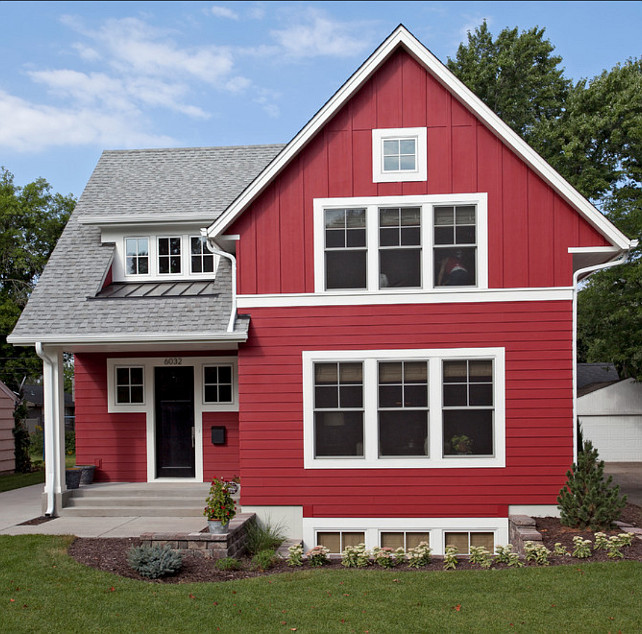 Dutch Orange from Farrow and Ball
Loving this bold yellow house that was featured on Remodelista!! Such a fun dark exterior color for your home but still welcoming and warm.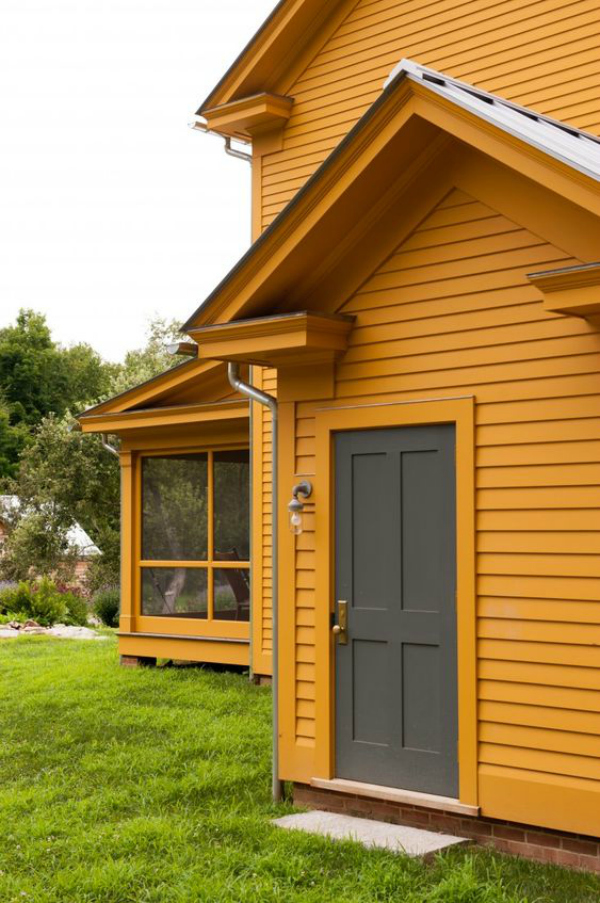 NEUTRAL EXTERIOR hoUSes
Inkwell from Sherwin Williams
Have you ever seen a cuter house!? This is such a gorgeous black house with white trim, isn't it? Such a pretty contrast! (source unknown)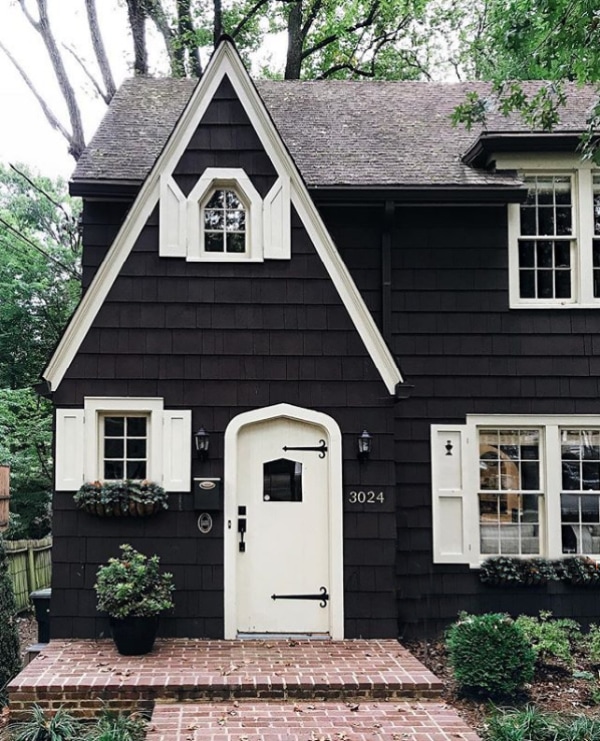 Smoke Gray from Benjamin Moore
This pretty dark gray painted exterior was shared via SuCasaDesign and gives me all the feels! It's dark and moody but still feels cozy.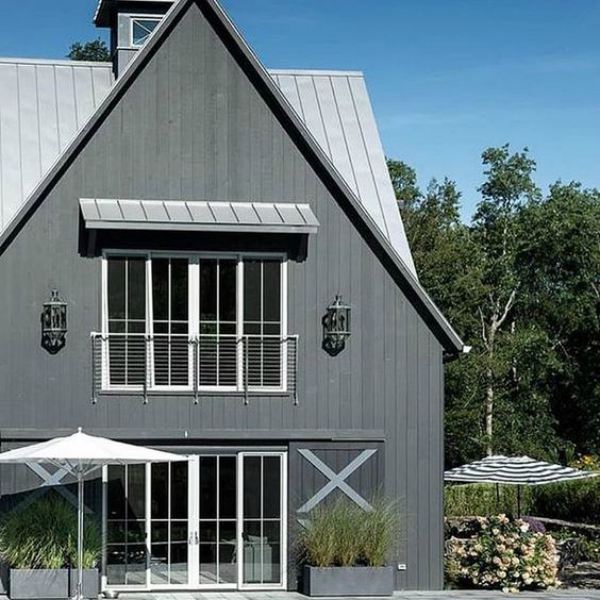 Satin Black from Behr
Here's another two tone home, this time with a light paint with dark accents like shutters and windows. This modern English farmhouse exterior from Becki Ownens is simply stunning.
If painting an entire house dark is too much of a commitment, consider painting your front door a moody hue or even upgrade your shutters with a bold shade. We've got DOZENS of door ideas pinned!