chalkboard any surface in any color
I've talked about how my awesome neighbors give me their goods before they haul it off to the dump or donation center. My family is the same, they know I love trash to treasure projects. My uncle recently renovated his kitchen and gave me his old cupboard doors, all 45 of them. And I'm not talking old junky doors, his house is less than 15 years old. Can you say SCORE?! Whoop! I got his chalkboard clear coat from DecoArt and have been waiting for the right project to use it on. I have to say I was very skeptical of how well it would work. It claims it can turn any surface chalk friendly. Uh huh, yep…I had to try this out and see for myself if it was true. Uhm, I love it!! Here's how easy it to chalkboard any surface in any color.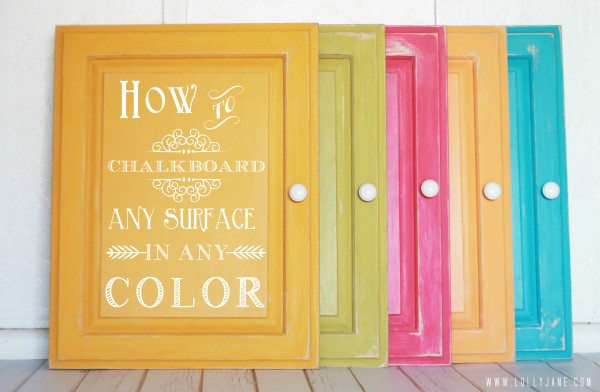 This is the E A S I E S T process known to man. I took 5 cupboard doors from my new stash and picked fun colors of Americana acrylic paint to test this process out. First step: paint. I used cheap foam brushes and gave each door two quick coats.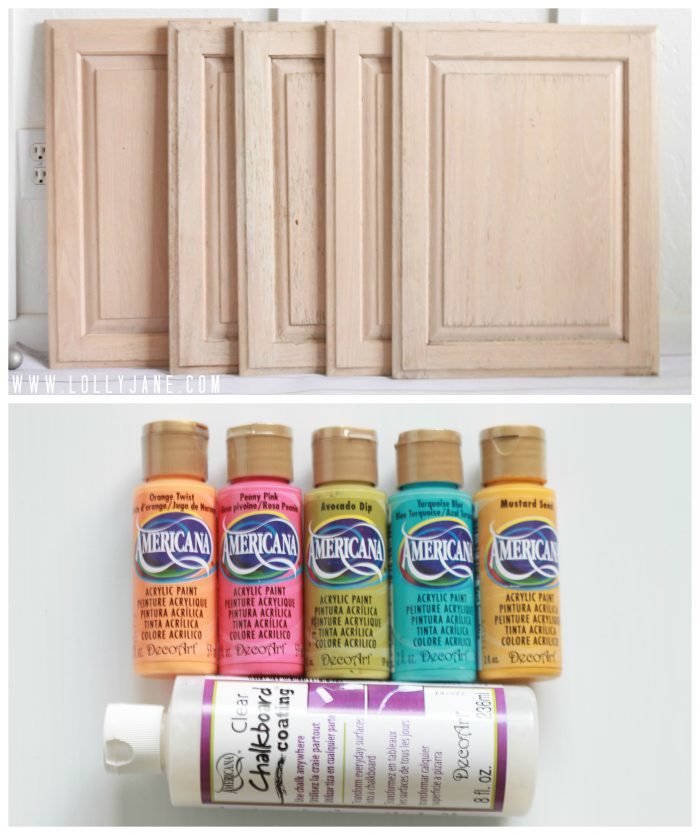 When it was dry, I brushed on a chalkboard coat going vertical, going with the wood grain pattern. After a couple hours, I coated it again but this time I brushed it horizontally. I got distracted from the process so the next day, I gave it a final coat..going vertical again just to be safe.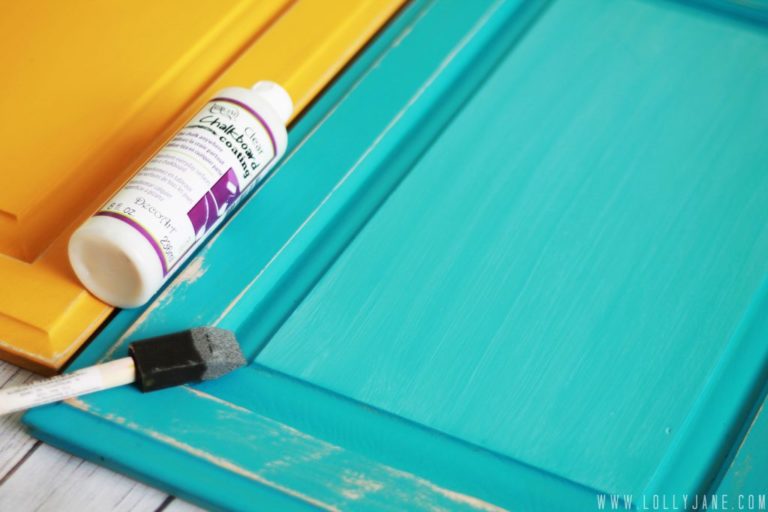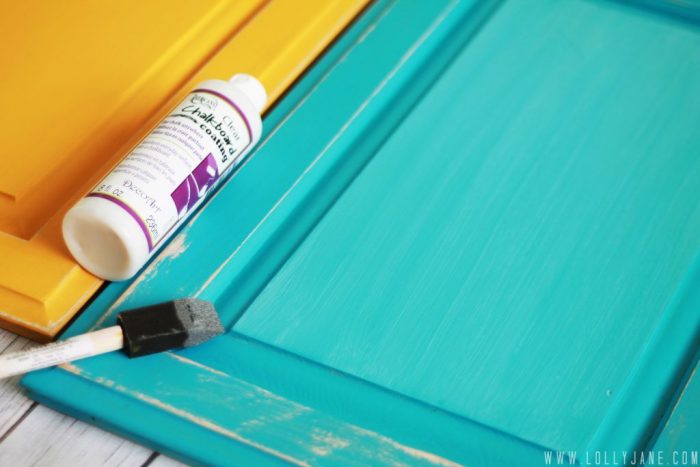 A couple days later (real life happens, people) I used a piece of chalk and coated the whole board. I wiped off the dust then was able to use it like a regular chalkboard! I even took the green one along on my news segment this week where I shared St Patrick's Day crafts!!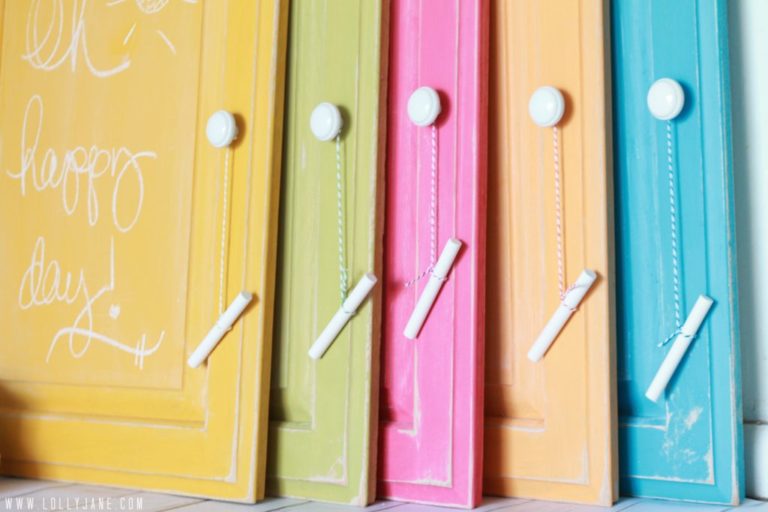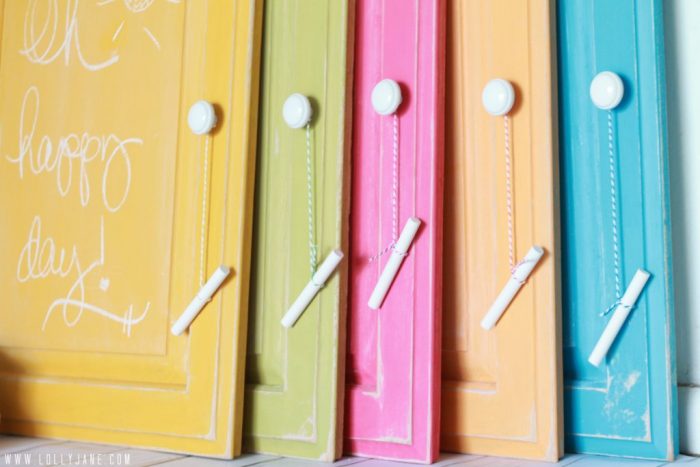 Whoop!-easy, right?? I was so excited to know that this stuff is legit! Think of the possibilities! You can chalkboard wood, walls, doors, flower pots, mailboxes, your dog…okay not your dog but you get the point (; Fun! I love it!! I added some dollar knobs from Home Depot and hung chalk with coordinating bakers twine. I'm going to offer these bad boys on my Instagram account when I get around to it, look for #lollyjunk, I sell random home decor goodness that I sell from time to time. Check out all our tutorials and we'll see you this weekend for some yummy St Paddy's treats! Pin this so your friends can share the fun too!

Be sure to check out all of our DIY DecoArt ideas like our chalkboard mouse trap calendar,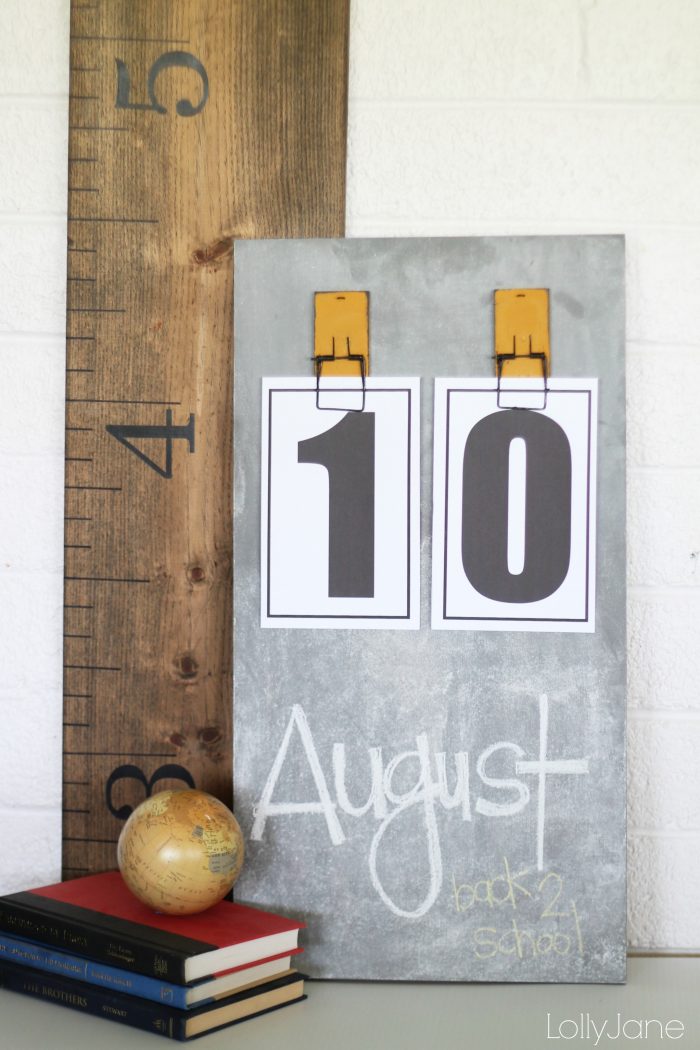 Home is Where the Heart is pallet art.