I was racking my brain for a fun Valentine gift for my girlfriends that didn't cost a whole lot.  One girlfriend gave me Christmas candy in a glass bottle with a cute note that said she had a crush on me… cute idea!  (Love ya, Melis!) We are definitely loving these Valentines Day Pop Bottle Gift Set CRUSH Pop!  All you need are clean Crush brand bottles that you can revamp to make this darling set!  Fill it with Valentine colored candies and you're all set.  Reuse, reduce, recycle (;
I tweaked mine in pinks & reds and am totally crushin' on how it turned out!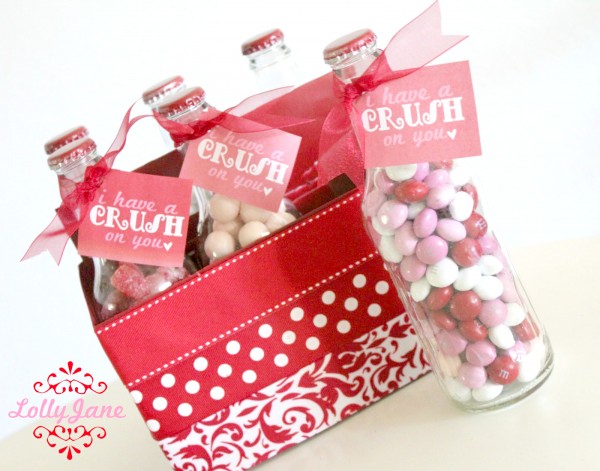 Want to make one for your child to pass out to friends at school or even take yours to the office?  I thought so! 🙂
Supplies needed:
6-pack of Crush soda pop
Red spray paint
Glue dots or hot glue
Ribbon (1.25″ x 25″…3 pieces total)
Candy
Tag (We included a freebie!!)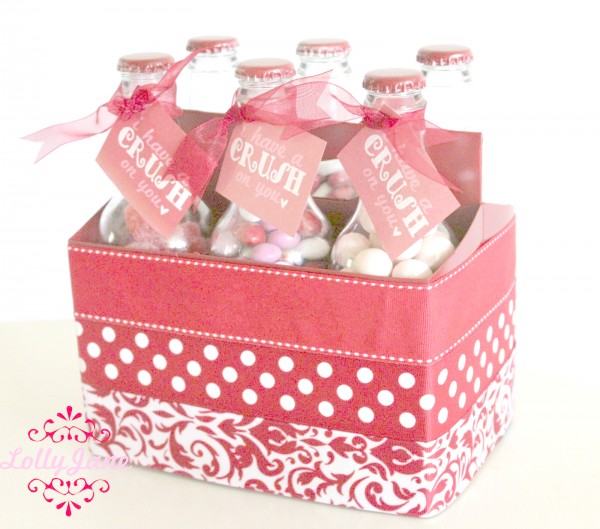 Instructions:
♥1. Drink soda pop (strawberry flavor… yum) and remove sticky labels
♥2. Rinse bottles & air dry
♥3. Spray paint soda caddy & bottle caps to match
♥4. Once the paint is dry, simply wrap the ribbon around and glue onto caddy
Now the fun part…
♥5. Fill the bottles with CANDY and lots of it!
Mine has Valentine colored peanut butter M&M's, strawberry Whoppers, cherry gummy hearts (generic brand,) Good&Plenty black licorice, Conversation hearts  & of course, Red Hots.
♥6. Simply tie off each bottle with the label: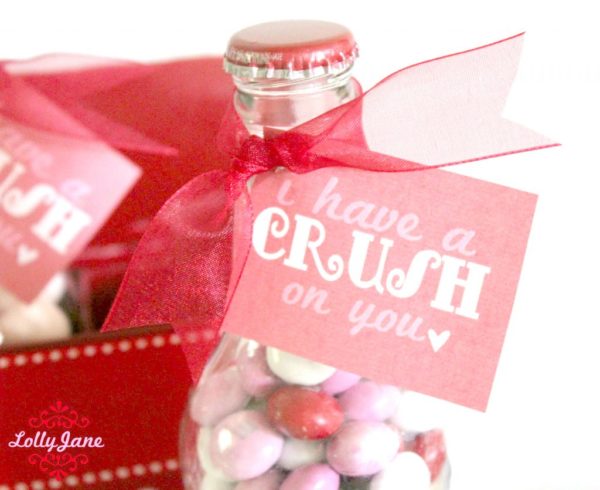 and you're ready to pass out your cute Valentine treat!
Here's your FREE Crush on You tag printable:
Instructions to print:  Click on picture. Once it takes you to another screen, click it again for full resolution. Print.  And if you love this, please pin it for other to enjoy, thank you! (;