candied caramel apple popcorn in a jar
This candied caramel apple popcorn in a jar is the perfect diy holiday gift! It will take you back to your grandma's kitchen. The tart apple mixed with the warm caramel, mmm. So addicting! We dare you to take just 2 bites! This recipe was featured in the November issue of Redbook Magazine, whoohoo! Welcome new readers, we hope you'll stick around and visit all of our easy recipes! We love fast and few ingredient recipes that we can throw together in as little time as possible. Hope you love our caramel apple popcorn!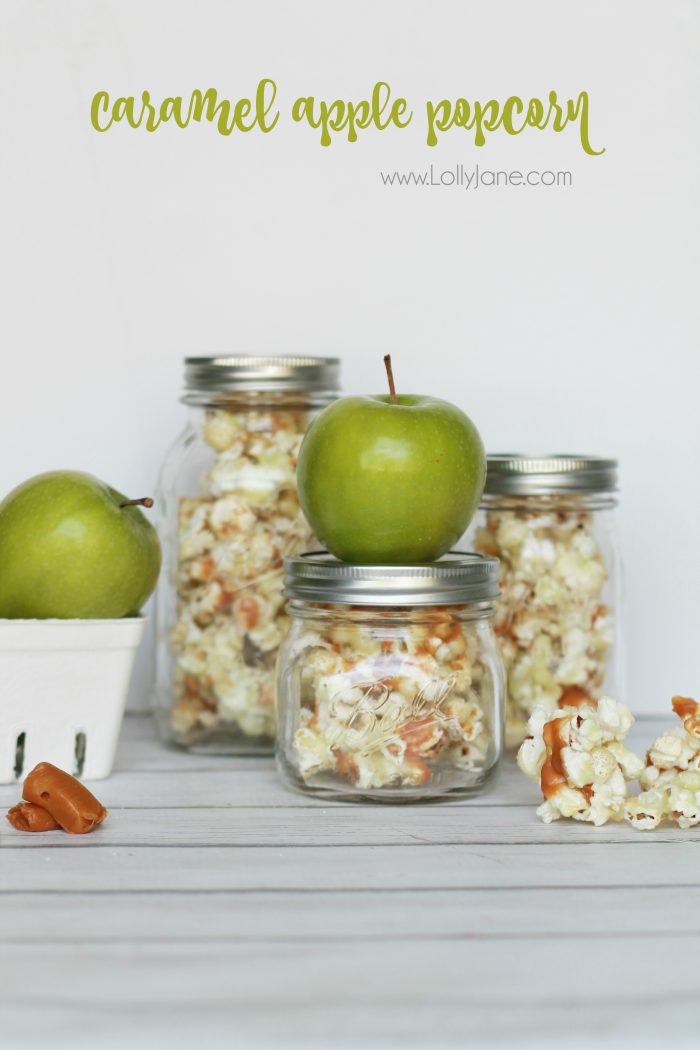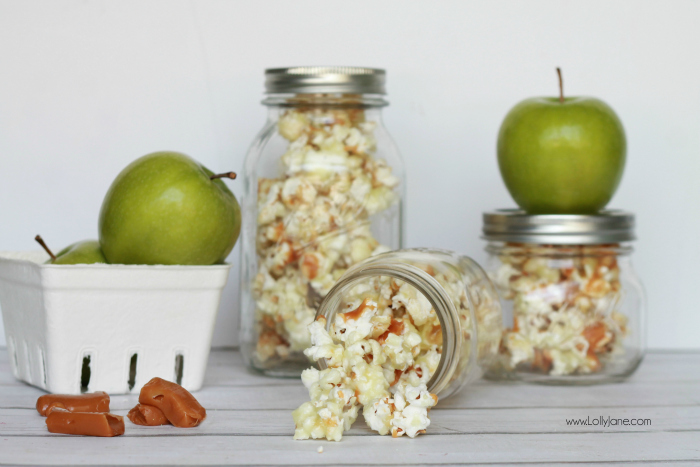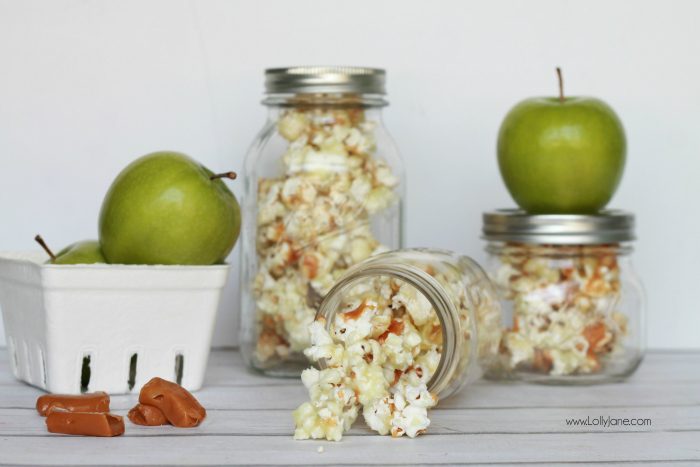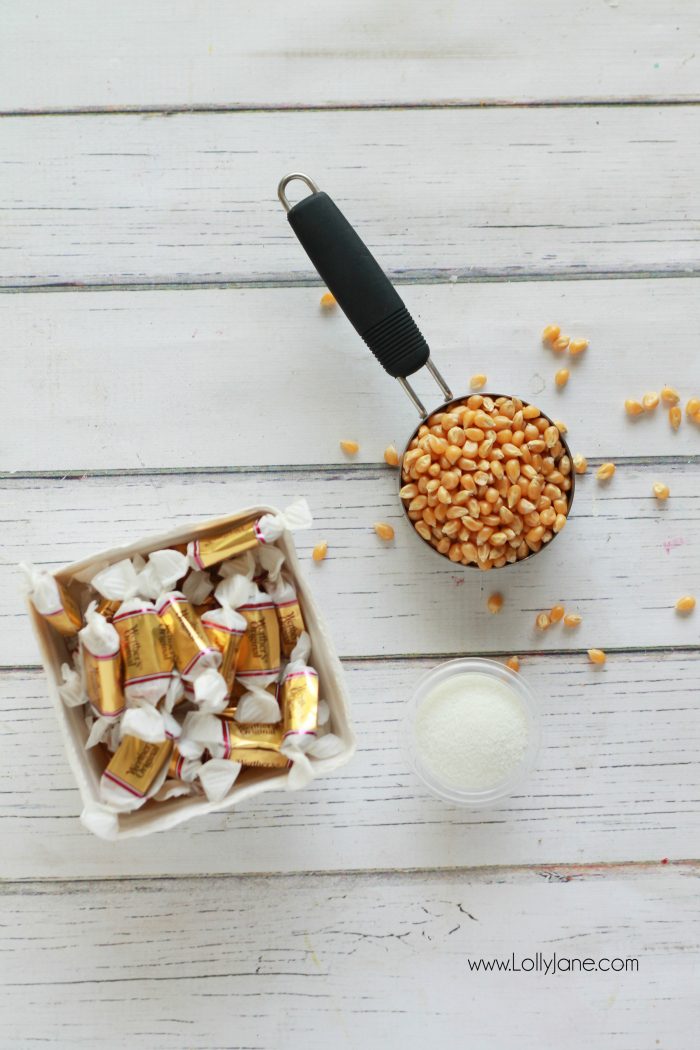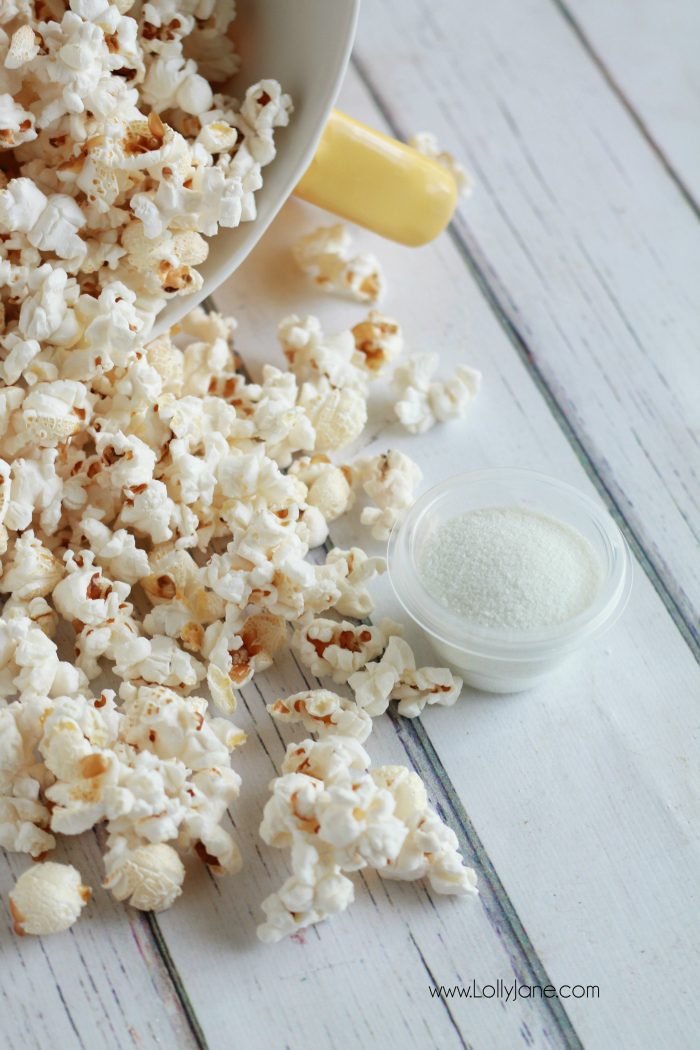 Ingredients:
18 soft caramels
1/2 cup corn kernels or 15 cups popped popcorn
1/2 (1 stick) cup butter
1 cup sugar
1/3 cup light corn syrup
3oz (1 box) of apple-flavored gelatin
Keep in mind this is a happy mess recipe! Your kids will love getting the gooey "candy apple sauce" on their hands when you're mixing it around with the caramel to coat the popcorn. And it's a good thing Delta products go beyond beautiful design to incorporate insightful features like the amazing faucets with Touch2O® Technology. Because now your kiddos won't mess up your pretty faucets, they'll just wave their hand around. With Touch2O® Technology, you can simply tap anywhere on the spout or handle of the faucet to precisely start and stop the flow of water. The faucets are available for your kitchen and even your bathroom too! Delta faucets with Touch2O® Technology were designed to make life easier when your hands are messy or full, and trust me you'll get nice and messy with this amazing recipe! They were the first touch-sensitive faucets of their kind and purely brilliant! Are you ready to get messy??
Directions: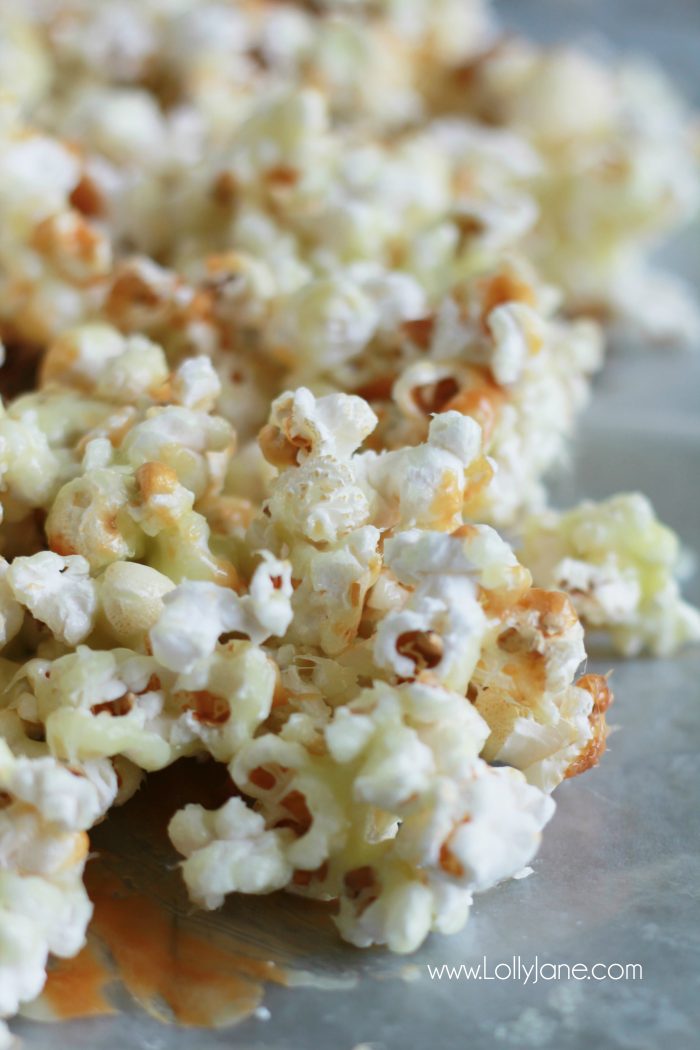 Unwrap and chop the caramels into bite size bits and set aside. Rinse hands with warm water to remove stickiness.
Line a cookie sheet with wax paper and set aside. Preheat your oven to 200 degrees.
Melt butter in a medium saucepan. Stir in the sugar until it melts. Stir in the corn syrup, followed by the apple gelatin mix. Bring the mixture to a boil over the lowest possible heat setting. Stirring frequently, allow the mixture to boil for 5 minutes.
Remove the sauce from the heat and pour half over the popcorn. Toss the popcorn, then add the remainder of the mixture, and toss the popcorn again. Spread the popcorn on cookie sheet, sprinkle the caramel bits on top and bake for 15 minutes.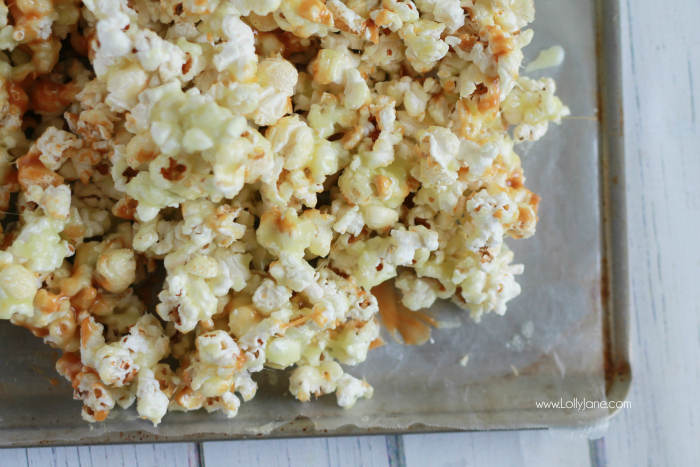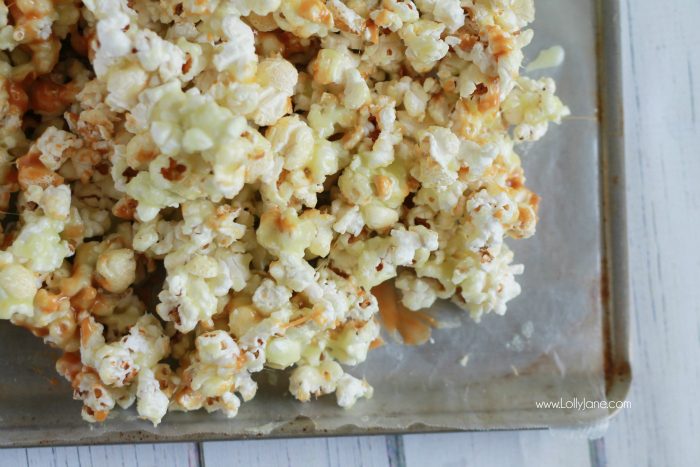 Let the popcorn cool for 10 minutes and toss again. The popcorn will stick together as it cools. Break apart any clumps and continue to toss, as needed, to prevent the candy coating from settling to the bottom of the pan. Rinse with warm hands to remove stickiness.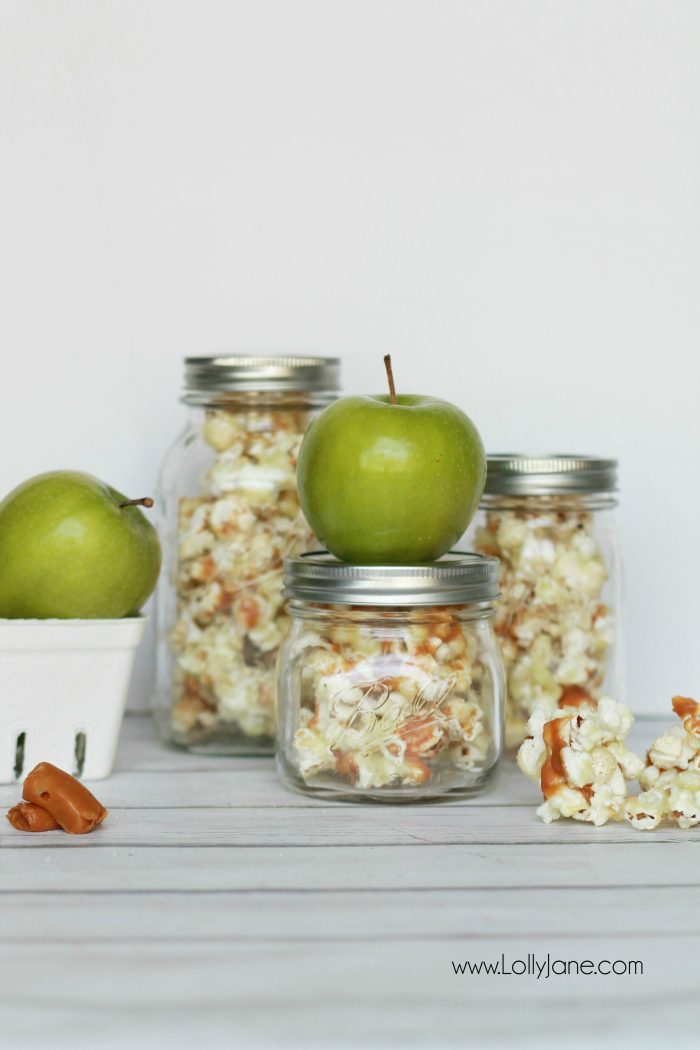 Serve when completely cool.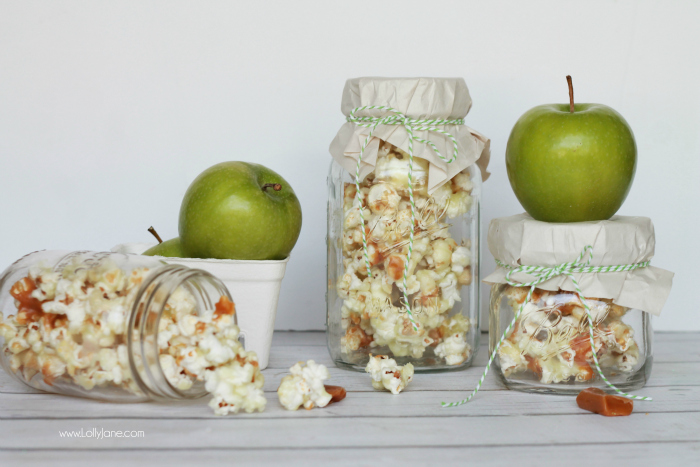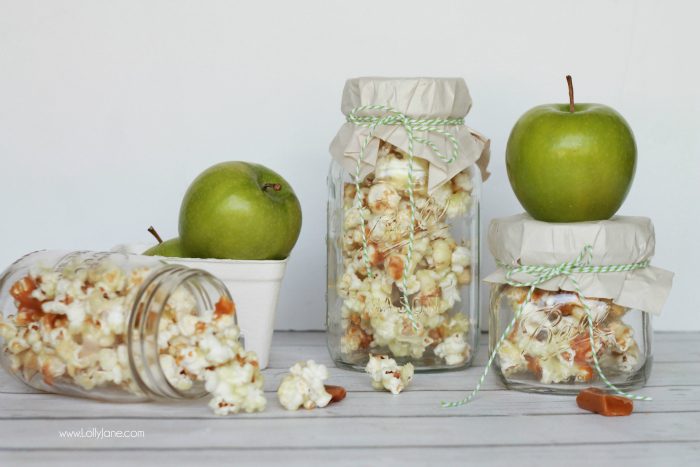 This would be a perfect neighbor gift for the holidays! It makes a large batch so you can fill a half dozen jars with one recipe for your favorite neighbors (; Visit all of our yummy recipes, visit our White Chocolate Thin Mint Popcorn.
And our Candy Corn Popcorn too!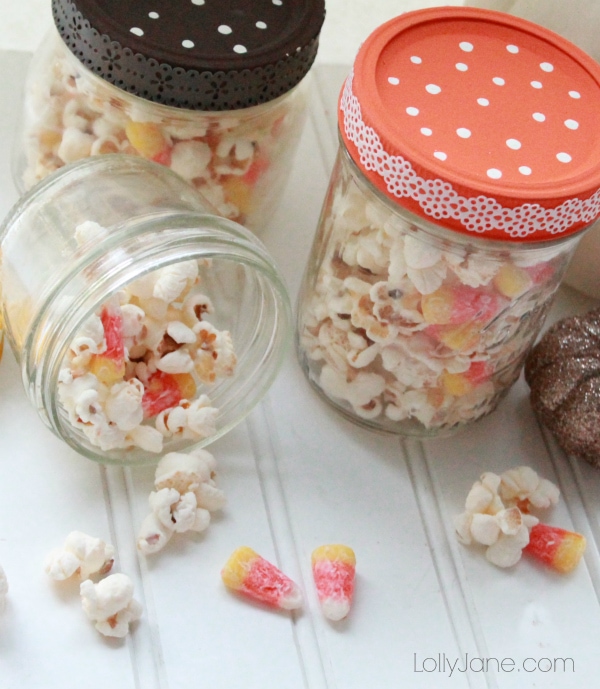 If you have a birthday, this White Chocolate Birthday Sprinkles Popcorn is always a good idea!