Bacon mac 'n cheese hot dogs
True story: We have 7 siblings that all live within a 6-mile radius of each other, (did you know we're currently next-door neighbors? Oh, and that there are 9 of us kids total?) With us all being married with children of our own, that is a LOT of cousins for our kiddos to play with! Like, we see cousins every. single. day. We end up feeding each other kids often so we're always on the hunt for cheap and yummy meals to satisfy our little army of nieces + nephews. These bacon macaroni and cheese hot dogs are packed with homegrown flavor you grew up with, add some mac' n cheese to the mix and viola! The perfect kid meal = Bacon Mac & Cheese Dogs!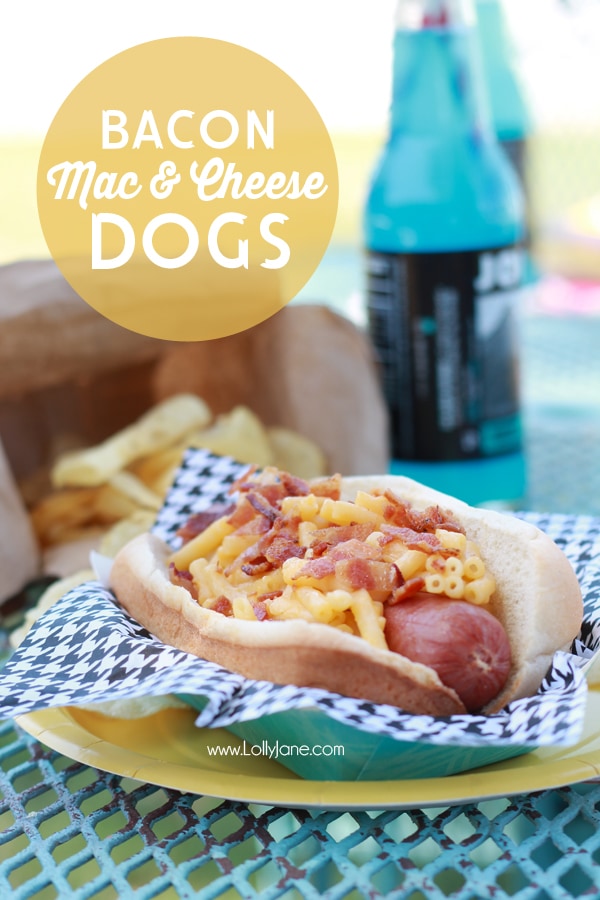 We love this meal because we can spruce it up with homemade mac or if we're in a rush, snag a box from the pantry and have a ready-made lunch within minutes that the kids always scarf down.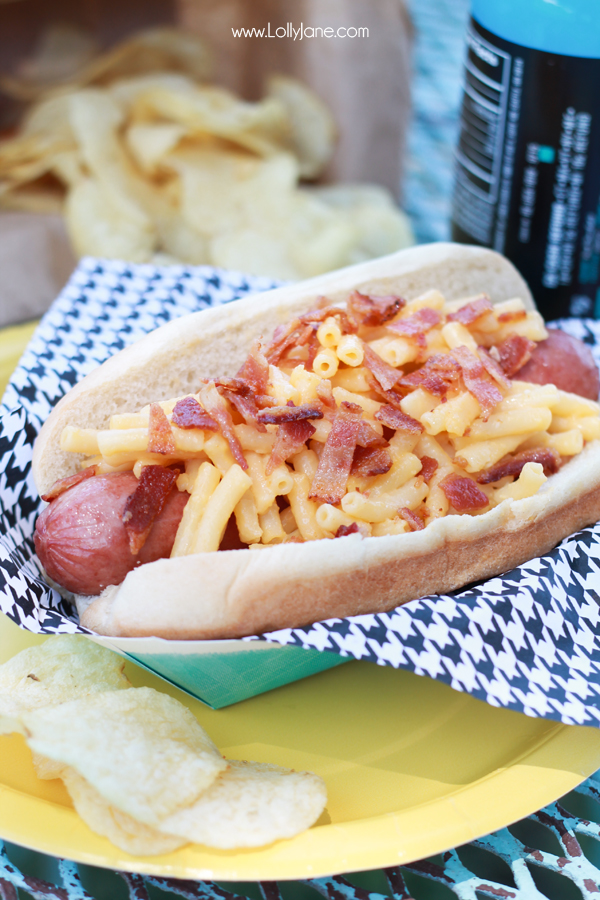 It feeds a crowd so it's a fab solution to our constant family get-togethers during the summer!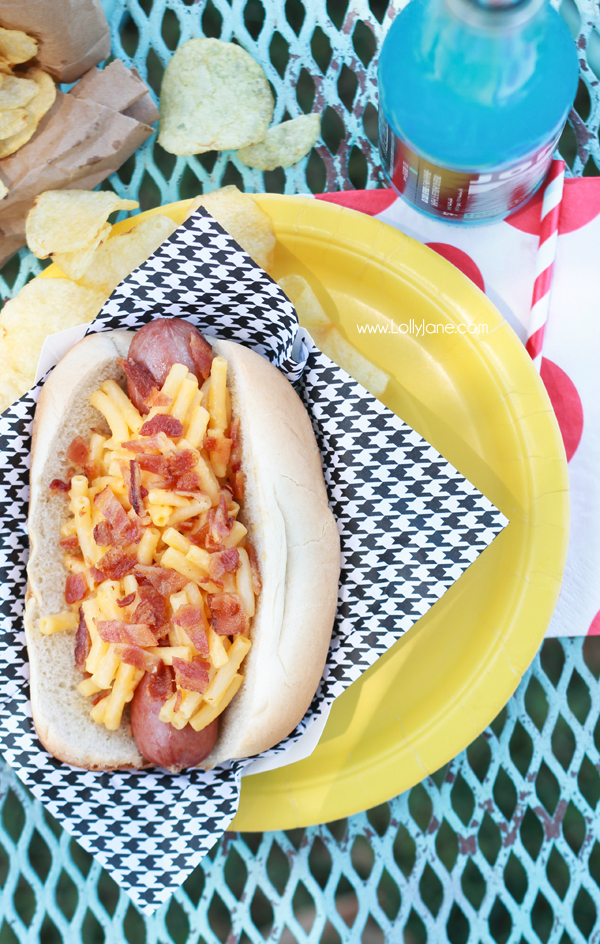 Our oldest brother lives across the street from us and drove by as we were outside and we passed a bacon mac 'n cheese dog his way and he gave it two thumbs up! Score! We can't wait to have this at our next family barbecue! Want the so-easy-you-can-probably-figure-it-out-from-the-picture recipe for yourself? 😉
Bacon mac 'n cheese dogs
A quick and easy meal sure to please kids and adults!
Ingredients
6

Bar-S jumbo franks

6

strips of Bar-S bacon

Box of mac 'n cheese

6

hoagie rolls
Instructions
Preheat oven to 400 *F.

Boil hot dogs 6-9 minutes or until plumps.

Line a baking sheet with parchment paper.

Lay the bacon strips flat, (do not overlap.)

Bake until crisp and browned, 15 to 18 minutes.

Chop into bits, set aside.

Layer jumbo dog and mac 'n cheese on top of hoagie roll.

Top with bacon bits.
Notes
Optional: Prepare homemade macaroni & cheese instead of a boxed dinner.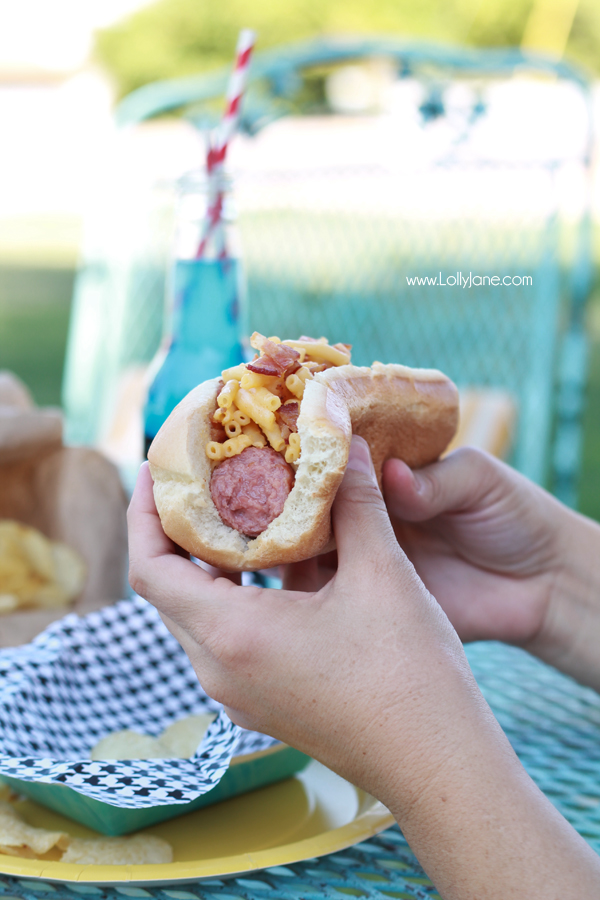 In the summertime we usually swim after lunch but today we busted out our UNO cards and laughed as we observed our niece and my youngest daughter make up their own version on how to play that involved baby zombies. LOL!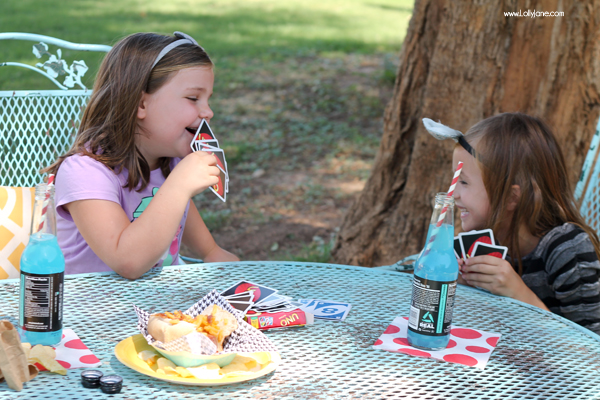 Kids are so cute. 🙂 Click here for even more summer recipes like our perfectly grilled corn on the cob and grilled pineapple with cinnamon sugar glaze! Happy summer, everyone!