When warmer weather comes, so does my hankering for avocados! Avocados are rich in healthy fats and just plain delicious! Whether you enjoy them in a fresh guacamole with chips or on a sandwich, avocados are a great way to boost the "yum factor" in recipes. This hankering inspired my scrumptious Avocado Egg Rolls! You won't be able to stop at just one!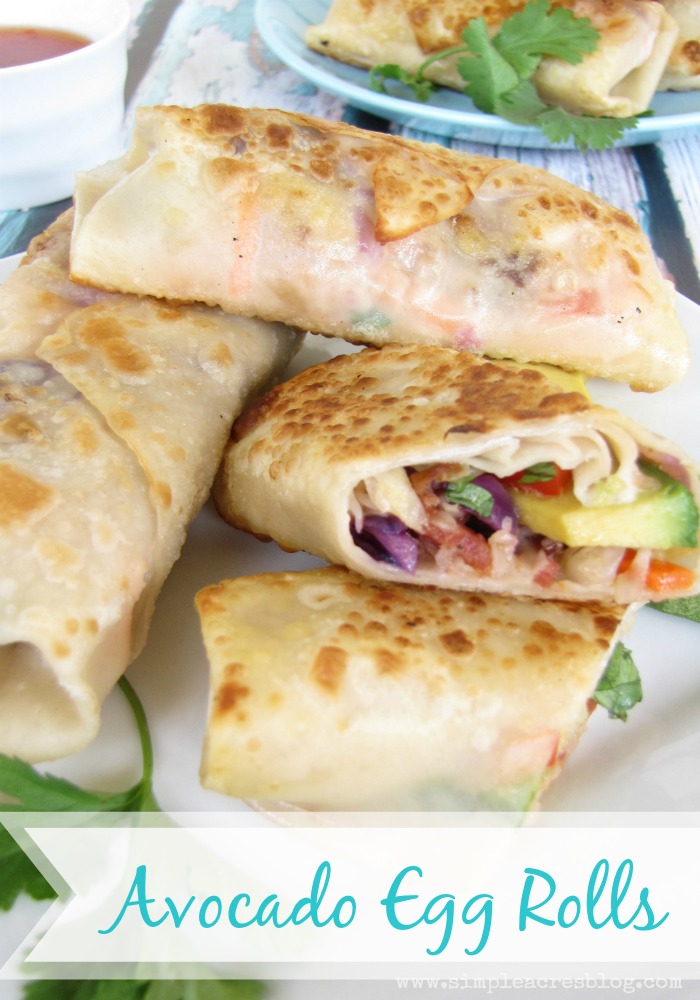 At Simple Acres we love good food without sacrificing a lot of time and unneeded effort. This recipe can be made in minutes, yet will impress whomever you prepare it for. My whole family enjoyed these egg rolls, even my 6 year old!
Avocado Egg Roll Ingredients
1/2 avocado
Egg roll wrappers
1/4 cup sweet cherry tomatoes
1/2 cup red bell peppers
1 small package coleslaw mix
Real bacon bits (a few dashes)
1/4 cup Cilantro
Olive oil use as needed
Sweet red chili sauce (If you do not choose a pre-made version see recipe below.)
Sweet Red Chili Sauce Ingredients
1 cup water
1 cup rice vinegar
2/3 cup honey or 1 cup sugar
2 teaspoons minced fresh ginger
1 teaspoon garlic, minced
1-2 teaspoons hot chili pepper, minced
2 teaspoons ketchup
2 teaspoons cornstarch
Egg Roll Directions
1. Pull the egg roll wrappers out and separate them from each other and lay on a plate for easy and quick production.
2. Dice red bell peppers, tomatoes and cilantro.
3. Place coleslaw mix, a few tablespoons of red chili sauce and bacon bits in pan and saute with olive oil on high for roughly 3 minutes or until it appears cooked but not soggy. You want a cooked yet crisp appearance and texture. Once cooked set aside in a bowl.
4. Place pan on medium to high heat with enough olive oil to coat base of pan. During frying process you will need to add more olive oil to prevent sticking.
5. Place a egg roll wrapper on a plate flat and open. Spoon in slaw mixture, bell peppers, cilantro, tomatoes and a thin long slice of avocado.
6. Wrap egg roll by folding both left and right sides, bring bottom flap up and over the vegetable mixture then roll up.
7. Place egg roll in hot oil. final flap side down as to seal the egg roll first to prevent it from falling apart. Rotate egg roll with a fork every few seconds until every side is golden brown and fried.
8. Place egg rolls on a plate lined with paper towels to absorb the excess oil.
9. Serve with sweet red chili sauce.
Sweet Red Chili Sauce Directions
Pour water and vinegar into a pan. Bring these two ingredients to a boil over high heat.
Stir honey or sugar, ginger, garlic, Chile pepper and ketchup. Simmer 5 minutes.
Remove it from stove to cool.
You are finished. Place in container and store in refrigerator until ready to use.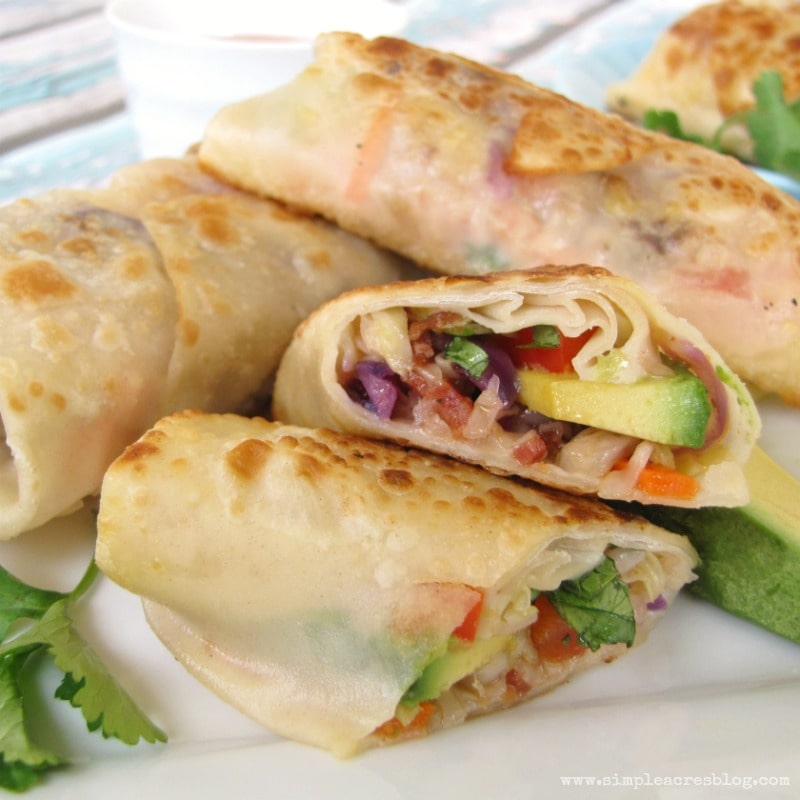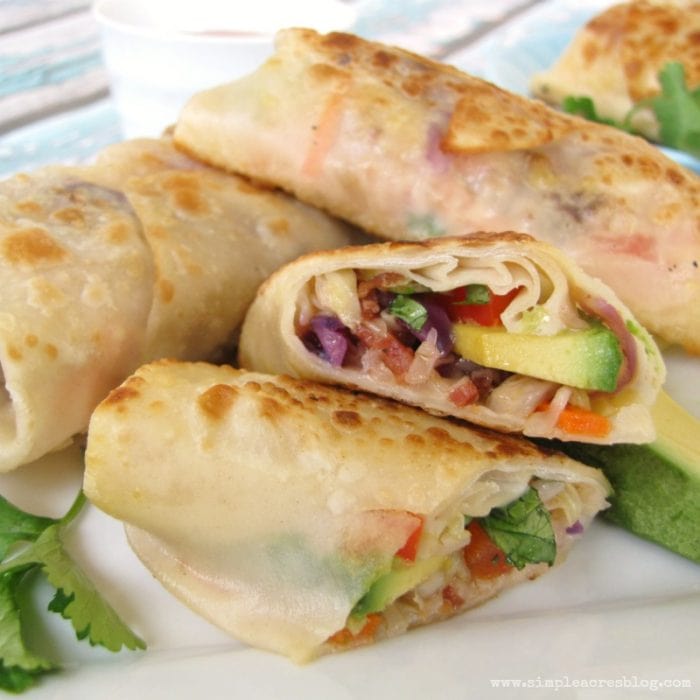 There you have it friends, delicious Avocado Egg Rolls that are quick, impressive and yummy! They are perfect for your next gathering or laid back finger friendly meal!
Check out more recipes like my Easy Sugar Cookie Berry Bowls,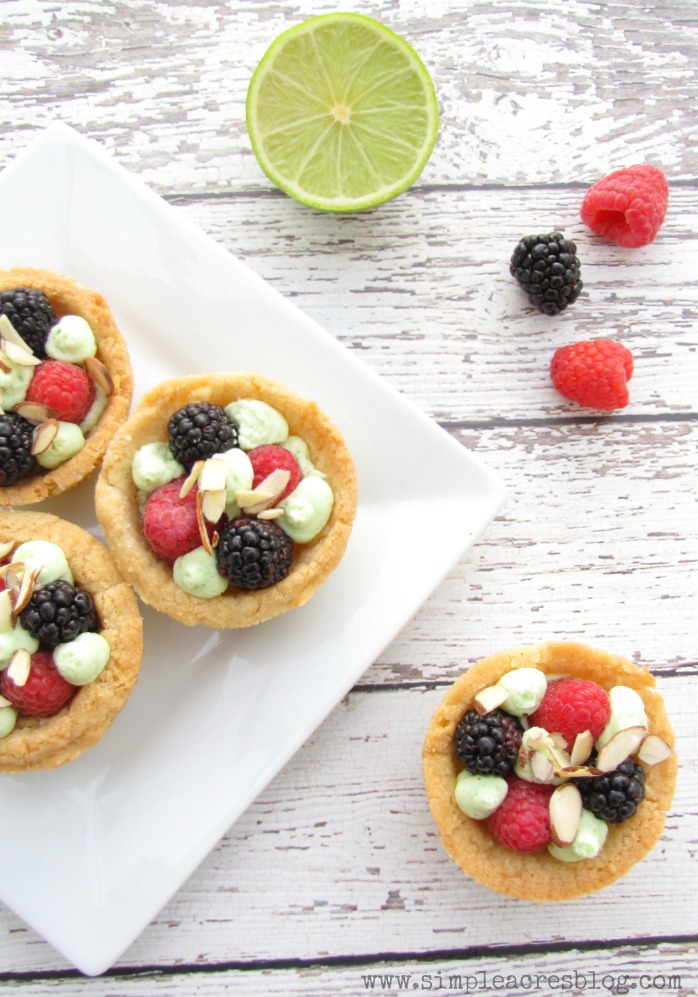 or my Simple Homemade Hummus.
For more simple recipes join me at Simple Acres where all foods fit in a healthy lifestyle! Dovidenia. XO