alfresco dining farmhouse tablescape
School is in full swing around here so when Chloe invited us to join her alfrescho tablescape blog hop, we said yes! We thought it would be fun to share an alfresco dining farmhouse tablescape… a goodbye to summer, back-t0-school dining experience. We pulled out some mason jars, because mason jars scream farmhouse right! We layered in a few books and a recent mini globe bank thrift store find. Fresh flowers complete the tablescape and we're ready to enjoy the fresh air, farmhouse style!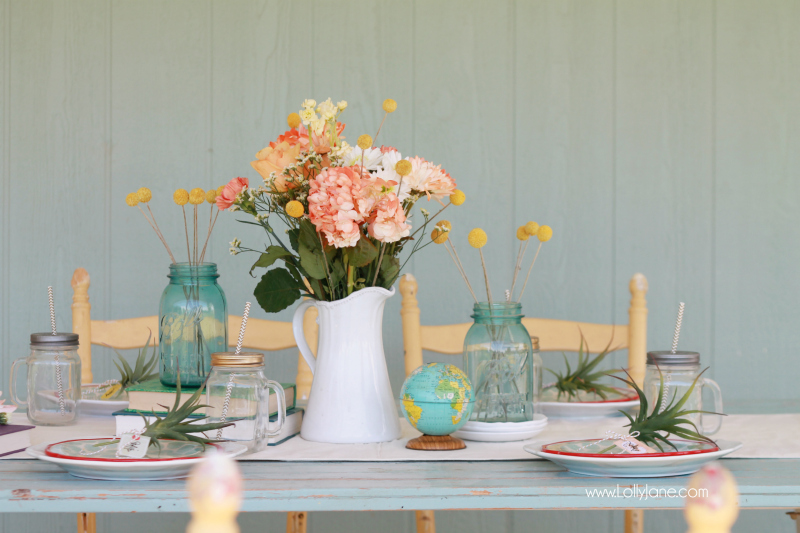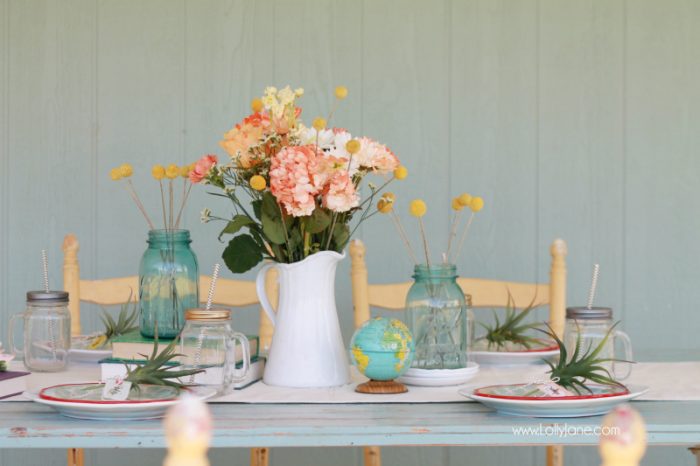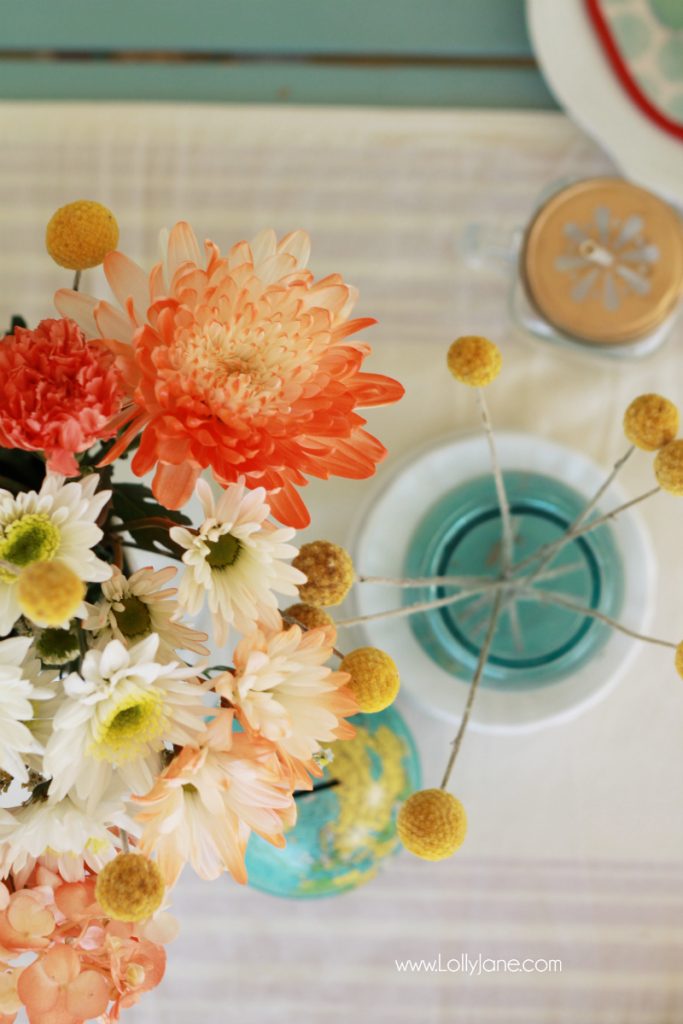 Nearly everything used for this tablescape was thrifted. The blue mason jars, globe bank, all the chairs..even the picnic table! My husband called me from work and said there was an aqua table laying on the side of the road and asked if I wanted it? He knows my love of aqua and knew that natural chippiness would tug at my heart. I loved it so much that I color matched the blue and painted my whole house the same color! What a find! Good hubby!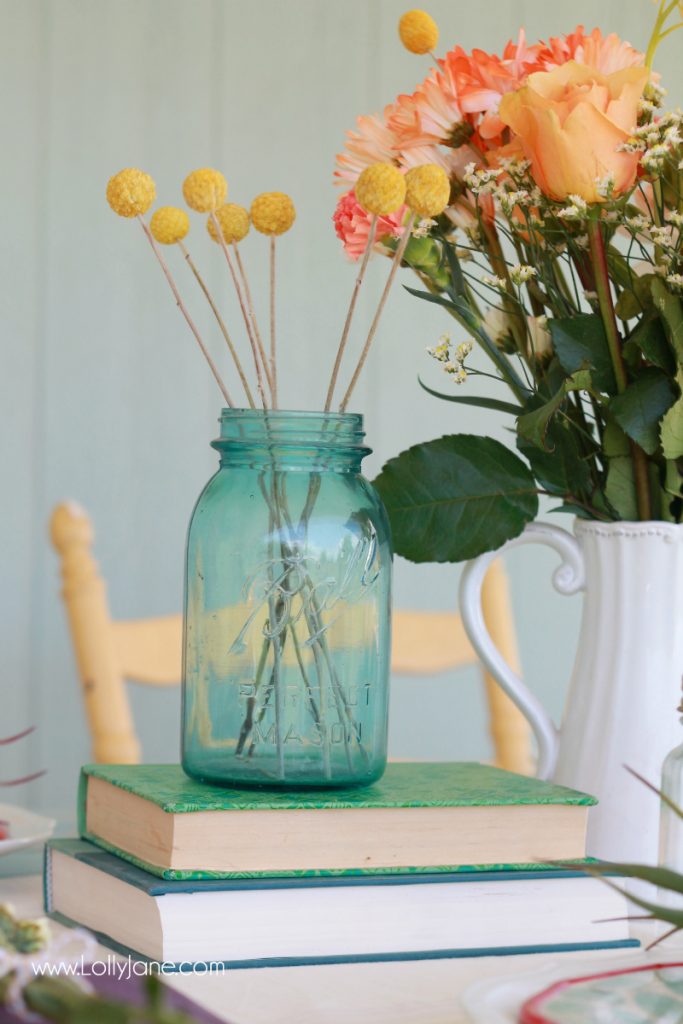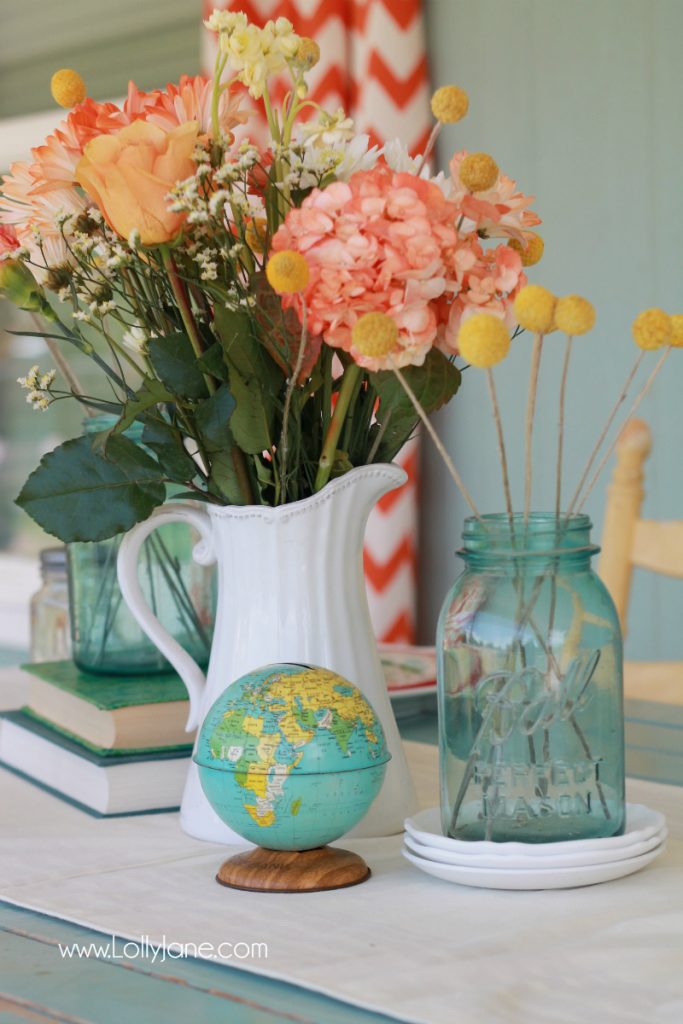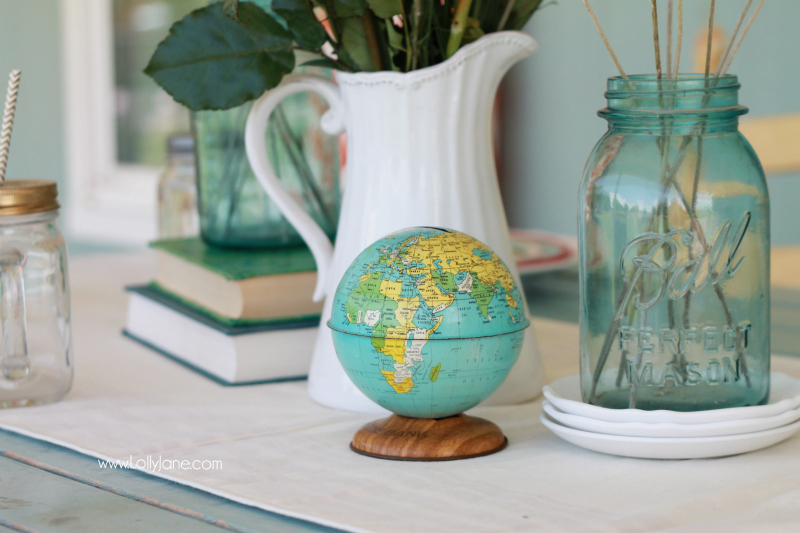 The mason jar glasses are from World Market, the fun "flower" gold and metal lids are from a party store, along with the gold paper straws. For the place setting, I used Pioneer Woman's colorful glass plates paired with Walmart's Better Homes and Gardens line of white classic plates. Love the fluted edges peeking through. Scored the Billy Balls (yellow flower poms) from this etsy shop.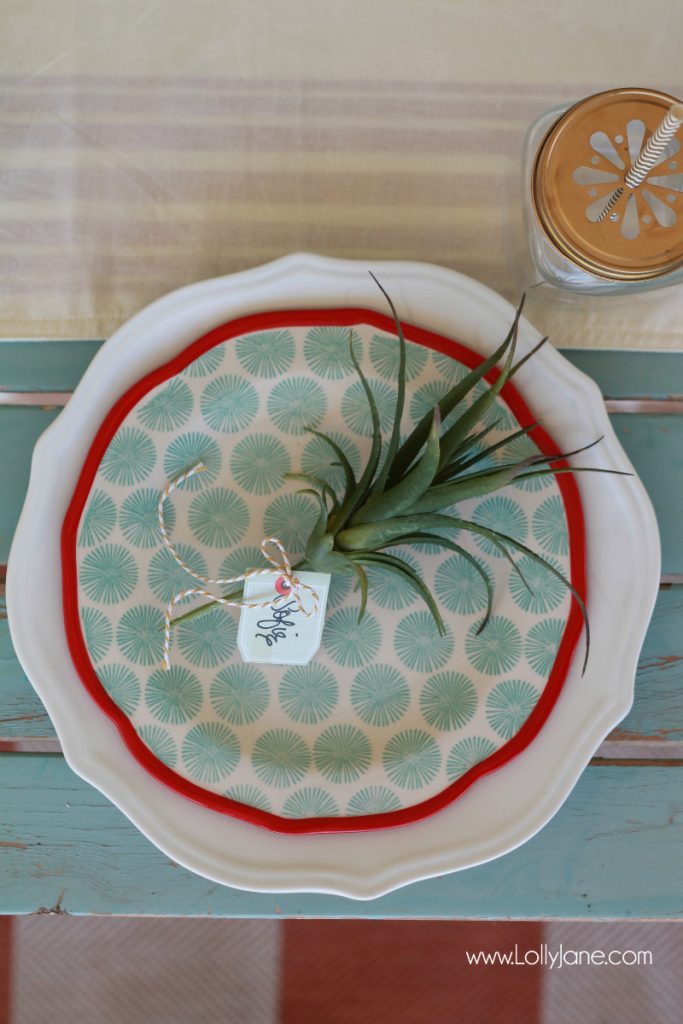 I used the rusty metal lids for the boys and shiny gold for the girls. The metal mixing trend is still going strong!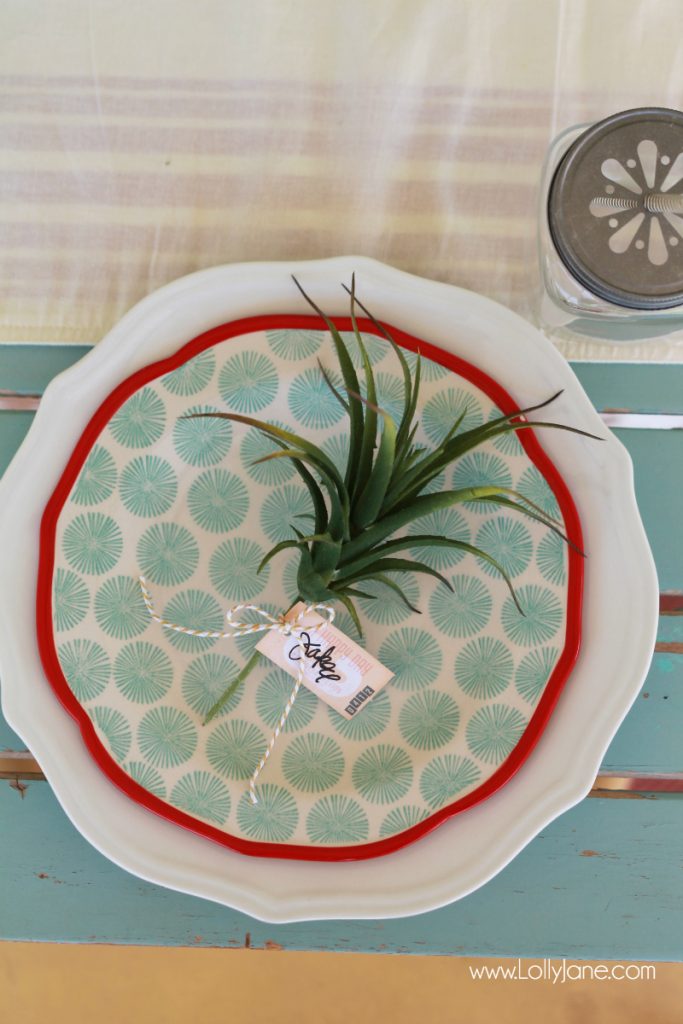 I tied on paper ticket tags onto faux succulent picks then hand wrote the names on each of the place settings in black cursive.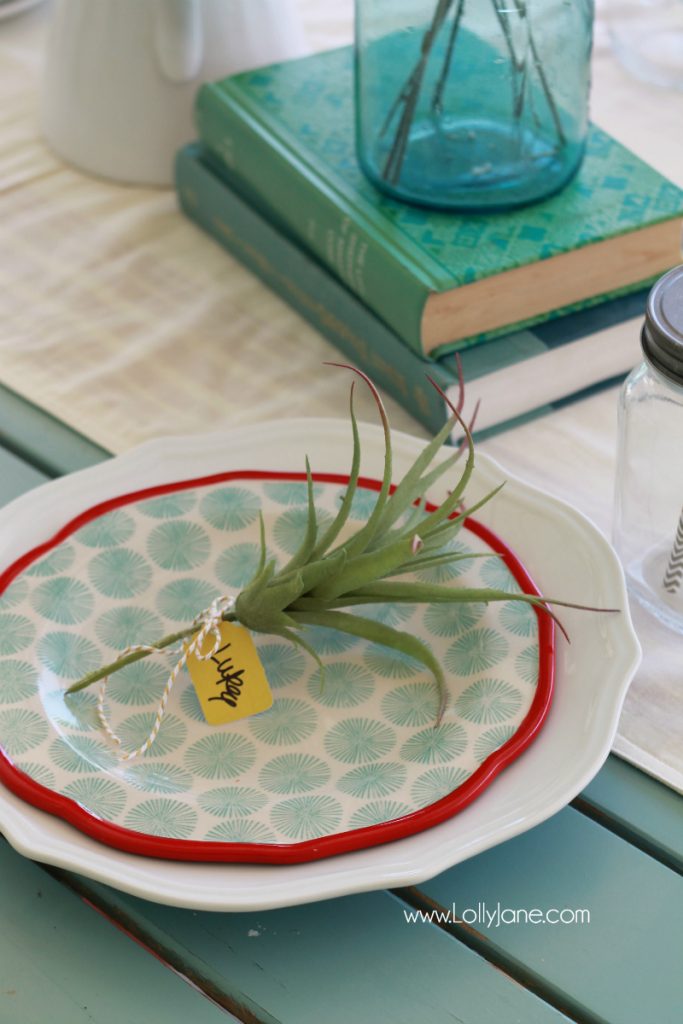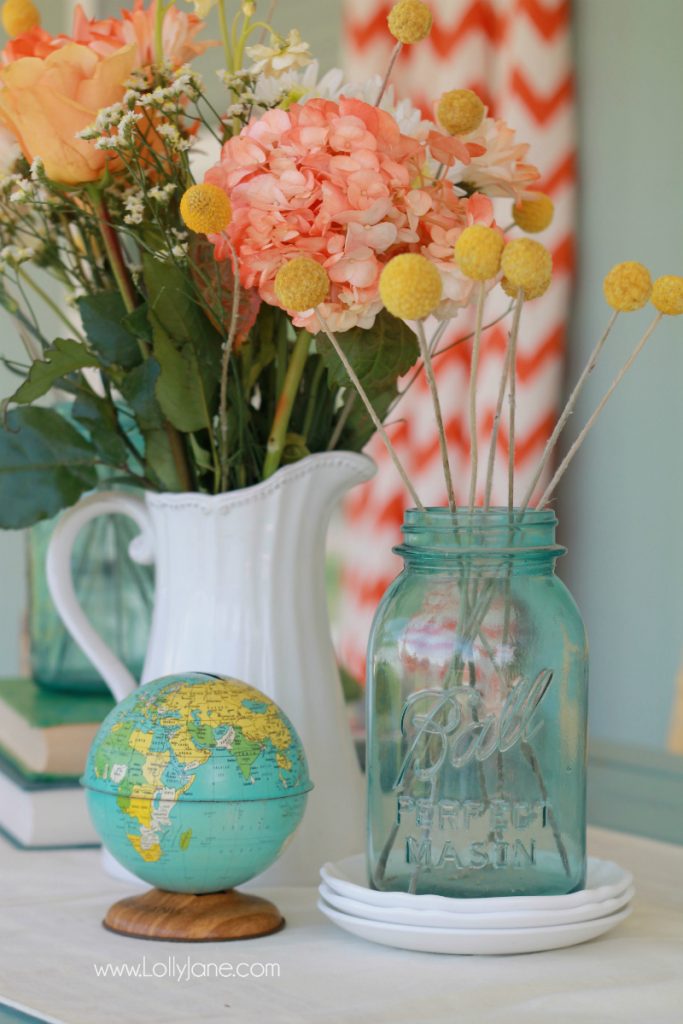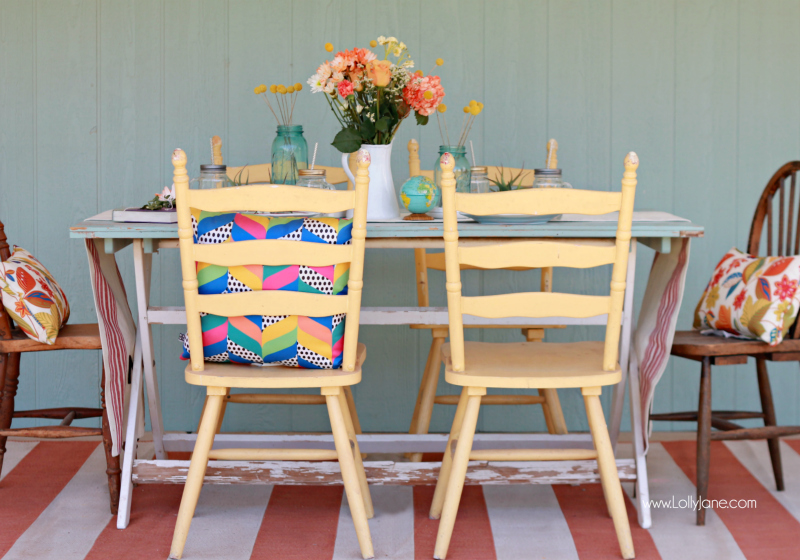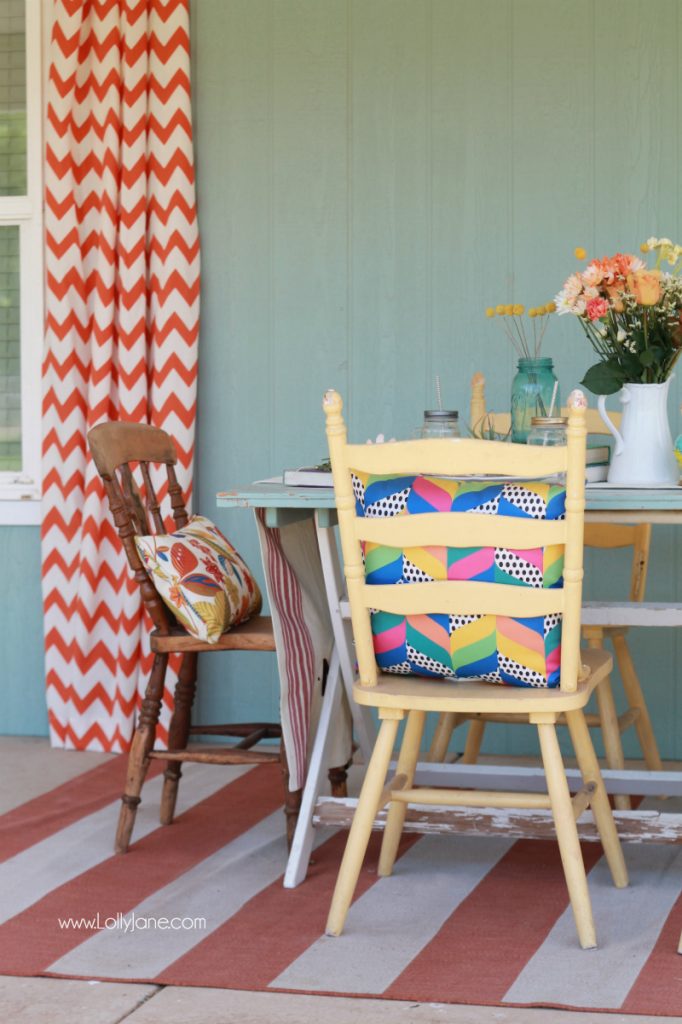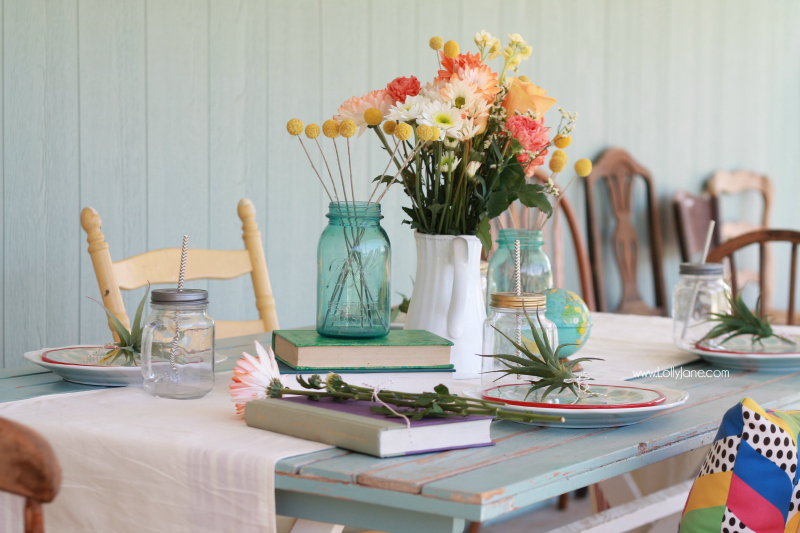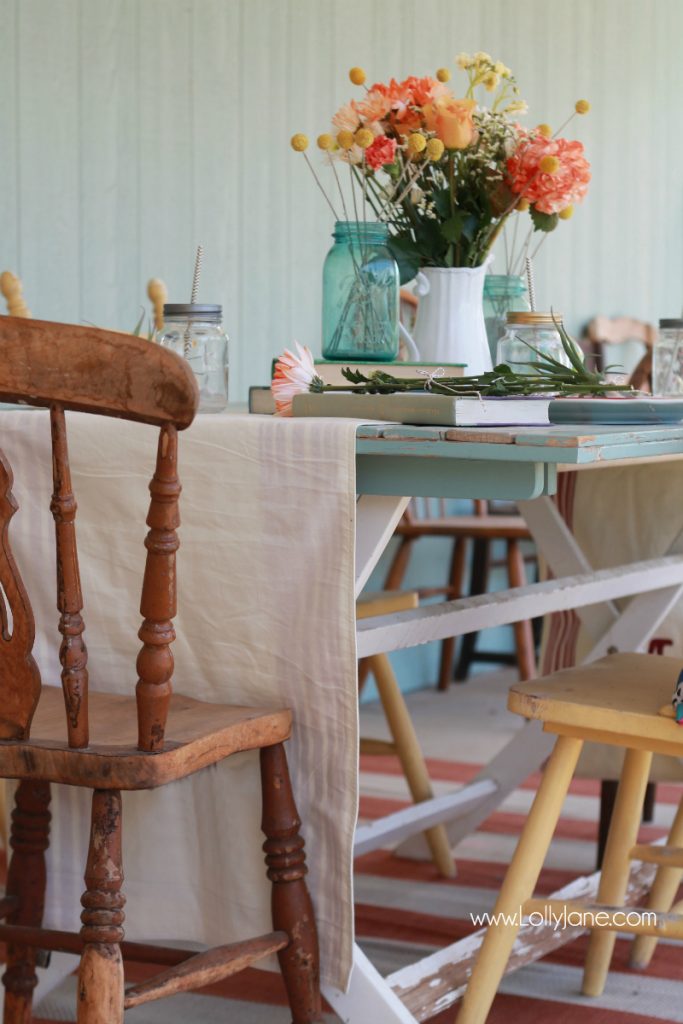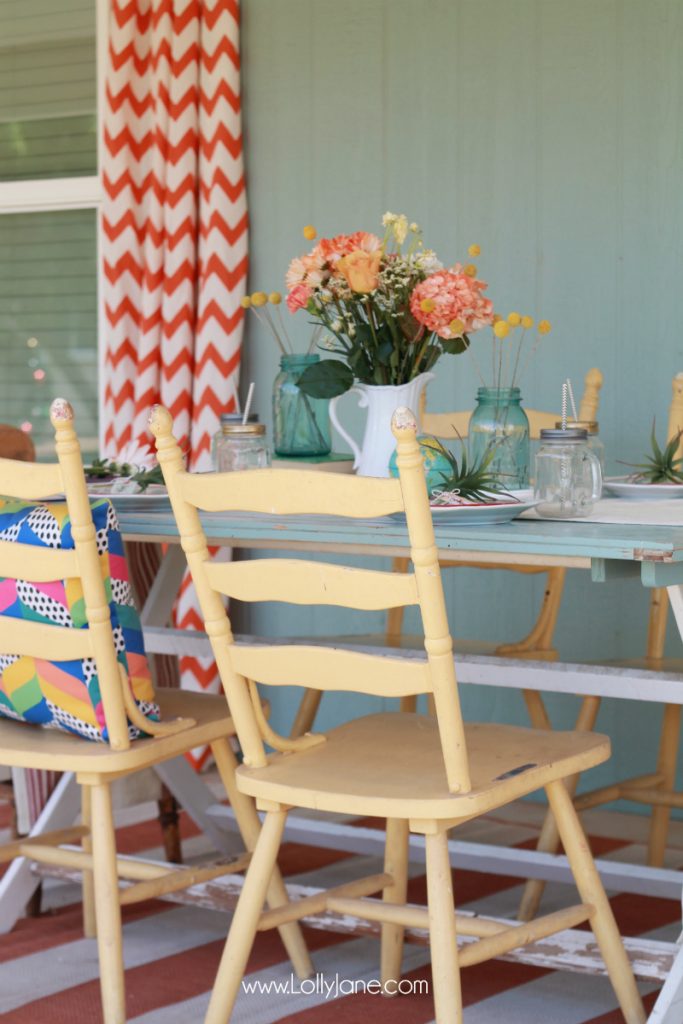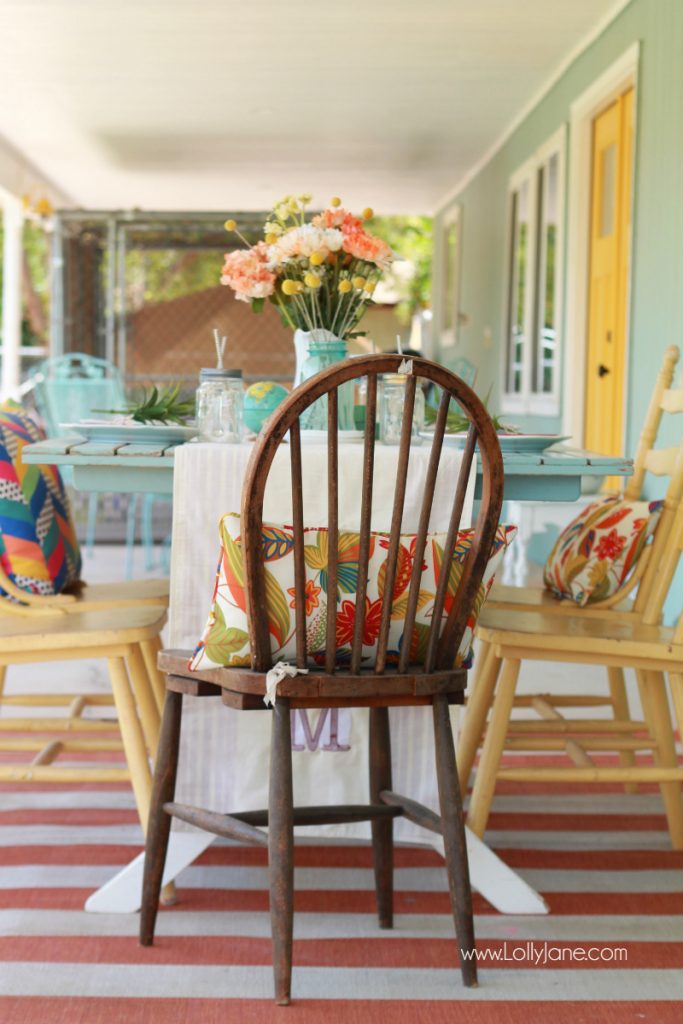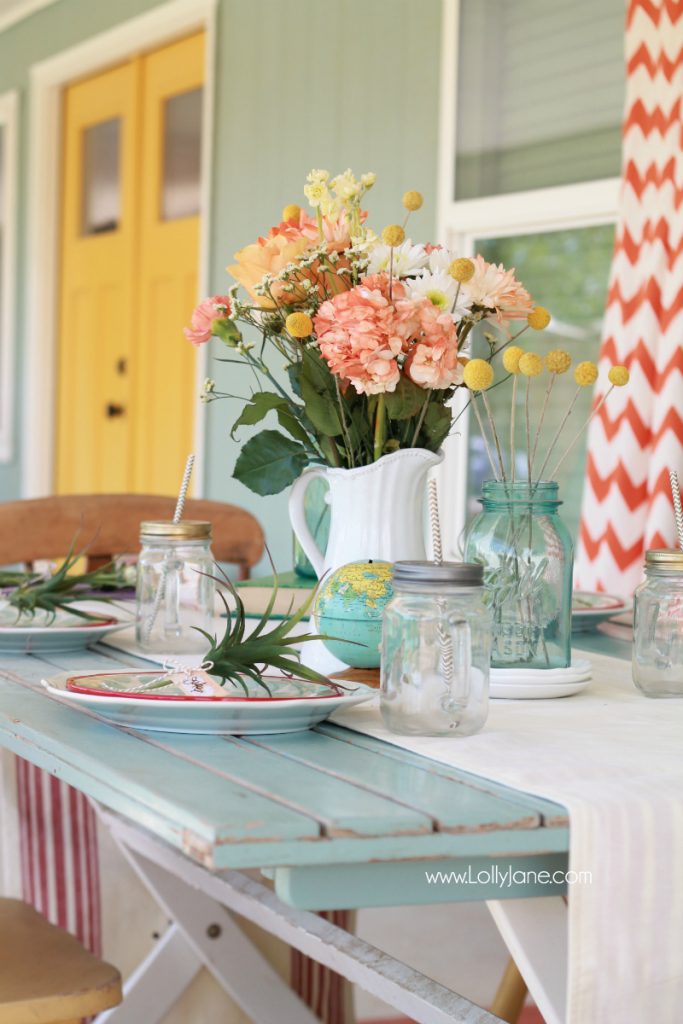 I love the mismatched chairs and colors. I want my house to be comfortable and worn, mixing new and old. Old tells a story, new is boring (: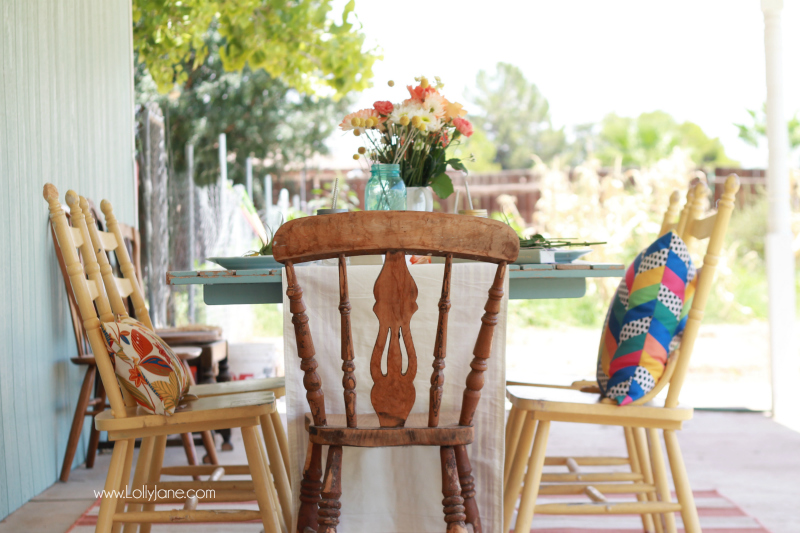 We live on acreage and here you can see a peek of our thriving garden! We have had so much fun trying zucchini bread recipes with our fresh produce, home grown. But don't let this picture fool you, it was only in the 90's in our warm Arizona summer…but the humidity was nasty! I was grateful to jump into my parent's pool next door after I took this pictures, so refreshing!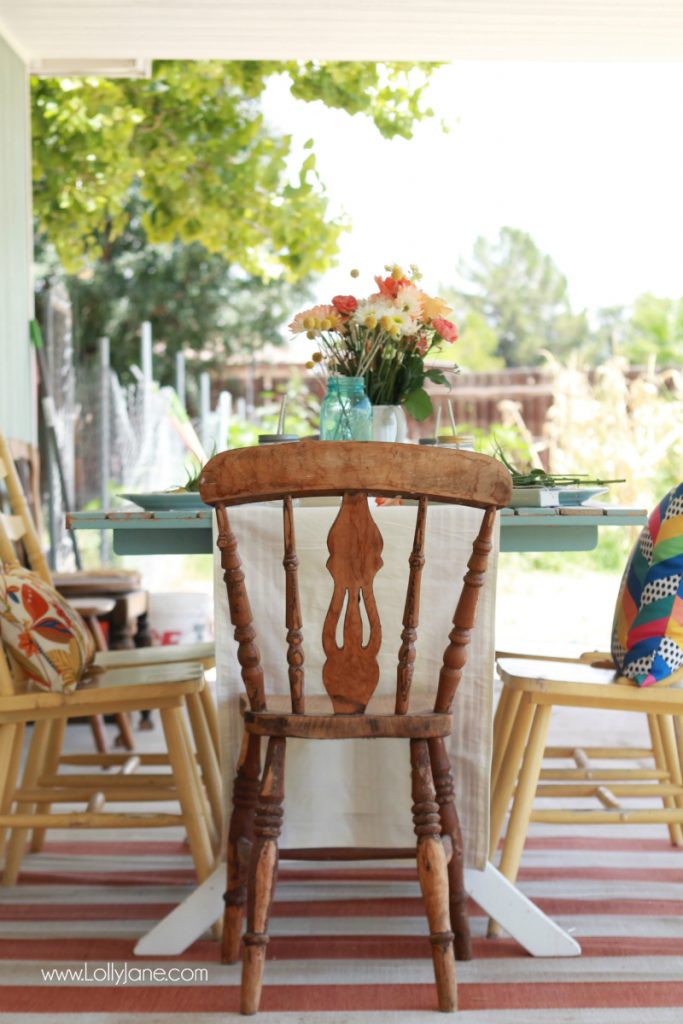 I really like Hayneedle's home decor selections so I used their lumbar pillows (spotted on my colorful front porch), my favorite wild throw pillow, (also seen on my front porch swing), this indoor/outdoor rug (upcycled from my family room) and these fun curtain panels that I've been meaning to hang for way too long.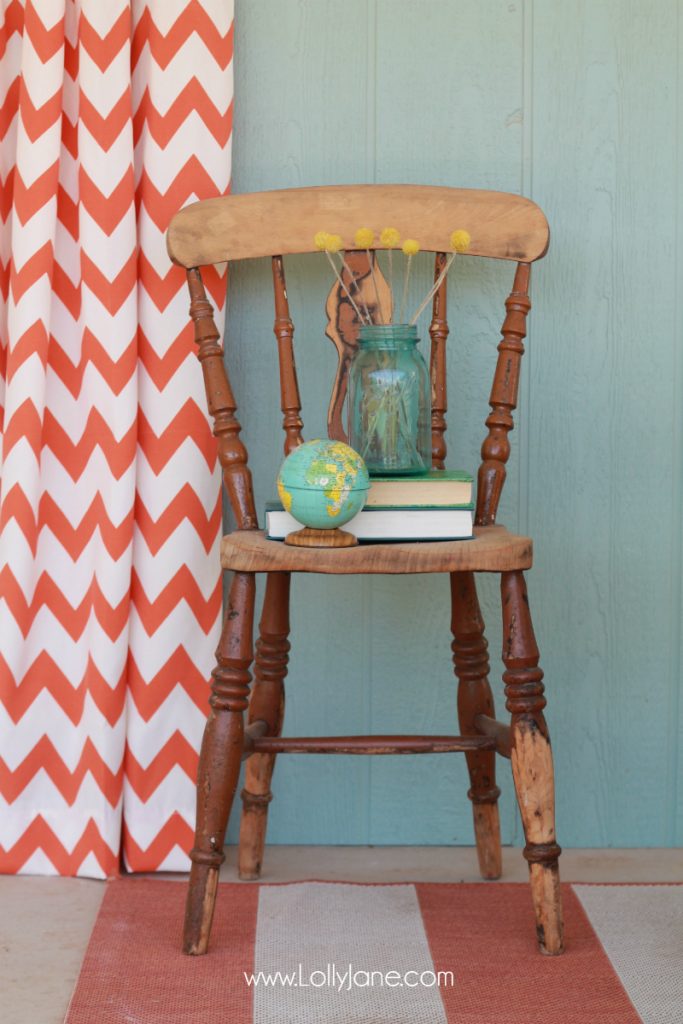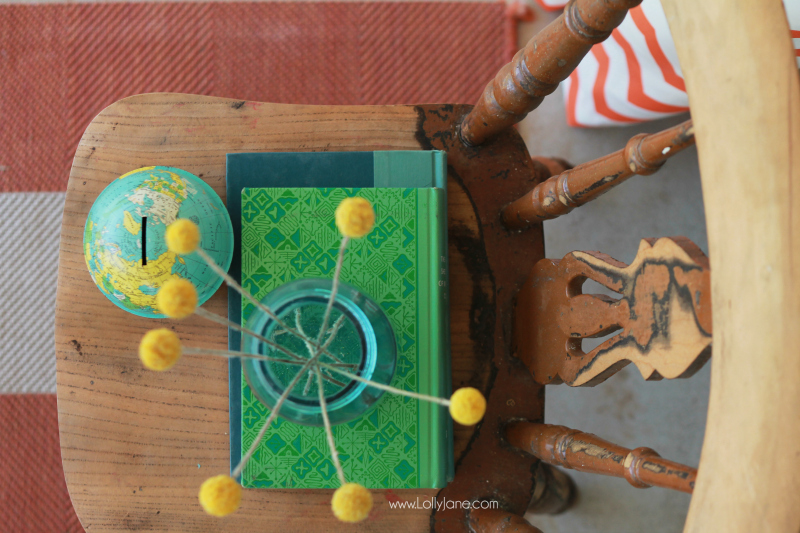 Looking for more outdoor dining decor ideas? Here are 24 more alfresco tablescapes, all with different themes and budgets so you're sure to find the prettiest summer tablescape ideas to enjoy the great outdoors!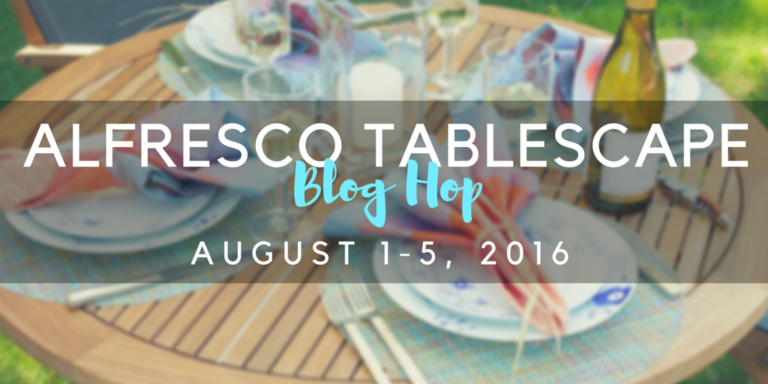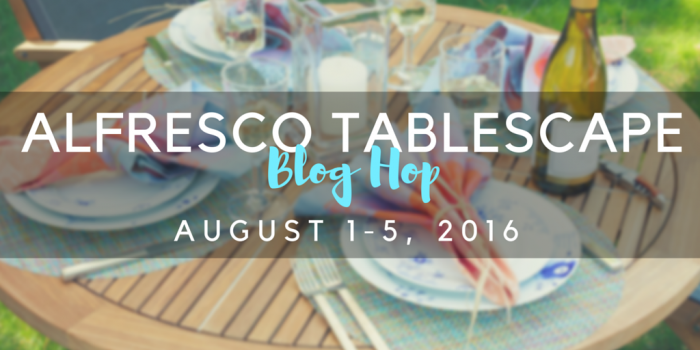 Visit more of our outdoor decor ideas like our Summer Porch Decor,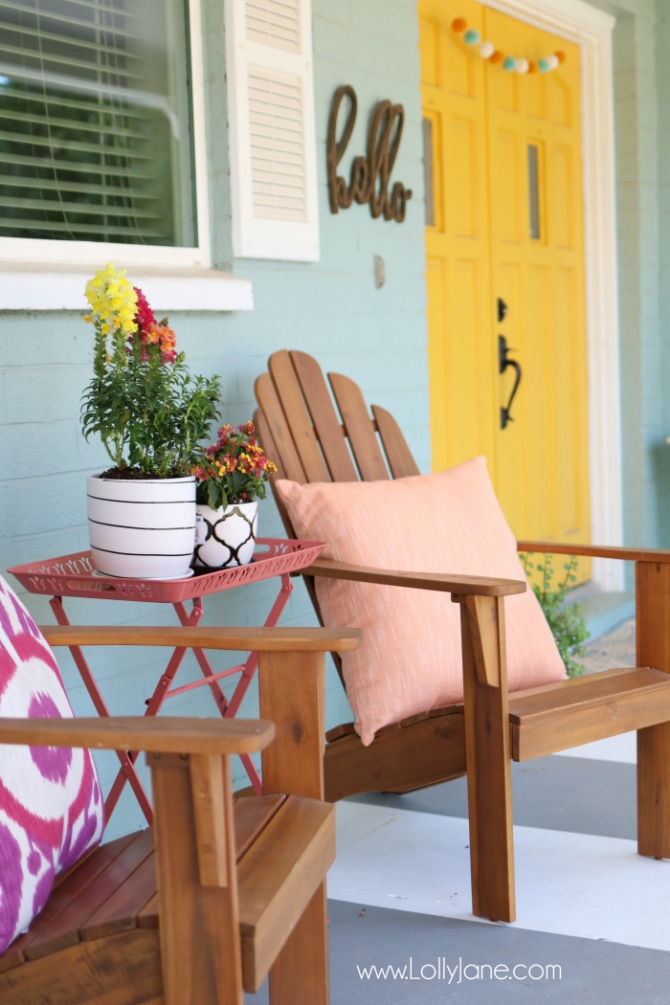 Plus more Tablescape Decor Ideas like our Floral Luncheon Decor,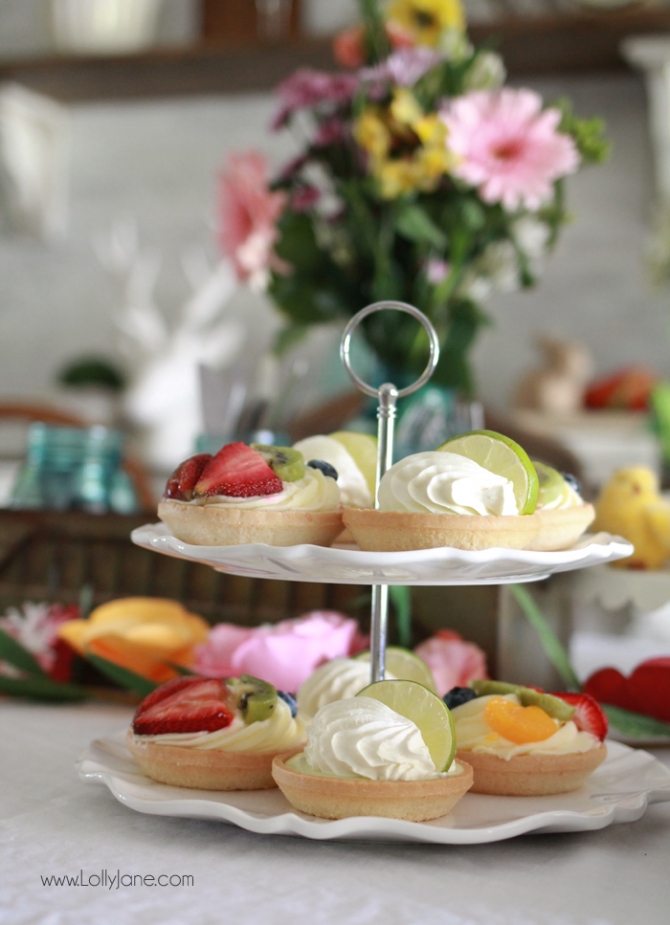 and my Farmhouse Dining Room if you prefer dining indoors!