Sausage & egg hash brown cups
This is a Sponsored post written by me on behalf of American Frozen Foods Institute and the Frozen Food Roundtable for SocialSpark. All opinions are 100% mine.
As a mom to 4 school age kids, I have to squeeze in quick breakfast meals that are also nutritious AND taste good, (or else they won't get eaten!) Thank heavens for my freezer where I can snag packaged fresh, quality ingredients and pair it with what's in the refrigerator and have just that within minutes, not hours. Our Sausage and Egg Hash Brown Cups were ready within 30 minutes from start to finish and have become a popular item at Sunday brunch and make the perfect shower finger food!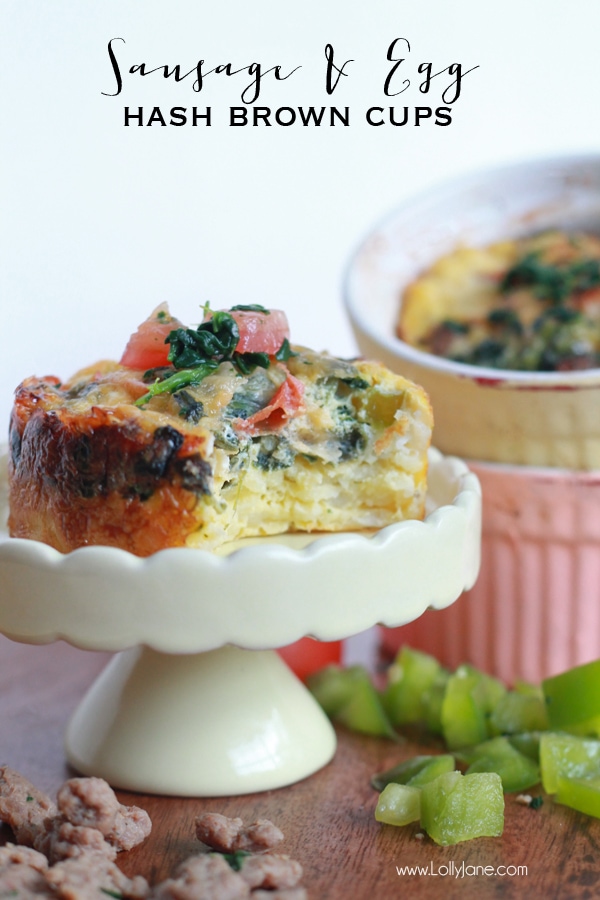 We big fans of freezing because it naturally pauses fresh ingredients and suspends them until the moment we need them (which is usually on the go!) while also locking in freshness, flavor and nutrients. Fresh is fantastic! Our sausage & egg hash brown cups are made with 100% fresh ingredients and taste soooo good!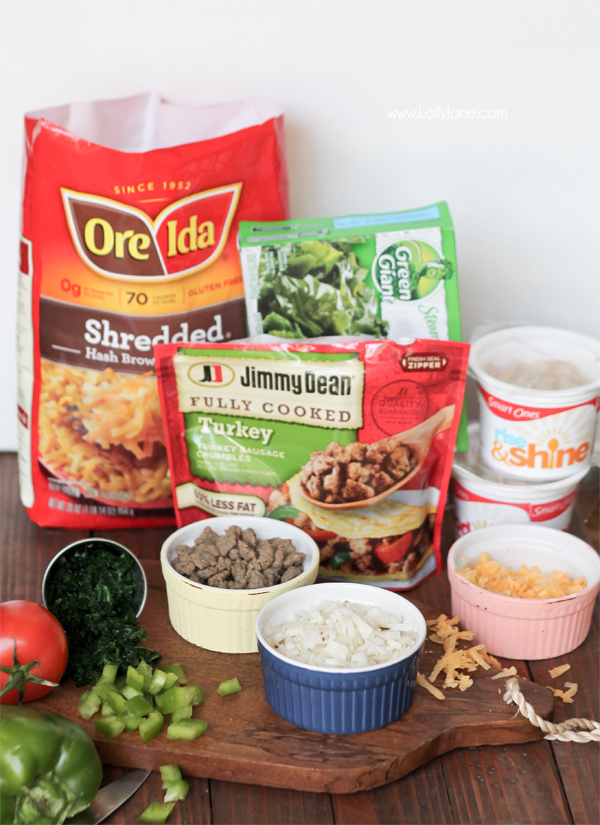 We used frozen hash browns (love Heinz's Ore-Ida shredded), our go-to Hillshire turkey sausage by Jimmy Dean because hello, it's pre-cooked AND seasoned, yum! We simply added a handful of General Mill's Green Giant spinach, (chopped, no thawing required) then paired with shredded cheese, chopped bell pepper and tomato; this was a quick meal to assemble and combined all together, the taste is deeelish!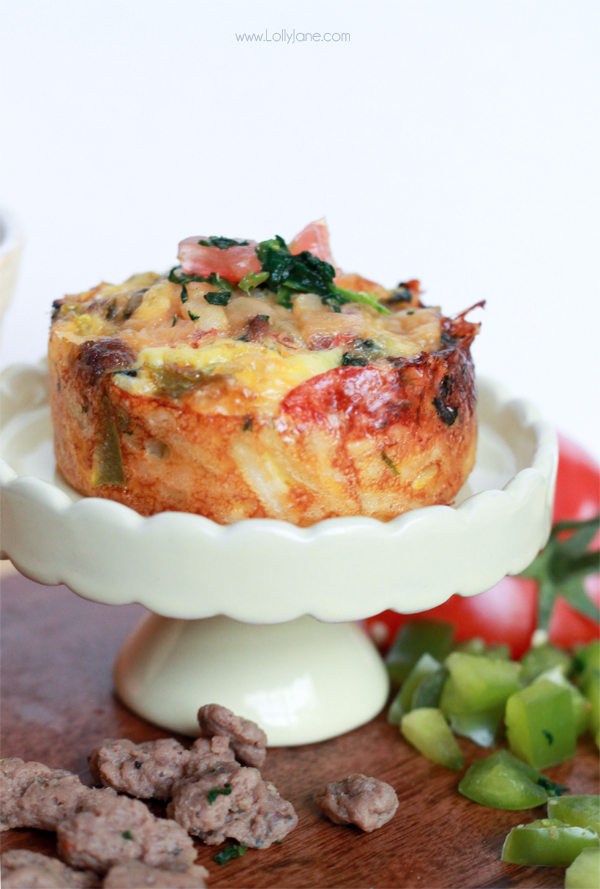 Freezing is simply a natural pause button that keeps just picked, just baked and just crafted foods at the peak of freshness. We love customizing our recipes with frozen foods! Simply toss your favorite frozen vegetable in with your chicken + rice dish or add a handful of frozen spinach to your morning smoothie. Frozen veggies are an easy way to add your own personal touch to a dish …which also sneaks in extra nutrition and let's be honest, we're all for getting our kids to eat their veggies without them realizing it! 😉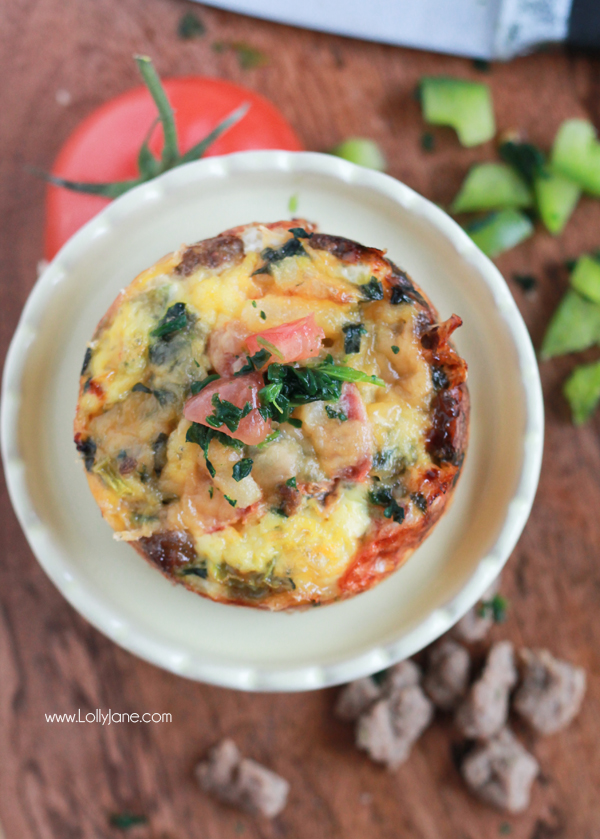 If this is too much work for your busy mornings, try MorningStar Farms Breakfast Sandwiches, (egg & cheese on a whole grain English muffin) or their Veggie Scramble (similar to ours but less time!) Of course my kids are happy with a little hazlenut + strawberries spread over Kellogg's Eggo waffles, too. Whichever meal you prefer, we totally dig the Single-serve pouches, re-sealable packs and "servings for two" as it makes it even easier for us all to get the most out of our frozen food choices. Nice.
Sausage & egg hash brown breakfast cups
Easy breakfast cups that can be stuffed with eggs, sausage (or bacon,) cheese, hash browns and veggies!
Ingredients
1

bag

fully cooked crumbled sausage

20

oz.

shredded hash brown potatoes

6

eggs

1

c.

shredded cheese

1/2

c.

shredded cheese

set aside

Salt/pepper to taste

1/2

chopped green bell pepper and/or 1/4 c. spinach

optional
Instructions
Preheat oven to 400 degrees.

Generously spray a muffin tin or individual ramekins.

Combine hash browns, 1 cup of shredded cheese and a sprinkle of salt.

Scoop the hash brown mixture into each of the muffin tins and press the hash browns down.

In another bowl, whisk eggs until beaten, mix with remaining shredded cheese, sausage crumbles and (optional) green bell pepper or spinach.

Pour mixture over the hash browns.

Bake for 15 minutes or until the eggs are no longer liquid.

Garnish with spinach or cheese and/or salt + pepper.
Notes
Note amounts can vary based on your preference; this is more of a "little of this, pinch of that" recipe. Add different cheeses, bacon instead of sausage OR both, more veggies or less. Go crazy!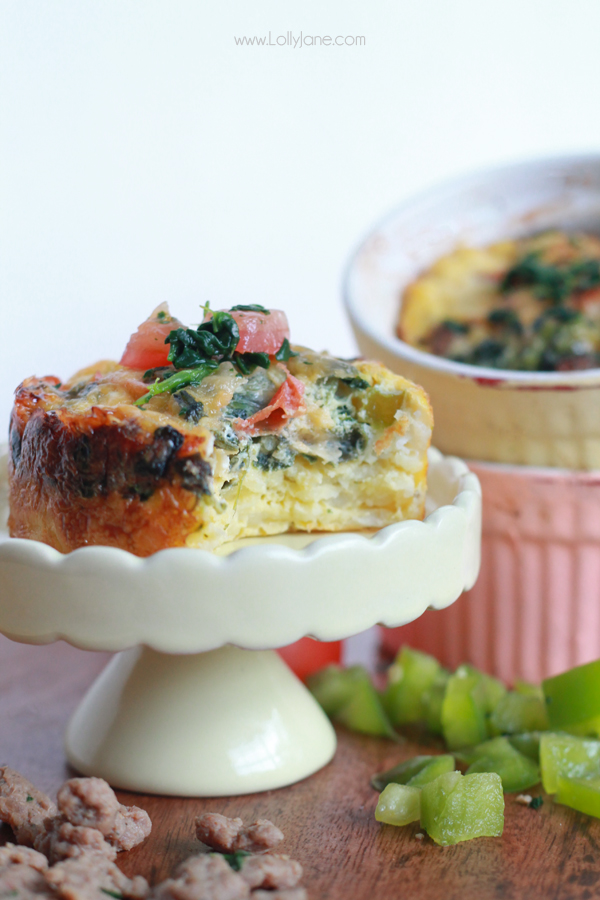 If you're in a pinch for time and have just a few minutes, pop Heinz's Smart Ones apples & cinnamon oatmeal cups in the microwave and enjoy on the go. We added cinnamon on top and the flavor is really quite yummy!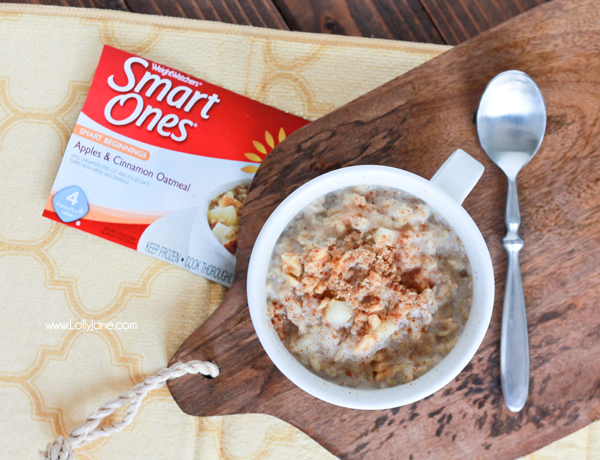 Click here to know more about Frozen. How Fresh Stays Fresh and get the skinny on fresh vs frozen. We love the benefits of frozen foods, aside from being quick, and think you will too! Tell us any tips or tricks you have discovered for quick, healthy meals! We'd love to know!