How to Dress to Match Your Personality + FREE Style Guide!
Want a personal style that expresses the real you? Learn how with the free Beginners Guide from Dressing Your Truth!
Dressing Your Truth helps you create a personal style, true to your personality. Of course we all want to look our best but if you're like us, it doesn't come natural! We LOVE home decor and tend to spend more time and money dressing our homes versus dressing ourselves.
Jeans and t-shirts are basically our staples but when we do get dressed up for church or date night or social events, we cringe a little and obsess over what to wear.
We were introduced to the Dressing Your Truth System by our neighbor who swears by it. She's always perfectly coordinated and her clothes reflect her personality, bright and fun! Here's what we've learned, we think you'll really like it too!
WHAT IS DRESSING YOUR TRUTH?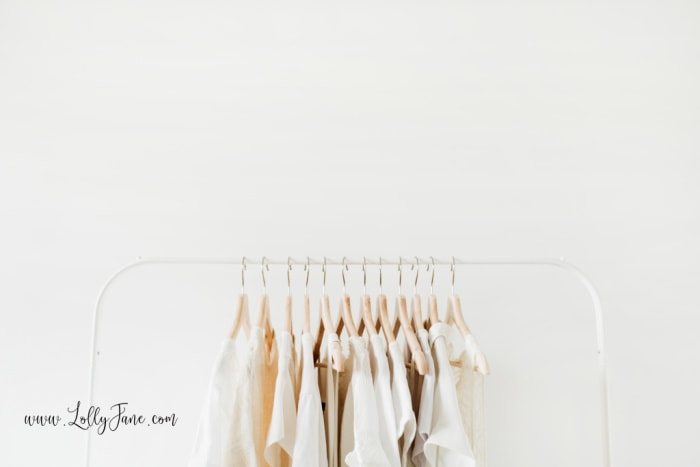 The Dressing Your Truth program was created by Carol Tuttle, author of the best selling book The Child Whisperer. DYT is based on her energy profiling system that evaluates everything from personality traits to facial features. Basically, there are 4 main energy movements that each person expresses. We each have a dominant expression which will be our main energy type.
If you ever feel frustrated about your appearance, the problem isn't you, actually. W H E W!! You simply need to discover your personal type of beauty. Learning your type can make getting ready every morning effortless instead of dreadful. Start the day off Diet Coke AND confidence 😀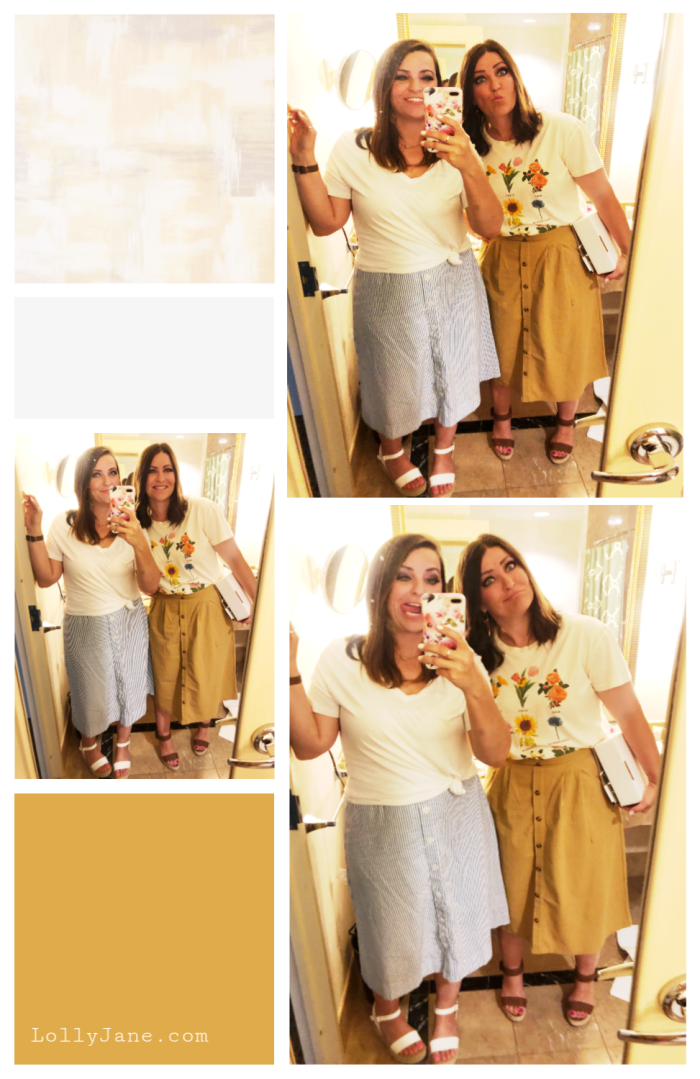 Dressing Your Truth 5 Elements
DYT uses 5 elements to identify which clothing, hair and makeup look best on you. They highlight YOU.
Design Line: shape of the garments, collar, neckline, pockets, etc.
Texture: what are you feeling when you touch the fabric? Bumpy, course, soft, etc.
Fabrication: how do your clothes fall? Fluid, flowy, structured.
Pattern: animated, bold, simple, high contrast.
Color: plays a huge part of you. Type 1 wears a tint (light+bright), Type 2 wears tones (soft+muted), Type 3 wear shades (intense+dynamic) and Type 4 wears hues (bold+simple).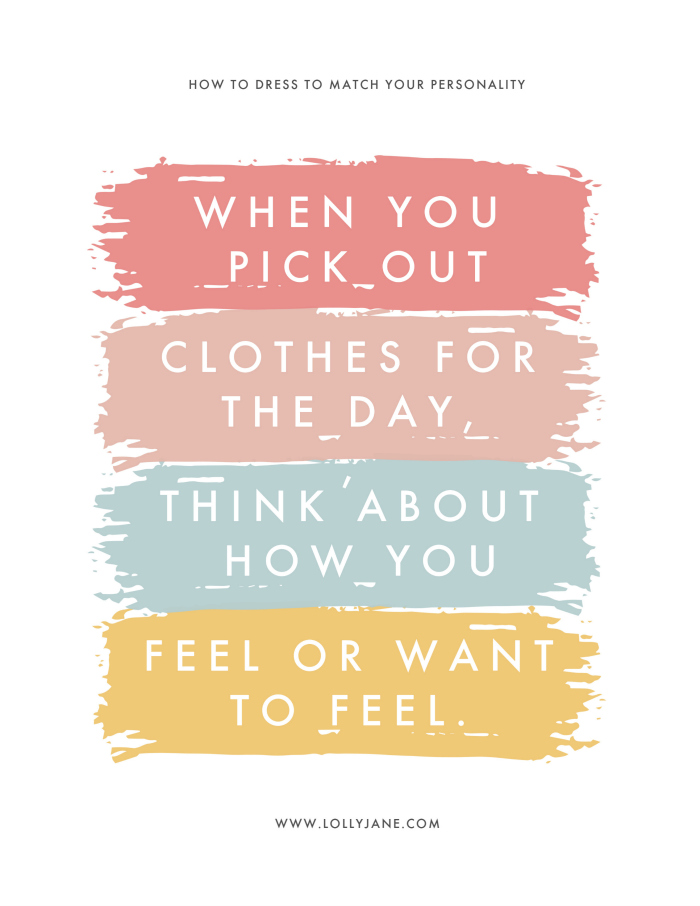 All 5 of these elements combined create movement.
The way you dress should reflects your personality. That makes total sense, right? For example: you would wear black at a funeral because you're mourning, right. But on the daily, your clothes and movement can reflect who you are as a person.
Didn't it conflict when Mimi's character from the Drew Carrey show would wear bright clothes but was a harsh personality? Quite the opposite, Penelope Garcia's character from Criminal Minds makes much more sense, you know you're dealing with a happy person based on her bright attire, colorful makeup and fun hairstyles. She's someone we would love to have lunch with!
pc: Pinterest
which Energy Type am i?
There are 4 types of beauty and you express one of them.
Although we're identical twins, Kristi is a Type 1 and Kelli is a Type 3. Labeled as the "evil twin" growing up, Kell has always been the more assertive twin whereas Kris is a more of a people-pleaser.
It was interesting to explore individual types but it totally made sense, especially style-wise.
Which type are you? Check out this chart below.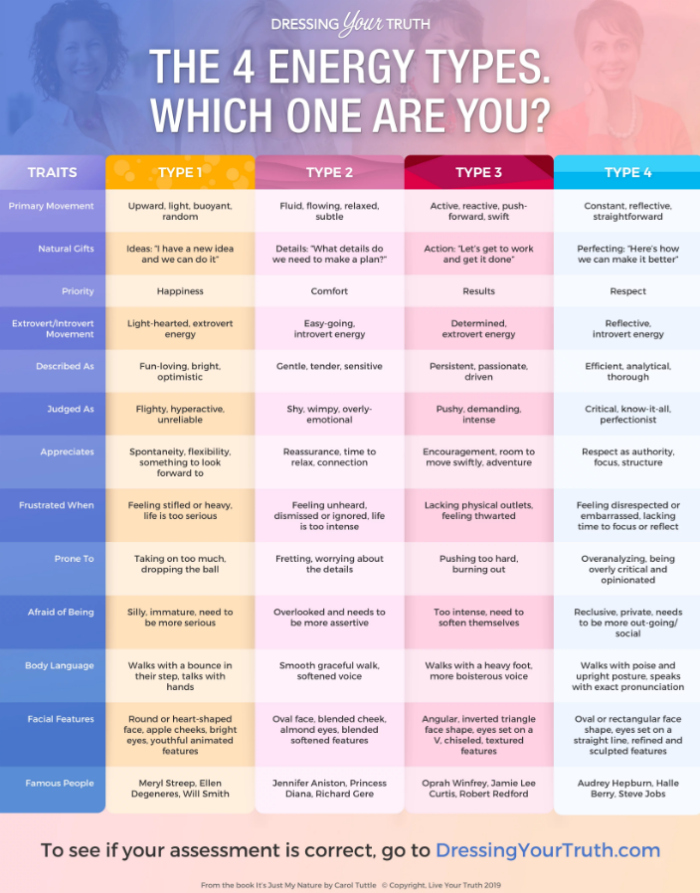 HOW We DETERMINED our TYPE OF BEAUTY
Kristi goes for the trendier clothing whereas Kelli sticks to classics like jeans and a tee. Kristi will go for dark and bold makeup whereas Kelli slaps on a little mascara and gloss and is good to go. It was fun to delve deeper into our different types. Check out our findings below.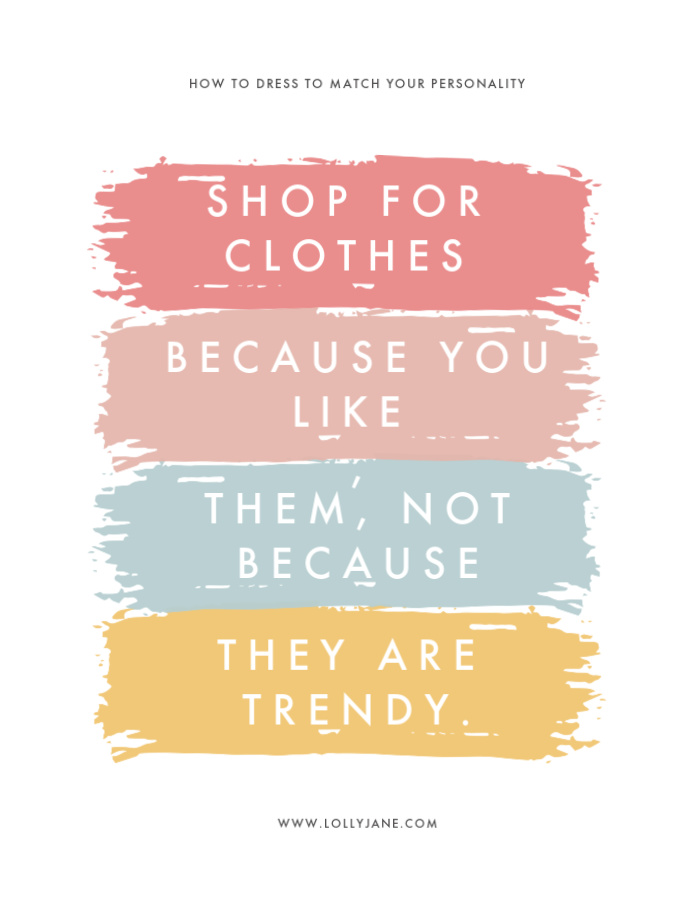 DRESSING YOUR TRUTH TYPE 1 CHARACTERISTICS:
Light-Hearted
Creative
Talks A Lot
Open Minded
Flexible
Kristi: type 1
Always doodling, especially when she's on the phone. Always has multiple projects going on at once.
Tends to walk with a bounce, makes eye contact with strangers. Smiles and laughs when talking to people.
Likes to cheer people up, always wearing fun and trendy hair accessories. Was the soccer captain in high school, likes to encourage others.
Always dressing up simple meals for her family instead of serving it plainly.
Can adapt to other people's personalities to meet them on their own level. Likewise, doesn't mind changing plans to accommodate others.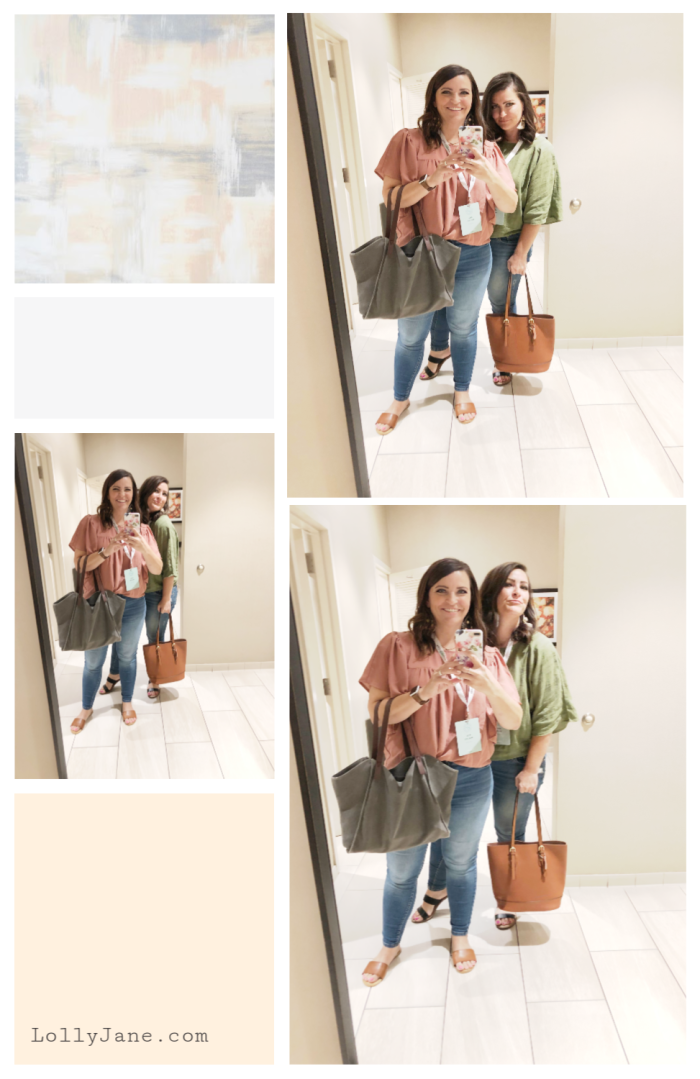 As you can see, Kristi is a ham! Always going for fun poses whereas Kelli is more reserved and gets awkward when the camera goes on.
DRESSING YOUR TRUTH TYPE 3 CHARACTERISTICS:
Motivated
Intense
Passionate
Driven
Determined
Kelli: type 3
Always moving: always mulit-tasking.
Walks with an end in mind.
Loves to talk to new people and ask more personal questions immediately to find common ground.
Is dedicated to finishing a task before starting a new one. Loves to see a big project complete.
In a group setting, loves to take charge: get organized as quickly as possible to see results as fast as possible.
energy profiling results:
This is why the two of us get along so well. Where one lacks, one has strength. We're a great team when we combine our efforts!
Wondering which type you are? Check out the free New Beginners Guide below!
FREE NEW BEGINNERs GUIDE
The Beginners Guide shows you how to pick specific clothes, style your hair the right way and even select makeup that highlights the real you.
Best part? The guide is free to watch, start to finish.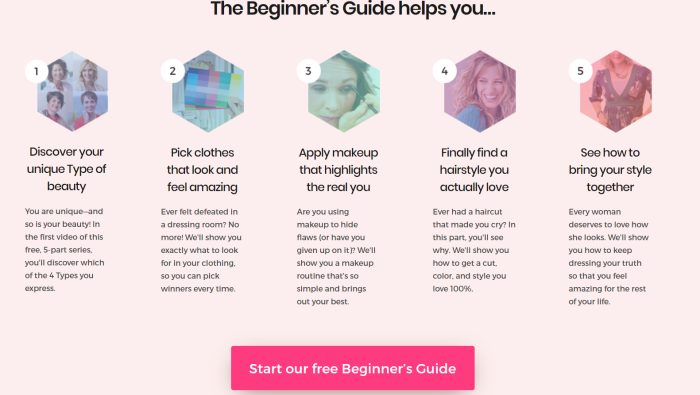 What does the beginner guide include?
Meet 4 types of women. Find who you relate to.
The best clothes for your type.
The best hairstyle for your type.
The right makeup for your type.
 How to bring together your style.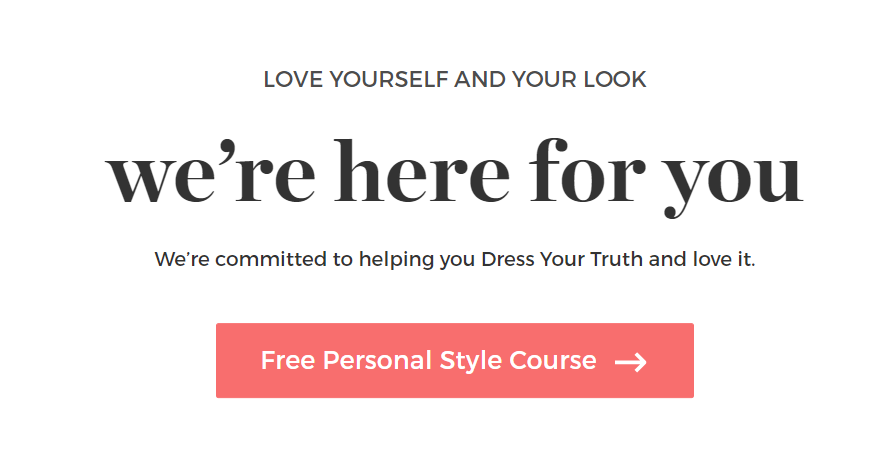 Results of putting dressing your truth to the test
Although we're more likely to be found with paint on our hands instead of nail polish and our hair in a messy bun versus nicely styled, we're so grateful to have these Dressing Your Truth tips in our style toolbox!
When we have to Skype with a brand, lunch with our peers or attend conferences, we now have the know-how to highlight ourselves the right way to truly put our best foot forward.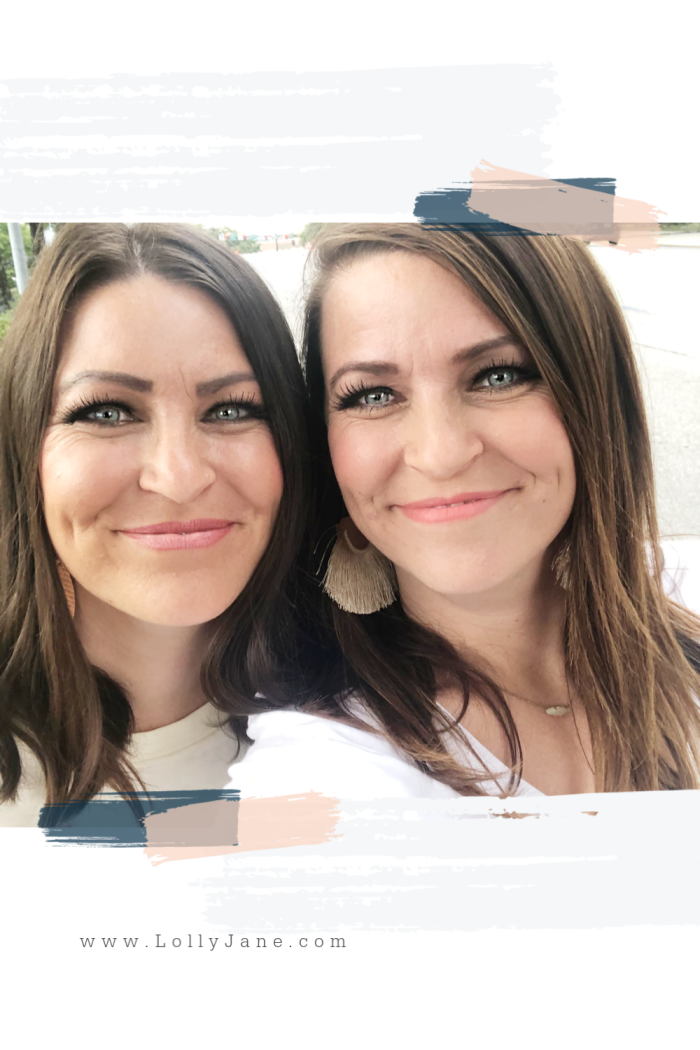 Tell us: what are you most excited to learn about Dressing Your Truth?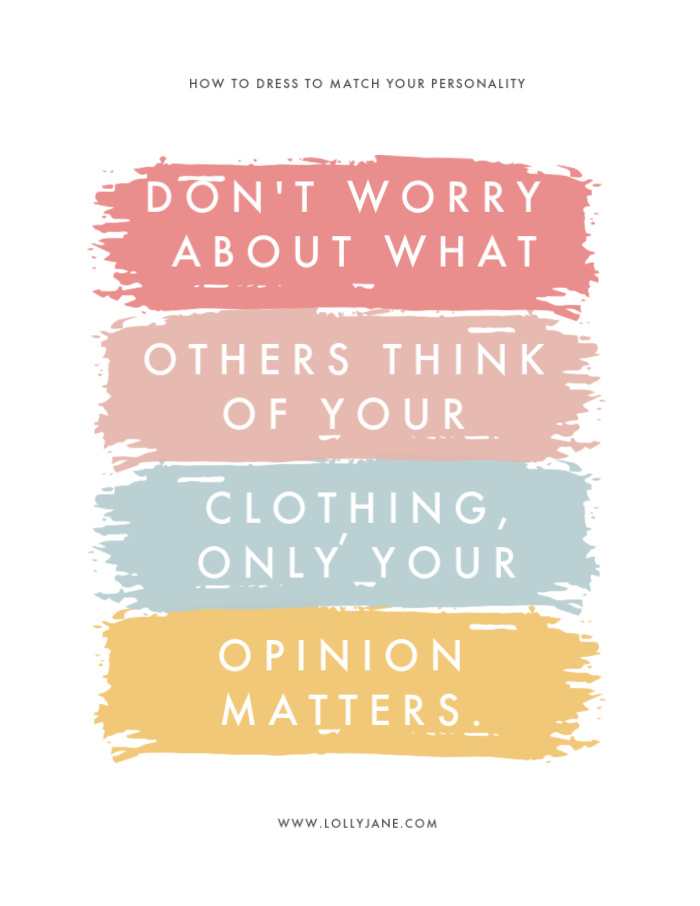 We'd love to hear your thoughts! Please share below! xo
Thanks to Dressing Your Truth for sponsoring today's post. All opinions are our own.