Kid + Pet Friendly Living Room
Tips to make your living room kid and pet friendly without breaking the bank… and yes, it can still be in style and on trend!
We live in a cozy home… I wouldn't say it is tiny but it's certainly not big and our living room doubles as a family room, foyer, entry way, and hang out room so it's gotta be practical for every day use. With 3 young kids, one being a messy toddler aaaaand a new puppers, it also has to be kid + pet proof! ? Imma share a few tricks I've learned in my 9 years of parenting on how to have a stylish living room that is also kid and pet friendly… yes, it CAN be done! Disclaimer: most of this post will be on practical furniture BUT that has been a game changer for our family and I want to tell every other human + fur parent in the world about it as it has completely altered our way of enjoying with this room; instead of fretting about this 'n that being in here to stain or spill we now 100% appreciate it and have relaxed a ton.
kid + pet friendly RUGS
Start with your base: flooring. We have tile floors throughout our entire house so messes/spills are generally easy to clean. Tile floors don't block noise so we layer with rugs; I have a rug in every room (like THIS one pictured) to help muffle sounds like the pitter pattering of goldendoodle nails on my tile floor, for example. 😉 With kids/pets, like everything else, choose a rug that is easy to clean and doesn't soak in stains. I suggest wool as a kid and pet friendly rug as it is naturally stain-resistant, and holds dirt near the surface of the rug so dirt does not get ground into the fibers of the rug. Wool is also vacuum-friendly and the fibers will attract pet hair. Bonus: it's also one of the most budget friendly rug material types so you won't feel too badly if your child(ren) or pet(s) soils the rug in some way.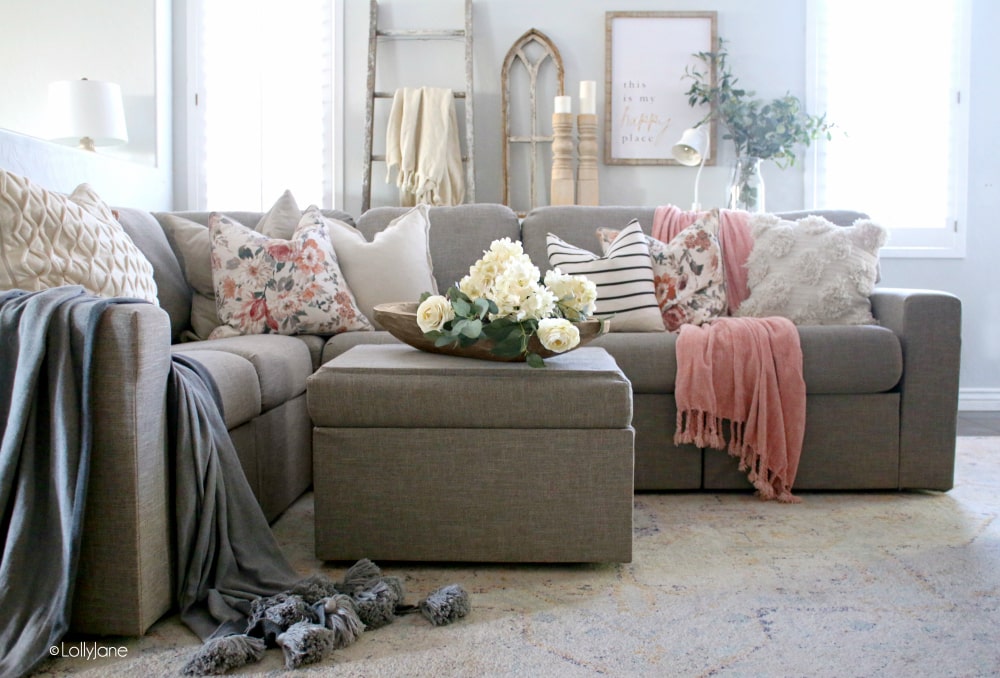 kid + pet friendly PILLOWS
Pillows are the most affordable way to spruce up a space as well as bring in color + texture. Whether you're looking to dress up your furniture or to have a family pillow fight, we have a handful of pillow options in our Amazon shop for a Cozy Family Room you can find pillow covers like this, (similar styles pictured above) that can double as just that. We buy our forms from Ikea (so cheap!) then use 100% cotton pillow covers in all sorts of colors and prints to bring in the cozy. If they get pizza sauce on them during a weekend movie sesh or little hands wipe greasy popcorn hands on them, just unzip the covers and toss them in the wash- they're as good as new!
kid + pet friendly FURNITURE
You were warned, and this may be lengthy, but it is worth the read as stylish, hassle-free furniture that you don't have to babysit is a rarity and has honestly kept my sanity in check. You see, I have spent the last 3 years fretting over every piece of food or sticky toy coming into this space we use so much as it would inevitably end up on the couch… which is literally the first piece of furniture you see when you walk into our home. I was ALWAYS embarrassed about it as a stained couch = first impression.. I consider myself a clean person but the smooth talking salesperson at our local furniture store sweet talked me into the lightest shade of gray fabric on the priciest sectional that did NOT wipe up spills, as he claimed, and now my couch did not reflect my cleanliness. I would have to pull the non-removeable cushion covers off while the sectional guts (batting) went flying everywhere and wash it, then get a dang hard workout trying to pry it back on… just for it to be lumpy… with the stains intact. ARG. And so this went for nearly 3 years, with TOO many complaints coming out of my mouth after each unsuccessful wipe up and inevitably strategically placing throws covering stubborn stains. Until I was introduced to Home Reserve… home of the changeable fabrics and layout seating, (from couches, sectionals, and chairs.)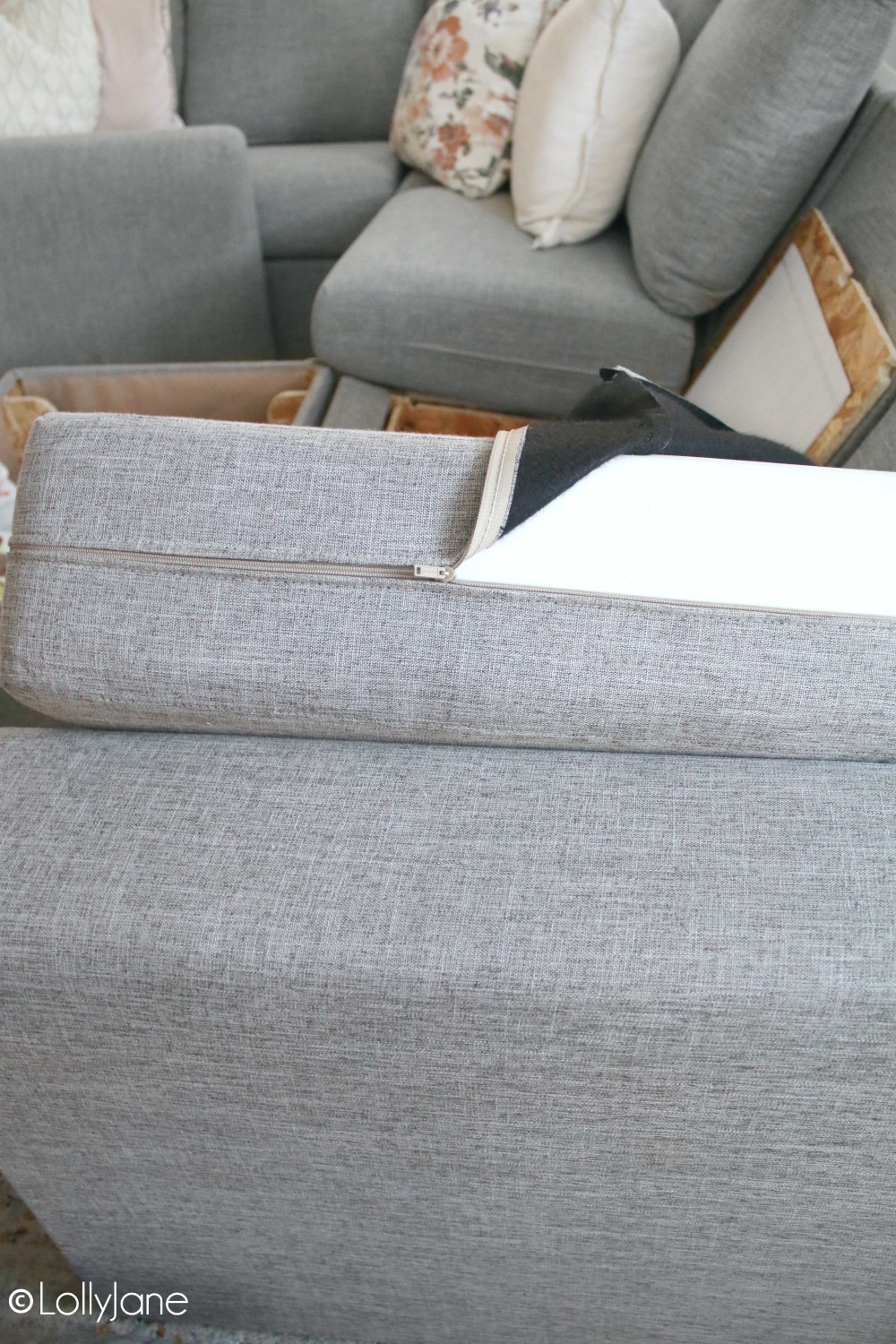 EASY TO CLEAN kid + pet friendly FURNITURE
I watched (then rewatched!) the demo videos on their features page… I read thousands of positive customer comments confirming just how family + pet friendly Home Reserve fabrics are and I was sold. Messes either bead up or easily wipe away and what won't wipe away off of the fabric can be removed and washed. And not just the cushion, but every single piece of fabric has a zipper so you can remove it and wash it. With a 6-month old puppers in our home, this has been heaven sent! Our Home Reserve furniture is paw-fect for our family! Whether it's an arm, base, cushion, or back of the couch… every piece is changeable, washable and stain-resistant. This momma is ALL IN.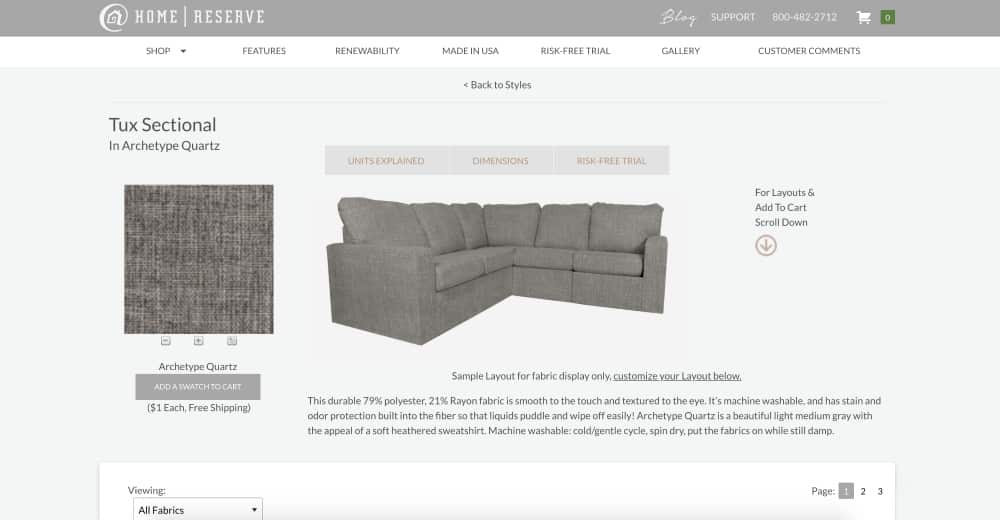 We are in a transitional home right now and will be getting ready to move next year; I didn't want to be "married" to the layout of a sectional as I'm not sure what the new layout of our home will be and didn't want to invest in furniture that won't work for that space. Home Reserve makes customizable layouts for ANY space… from a mansion to apartment or loft living, there is a layout for each and every space, including small, awkward spaces like RV living.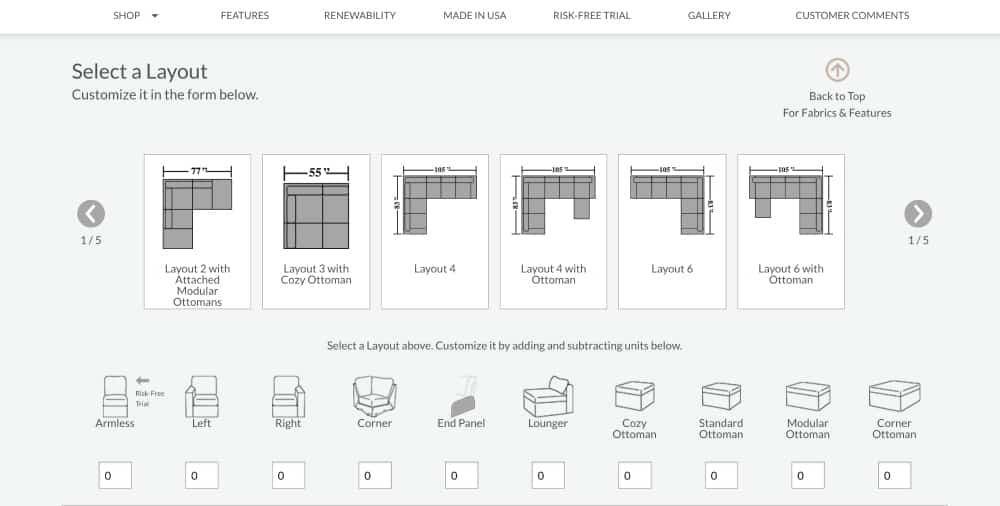 I love the design options Home Reserve offers… from the minimalist Ray, to the modern Jovie, and fashionable Armless LB, there is a style for every home. I was personally drawn to the rectangular arms of the Tux as I work a lot from the couch and the wide arm doubles as a table for me with its flat surface, offering way more comfort as I work from my laptop. The biggest perk is I can also set my 44 ounce fountain drink on the edge and it doesn't tip! 😉 I love the texture of the Archetype fabric and went with the Archetype Quartz (a light charcoal gray) for the sectional and paired the arm chair in Archetype Smoke (a deep gray/light black.) I highly recommend ordering a sample of the fabric for just $1/swatch so you can see how the colors fair in your own home.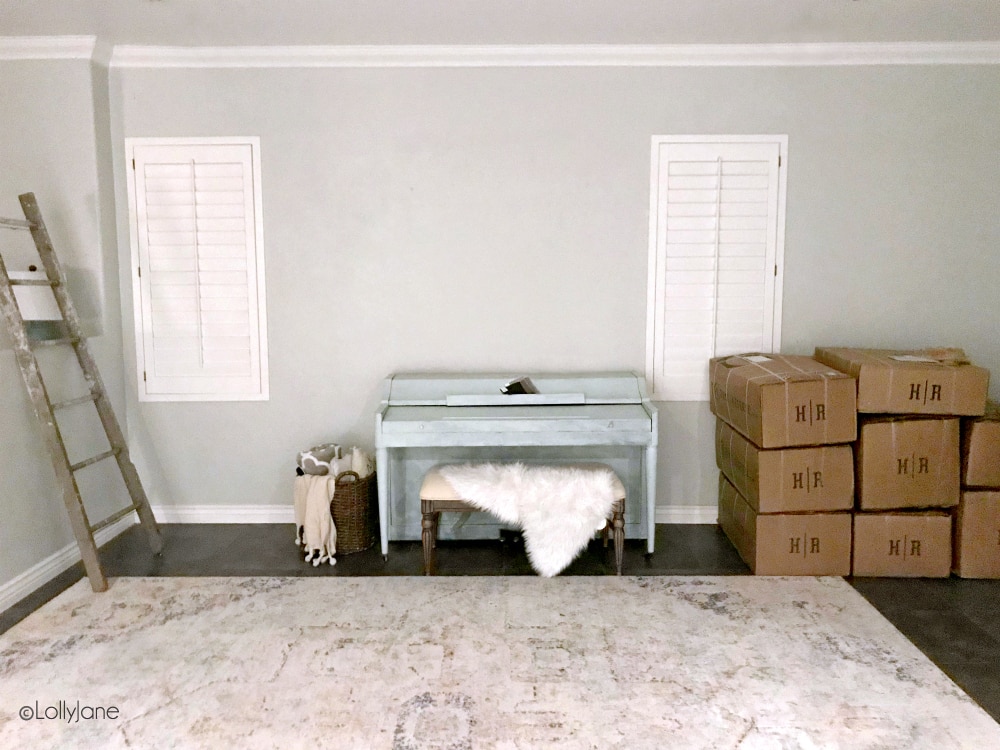 My furniture came in just a few weeks after ordering ready-to-assemble and was delivered by UPS in easy-to-lift boxes. I simply unpacked one pieces at a time and assembled them individually, then bolted them together with the provided hardware. Easy peasy. I suggest doing this after the kids are asleep with a good TV series to keep you occupied! 😉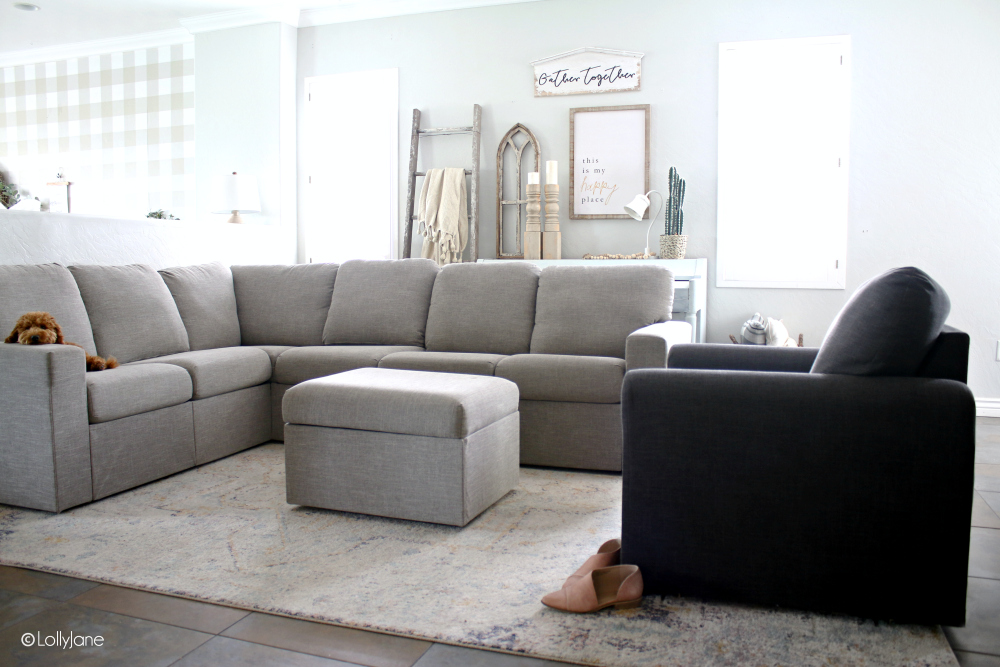 How much do you love the Tux sectional and Laney armchair in here? ?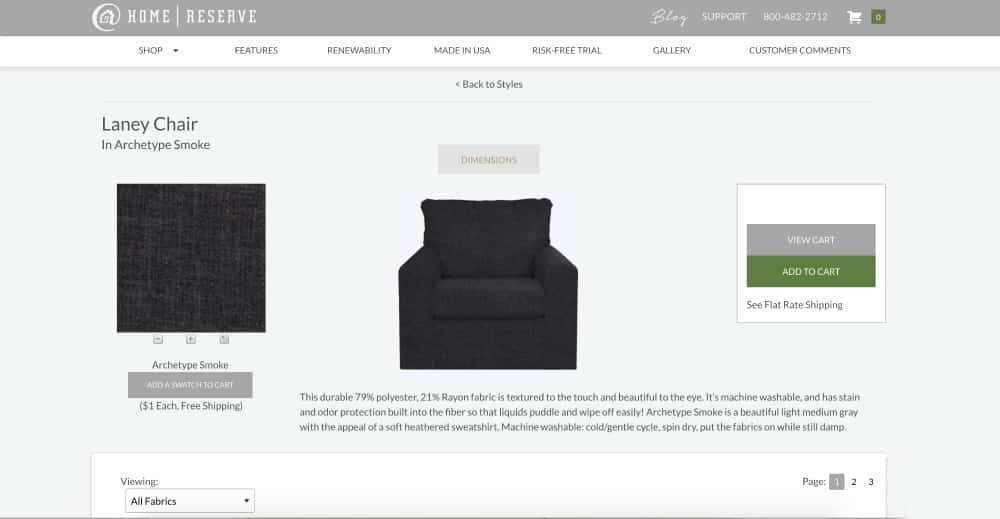 How 'bout that Archetype Smoke fabric, though? Love the dark pop in this space!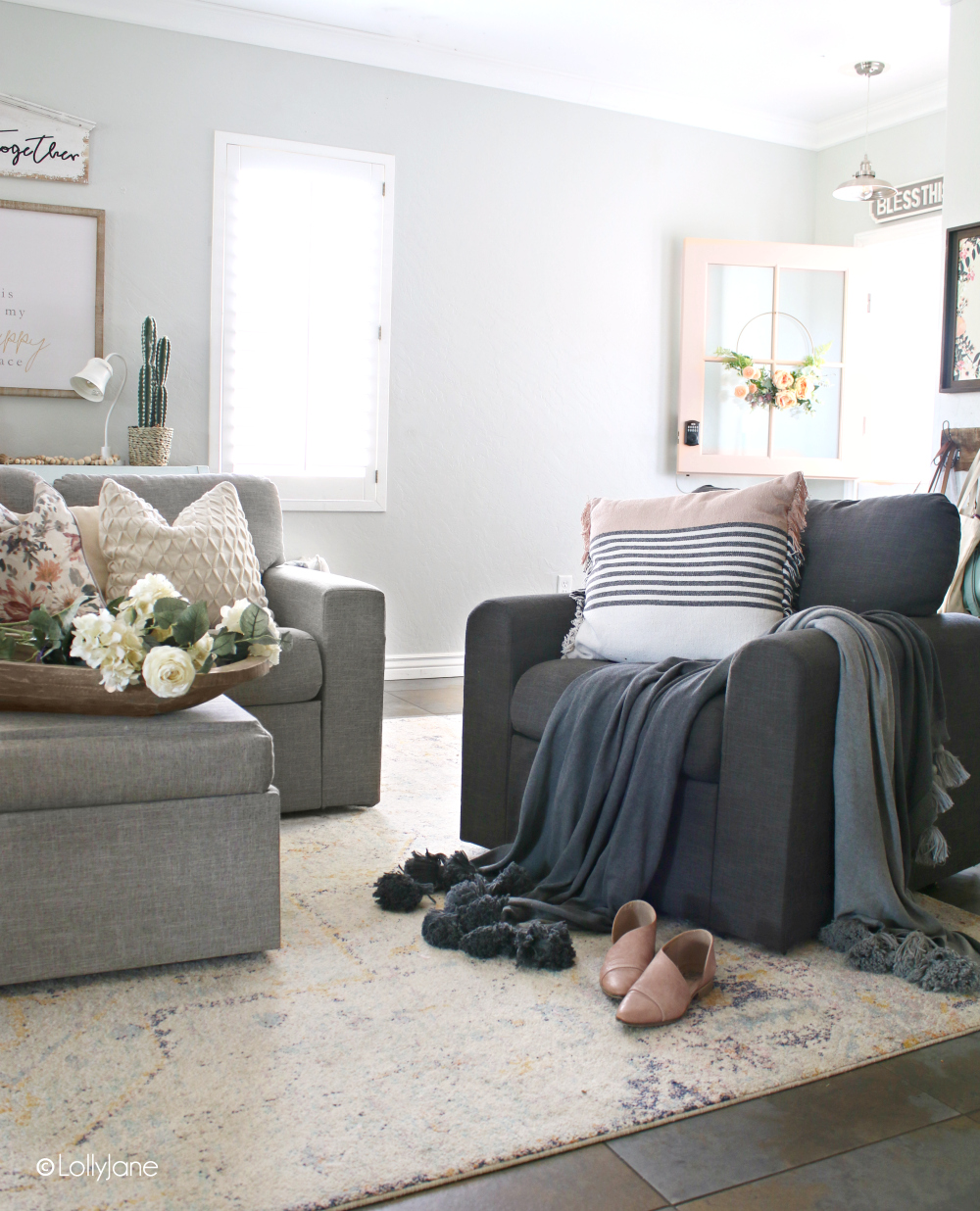 It contrasts with the lighter shade of gray perfectly, I think!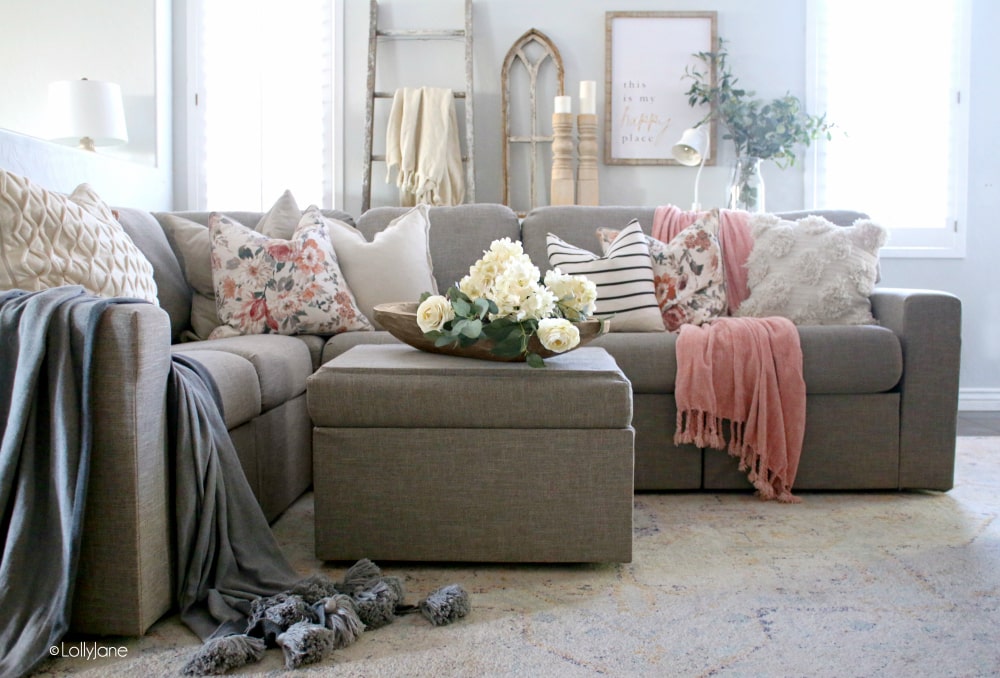 kid + pet friendly COFFEE TABLE
I wanted a coffee table in this room but didn't want to go through the split lip or head stage of falling into said coffee table with my last tot so I opted for an ottoman.. that doubles as a coffee table! Brilliant? I think so.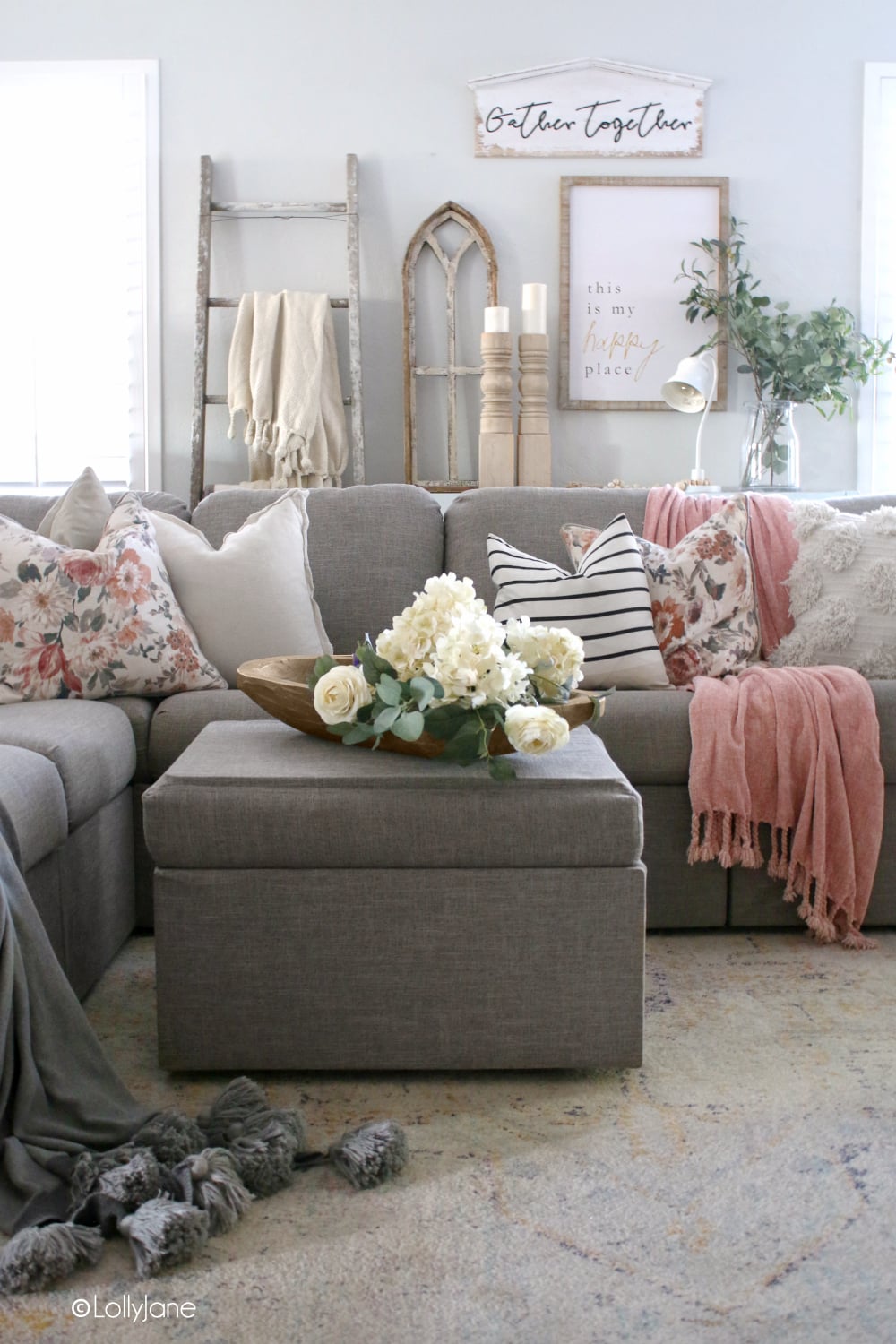 I ordered it in the same Archetype Quartz fabric that adds a nice level of comfort for a padded place to rest our feet BUT also has a reversible lid (with a flat, firm surface) to use as a coffee table when we have a movie night and need a place to set drinks or popcorn. Spills? No problem! Just pull off the ottoman's slipcover and toss it in the wash. Yep, brillz.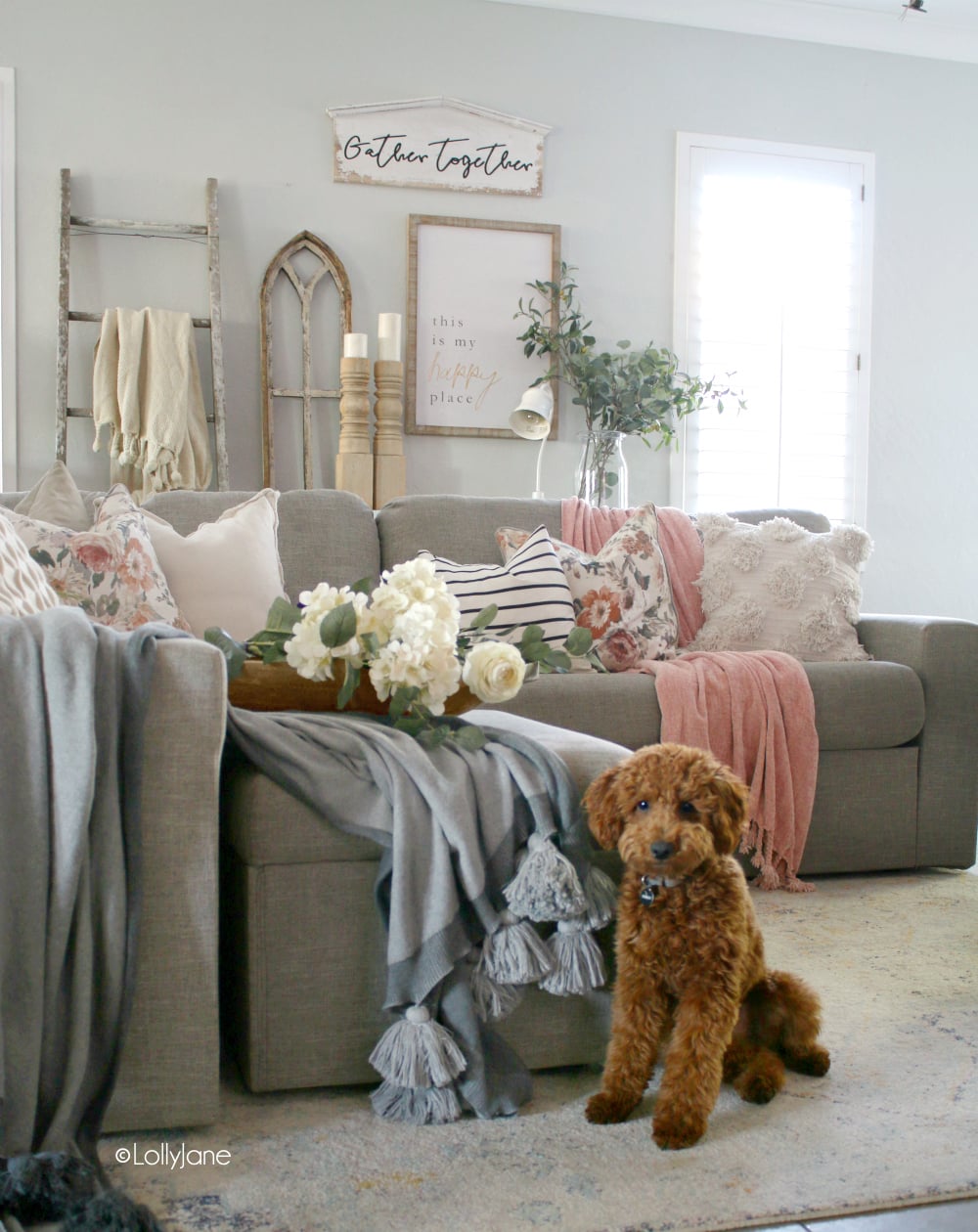 kid + pet friendly STORAGE
Sure, I have baskets around the room that hide extra pillows or throw blankets but when I have a room full of toddlers, or a naughty puppy who loves to chew the tassels from my throws, I prefer for it t be hidden. And guess what? Our ottoman houses our board games AND keeps them out of the entertainment center where little hands constantly pull them down and make messes; instead. I simply put the ottoman lid back on soft side up and the games are out of sight + out of mind!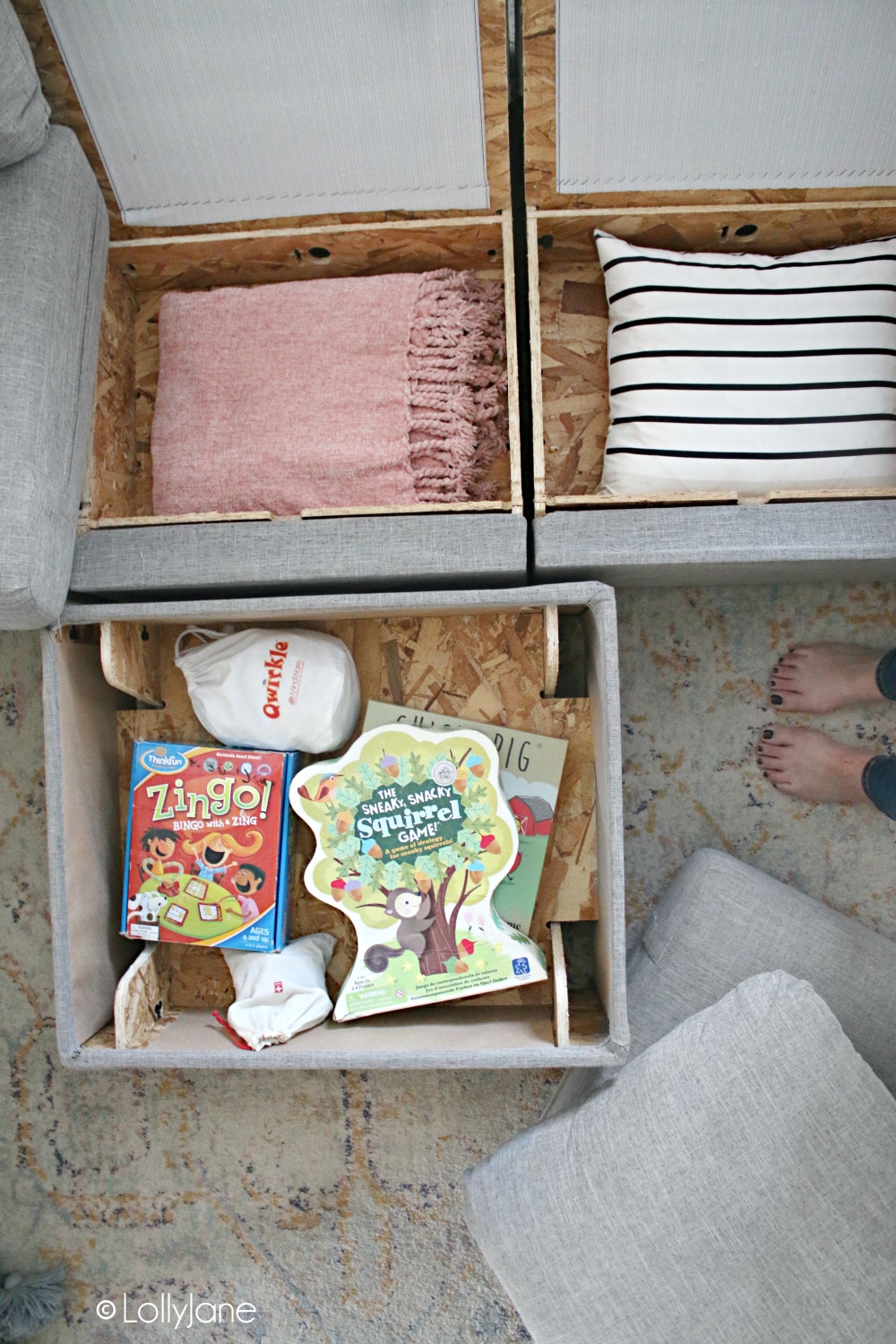 If you are tight on space like we are, you will LOVE the added built-in storage that comes with every piece! Hidden storage compartments are located under each seat cushion and they have a wooden bottom so nothing sits on the floor. One more note about this furniture… it is proudly USA made and made with renewable parts so if ANY piece breaks, I can simply reorder a new piece with no shipping anything back, hassle free. There's nothing more stylish than THAT. Haha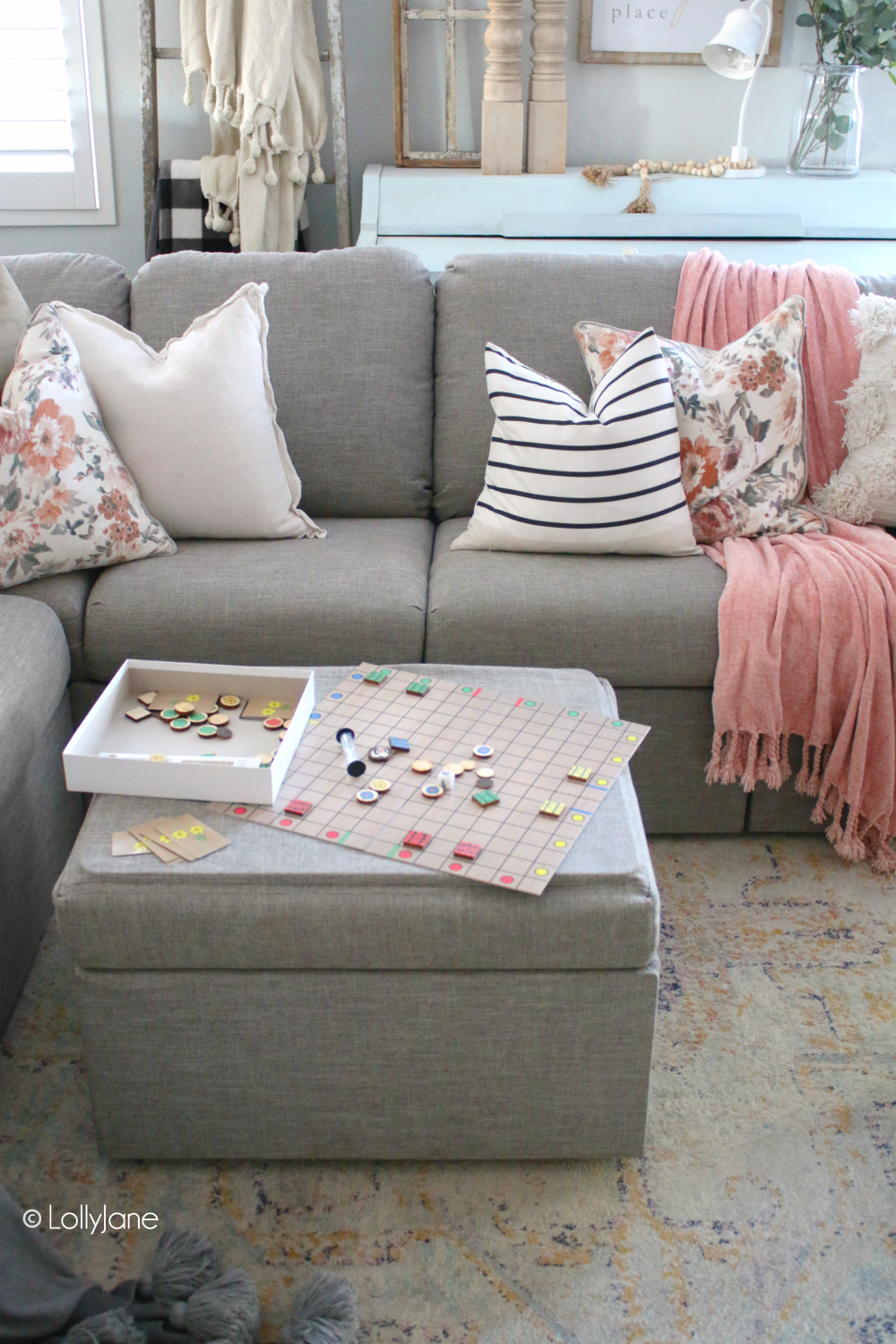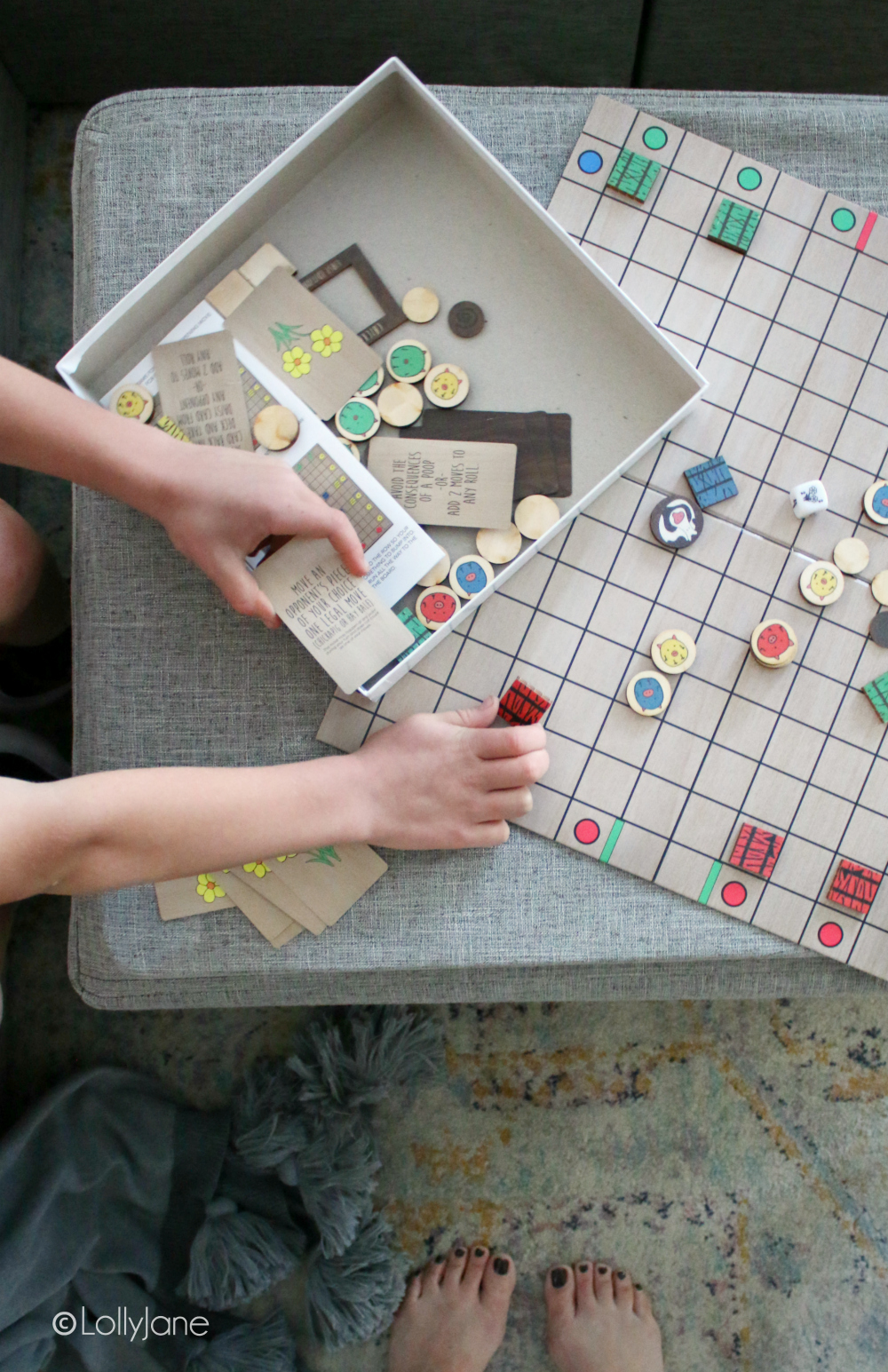 kid + pet friendly THROW BLANKETS
Back to styling a kid + pet friendly living room… I would lastly recommend piling chunky or tassel throws on your furniture! Besides instant cozy, it makes for easy snuggling AND of course, texture, which will never go our of style! You probably know by now what I will recommend for fabric: yep, 100% cotton or for sure a machine washable safe fabric. Our "Linens" Amazon shop has a handful of pretty throws that won't break the bank and are also kid + pet comfortable! 😉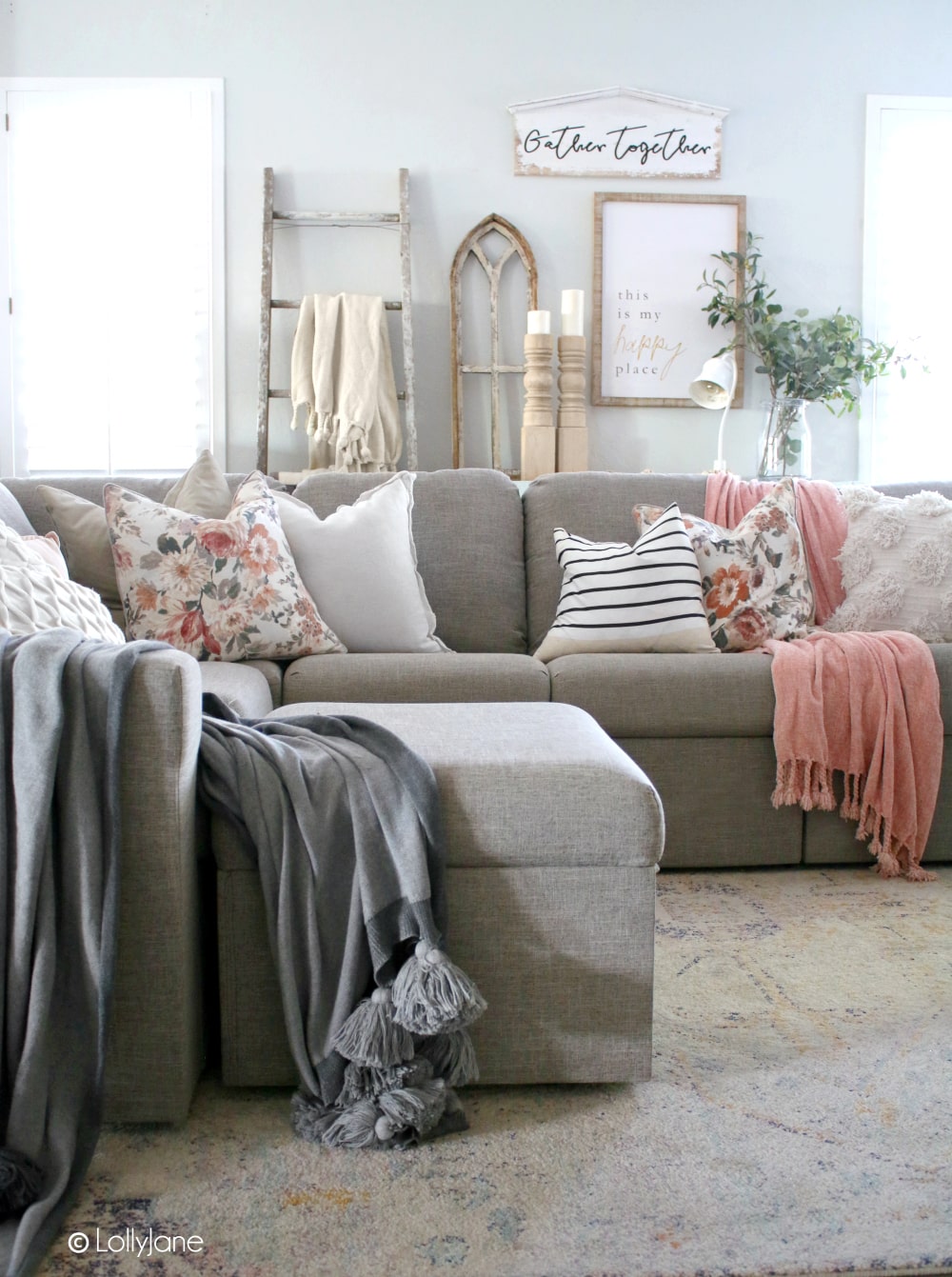 That's all we have for now. Please holler for any questions or clarifications about Home Reserve or how to style your own kid + pet friendly living room! 🙂
A big thank you to Home Reserve for sponsoring today's post. All opinions, as always, are our very own.