Today's lovely post is sponsored by Macy's and ShopStyle, all opinions are our own.
We are so excited to partner with Macy's to try out their Lagostina Nera Nonstick 12-pc. Cookware Set. My last set is about four years old and is dying from daily use. You know how much we love food, especially easy recipes. This one pot pizza pasta is so yummy, our kids gobble it right up!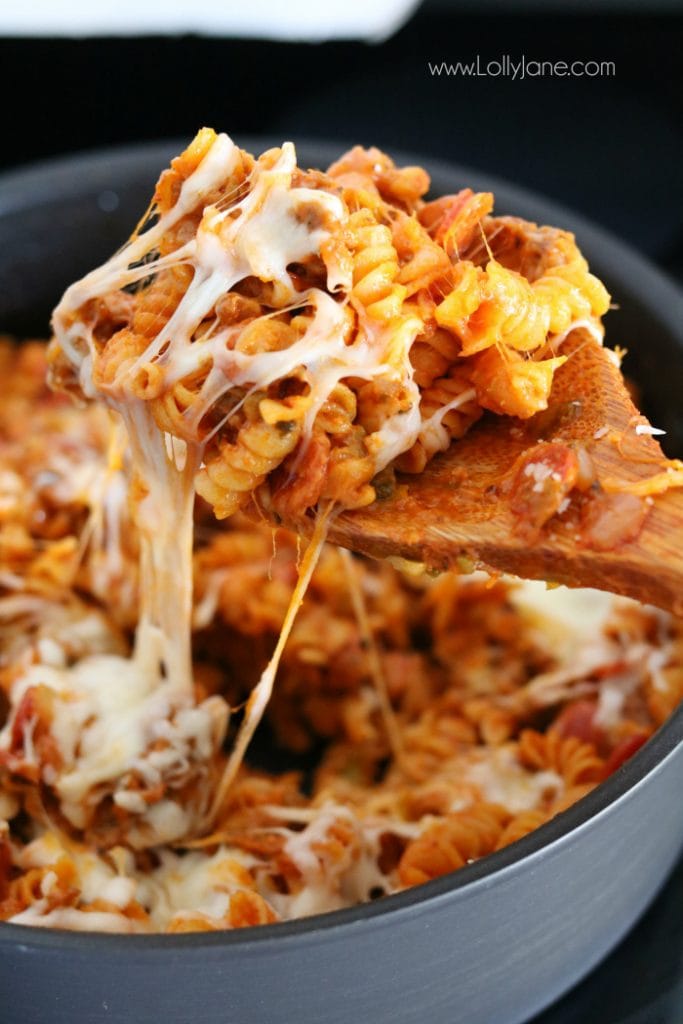 We love shopping Macy's for cute clothes, trendy shoes, darling jewelry and all the latest cookware too! Lagonista's Nera set is versatile, durable and chic. It's got 12 pieces of performance cookware with a hard-anodized design plus dual-layer non-stick coating for hardcore cooking but easy cleanup. And you know we're all about easy up in here. We're in love with those pretty lids! We're always looking for products that are practical and attractive and this set is a double whammy!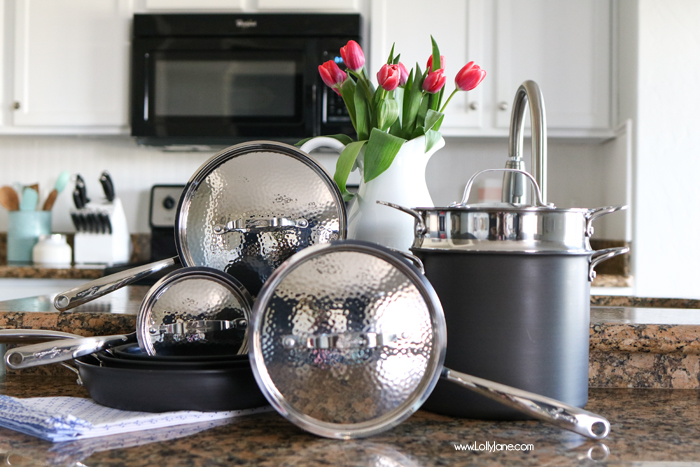 Are you ready to put your pretty cookware to use? You'll love this easy One Pot Pizza Pasta Bake, it's super tasty. Did we mention you only dirty one pot? Can't beat that!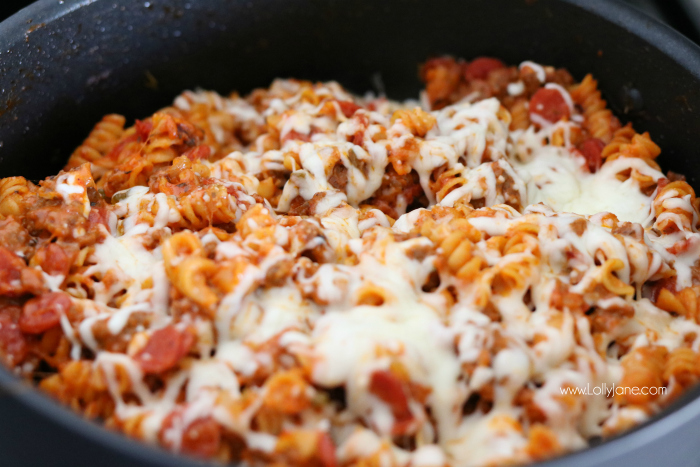 Easy ingredients: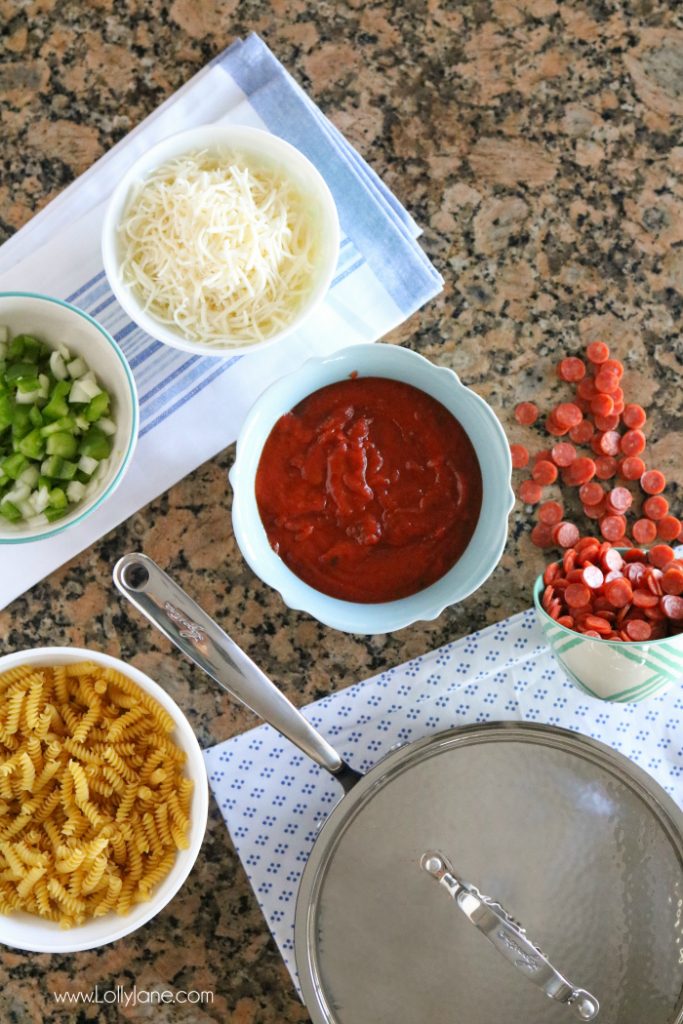 1 tablespoon olive oil
8 ounces sausage
1/2 onion
salt and pepper
1 green bell pepper
1/2 cup mini pepperoni
1 (15-ounce) can tomato sauce
1/2 teaspoon dried oregano
1/2 teaspoon dried basil
1/4 Italian seasoning
8 ounces rotini pasta
1 cup shredded mozzarella cheese
1 1/2 cups water
Follow these simple directions: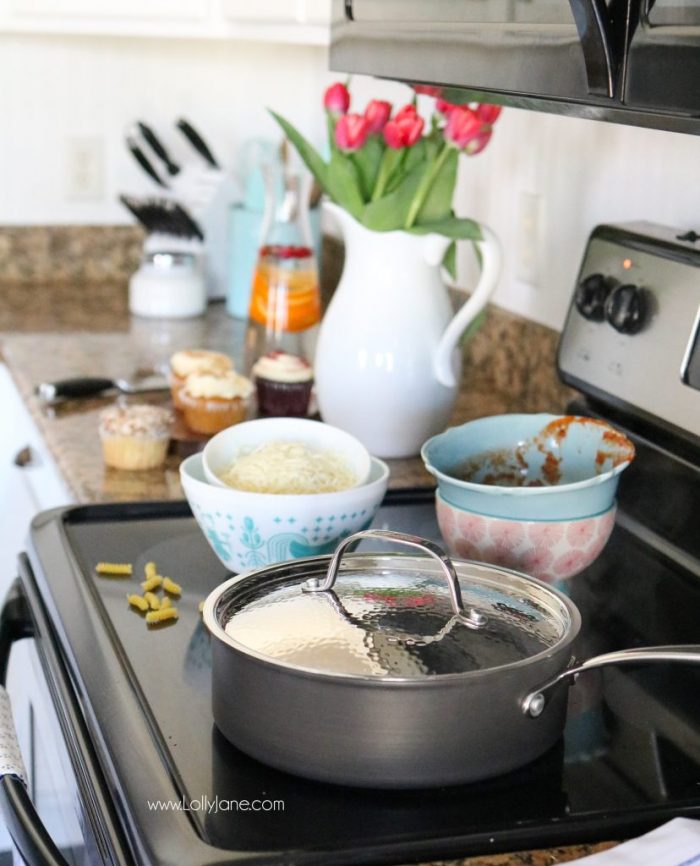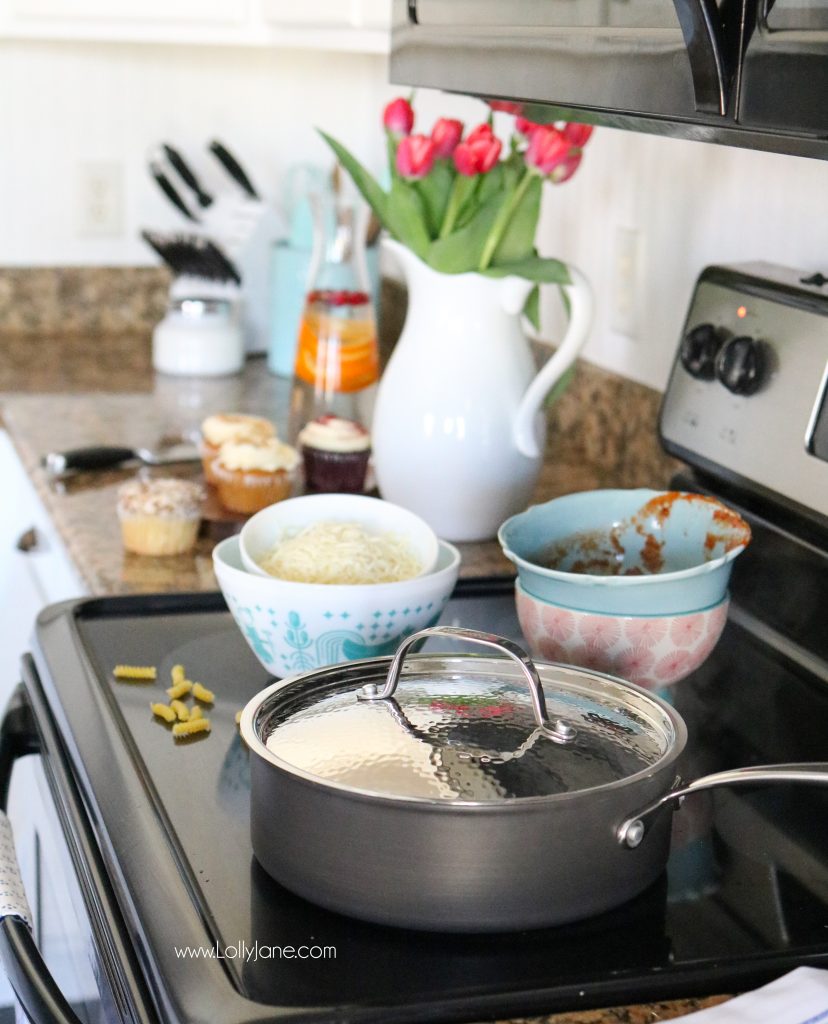 1. Heat olive oil in a large skillet over medium high heat. Add sausage and seasonings, cook until browned, about 3-5 minutes, making sure to crumble the sausage as it cooks.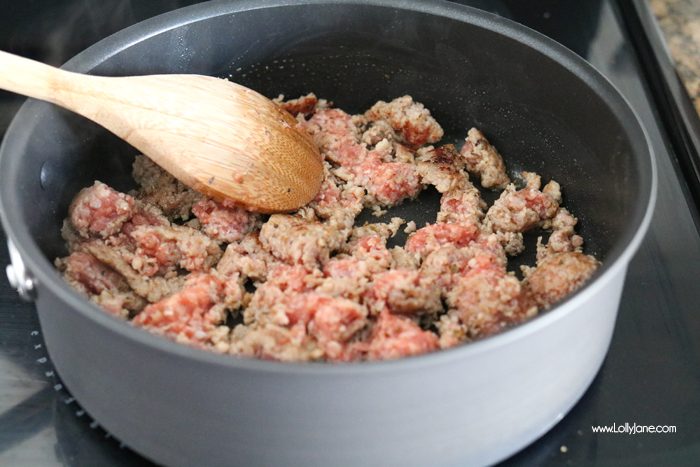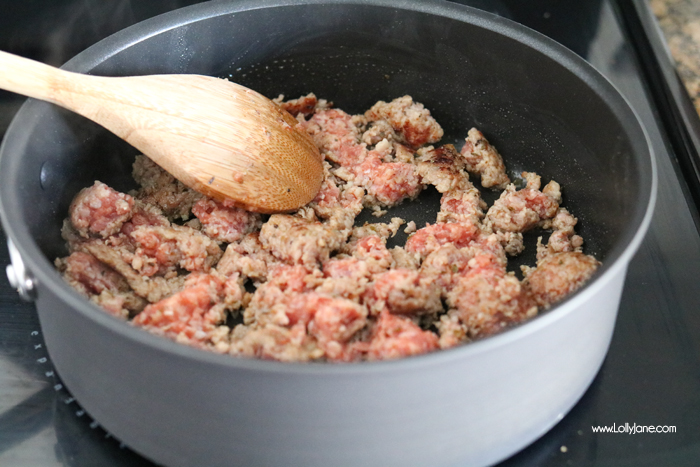 2. Stir in onions and bell pepper.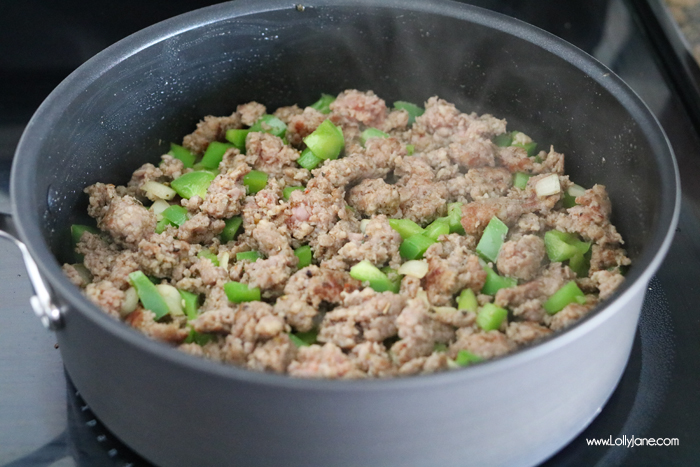 3. Stir in pepperoni until heated through, about 1 minute.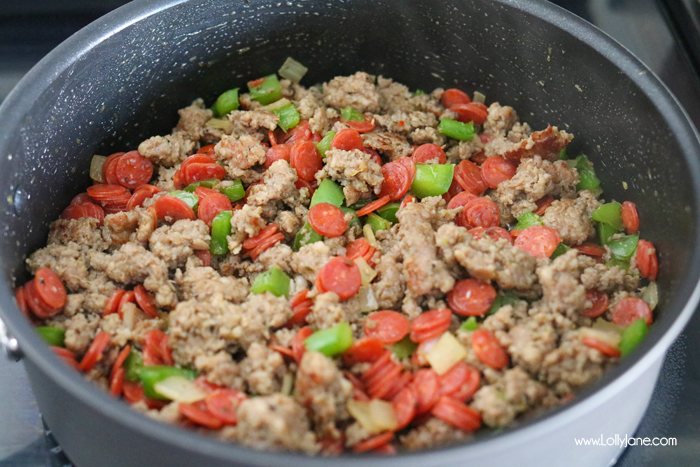 4. Stir in tomato sauce, pasta and 1 1/2 cups water.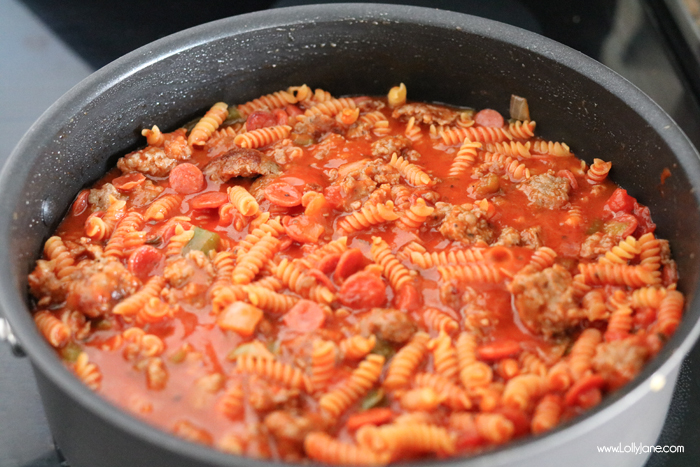 5. Reduce heat and simmer until pasta is cooked through, about 12 minutes.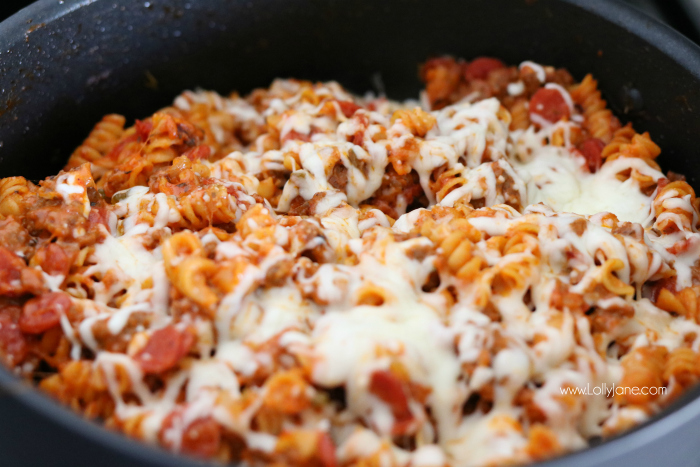 6. Remove from heat. Top with mozzarella. Serve immediately.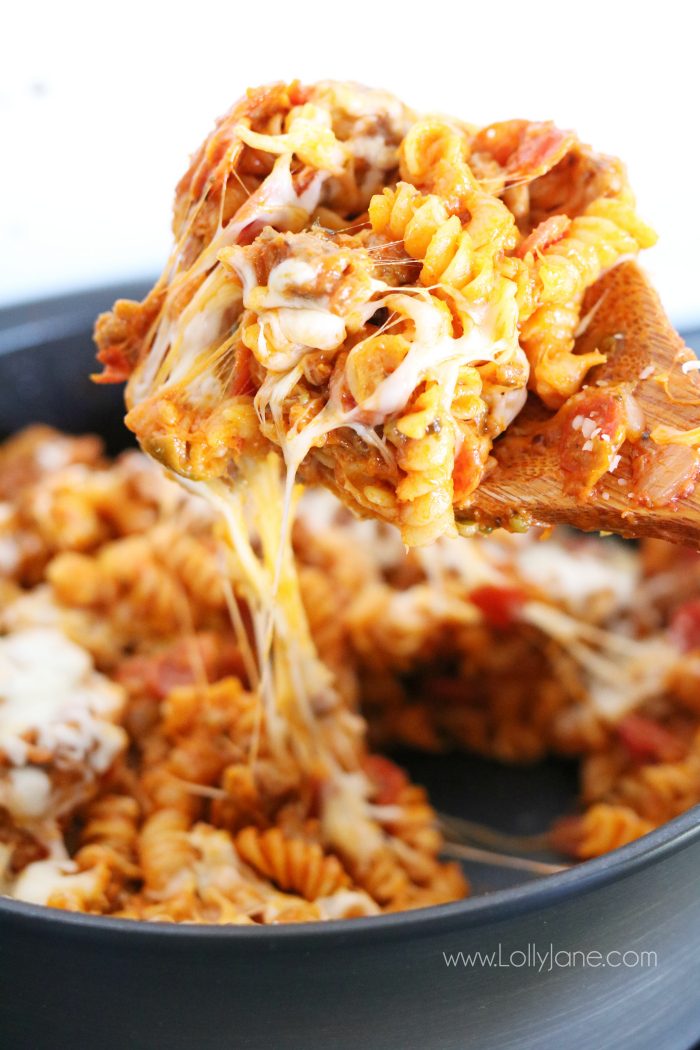 Check out this must have set and a few of its fun friends!
We like to cook in style which is why we nabbed a new outfit while shopping Macy's. Doesn't the chambray apron match our new top so perfectly?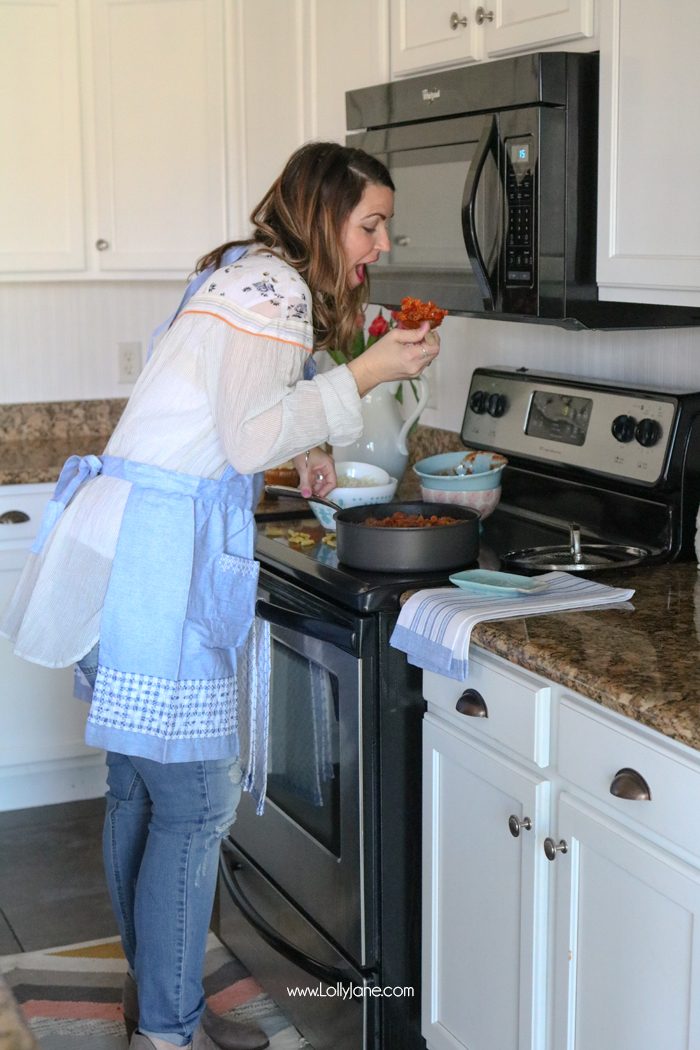 We love pattern mixing both in our home and our personal style. This works with decor finishes like light fixtures and faucets which is why we were drawn to Lucky's brass and nickel plated jewerly. Darling.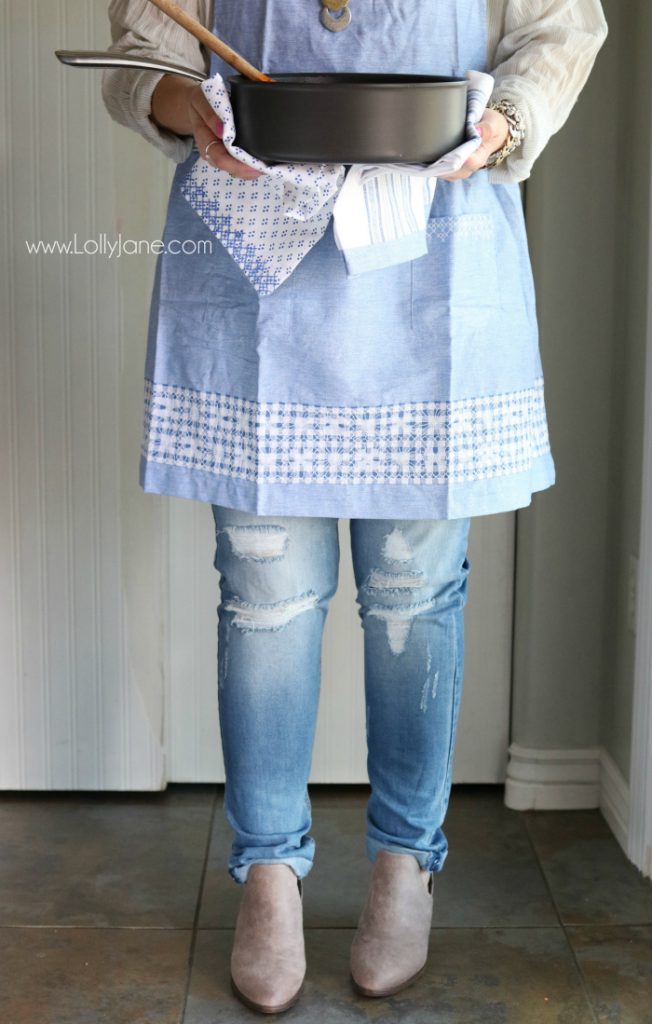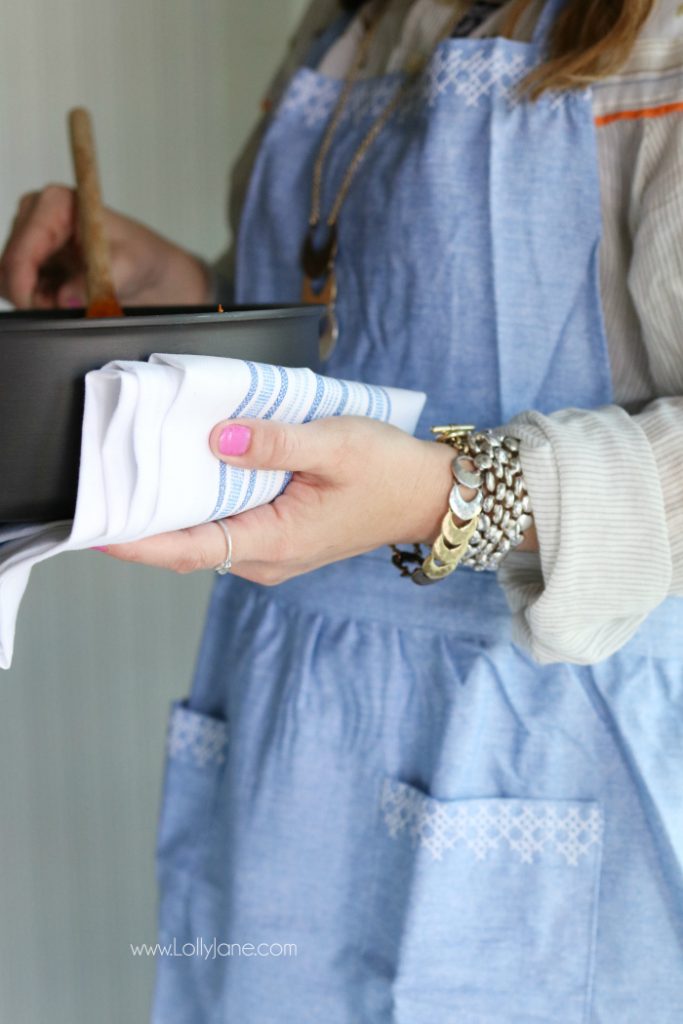 We're big fans of Miss Martha Stewart and her exclusive chambray line is right up our alley. Those details are just adorable. Of course we had to grab the matching kitchen towels.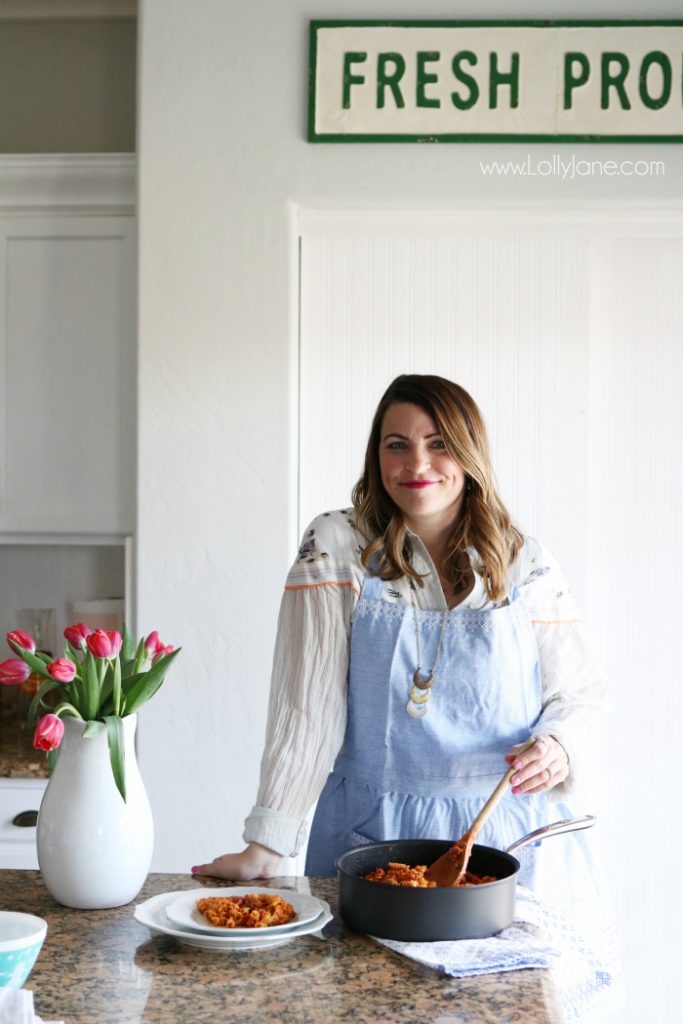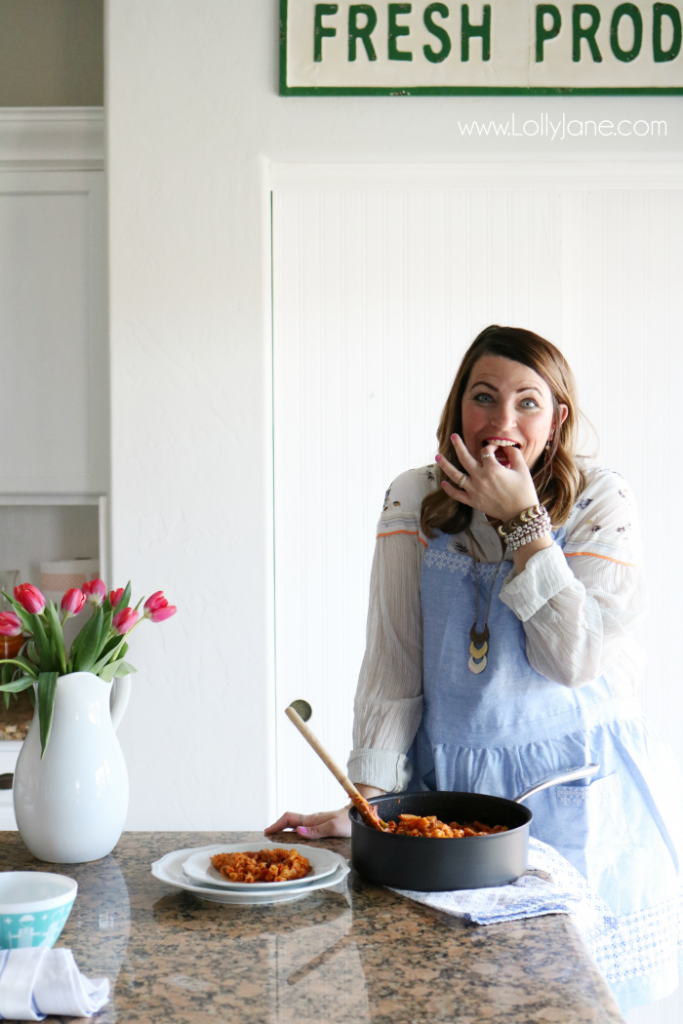 We hope you love this easy recipe and our favorite picks! We'd love to hear your thoughts below!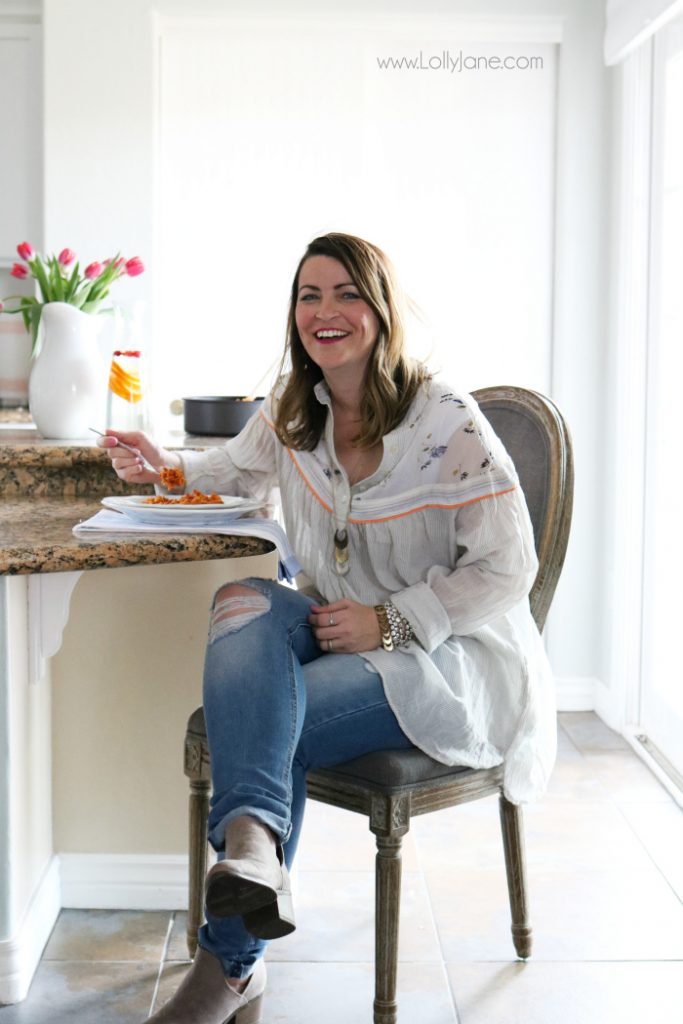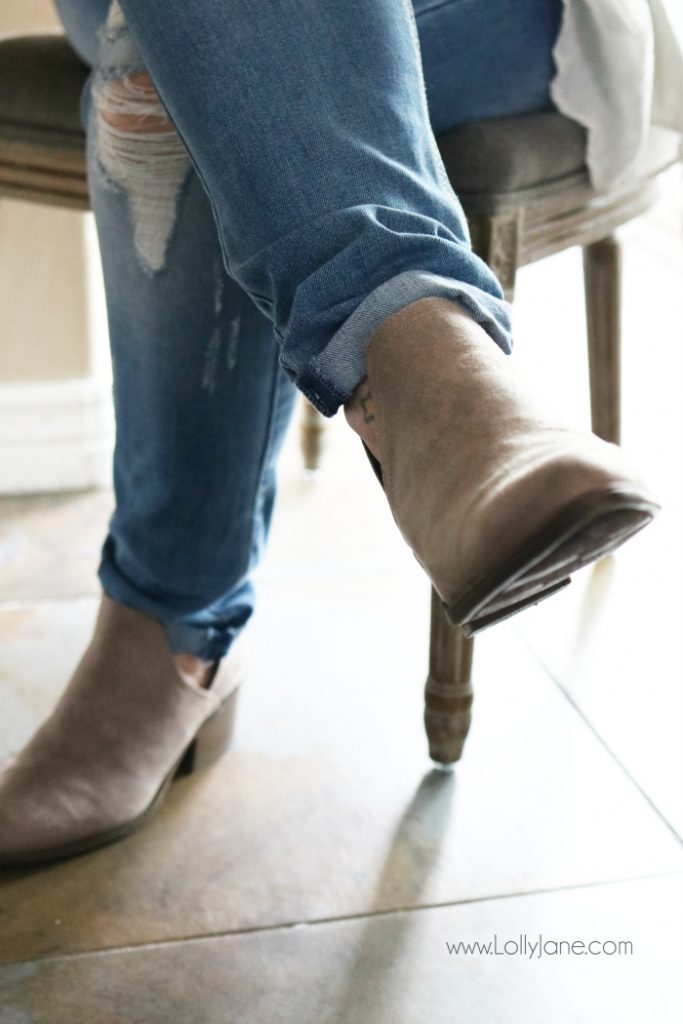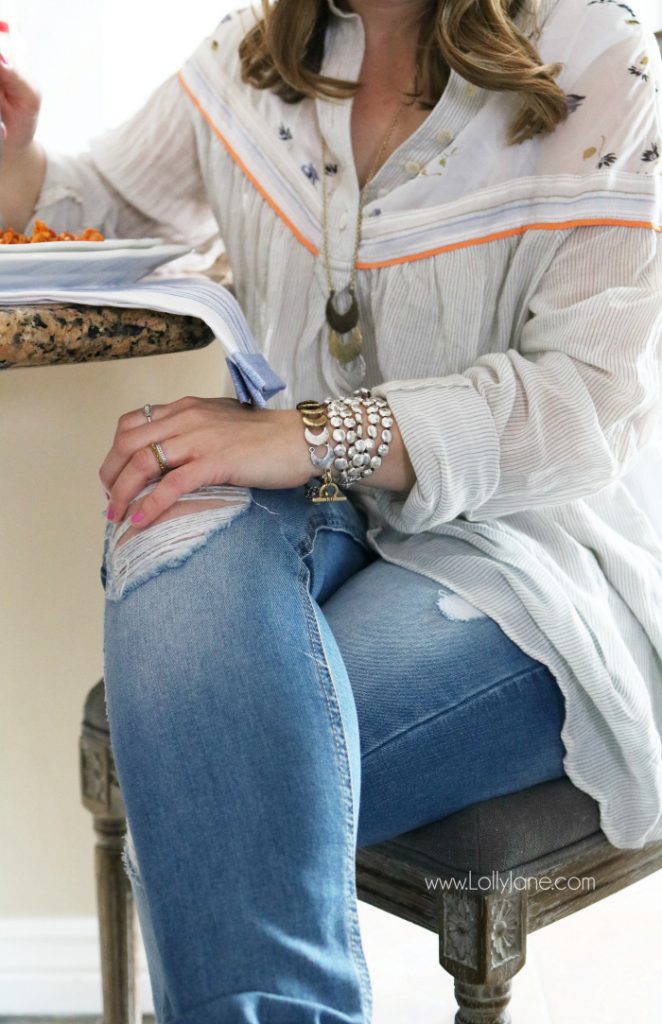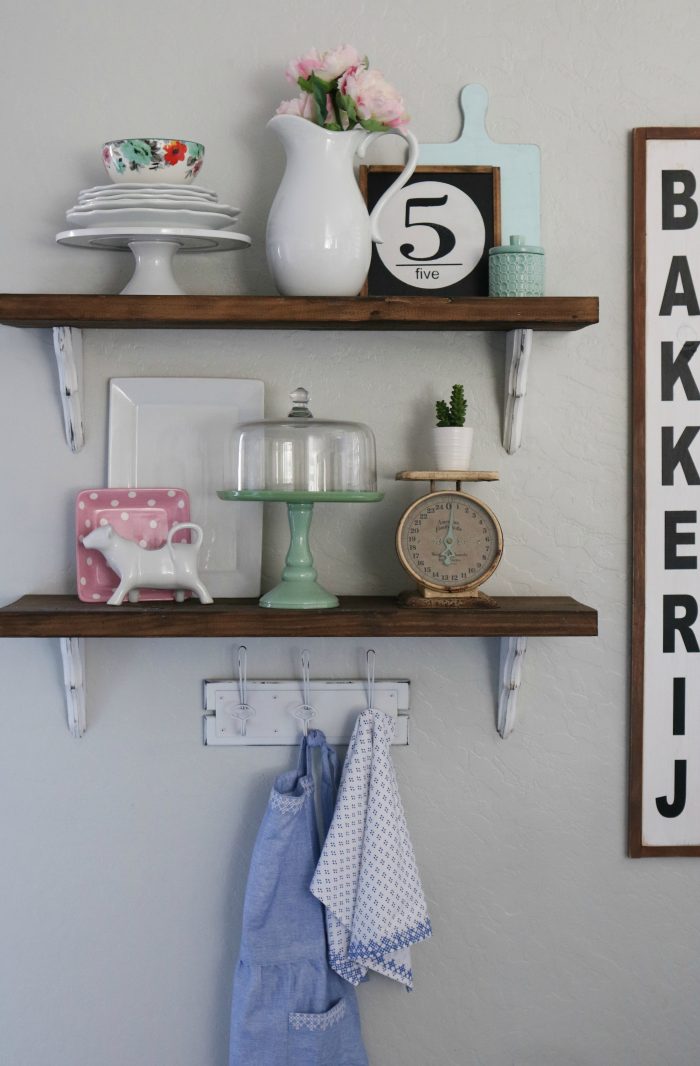 FREE EMAIL COURSE
5 Low Cost Tricks to Make Your House Look Like $1 Million
It's Lolly Jane's 5 FAVORITE Tricks to spruce up your space affordably.

Don't miss these!