We're in full swing of all things fall and Halloween around this joint! My oldest daughter doesn't have school on Fridays and wanted to make some treats for her friends on a weekend church retreat they're heading to. We went to our local craft store and browsed the isles for inspiration. She wanted something easy and playful so we came home with eyeballs and a lips, teeth, mustache combo.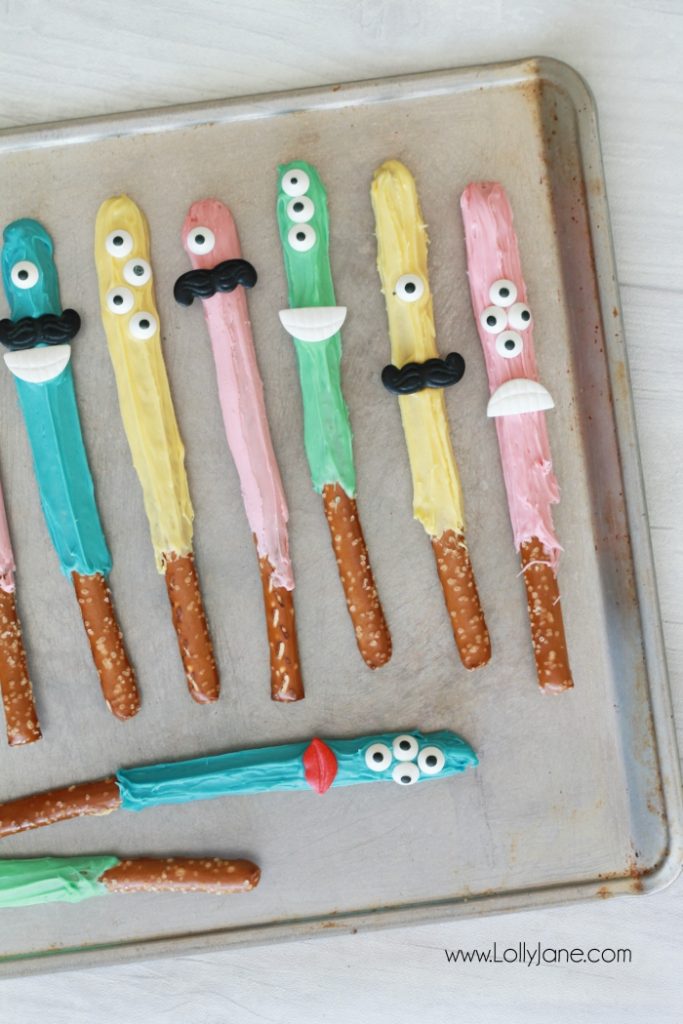 We ran to the grocery store and grabbed some pretzel rods and melting chocolate and within 30 minutes, we had some fun little white chocolate covered monster pretzel rods. We especially love the EYE have my eyes on you ribbon we made with Epson's new label maker. So fun!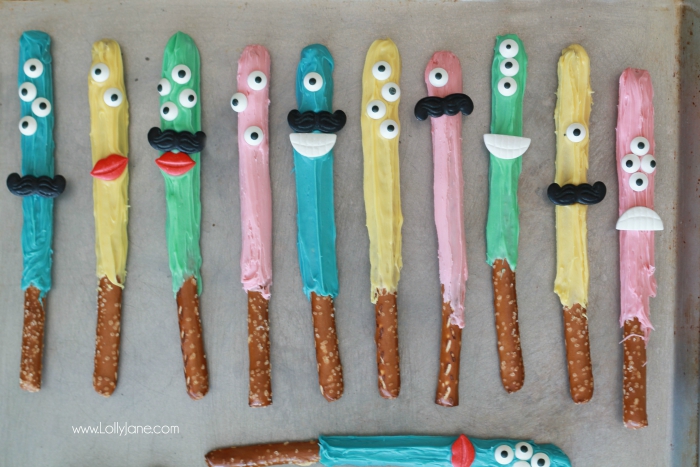 Supplies: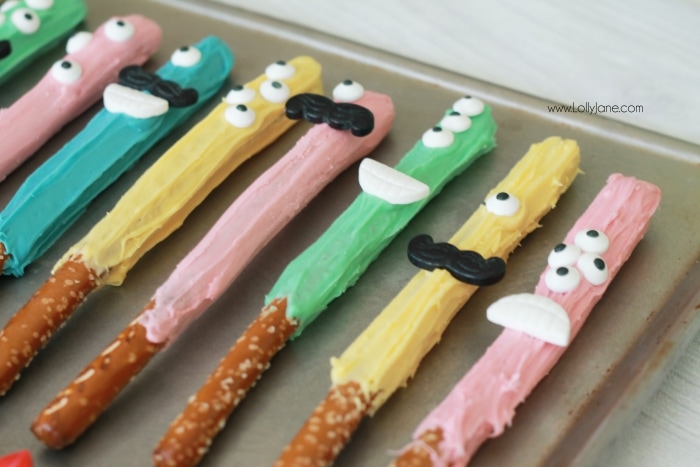 Directions:
Melt chocolate according to directions on packaging.
Set up 4 plates for 4 diff colors of chocolate, add 2 drop of food coloring.
Dip pretzels in diff colors until desired thickness.
Lay on wax paper.
Add faces while still soft.
Let dry for 20 mins until chocolate fully hardens.
Bag and tie ribbon around*
*ribbon details below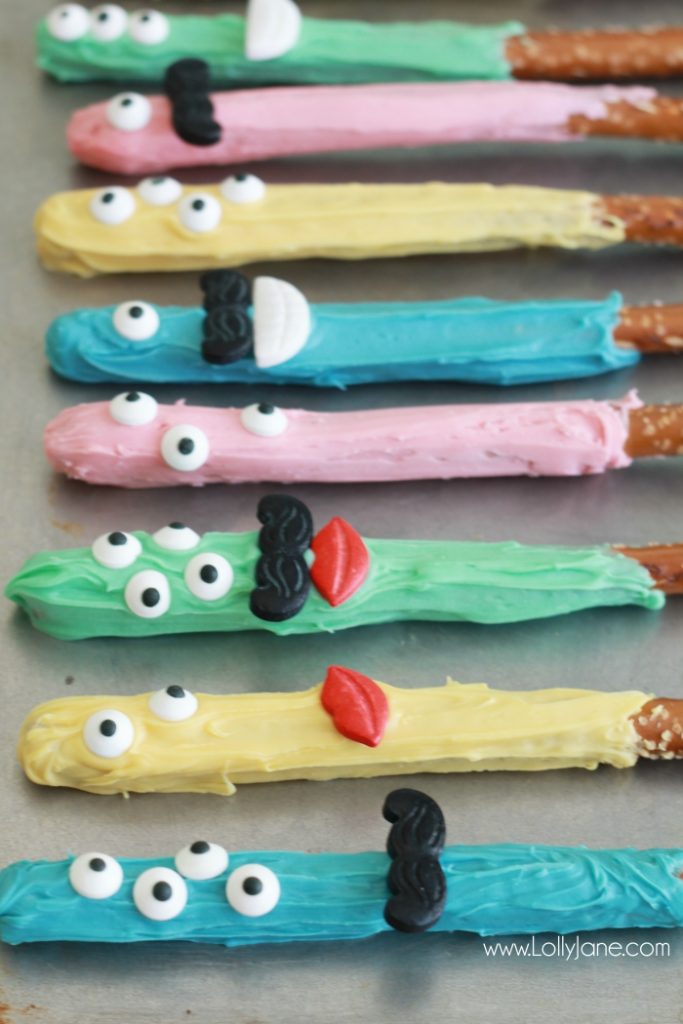 We love the EYE have my eyes on you saying and wanted to use black for Halloween. Using the app, we quickly printed our own custom ribbon in seconds using the LabelWorks™ LW-600P Portable Label Printer, it's amazing! So fast and convenient. Lots of font choices, we went with 'Chalkboard' on the larger font choice and made our ribbon 9″ long.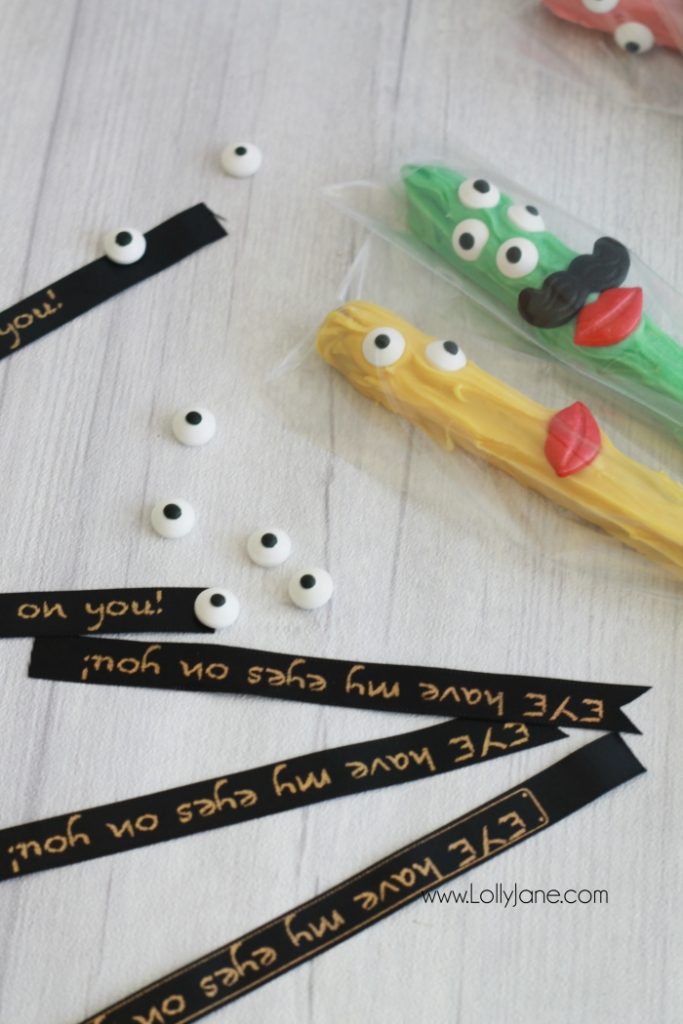 We even cut some of the tips into a decorative tip using scissors. Lots of options. Can't wait to create baby shower take home gifts for Kristi's upcoming baby shower!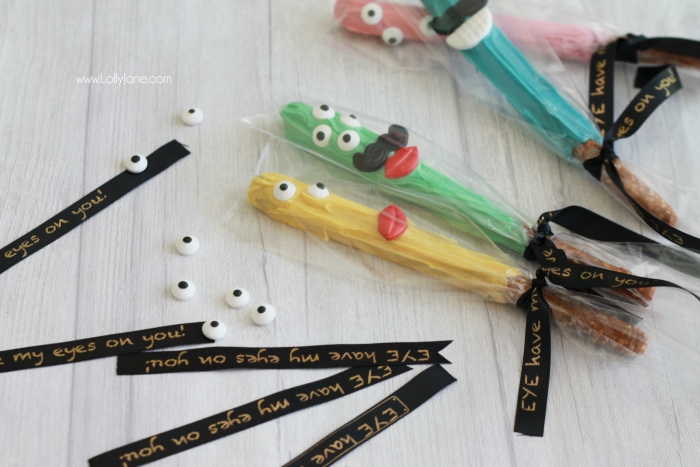 We also spaced 4 times between "my" and "eyes" so when we double knotted it around the base of the pretzel, you could still see the whole saying. Pretty cute!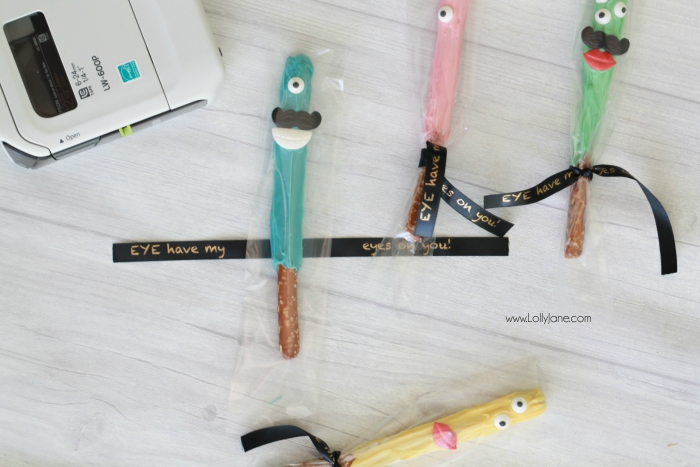 You can also borders and also have several choice like glow in the dark, ribbon colors, paper colors, etc.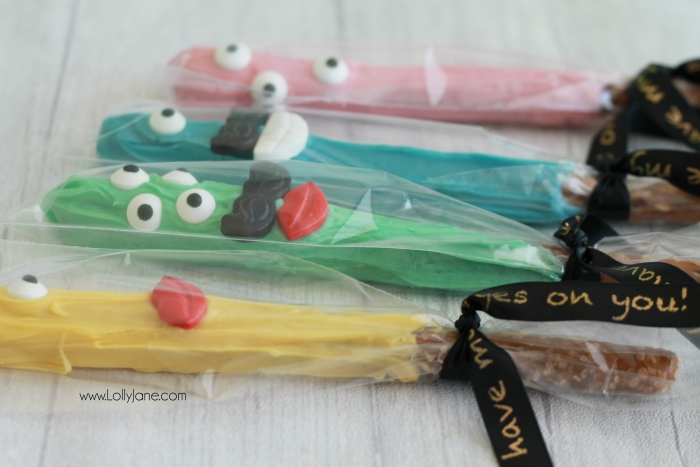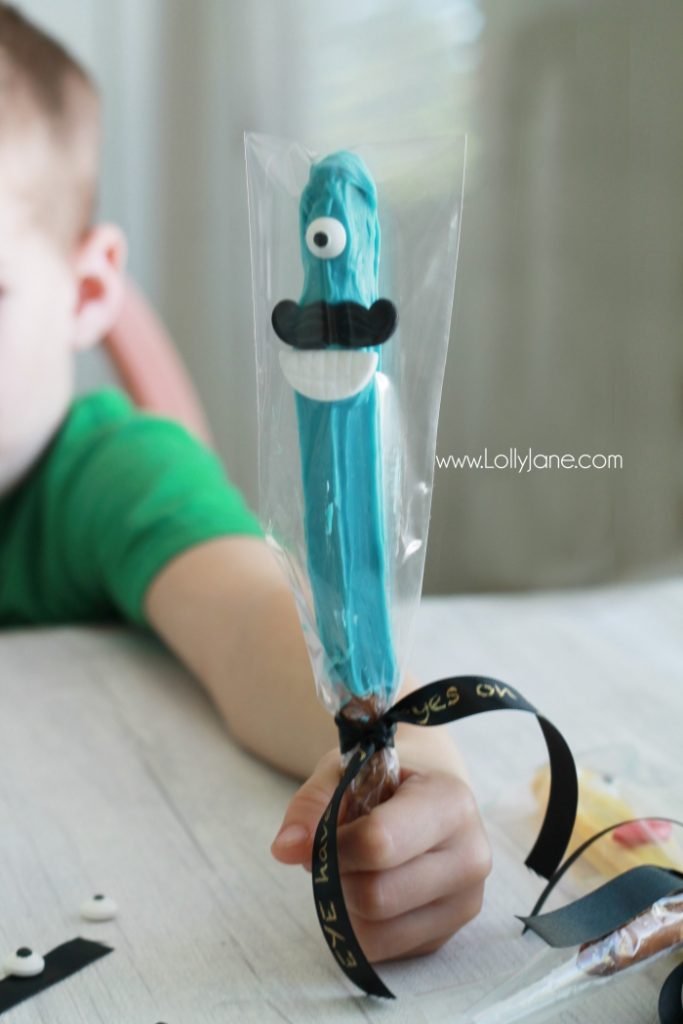 Big thanks to Epson for sponsoring today's post! And thanks to YOU for supporting companies that keep LJ rockin and rollin with free tutorials and ideas! Visit them on Facebook, Pinterest and Twitter! Check out more monster ideas like our colorful monster cookies,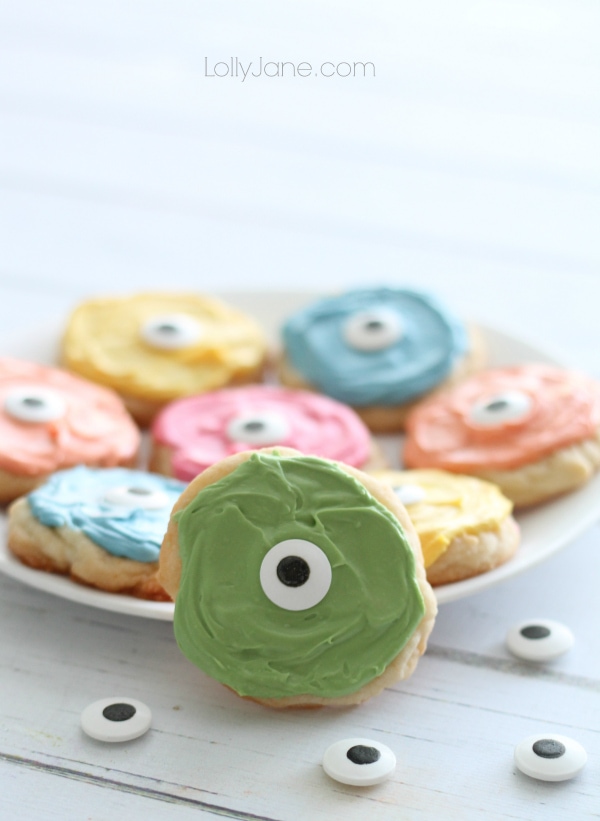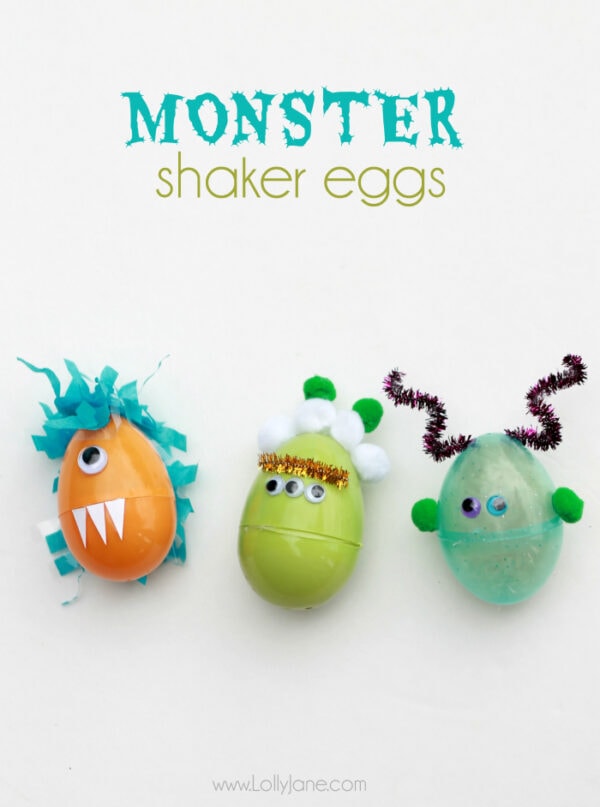 and if you need even MORE, we've got 35+ monster crafts & treat ideas in one spot, so fun!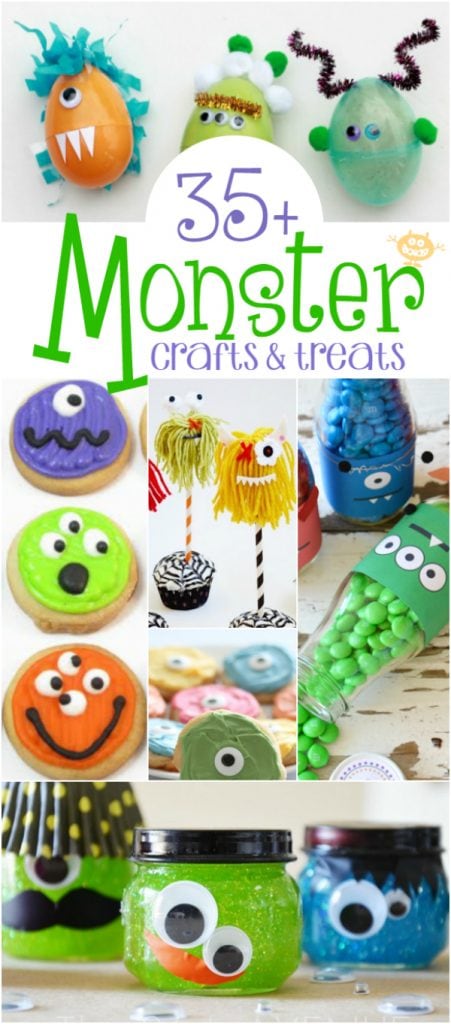 FREE EMAIL COURSE
5 Low Cost Tricks to Make Your House Look Like $1 Million
It's Lolly Jane's 5 FAVORITE Tricks to spruce up your space affordably.

Don't miss these!