Spruce Up Your Outdoor Porch Decor!
Summertime means outdoors and lots of it… whether you're entertaining, cozied up with a good book, or simply enjoying the sunshine, we've rounded up some gorgeous outdoor porch decor that won't break the bank. AND… we've styled our finds 2 ways to kick off a fun "Sister vs. Sister" Home Decor challenge to see whose porch "wore" it best! Take a look! 🙂
outdoor porch decor
If you're coming from Instagram, hello! Scroll to the end and leave a comment to "vote". XO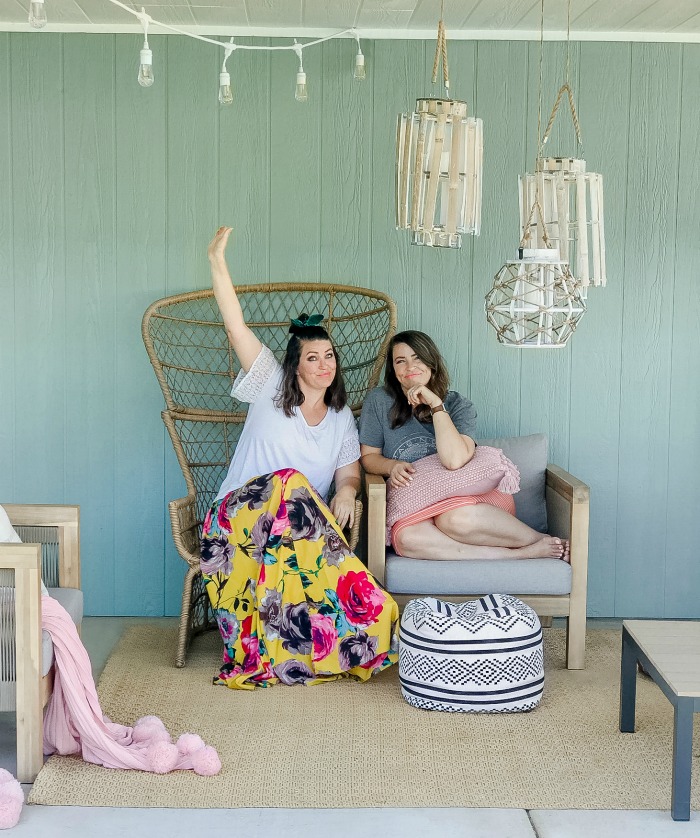 Give us all the sunshine! Since we're in sunny Arizona, USA we get to see the sun all day 'err day and spend much of our time outdoors… and constantly sprucing up those much used outdoor spaces! We came across some stunning decor at At Home Store and knew we had to bring it home… er, homes. You see, we're partnering with At Home for our first ever "Sister vs. Sister" Home Decor Challenge to see who styled it best. Let's get started! (Psst! Take a look at our Instagram stories to see more gorg in-store finds from At Home but you can find even more summer goodness in their fun Summer Look Book here.)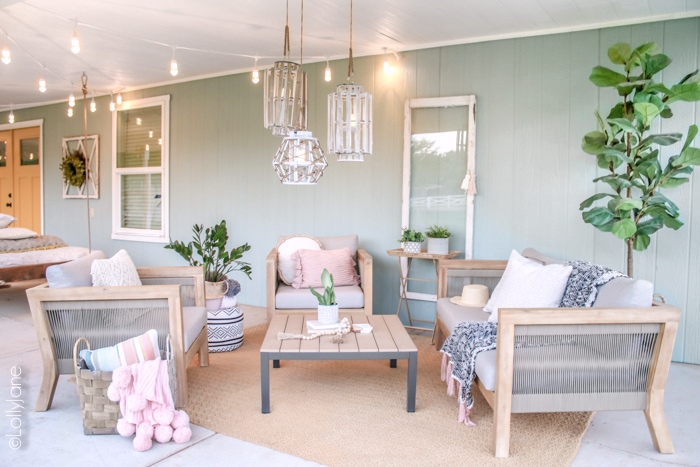 OUTDOOR COASTAL FARMHOUSE porch decor
Since it was Kelli's idea for this light hearted competition, let's start with her outdoor coastal farmhouse inspired space. She is all things neutral farmhouse with pops of color (always color!) and the selection at At Home is huge for just that; it took nearly an hour for Kelli to choose the star of her porch, the Park City Sofa. Oooh la la!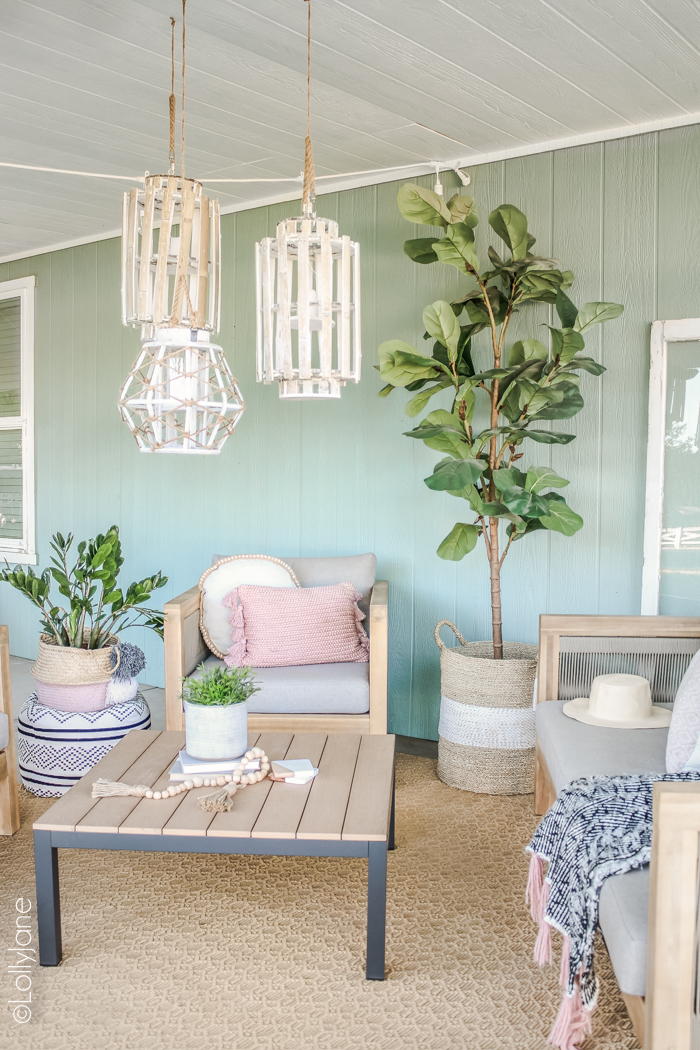 Why would it take so long to shop, you wonder? If you have had the pleasure to shop in At Home, you know it's huge… like, bigger than Costco huge! It is filled to the brim with the latest in decor trends, classic styles, and everything in between when it comes to home decor.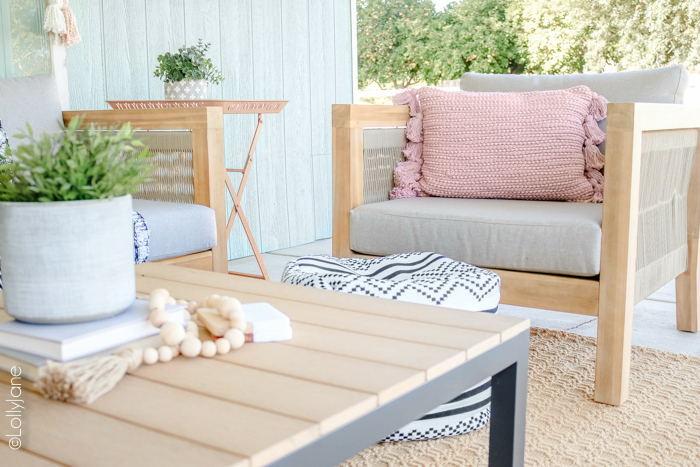 The possibilities are endless when it comes to patio decor, especially. We started with the largest pieces, in Kelli's case it is this gorgeous sofa with matching chairs that are the perfect combination of modern meets farmhouse. Once the sofa was selected, she opted for this simple coffee table that blends so well with the wood tones in the sofa.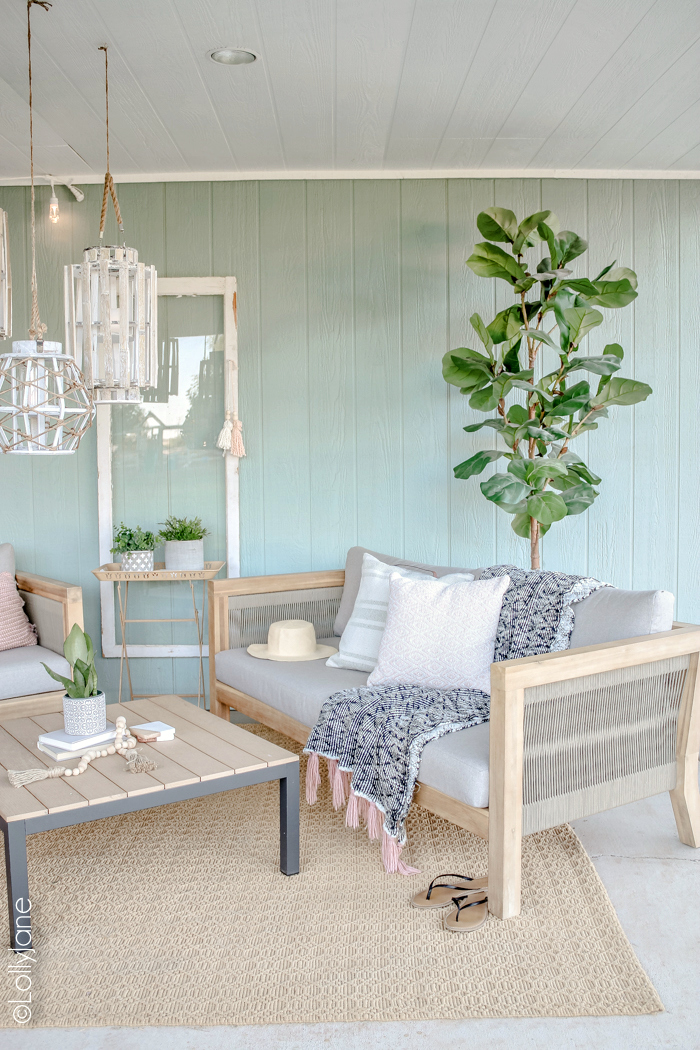 From there it was all about patio accessories! Plants are the biggest way to really emphasize you are outdoors, of course. From a potted 4′ faux fiddle leaf fig to filling their darling planters (which are BOGO right now and that alone is an aisle you would LOVE to get lost in!) with real and faux greenery, plants instantly freshen up a space to make it feel inviting and clean. (Never mind I had to scrub my next door neighbors loose chicken's droppings off of this rug this week– I think I've made my space TOO inviting, ha!)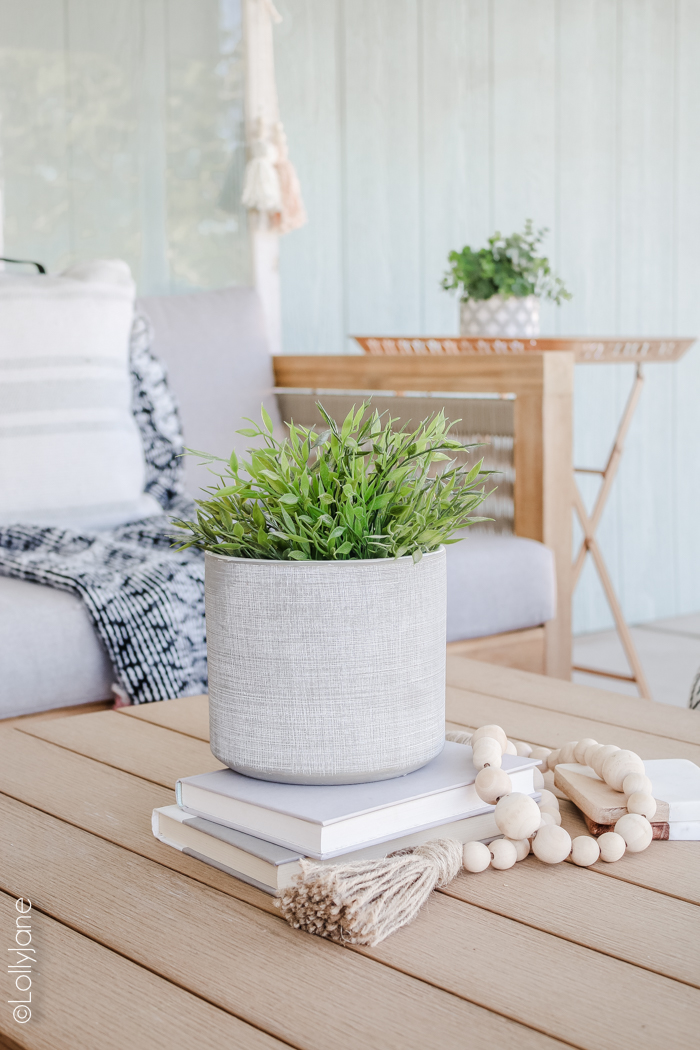 After a few throws and pillows to pump up comfort, we hit the jackpot: I lovely love loveee At Home's lanterns… from metal to wood and with or without glass, they are my absolutely favorite accessory in this space; lanterns in general are a great staple in any space to add instant warmth. Snag an electric candle and you're golden for alllll the cozy! To hang these cuties we simply tied a piece of twine from the top, made a loop (knotted it), then hung it from some pre-drilled eye hooks. Easy peasy!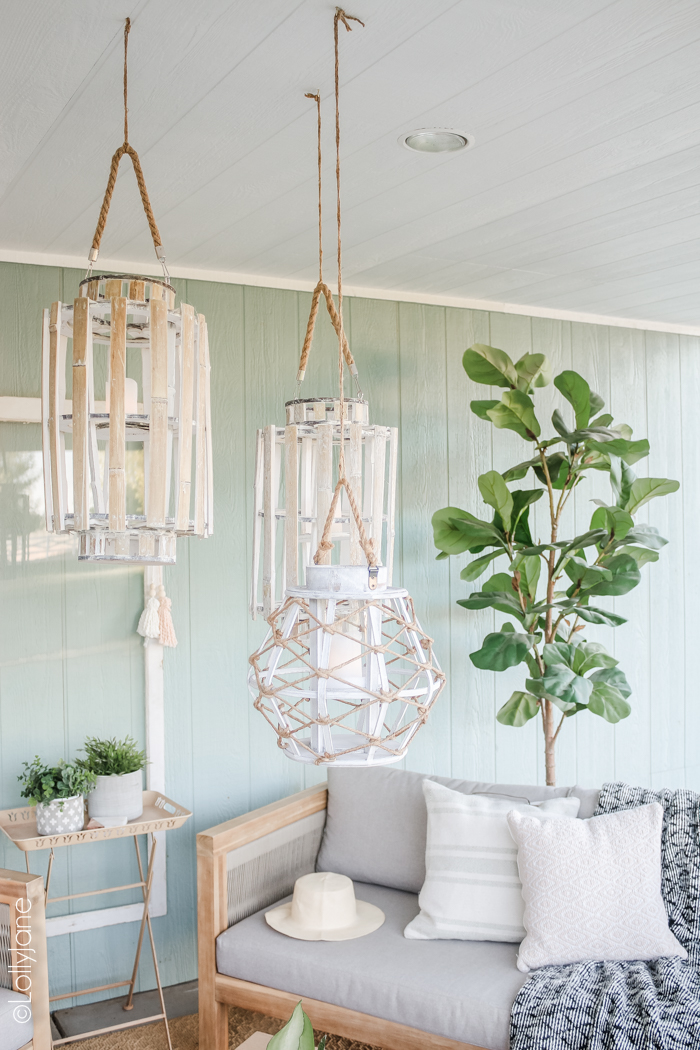 Those lanterns really polished off the space, brought in some coastal charm, and added texture. I'm calling this space complete…. there you have it: space number 1 by the #2 twin. ?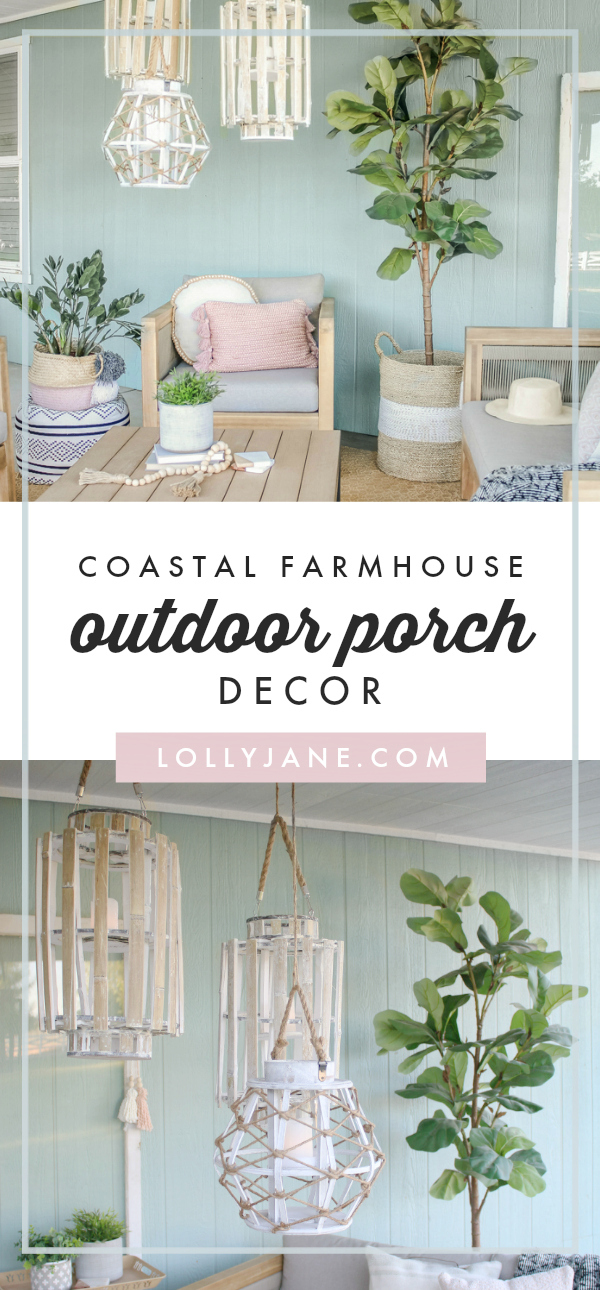 OUTDOOR COASTAL FARMHOUSE porch decor SOURCES
At Home Stores generously provided these pretties to help inspire you to spruce up your own outdoor space; take a peek at our fave porch decor used on Kelli's porch: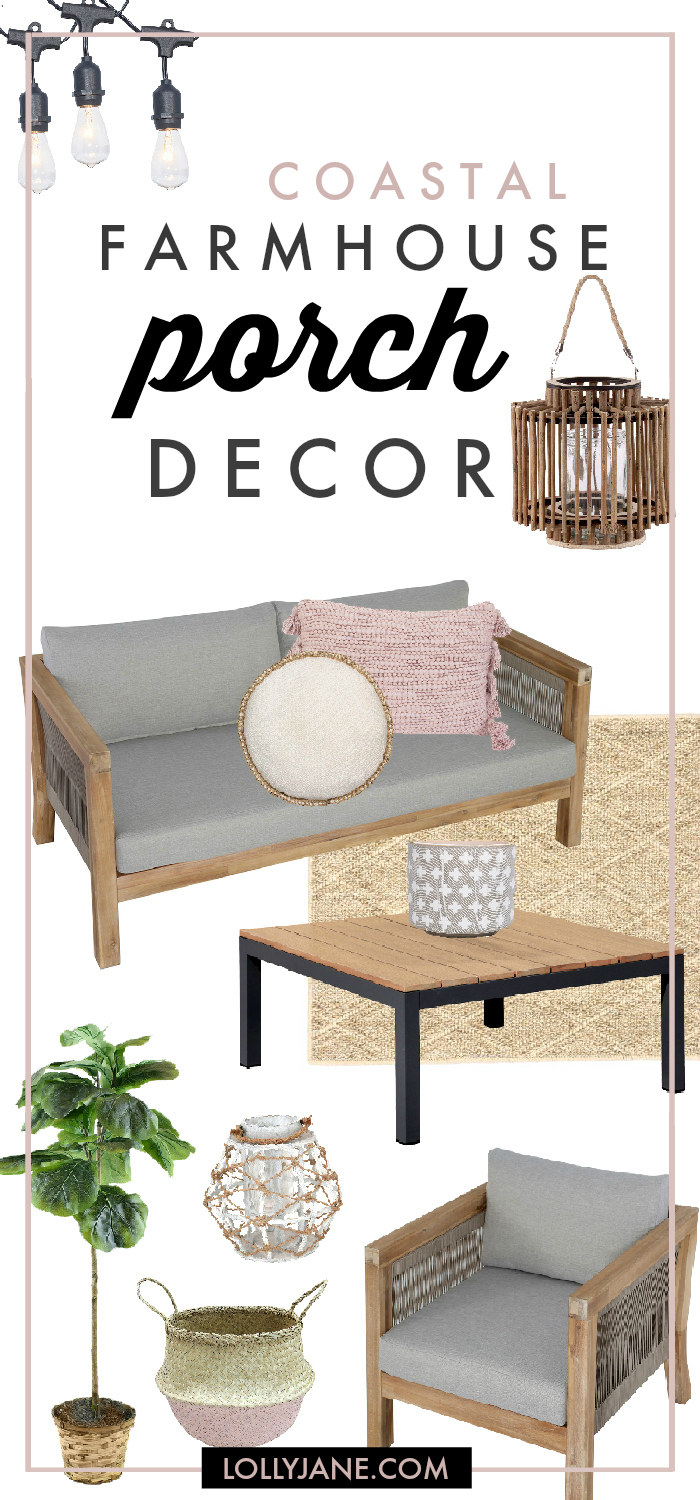 OUTDOOR BOHO FARMHOUSE porch decor
We tend to mix the old with new so my own space stayed in line with that but first, let's introduce my outdoor boho porch decor…. and the queen of the show, the queen wicker chair. ?Here she is at dusk, which is my favorite time of day to be outside right now since triple temps are blaring at us othewise.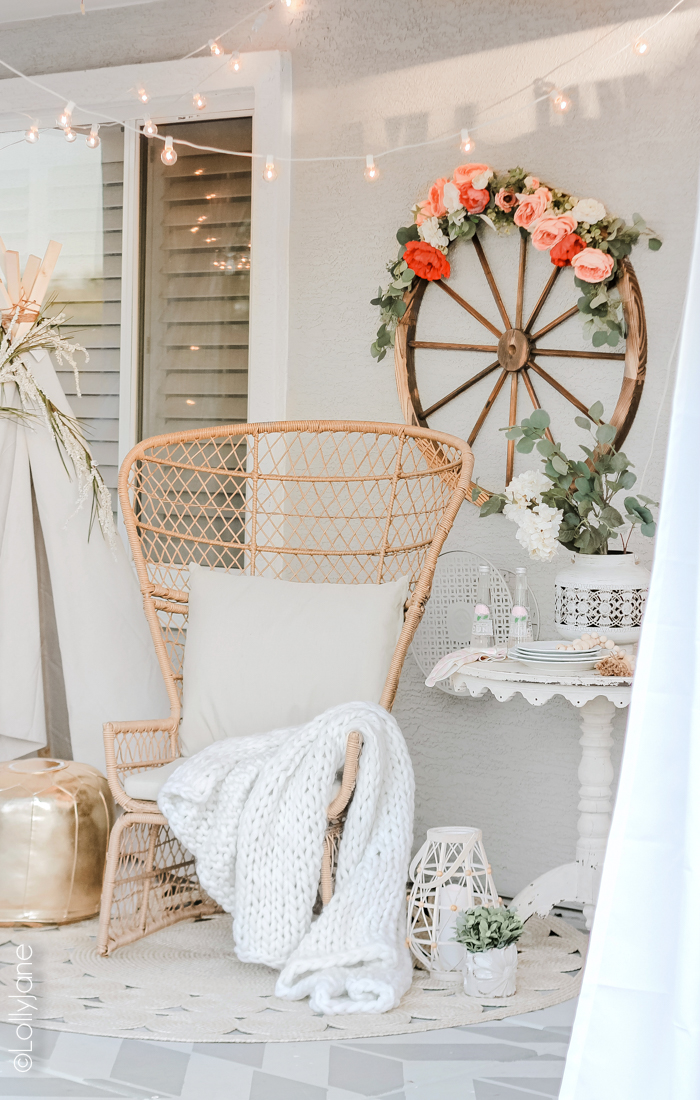 You're still swooning over that chair, aren't cha. (Us, tooooo!) Since my porch is tiny I didn't have the luxury for a sofa like Kelli's space but that is what makes At Home stores amazing; their home decor can accommodate any lifestyle, from home owners to apartment dwellers or even if you're renting a single room in a home… At Home has you covered! I simply paired my queen chair with a thrifted tabletop and added a gorgeous gold pouf to double as a foot rest/extra seating. Bam: porch done.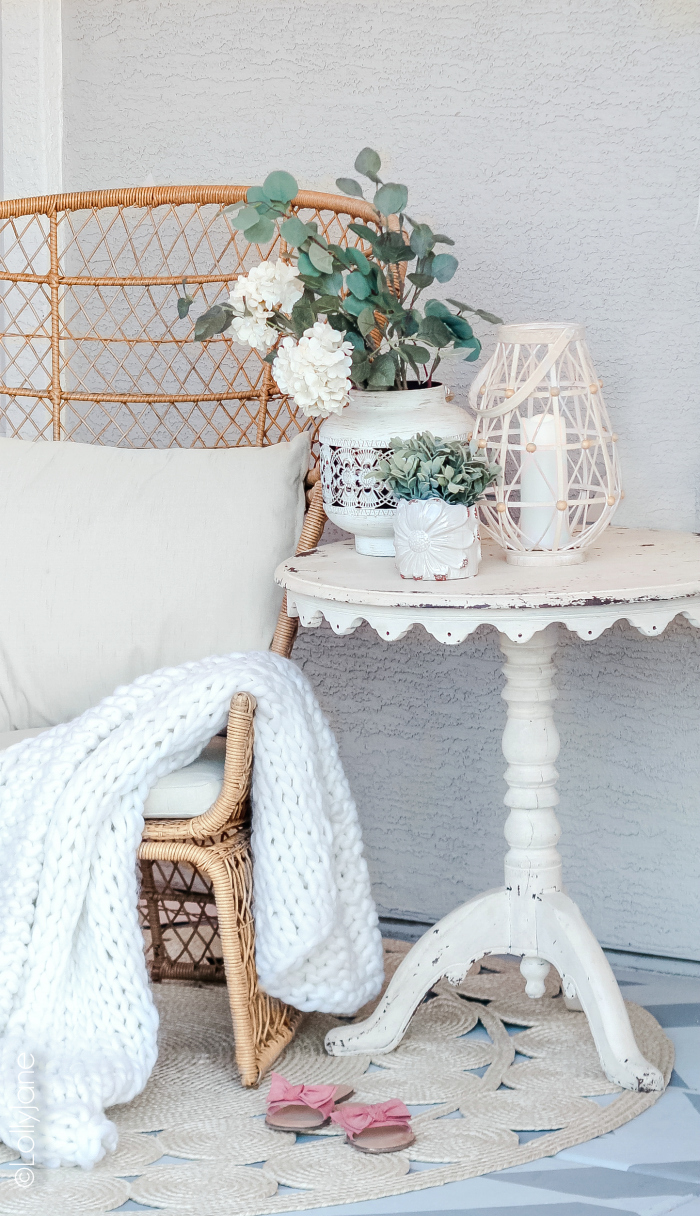 Okay wait I have to share the juicy details of what else I did first before we source these pretties and have you vote on me or Kelli! Haha I saw this rug and knew I had to have it to really pull off the boho vibe I am currently digging and the design paired so well with this white metal lantern that I snatched it right up, and polished it off with some faux floral stems to pull in some color.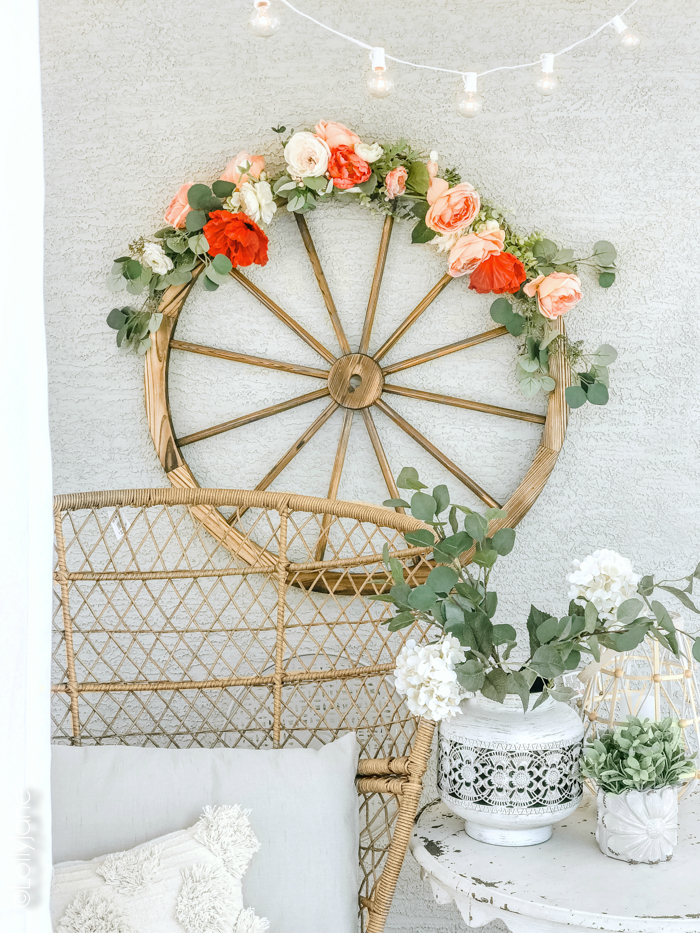 My kids told me the knit throw (although super comfortable) was too warm for this time of year so I swapped it with a chenille type material (hello tassels!) in the prettiest shade of pink that fits within this season more so aaaand it adds a fun pop of COLOR! ?See how well it matches the florals on that big ol wooden wagon wheel?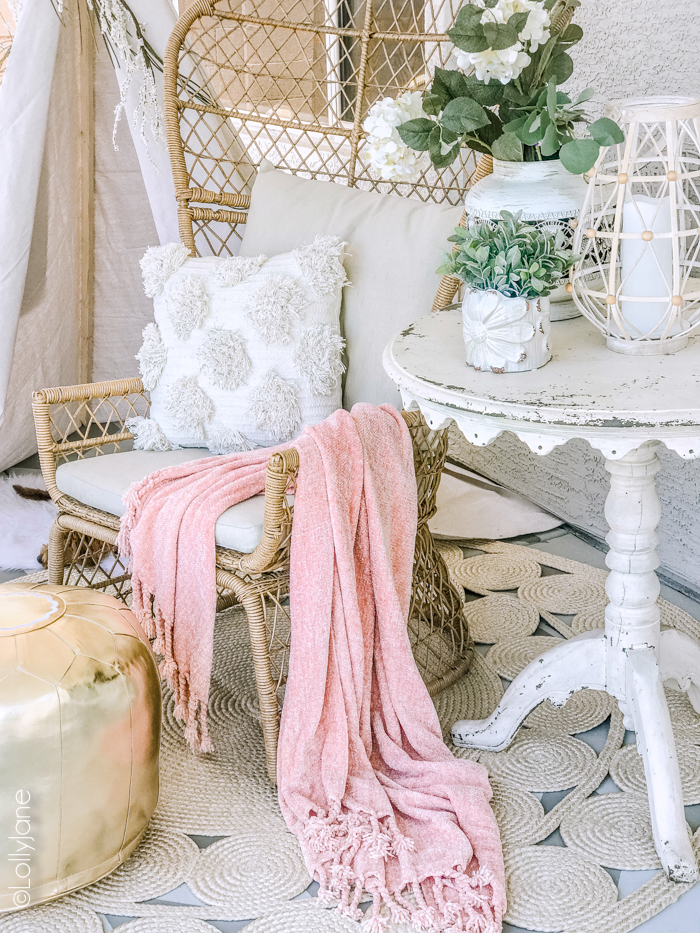 We have a full DIY for how we hung the flowers on the wheel, it was so easy and I love all of the color that unique piece brings into my space!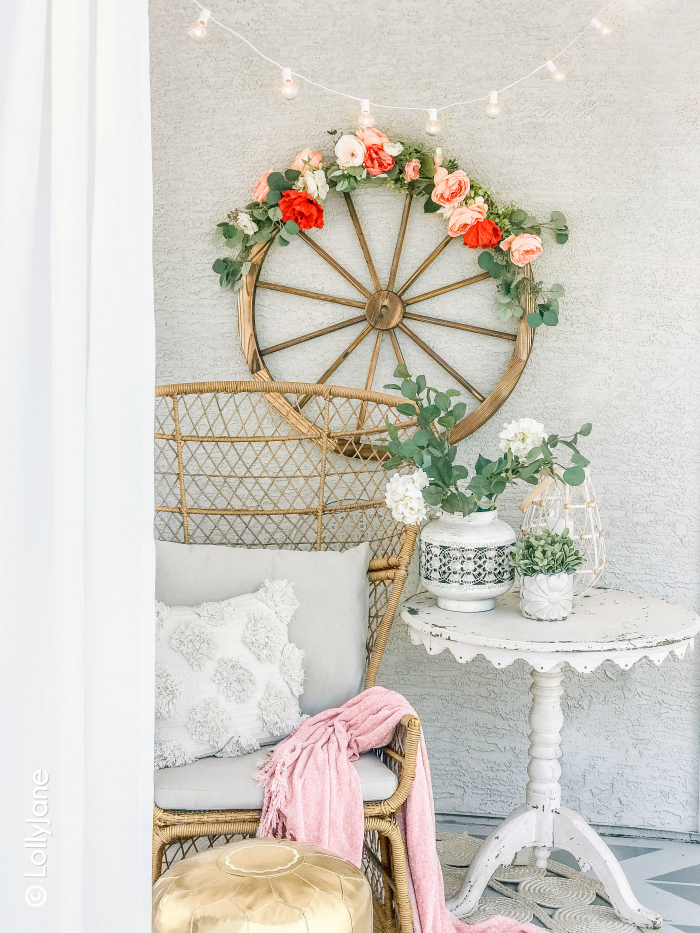 The lights are new to my porch and I'm kicking myself for not gathering them and hanging them earlier as they bring in a dreamy ambiance and I love when the sun sets to see my patio sitting area all snuggly. At Home has a wide assortment of outdoor lighting, as well as LED candles. The bamboo lantern (pictured) is actually LED so I just flip a switch to turn it on or off… so happy I don't have to worry about my 3 rascals knocking it over and causing a mess with melted wax or worse, a fire!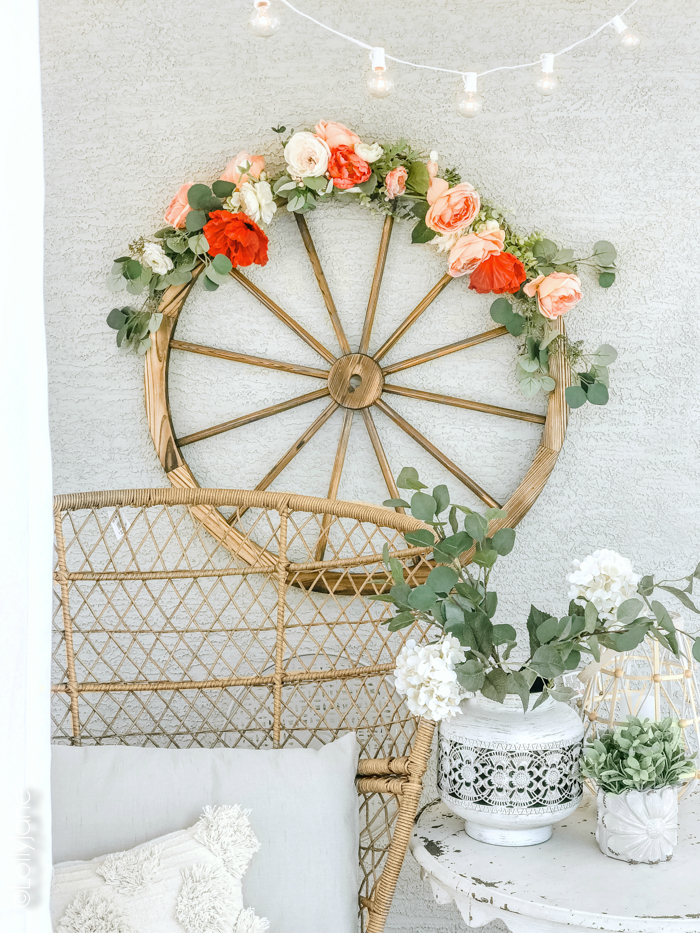 I polished off my space with another planter shaped like a sunflower that just screams SUMMER! and I absolutely love it filled with more faux greenery from At Home's wide greenery aisle that is hard to leave. LOL I grabbed an extra stalk and wrapped it around my little handmade tee pee to really pull the space together and couldn't be more happy with how this turned out. It's so dreamy and I love going outside now to oooh and aaah over it!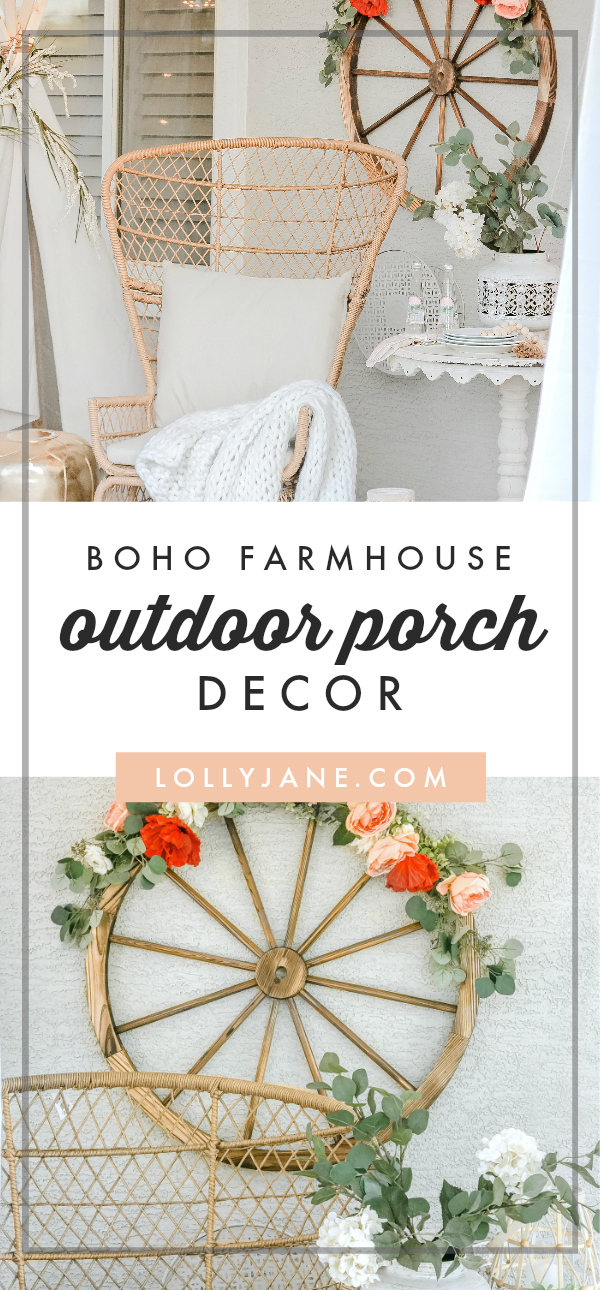 OUTDOOR BOHO FARMHOUSE porch decor SOURCES
You've guessed it by now… At Home is our one-stop shop for all things home decor, in or out! You can shop my space below: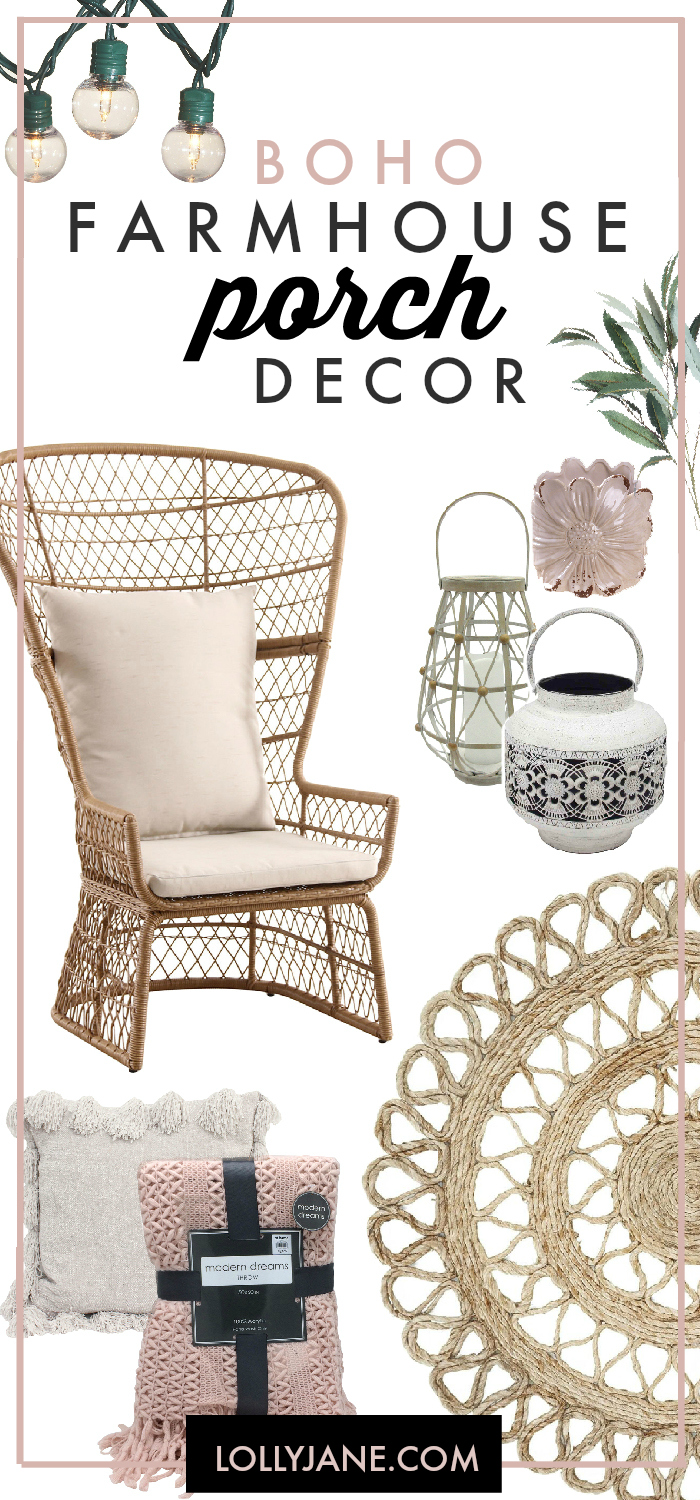 White Metal Lantern (used as a vase)
Round Jute Rug (similar)
Off White/Gray Pom Pillow (similar)
Blush Pink Throw (similar)
Scallop Table (thrifted)
Tee Pee (handmade; diy coming soon)
Sister vs. sister patio challenge… vote now!
Now back to the fierce competition! Again, just for funsies (and what the heck, we'll throw in a $50 gift card to At Home from us to you for taking the time!) cast your vote for Kelli's Coastal Farmhouse Patio OR Kristi's Boho Farmhouse Patio by leaving a comment below! A big thank you to At Home Stores for sponsoring today's post. All opinions, as always, are our very own and we truly feel at Home in At Home! 😉
xo, K+K