Magic Caramel Pretzel Cookie Bars
Is there anyone else who just love salty sweet treats? They are a pure weakness of mine so when I come up with a new recipe using both salt and sugar, it's almost a dangerous thing! If you've never tried anything salty sweet now is the time. There is something so satisfying about eating both at the same time.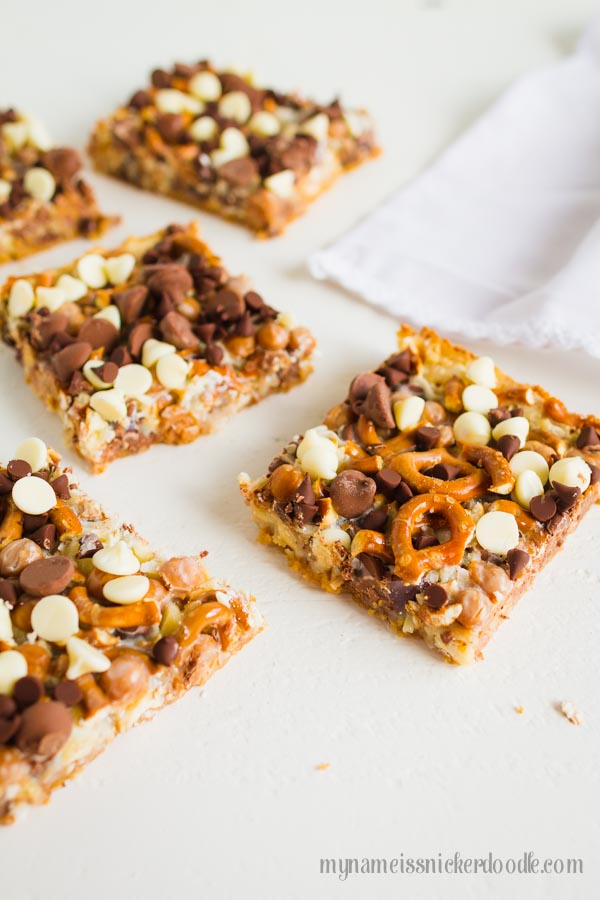 These Magic Caramel Pretzel Cookie Bars are almost magical tasting and irresistible. I took the classic recipe and tweaked it a bit with a few different ingredients.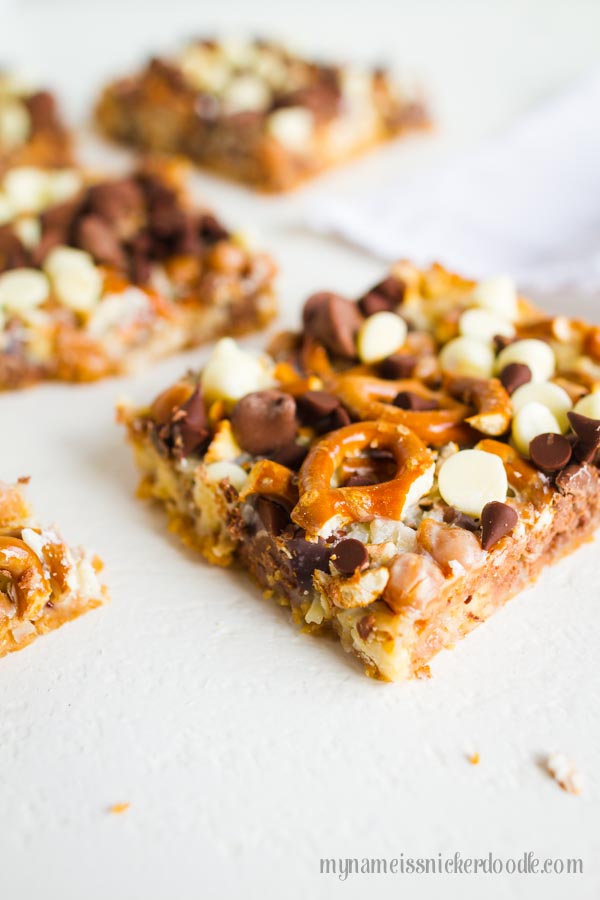 I remember my mom making the classic version of this recipe when I was younger. I loved how chewy and gooey they were. Her recipe included butterscotch chips and semi sweet chocolate chips.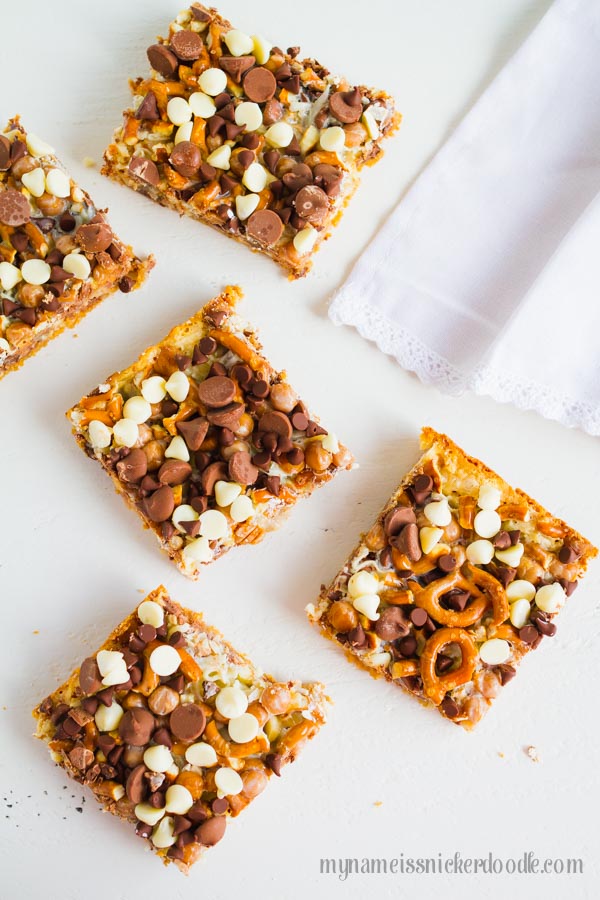 I decided to add a few different ingredients to put a twist on it and I knew that I salty pretzels and caramel bits would be really great!

Now, let me tell you. This makes about 16 large squares. You could cut them down smaller so they feed a few more people. Or cut them smaller so you can snitch a few before you serve them!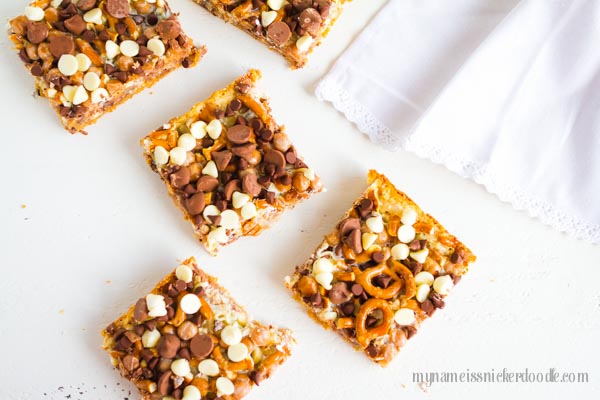 Magic Caramel Pretzel Cook Bars
Makes 16 Squares
1 1/2 Cups Graham Cracker Crumbs
1/2 Cup Butter, Melted
1 15 oz can Sweetened Condensed Milk
1 Cup Crushed Pretzel Twists
2/3 Cup Semi Sweet Chocolate Chips
2/3 Cup Milk Chocolate Chips
2/3 Cup White Chocolate Chips
1 Cup Caramel Bits
1 Cup Shredded Coconut
Preheat your oven to 350 degrees.
Combine graham cracker crumbs and butter together.
Press into the bottom of a 9×13 baking pan.
Sprinkle with coconut, chocolate chips, crushed pretzels and caramel bits.
Evenly pour sweetened condensed milk over the top.
Bake for 20 minutes.
Immediately after taking out of the oven, run a knife around all of the edges then let it cool completely before cutting.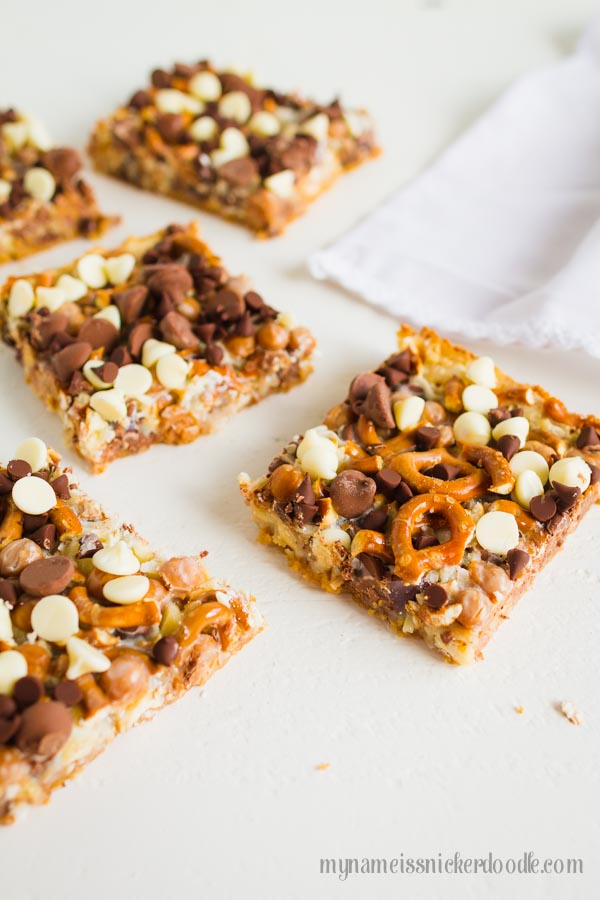 Here are some other yummy recipes to check out from My Name Is Snickerdoodle.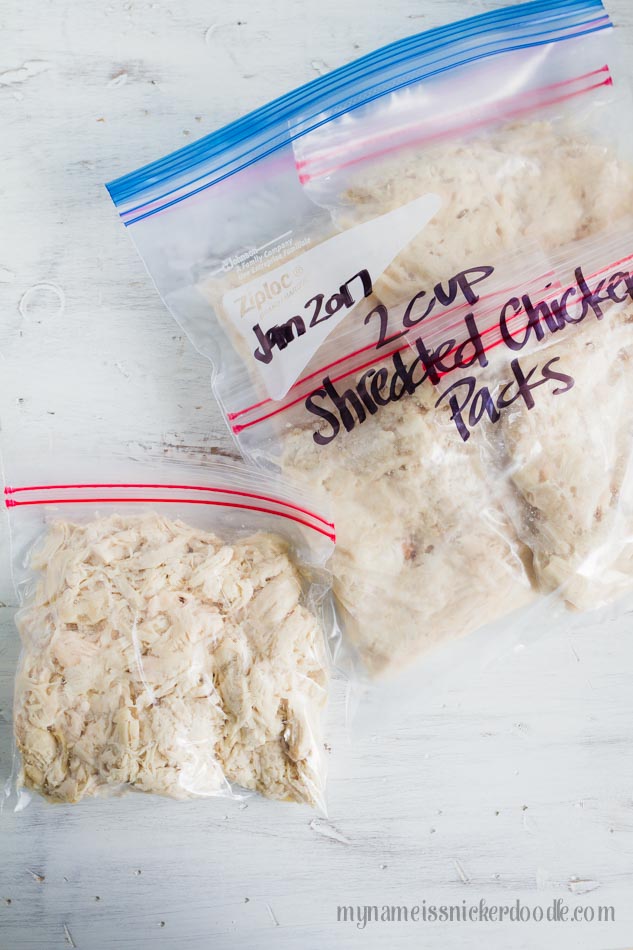 How To Cook, Shred and Freeze Chicken