We're happy to welcome our sweet monthly contributor Carrie from My Recipe Confessions!
With my kids out of school, our summer vacation is in full swing and our schedules are filling up fast! Between dance, baseball, swim lessons, and camping trips, there isn't a whole lot of time for dinner preparation. Not to mention the fact that it is already hot outside, so who wants to heat their house up even more by turning on the oven? I certainly don't and that is another reason why I love to make my Southwestern Club Sandwich. I also love the fact that it is fast to prepare and it just tastes absolutely amazing!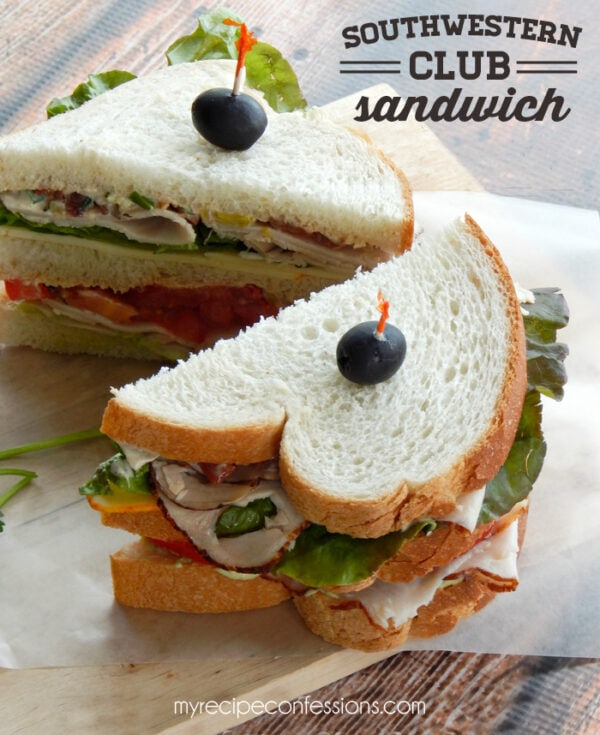 These sandwiches are great to make ahead of time. You can wrap them up and throw them in a cooler. Then when it's time for dinner and you are between activities with no time to stop at home, whip out these babies.
Your family will love you for it!
Southwestern Club Sandwich
6 slices of country style white bread
6 oz. roasted turkey, thinly sliced
4 oz. pepper jack cheese, thinly sliced
1 large tomato, sliced
4 large red leaf lettuce leaves
Southwestern Spread
1/2 cup of mayo
2 tbsp. of green chilies, diced (for more of a kick, you can add jalapenos)
2 tbsp. cilantro, chopped
1/2 tsp. cumin
1/2 tsp. smoked paprika
3 tbsp. green onions, chopped
1/4 cup bacon, cooked and crumbled
Avocado Spread
1 medium-sized avocado, halved, pitted, and mashed
1/3 cup of mayo
1/2 tsp. salt
1/4 tsp. black pepper
Directions
1. Mix all the southwestern spread ingredients together in a bowl, set aside. Mix the avocado spread ingredients together in a bowl, and set aside.
2. Spread 1/4 of the southwestern spread on a slice of bread. Top with the 3 oz. of the sliced turkey and 2 red leaf lettuce leaves.
3. Spread 1/2 of the avocado spread on a slice of bread and place it on top of the turkey and lettuce with the avocado side facing down.
4. Next layer the cheese and tomatoes on top of the sandwich. Spread 1/4 of the southwestern spread on the last slice of bread and place it on top of the sandwich. Slice the sandwich in half and stick a toothpick into the top of the sandwich to hold it together. Repeat this process with the remaining ingredients to make the second sandwich.
Until next time,
Carrie

Pin It | Blog | Facebook | Pinterest | Instagram| Google+
_____________________________________
Mmmmm! We are HUGE sandwich eaters around here and Carrie's sandwich looks ah-mayzing! It would taste so yummy paired with her easy Tuscan pasta salad,
plus this yummy pear salad,
and our fantastic chicken salad, mmm!!!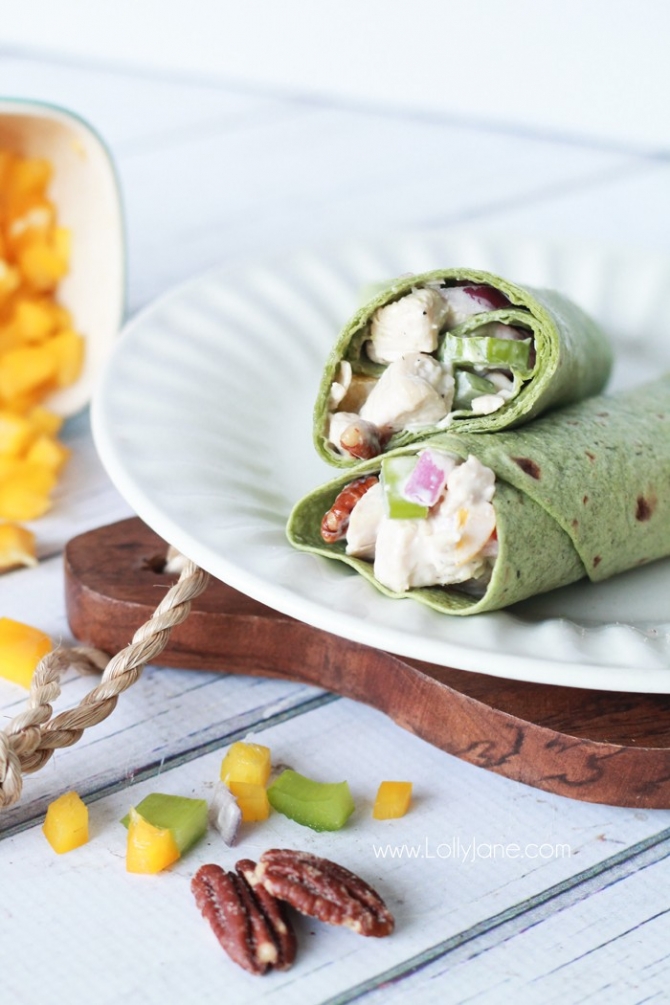 and her Russian cream (how pretty would this be for a 4th dessert?)
You can see all of Carrie's delicious entrees here! 🙂
FREE EMAIL COURSE
5 Low Cost Tricks to Make Your House Look Like $1 Million
It's Lolly Jane's 5 FAVORITE Tricks to spruce up your space affordably.

Don't miss these!