Wicker comeback: Love it or Hate it?
Have you fallen for the wicker trend?? We've seen on Pinterest that wicker is making a comeback (aka Mandi is making it come back) but we aren't sure yet if we love it or hate it. We scored this $20 bench at a yard sale and immediately hated the top. Because I live in a teeny tiny town (think Gilligan's Island small) we have no stores except a pizza place and a truck stop. The local Walmart is almost half an hour away and the fabric selection there is definitely not Riley Blake if you know what I mean! I have plans to recover it if I find the right fabric but for now the wicker stays. Here is a quick tip on how to paint wicker!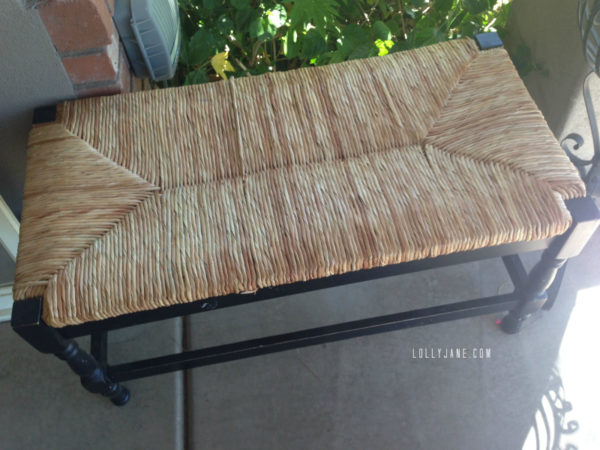 As you can see, the bench was black with the natural woven wicker top in mint condition. I knew this was the perfect piece for my small family room as it is kid-friendly (non sharp edges they won't hurt themselves on and is very sturdy) so with a little elbow grease, it now fits right in. Our Facebook fans don't dig it. That's okay, we're not sure if we do either!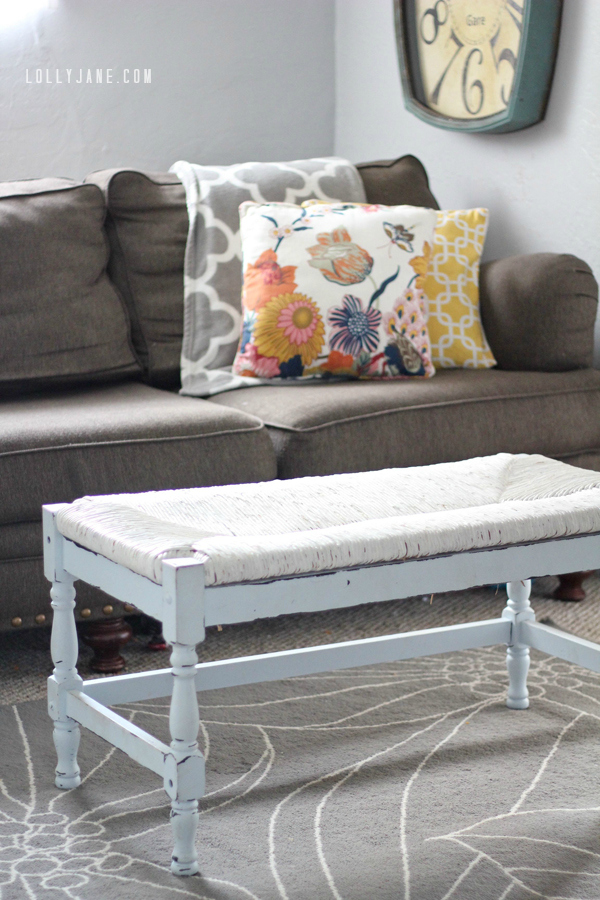 To make this bench fit my style, I separated the top from the bottom of the bench. I applied 2 light coats of Glidden paint (midwinter sky) in a flat finish then distressed the edges to accomplish this look for the base of the bench. I always, always buy paint + primer in one and almost always use a roller vs. a brush. It saves an insane amount of time and for us impatient DIY'ers, it has become a must (;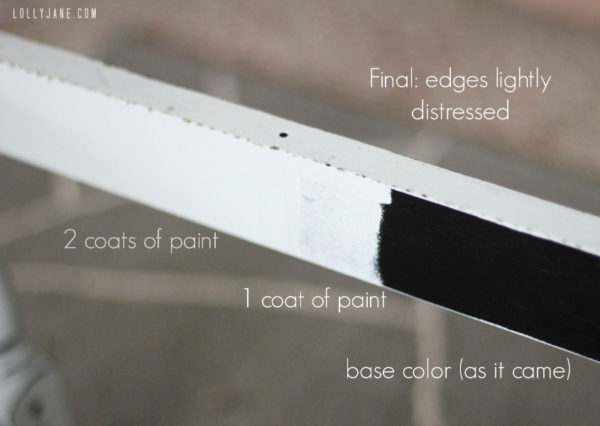 The top of the bench was another story. You see, I live in a teeny tiny town and our only "craft store" is the small section in Walmart, another town away. Although I am digging the look of wicker right now, I know eventually I want to recover the top in a more modern print (to match the rug and throw pillows) but until I can make a stop in the city, painting the wicker a fresh white will have to do… and by the time I have recovered it, the wicker trend will probably be dying out anyway (is it even in??)! LOL
So, how do you paint wicker without spray paint? First things first, make sure your wicker is clean! Because it is a natural fiber, any spots (like dust, dirt or oil) can show through the paint. Rinse it in warm soapy water and for tough spots, a bit of degreaser may be necessary. Make sure it is bone dry before proceeding! Secondly, prime. Because I use paint + primer in one, we can skip this step and start painting. Yay!
I used a $2 foam brush to paint the wicker. Yes, you read that right: foam brush. Because there are so many nooks and crannies with wicker, it is easy (when getting in between them with the brush) to lose bristles. I avoided that all together and got a better quality foam brush. Paint adheres to wicker quite well so the difference between a foam and bristle brush was very minor. Again, I just brushed on 2 light coats of paint, this time using Behr's self priming interior flat in ultra pure white.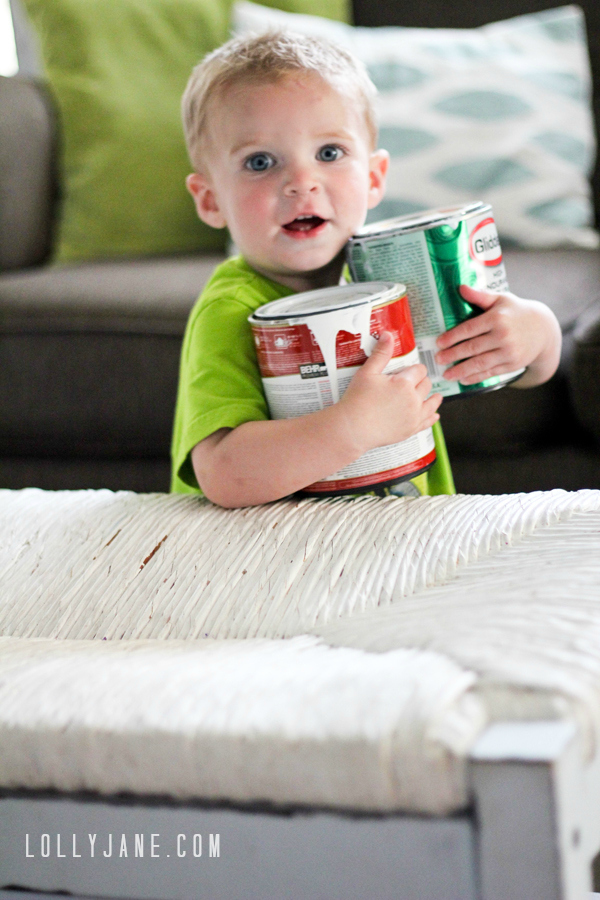 As you can see by my little helper, a quart of each is plenty! (; Notice that I painted heavily inside the grooves of the wicker. This makes the piece look more blended than spray painting, where the natural wicker shows through.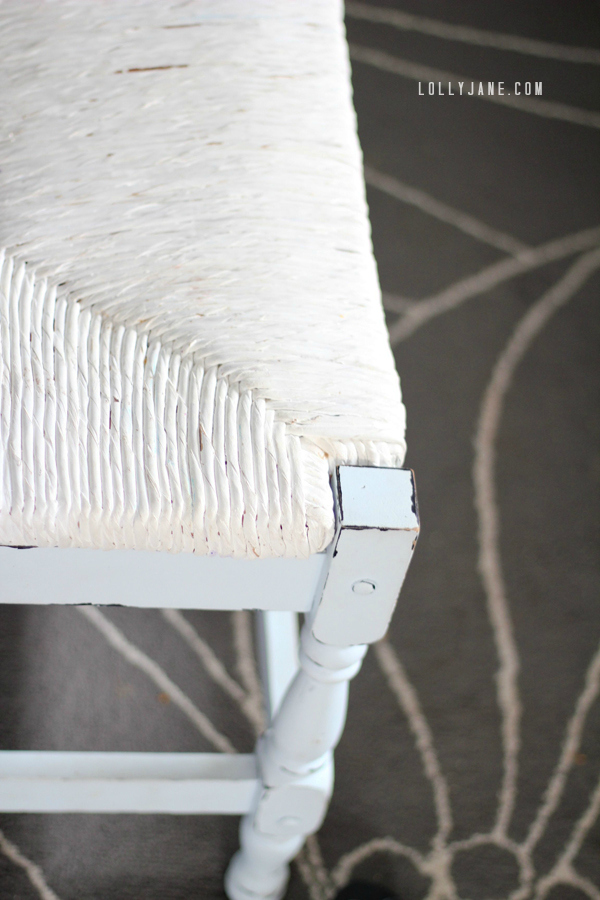 To match the base, I lightly sanded again to give it the aged look. All in all, I didn't spend anything more than the original purchase price since I had the leftover paint from the revamped couch table and two-tone kitchen barstools we shared with you earlier, and of course have a stash of foam brushes on hand. Not too shabby!
So tell us, do you think the wicker trend will last?