How to treat and prevent lice
It's a gross topic but someone's gotta cover it!  
Has your kiddo had lice yet??
 If so, you know how absolutely disgusting it is, not to mention embarrassing :/  
Here's what I've learned as a lice surviving mama after much research plus trial and error. Here is the easiest and cheapest way to not only treat lice, but how you can easily prevent it too. How to TREAT and PREVENT lice: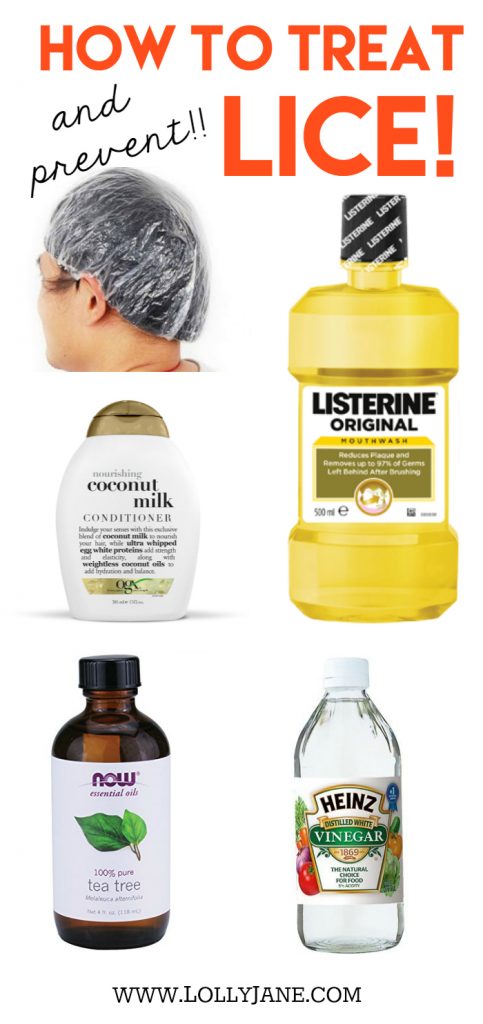 How to treat and prevent lice
How to effectively
Treat Lice
:
If you know your child (or yourself) has lice, soak your hair in Listerine (any kind) and cover with a shower cap for 2 HOURS.

Rinse, then do the same with vinegar (yes, 2 MORE hours). *Be sure to use a clean shower cap.

Using a fine tooth comb, pick out those nasty buggers.

Rinse again, then wash your hair with your normal shampoo but add 1 tablespoon of Tea Tree Oil into your shampoo bottle.

Condition with any brand of coconut conditioner.

Repeat 5 days later, then 5 days after that due to lice laying nits that hatch every 5 days.
To
Prevent Lice
:
Add 1 tablespoon of Tea Tree Oil to your regular shampoo bottle, the oil repels the lice.

Use any brand of coconut scented conditioner on a daily basis, apparently lice don't prefer the smell.

Before the school year starts, follow the instructions for treating lice…I read that a military mom of 35 years did this every year her kids were in school and between all the random cities and countries they lived, her kids NEVER picked up lice, even their classes were infested.
Note: It's been reported that lice are starting to become immune to the lice shampoo sold in stores.  Just as well, those bottles are really pricey and didn't work the first 2 times my daughter had lice…which is why she get re-infected over and over until we heard about this treatment.
Cost: From the Dollar Store: 8 shower caps/$1, coconut conditioner/$1. Supermarket: Tea Tree Oil/$8, Listerine $5, Vinegar/$1.  TOTAL COST: $16, less than 1 box of the whole preventative shampoo box! (We included links above just in case but you can find most of it at you local dollar store and/or drugstore/supermarket.)
Hope this works for you, worked for my long haired girls beautifully!  Even my 2 1/2 year old kept her shower cap on the whole 4 hours without complaining.
BIG thank you to my good friend, Melissa, for sharing these home remedy treatments.  Sorry she had to suffer through it until she got it right but it benefits us all well, right?? (: