felt scalloped Christmas trees
So excited to introduce these darling felt scalloped Christmas trees with you!  Now that Thanksgiving is over, bring on the Christmas decor!!
The crystal finial topper really makes this project, don't you think??  This was a joint effort by me and the twin, I gotta admit.  I kept telling Kris how cute these would be after seeing them in Land of Nod's mag.  She didn't see my vision so I started making them in front of her while she was working on our bakers twine garland.  She added the crystal finials to the top and these babies came alive!  We re-vamped our eighteen25 glitter trees that we loved last year, I couldn't handle the glitter shedding any longer!  Do you love them?!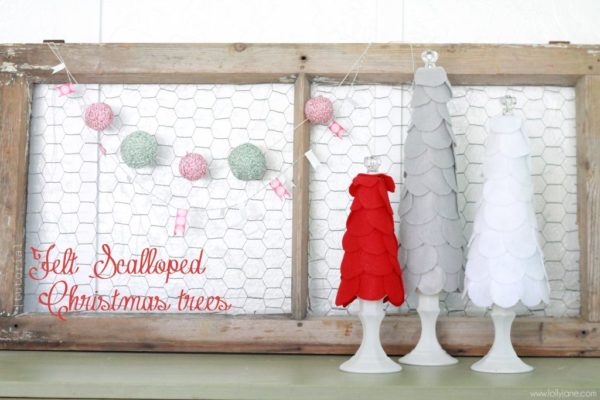 To make these, gather some cheap supplies:
3 styrofoam cones in different sizes (Walmart has the cheapest ones we've seen)
2 sheets of felt per cone, 3 colors each
pins…lots of pins!
3 candlesticks ($1 store!!)
3 finials

To make them, cut out circles from felt, about 1 1/2″ in diameter.  Cut cut cut !  Not a lot this easy project: pin a circle to the cone starting from the bottom and working your way up.  Let it hang over the bottom to get that cute scalloped look.  Work in rows.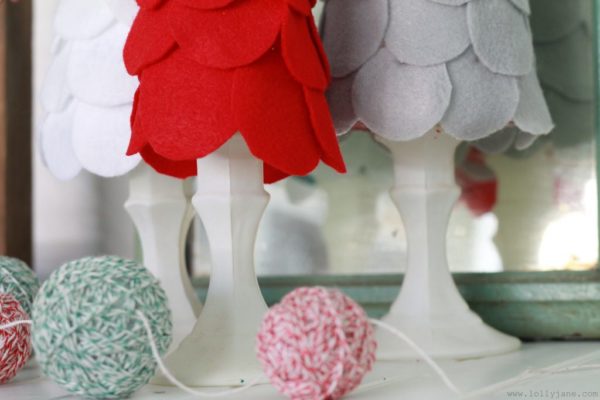 For row 2, start so the circle is overlapping the first row and offset it so it gives it a brick pattern look.  Then pin pin pin!  We just pushed some finials into the top, no gluing or screwing required! (;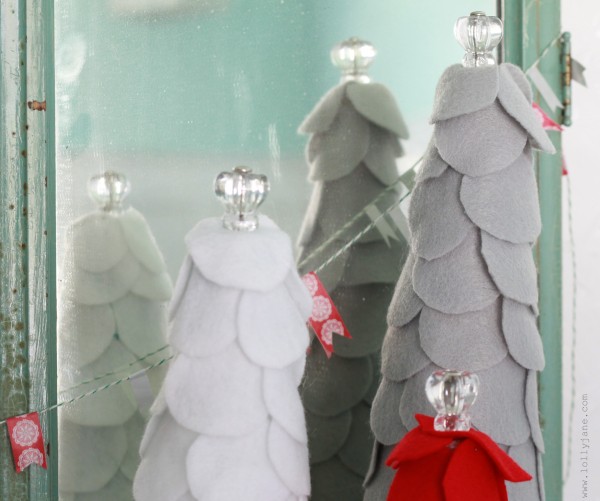 What're you waiting for? Go make your own felt scalloped Christmas trees to add to your rockin Christmas mantel!