The first Halloween party of the season is quickly approaching and we've gotta be prepared to wow the kids so we whipped up these Halloween Ghost Cupcakes that taste like an orange Fanta soda but have the savory flavor of OREO. It is such a yummy combination!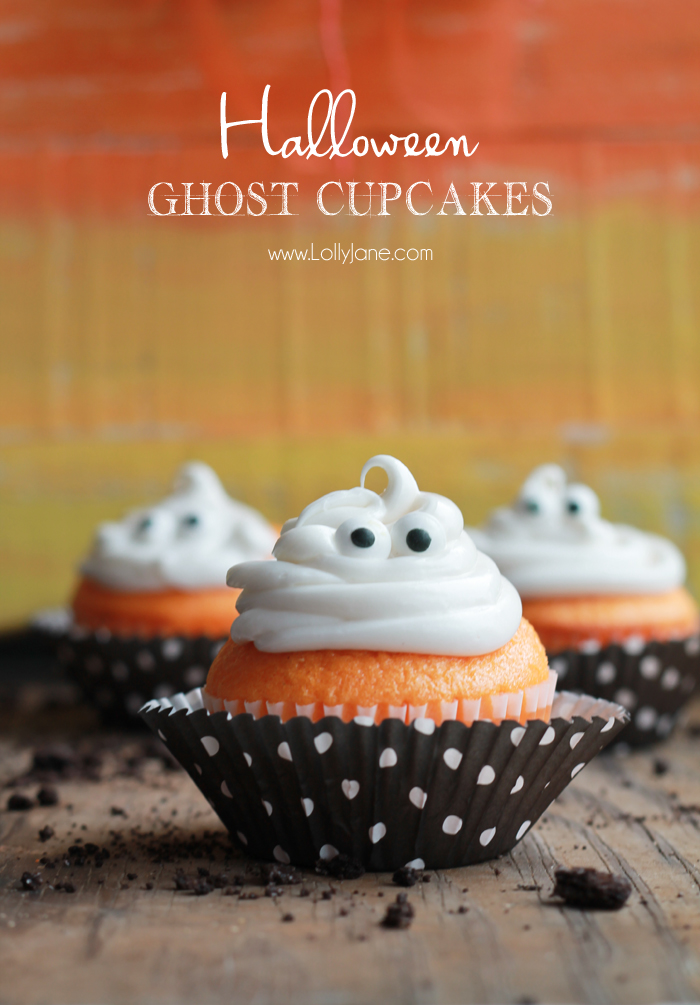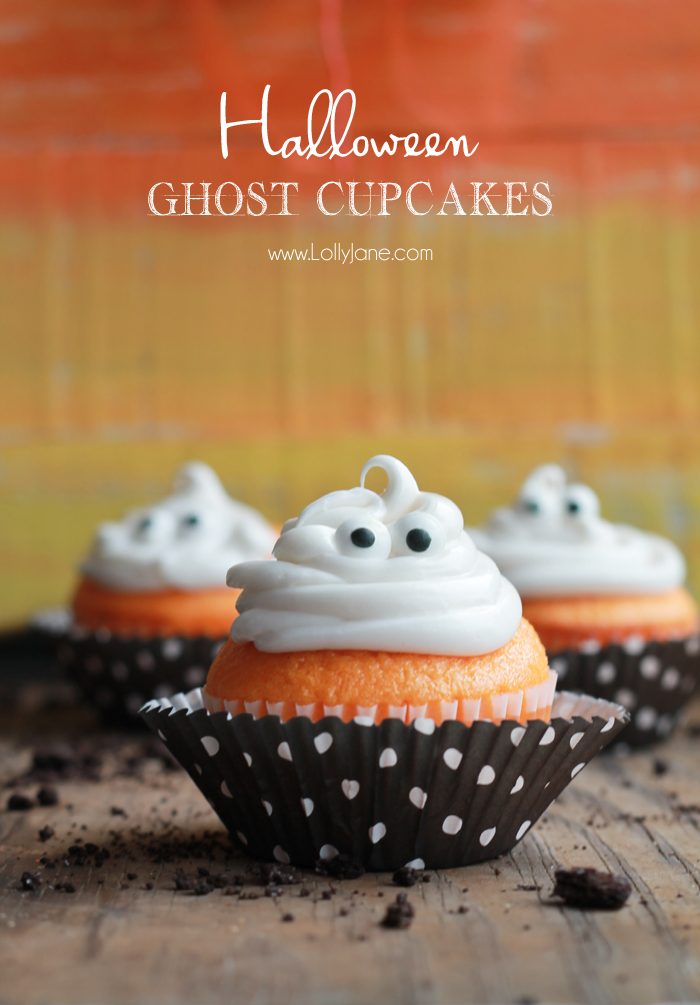 These are almost too cute to eat. Almost. 😉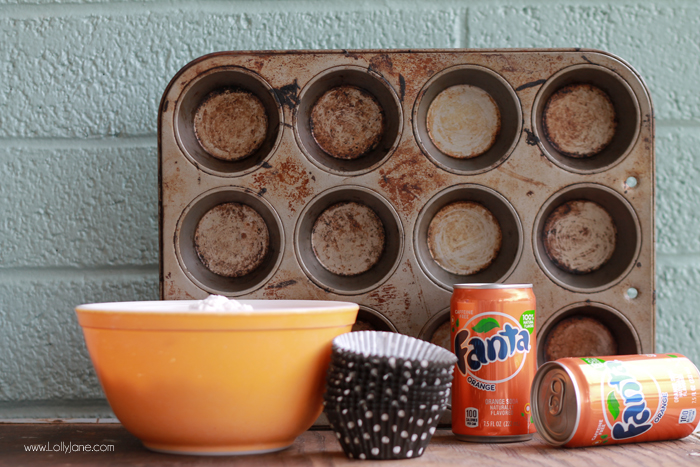 Fanta Halloween Cupcakes with Ghost Frosting
Ingredients:
1 Box White Cake Mix
1 Can Fanta (7.5 oz.)
Cupcake Pan, Liners
1 Tub White Frosting
Candy Eyes
Food coloring (orange OR red + yellow)
5 OREOS, crushed
Directions:
Mix cake batter according to box directions but omit water, pour in 7.5 ounces of Fanta orange soda.
Add a dash of orange food coloring (or 1 part red to 3 parts yellow) to enhance orange color.
Bake according to box directions.
Let cupcakes completely cool.
Scoop 1.8 C. frosting into a baggie, mix with 1 tsp. cocoa to make chocolate frosting.
Spread thin layer of "chocolate frosting" over cupcakes.
Pour crushed OREOS on plate and dip chocolate frosting.
Using a baggie (as pictured) make an ice cream cone shape with remaining white frosting.
Top with 2 candy eyeballs.
Set up for Halloween party, class party or for an after dinner treat!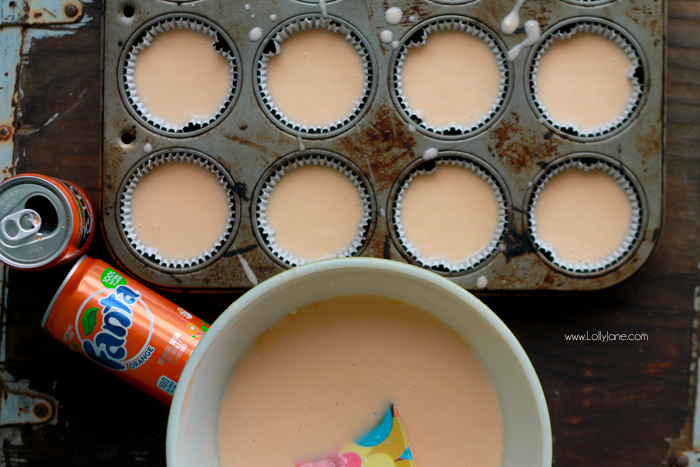 The color of the cupcakes (as pictured) looked more peach so we added another 6 drops of yellow and 2 drops of red to make the orange color really pop. And yes, they taste like a Fanta soda and are so good!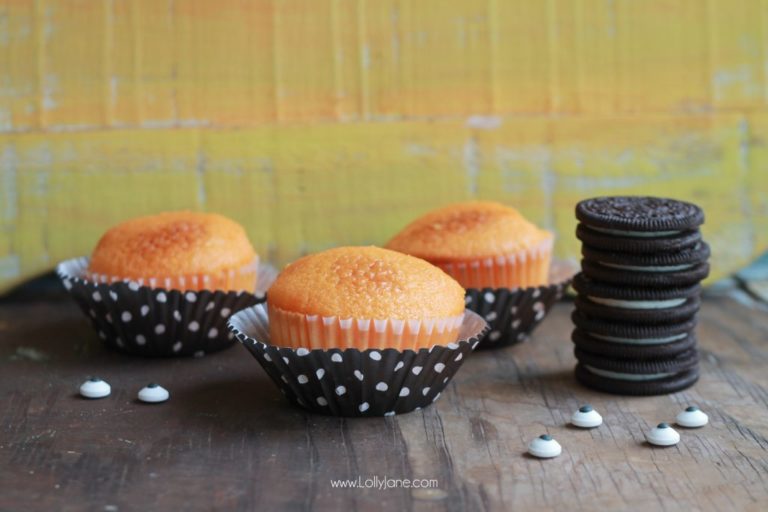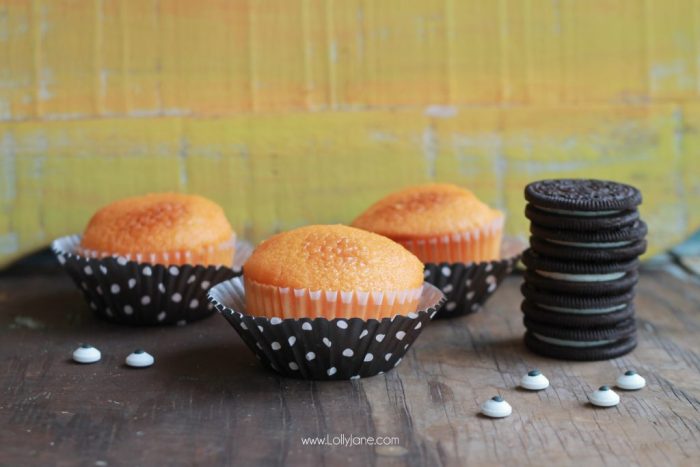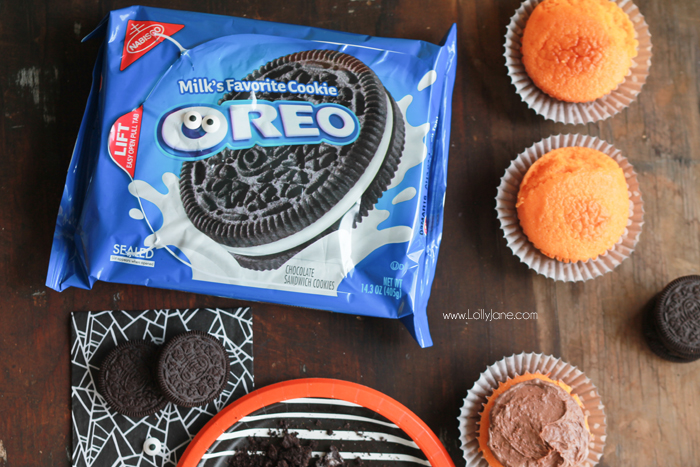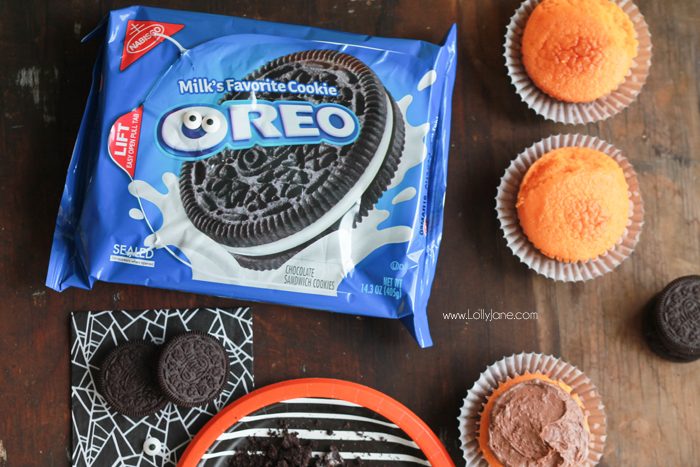 Crushed OREOS are a fun topping as it looks like dirt, to further spookify the ghost, but you can omit it and just frost the cupcake with white frosting + candy eyeballs as well.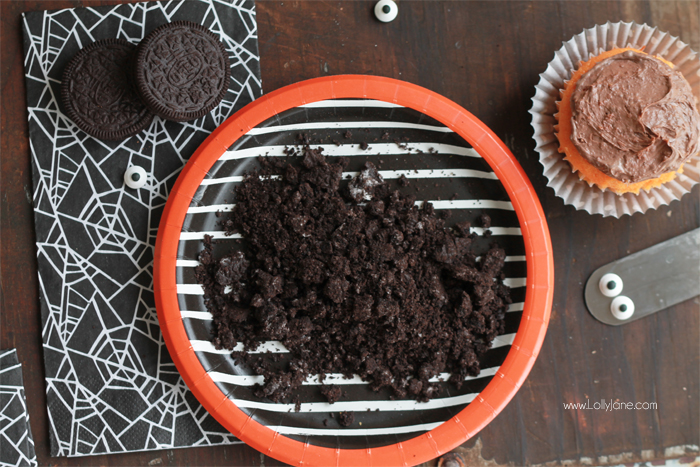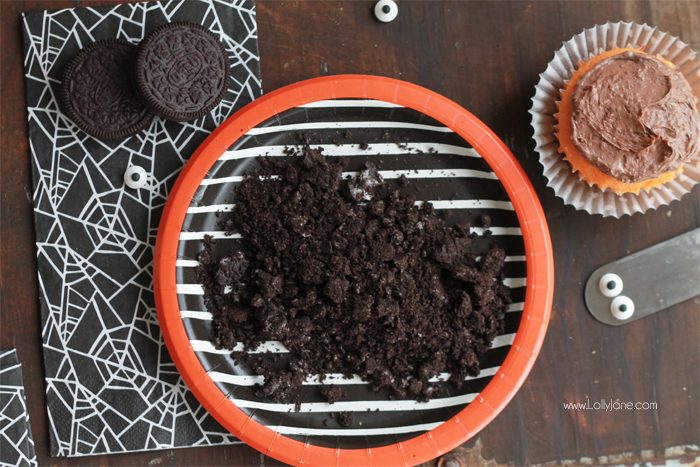 Tip: A snack size baggie with a corner snipped off is a quick alternative for piping cupcakes.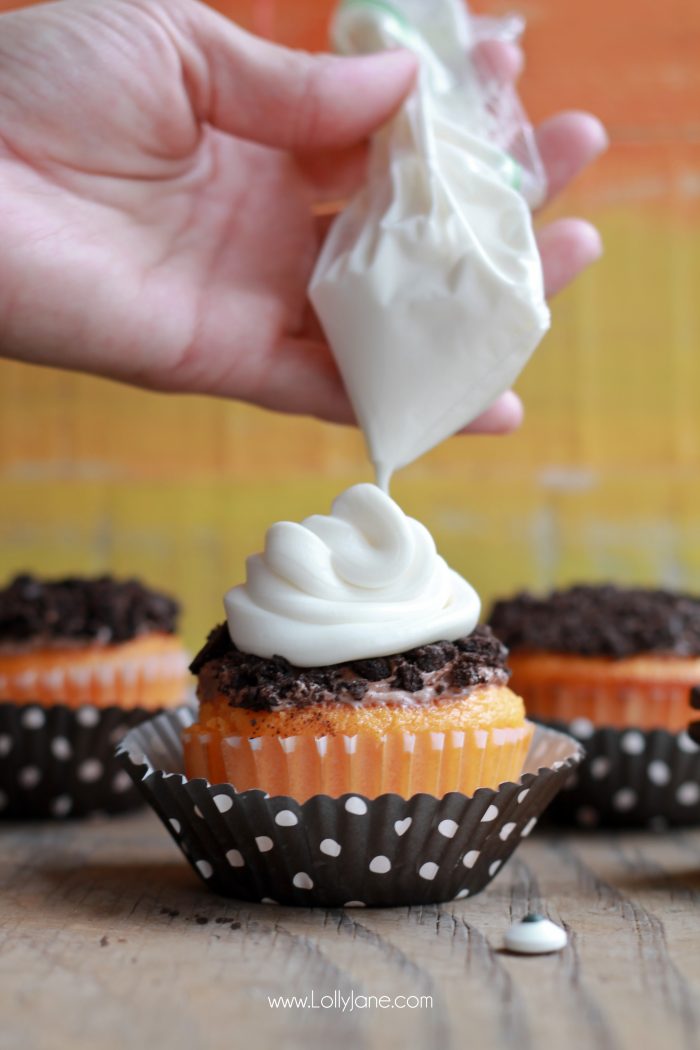 These cupcakes are a breeze to make yet are really festive. My kids were BEGGING to eat one when they saw them on the table and could hardly wait to pick the eyeballs off first and much on those, lol!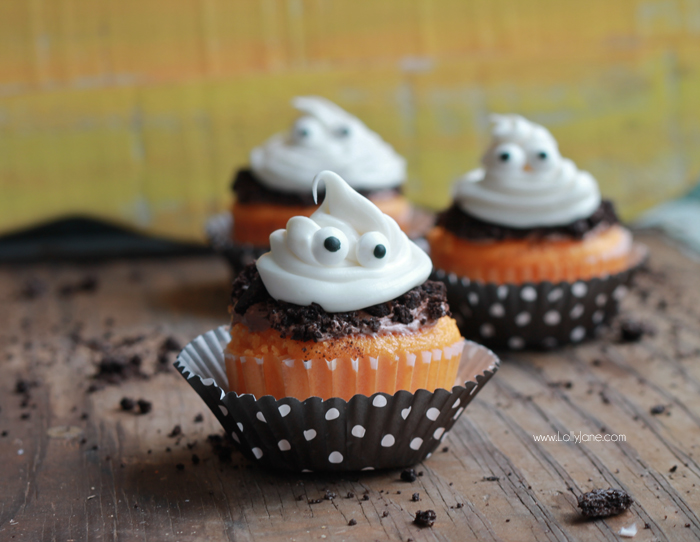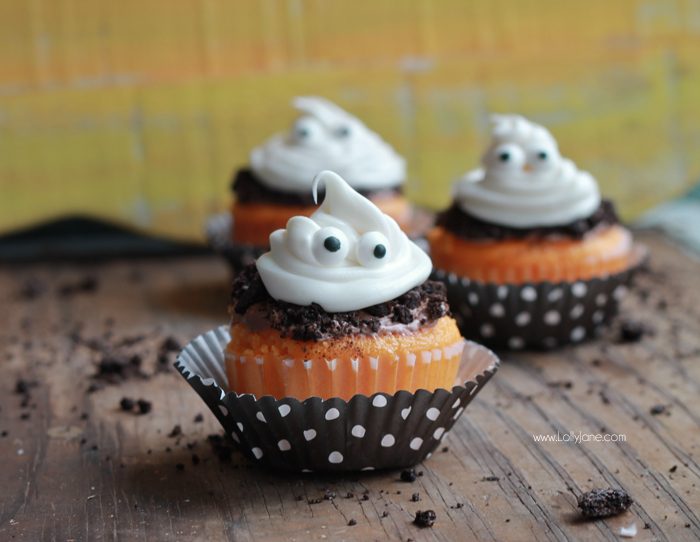 Have you heard of the Fanta and OREO Spooky Snack Lab? Besides inspiring fun family memories by offering creative snack solutions using products people love, like Fanta and OREO (hence our ghost cupcakes, wink!) all month long you can find Spooky Snack Lab inspiration. Just visit the Fanta and OREO Spooky Snack Lab board or check out the cute Evette Rios as the Spooky Snack Lab Scientist, and the curator of inspirational Halloween recipes, entertaining tips and tricks! She is fun to watch as she shares spooktacularly yummy creations like these Fanta Candy Corn Frozen Treats and spooky sweet Peanut Butter "Eyeball" AHOY!wiches. YUM.
You KNOW we like to celebrate Halloween so we've busted out our own Spooky Snack Lab Halloween board on Pinterest and will be repinning projects or recipes with the #SpookySnackLabContest hashtag. (Get hashtagging, friends! We would love to feature you!)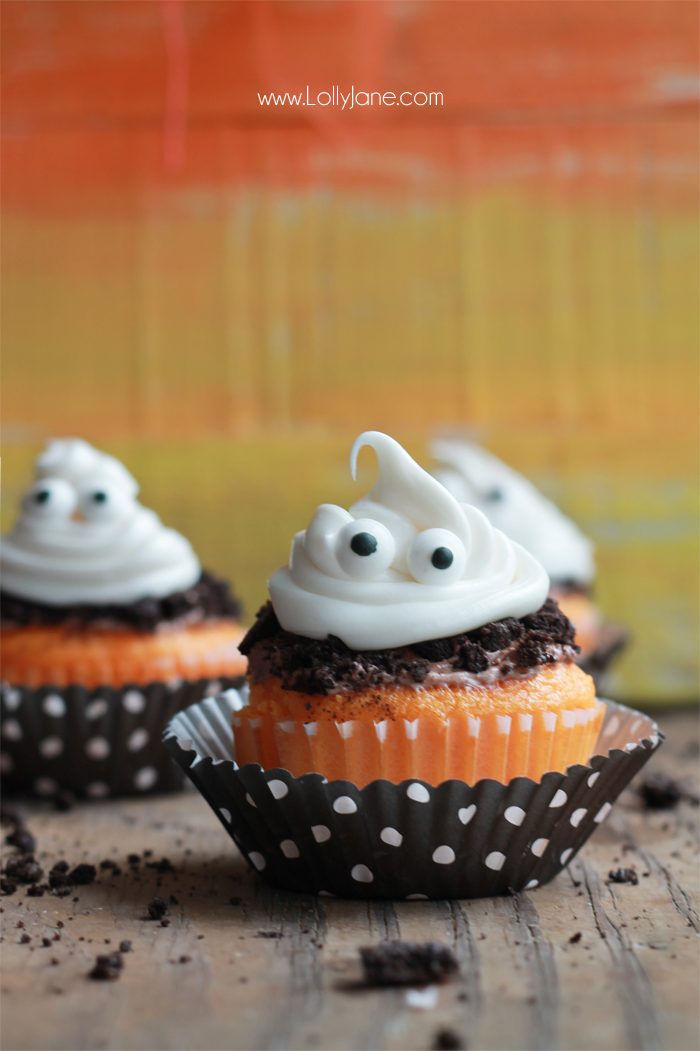 Oh and we would love to give you your very own Fanta and OREO Spooky Snack Lab prize! Just create a custom pinboard with Halloween recipes, lifestyle and entertainment tips and tricks. (To enter just copy your unique pinboard URL and leave it as a comment at the end of this post. That's it.) You'll be entered, yay!
Here's what's up for grabs:
3 packages of OREO Cookies, one package each of, RITZ Crackers,
CHIPS AHOY! Cookies, WHEAT THINS Snacks, TRISCUIT Crackers,
NUTTER BUTTER Cookies
Two (2) 6-packs of Fanta Orange mini cans
Four (4) 12-oz cans each of Fanta Orange, Grape, Pineapple and
Strawberry
A card with recipe inspiration
A $500 gift card
Total $550 Approximate Retail Value
We're hoping to help kick your Halloween inspiration into gear while you entertain and create your own spooky recipes!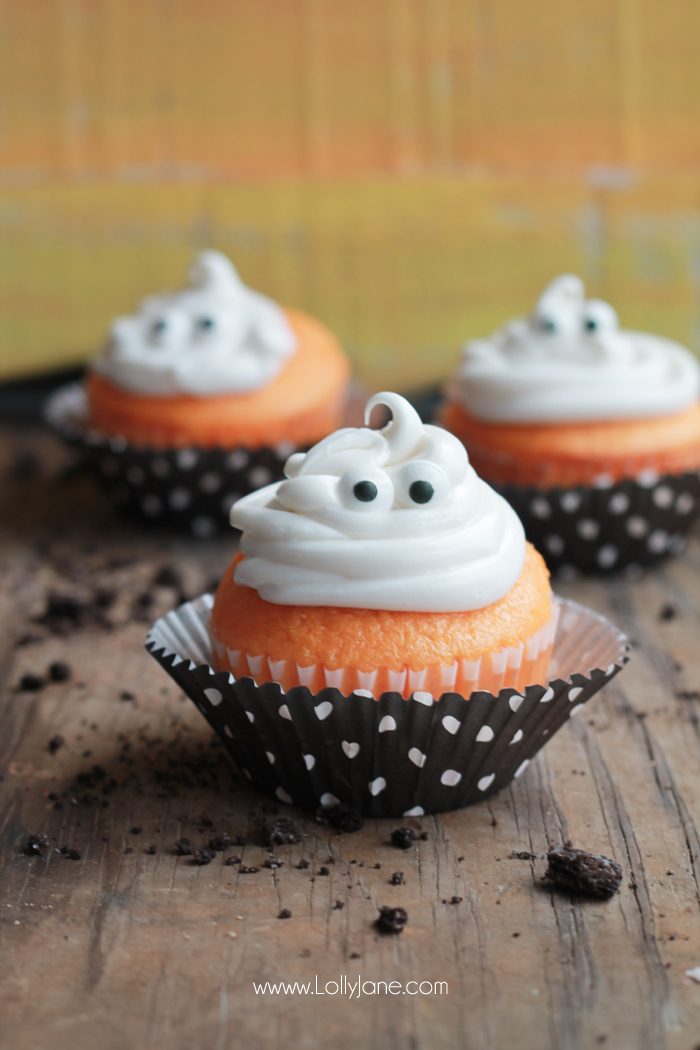 Follow along for even more Halloween entertaining ideas and yummy recipes and treats!
Fanta Twitter | Fanta FB | Fanta IG | Fanta YouTube
Or, click the trending hashtag #SpookySnackLab and #SpookySnackLabContest to see all of this Spooky Snack Lab Contest fun!