Easy mixed berry monkey bread recipe
When we were young kids one of our teenage brothers (we had 3!) was popular among the rest of the children for making the traditional cinnamon and sugar monkey bread whenever our mom had leftover bread dough. We have fond memories of pulling it apart and enjoying the ooey gooey goodness that is monkey bread! Since berry season is in full swing around here in sunny Arizona we decided to try his recipe berry style… perfect for our annual Mother's Day brunch coming up!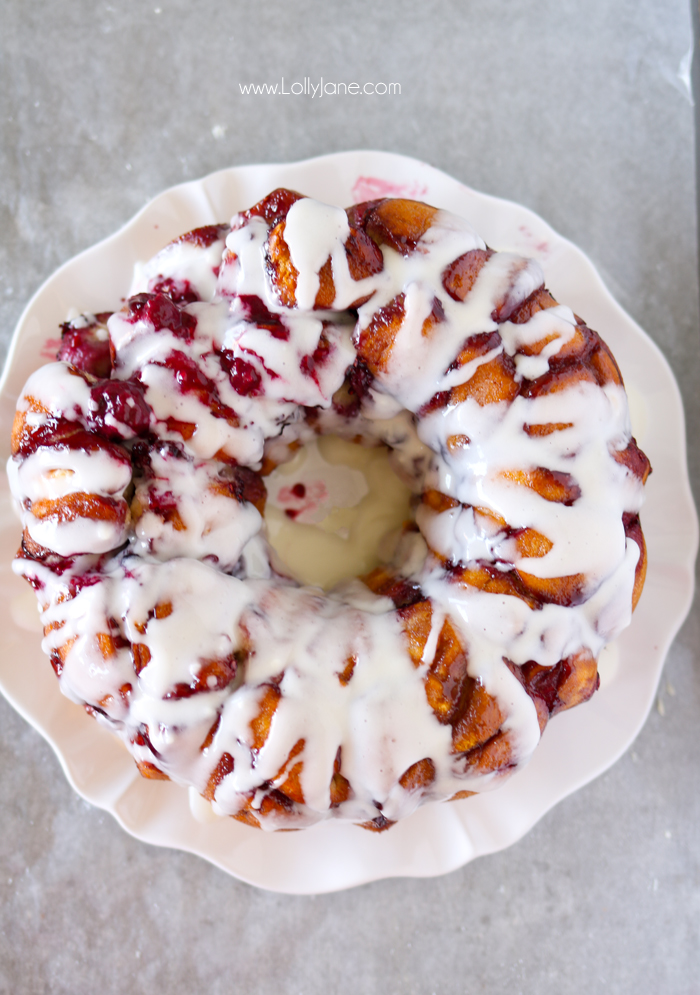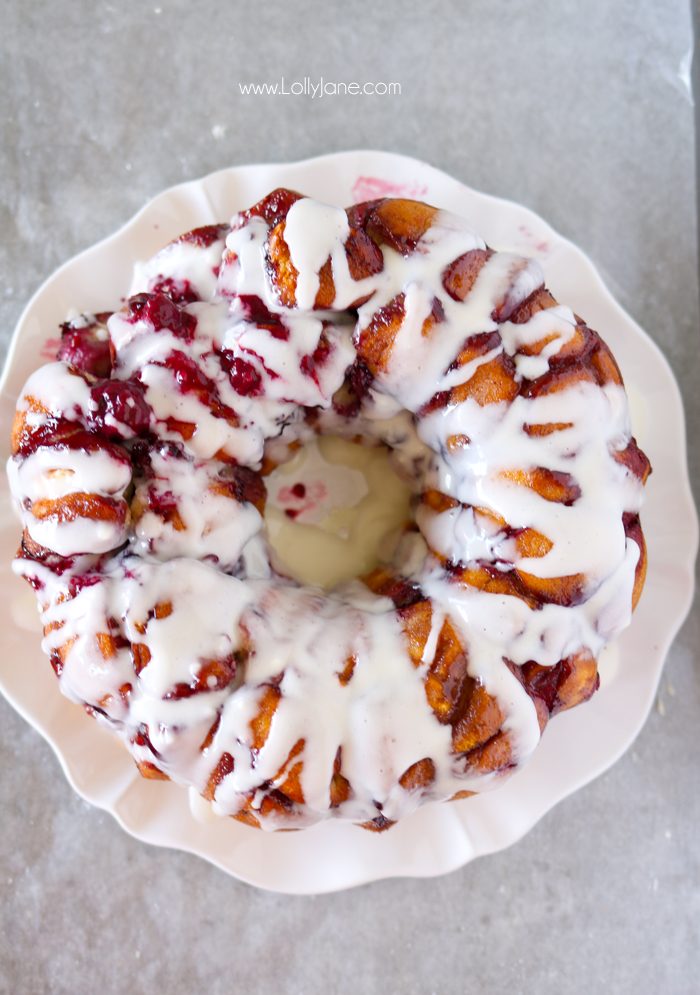 If you've had one of the many variations of monkey bread, you KNOW how messy it is from start to finish. (Don't mistake this for not making it… it is definitely worth every sticky moment, haha!)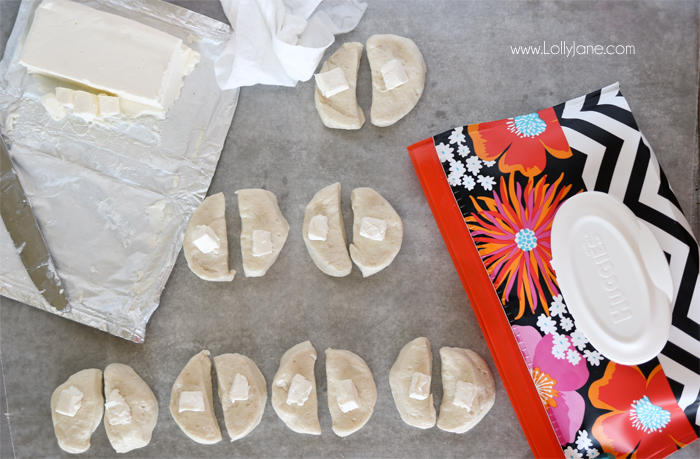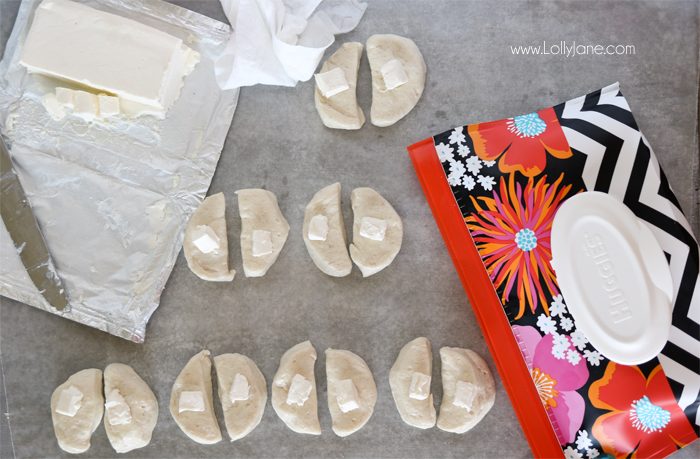 Now let me tell you about the variation of monkey bread we can't wait to introduce to our mom this Mother's Day! Our mom loves the combination of berries. She can go through more cartons per week of blueberries, blackberries and raspberries on top of her cereal, toast or as a midday snack than my family of five does, seriously! LOL!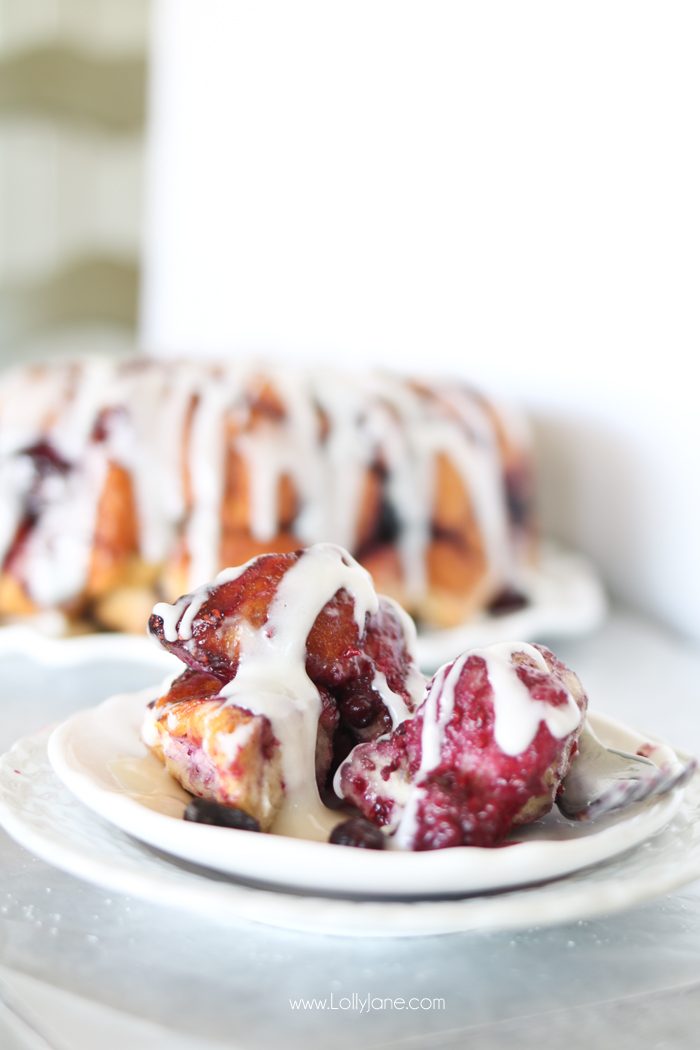 We know she is going to love the triple berry version of her sons original recipe and hope she is as nostalgic this Mother's Day enjoying a recipe adapted by her daughter. Regardless of the history behind the recipe, your mother will surely think this Mixed Berry Monkey Bread is just as delightful!
MIXED BERRY MONKEY BREAD
INGREDIENTS:
1.5 C. Granulated Sugar
3 Cans Pillsbury Buttermilk Biscuits
1/2 C. Butter
1/2 C. each Mixed Berries, (blueberry, blackberry, raspberry)
8 Oz. Cream Cheese
1/2 C. Powdered Sugar
1 Tbs. Lemon Juice
3 Tbs. Milk
DIRECTIONS:
Preheat oven to 350 F.
Place berries in sauce pan with 1/2 C. butter + 1/2 C. sugar and simmer for 10 minutes or until berries are soft.
Pour 1 C. sugar in bowl, set aside.
Cut 4 oz. cream cheese in small cubes, (reserve 4 oz. for glaze.)
Cut each biscuit in half, place one cube of cream cheese on top then pinch close.
Roll each biscuit in sugar.
Layer half of biscuits inside well greased bundt pan.
Pour half of warm berry mixture on biscuits, add remaining biscuits on top of berry mixture then pour remaining berry mixture over biscuits.
Place bundt pan in oven for 25-30 minutes or until sides are light brown.
Make cream cheese glaze (recipe here) and pour over warm Mixed Berry Monkey Bread.
Serve warm or chilled, enjoy!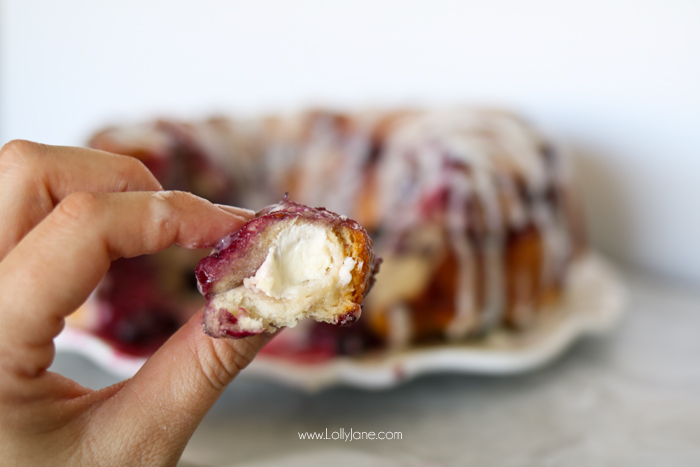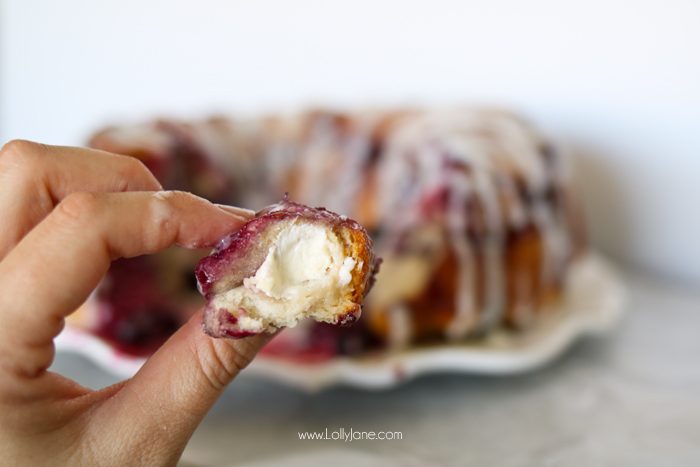 Um hello cream cheese filling! It adds the perfect amount of salty to this sweet bread. The glaze is what pulls the sweet + salty flavors together and tips the scale slightly to the sweeter side and takes away the natural tartness of the berries just a bit. Although it is delicious served fresh from the oven, letting it chill or even keep refrigerated overnight allows the glaze to soak into the bread. Mmmm.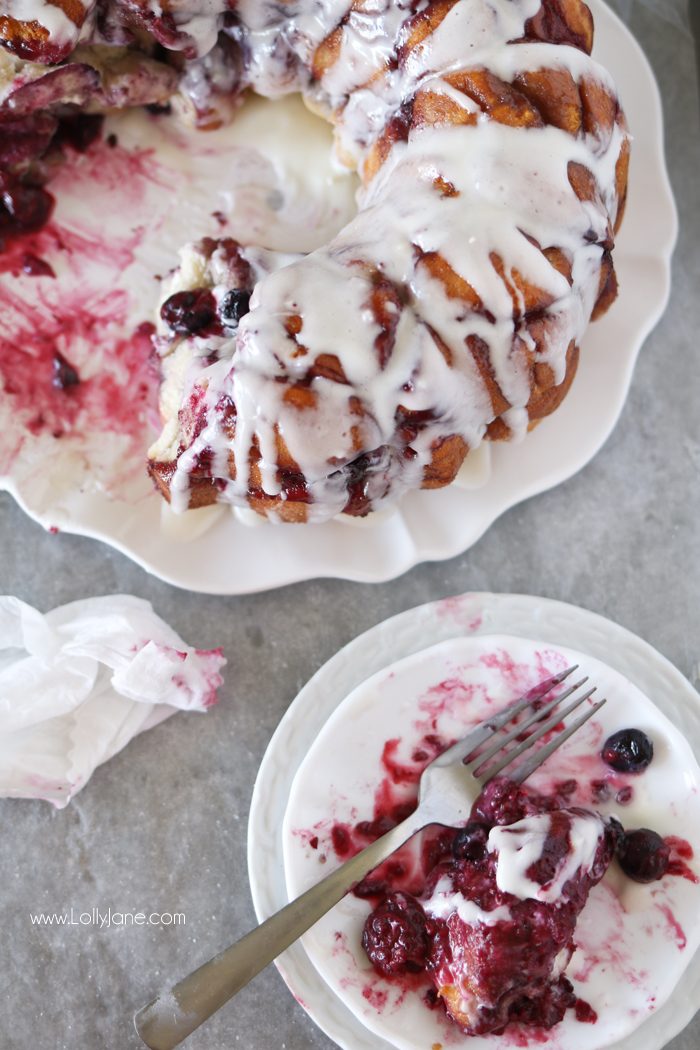 Be sure to check out our last messy activity, S'Mores Cookie Pizza!