This is a sponsored post written by me on behalf of The Hershey Company. All opinions are 100% mine.
Each year, the day before Easter, our mom hosts an elaborate egg hunt for the kids as well as one for the adults. The kids hunt for the traditional candy in plastic eggs but the adults hunt is extremely competitive as the eggs, all camouflaged, are filled with cash! From $1 bills to $100, it is a fun hunt that keeps us adults silly, lighthearted, and truly celebrates the season! After both hunts, the adults usually collect a "parent tax" and raid the Easter baskets, haha! My personal favorites are Hershey's Reese's candies and Hershey's Kisses chocolates. YUM.
On Easter day, after church services, we celebrate with a large family dinner and both of us are always in charge of the decor… of course. 😉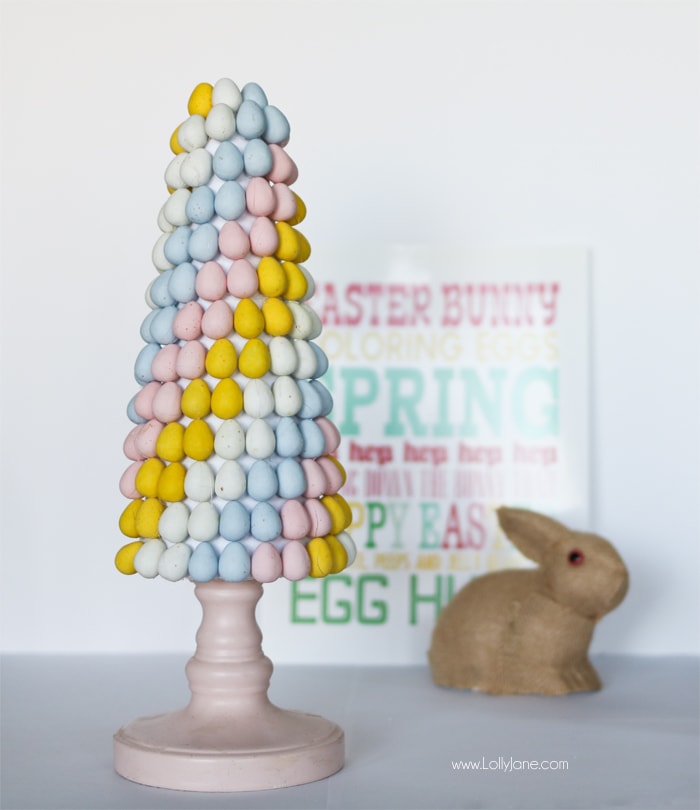 Inspired by the Cadbury Mini Eggs Layer Cake from the talented Gunny Sack, we decided to make a festive candy topiary for this years centerpiece on the dinner table. I let my littles open a few bags of Cadbury Mini Eggs Milk Chocolate Candy and sort them by color then eat a handful as a reward for helping me. I was good and didn't eat an entire bag but if it had been the bag of Cadbury Mini Eggs White Chocolate Candy that just came out, I may have been tempted to as white chocolate is my favorite! Yum!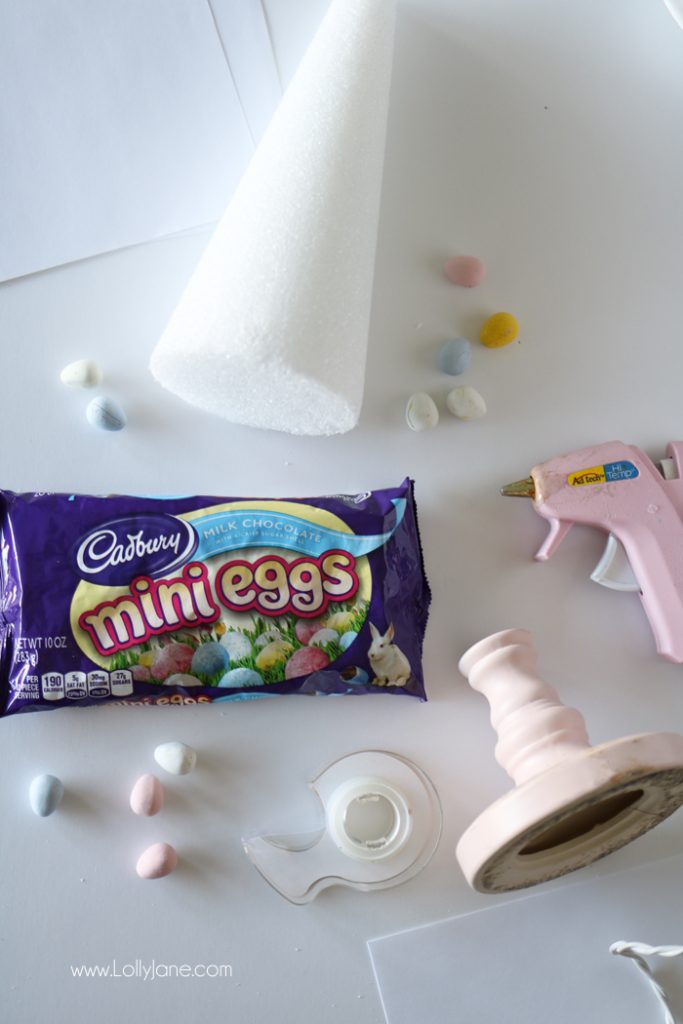 To make your own Easter candy topiary you'll need just a few supplies:
Cadbury Mini Eggs Milk Chocolate Candy bag, x2
Styrofoam cone
Paper or cardstock
Double-sided tape or adhesive
Hot glue
Candle stick base (optional)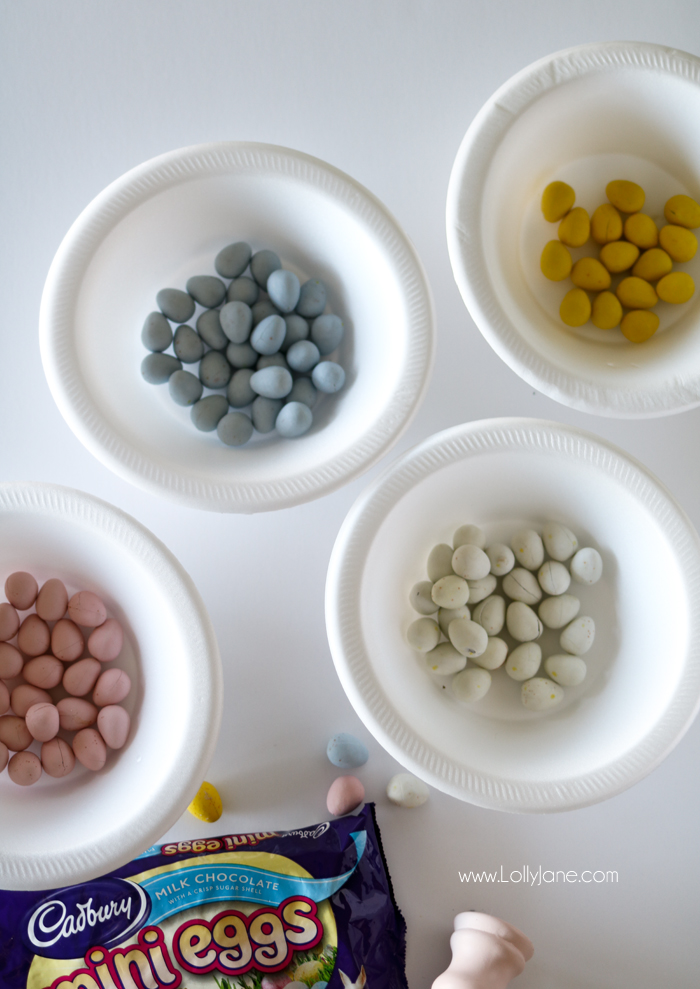 1. To begin, wrap the paper around the cone and tape securely. No need to adhere the paper directly to the cone as the weight of the Cadbury Mini Eggs Candy, once glued on, hugs it nicely.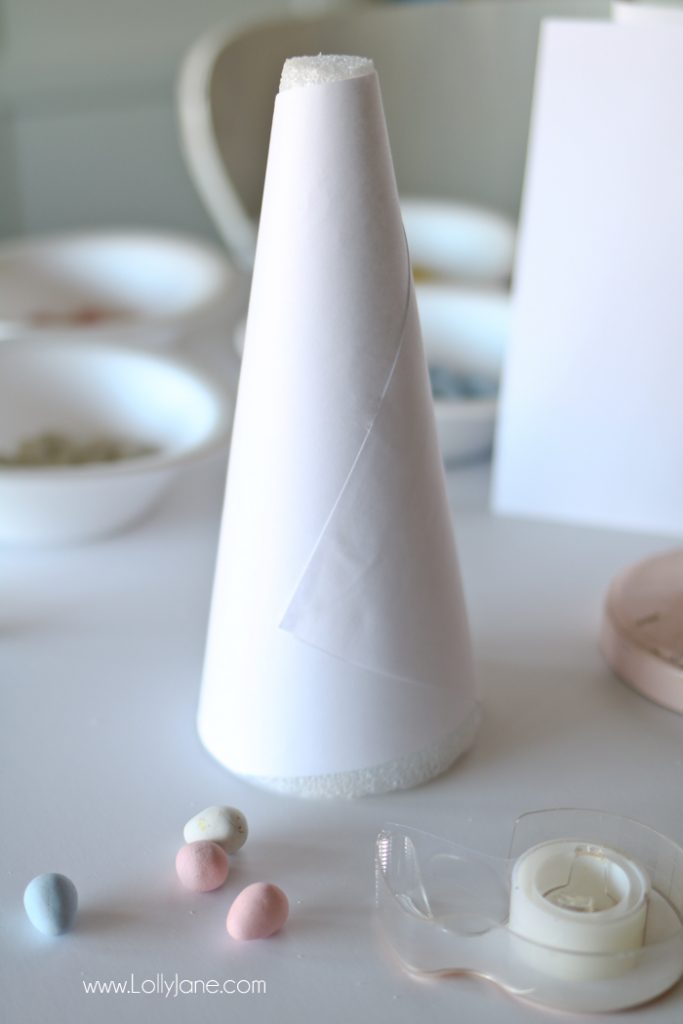 2. Glue Mini Eggs Candy directly onto the paper in pairs of two then follow the pattern according to the final picture.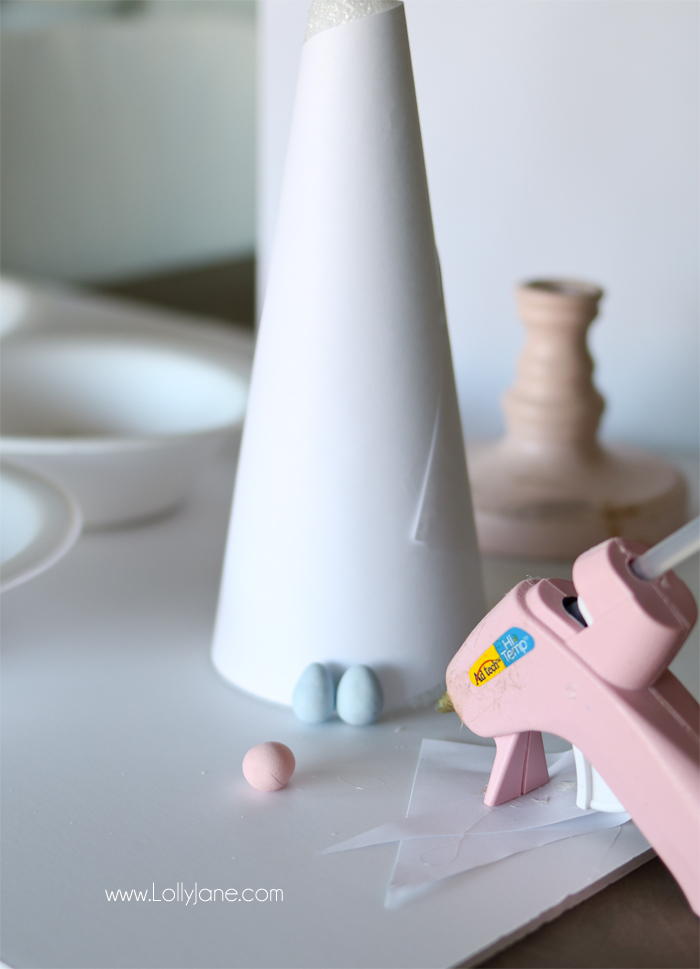 Eat a few Mini Eggs to help pass the time. 😉 This took about 30 minutes from start to finish.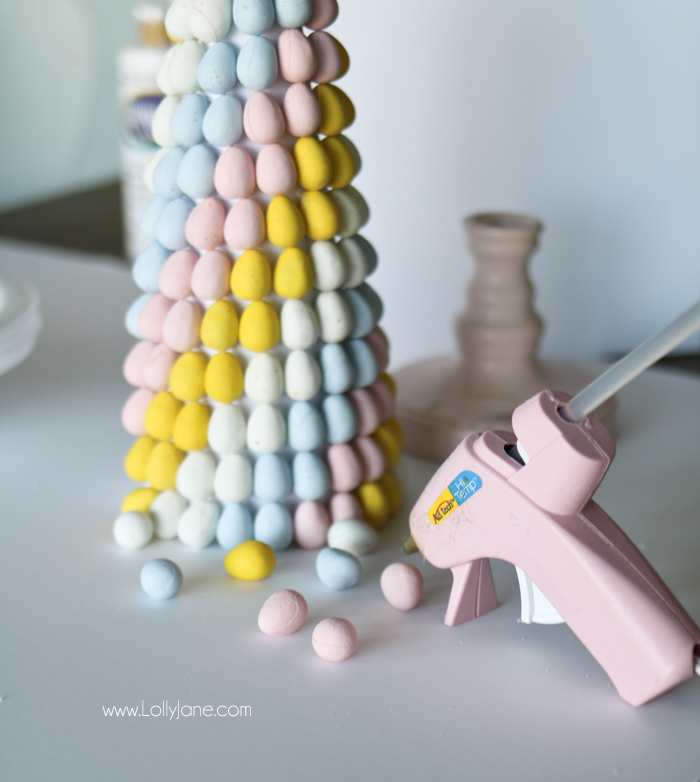 4. (Optional) Set candy covered cone on top of candlestick and secure with hot glue.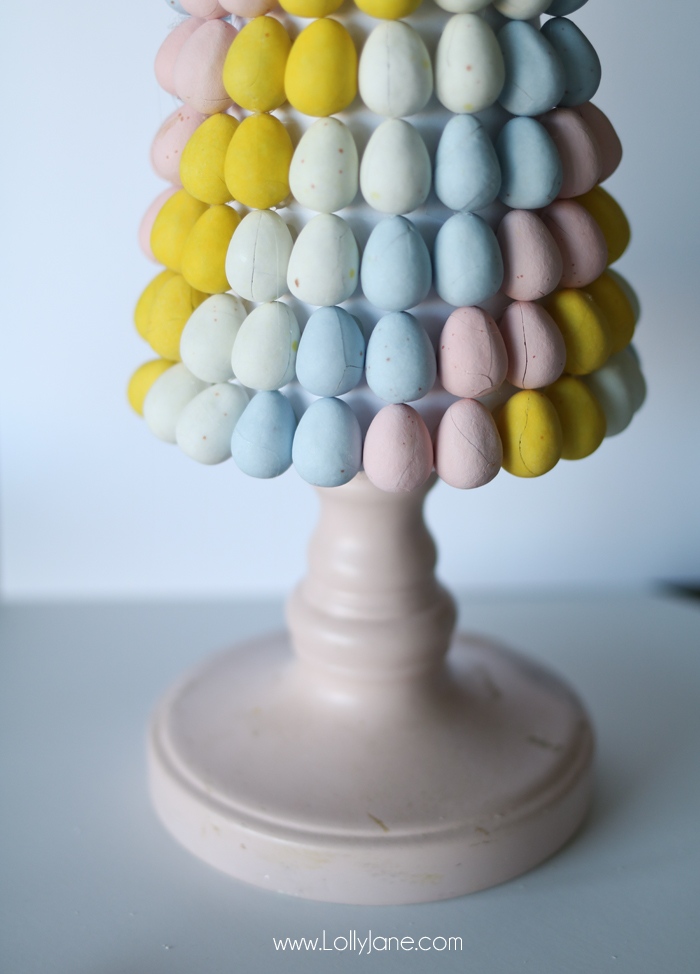 That's it! Display solo in the middle of the table or pair with a printable (this cute spring subway art is from Eighteen25) and Easter or spring decor on a mantel. This project is super easy to make and is a fun twist on your traditional Easter decor!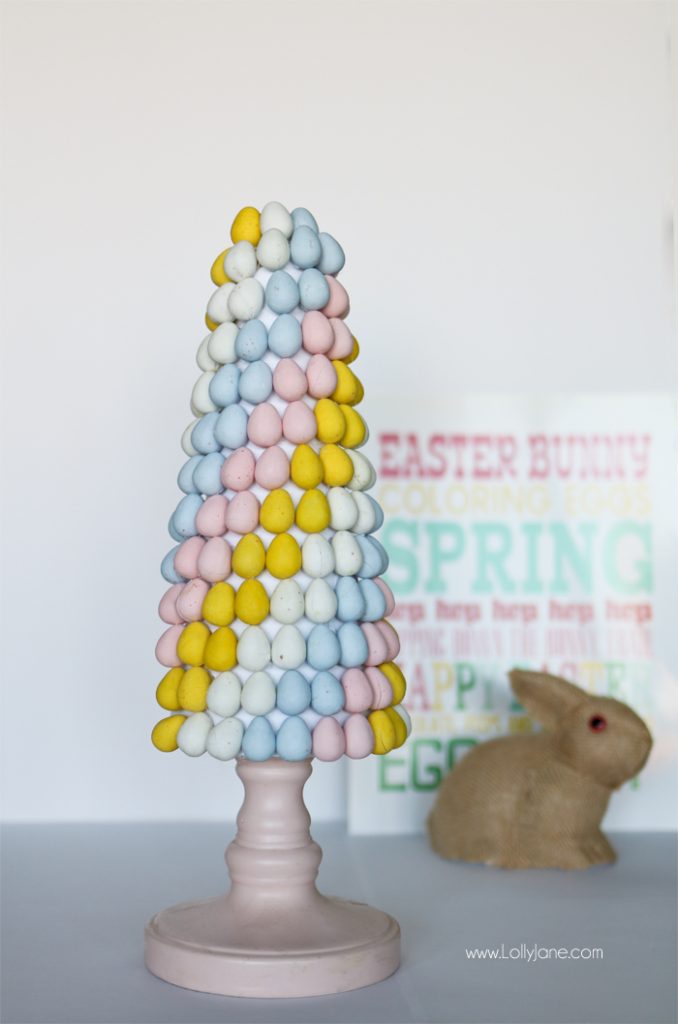 I was browsing the Easter section the other day at a store and saw all of the Hershey's goodness on display already. It's always fun to see it come in and get us in the festive mood, (now available at retailers nationwide.) This Easter candy topiary is fun for all ages to create so get your family involved and make one today!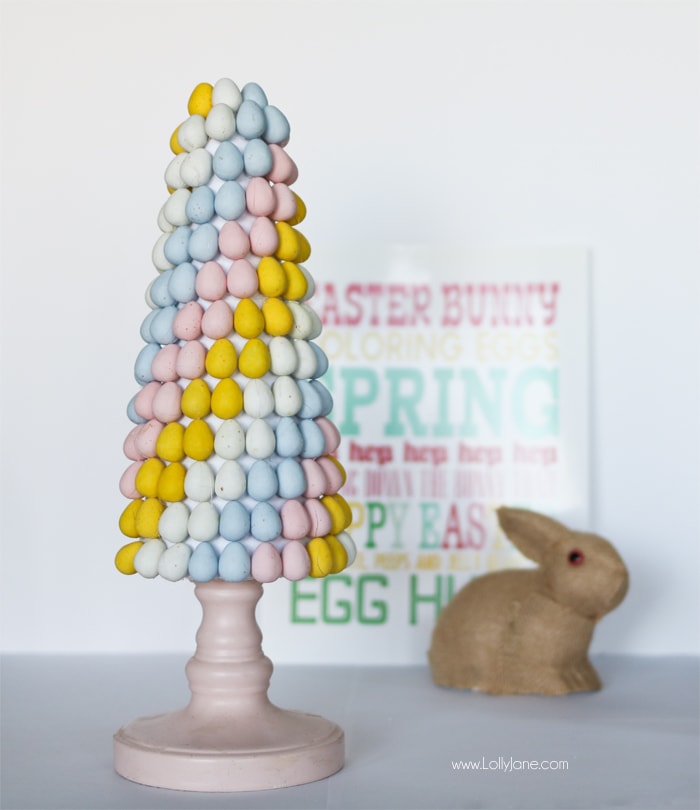 Please pin so your friends can craft this too!

Click on the trending hashtag #HersheysEaster or click www.CelebrateWithHersheys.com to see all of the fun Hershey Easter happenings and read more Easter crafts and treats! With a wide variety of new and classic treats from Hershey, you're sure to fill this year's Easter basket with sweet treats the whole family will enjoy. (Just save us some of your Cadbury Mini Eggs Candy because we're all out! 😉 )