diy large beadboard molding mirror
After my stencil wall was completed, I knew I needed to beef up my mirror. Solution for a bigger mirror?…a larger frame behind the original. Best part: FREE!
You might be surprised what supplies I used to create this DIY Large Beadboard Molding Mirror: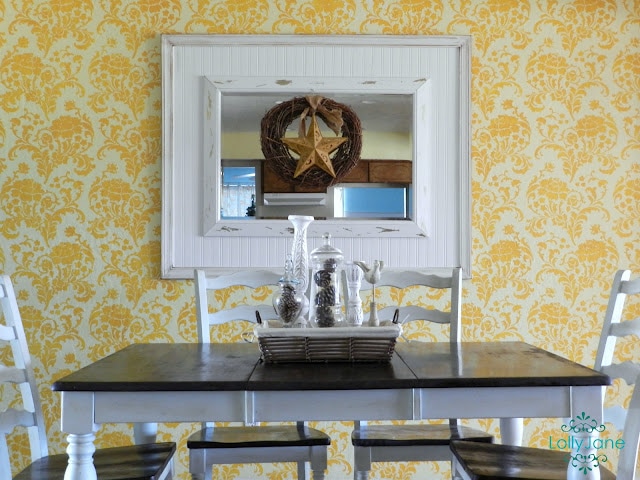 Let's back it up real quick…my generous twinner, Kristi, gave me this cute, simple creamy mirror when I first moved into my new home 7 months ago.
Love the mirror, but it needed to be BIGGER on that big, busy wall. I originally planned on 3 crown molding 5′ shelves for the wall but after I stenciled it, I knew the knick knacks on the shelf would be too cluttery.

DIRECTIONS:
1.
Start with a standard mirror, 1/8″ MDF, bead-board wallpaper, trim [wallpaper+trim were leftover goods]
2.
Cut MDF 8″ larger than your mirror so it has a nice, chunky base.
3.
Apply wallpaper to edges of MDF. This is nice because you can save your wallpaper and are virtually using scraps. Score.
4.
Center + liquid nail original frame onto newly bead-boarded MDF.
5.
Liquid nail trim. Secure with screws behind [optional].
My sis-in-law/neighbor walked in after I completed the room and said "I don't get the wreath?" Haha!-do you agree or disagree?? I didn't put the mirror up to look at myself while I cook, I put it up for decor only. What do you think?
My chunky frame mirror: 46″ tall x 58″ long.
Cost Breakdown:
Mirror [free]

MDF [$6: used Home Depot gift card], usable amount leftover

Beadboard Wallpaper [free: leftover from here]
2″ Trim [free: leftover from here]
Please PIN so your pals can save money too!