Creating a functional + organized home office
Howdy! I'm Olivia, from The Wannabe Cowgirl Blog, and I am so excited to join the gals of Lolly Jane in 2015! This will be a fun year as just last week my husband and I sold our farmhouse to begin the adventure of building our dream home in the country so I'm looking forward to being able to share DIY and decor projects big and small with you over the next few months!
One bonus to selling is that my house has been uncommonly clean and organized! So, I jumped at the opportunity to share my home office with y'all! Setting up a craft/work/studio space has been my greatest design challenge in this house. "Where will I store all my stuff or meet with clients? How am I supposed to tie this open-concept space in with the rest of my home?" ….and the most burning question…."How am I going to create a beautiful space without my husband croaking at the price tag?"
With a lot of rearranging, a little creativity, and about 5,317 trips to Goodwill, I think that I was able to create a home office that is functional, organized, and easy on the eyes (if I do say so myself!) Here's how I did it: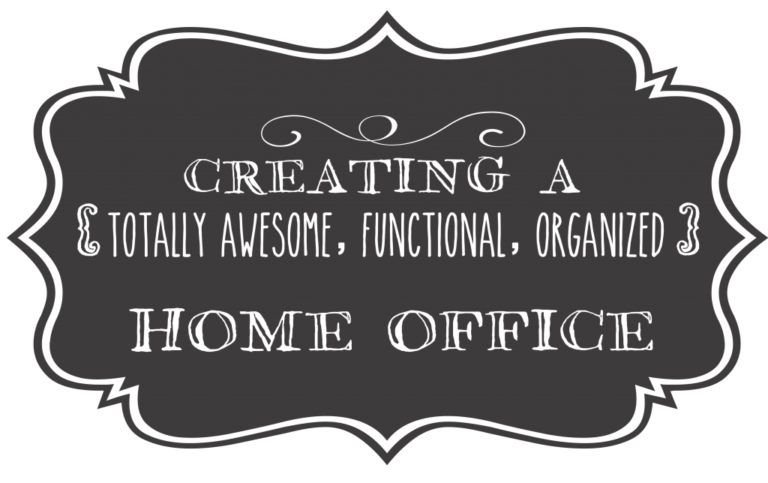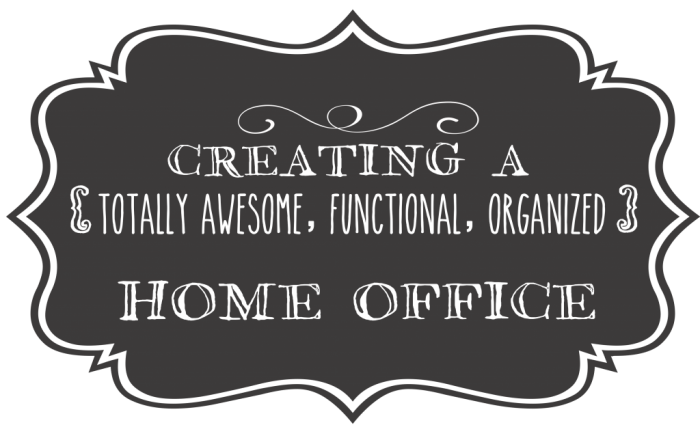 First, I divided my space up. It was SO much easier for me to take on decorating and arranging furniture when I had separate areas for designated purposes. My office needed to serve 3 main functions: 1) room to meet with clients 2) storage for supplies 3) room for workspace.
So, I decided to first put a work table with a few chairs on one side of the room, for consulting with design clients and creating projects (and yes, that is a chalk wall):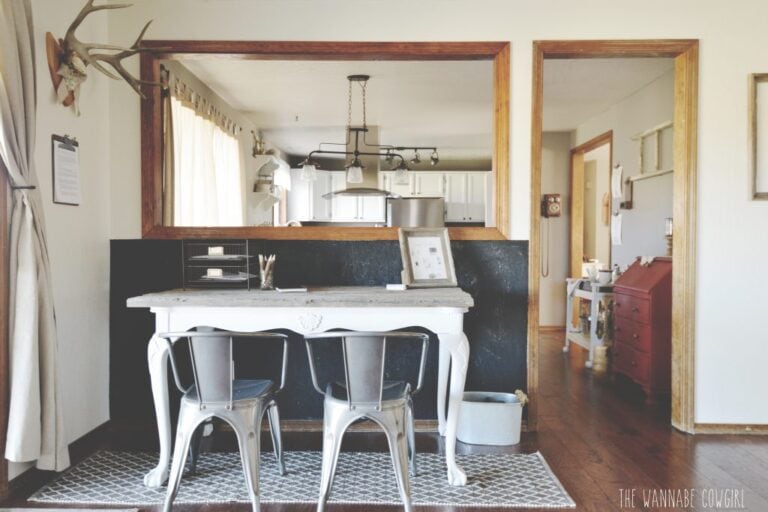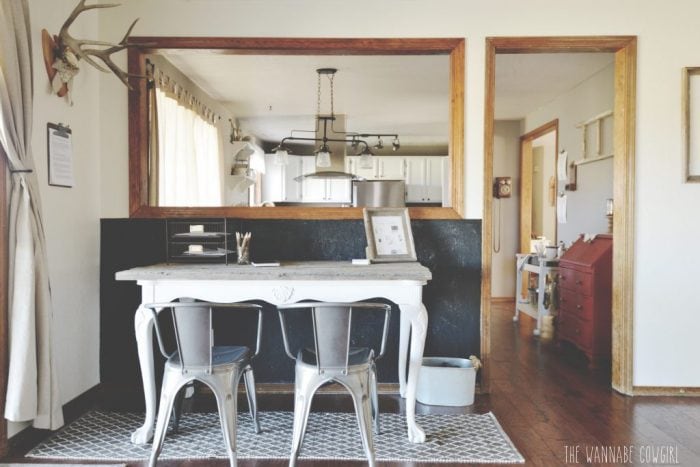 Then, I added a designated computer area with plenty of desk space and storage. I spend the majority of time at my desk, so I made sure that that everything could be within arms reach (oh…another chalk board…trust me, this will be a theme in most of my posts):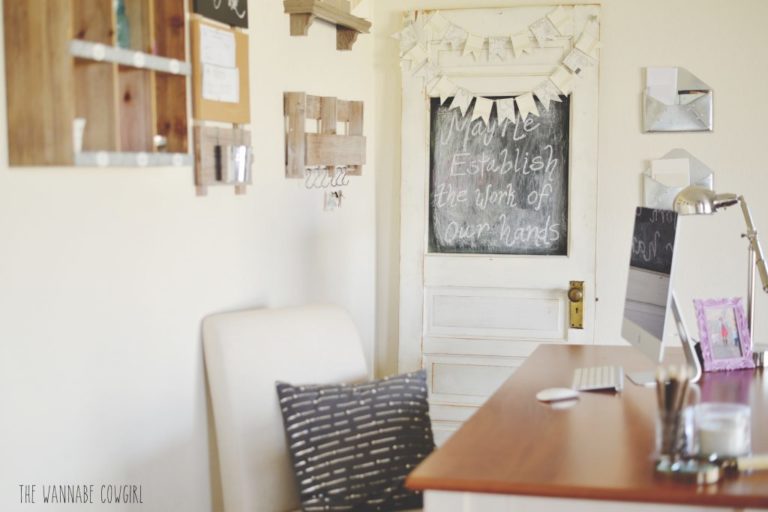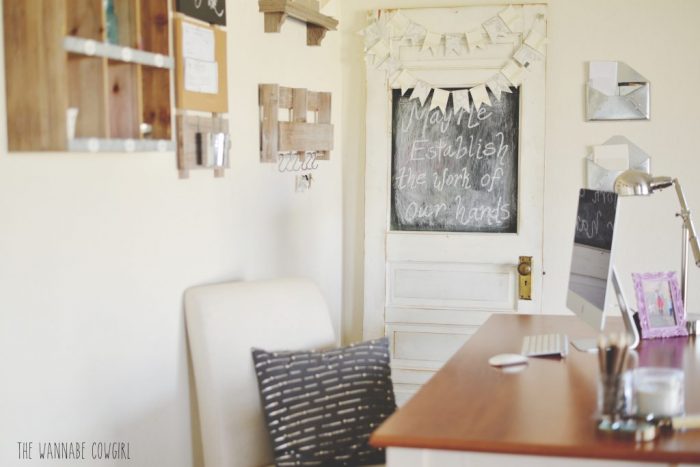 Finally, I put some tall cabinets on the far wall, with a bulletin board, wall storage, and a comfy chair where friends or clients can enjoy a cup of coffee and thumb through magazines. All of the spaces needed to come together in the end of course, but tackling each area individually helped me so much!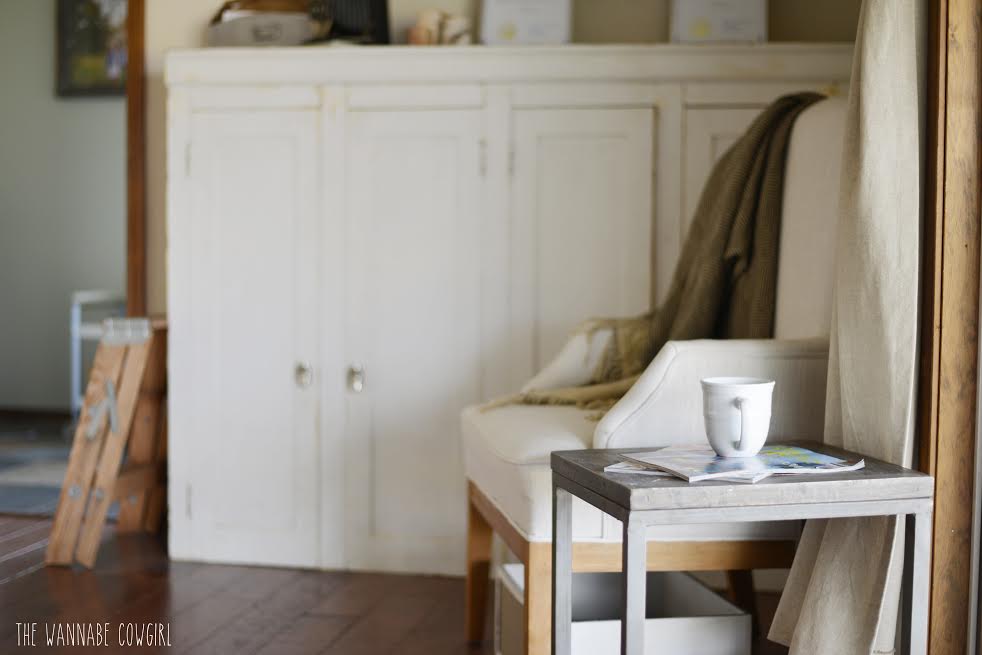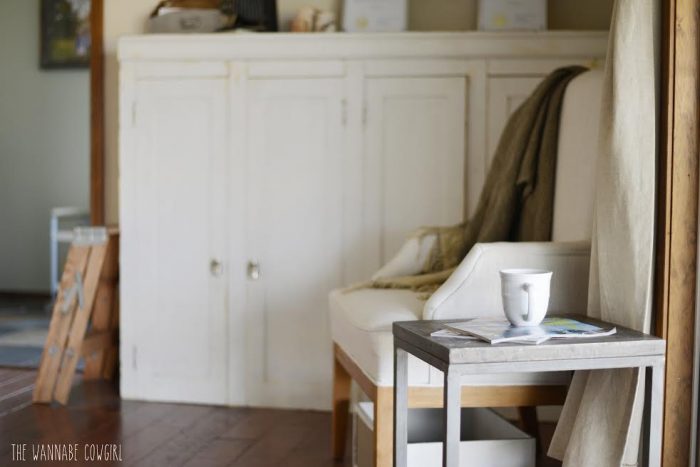 The work table is my favorite. I spray painted a thrift-store table base, and had my husband top it with some old barn wood. Tables can get so spendy! Finding a neat, used base and replacing the top with either stained lumber (2×12 or 2x4s work great) or distressed barn wood saves a lot of money. Plus, I love how this table fits in perfectly with the rest of my farmhouse decor!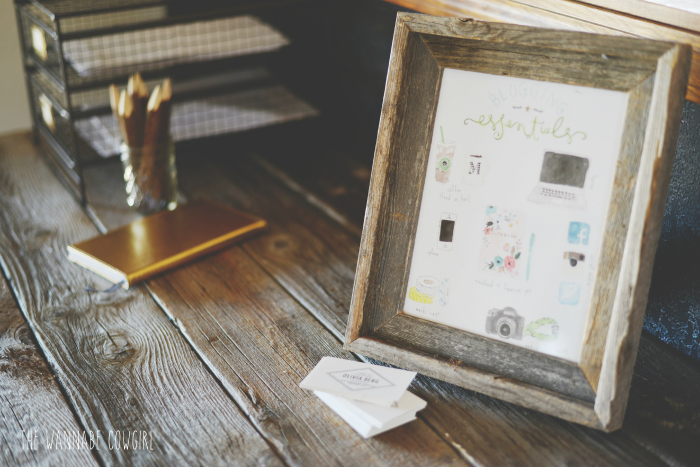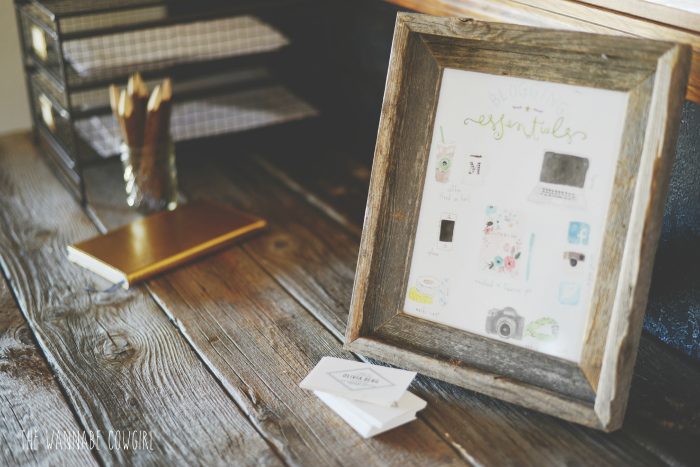 Storage is another difficult subject. I love open shelving, but as you can see, my office isn't tucked away…it's right in the middle of the house! (open to our rec. room, dining area, and laundry room). I found these old wood cabinets in the junk pile on our farm, and simply put them in the corner of my office…no mounting required. Check your local salvage yard, or Habitat for Humanity RE-store for old cabinets…this tall, skinny configuration (pictured below) worked great for storing all of my supplies out of sight!
Last but not least….think UP! I have to remind myself to do this all the time (short-girl problems). I mounted wire baskets above the cabinets for additional storage. I also love the height and texture of that antique door next to my desk. Having something tall in the corner draws the eyes up and opens the space.
I'm already missing this room, but I'm excited to use some of the things I have learned from decorating this office, when I go to create the studio in our next home. (plus, did you see Amy's DIY message board from earlier this week? Helllloooo! Perfect for any workspace!) What are your must-have items in a home-office? How do you like to organize your space? I'd love to hear your tips and tricks!
Chat with y'all next month!
Love this space so much! Thanks for being here, Olivia! Check out more pretty spaces like her Kitchen Remodel + Laundry Room Makeover: