Hey friends! Some days call for eating a crisp delicious salad and other days call for hiding in your pantry from your kids while you eat the last brownie. It's called balance, right? This Citrus Pistachio Salad meets your tastes buds needs with a little sweet, tangy and salty all in one! And I won't be one to judge if you serve a chocolate chip cookie with it. LOL!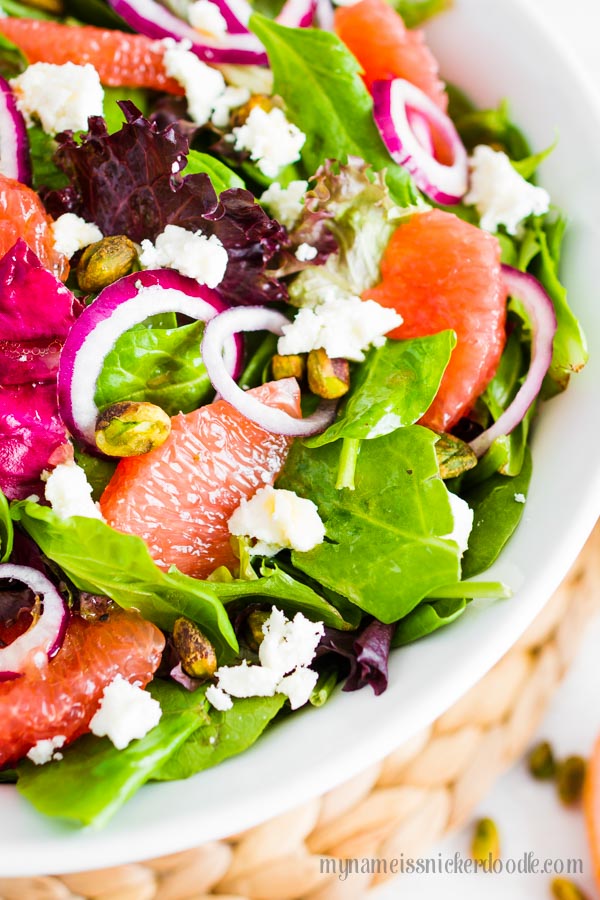 The last few months I've just now started to appreciate grapefruit because I've learned how to pick the perfect ones in the produce section. Try to pick more oval shaped grapefruit. They tend to be on the sweeter side. Make sure to smell it. You might feel funny doing this in the middle of the store, but it's a great sign that if it smells like a grapefruit, it's ripe.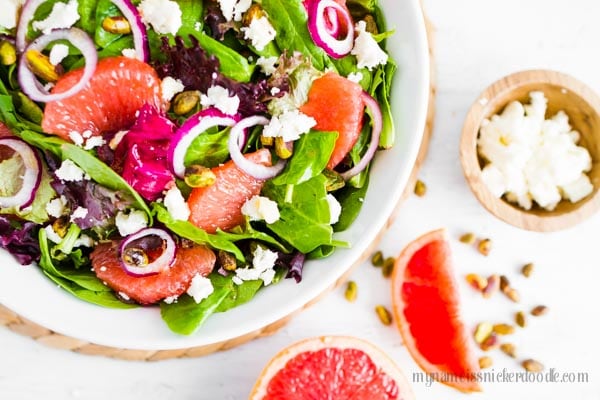 After you've picked the perfect grapefruit everything else will be easy to assemble. I really like the addition of the pistachios because it gives the salad a great crunch. The dressing is truly what makes this recipe great. It uses grapefruit juice and has a slight sweetness due to a little added honey.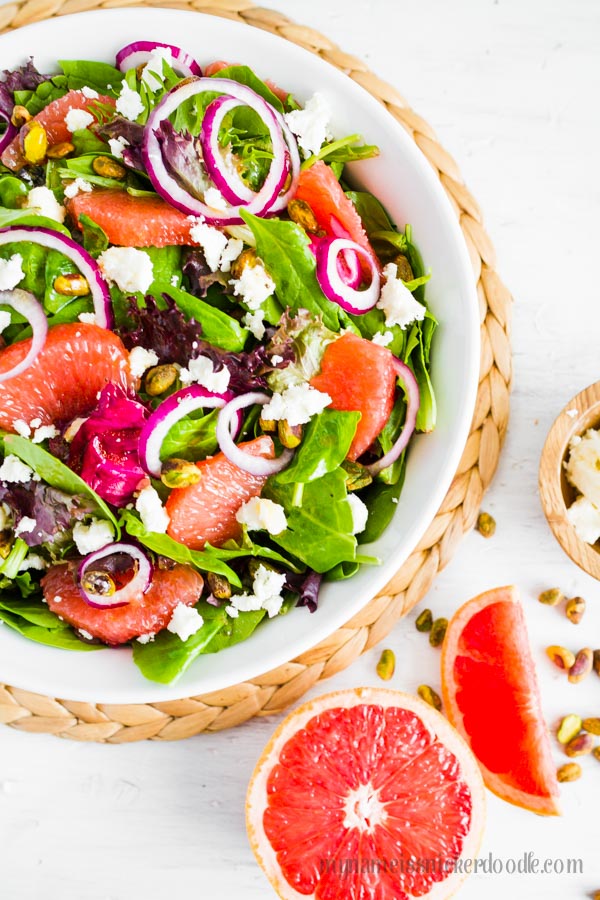 CITRUS PISTACHIO SALAD
Ingredients
For Salad
2 Large Grapefruits
2 Bags of Spring Mix Greens
1 Cup Pistachios
1/2 Medium Red Onion, Thinly Sliced
1 Cup Feta Cheese, Crumbled
For Dressing
1/2 Cup Grapefruit Juice
1/4 Cup Olive Oil
2 Cloves of Garlic, Minced
1 tsp Honey
Pinch of Salt
Pinch of Freshly Cracked Pepper
Directions
Place greens in a bowl and sprinkle with pistachios, sliced onion and feta cheese.
Segment your grapefruit and use the remaining bit to juice for the dressing. Add your segments to the salad. Watch this how to video here.
In a mason jar or a jar with a lid pour in grapefruit juice, olive oil, garlic, honey, salt and pepper.
With the lid on tight, shake vigorously for about 1 minute.
Drizzle dressing over the salad and gently toss to coat.
Add these yummy recipes from My Name Is Snickerdoodle to your menu this week!