caramel apple snickerdoodles
Holy taste-of-fall-in-your-mouth cookie! I spied a bag of Palmer brand caramel apple chocolate cups at the local Dollar Tree and tried one. I had to admit that alone, the taste was a bit strong. So, I did what any normal person would do to make it less subtle… I stuffed it inside a cookie! Introducing our Caramel Apple Snickerdoodles: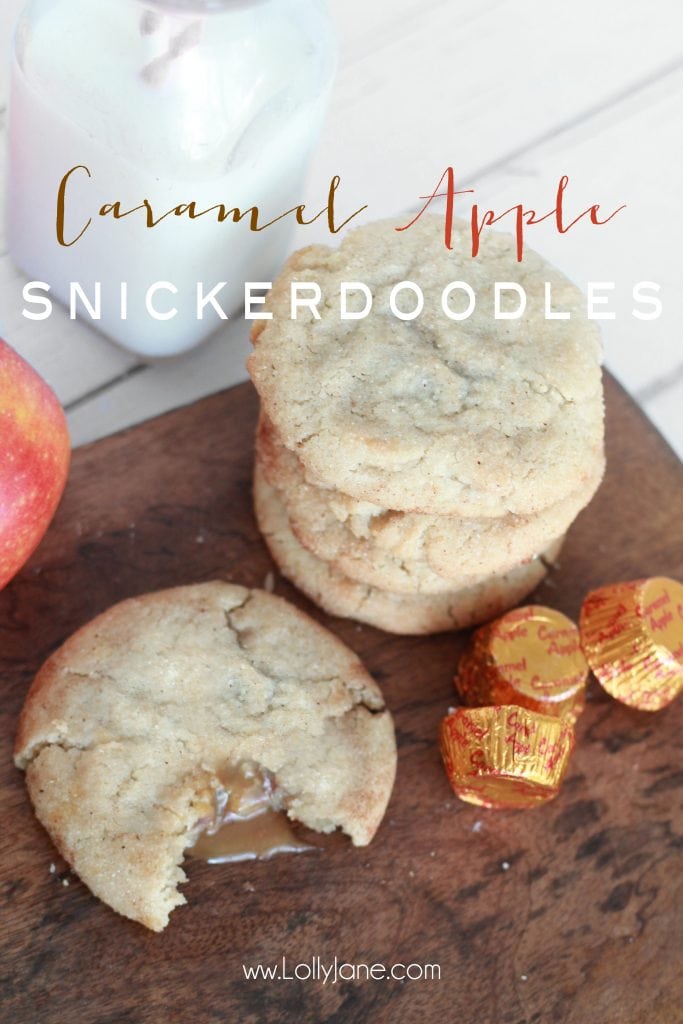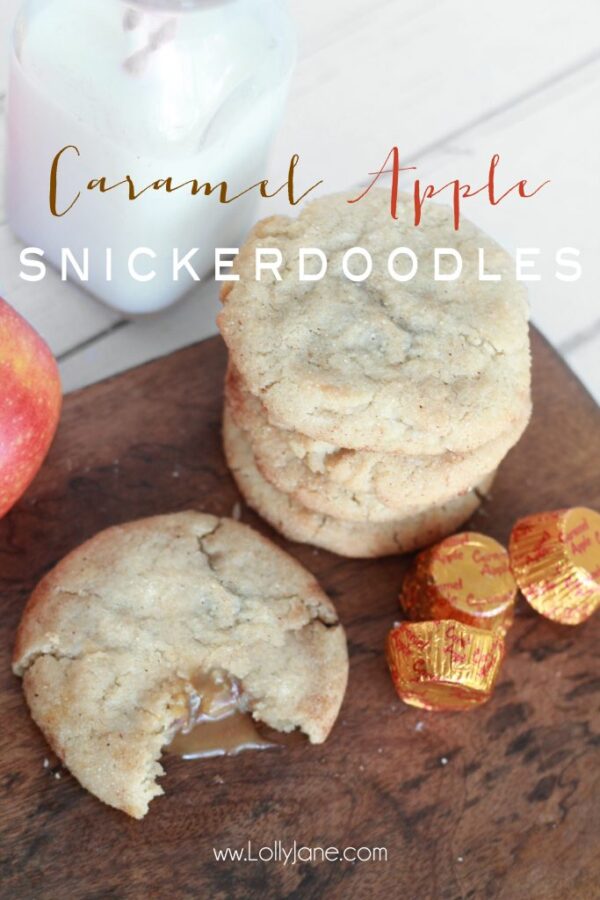 Paired with the cinnamon sugar, it has the perfect amount of caramel apples flavoring without being too overbearing. These are chewy on the inside with a slight crisp on the edges… if fresh out of the oven, they literally melt in your mouth. Deeelish!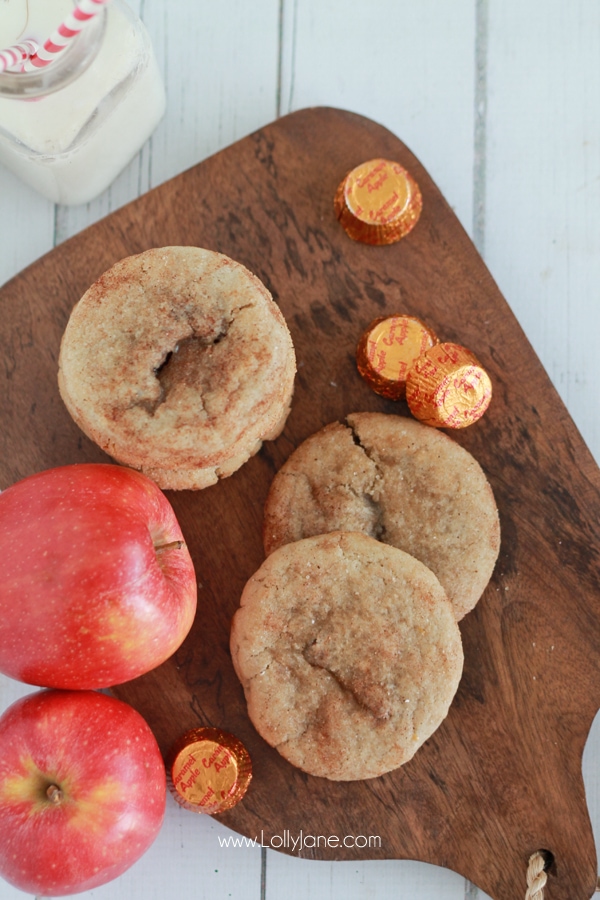 I diced my caramel apple cups in half so the cookie wouldn't be ginormous and so the flavor wouldn't be too strong. Bonus! One bag, which has around 20 cups, will make 2 batches…not too shabby for $1 worth of chocolate cups! 😉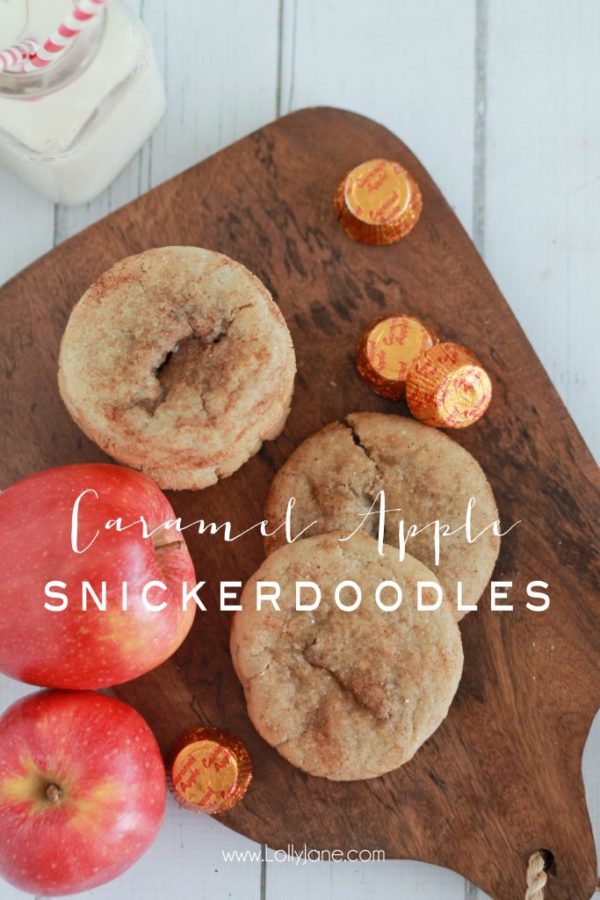 Caramel Apple Snickerdoodles
A perfect taste of the fall season in your mouth! Bite inside these chewy snickerdoodles to the warm carmel taste of apples and cinnamon.
Ingredients
Cookie
8

caramel apple chocolate cups

1

cup

butter

1 1/2

cups

sugar

2

eggs

1

tsp.

vanilla

2 3/4

cups

flour

2

tsp.

cream of tartar

1

tsp.

baking soda

1/4

tsp.

salt
Topping
3

tbs.

sugar

3

tsp.

cinnamon
Instructions
Preheat oven to 350°F.

Set your cookie sheet in the fridge to chill.

Cut caramel apple cups in half, set aside.

Cream butter and 1 1/2 cups sugar.

Add eggs and vanilla.

Combine flour, cream of tartar, baking soda and salt in a separate bowl.

Blend dry ingredients into butter mixture.

Roll dough into 1.5" balls.

Flatten and add halved caramel apple chocolate cups.

Fold over cups and roll dough into ball again.

Chill dough for 10 minutes in the fridge on chilled cookie sheet.

While dough is chilling, mix remaining sugar with 3 tsp. cinnamon in a small bowl.

Gently rolling balls of dough in the sugar mixture.

Place on chilled ungreased cookie sheet and bake 10 minutes.

Remove from pan immediately but CAREFULLY as middle will be very soft from caramel cup.

Let cool and enjoy while warm.
Notes
Cookie freeze well for 5-7 days after baking. You can thaw until room temp but they are best if warmed in the microwave for 45 seconds (if frozen) or if thawed, 10 seconds or until middle is nice and gooey again. Enjoy!
Adapted from Food.com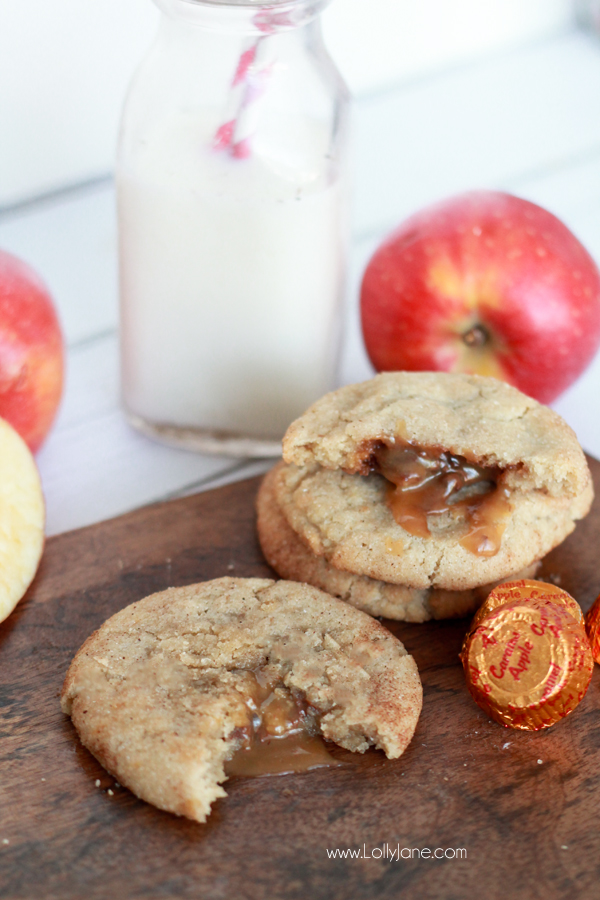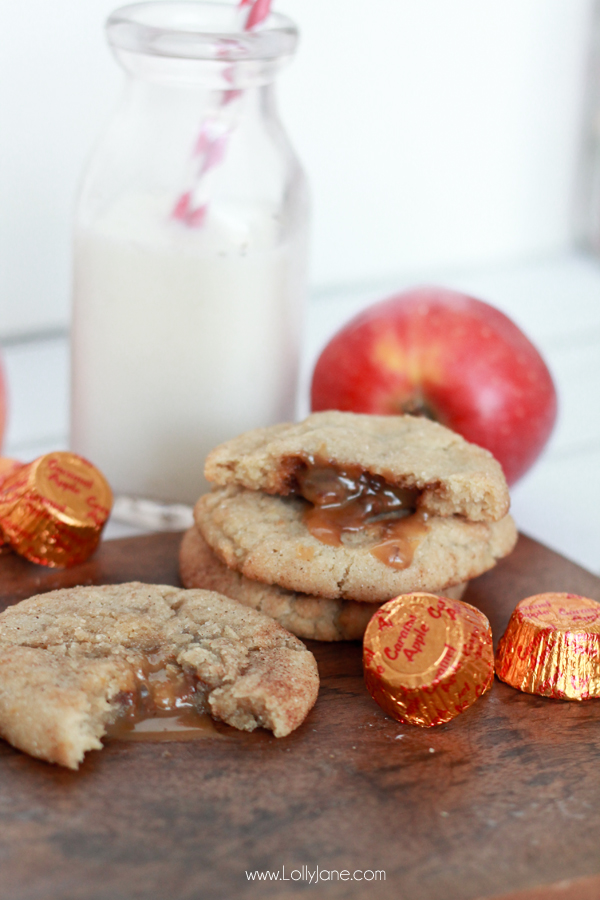 Try our other popular stuffed cookies, our rolo chocolate cookie recipe! Our classic chocolate chip cookies or key lime pie cookies from our fab contrib Carrie are also so very very YUM.