Witch broomstick candy treat bag + free printable
It's the moment you've all been waiting for… the 10th day of the month! Today we will be appealing to your naughtiest sweet tooth, because this month's blog hop is all about CANDY: candy crafts, candy recipes, candy printables… candy, candy, candy! Starting with yours truly, we are sharing a cute and EASY Halloween candy treat bag, witch style:
This cute Halloween party favor was inspired by the Dollar Tree's witch's broom treat bags. We put a little twist on it by adding a free printable to polish it off. I had all of the supplies on hand except for the Reeses Pieces candy… which is the best part of making this, right?! 😉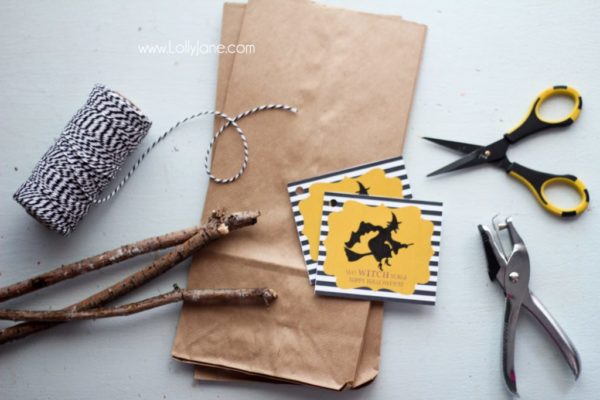 You'll need:
2 brown paper bags per "broomstick"
Stick from outside
Scissors
Hole punch
Black striped twine
Halloween tags (WITCH labels here)
These were a snap to put together and took me less than half hour for the trio of broomsticks.
To make these, follow along!
Cut small 1/4″ strips down the entire paper sack.
Where the front of the party favor will show (pick a side) cut strips all the way to the bottom.
Open up the bag, now fully slit.
Place the second paper sack inside of the slit sack.
Fill with candy! Reeses Pieces, candy corn, popcorn or etc.
Gather the "bristles" and pull up to form a chi-pet look. 😉
Tie closed with twine.
Push stick through opening nice & snug.
Attached FREE printable witchy tags.
Pass out at a Halloween party or as a neighbor gift, (mine will be going to my sweet sisters I visit.)
Here's a closer peek at the free printable tag, (6 tags per sheet.)
This bag holds as much or as little candy as you want; simply trim the top and tie the twine lower for less candy. Either way, it's super cute!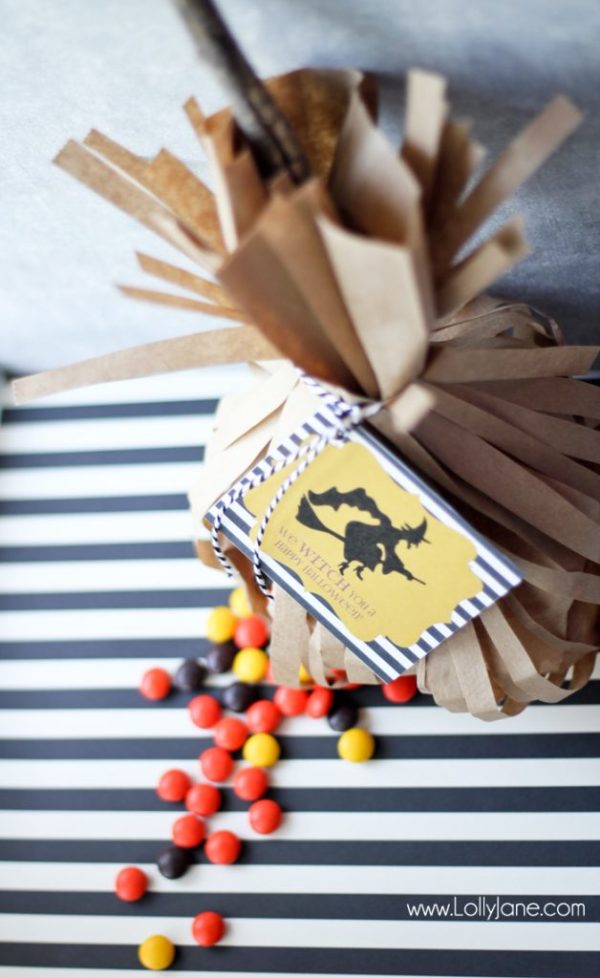 We WITCH you a happy Halloween!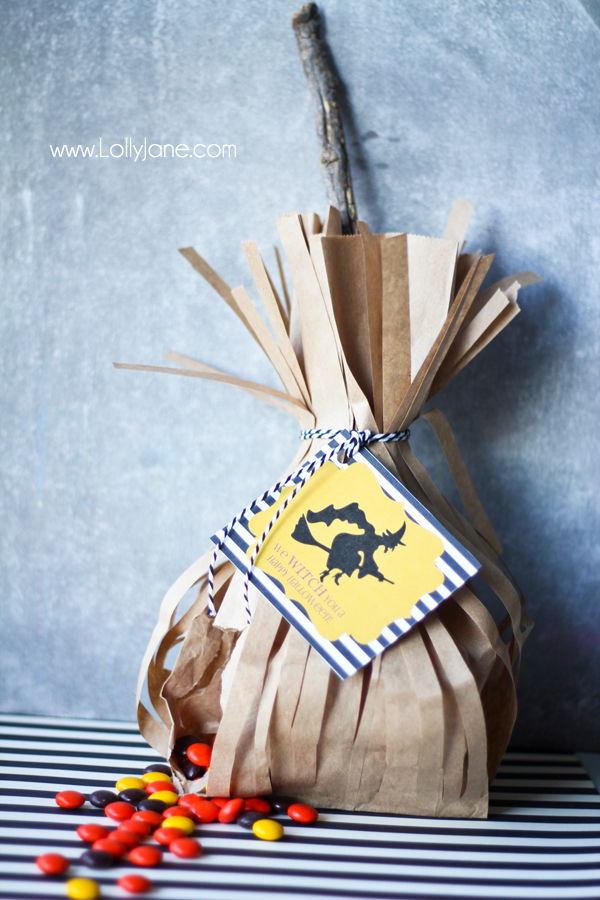 We have gone a little batty with our Halloween tutorials this year! Be sure to also check out our fav 13 Halloween fonts– we love this roundup of free fonts to make cute printable tags like the one in this easy project. 😉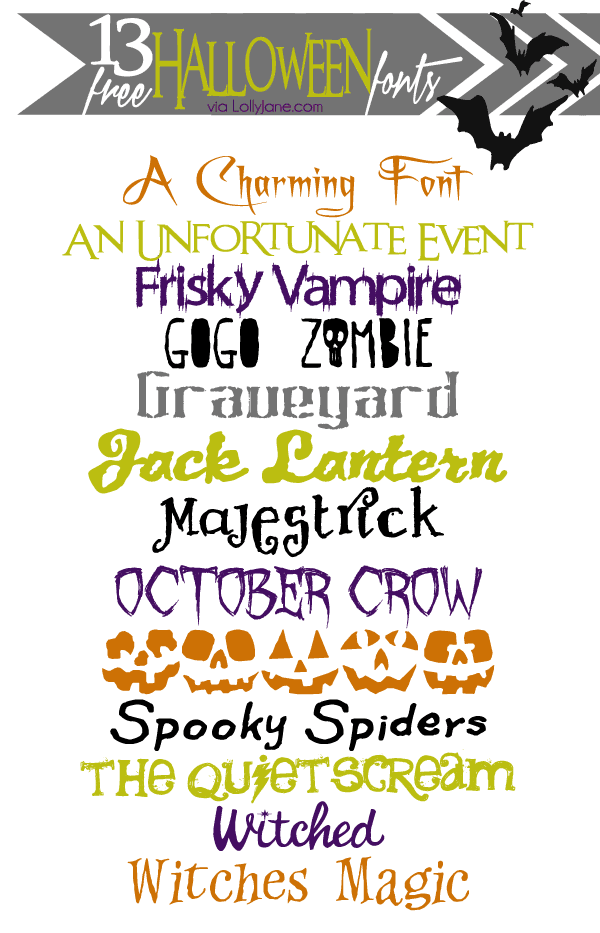 NOW, get ready to pull up a seat to have your cravings triggered by 9 more original candy posts, provided by 9 delicious bloggers. Pin your heart out, my friends: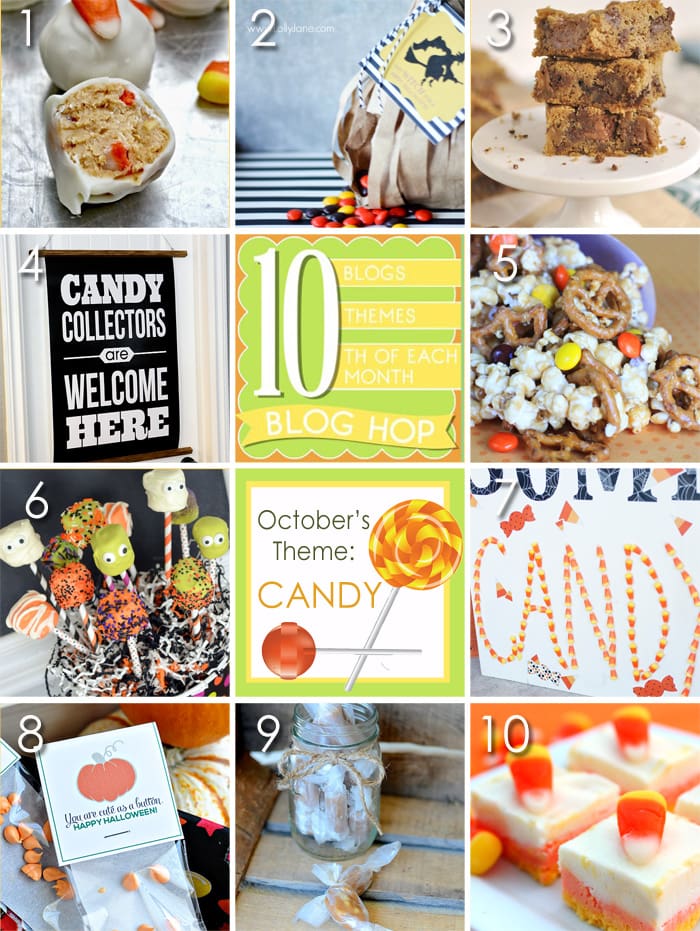 1. Or so She Says | White Chocolate Candy Corn Buckeyes
2. Lolly Jane | Witch's Broom Candy Bag and Printable
3. Your Homebased Mom | Milky Way Bars
4. Eighteen 25 | Candy Collectors Halloween Printable
5. Landeelu | Reeses Pieces and Pretzel Popcorn
6. Little Miss Momma | Candy Covered Halloween Marshmallow Pops
7. Capturing Joy | Halloween Candy Porch Sign
8. Thirty Handmade Days | Halloween Candy Buttons and Printable
9. Simply Kierste | The Best Homemade Caramels
10. Six Sisters' Stuff | Candy Corn Fudge
Love these ladies and are thrilled to share their SWEET talent with you all! 😉 xoxo