Easy to make Pumpkin Toss game
I'm the official "Room Parent" for my third grade son's class.  I was a little nervous to take on that role because that means I organize all the class parties.  I've done them in the past but not all of them so I was worried about changing things up.  But then I realized that the teacher is grateful for any help she can get, the other parents are happy to fill assignments and really, all I had to do was come up with rotating stations.  So I did my delegating and the morning of the party, was dotting my "i"'s and crossing my "t"'s when I realized I forgot I said I would MAKE a pumpkin toss game.  OOPS!!  I had thirty minutes to spare and LUCKILY had this 3D poster board tucked behind my bench from a science project last year.  I always have crates full of paint so I came up with this easy pumpkin toss game.  I definitely think anyone is capable of making this quick and easy activity for less than $5.  And the kids in the classroom had a blast playing it!  Win-win!!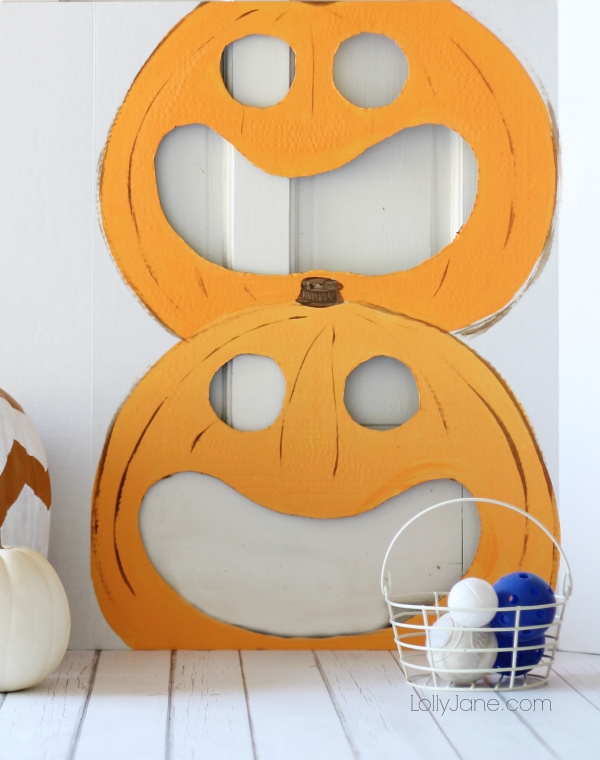 Supplies:
3 DecoArt Americana acrylic paints. (I planned on 1 orange when I took the pic but ended up with 2. I used Tangerine, Orange Twist & Raw Umber)
foam brush
3D poster board (the ones that are free standing)
X-Acto knife
pencil
ping pong balls
Directions:
Outline 2 pumpkins in pencil, I free-handed mine.
Paint bottom pumpkin light orange.
Paint top pumpkin darker orange.
Paint stem in brown.
Freehand pumpkin lines in brown with tip of foam brush.
Cut out eyes & mouths with X-Acto knife.
That's all there is to it!  One of the parents brought a pack of ping pong balls from the dollar store, (6 for $1) so they're not pictured.  But we're headed to a family reunion this week and we'll be bringing this simple game along for down time entertainment.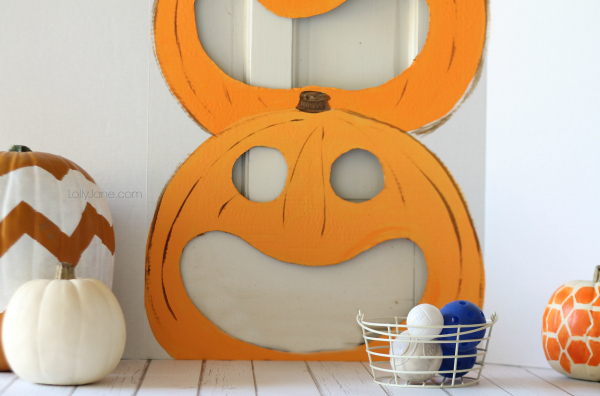 At my son's party, most of the kids ended up "bowling" them in the bottom of the mouth because they were too nervous to not get their 3-in-a-row to win a candy bar.  If we had more time, it would be fun to do a competition to get them in the eyes, etc.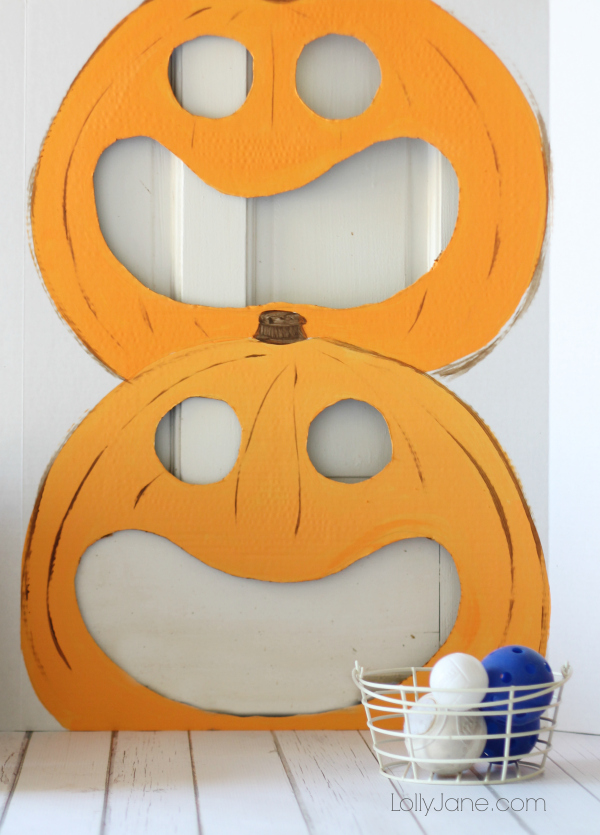 Check out all our DecoArt posts on their cute site as well as the many, many DecoArt projects we've done around our house.  We are big DA fans!!  Visit all our Halloween projects & fall ideas too!!  And if you need a tasty treat, we have you covered as well!  Happy tossing!! xo