Pink grapefruit sandwich cookies
Are you ready for the most flavorful sugar cookie you've ever had? These pink grapefruit sandwich cookies are seriously amazing! They have so much natural flavor that you can almost taste the fresh juice. So so yummy!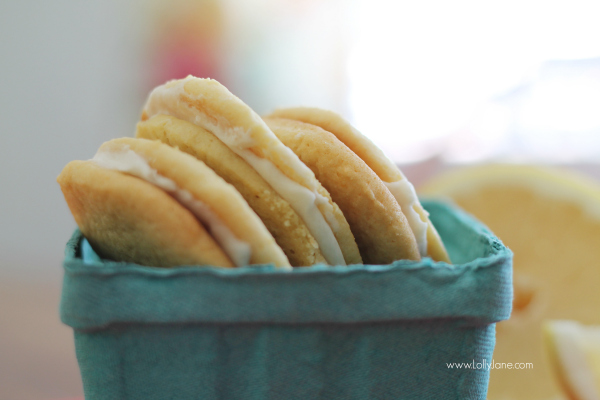 Our dad is a farmer and has the hookup for some amazing fresh fruit. He often brings home bags for neighbors and the last neighbor who received a good amount of grapefruit returned the favor in form of these cookies, WITH the recipe! Oh they were so dang good we just had to share it with you guys! (You're welcome. LOL)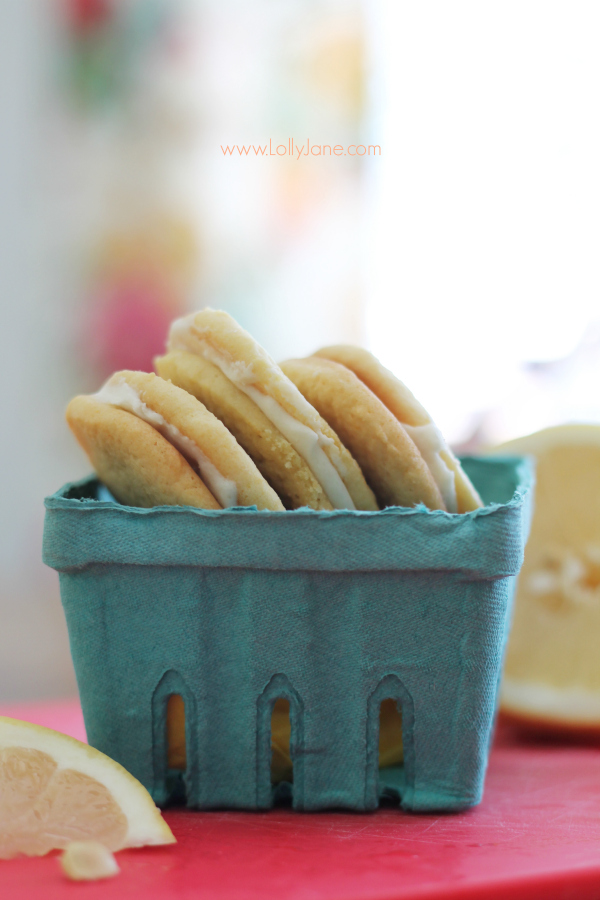 Cookies:
1/4 cup freshly squeezed grapefruit juice
Grated zest of 1 grapefruit
1/4 cup sugar
1 1/2 cups all-purpose flour, plus more for work space
3/4 cup cake flour (not self-rising)
1 teaspoon baking powder
1/2 teaspoon salt
1/2 cup (1 stick) butter, softenend
2 large egg yolks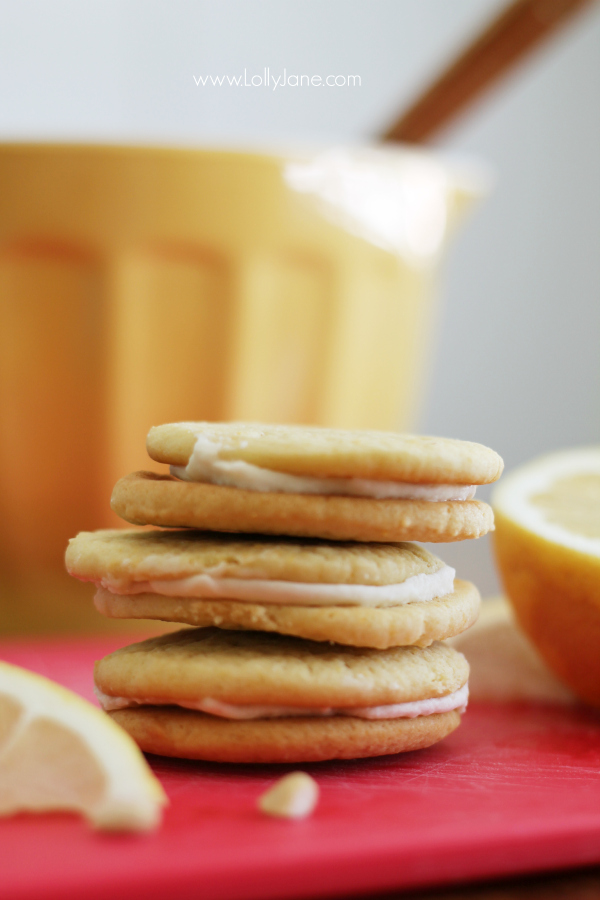 Pink Grapefruit Cream Filling:
1/2 cup butter, softened
2 cups confectioners sugar
1 tablespoon honey
3 tablespoons freshly squeezed grapefruit juice
Beat butter and sugar until fluffy, about 4 minutes. Beat in honey. Add juice 1 tablespoon at a time, until filling holds together and is smooth, about 2 minutes. (You could halve these amounts as it makes a lot!)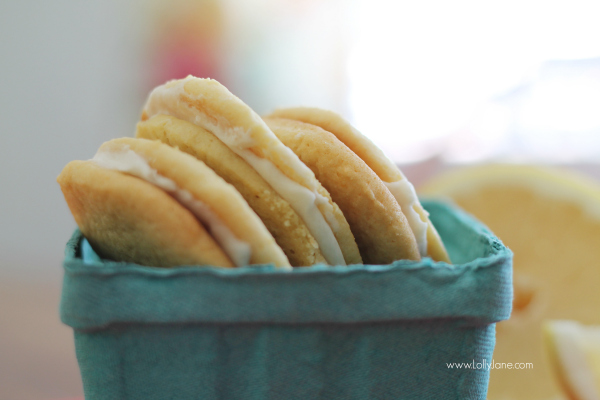 Directions:
Preheat oven to 350 degrees
Line baking sheet with parchment paper, set aside.
In a small bowl, combine zest with 1 tablespoon sugar; set aside.
In medium bowl, whisk together both flours, bake powder, salt; set aside.
Beat butter and remaining sugar on medium-high speed until light and fluffy, about 2 minutes, scraping down sides of bowl as needed.
Add egg yolks, beat until combined, scraping down sides of bowl as needed.
Beat in reserved zest-sugar mixture.
Add flour mixture in tow batches, alternating with the juice, beat to combine.
Turn out dough onto piece of plastic wrap, shape into 1″ disk.
Wrap in plastic and refrigerate until firm (about half an hour).
On lightly floured work space, roll out disk to 1/8″ thick using a lightly floured rolling pin.
Using a lightly floured 2″ round cookie cutter, cut our rounds and place about 1″ apart on prepared sheet.
Bake, rotating sheet halfway through, until edges are golden, about 18 minutes.
Transfer sheet to a wire rack to cool 5 minutes.
Transfer parchment paper and cookies to rack to cool completely.
Using spatula, spread 1 tablespoon filling onto flat sides of half the cookies.
Sandwich with remaining cookies, keeping flat sides down.
Once filled, cookies can be kept in an airtight container in the refrigerator for up to 3 days.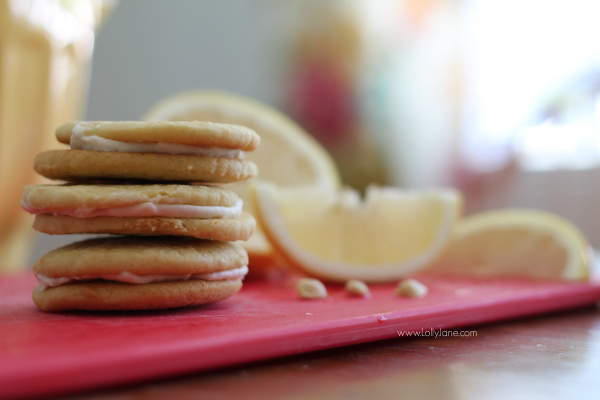 Visit all of our food recipes like our sprinkles birthday cookies,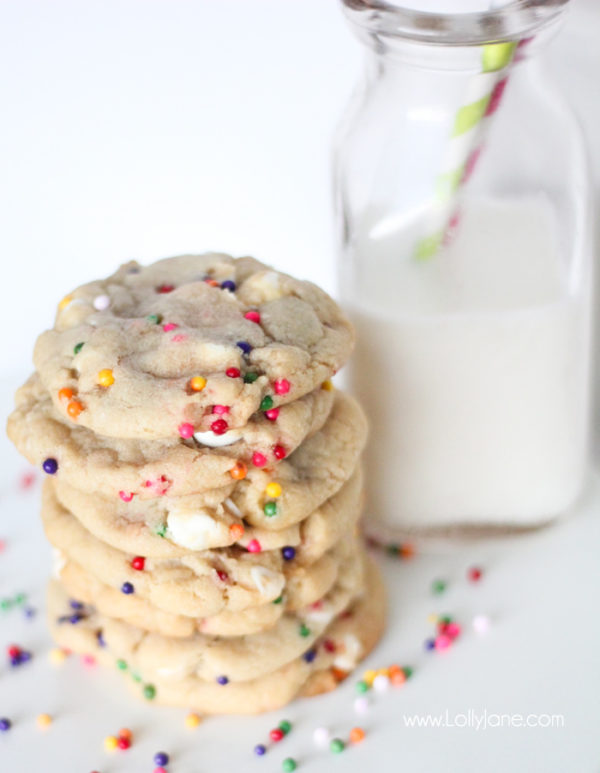 and our white chocolate thin mint popcorn.