Leftover Easter ham chowder
As one of the new monthly contributors, I'm pretty excited to be sharing some recipes here at Lolly Jane! My first recipe is an easy soup PERFECT for the days after Easter dinner and using up your leftovers!
Certain foods get equated with certain holidays. In my mind, Easter means ham. Not those boneless precooked ones, but the big, thick bone down the middle, marbled with fat, salty and strong flavored ham. When I was a kid my mom would make a sweet and a little bit sour mustardy pineapple sauce that I would happily smear all over each thickly cut piece. Yum!
Not long ago I was in the meat freezer section of the grocery store and I saw a big ham and those flavors and smells totally came back to me. I bought it right then. Later that week I cooked a huge ham and some tasty scalloped potatoes in the middle of the week. It was awesome. 😉 As usually happens to me, there was lots left over. (I always cook for an army!) Those leftovers led to this soup. I actually saved the bones that had bits of the meat still stuck to the outside and a bunch of the crispy, tough skin. I added all that into the chicken stock and milk to add more flavor. It's not necessary but if you've got it laying around, why not!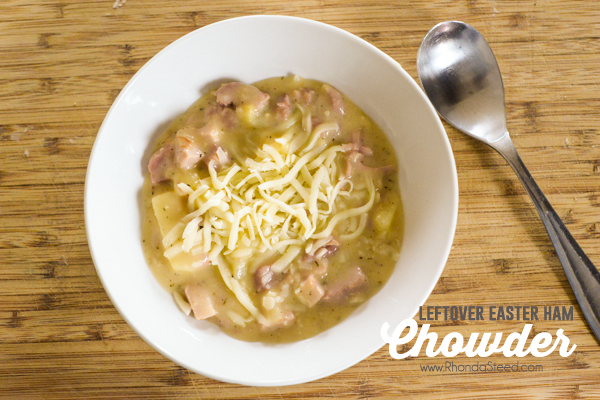 Ingredients
3 Tbsp margarine
3-5 minced garlic cloves
1 /2 chopped onion
salt and pepper
2 tsp thyme
3 Tbsp flour
5 cups chicken stock
3 boiling potatoes, diced and peeled
3 cups diced leftover ham
2 cups mozzarella cheese
1 cup whole milk
Directions
In a heavy stock pot, melted the margarine and fry the garlic and onion until the onions turn clear.
Add in the thyme and salt and pepper.
Sprinkle the flour over top and whisk in until moistened.
Turn up the heat! Add in the chicken stock and milk and bring to boil.
Add in 2 cups of the diced ham and the potatoes.
Simmer for 15 minutes or until the potatoes are soft.
Stir in the cheese.
Pour half the soup into your blender (or use an immersion blender right in the pot) and blend it up and pour back into the bowl.
Add in other cup of diced ham.
Serve with more grated cheese.
Enjoy!

Blog | Facebook | Pinterest | Instagram | Bloglovin'
________________
How brilliant is Rhonda? I am personally excited to make this chowder and pack it up for my husbands lunch next Monday! YUM!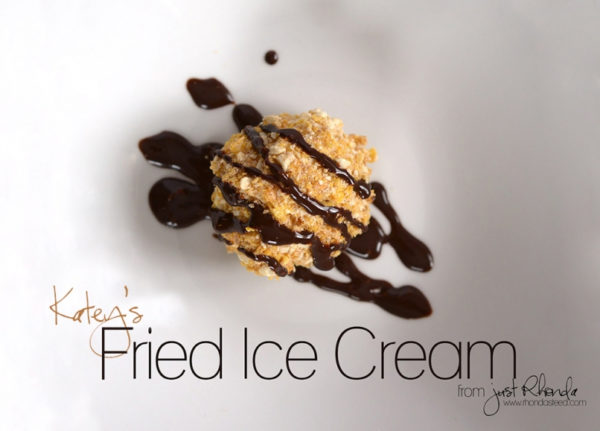 Reeses Mini Cookies, (although in Canada they call say Reese. Cool!)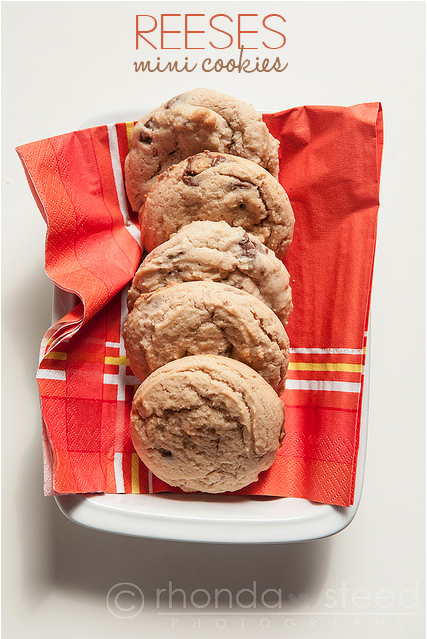 BBQ S'mores (perfect for the upcoming summer nights!)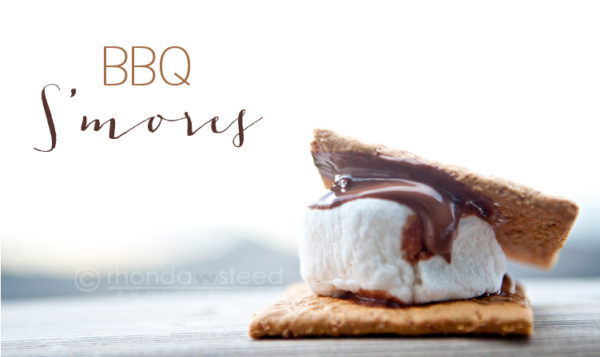 Here's what other tasty recipes Rhonda Steed has created! For more information about Rhonda go HERE. And big 'ol thanks to this cute chick for being here today 🙂